CUAV CAN PMU High Precision Power Detection Unit for Pixhawk
149.00 $
Description
Overview of CUAV CAN PMU
A drone power management module developed by CUAV is a drone power management module with an integrated STM32F4 processor running CUAV's ITT compensation algorithm to accurately measure the voltage and current of a drone's battery. It can be used to input voltages of 6~62V and the POWER output port can output 5V/ 8A. In addition to its use of advanced CAN bus communication, this device supports the standard DroneCAN protocol. During the factory calibration process, each PMU ensures high accuracy and a high level of consistency. You can easily use the CAN PMU to power the Pixhawk flight controller of the drone or robot and to the voltage and current measure.
Accurate power consumption estimate
Internally, it can be sampled in real-time over 100HZ, the power consumption/instantaneous power consumption can be calculated in real-time, and accurate power consumption information can be transmitted to the flight control for safer and controllable flight missions.
Low EMI, 5A high current regulated output
Built-in voltage regulator with LT8645S chip, support 62V input, 5.4V / 8A* synchronous buck regulator, with ultra-low EMI and EMC, up to 95% conversion efficiency, to meet the industry's drone flight control peripherals, power consumption Large application needs.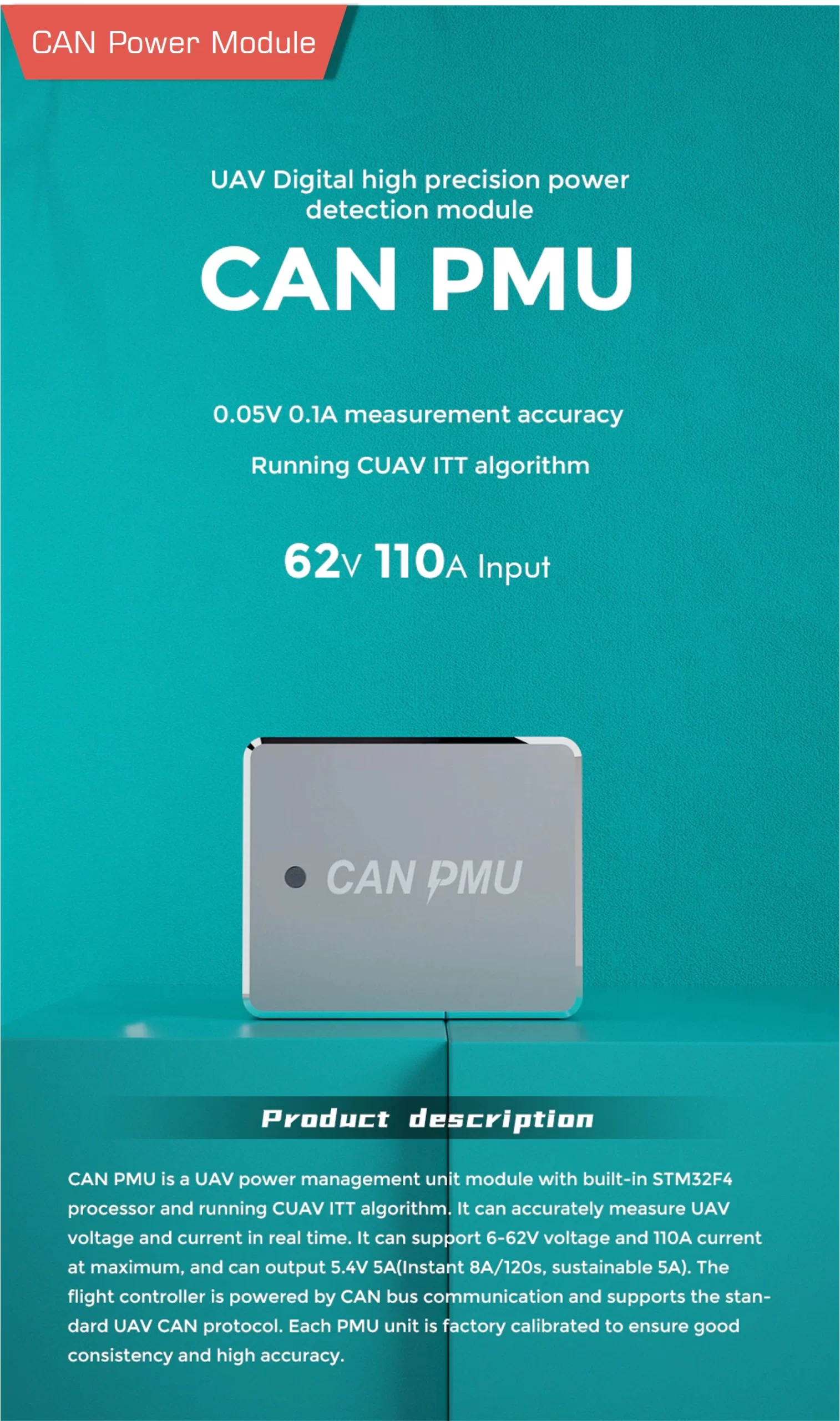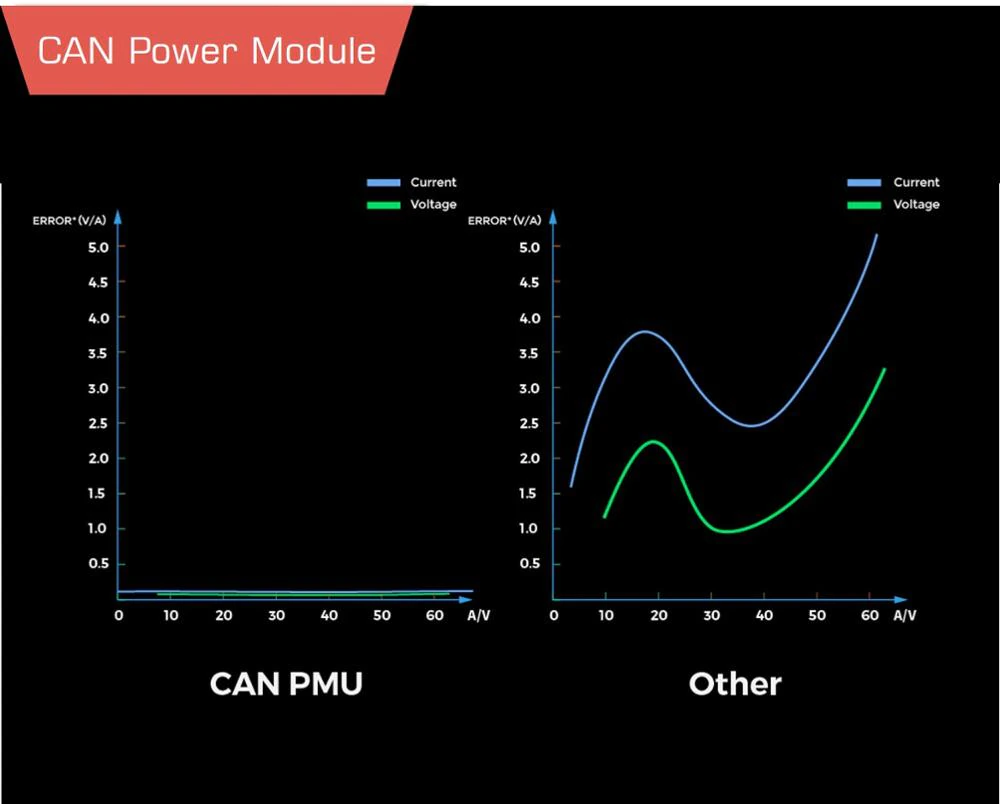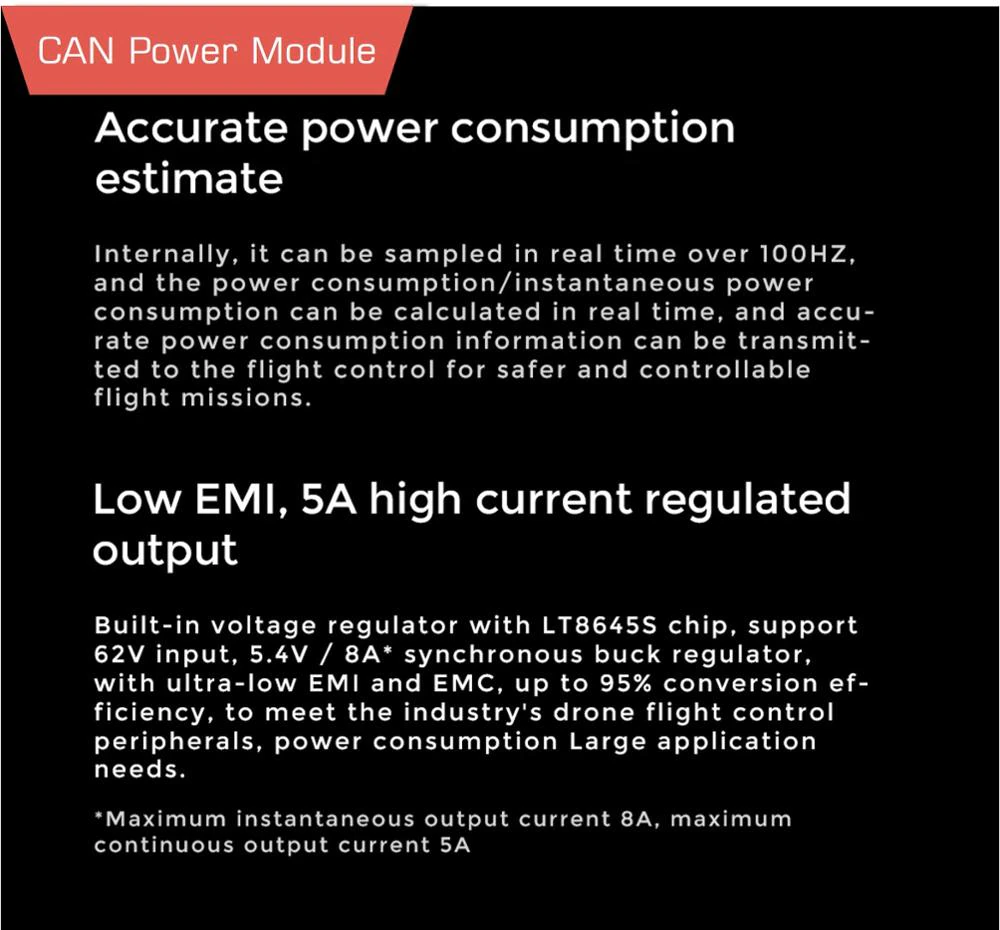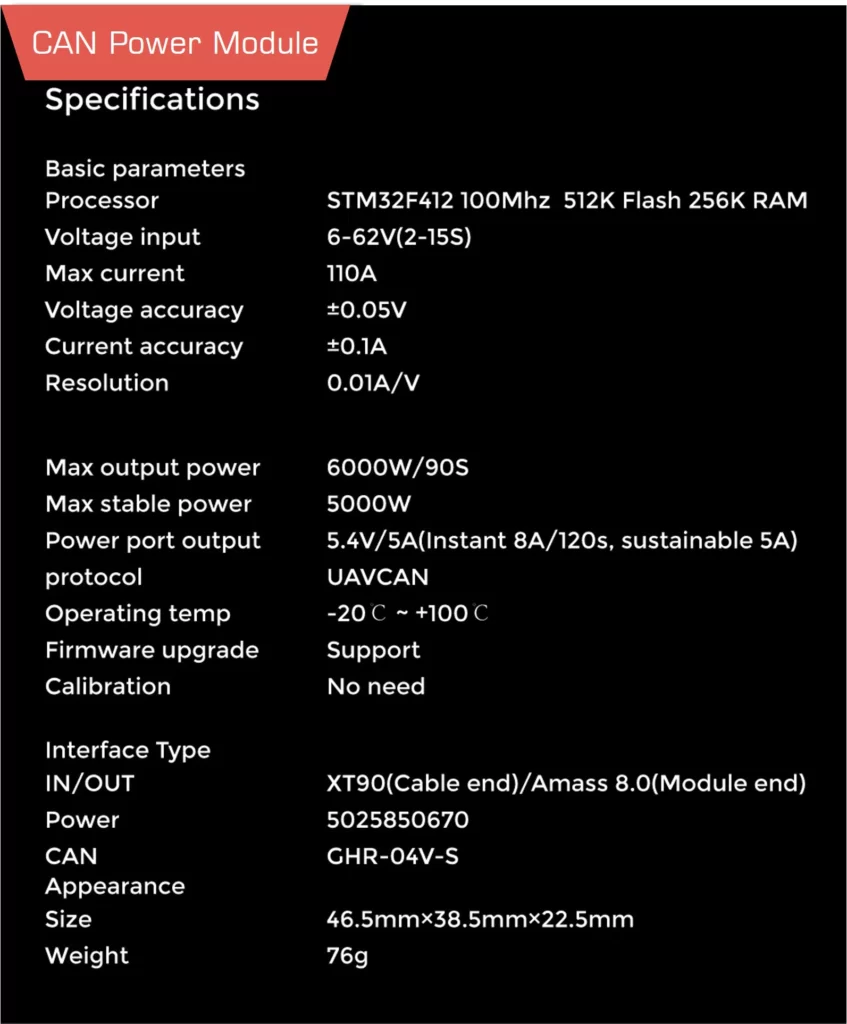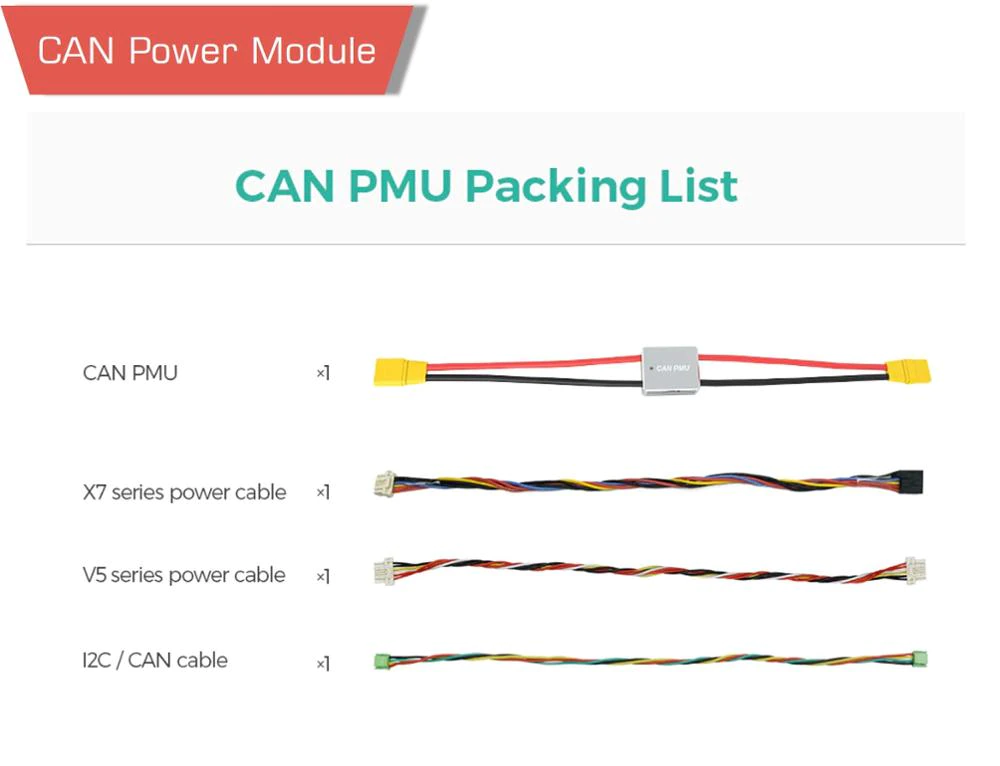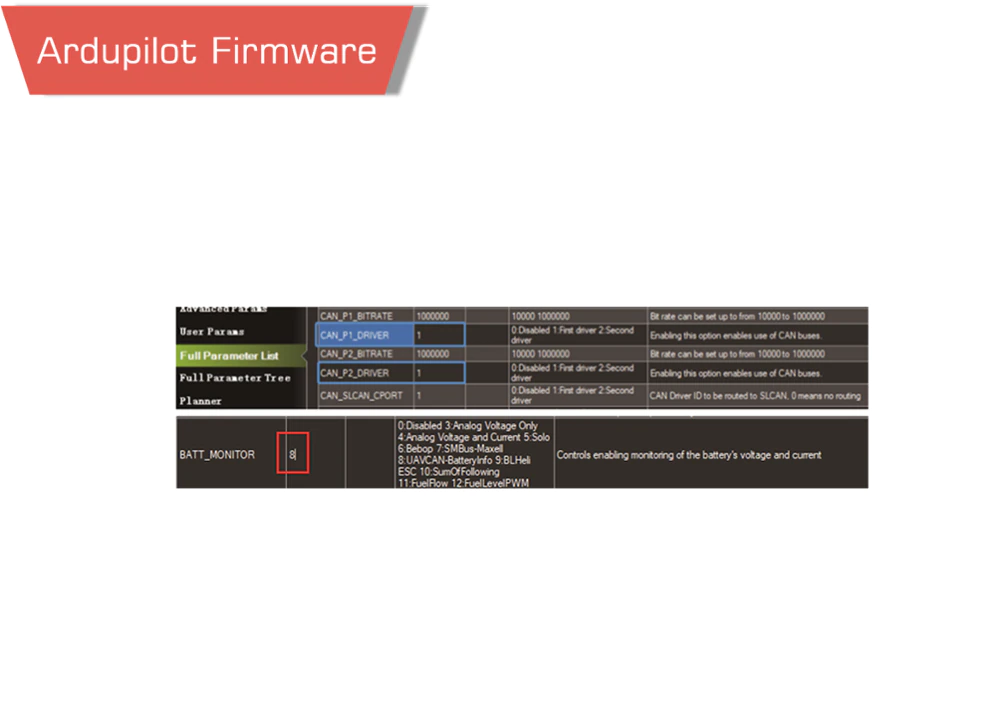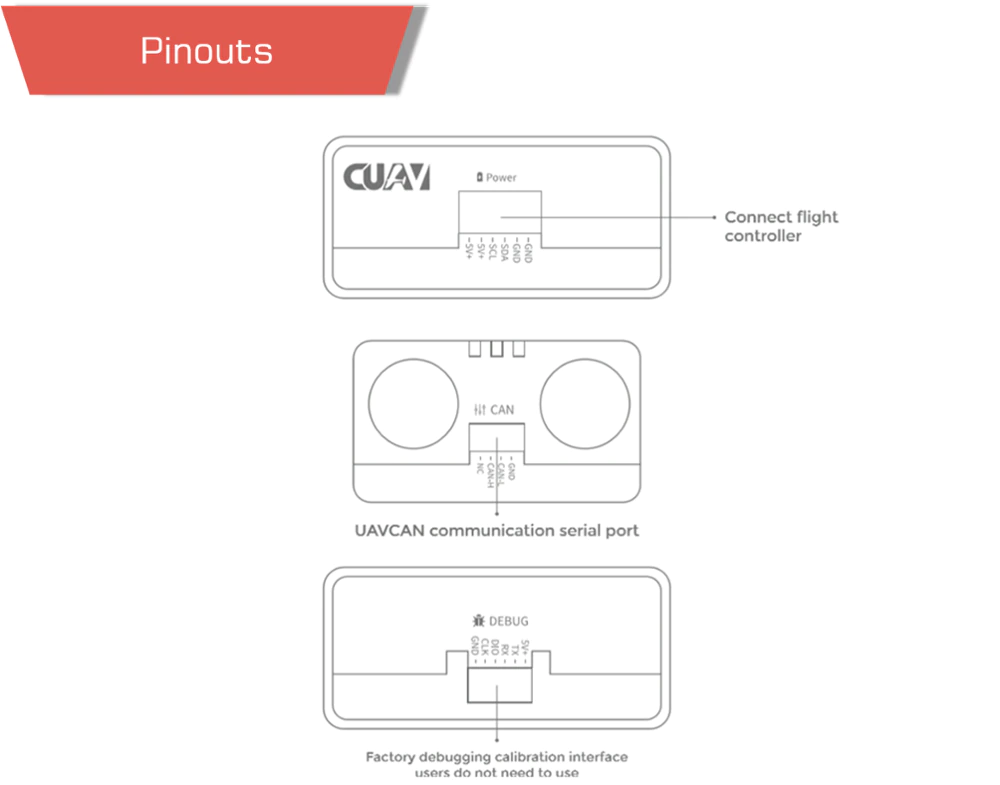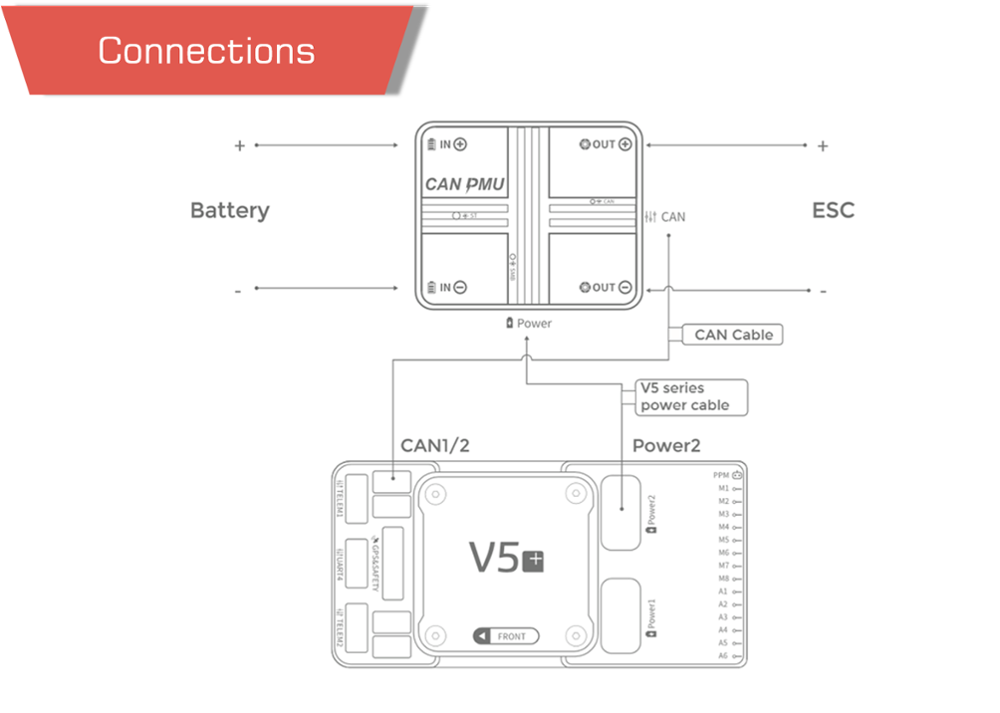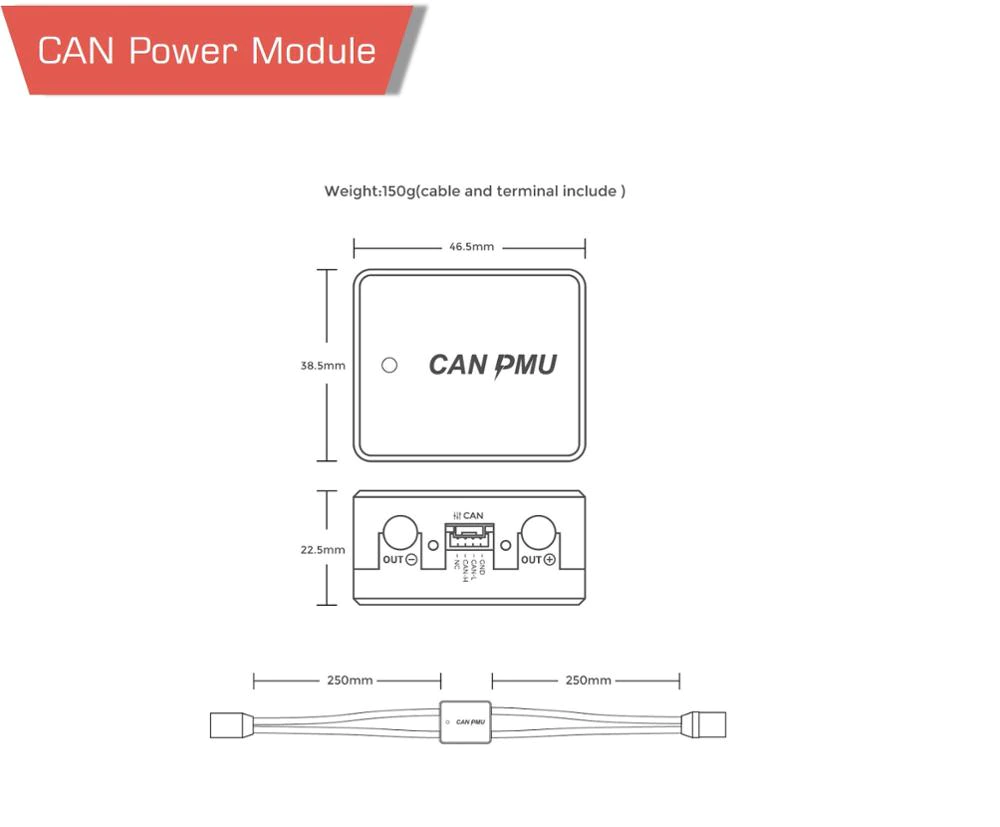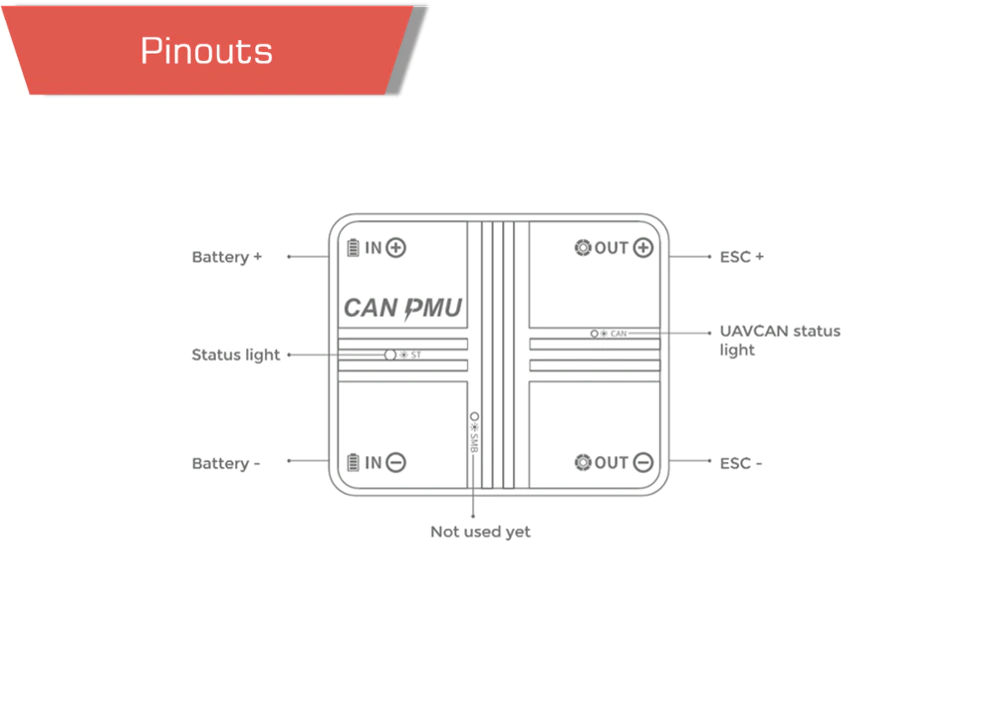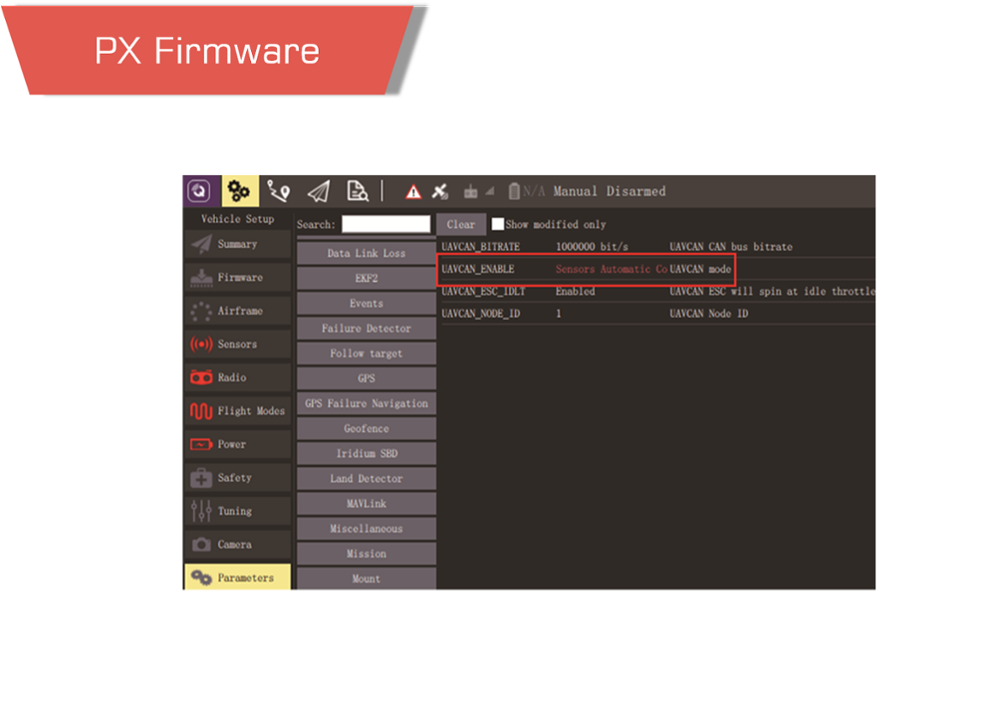 Additional information
| | |
| --- | --- |
| Weight | 1 kg |
| Dimensions | 15 × 15 × 15 cm |
Specifications
Model Number: 

CUAV CAN PMU

Compatible Brand: 

Pixhawk / APM

Weight: 

76g

Dimension: 

46.5mmx38.5mm x22.5mm

processor

STM32F412

Voltage input 6~62V(2-15S)

Max current 110A

Voltage accuracy ±0.05V

Current accuracy ±0.1A

Resolution 0.01A/V

Max output power 6000W/90S

Max stable power 5000W

Power port output 5.4V/5A

protocol UAVCAN

Operating temp -20~+100℃

Interface Type IN/OUT:XT90(Cable)/Amass 8.0(Module)

Power:5025850670

CAN: GHR-04V-S

Size:46.5mm * 38.5mm * 22.5mm

Weight:76g
Documents
Connection method:
Connect the Pixhawk flight control CAN1/2 and the module CAN interface.
Connect the V5 series power cable to the V5 Flight Control Power2 (if other flight controllers are connected to the Power interface) and the module Power interface.
Enable CAN PMU
Before use, you need to set the flight control parameters to enable CAN_PMU to use it as your Pixhawk voltage sensor and Pixhawk current sensor; there are different setting methods according to the firmware of the flight controller.
ArduPilot firmware
Set the following parameters in the Mission planner's full parameter list and restart after writing:
CAN_P1_DRIVER set to 1.
CAN_P2_DRIVER set to 1.
BATT_MONITOR set to 8. (If using battery monitor 1)
**Note: Please use the firmware of AC3.6/AP3.9 (included) or higher.
PX4 firmware
Set the following parameters in the QGroundControl parameter list and restart after writing:
Uavcan_enble set to "sensors Automatic config"
Product contents
Product contents