CUAV CAN PMU Lite Power Module
78.50 $
Description
CUAV CAN PMU Lite Overview
A CAN PMU lite is the standard version of the power management module for UAV, and it has a built-in STM32F412 processor capable of providing 10~62V voltage input and 5.4V/4A regulated output. As compared with HV_PM, it uses advanced CAN bus communication and also supports the standard UAVCAN protocol, which is still on the market. Besides the built-in ITT temperature compensation algorithm in this PMU lite, the device also performs factory calibration to ensure consistency of measuring results over time at a variety of temperatures.
Main function of the product
1. A voltage input of 10~62V is supported by this CUAV CAN PMU
2. In order to pass the maximum amount of current, a maximum of 90A is needed for this pixhawk power module
3. An accurate measurement can be achieved by measuring current within 80A, and voltage accuracy within 0.15V.
4. A regulated output of 21W in 5.2V/4A and can be used to power peripherals with as much power as you need
5. LED which is used to visually indicate the status of the Lipo voltage.
6. In the future, we will be able to support more features including power consumption statistics and instantaneous power consumption pushes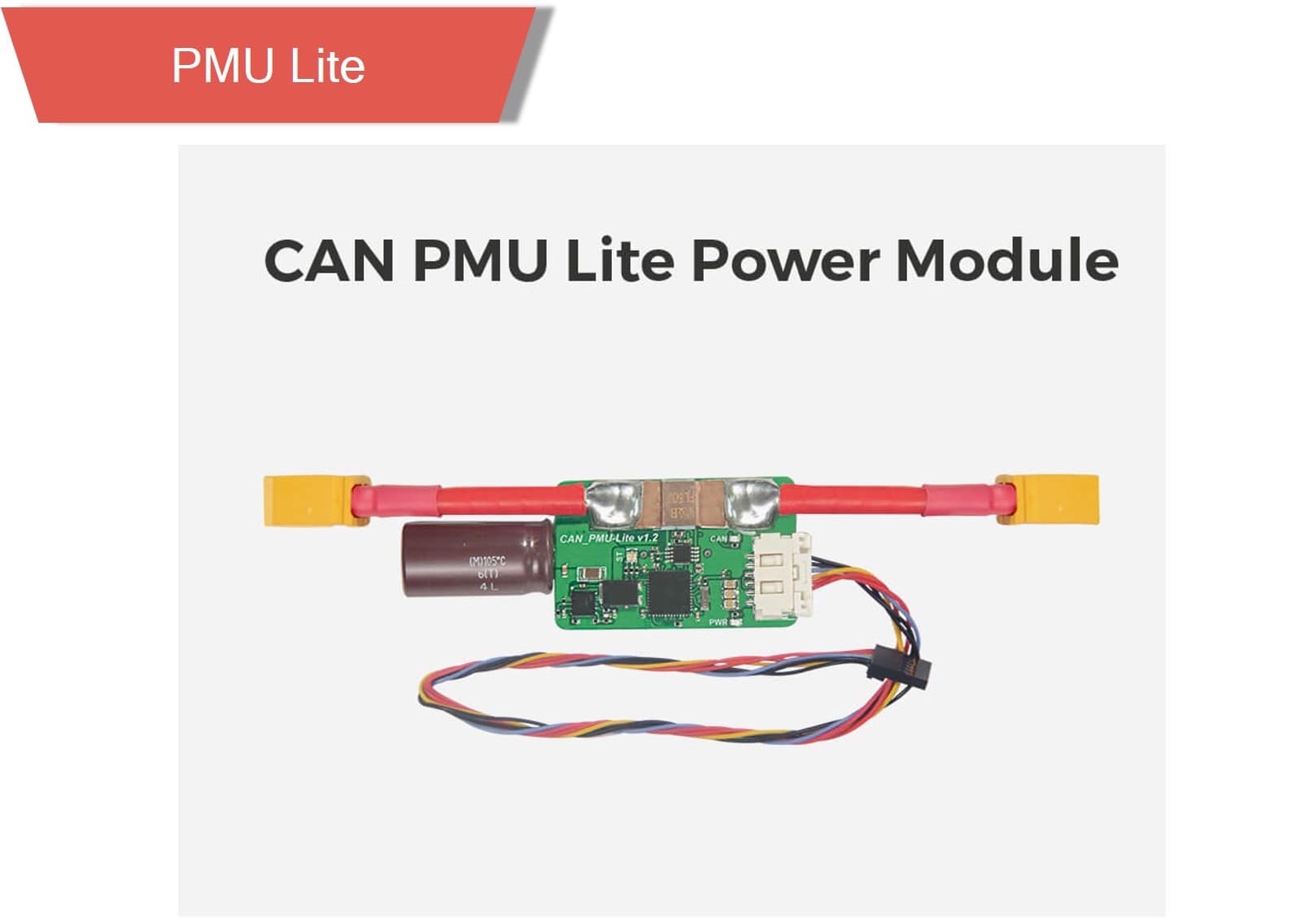 Pixhawk Current Sensor Functions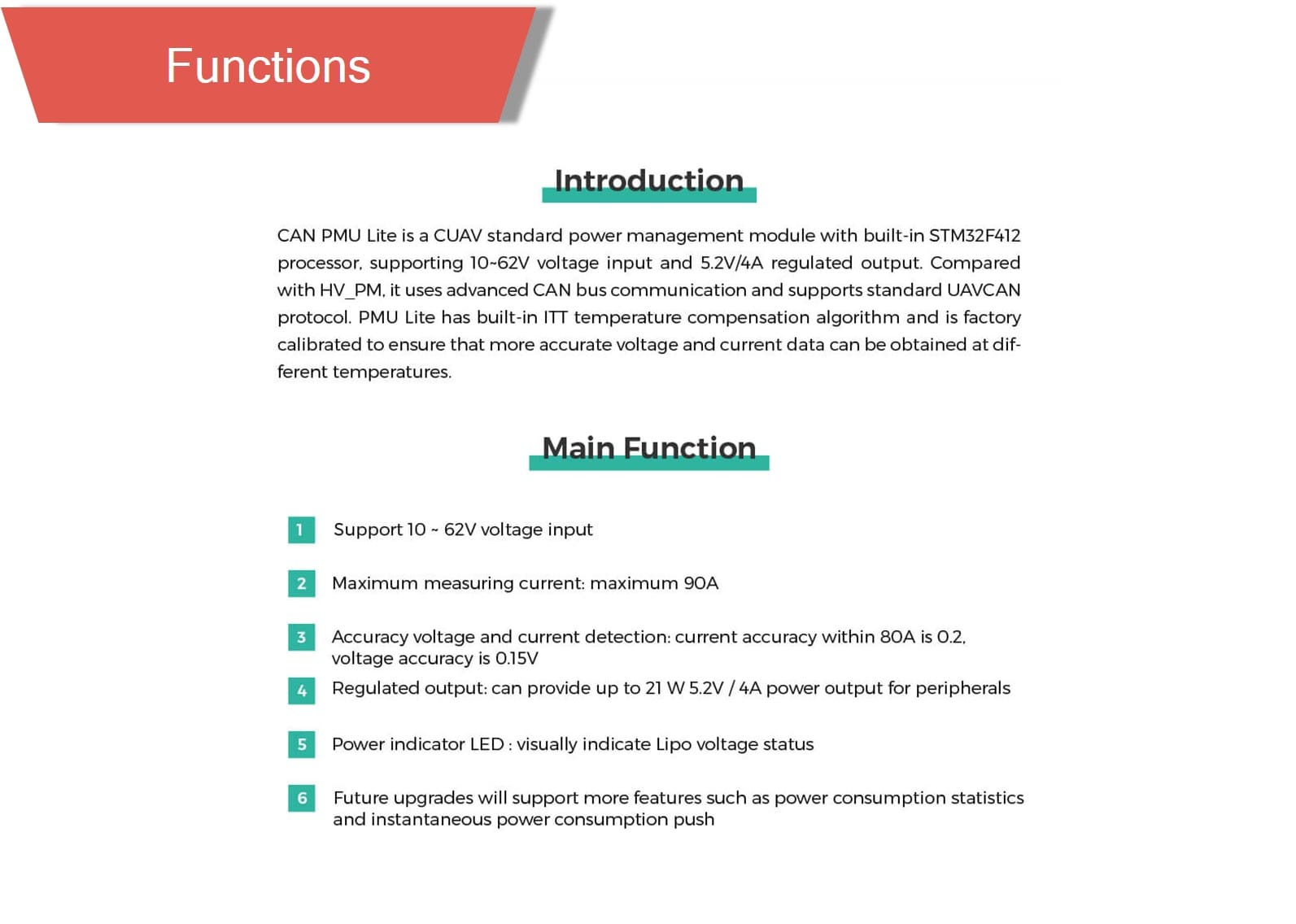 If you have any questions regarding our products, use the Motionew Contact us page to consult our engineering team.
Specifications
| | |
| --- | --- |
| Processor | STM32F103CEU6 |
| Input voltage | 10-62V (2-15S Lipo) |
| Maximum current | 90A |
| voltage accuracy | ±0.15V |
| Current accuracy | ±0.2A |
| Resolution | 0.01A/V |
| Maximum output power | 4200W / 90S |
| Maximum stable output power | 3600W |
| 5V regulated output | Maximum 5A, stable 4A |
| letter of agreement | UAVCAN |
| Operating temperature | -20 ~ 100℃ |
| Firmware upgrade | stand by |
| Interface Type | IN / OUT: XT60-M / XT60-F Power/CAN: 502585-0670 Other: SM06B-GHS-TB |
| Product Size | 140mm (length) * 25mm (width) * 13mm (height) |
| APM firmware support | 1. Rover 3.5.1and above are available 2. Copter 3.7and above are available 3. Plane 3.10and above are available 4.Heli3.7and more available Copter3.6firmware users need to flash the3.7version firmware and then flashback to the 3.6 version |
| PX4 firmware support | PX4 Pro V1.10.1 or higher |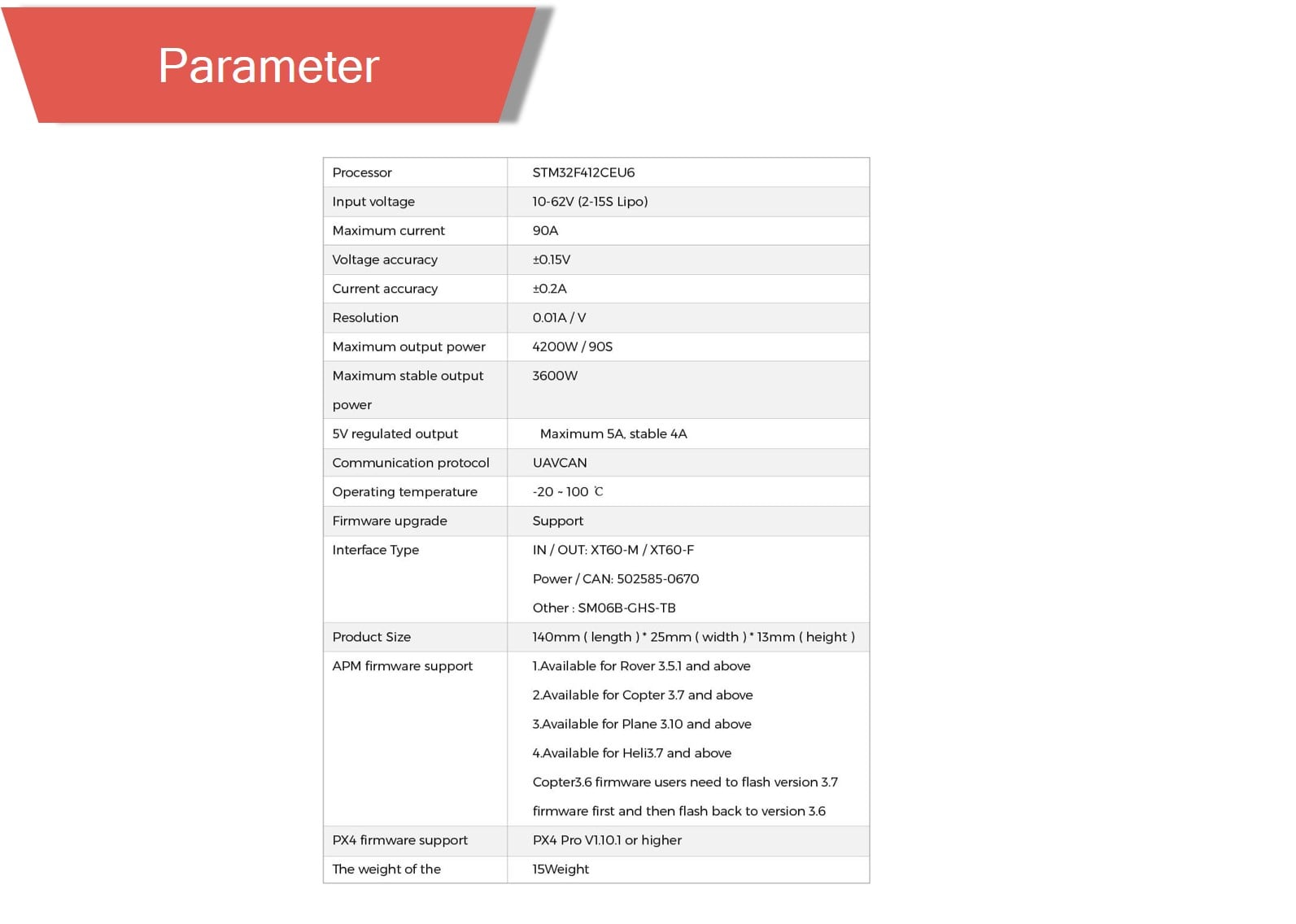 Product contents
Product contents
1x CUAV CAN PMU Lite Power Module