ViULinx Digital HD 2.4GHz Wireless Link
2639.08 $
Description
Overview of ViULinx 2.4GHz
The Viulinx Digital HD data and video transmission system is designed based on the Xilinx FPGA series and Analog Device transceiver model AD936x, which gives great capabilities of more than 10km line of sight range for the setup of 2.4GHz@26dBm power, and no interference. With the controllable downlink throughput between 2.3Mbps~15.3Mbps (10MHz bandwidth) and Uplink throughput of 115200bps (2.5MHz bandwidth), it is the best choice for using it on your drones to have live video and data streaming at high quality. You can connect to it through a HDMI port on the ground unit, and connect it directly to a monitor to have livestream of video coming from the air unit. The USB port streams all data coming from the air unit (both video and telemetry), and can be captured using available ground station software in the market, including QGroundControl and MissionPlanner. Connect the SBUS or PPM output of your radio controller, extend its range to more than 10km long range and control your vehicle. Although it really relies on your input video device, but the latency that ViuLinx system adds is less than 200ms, which is one of the tops between available options.
This all in one wireless link has a really compact and reliable design, based on the two best chip manufacturers in the industry, Analog Devices, and Xilinx. The compact All-in-one design means that everything is compact in a really small package of size 77.8×47.3×23.5mm on your drone, and adds no more than 97g weights, which is very fantastic. Meanwhile, with this small packaging, all the capabilities that you need to fly your drone is included: Telemetry transmission, Image transmission, and Radio Control. The great thing is that it is compatible with many opensource Flight controllers like Pixhawk, APM, BetaFlight, and so on. Both air and ground units can be powered on using a 12V DC input (or equivalently, a 3-cell Li-Po or Li-ion Battery), which is very desirable. On the air unit, you can feed your input video from your camera using a micro HDMI connector. The Telemetry and RC ports can be directly connected to your flight controller.
To receive the data on the ground side, you have many options. If you have a really big ground station system, use a mini HDMI port for video, and a Telemetry port for data (which should be connected to your PCP using a USB to TTL converter). If you like to be portable and do not want a really heavy setup, you are so in luck. Simply connect the USB port of the ground unit to your Tablet, and by installing QGroundControl, you can have both Video and Telemetry data streamed to your tablet and displayed on QGroundControl. Now you can easily monitor and control your drone. Consult Motionew Online Shop to see the full range of our products. Moreover, if you are interested in long range wireless video you can visit the video and data link page.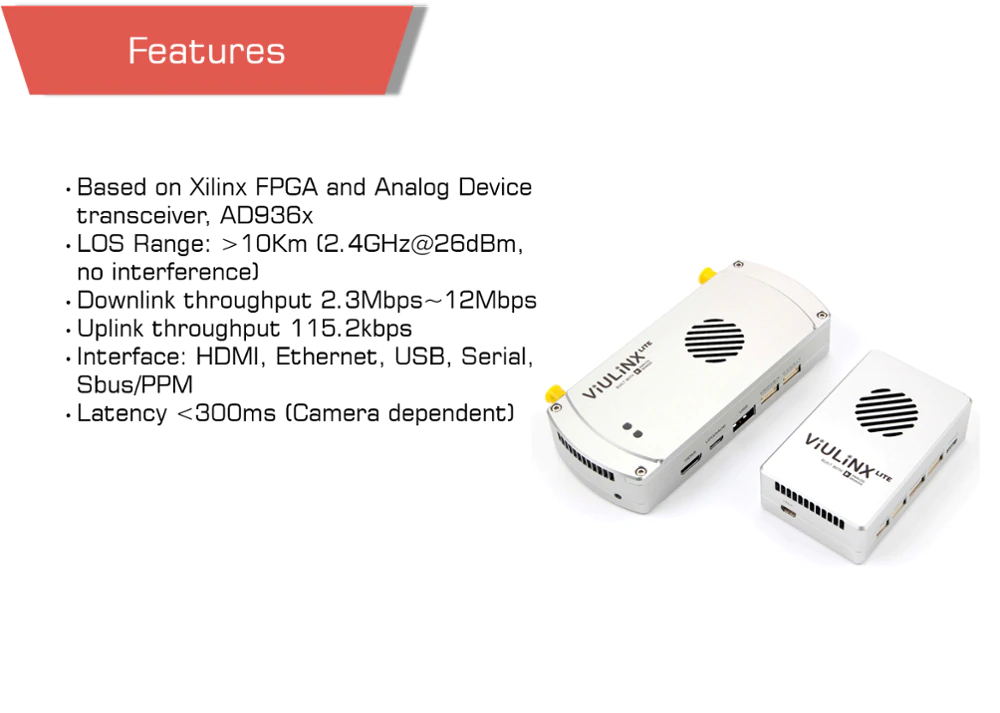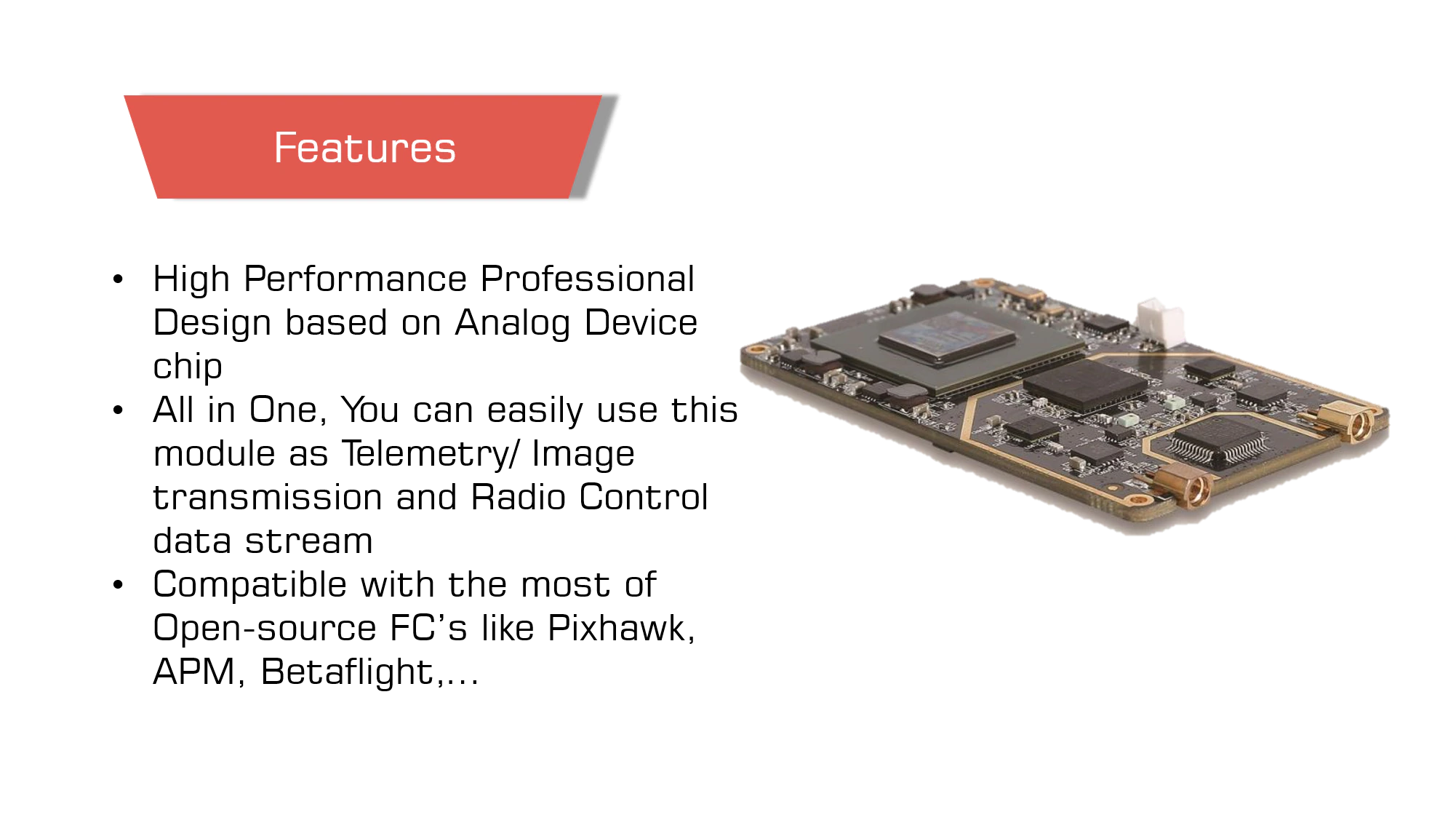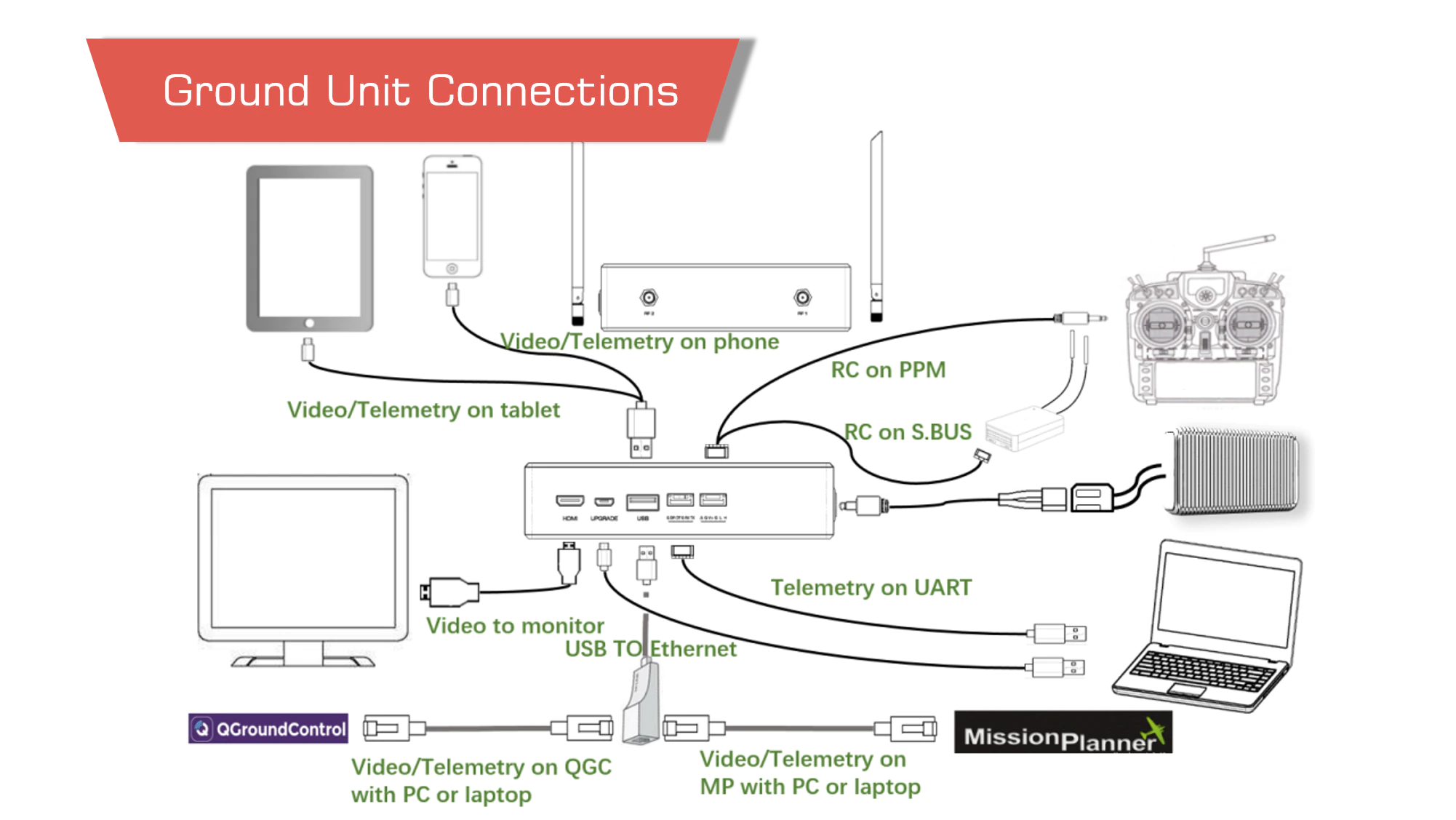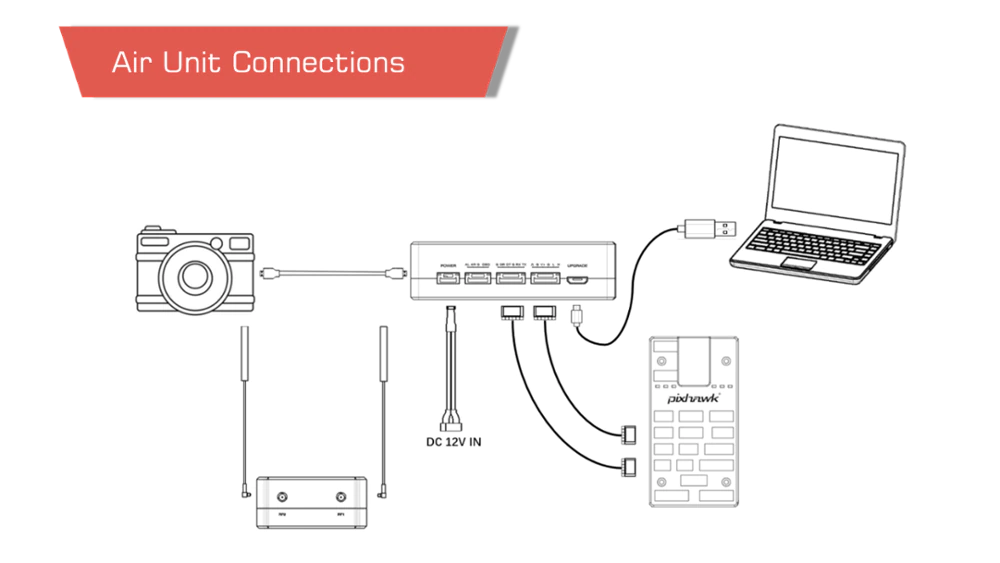 FPV video transmitter Features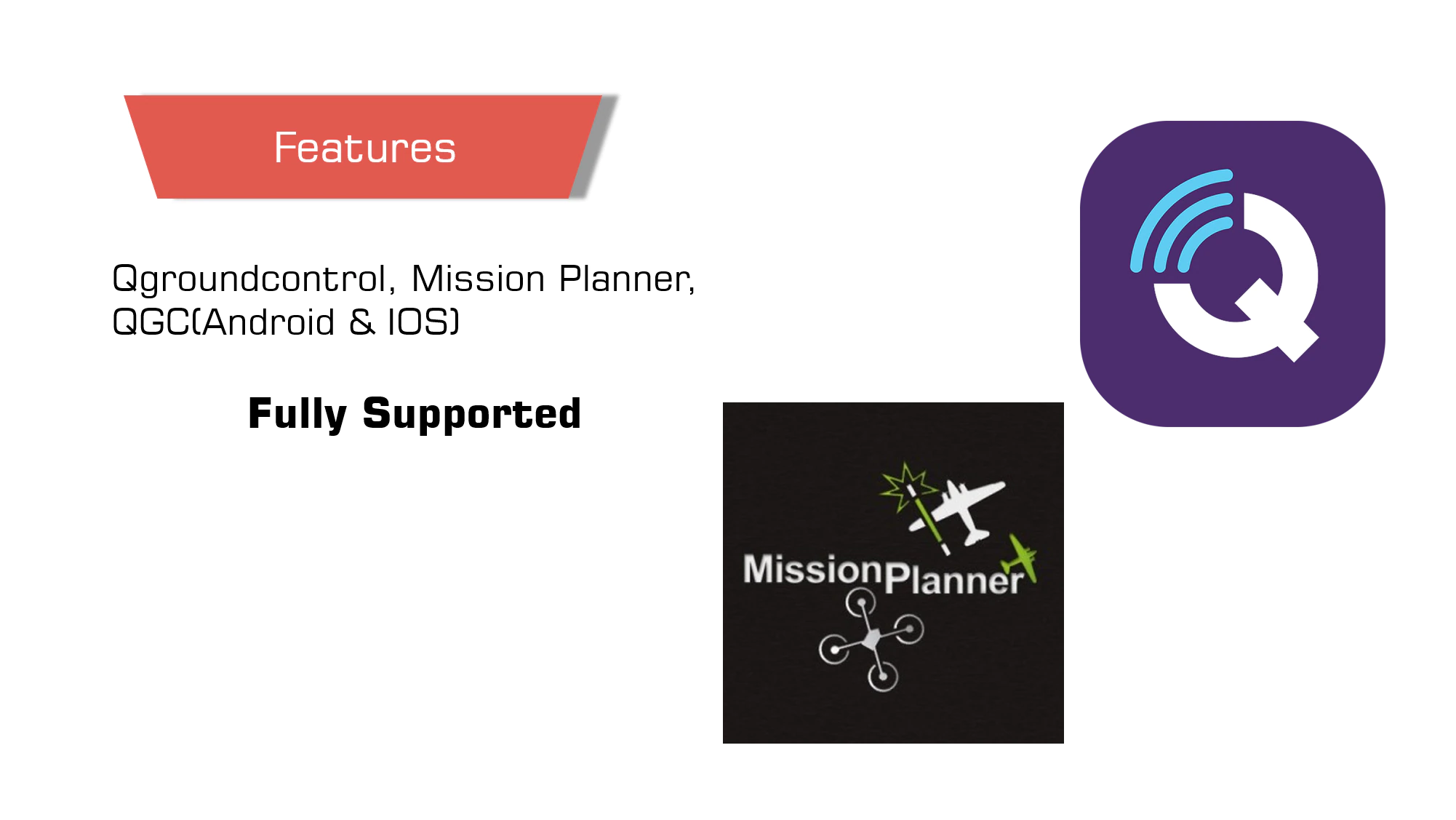 If you have any questions regarding our products, use the Motionew Contact us page to consult our engineering team.
Additional information
| | |
| --- | --- |
| Weight | 10 kg |
| Dimensions | 100 × 50 × 10 cm |
Specifications
| | |
| --- | --- |
| Air Unit Weight | 97g |
| Air Unit Dimension | 77.8X47.3X23.5mm |
| Ground Unit Dimension | 122.7X52.3X25.1mm |
| Operation Voltage | 7V~16V |
| Modulation | OFDM |
| Operating Temperature | -30°C ~60°C |
| Frequency | 2.4GHz, 1.4GHz |
| FPGA |  Build on Xilinx |
| Viulinx is build on Xilinx FPGA and Analog Device's transceiver, AD936x | |
| Frequency |  Build on Xilinx |
| Bandwidth | 2.5MHz (uplink), 10MHz(downlink) |
| Max. Tx Power | 27dBm (FCC), 20dBm (CE) |
| Range(LOS) | 10km |
| Video Compression | H.264/H.265 |
| Video Format | HDMI(720p@30fps, 720p@60fps, 1080p@30fps, 1080p@60fps) |
| Modulation | OFDM |
| Constellation | BPSK, QPSK, 16QAM |
| FEC | LDPC (1/2, 2/3, 3/4,5/6) |
| Duplex | TDD |
| Downlink Throughput | 2.3Mbps ~ 12Mbps |
| Uplink Throughput | 115.2kbps |
| Interface | HDMI, USB, Serial, SBus/PPM |
| Latency | <300ms (Camera dependent) |
| Operation Voltage | 7V~16V |
| Certification | FCC/CE/GITEKI |
| Dimension | 122.7X52.3X25.1 (Ground unit) , 77.8X47.3X23.5mm (Air unit) |
| Weight | 97g(air unit) |
| Rated voltage/current | DC12V/1.2A (or 3S lithium battery) |
| Working temperature | -30°C ~55°C |
Documents
Product contents
Product contents