Sale!
NEW Holybro Pixhawk 6X UAV Flight Controller
407.00 $ – 499.99 $
Description
Holybro

Pixhawk 6X UAV Flight Controller Overview
Holybro's Pixhawk 6X UAV Flight Controller is an autopilot device based on FMUv6 that is ideal for use by engineers at startups, corporate research labs, and academics (research, professors, students) as well as for commercial applications. The FMUv6X open-hardware standard includes high-performance and low-noise IMUs on board that helps improve stabilization.
This Pixhawk Autopilot firmware can now handle more complex algorithms and models, thanks to the increased processing power and RAM in this flight controller. To compare this flight controller price with that of a similar product, you may take a look at CUAV X7 Plus.
This autopilot is equipped with a microcontroller that uses an Arm® Cortex®-M7 processor that runs at 480 MHz with a flash memory of 2MB and a RAM memory of 1MB. The combination of this technology with sensors from Bosch® and InvenSense will give you the flexibility and reliability you need to control any automated flying vehicle. Among the sensor sets on this system, linear voltage regulators with a low dropout rate are used to power them independently.
As part of this Mini Flight controller, three redundant IMUs and two redundant barometers are offered on separate buses. If one sensor fails, the PX4 Autopilot automatically switches to another to ensure reliability. This vibration isolation system provides accurate readings by removing high-frequency vibration and reducing noise, as well as enhancing overall flight performance by eliminating high-frequency vibration.
With Microchip Ethernet PHY integrated into the External Sensor Bus (SPI5), high-speed communication with mission computers such as BeagleBone Black and Raspberry Pi 4 via Ethernet is now possible, as well as two chip select lines and data-ready signals for additional sensors and payload.
Features of this Flight Controller
In order to maximize performance, STM32H753 processor is used

With the Ethernet interface, high-speed mission computer integration is possible

Using onboard heating resistors, temperature-controlled IMUs provide optimum operating temperatures

It has a modular flight controller that has separate IMUs, FMUs, and Base systems connected by a 100-pin and 50-pin cube Autopilot Bus connector.

2x Barometer sensors and 3x IMU sensors on separate buses to provide redundancy

Integrated triple redundancy: Completely isolated sensor domains with separate power controls and buses

To ensure accurate readings, a new vibration isolation system is designed to remove high frequency vibrations and reduce noise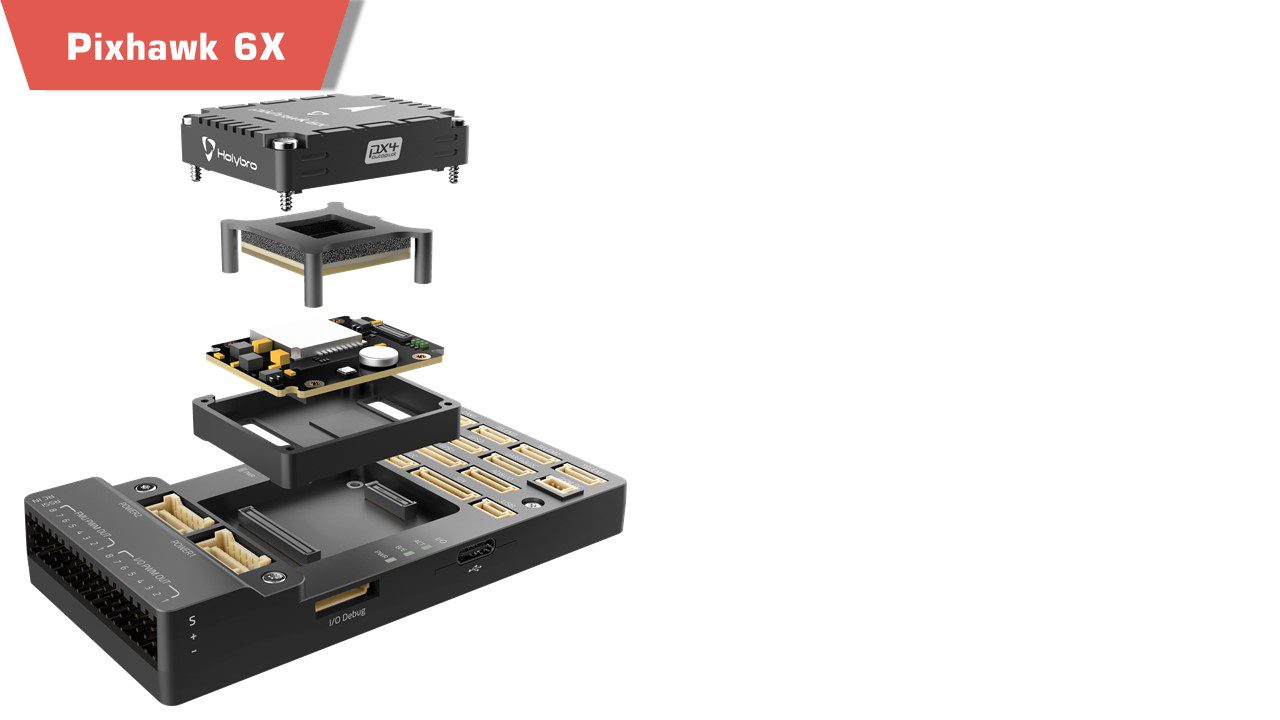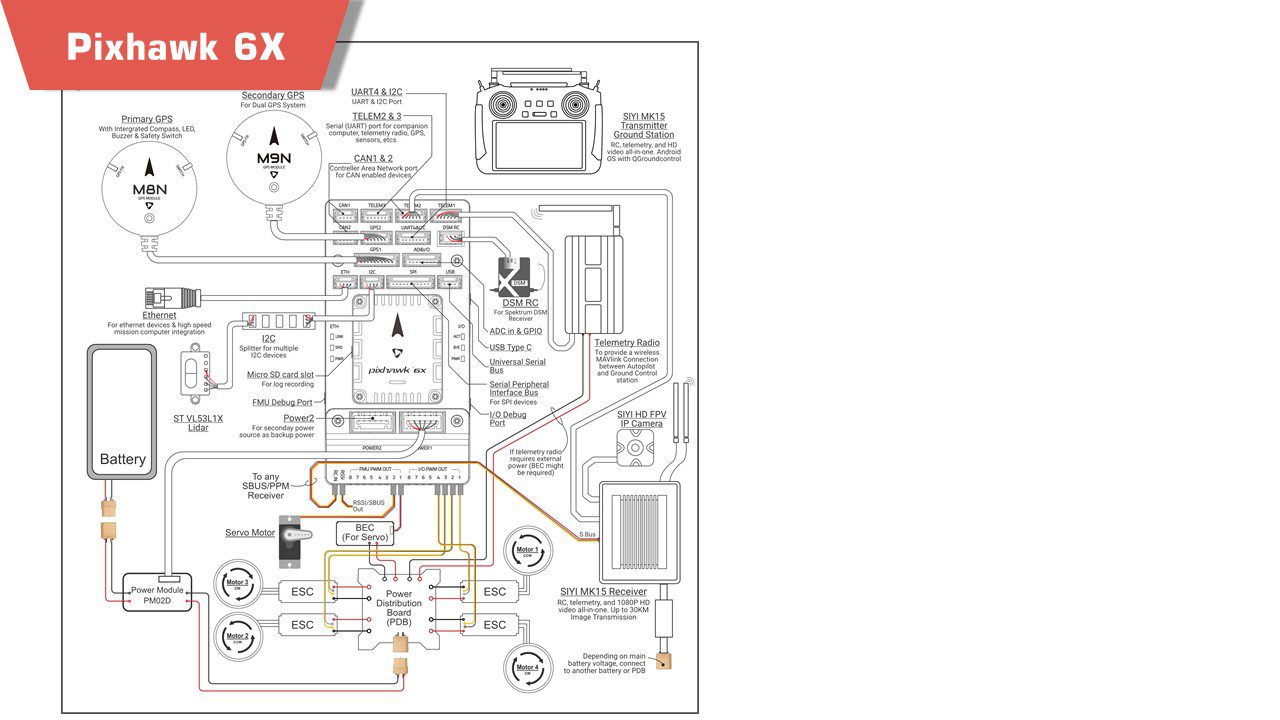 If you have any questions regarding our products, use the Motionew Support team page to consult our engineering team.
Additional information
| | |
| --- | --- |
| Weight | 0.0 kg |
| Dimensions | 9 × 5 × 4 cm |
| Bundle | mini set, mini set m8n, standard set, standard set m8n gps |
Specifications
FMU Processor of pixhawk6x

STM32H753

32 Bit Arm® Cortex®-M7, 480MHz, 2MB flash memory, 1MB RAM

IO Processor

STM32F100

32 Bit Arm® Cortex®-M3, 24MHz, 8KB SRAM

On-board sensors

Accel/Gyro:

ICM-20649

Accel/Gyro:

ICM-42688-P

Accel/Gyro:

ICM-42670-P

Mag:

BMM150

Barometer:

2x BMP388

 Max input voltage Ratings

6V

  USB Power Input Ratings:

4.75~5.25V

  Servo Rail Input Ratings:

0~36V

Telem1 output current limiter:

1.5A

  All other port combined output current limiter:

1.5A

Flight Controller Module

38.8 x 31.8 x 14.6mm

Standard Baseboard:

52.4 x 103.4 x 16.7mm

Mini Baseboard:

43.4 x 72.8 x 14.2 mm

Flight Controller Module Weight

  23g

Standard Baseboard Weight

51g

Mini Baseboard Weight

26.5g

16x PWM servo outputs

R/C input for Spektrum / DSM

Dedicated analog / PWM RSSI input and S.Bus output

4x general-purpose serial ports

 3 with full flow control

1 with separate 1.5A current limit (Telem1)

1 with I2C and additional GPIO line for external NFC reader

2x GPS ports

1 full GPS plus Safety Switch Port

1 basic GPS port

1x I2C port

1x Ethernet port

Transformerless Applications

100Mbps

1x SPI bus

2 chip select lines

2 data-ready lines

1 SPI SYNC line

1 SPI reset line

2x CAN Buses for CAN peripheral

CAN Bus has individual silent controls or ESC RX-MUX control

2x Power input ports with SMBus

1 AD & IO port

2 additional analog input

1 PWM/Capture input

2 Dedicated debug and GPIO lines
Product contents
Product contents
SKU20172 Standard Set/ SKU20173 Mini Set Includes: 
Pixhawk 6X Flight Controller Module

Pixhawk Standard Base / Pixhawk Mini Base
SKU20174 Standard Set/ SKU20175 Mini Set Includes: 
Pixhawk 6X Flight Controller Module

Pixhawk Standard Base / Pixhawk Mini Base
Documents