CUAV NEO 3 Pro GNSS UAV Module
195.00 $
Description
CUAV NEO 3 Pro GNSS UAV Module Overview
CUAV developed the NEO 3 pro as a DroneCAN standard GPS. All in one package, it comes with an industrial-grade compass, barometer, flight controller status light, buzzer, and safety switch. Besides being highly safe and interference resistant, it integrates the Ublox M9n module and receives signals from GPS, Galileo, GLONASS, and Beidou simultaneously.
This GNSS module is upgraded from the NEO V2, there is a hardware design continuing the NEO product line, the database supports Beidou, Galileo, Glonas and GPS signals at the same time, and even the horizontal positioning accuracy is up to 0.7mm. The device is equipped with a safety switch, buzzer, and RGB light.
This is a satellite receiver from Ublox called the M9N
The Ublox M9N satellite receiver, which is the next generation of satellite receiver, can measure at a maximum accuracy of 0.7 meters.
Four satellite systems receiving the signal simultaneously
Provides simultaneous reception of four satellite systems, Beidou, Galileo, Glonas, and GPS.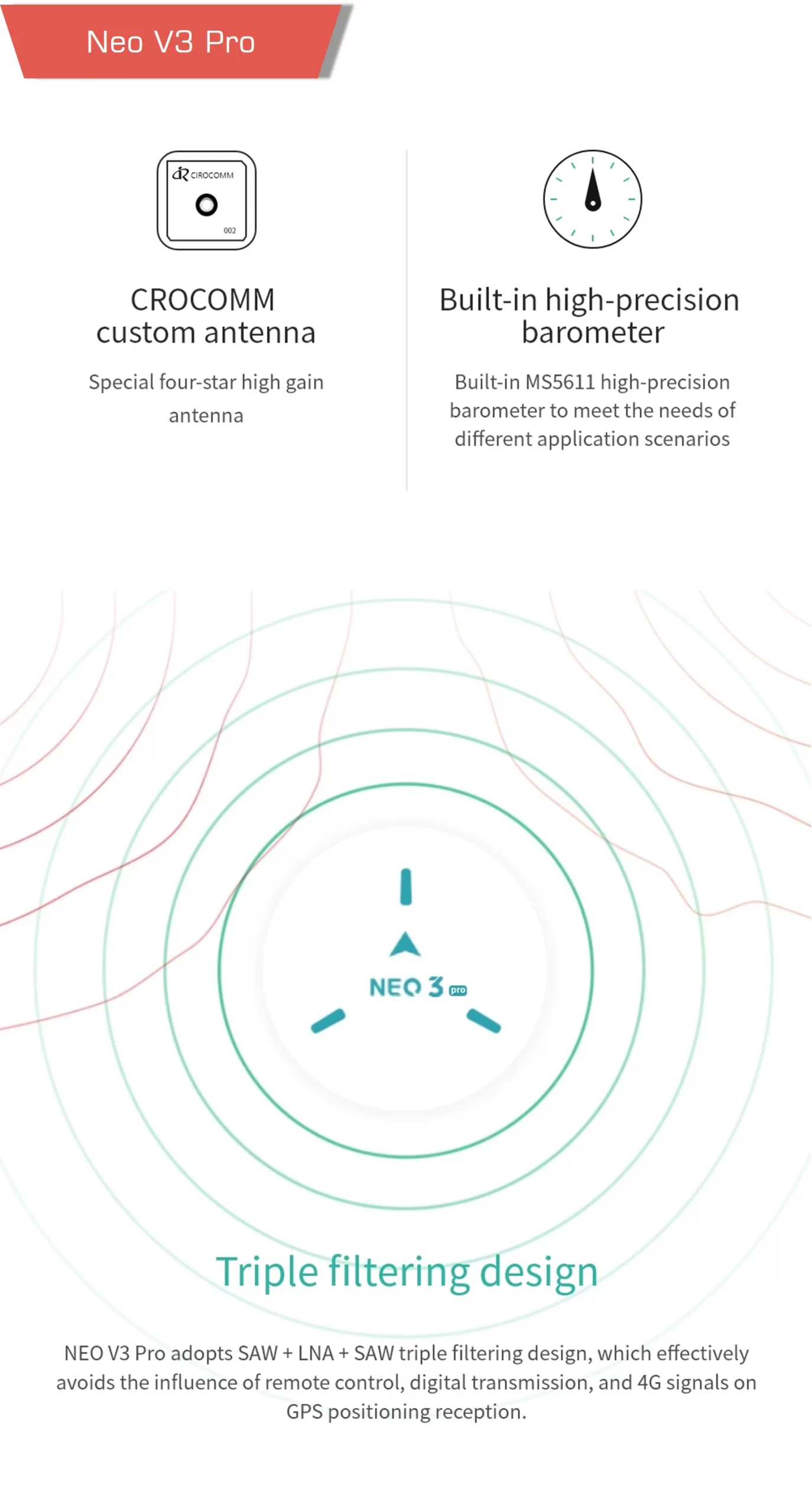 A triple filter design has been developed
With NEO 3 Pro, you get a SAW+LNA+SAW triple filter design, which prevents the influence of remote controls, data transmissions, and 4G signals on GPS positioning reception.
Notes that are important
As for the NEO 3 Pro, it supports RTCM3.3 injection, but not RTCM output; it can achieve pseudorange differential (meter-level positioning), but does not support carrier phase differential (RTK), and it requires a base station that supports RTCM3.3 output to function properly.

The nominal accuracy of the NEO 3 Pro level is 1.5m when the SBAS enhancement system is enabled; when the SBAS enhancement system is not enabled, it is 2.0m
If you have any questions regarding our products, use the Motionew Contact us page to consult our engineering team.
Additional information
| | |
| --- | --- |
| Weight | 0.1 kg |
| Dimensions | 10 × 10 × 10 cm |
Specifications
| | |
| --- | --- |
| Compatible Brand | Pixhawk |
| Weight | 33g |
| Dimension | 60*60*16MM |
| Operating temperature | -10~70℃ |
| Input voltage | 5V |
| Interface Type | GHR-04V-S |
| Protocol | UAVCAN |
| GNSS Bands: GPS/QZSS L1 C/A,GLONASS L10F ,BeiDou B1I,Galileo E1B/C,SBAS L1 C/A | WAAS, EGNOS, MSAS, GAGAN |
| GNSS Positionin | Available |
| Number of satellites(MAX) | Up to 32 |
| Processor | STM32F412 |
| Compass | RM3100 |
| Barometer | MS5611 |
| GNSS receiver | UBLOX NEO M9N |
| RGB drive | NCP5623C |
| Buzzer Passive | buzzer |
| GNSS Augmentation System SBAS | WAAS,EGNOS,MSAS |
| QZSS | L1s(SAIF) |
| other | RTCM3.3 |
| Number of concurrent | GNSS 4 |
| Frequency band GPS | L1C/A |
| GLONASS | L10F |
| Beidou | B1I |
| Galileo | E1B/C |
| Horizontal accuracy | 2.0M |
| Speed accuracy | 0.05M/S |
| Nav. update rate | 25Hz(Max) |
| Acquisition Cold start | 24S |
| Hot start | 2S |
| Aided start | 2s |
| Number of satellites(MAX) | 32+ |
| Sensitivity Tracking and nav | -167dBm |
| Cold start Hot star | -148dBm |
| Reacquisition | -160dBm |
| Protocol | UAVCAN |
| Port TYpe | GHR-04V-S |
| Supported flight controller | CUAV series, |
| series | Pixahwk |
| Wave filtering | SAW+LNA+SAW |
| Anti-Electromagnetic/radio frequency interference | EMI+RFI |
| Support Flight control | type Ardupilot/PX4*(PX4 is still working hard to adapt to the clock) |
| Input voltage | 5V |
| Operating temperature | -10~70℃ |
| Size 60*60*16MM | 60*60*16MM |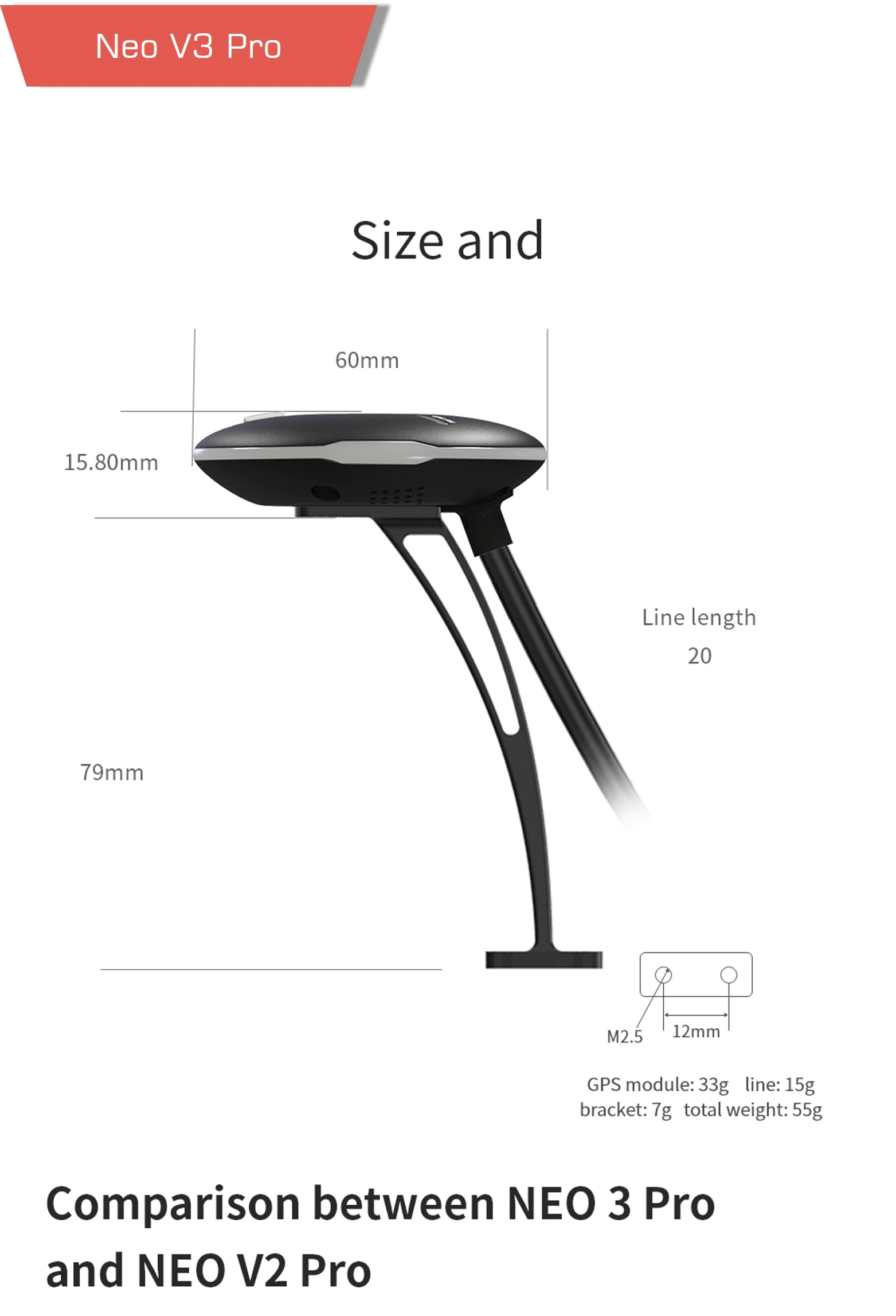 Product contents
1xNEO 3 Pro Module
1XGPS Stand
1XCAN Connect cable