SiK Radio Telemetry 915MHz / 433MHz
63.99 $
Description
SiK Radio Telemetry
SiK Radio Telemetry, manufactured by Holybro, is a small, lightweight, and inexpensive open-source radio platform. Using the included antennas, you should be able to achieve a line of sight range of more than 300m. You can extend the range by using higher gain antennas or patch antennas. 
The module is pre-configured to work with all standard Pixhawk and most of the commercial flight controllers. This is achievable by a transparent serial link communication between the transmitter and receiver. Easily connect the air module using the JST-GH 6-pin connector to your autopilot, and connect the ground module with the USB port to your selected Ground Station. The necessary drivers should be installed automatically and the radio will appear as a new "USB Serial Port" in the Windows Device Manager under Ports (COM & LPT). The Mission Planner's COM Port selection drop-down should also contain the same new COM port. QGroundControl will automatically detect the correct COM port and connect. After that, you can easily capture the telemetry data using MissionPlanner, QGroundControl (QGC), or your preferred Ground Control Station (GCS) software.
The modules come either with 915MHz or 433MHz. You can choose based on your needs and country of operation regulations.
The radios have 2 LEDs (red and green LEDs) to show the status.
Green LED Blinking means the module is searching for another radio to connect with.
Solid Green LED means the connection is established with another radio module.
A flashing Red LED shows the data transmission.
A Solid Red LED means the radio is in firmware upgrade mode.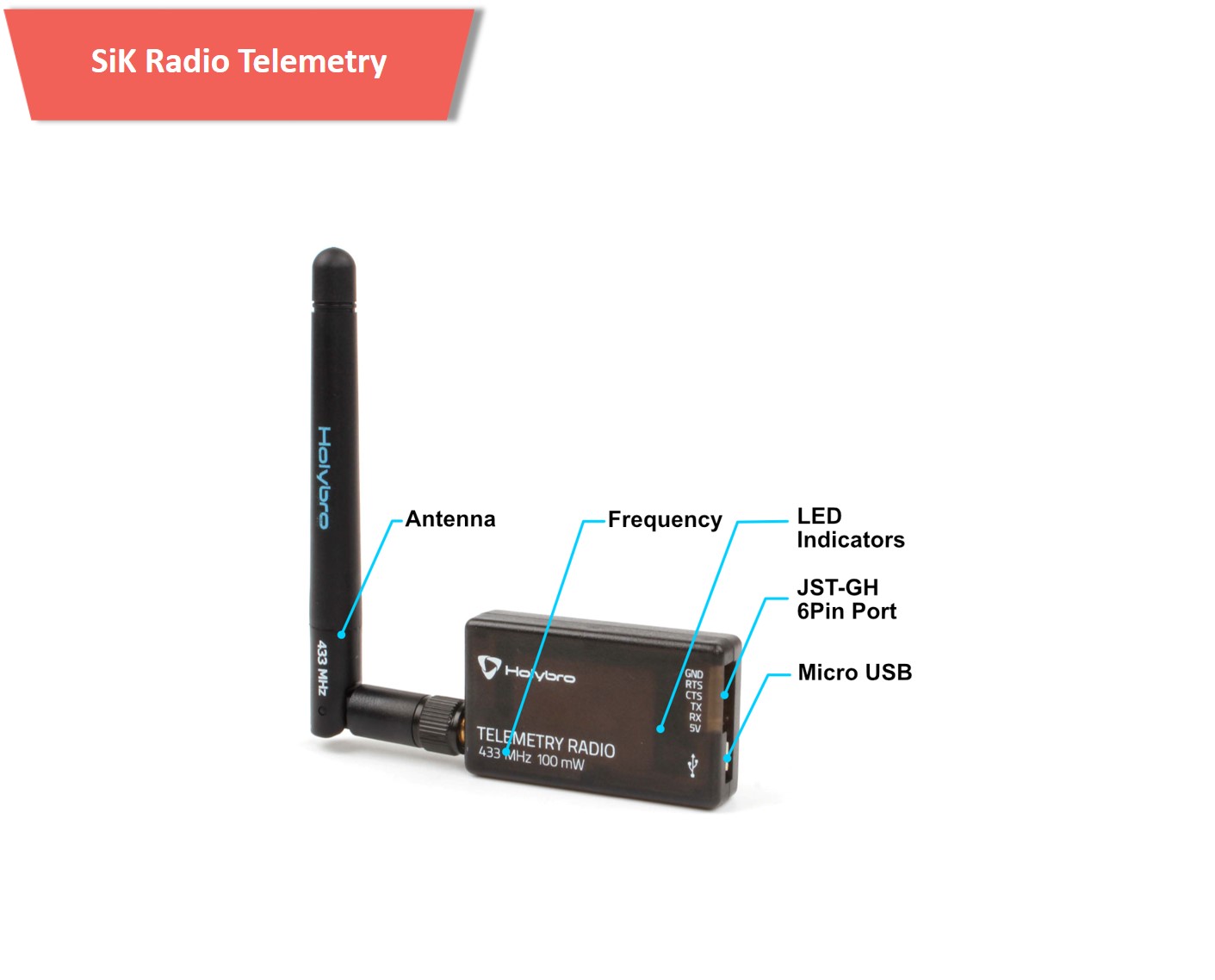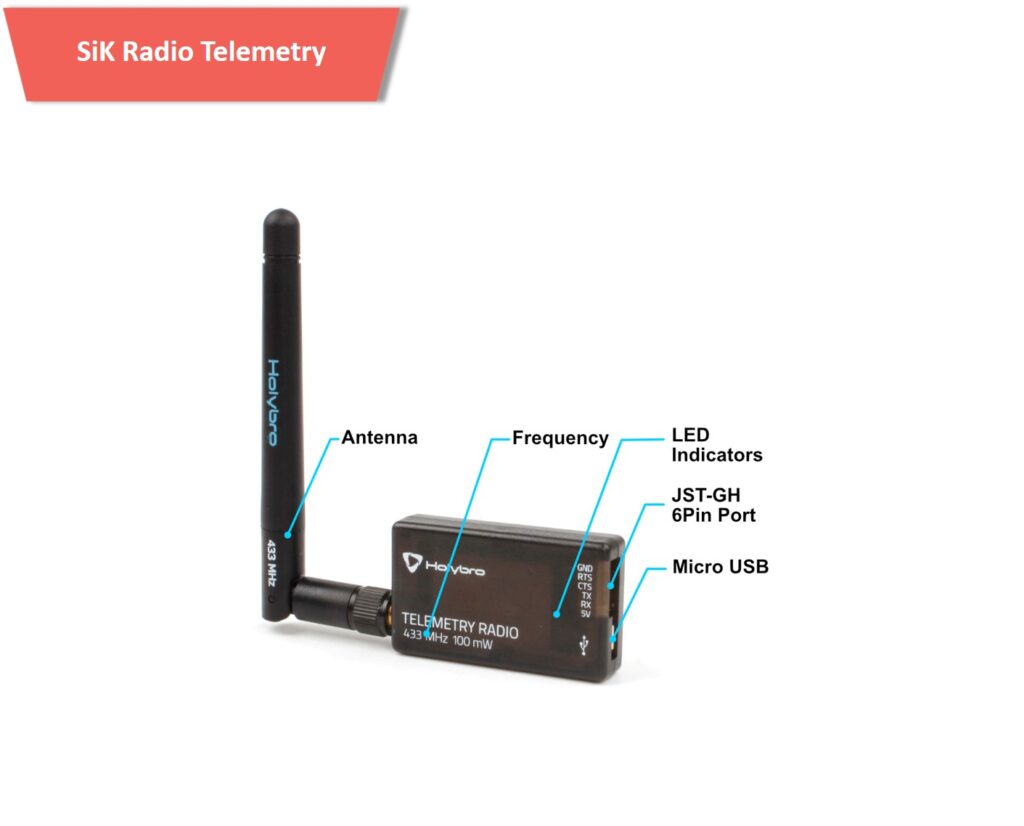 If you have any questions regarding our products, use the Motionew Contact us page to consult our engineering team.
Additional information
| | |
| --- | --- |
| Weight | 0.100 kg |
| Dimensions | N/A |
Specifications
Specifications

Maximum output power

100mW

Receive sensitivity

-117dBm

Antenna connector

RP-SMA

Serial

Transparent

Framing

Mavlink Protocol

Frequency

FHSS

Frequency

433MHz / 915MHz (optional)

Configuration

Through MissionPlanner or QGroundControl (QGC)

Dimensions

28 x 53 x 10.7mm (without antenna)

Supply Voltage

5V DC (from USB or JST-GH)

Transmit current

100 mA at 20dBm

Receive current

25 mA

Serial interface

3.3v UART
Product contents
Radio modules with antennas x2
Micro-USB to USB-A cable x1
Micro-USB to Micro-USB OTG adapter cable x1
Micro USB to Type C Adapter
JST-GH-6P to JST-GH-6P cable x1 (for Pixhawk Standard FC)
JST-GH-6P to Molex DF13 6P (for Pix32, Pixhawk 2.4.6, etc.)