VTOL Drone Adler M32
11299.00 $ – 11799.00 $
Description
VTOL drone Adler M32, Long Endurance, Heavy Payload Fixed-Wing 
VTOL Drone Adler M32 Fixed-Wing VTOL is a battery-powered vertical take-off and landing (VTOL) fixed-wing UAV, offering 3.8hours endurance time with a 1.2kg payload that is catered to the needs of a wide range of aerial surveying applications and can be used as a cargo drone, mapping drone, and surveying drone in applications like terrain mapping, lightweight material transport, ground reconnaissance, and border patrol. Adler M32 Fixed-Wing VTOL V-tail design allows for incredible aerial maneuvers. It adopts a composite aerodynamic layout of quadrotors and fixed-wings and combines the advantages of VTOL of the quadrotors and the long range of fixed0wing drones.
This flexible and lightweight aircraft features a 24Kg maximum take-off weight and a 5Kg maximum load. The efficiency of the power system can be optimized to meet the characteristics of various surveying and mapping scenarios. Equipped with a modular design and a 3.2m wing span, the UAV can be quickly deployed in less than 90 seconds. A detachable load compartment design allows matching the center-of-mass of the cargo with that of the plane, realizing fast switching and enabling mission-matched loads.
Low-acoustic noise performance is guaranteed due to the electric power and less maintenance and life-cycle cost. The motor-tilt design improves flight stability. Adler M32 can resist and fly in windy conditions without any difficulty with a wind resistance level of up to 12m/s.
Adler M32 can reach a maximum speed of 26m/s, and fly up to 4500 meters height. Achieving 0.1m positioning accuracy is possible with the help of dual GPS and RTK systems.
Build from pure carbon fiber, the Adler M32 fuselage is lightweight and flexible. It has a detachable payload compartment design, for easier replacement of different types of payloads. All parts of the system including wings, tail, and arms are designed based on a quick assemble and disassemble structure.
Read more in our blog post, or contact us if you have any questions.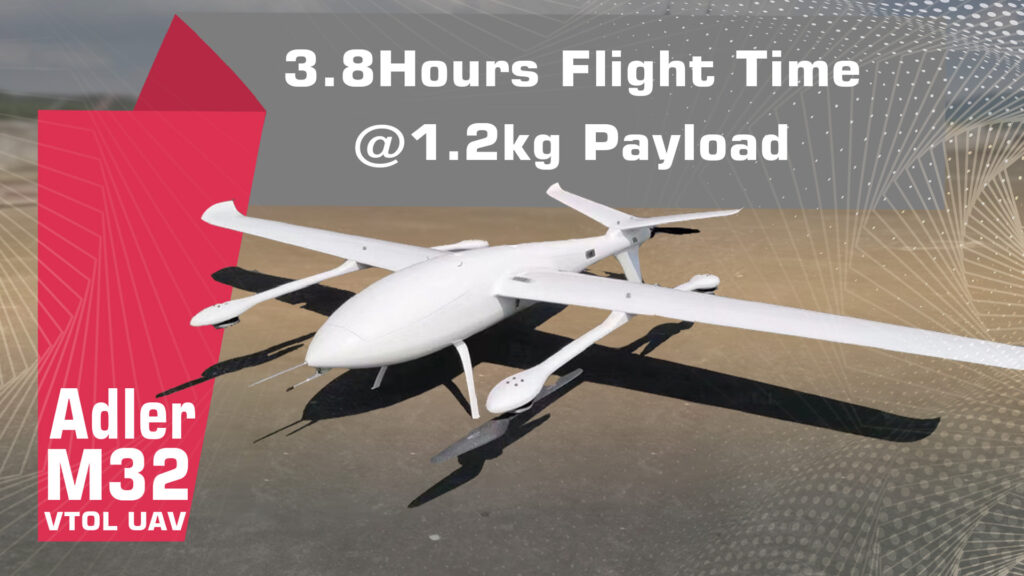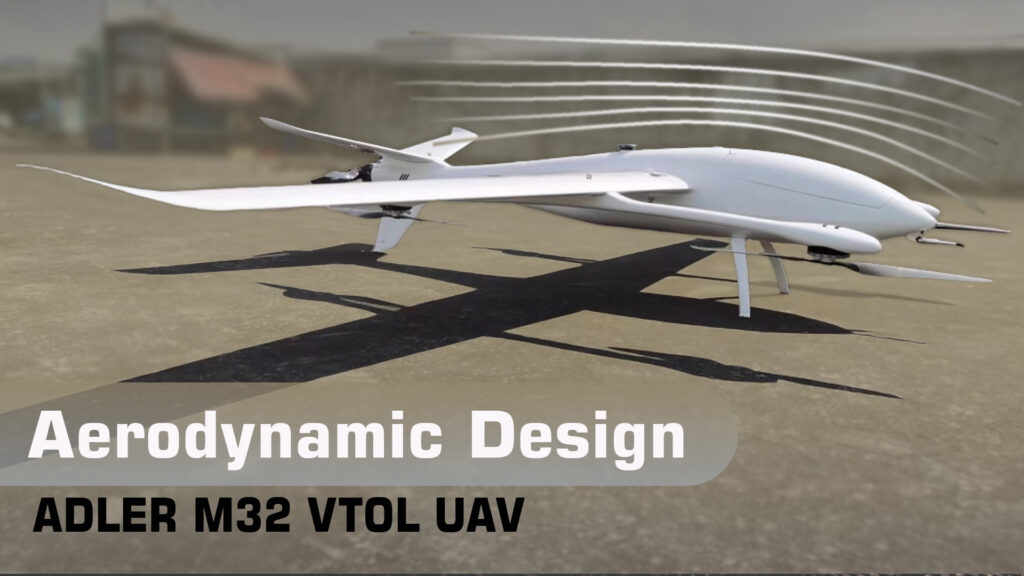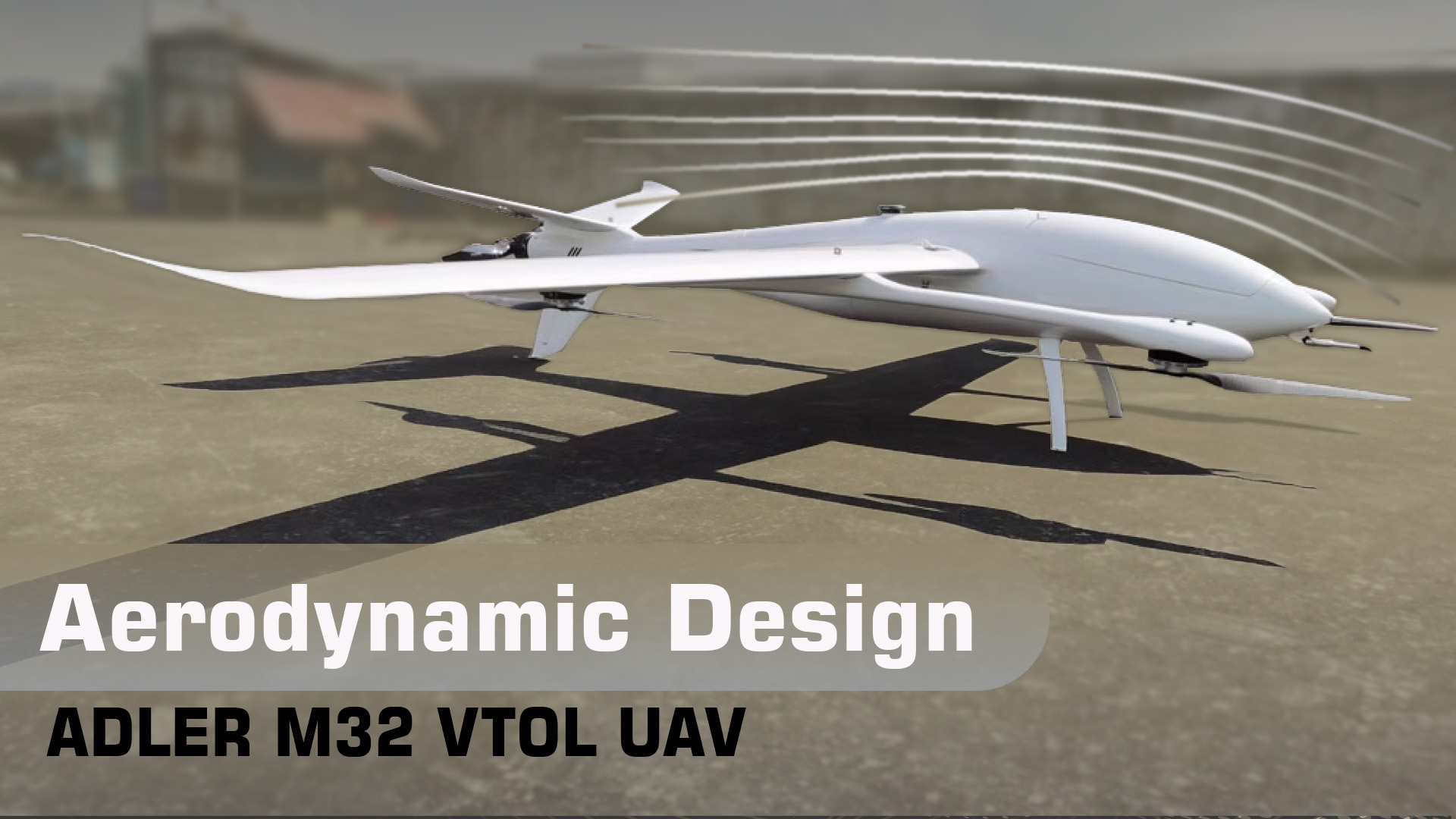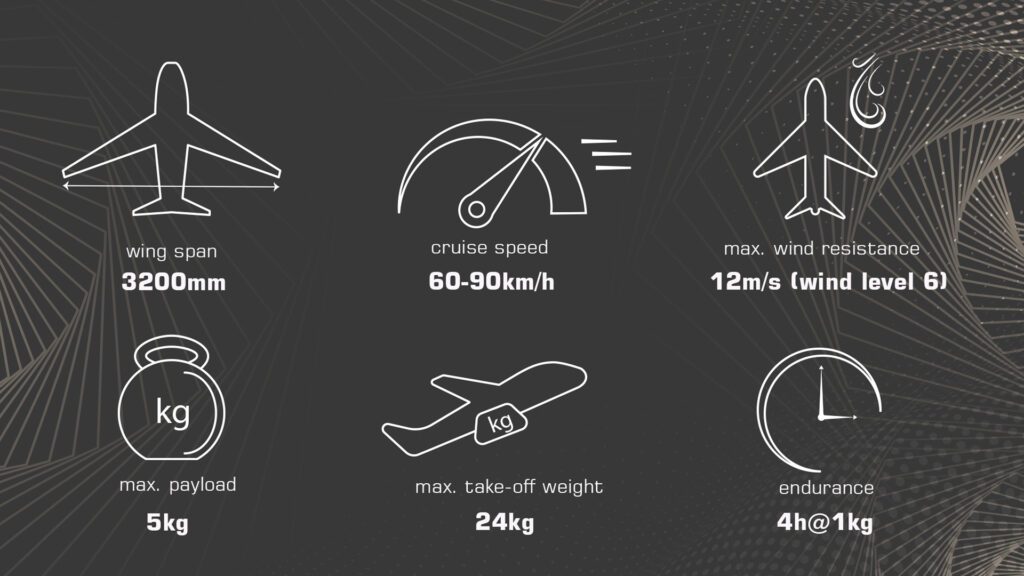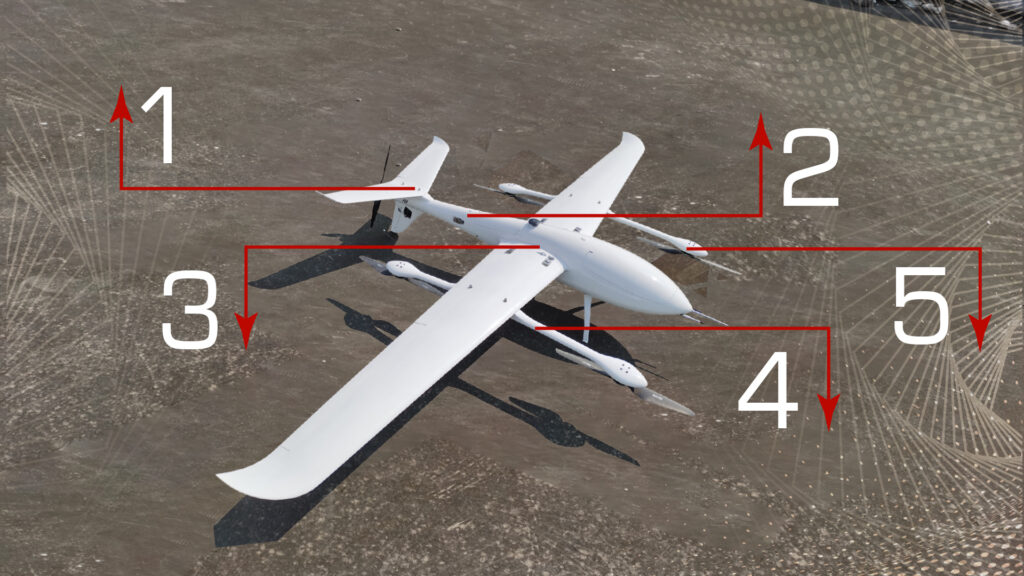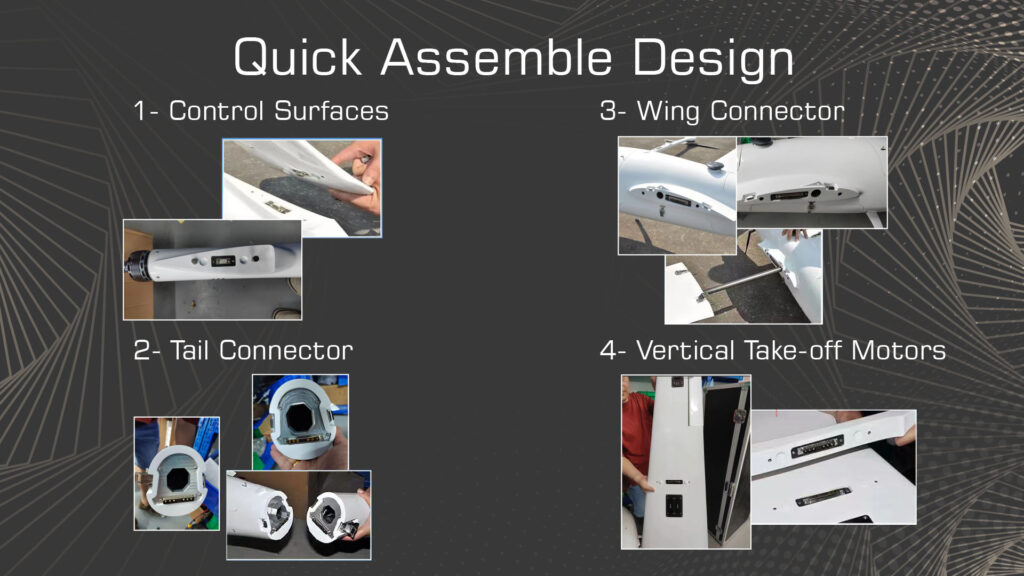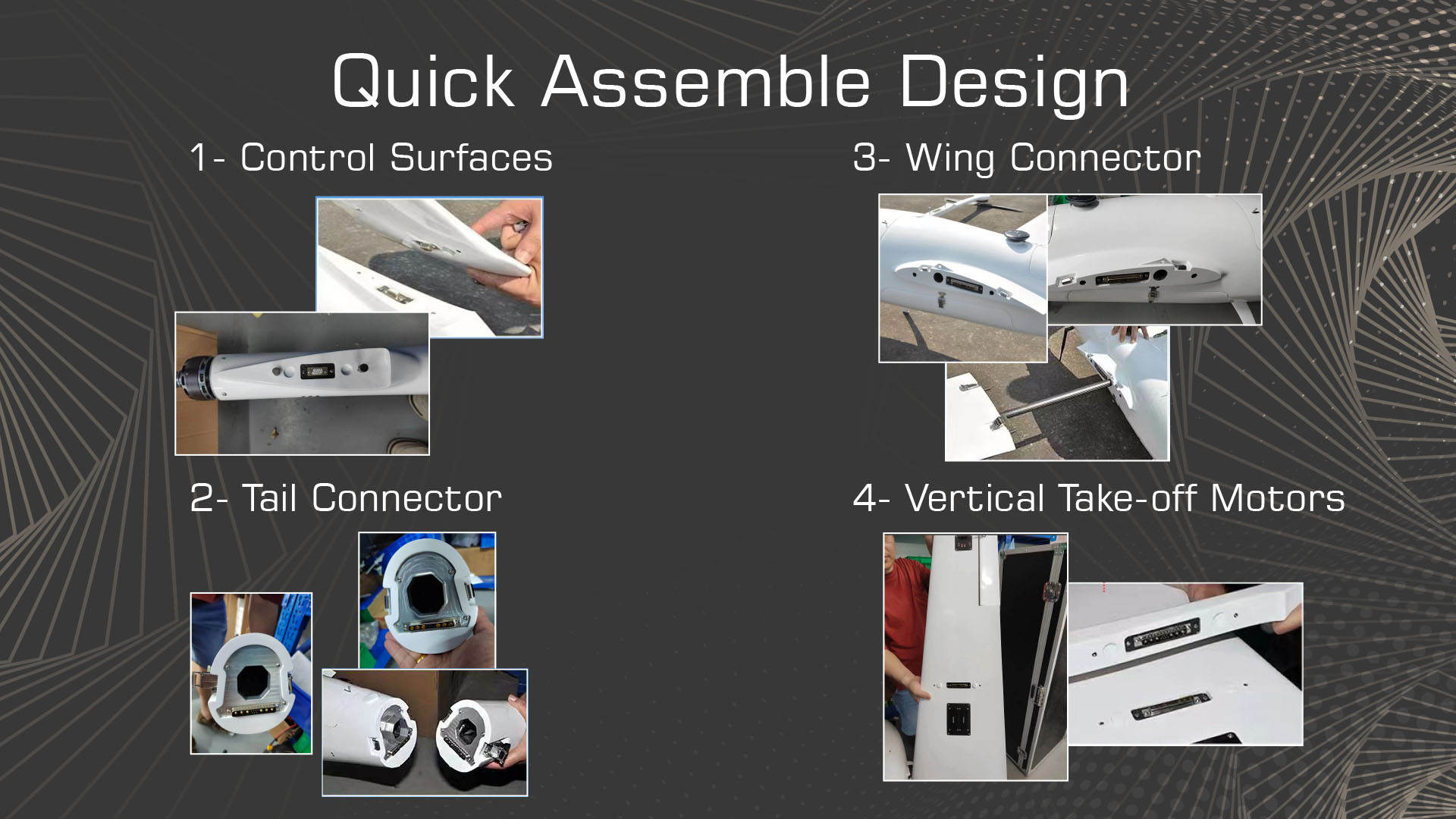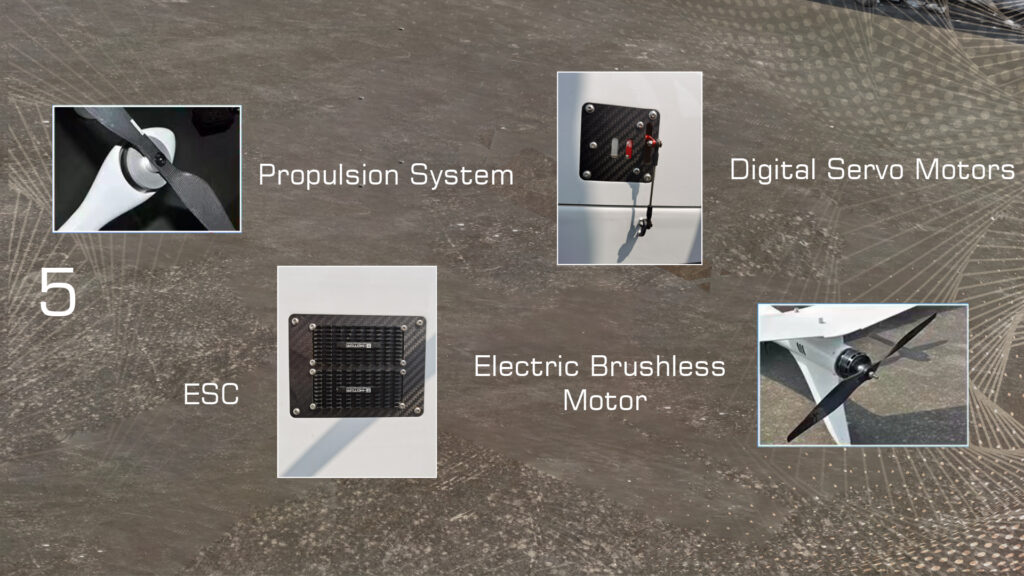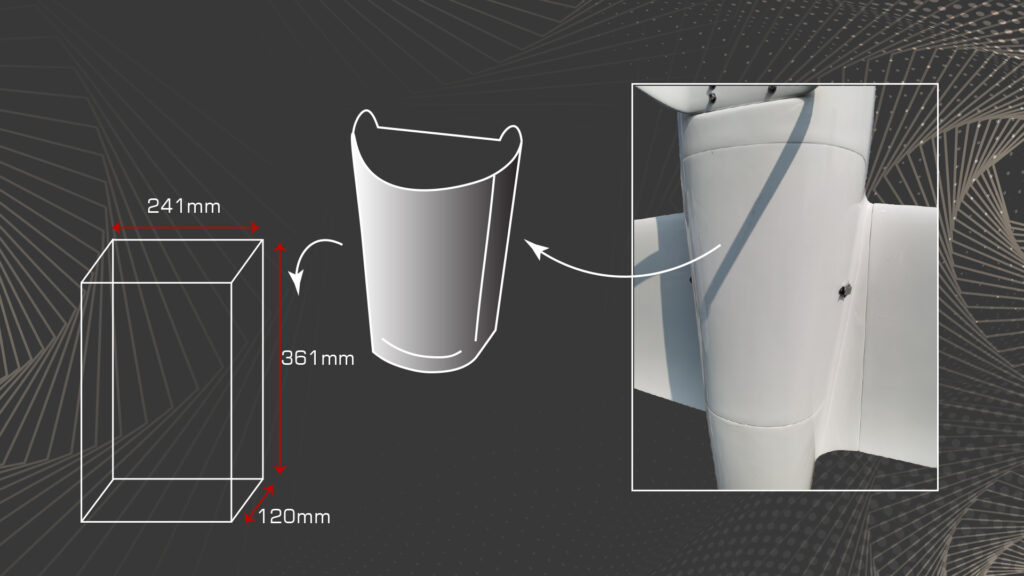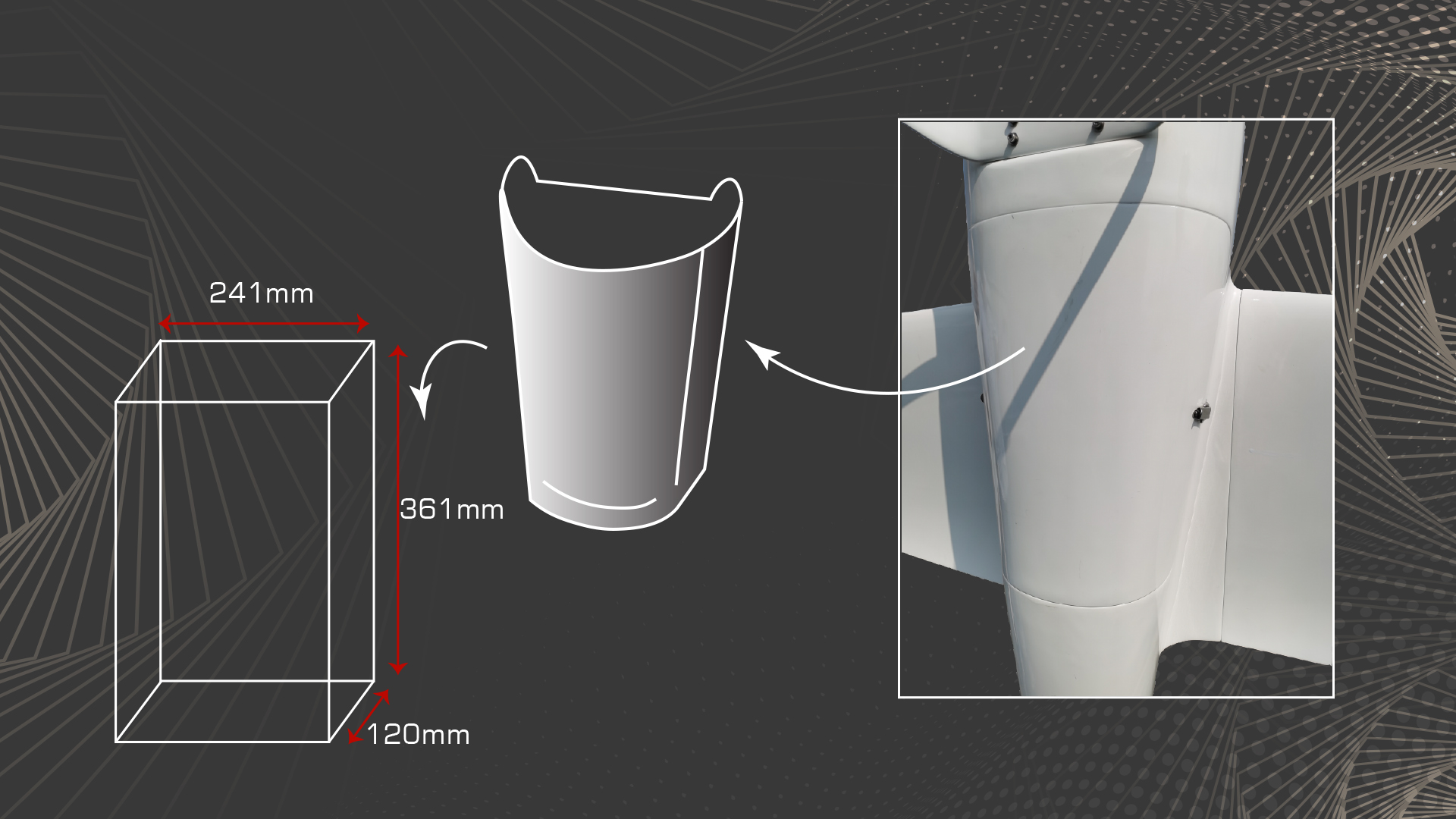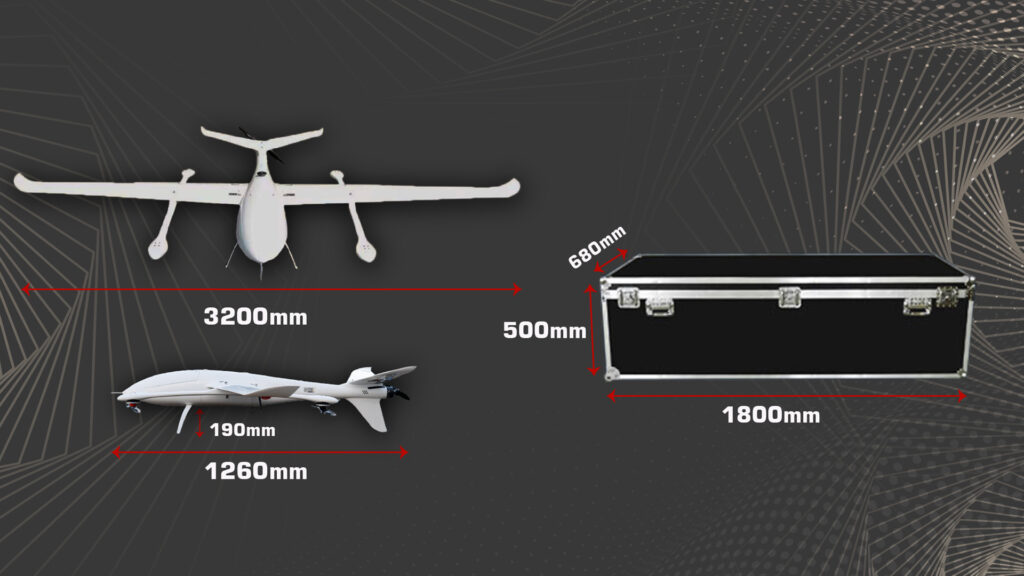 Additional information
| | |
| --- | --- |
| Weight | 20 kg |
| Dimensions | 250 × 60 × 60 cm |
| Bundle | Pixhawk Cube Orange RTF, X7+ pro RTF |
Specifications
Specifications


Model Name

Adler M32

Maximum Take-off Weight

24kg

Max. payload weight

5kg

Suggested Load

1.2kg

Max. Cruise Speed

26m/s

Wingspan

3200mm

Length

1260mm

Belly to Ground

190mm

Battery Cabin

300*200*140mm

Material

Carbon fiber + glass fiber + Kevlar + PVC

Airframe Weight

6.45kg

Flight Time

228min with 1.2kg payload

Stall Speed

17m/s

Max Flight Altitude

4500m

Max Wind Resistance

12m/s

Battery (Recommended)

4 * 6S 30000mAH HED Li-ion

Working Temperature

-20℃~60℃

IP Grade

IP45

Packing Chargeable Size

1800*680*500mm(Contains the wheel)

Package weight

45kg
Product contents
Product Bundles:
1x M32 VTOL
1x Tail Motor + ESC + Propeller
5x Servo
4x Motor + ESC  for VTOL Mode
2x (pairs) Propellers for VTOL Mode
2x UBEC
1x Pixhawk Cube Orange Standard Set (or CUAV X7+ Pro Flight Controller)
2x C-RTK 9Ps High Precision Positioning Module Sky End
1x Radio Controller
1x Carrying Case
1x Assembling, tuning, and Flying Test Service