Sale!
VTOL Drone Sparrow M25 Pro, Long Endurance Fixed-Wing
7999.00 $ – 8424.00 $
Description
VTOL drone Sparrow M25 Pro, Long Endurance Fixed-Wing 
VTOL Drone Sparrow M25 Fixed-Wing VTOL is a battery-powered vertical take-off and landing (VTOL) fixed-wing UAV, offering 240 min no payload endurance time (210min  with 1.2kg payload) that is catered to the needs of a wide range of aerial surveying applications like terrain mapping, lightweight material transport, ground reconnaissance, and border patrol. Sparrow M25 Fixed-Wing VTOL V-tail detachable design allows for incredible aerial maneuvers. It adopts a composite aerodynamic layout of quadrotors and fixed-wings and combines the advantages of VTOL of the quadrotors and the long range of fixed0wing drones. This flexible and lightweight aircraft features a 13.5Kg take-off weight and a 3Kg maximum load. The efficiency of the power system can be optimized to meet the characteristics of various surveying and mapping scenarios. Equipped with a modular design and a 2.5m wing span, the UAV can be quickly deployed in less than 90 seconds. A detachable load compartment design allows matching the center-of-mass of the cargo with that of the plane, realizing fast switching and enabling mission-matched loads.
The cooling is provided by side air conduits direct the airflow on the internal electronics. Low-acoustic noise performance is guaranteed due to the electric power and less maintenance and life-cycle cost.
Sparrow M25 can reach a maximum speed of 100km/h, and fly up to 4800 meters in height. Achieving high positioning accuracy is possible with the help of dual GPS and RTK systems.
Build from pure carbon fiber, the M25 fuselage is lightweight and flexible. It has a detachable payload compartment design, for easier replacement of different types of payloads. All parts of the system including wings, tail, and arms are designed based on a quick assemble and disassemble structure.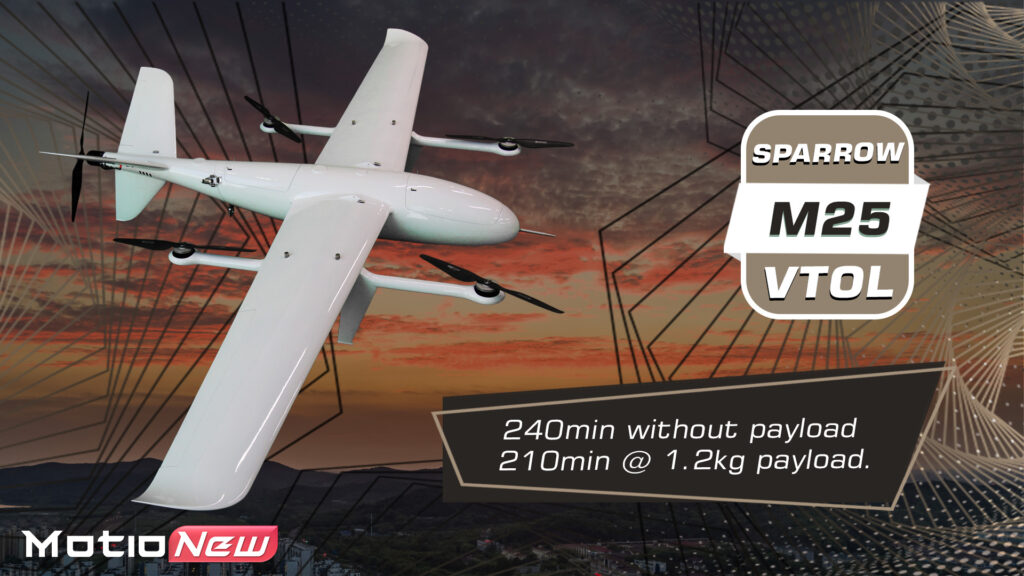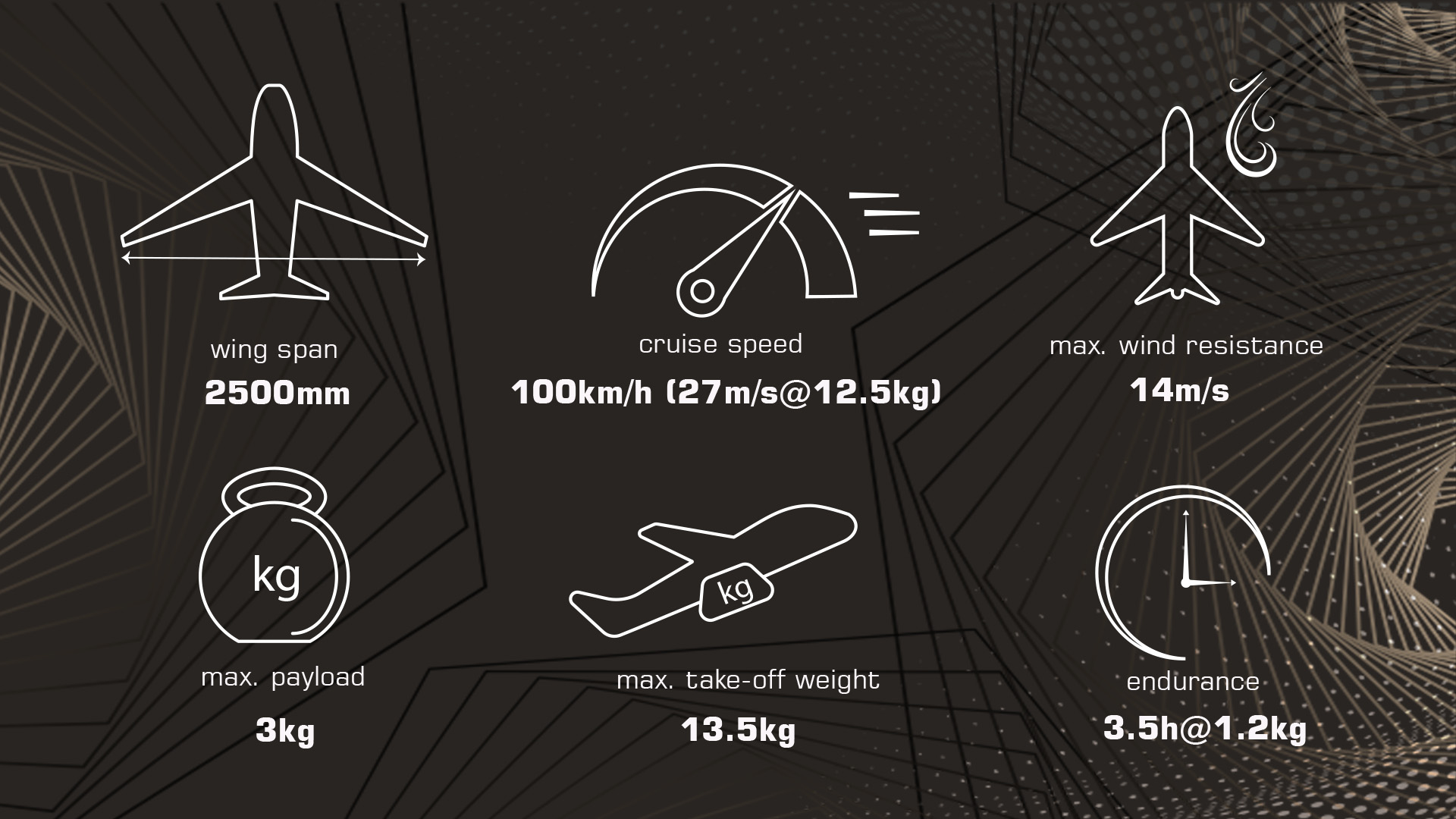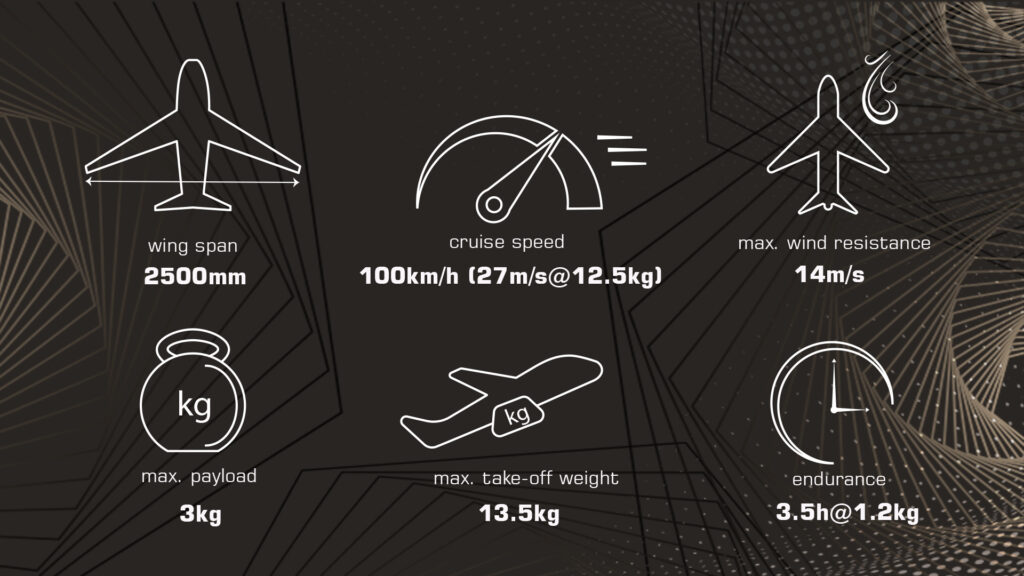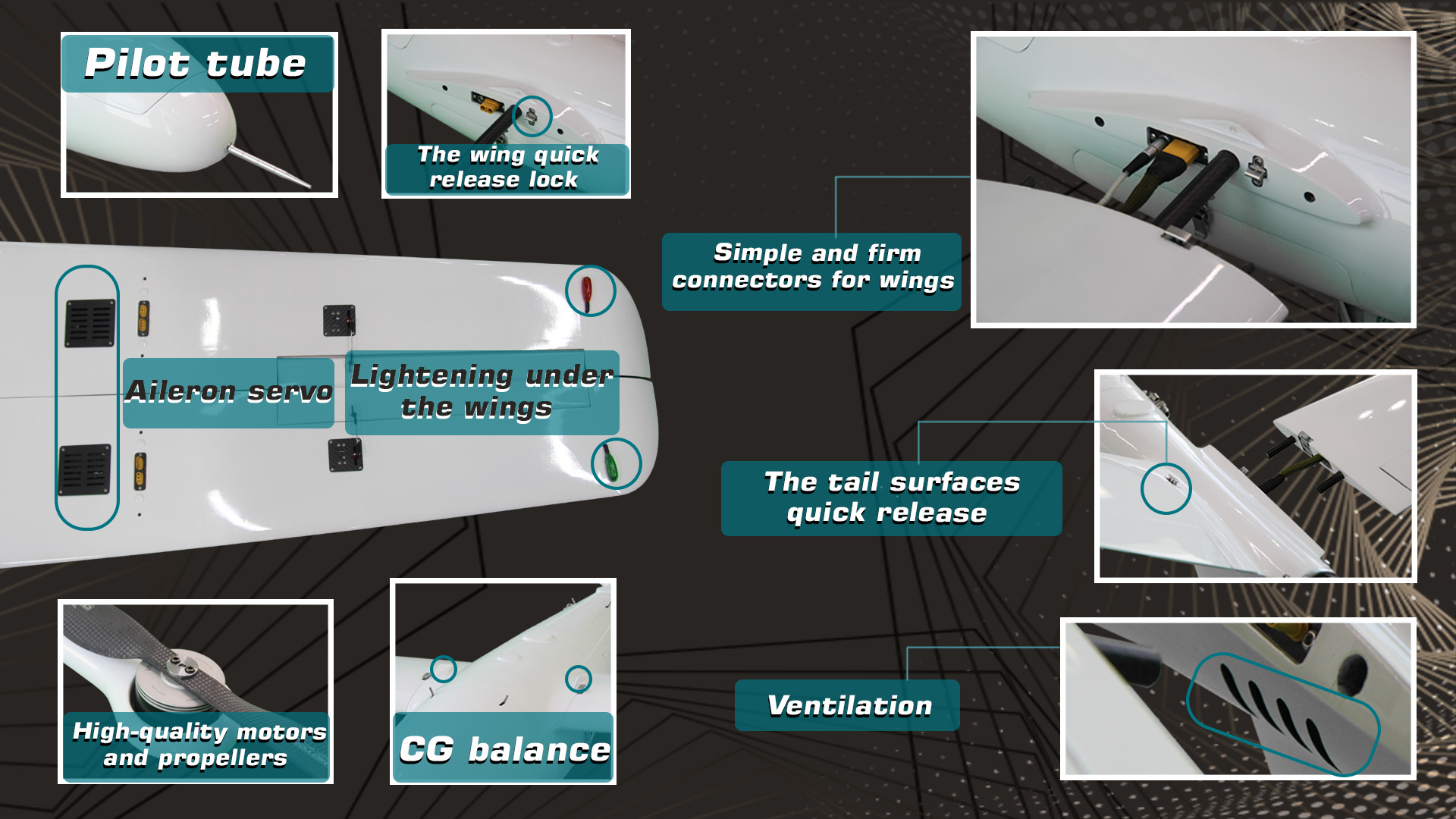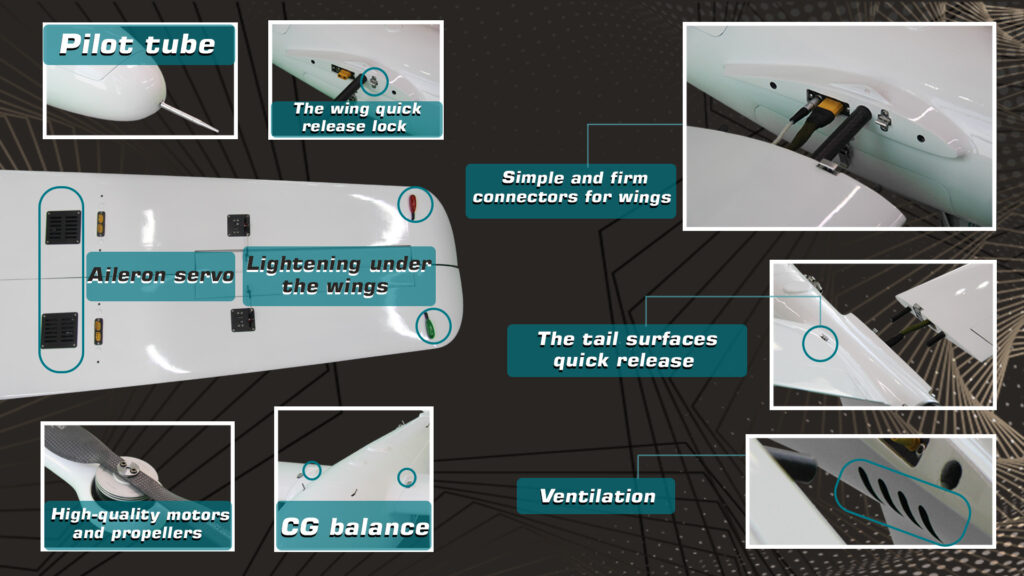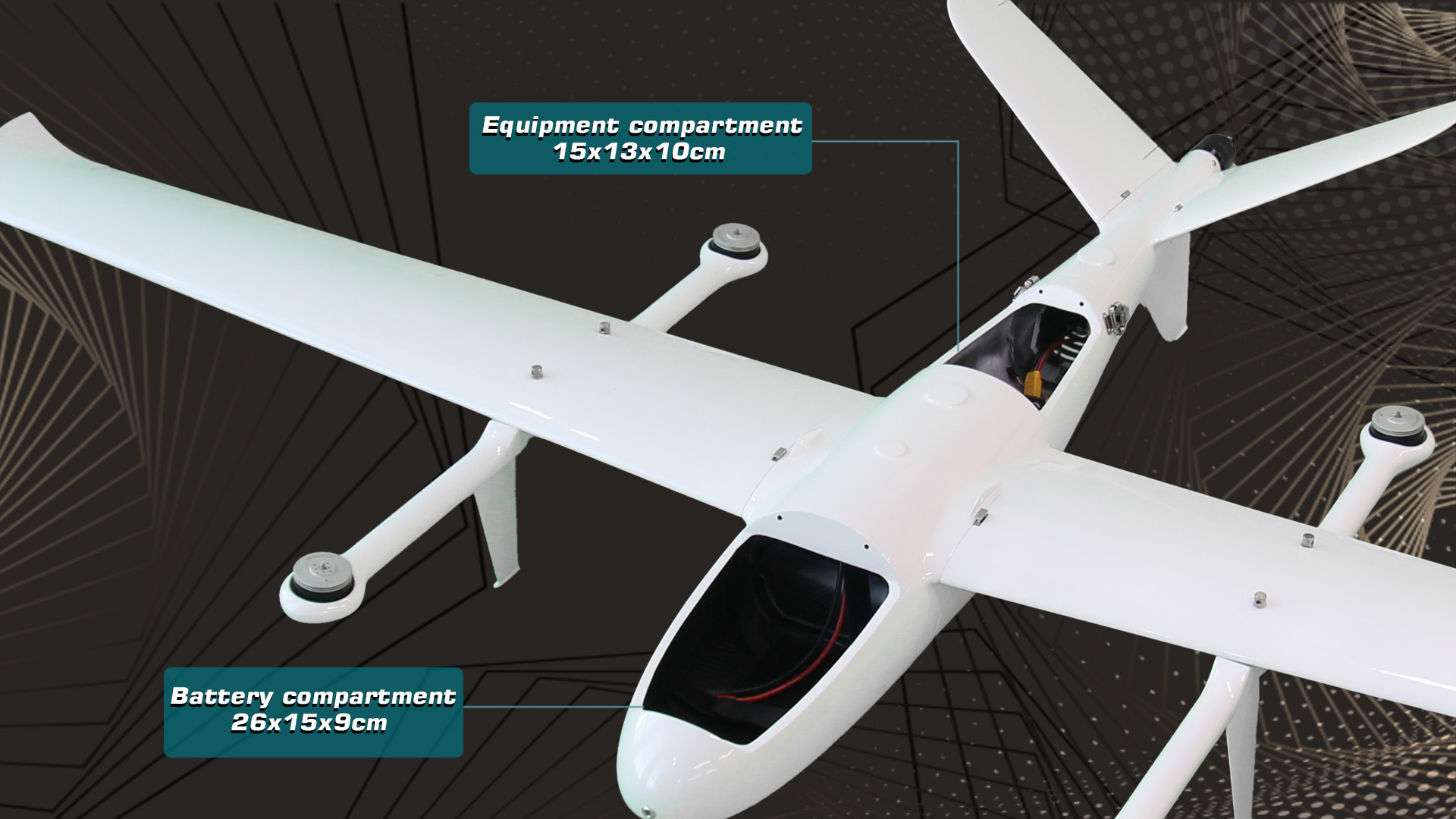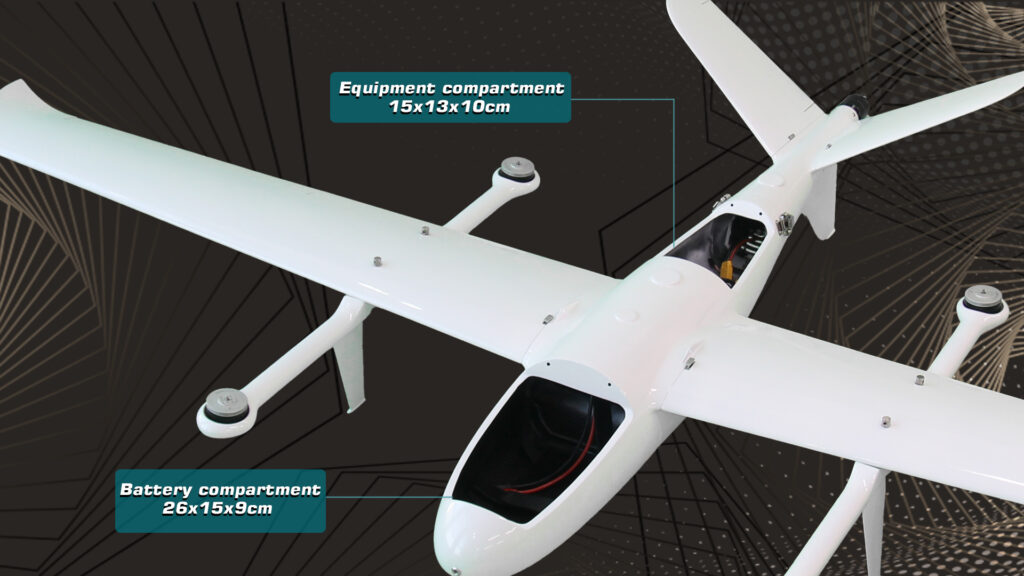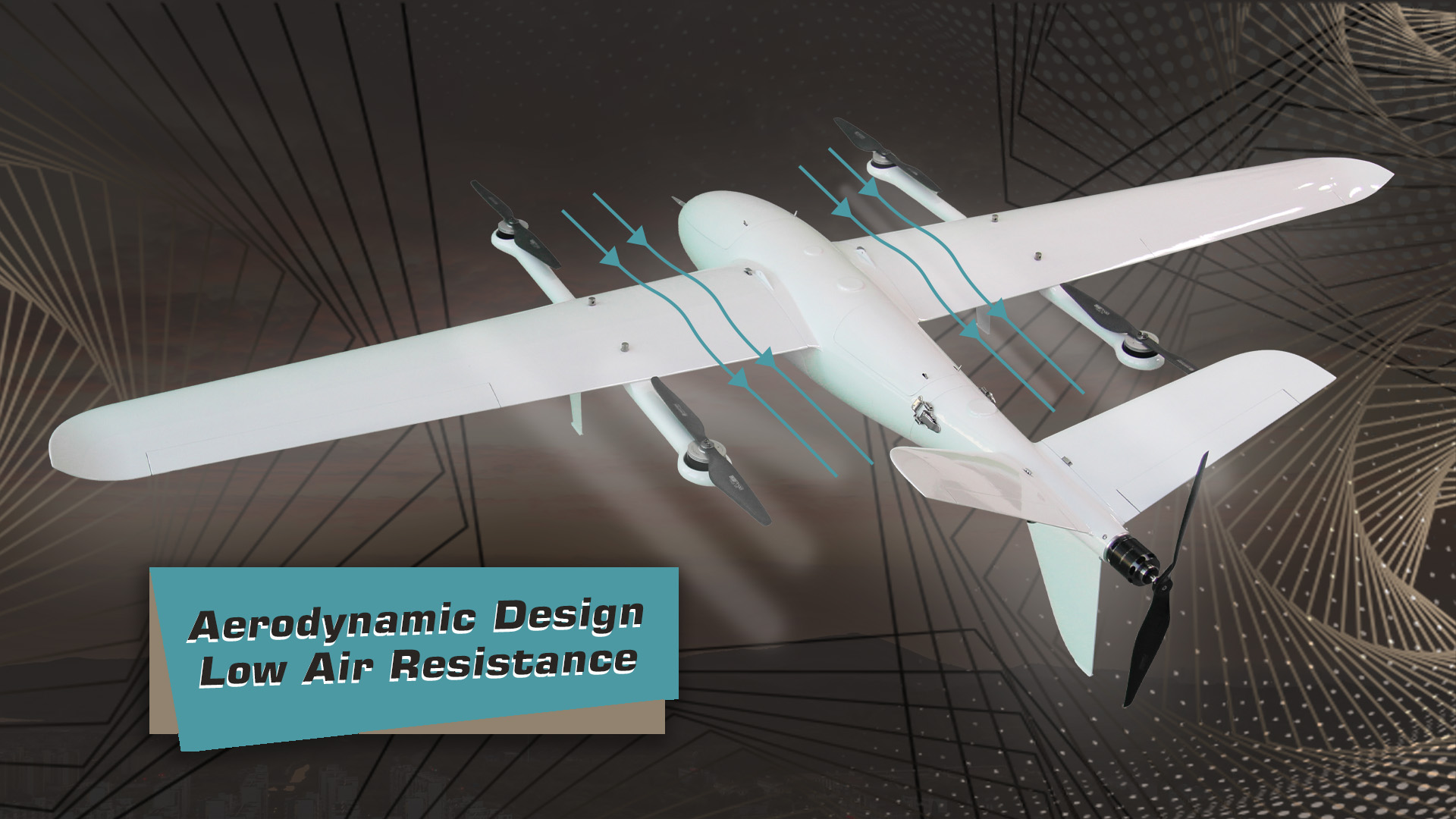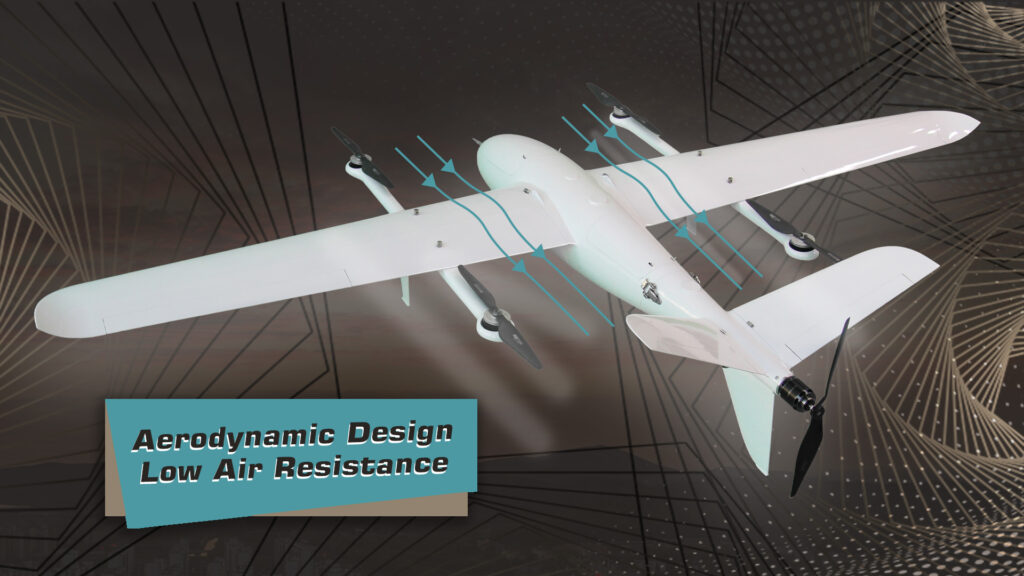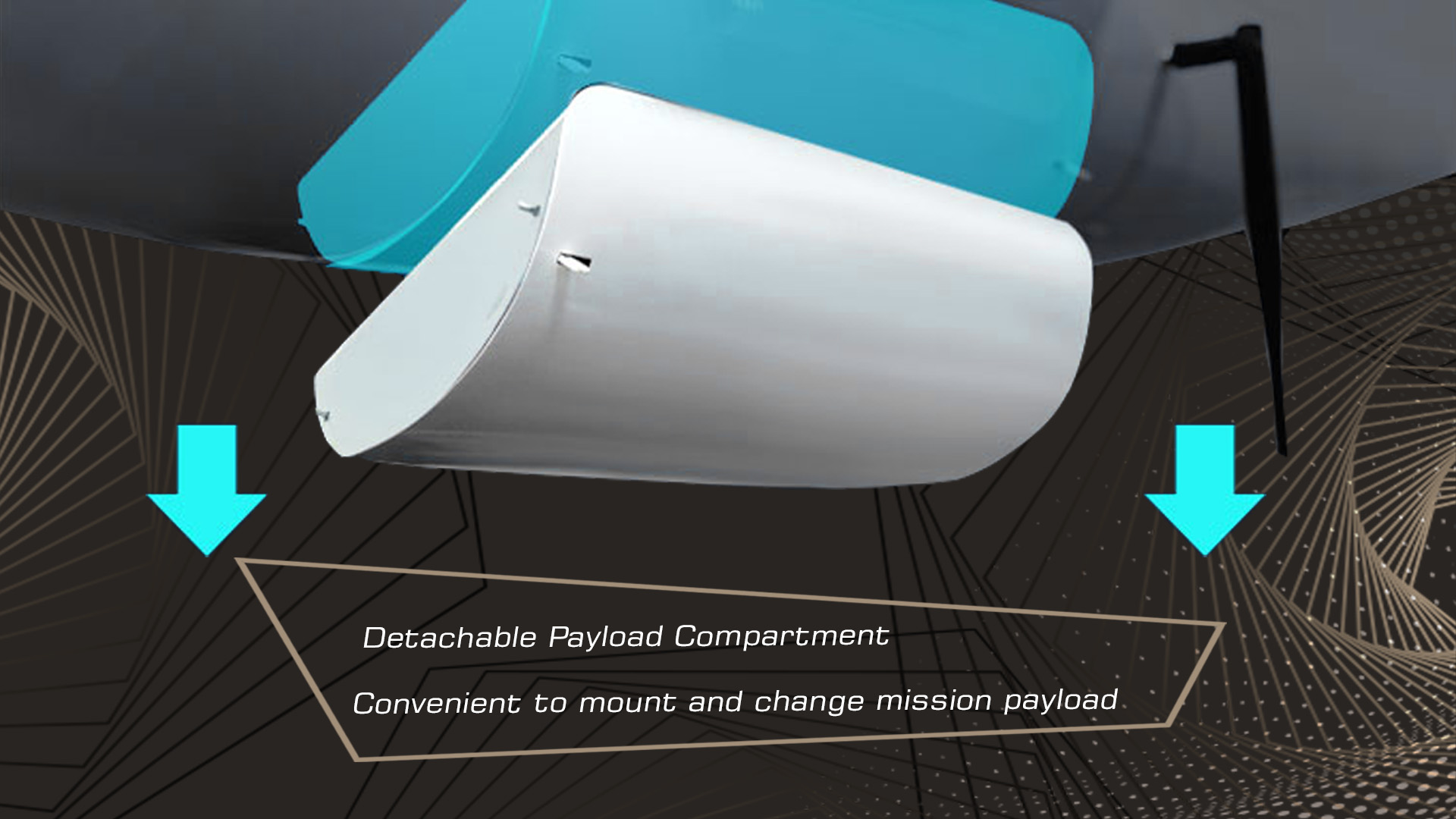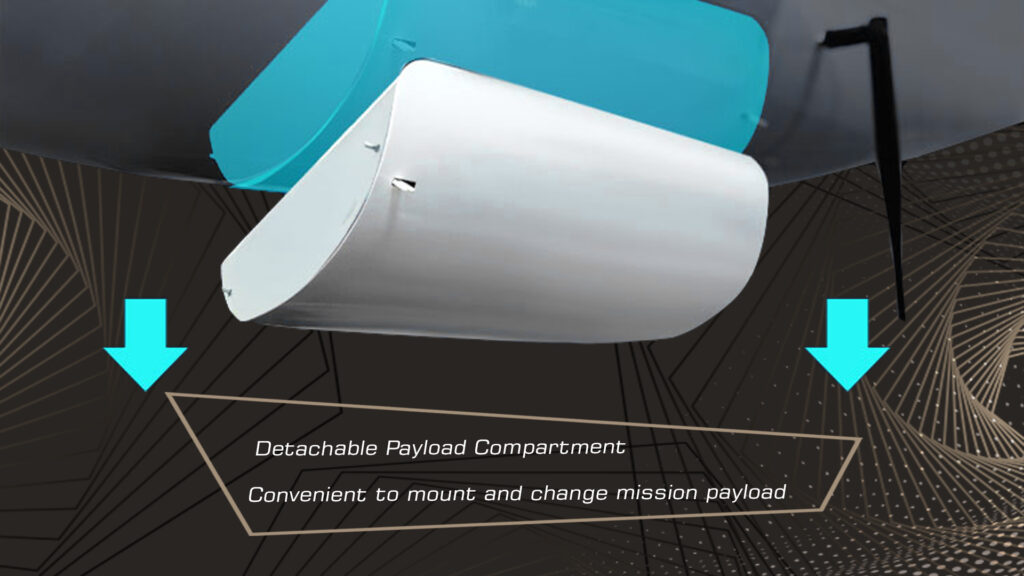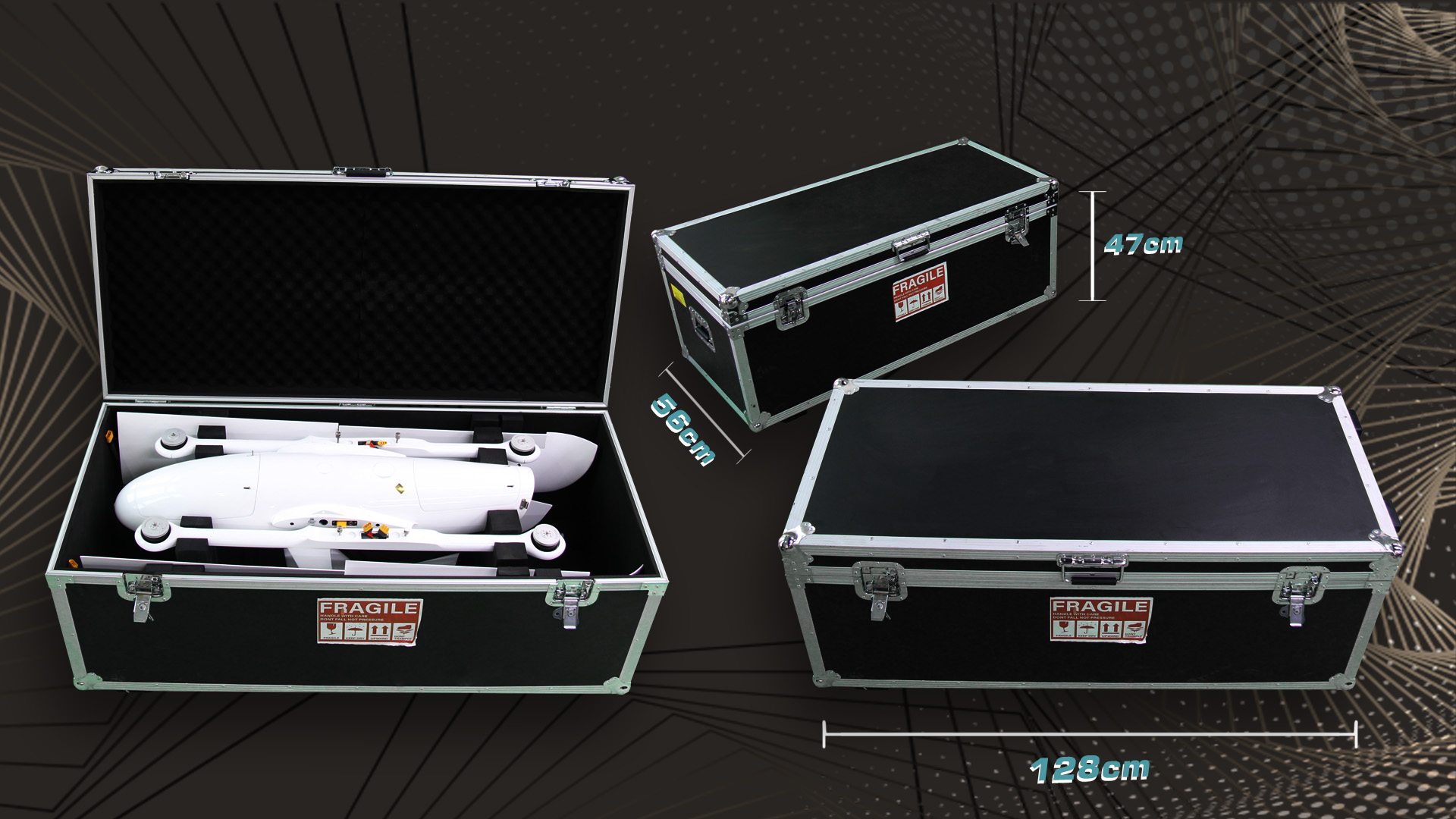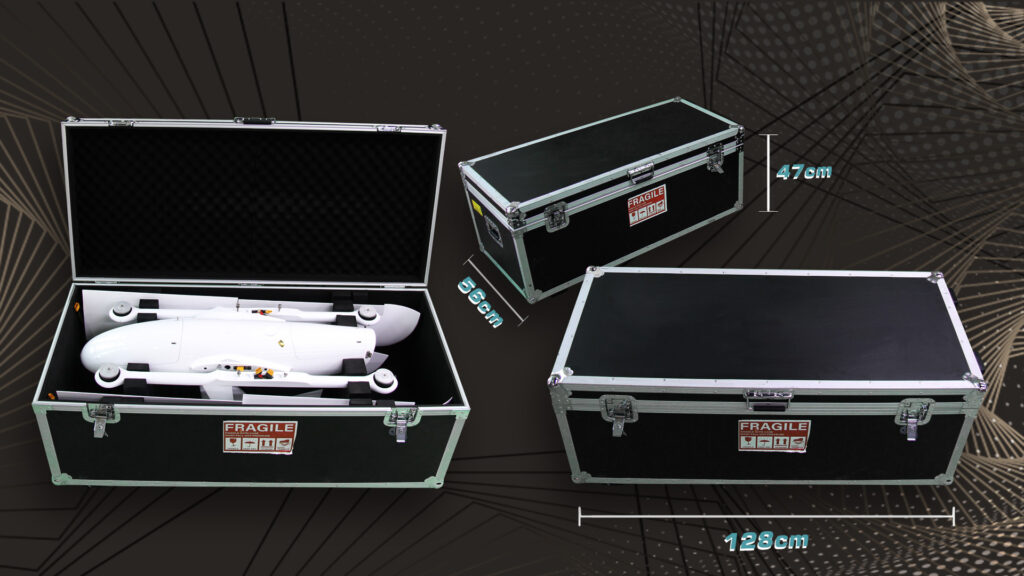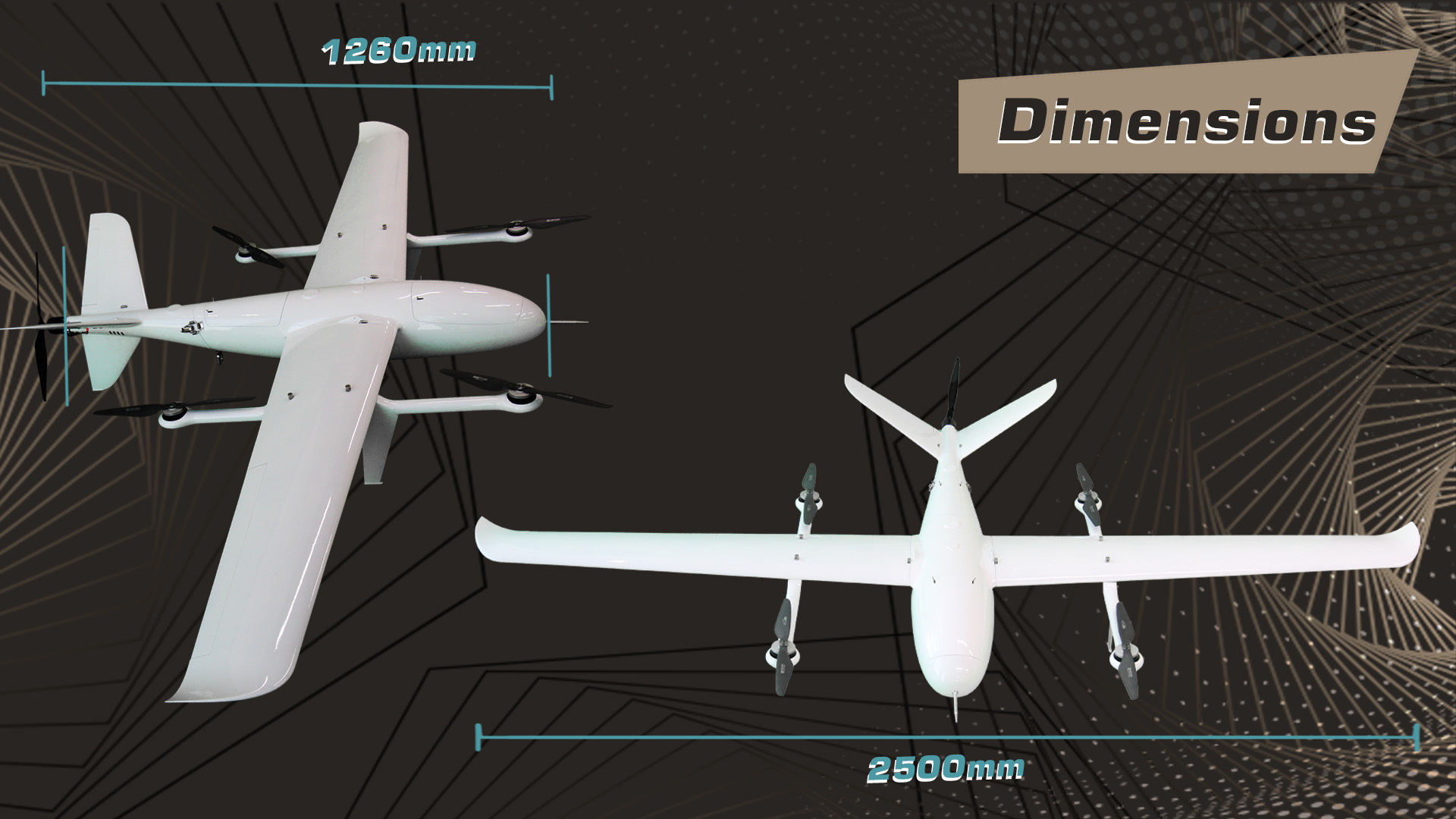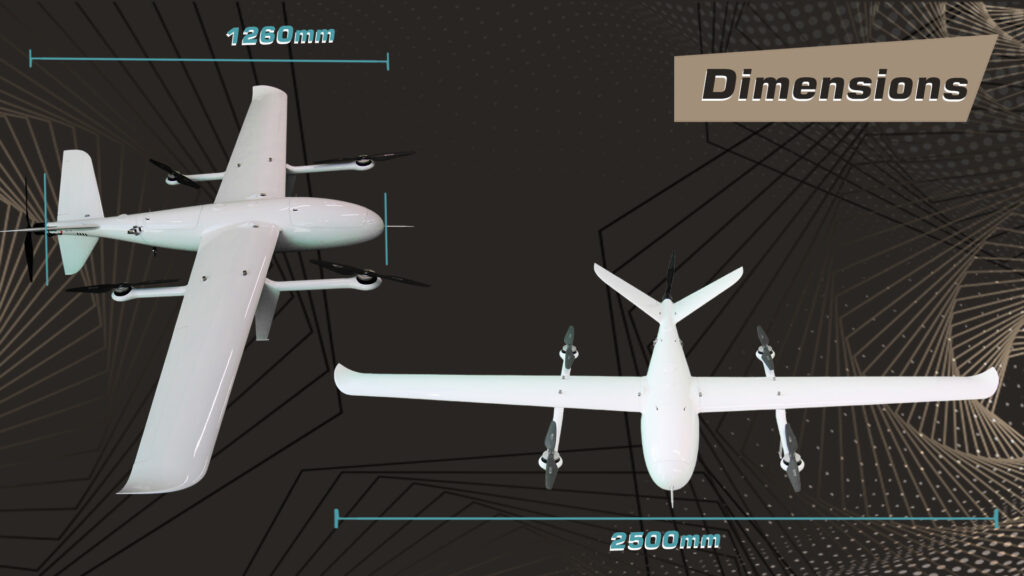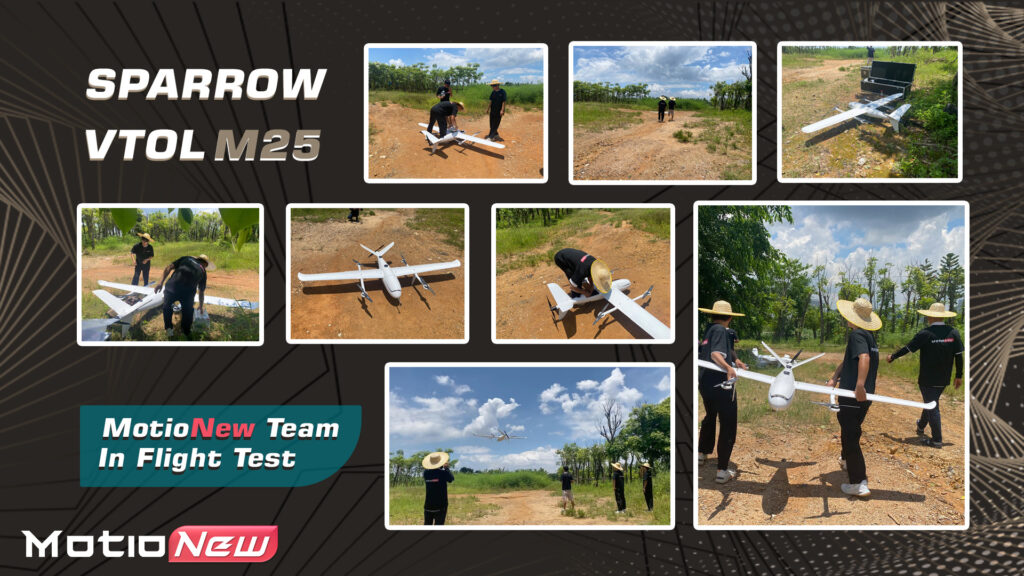 Additional information
| | |
| --- | --- |
| Weight | 8 kg |
| Dimensions | 129 × 48 × 57 cm |
Specifications
Specifications


Color

White as default (Support customization)

Wingspan

2500mm

Length

1260mm

Belly to Ground

160mm

Battery Cabin

26*15*9cm

Material

Carbon fiber + fiberglass

Airframe Weight

3.2kg

MTOW

13.5kg

Max Payload

3kg

Suggested Load

1.2kg

Flight Time

4hrs without payload, 3.5hrs with 1.2kg payload

Max Cruising Speed

100km/h (27m/[email protected])

Stall Speed

50km/h (15.5m/s)

Max Flight Altitude

4800m

Max Wind Resistance

14m/s

Battery (Recommended)

2 * 6S 27000mAH HED Li-ion

Working Temperature

-20℃~60℃
| | |
| --- | --- |
| IP Grade | IP45 |
| Packing Chargeable Size | 128*57*50cm |
Product contents
CUAV V5+ Bundle:
1x airframe VTOL
1x CUAV V5+ flight controller
1x NEO3 GNSS GPS
4x VTOL Motor
4x VTOL ESC
1x Airplane Motor
1x Airplane ESC
1x Pair VTOL Propeller
1x Airplane Propeller
4x Servo
1x UBEC
1x Night Light
1x Radio Control
1x Flight Case
Assembling, tuning and flight test service
CUAV X7+ RTF  Bundle:
1x airframe VTOL
1x CUAV X7+ Flight Controller
1x NEO3 Pro GNSS GPS
4x VTOL Motor
4x VTOL ESC
1x Airplane Motor
1x Airplane ESC
1x Pair VTOL Propeller
1x Airplane Propeller
4x Servo
1x UBEC
1x Night Light
1x Radio Control
1x Flight Case
Assembling, tuning and flight test service
Cube Orange RTF Bundle:
1x airframe VTOL
1x Cube Orange Flight Controller
1x Here 3 GNSS GPS
4x VTOL Motor
4x VTOL ESC
1x Airplane Motor
1x Airplane ESC
1x Pair VTOL Propeller
1x Airplane Propeller
4x Servo
1x UBEC
1x Night Light
1x Radio Control
1x Flight Case
Assembling, tuning and flight test service