G25 VTOL Fixed Wing for Survey and Rescue with Easy Changeable Payload Bin
21499.00 $ – 25000.00 $
Description
G25 VTOL Fixed Wing Overview
G25 VTOL has a 3.9-meter wingspan and features a highly advanced aerodynamic design. The fuselage of this fixed wing VTOL is made of Carbon fiber + glass fiber which is very light and durable.
Although the G25 VTOL is so big, it adopts a quick-detach design which makes the plane easy to assemble and disassemble, and easy to transport. The fuselage also has big inner space for the flight controllers, batteries, or other types of equipment, like oblique cameras, Multisensor gimbal cameras, etc.
The G25 VTOL can fly longer and load more payload. This VTOL has a long flight time endurance by using a high voltage supported propulsion system that makes up to 140min flight time with 6.5Kg payload, obviously, it can be used for ultra-long-range flight distances by using lighter payloads and a reliable long-range data and video link system. This VTOL Standard take-off weight is about 25kg, The suggested max payload is 10kg. The cruising speed of the G25 VTOL can reach 75km/h. The G25 fixed wing drone can take off and land vertically in a very small area and use as a rescue drone and survey drone.
Key Features
High reliability

Equipped with dual engine

Large climb rates

Easy to deal with the flight in high drop terrain

Intelligent control

Low current distribution

Dual engine avoid overheating protection of motor and ESC from continuous climbing(optional)

Efficient cruise

Flight over 2hours with a 6.5kg lidar payload

Large payload cabin

The size of an independent detachable payload cabin is 450*250*160mm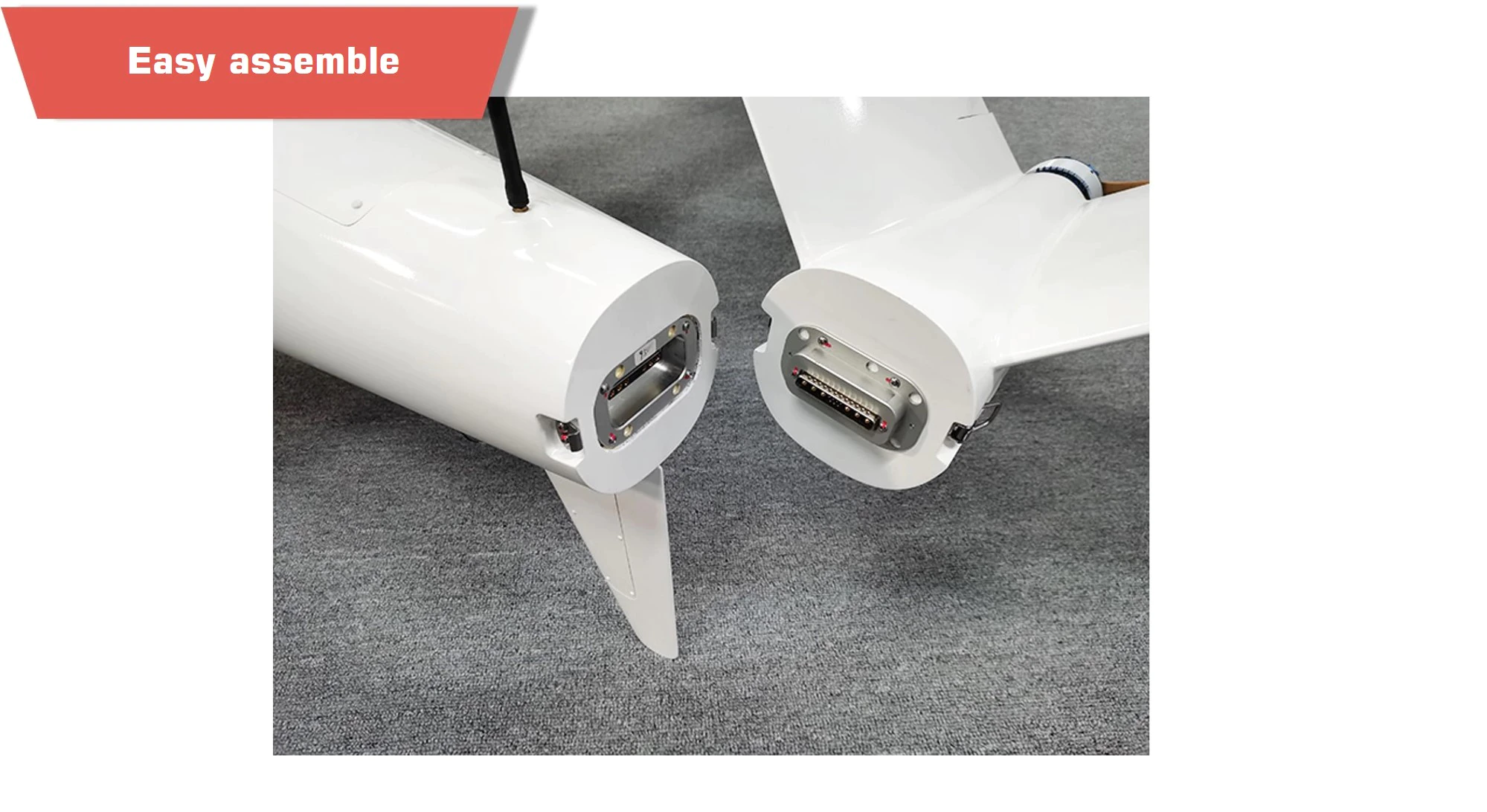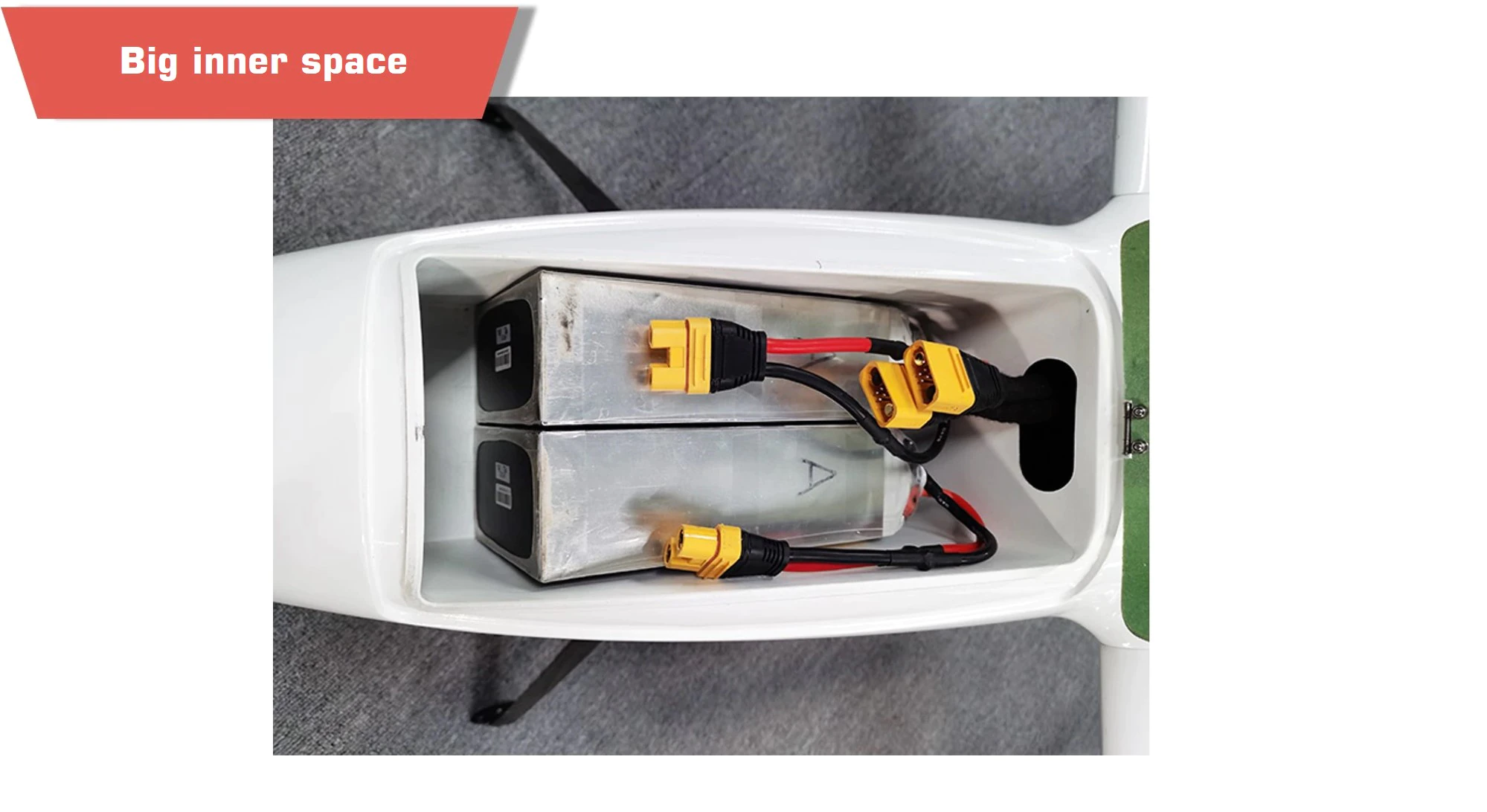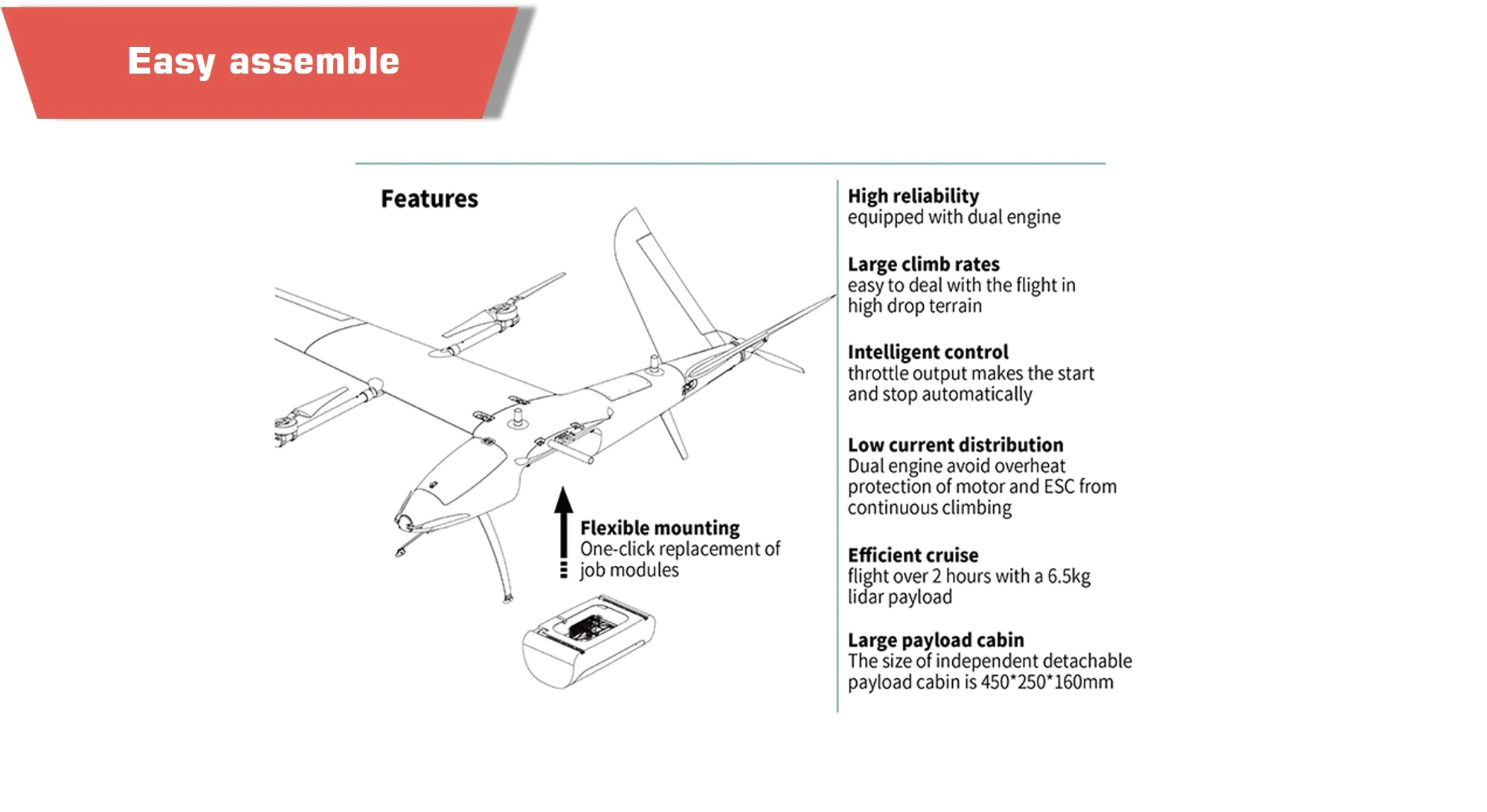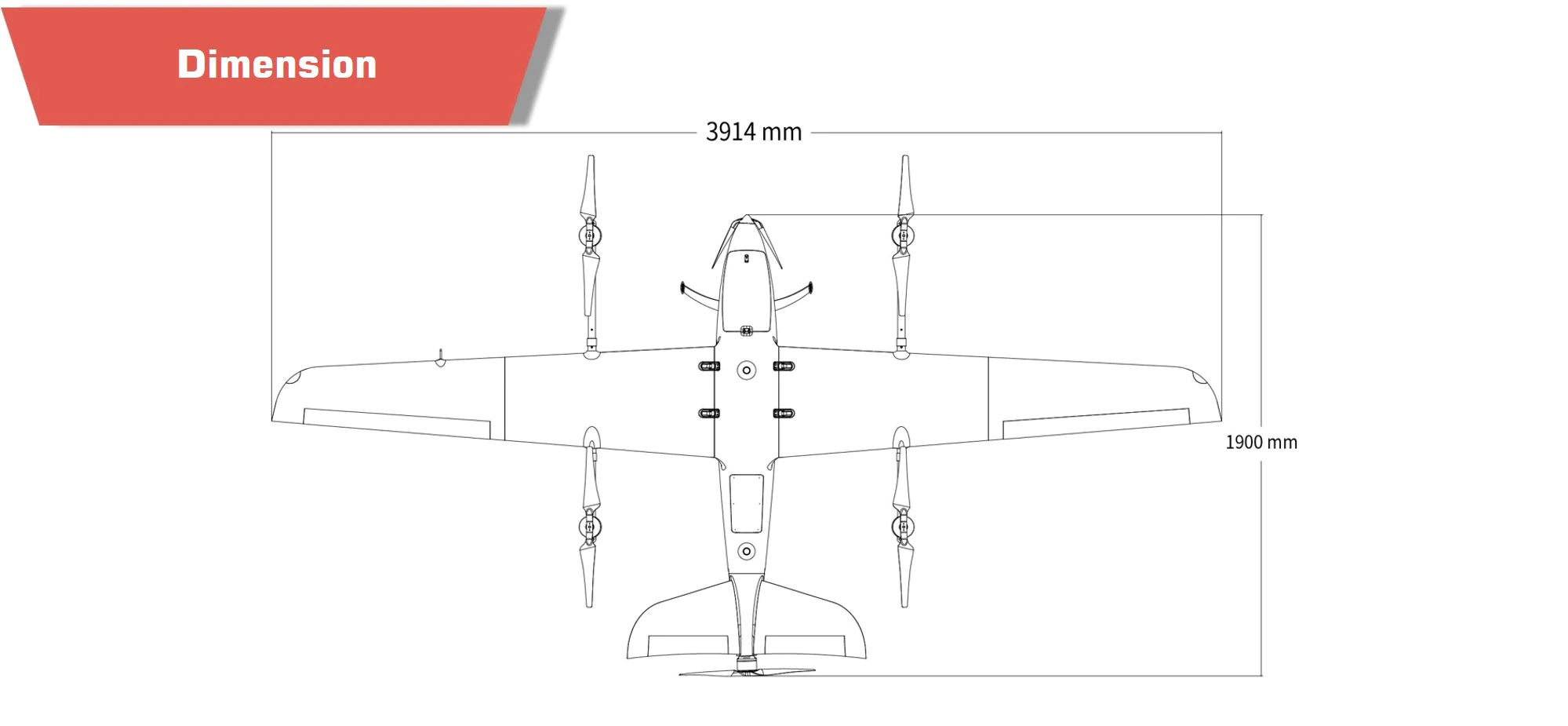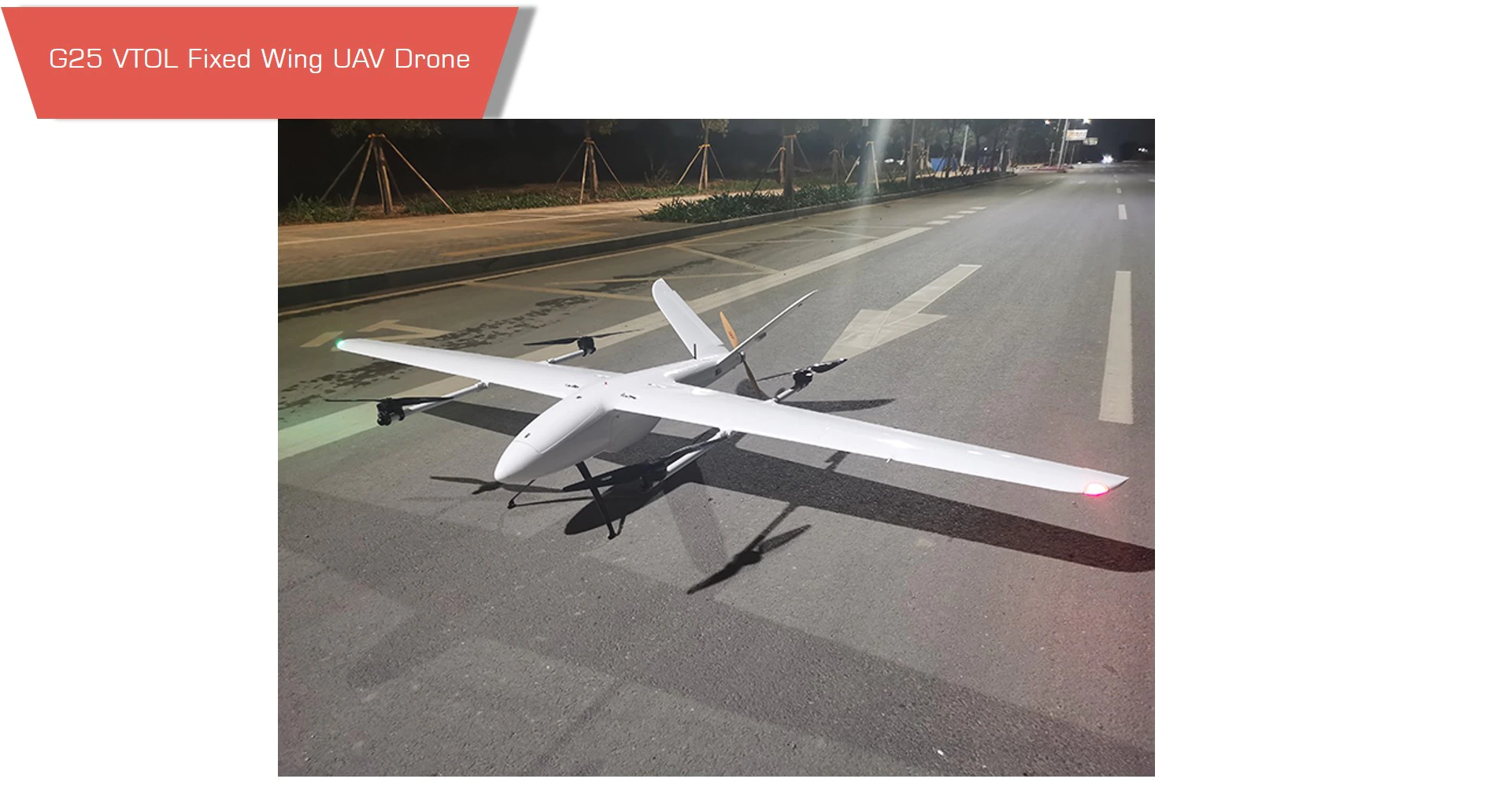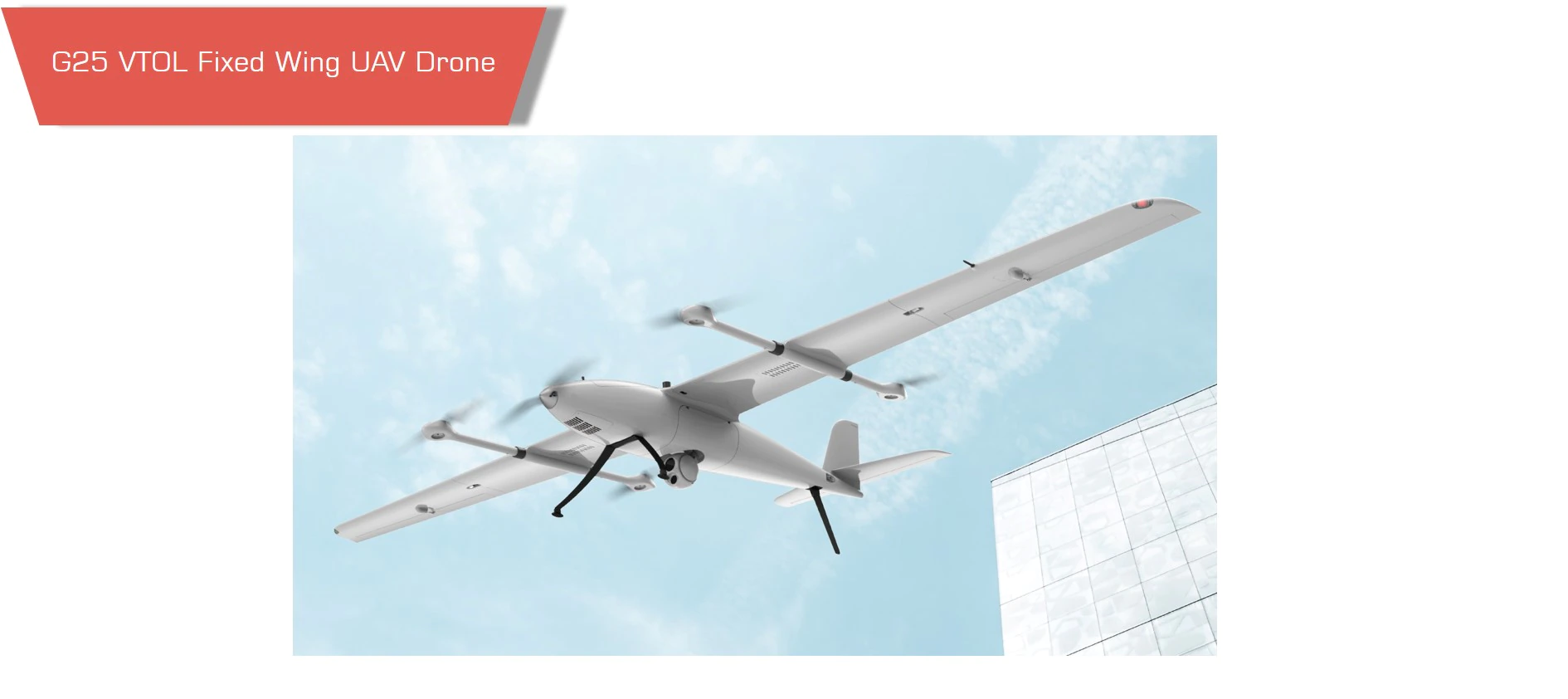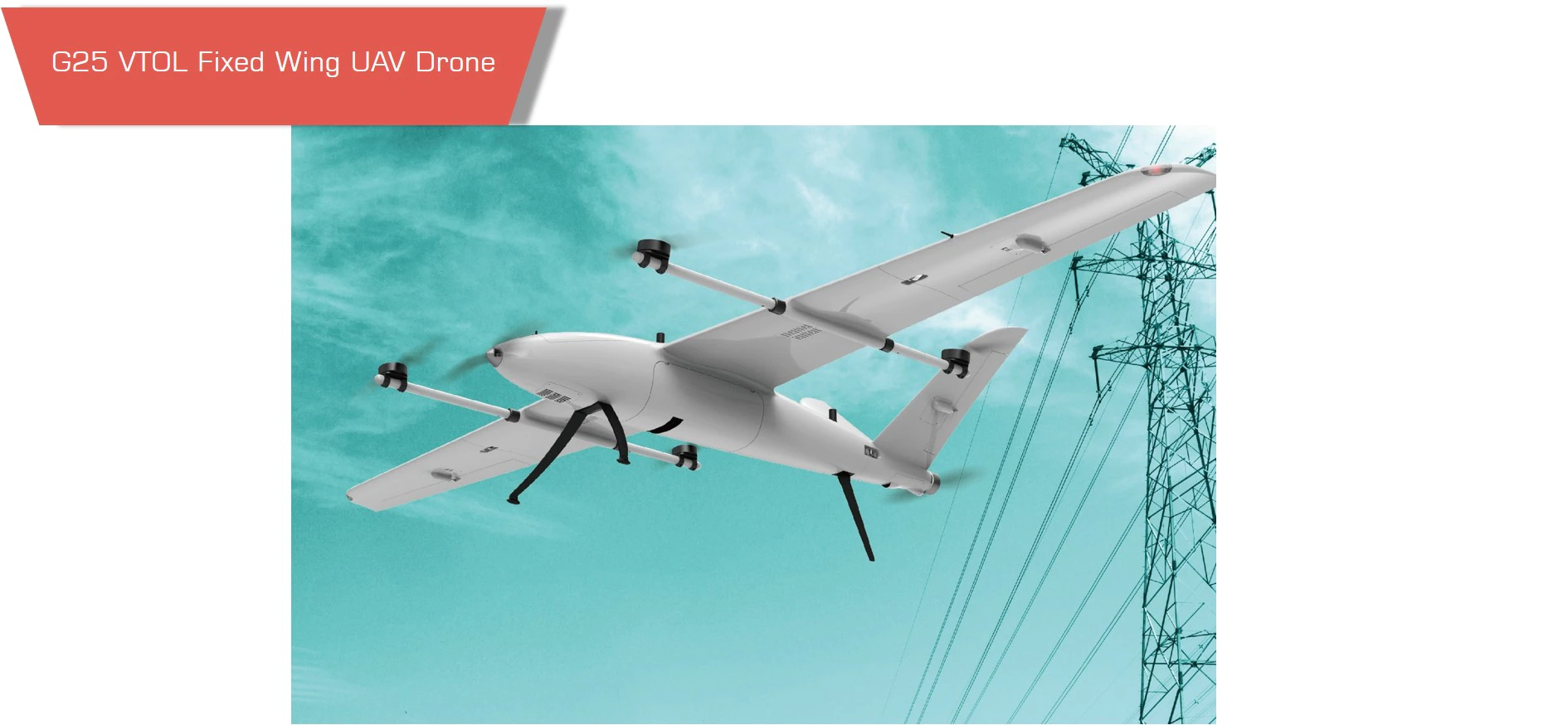 If you have any questions regarding our products, use the Motionew Contact us page to consult our engineering team.
Additional information
| | |
| --- | --- |
| Weight | N/A |
| Dimensions | N/A |
| Bundle | ARF- CUAV Avionics, ARF- Holybro Avionics, RTF- Custom Avionics |
Specifications
| | |
| --- | --- |
| Product Name | G25 VTOL Fixed Wingd-wing UAV RTF version |
| Material  | Carbon fiber + glass fiber |
| Color | White/gray |
| Standard take-off weight | 25kg |
| Max. Payload Weight | 10 kg |
| Cruise Speed | 75km/h |
| Max. Flight Speed | 100km/h |
| Control radius | 30km |
| Max. climb speed | 8m/s |
| Max. Descend speed | 5m/s |
| Max. Altitude AMSL | 4000m |
| Max. Wind Resistance | Level 6 |
| Operating temperature | -10~60℃ |
| Flight Time | 140min(140min with 6.5kg lidar) |
| Flight Distance | 176km(176km with 6.5kg lidar) |
| Aircraft dimensions | 3914*1920*750mm |
Product contents
| | | | |
| --- | --- | --- | --- |
| Bundle | ARF- CUAV Avionics | ARF- Holybro Avionics | RTF- Custom |
| Flight Controller | Pixhack V3 | Pixhawk Orange | EF3 |
| GPS | NEO V2 | Here3 | EF3 GNSS |
| Drone Frame | √ | √ | √ |
| VTOL Motor | 4x | 4x | 4x |
| VTOL ESC | 4x | 4x | 4x |
| VTOL Propeller | 2 Pair | 2 Pair | 2 Pair |
| Cruise Motor | 1x | 1x | 1x |
| Cruise ESC | 1x | 1x | 1x |
| Cruise Propeller | 1x | 1x | 1x |
| RC & Ground Control Station | H16 GCS | Herelink | Industrial Suitcase |
| Communication Link | / | / | OFDM Digital |
| Battery | / | / | Semi-Solid State |
| Battery Charger | UP600+ | UP600+ | UP2400 |
| Case | √ | √ | √ |
| Flight test service | / | / | √ |
| Online Training Program | / | / | √ |