G7 VTOL Fixed Wing UAV Drone for Survey and Rescue with power set version
12500.00 $ – 15900.00 $
Description
G7 VTOL fixed-wing UAV with power set version
G7 VTOL features a highly advanced aerodynamic design. It is made of Carbon fiber + glass fiber material, which is very light and durable and lightweight. The fuselage is big enough to hold a flight controller, batteries or other devices. It can take off and land vertically with only small areas needed. The  max take-off weight is 7kg, the Cruise Speed of the G7 VTOL is 72m/s, the Max. Flight Speed is about 100km/h.
Besides the batteries, motors, ESCs, propellers and other necessary configured equipment's , it still has 1kg payload capacity left for zoom or mapping cameras.
G7 VTOL can perform long range inspection, survey and mapping etc.
The development of this UAV was based on long-endurance and long-range requirements according to the characteristics of the application for surveying and mapping and patrol. One minute rapid deployment is achieved through modular design, which makes a better operating experience for users. With the design of independent payload cabin, users can replace the payload flexibly according to the operation requirements.
Key Features
High reliability

Equipped with dual engine

Large climb rates

Easy to deal with the flight in high drop terrain

Intelligent control

Low current distribution

Efficient cruise

Large payload cabin

7kg take-off weight, suitable for individual operations

work with load 2 over hour's

easy control of the GCS system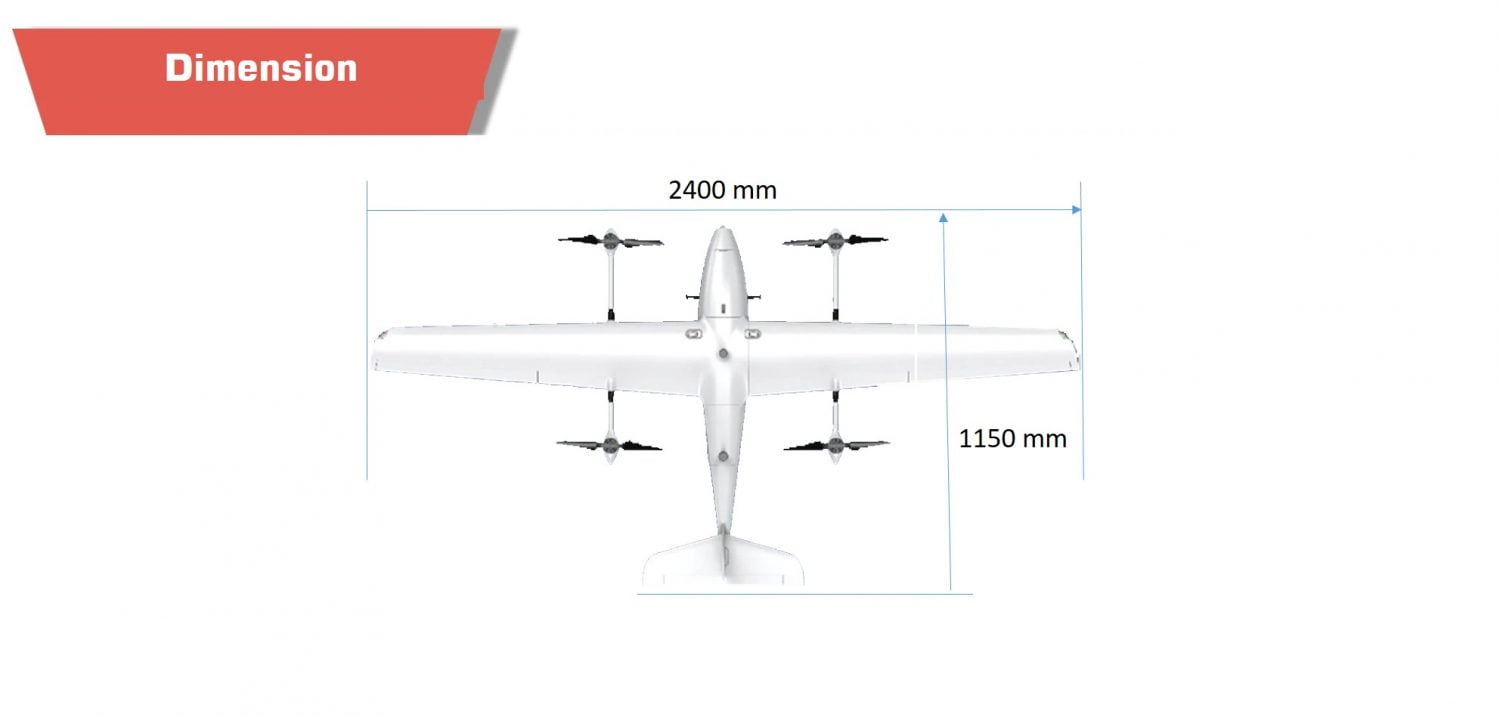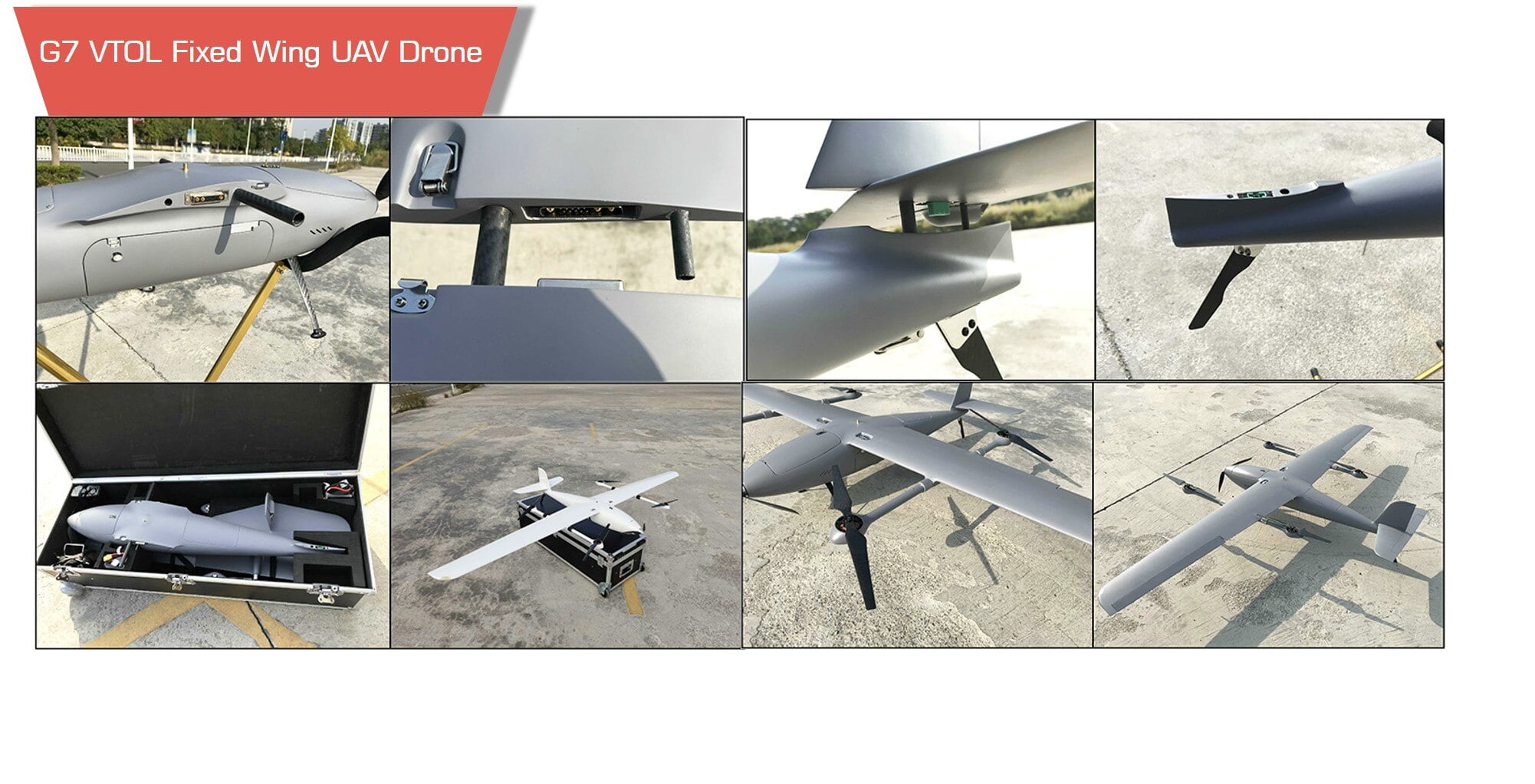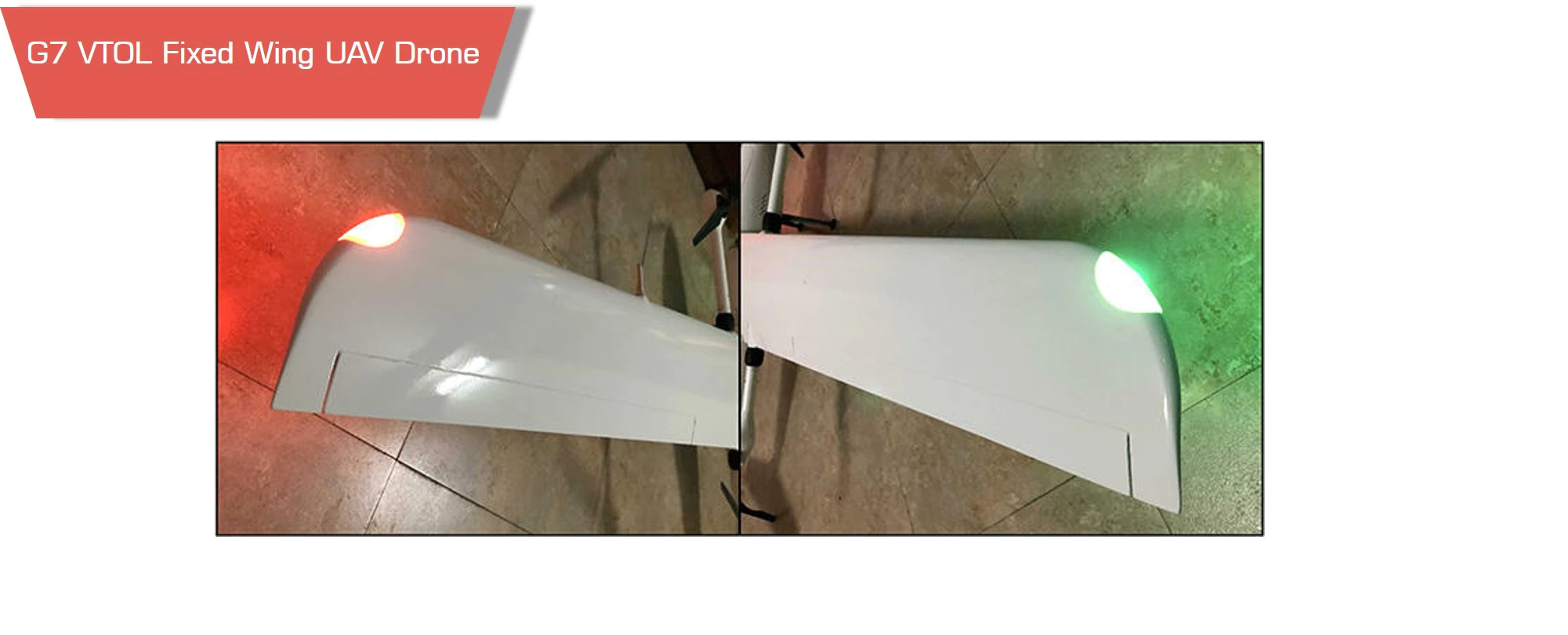 Additional information
| | |
| --- | --- |
| Weight | N/A |
| Dimensions | N/A |
| Bundle | ARF- CUAV Avionics, ARF- Holybro Avionics, RTF- Custom Avionics |
Specifications
| | |
| --- | --- |
| Item | |
| ProdcutName | G7 VTOL fixed-wing UAV RTF version |
| Material | Carbon fiber + glass fiber |
| Color | White/gray |
| Standard take-off weight | 7 kg |
| Max. Payload Weight | 1.0 kg |
| Cruise Speed | 72km/h |
| Max. Flight Speed | 100km/h |
| Control radius | 15km |
| Max. climb speed | 4m/s |
| Max. Descend speed | 5m/s |
| Max. Altitude AMSL | 4000m |
| Max. Wind Resistance | Level 6 |
| Operating temperature | -10~60℃ |
| Flight Time | 130-160min (130min with Sony A7RII Camera) |
| Flight Distance | 160-190km(160km with Sony A7RII Camera) |
| Aircraft dimensions | 2400*1150*300mm |
Product contents
| | | | |
| --- | --- | --- | --- |
| Bundle | ARF- CUAV Avionics | ARF- Holybro Avionics | RTF- Custom |
| Flight Controller | Pixhack V3 | Pixhawk Orange | EF3 |
| GPS | NEO V2 | Here3 | EF3 GNSS |
| Drone Frame | √ | √ | √ |
| VTOL Motor | 4x | 4x | 4x |
| VTOL ESC | 4x | 4x | 4x |
| VTOL Propeller | 2 Pair | 2 Pair | 2 Pair |
| Cruise Motor | 1x | 1x | 1x |
| Cruise ESC | 1x | 1x | 1x |
| Cruise Propeller | 1x | 1x | 1x |
| RC & Ground Control Station | H16 GCS | Herelink | Industrial Suitcase |
| Communication Link | / | / | OFDM Digital |
| Battery | / | / | Semi-Solid State |
| Battery Charger | UP600+ | UP600+ | UP2400 |
| Case | √ | √ | √ |
| Flight test service | / | / | √ |
| Online Training Program | / | / | √ |