Eule MH440, Hybrid Heavy Lift Long Endurance VTOL
Description
Eule MH440, Hybrid Heavy Lift Long Endurance VTOL
A Revolutionary Long-Endurance, Fuel-Electric Hybrid UAV
Experience the pinnacle of unmanned aerial vehicle (UAV) technology with the Eule MH440 UAV platform, an engineering marvel designed for exceptional versatility and performance. This fuel-electric hybrid UAV boasts a unique fixed-wing and four-rotor composite wing design, seamlessly blending the advantages of fixed-wing and rotary-wing UAVs. The result is an aerial powerhouse capable of vertical take-off and landing (VTOL) while maintaining the impressive flight time, high speed, and long-range capabilities of fixed-wing UAVs.
Unleash Unparalleled Versatility
The Eule MH440 UAV platform redefines the boundaries of UAV applications. Its adaptability allows for seamless operation in challenging terrains, including mountains, hills, and jungles, making it an ideal choice for industrial-grade drone operations. Whether you're conducting reconnaissance, border patrol, oil and gas pipeline inspections, power line inspections, forest firefighting, or surveying and mapping, the Eule MH440 is ready to take on any task.
Advanced Flight Control and Navigation for Autonomous Operation
The MH440 platform is equipped with an industrial-grade vertical take-off and landing fixed-wing flight control and navigation system, ensuring autonomous flight throughout the entire mission. With support for automatic route planning for up to 1,000 waypoints and emergency backup plans for 100 waypoints, the MH440 delivers unparalleled mission flexibility and reliability.
With a 4420mm wingspan, while featuring a 70cc EFI BG270 Fuel Engine, and an 8L fuel tank, the UAV can reach 5 hours of flight time when fully loaded. It can carry up to 10kg payload, and its maximum take-off weight is 35kg. MH440 can resist wind levels up to level 6 (12m/s).
Key Features and Advantages
Practical and Efficient: Fixed-wing design for long flight time, high speed, long distance, and large load capacity
Vertical Take-Off and Landing: Rotary-wing drone takeoff and landing capabilities for enhanced adaptability
Low Cost of Use: Eliminate the need for complex and bulky launch and recovery equipment
Easy to Operate: Specialized flight control and navigation system for fully autonomous operation
Compact System: Effortless transportation, deployment, maintenance, and removal
The Eule MH440 UAV Platform: Elevate Your UAV Operations to New Heights
With its groundbreaking design, advanced features, and exceptional versatility, the Eule MH440 UAV platform is the premier choice for those seeking the ultimate in UAV technology. Experience the freedom and efficiency of autonomous flight, conquer challenging terrains, and expand the scope of your UAV applications with the Eule MH440 – your gateway to a world of limitless possibilities.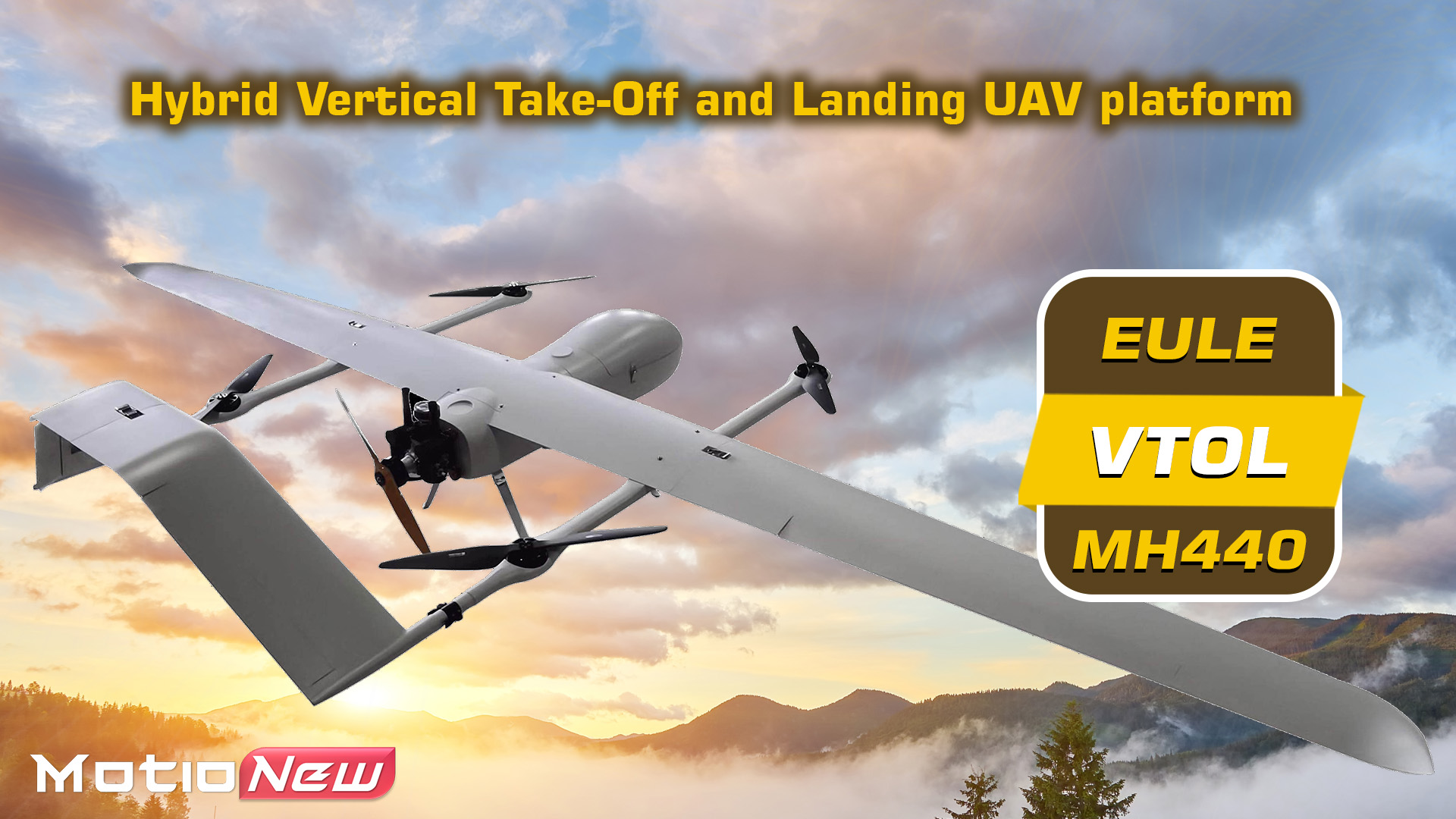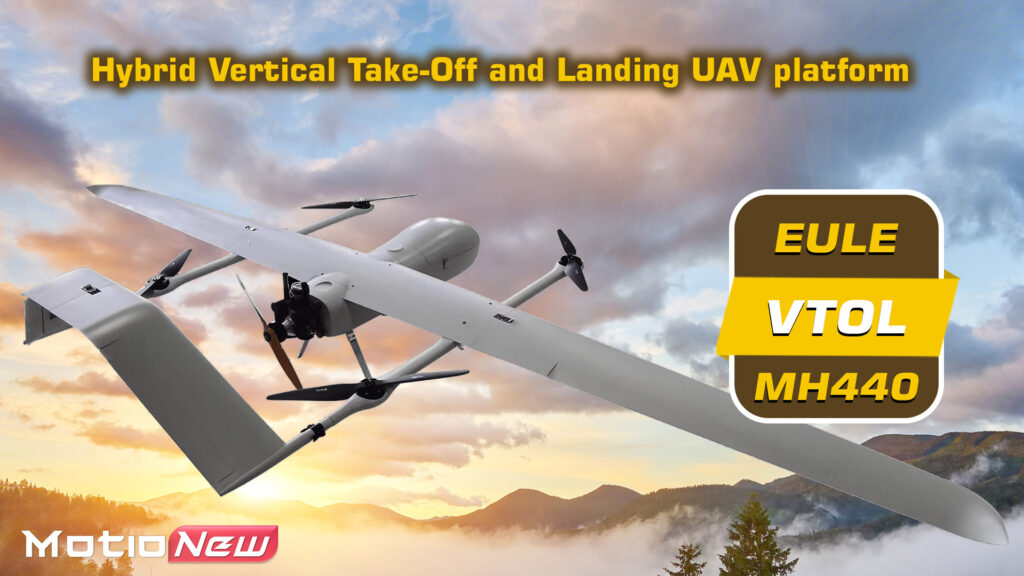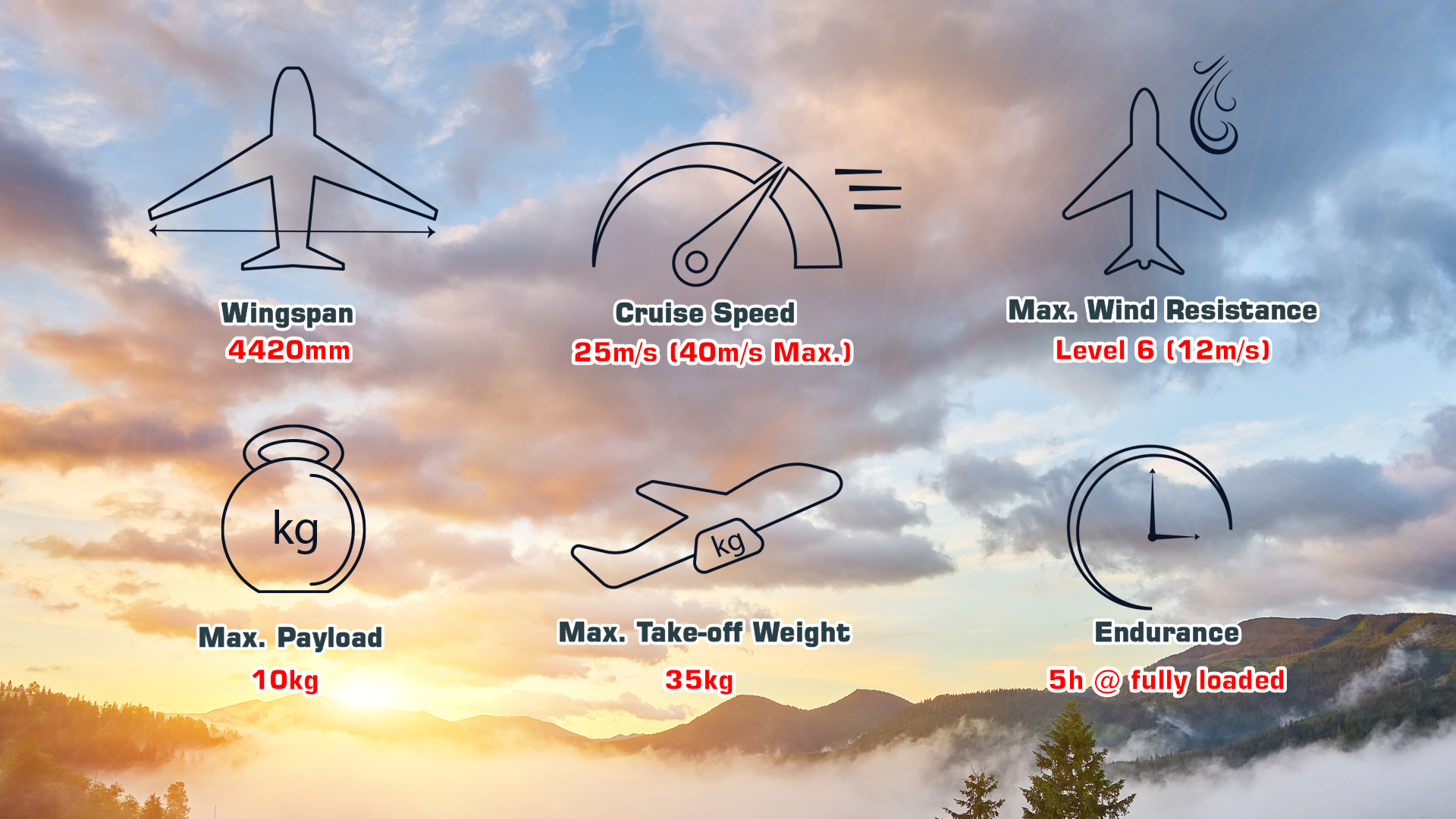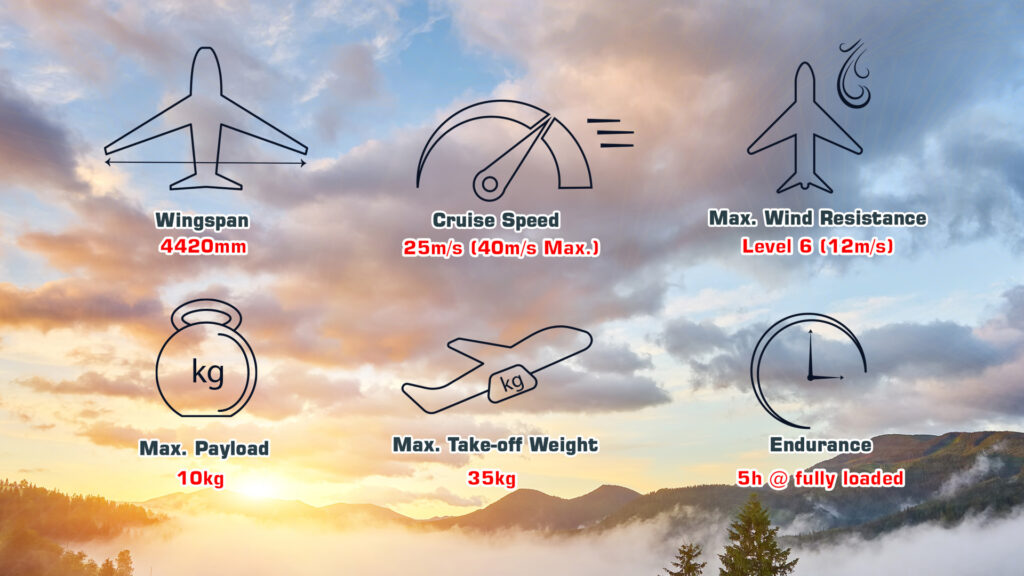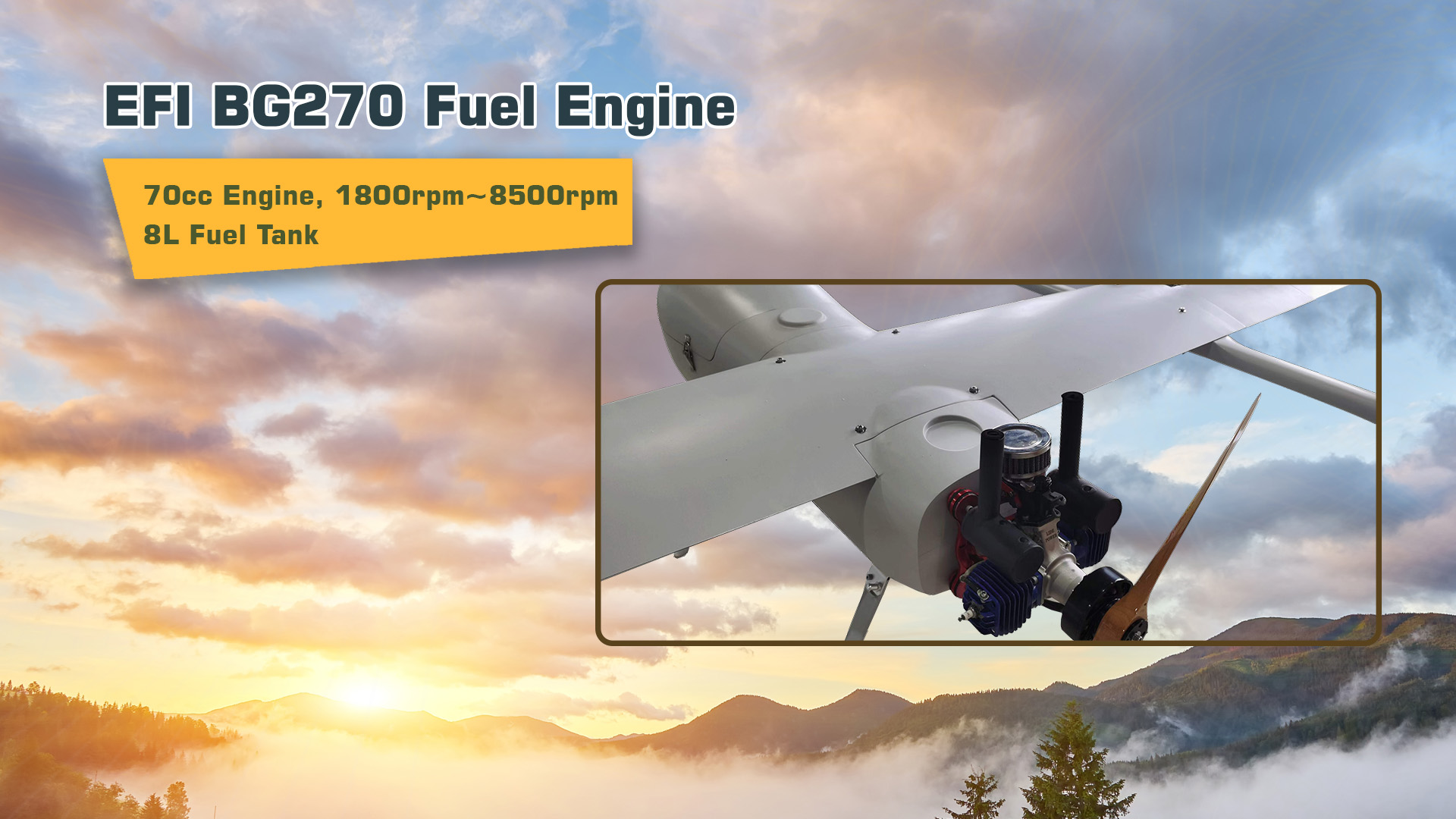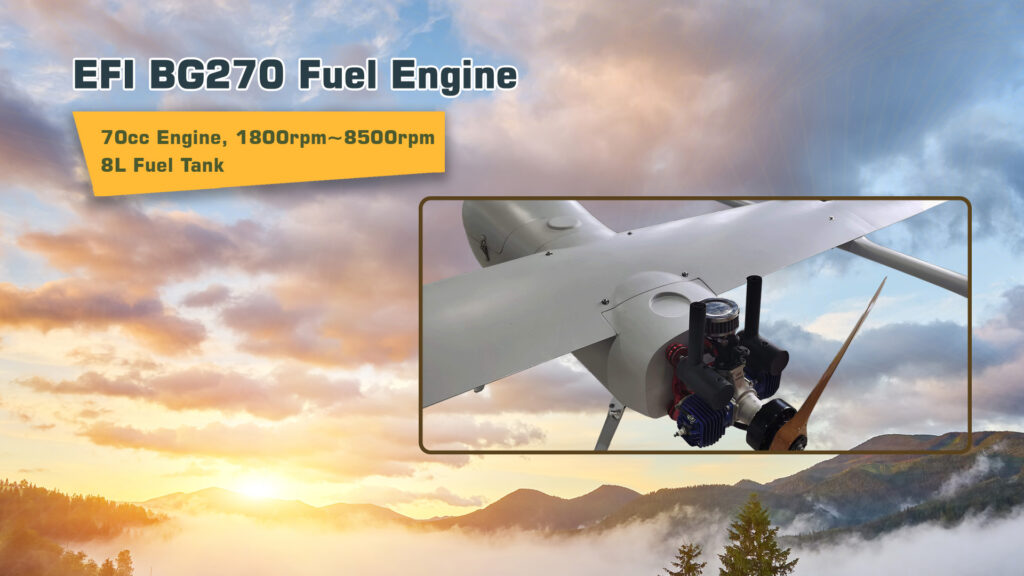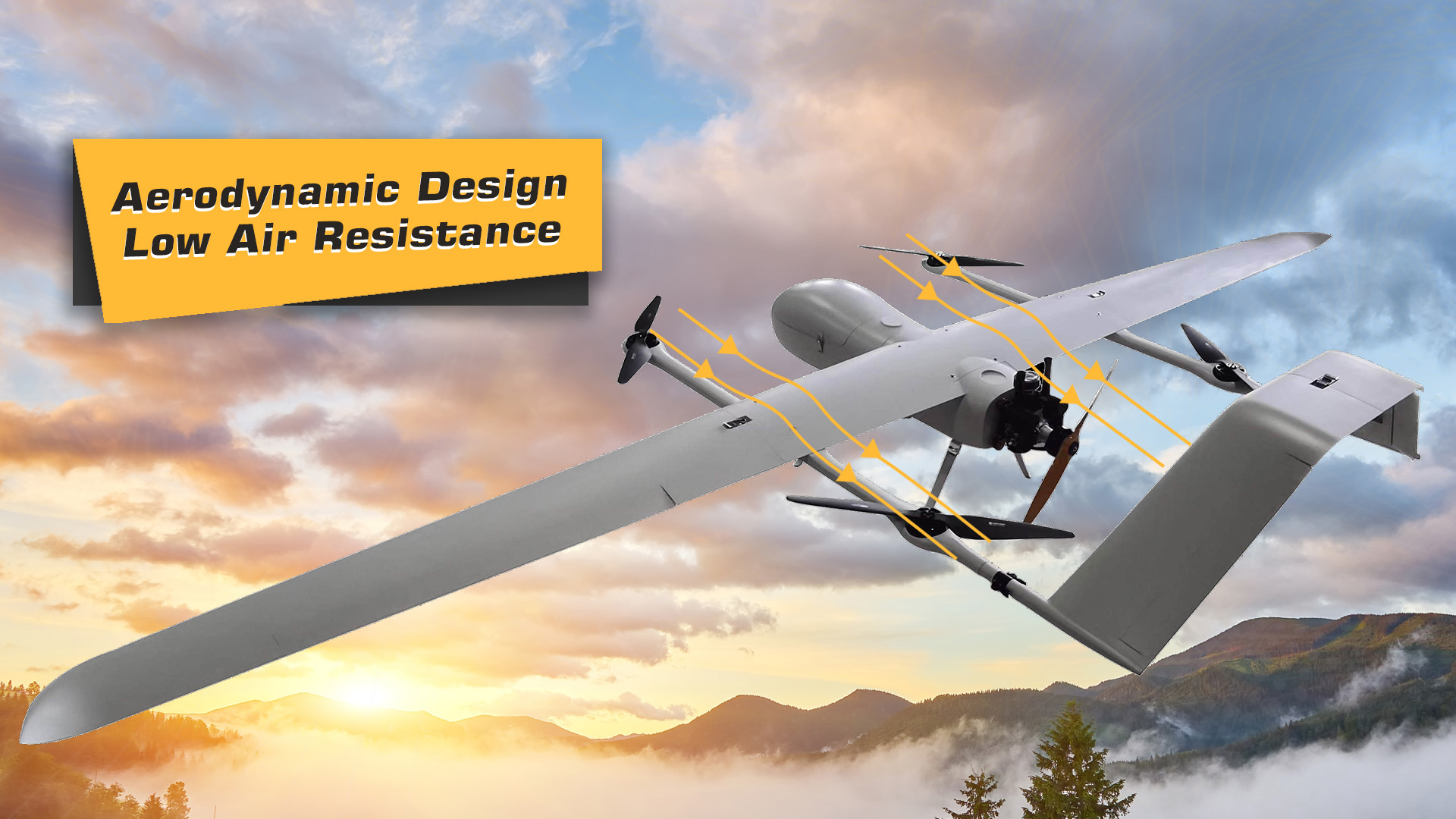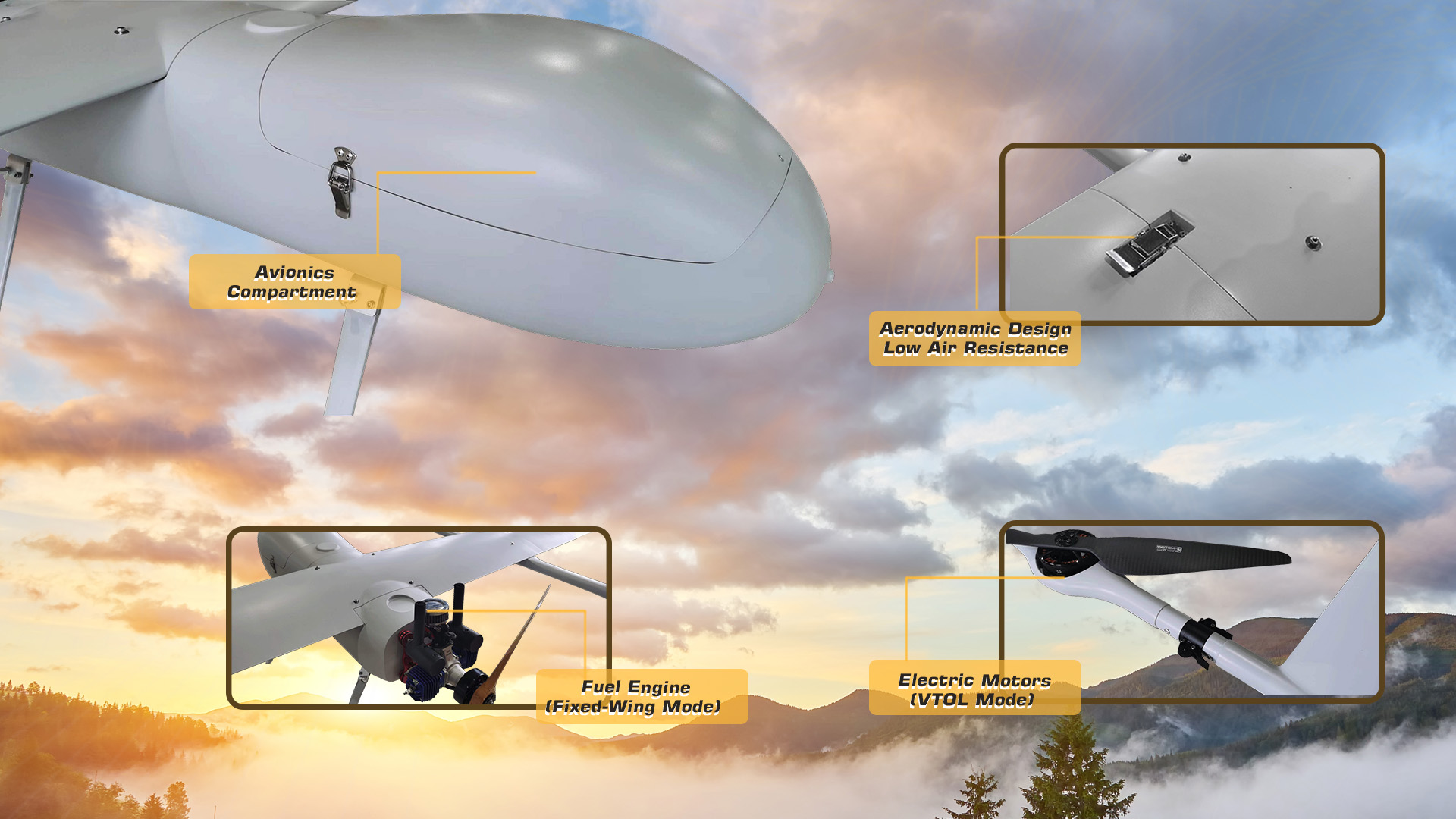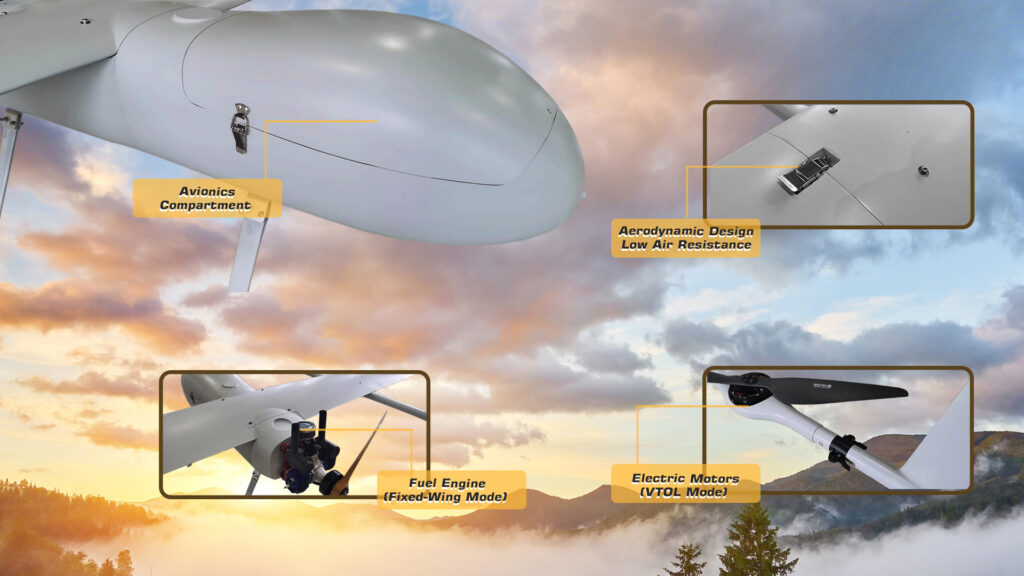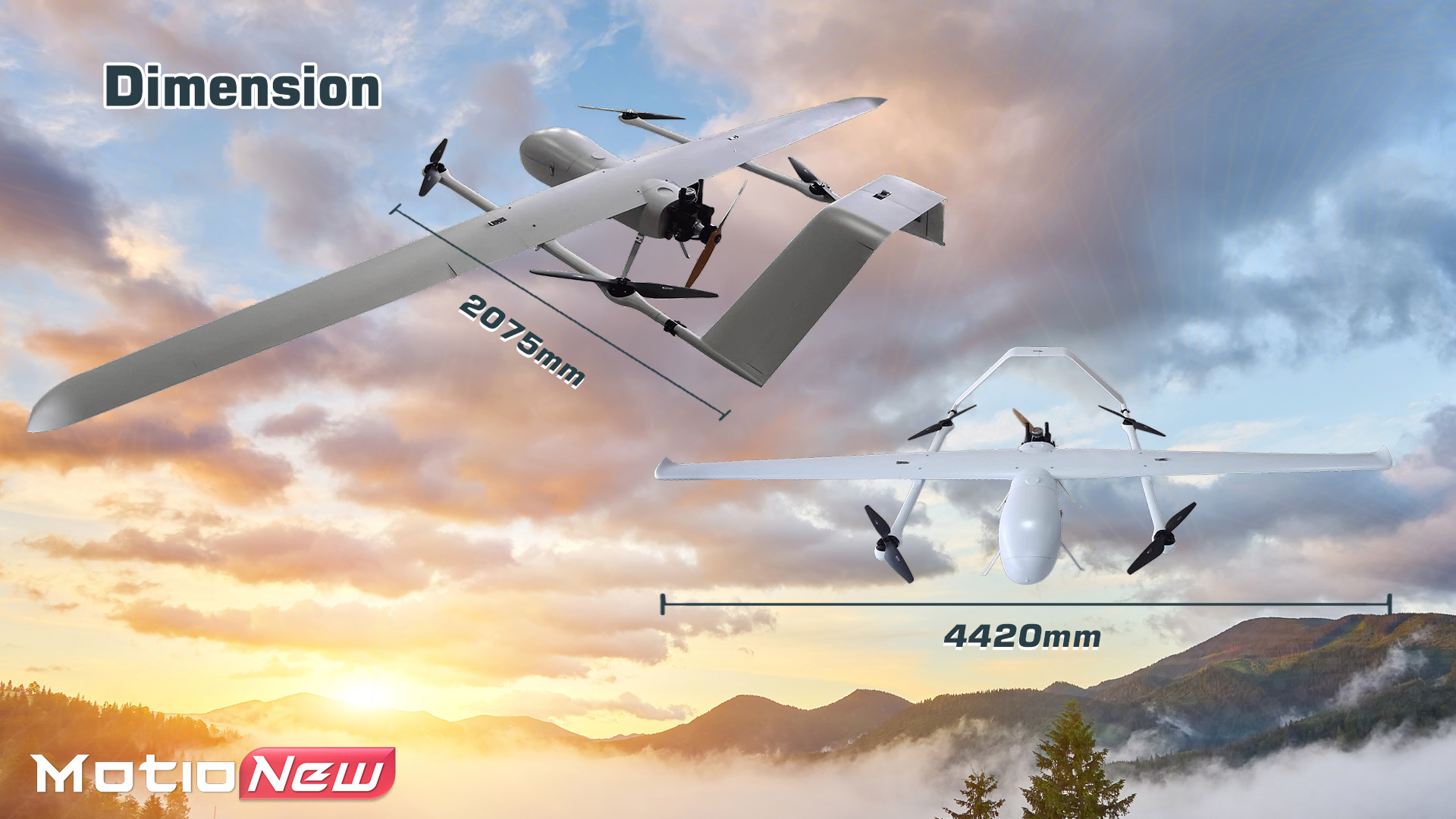 Additional information
| | |
| --- | --- |
| Weight | 100 kg |
| Dimensions | 400 × 400 × 50 cm |
Specifications
| | |
| --- | --- |
| Body Length | 2075mm |
| Body Height | 788mm |
| Wingspan | 4420mm |
| Cruising speed | 20m/s~25m/s (72km/h~90km/h) |
| Max speed | 40m/s (145km/h) |
| Stall Speed | 20m/s (72km/h) @ fully loaded |
| Wind Resistance | 12m/s (level 6 wind) |
| Maximum take-off weight | 35kg |
| Maximum Flight Altitude | 6500m |
| Max payload | 10kg |
| Fuel Tank Capacity | 8L |
| Endurance time | 5h @ fully loaded |
| IP protection level | IP55 |
| Working temperature | -20°C to 50°C |
| tail thrust engine | B2G70 EFI, 70cc, 1800~8500rpm |
Product contents
Please contact us for more information.