CUAV P9 Radio Telemetry
449.00 $
Description
CUAV P9 Radio Telemetry
P9 radio telemetry is a long range datalink module. It is suitable for communication from a UAV to the ground control station (GCS) due to its high sensitivity and high power. This module can stream data up to 60km line of sight range and supports multiple modes of communication including point-to-point, point-to-multipoint, and relay communication.
You can power the module using 3~12S battery supplies, and the internal circuits provide the desired working voltage for the module. The aluminum shell design creates a nice look while protecting the device from harsh environments and environmental interferences. The working frequency of the module is 902MHz-928MHz.
P9 is a transparent communication link, which means you can connect with whatever device you want, no matter the protocol that the device uses. Just provide the input data in the supported format of your device, and you will receive the same frames on the other side.
The module is connected to your flight controller (installed on the drone) with the serial interface (GHR-06V-S connector), and the other side connects to the Ground Control Station (GCS) with the USB cable. The module operates by default on 1W power for the maximum range, but you can optionally change the output power using the USB port.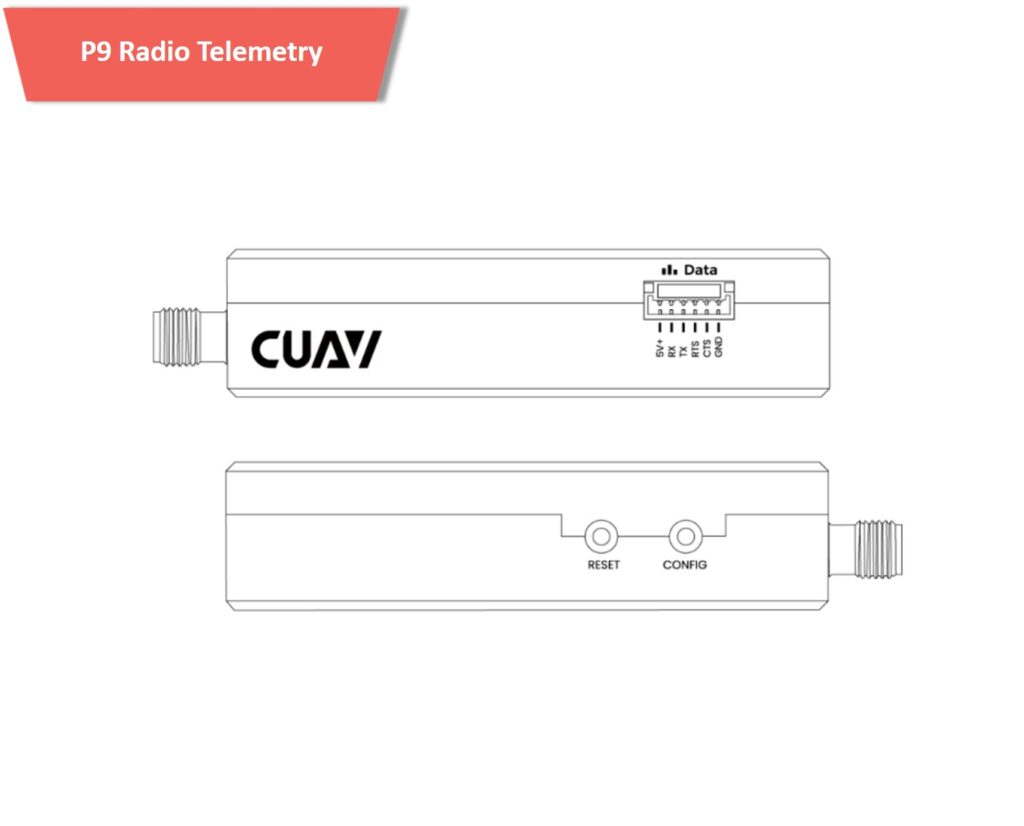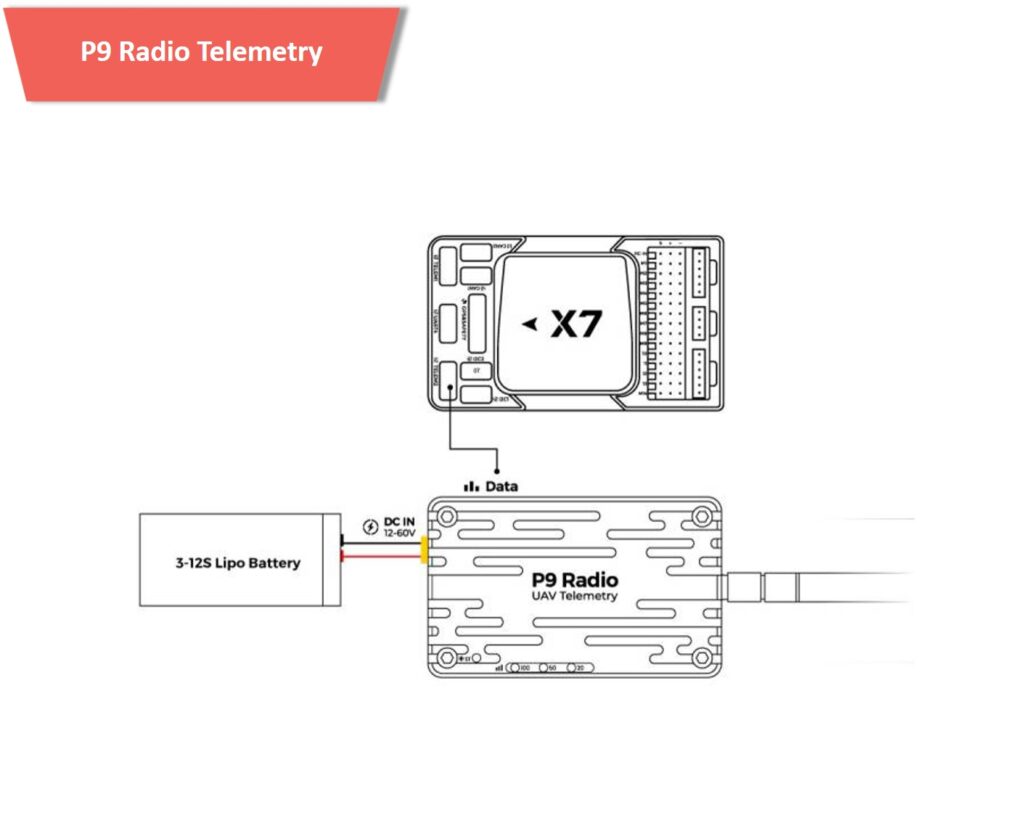 If you have any questions regarding our products, use the Motionew Contact us page to consult our engineering team.
Additional information
| | |
| --- | --- |
| Weight | 2 kg |
| Dimensions | 30 × 20 × 10 cm |
Specifications
Specifications

Working Frequency

902-928MHz

Transmission technology

Frequency Hopping

Transfer Protocol

Transparent transmission

Forwarding error detection

Hamming /BCH/Golay/Reed-Solomo

Error detecting

Error Detection 32 bits of CRC, ARQ

Encrypt

Optional (see –AES option)

Range

– Limit distance: 60km (high-gain antenna + unobstructed seaside)




– Reference distance: 40km(The transmission distance is different under different environments/configurations, please refer to actual use)

Sensitivity

-110 dBm @ 115.2 kbps




-108 dBm @ 172.8 kbps




-107 dBm @ 230.4 kbps

Output power

100mW – 1W (20-30dBm) / (Default:1W)

Serial interface

3.3V CMOS TTL

Antenna gain

5dBi

Baud rate

UP to 230.4kbps; 57600(Default)

Link Rate

115 – 276 kbps

Operating Modes

Auto Routing, Store and Forward, Self Healing, Packet Routing Modes

Operating Voltage

12V-60V

Power consumption

Sleep < 1mA




Idle < 3.5mA




RX : 35mA ~ 80mA




TX :800mA ~ 1200mA

Interface

Serial: GHR-06V-S




Antenna: SMA inner needle




USB: TYPE-C




Power: TX30PW-M

Operating temperature

-40℃ ~ +85℃

Humidity

5% ~ 95%(Non-condensing)

Weight

5g(No antenna) / Antenna:31g

Size

65x40x16.5mm
Product contents
2x P9 Modules
2x 915MHz antenna
1x V5/X7 series data cables
1x Pixhack data cables
1x XT-30 single-end power cable
1x XT-30 to XT-60 power cable
1x USB type-c cable