CUAV NEO V2 PRO GPS – GNSS Positioning
147.65 $
Out of stock
Description
CUAV NEO V2 PRO GPS Overview
There are several GNSS positioning systems available for the CUAV NEO V2 Pro, all of which are based on the UAVCAN protocol. This unit is equipped with a compass, barometer, flight controller, status light, buzzer, and safety switch, all integrated into one unit, and it has the characteristics of a high level of security and strong anti-interference protection. The UAVCAN standard protocol has the advantage of providing high real-time performance as well as strong anti-interference characteristics. There is also an integrated high precision barometer that is designed to meet the needs of different application scenarios in the device. The sensor RM3100 is a high-quality industrial-grade sensor that provides better anti-interference protection. In order to improve GPS positioning accuracy, the NEO V2 Pro uses a double filtering design to minimize the impact of remote control, digital transmission, and 4G signals. In addition to that, it supports custom programs as well as open-source programs.

NEO V2 Pro adopts SAW + LNA + SAW dual filtering design, which effectively avoids the influence of remote control, digital transmission, and 4G signals on GPS positioning reception.
NEO V2 Pro GPS UAV sensor is compatible with different kinds of Pixhawk autopilots that have a CAN port. Using UAVCAN protocol enables drone users to establish a safer connection and better performance in UAV positioning.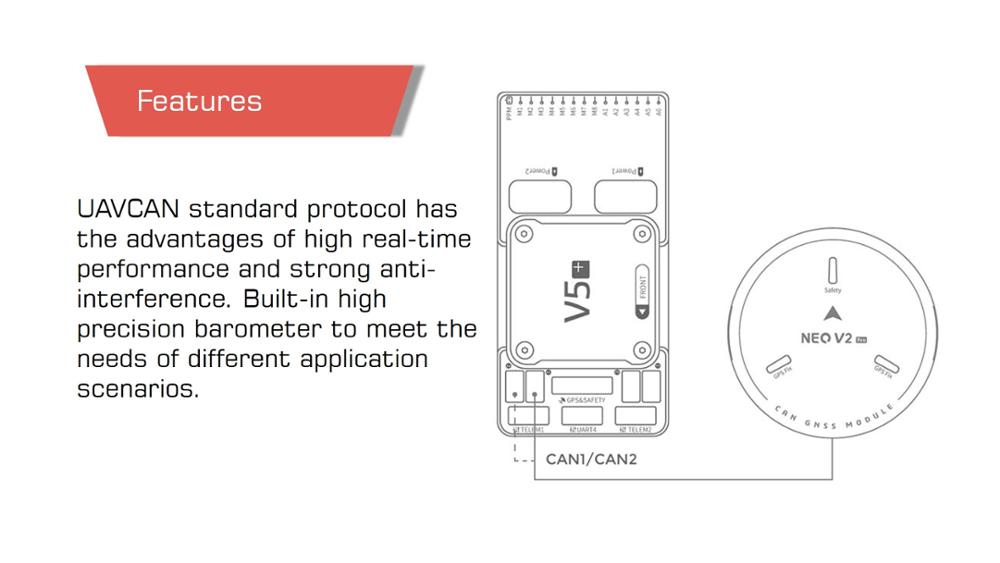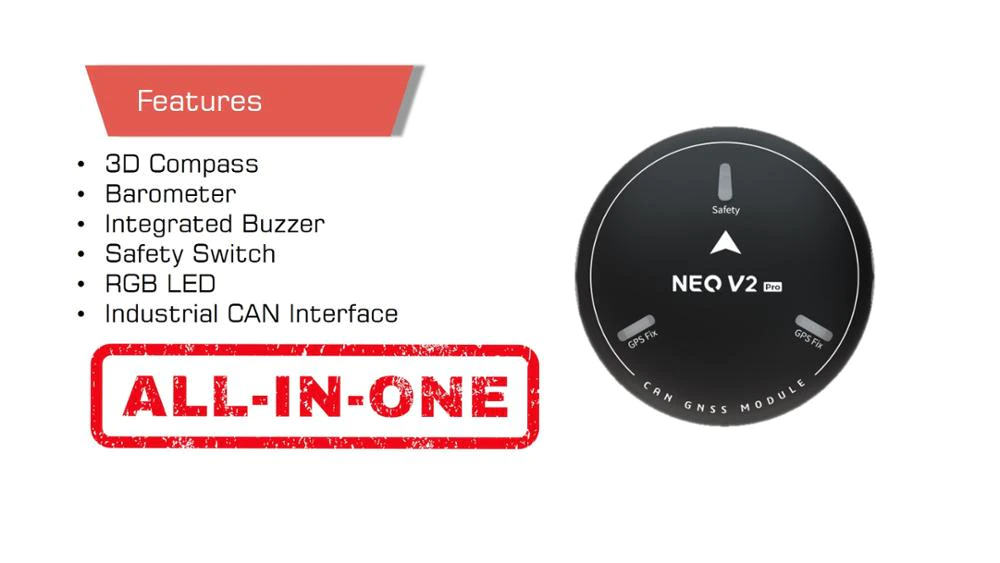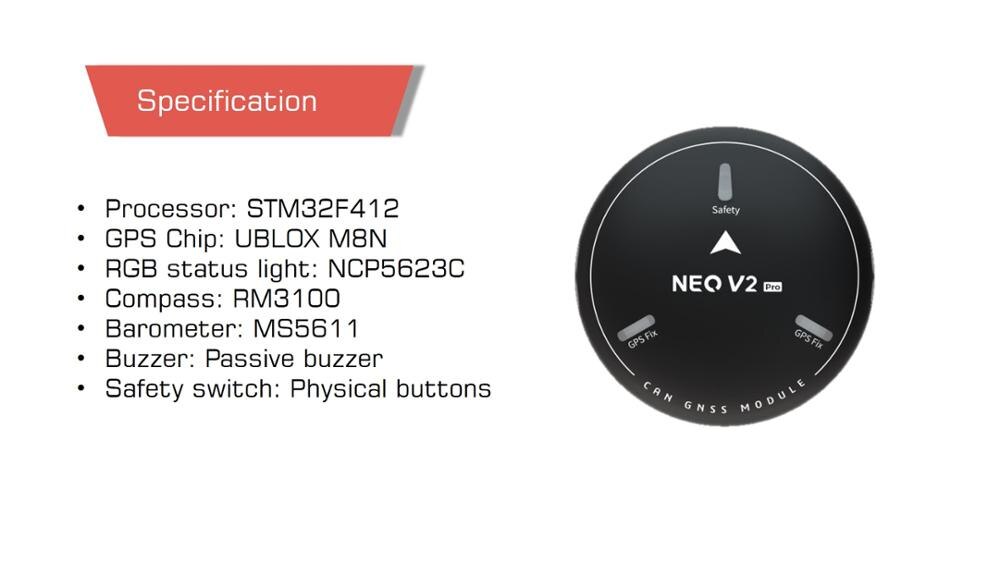 If you have any questions regarding our products, use the Motionew Contact us page to consult our engineering team.
Additional information
| | |
| --- | --- |
| Weight | 0.1 kg |
| Dimensions | 10 × 10 × 10 cm |
Specifications
Weight: 

48g

Dimension: 

60*15.8mm

Operating temperature: 

-20 ~ 85°C

Size: 60x60x16mm(without stand)

Weight: 33g(without stand)

Hardware parameters

Processor: STM32F417M

Compass: RM3100

Barometer: MS5611

GNSS receiver: UBLOX M8N

Concurrently: GPS/QZSS L1 C/A,

Glonass L10F,

BeiDou B1I,

Galileo E1B/C,

SBAS L1 C/A:

WAAS, EGNOS, MSAS, GAGAN

Navigation update rate: 10HZ (Max)

Position accuracy: 2M

Acquisition: Cold start 26S

Hot start 1S

Aided start 2S

Sensitivity: Tracking and nav. -167dBM

Cold start, Hot start -148dBM

Reacquisition -160dBM

Communication protocol: UAVCAN

Firmware upgrade: Support

Flight controller support: Ardupilot/PX4*

Interface Type: GHR-04V-S

Input voltage: 4.7~5.2V

Operating temperature: -10~70℃
Product contents
1xNEO V2 Pro Module
1XGPS Stand
1XCAN Connect cable
Documents
CUAV NEO V2 PRO GPS User manual
How to enable the CAN GPS in Mission Planner
Enable
you need to set flight control parameters to enable Neo V2 pro; there are different setting methods according to the flight control firmware.
ArduPilot firmware
Set the following parameters in all parameter tables of the Mission planner and restart after writing
CAN_P1_DRIVER set to 1.
CAN_P2_DRIVER set to 1.
NTF_LED_TYPES set to 231.
GPS_TYPE set to 9.