Radiolink T8FB 8 Channels 2.4GHz for RC Car
63.70 $
Out of stock
Description
Overview of Radiolink T8FB
Features
The product is straightforward to use, and it is undoubtedly worth its price
For beginners, this is the best choice
Upgrade of Anti-interference Ability and Control Distance
Protocol Upgrade
There are several advantages to the T8FB, including the same FHSS algorithm as at9S Pro, 67 channels of pseudo-random frequency sequence hopping, the chip TI CC2500 (similar to the Open TX Frsky X9D), and the transmission rate (which is three times faster than Open TX), resulting in the best anti-interference ability on both the same frequency band and onto different frequency bands.
In the air, the T8FB has a control distance of 2 KM (1.24 miles) by radio control 8ch.
Gimbal Precision Improved
PWM jitter of 1.84us has been achieved with a standard of just 0.5us due to the optimal design of the PCB layout. It has a jitter level of 14 times greater than that of a mainstream 16-channel transmitter on the market, which has a jitter rate of 7us. A similar set of joystick components can also be found in the AT9S Pro.
Parameters Setup Via Android APP
You will need a USB and an OTG cable to set up the parameters to connect the T8FB to an Android phone.
T8FB is always kept up-to-date with the most advanced system and programs by updating firmware via computer.
With the USB data backup copy function, you can easily save and copy customized parameters to your computer.
*T8FB firmware upgrade software is compatible with Windows 7, 8, 10, and XP operating systems, while the parameter setup APP is only compatible with Android mobile phones with the display. This app will automatically set the language displayed on the mobile device.
Real-time Telemetry
This feature provides users with real-time feedback on the transmitter voltage and RSSI of the transmitter in real time.
It is possible to view the model voltage on the mobile phone application if the receiver R8F or R7FG is paired with it.
It is compatible with SBUS, PPM, and PWM protocols
The standard receiver R8EF includes a SBUS, PPM and PWM signal output, which means that you do not require any extra cables or any signal converter, thereby reducing the aircraft's weight.
Using switches in various lengths, the T8FB is easy to set up and control thanks to its adjustable length mode.
There are two types of receivers, the R8SM and the R8SM
Despite its super-lightweight of only 2g (0.7oz) and small size of 18*13mm (0.70″*0.51″), the standard receiver R8SM is small enough to be used in even a racing drone.
This R8SM is equipped with a SBUS/PPM signal output, making it compatible with all kinds of flight controllers.
It is possible to control a distance of up to 2000 meters (1.24 miles).
Adapts to a variety of models
A variety of models can be adapted, including fixed wings, gliders, multicopters, cars, boats, and robots.
By the selected mode, the transmitter automatically switches the layout.
Furthermore, the receiver's antenna of 21cm (8.27″) makes it easy to control an RC boat.
Programmable Mix Control
The channels five through eight can be programmed to any advanced setting that you desire.
By default, the flight modes are set with the two three-way switches that are located in the flight controller PIX.
Even beginners can enjoy T8FB without a manual.
Protection against reverse polarity
RadioLink's voltage protection software technology protects a reverse polarity connection.
Low Consumption of Battery
T8FB's operating current is less than 80mA with the Switching Mode Power Supply (SMPS).
The RC fun lasts more than 20 hours, thanks to the 3S 1800mAh LiPo battery in the T8FB.
4.8V*18V wide operating voltage tolerance
With its JST connector, the T8FB can easily be adapted to various battery layouts, including 4 AA batteries or 2S-4S LiPo batteries.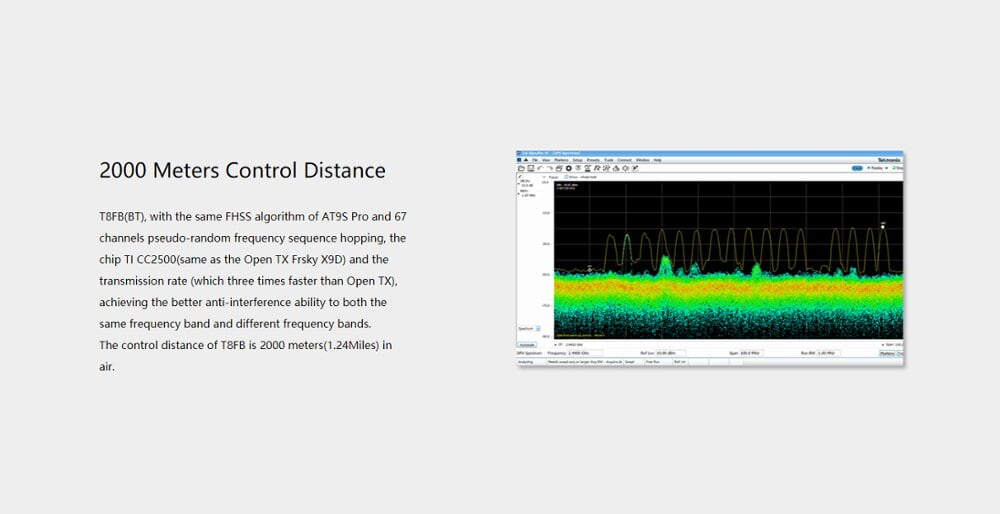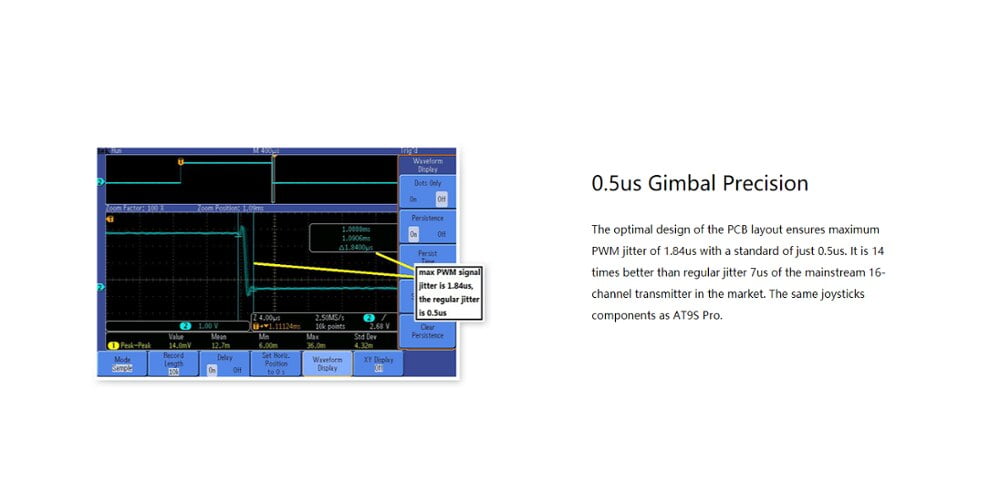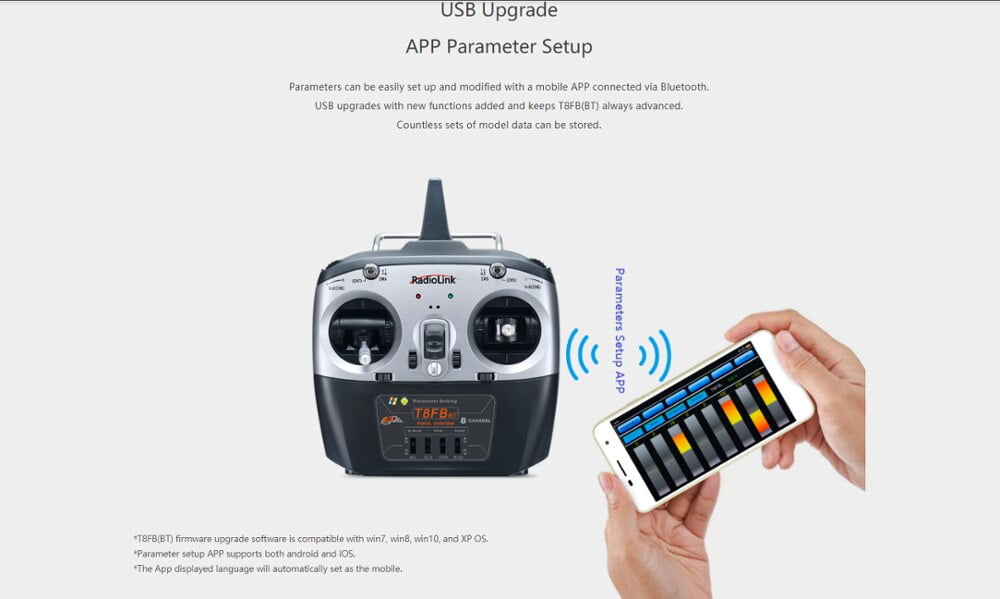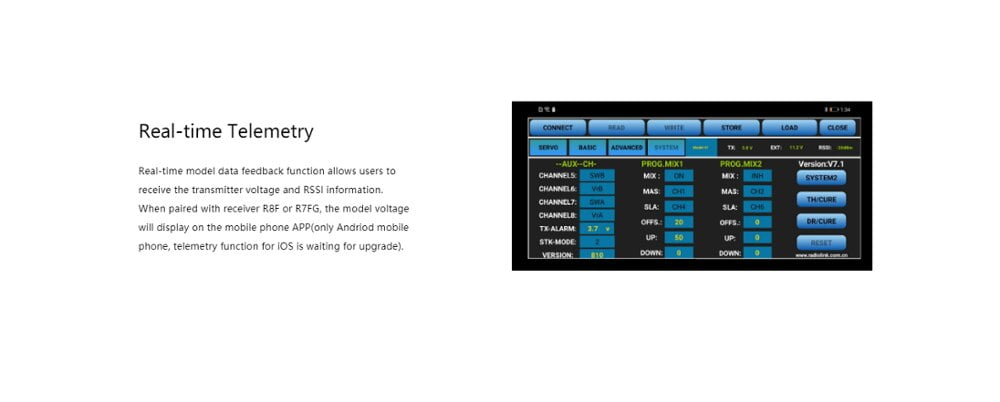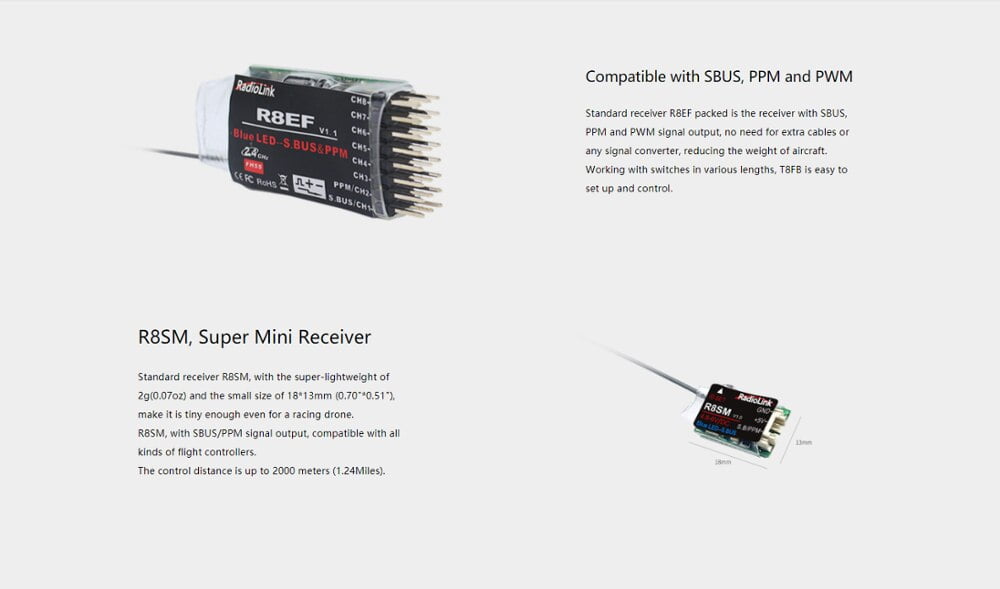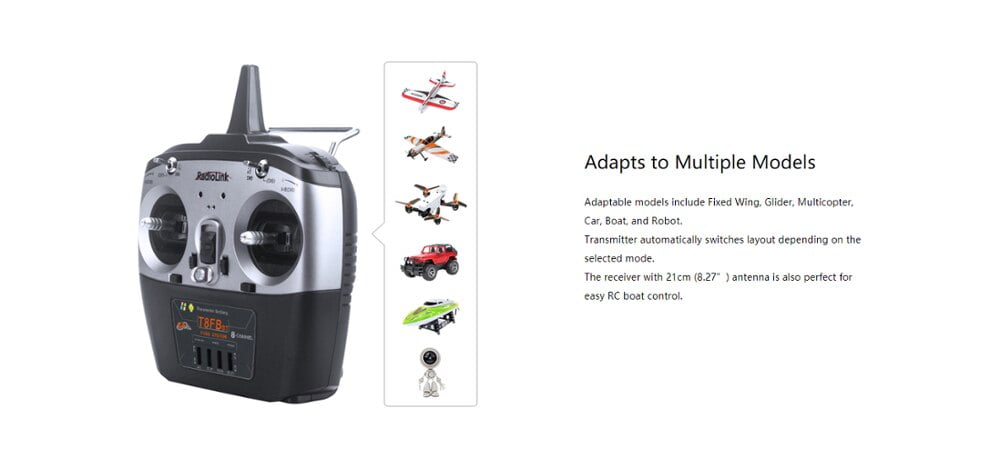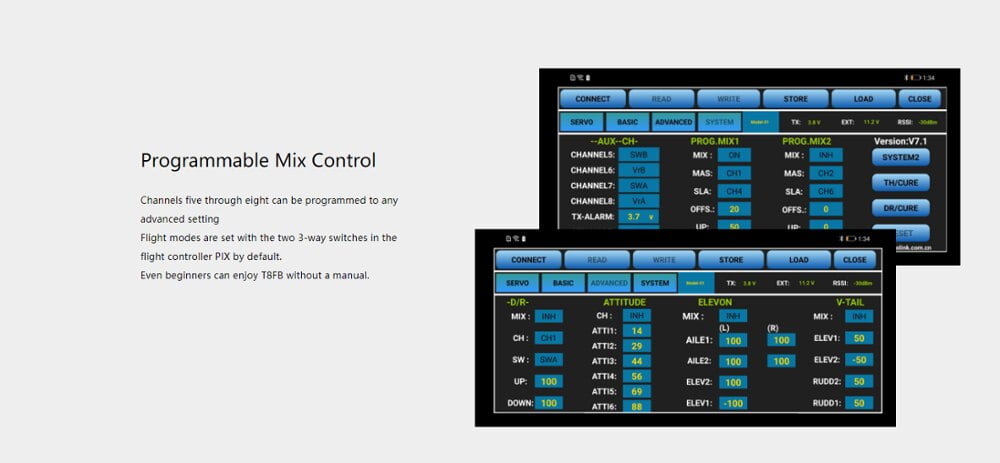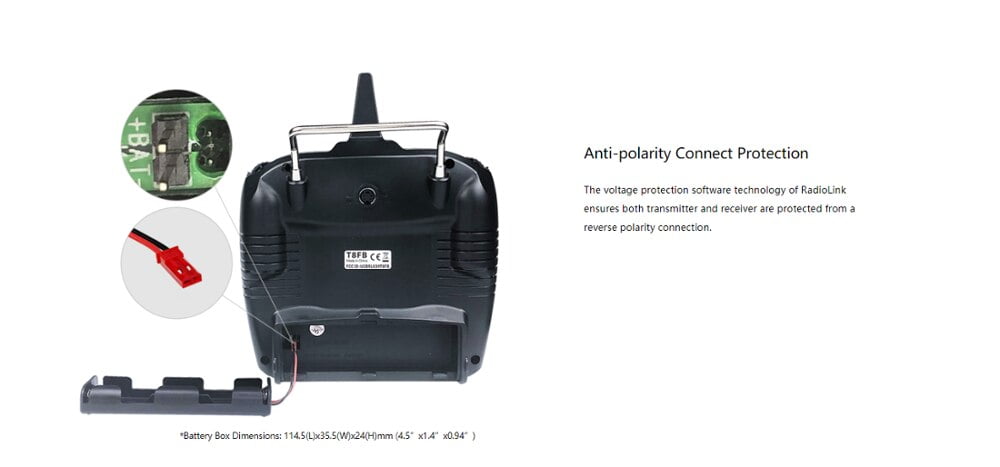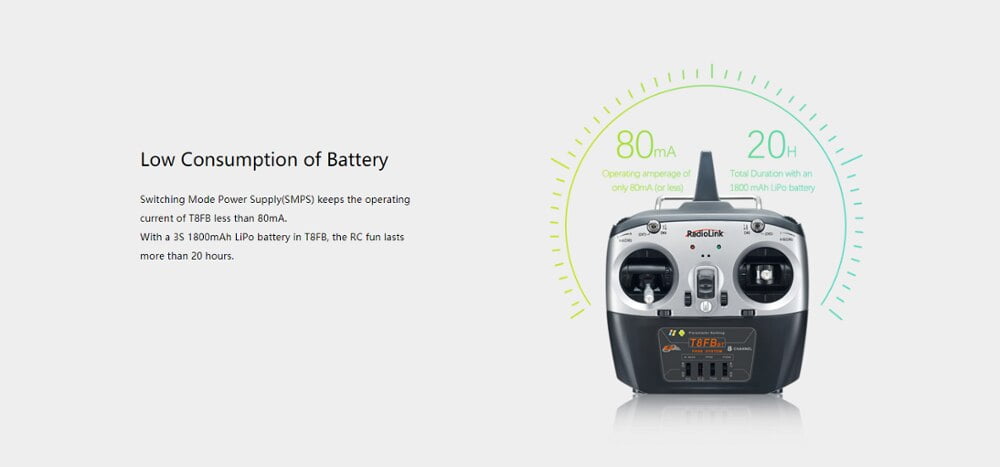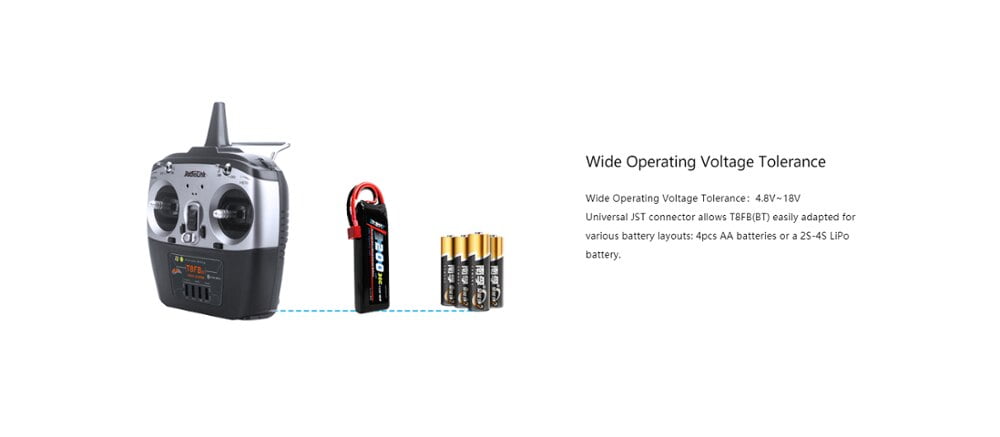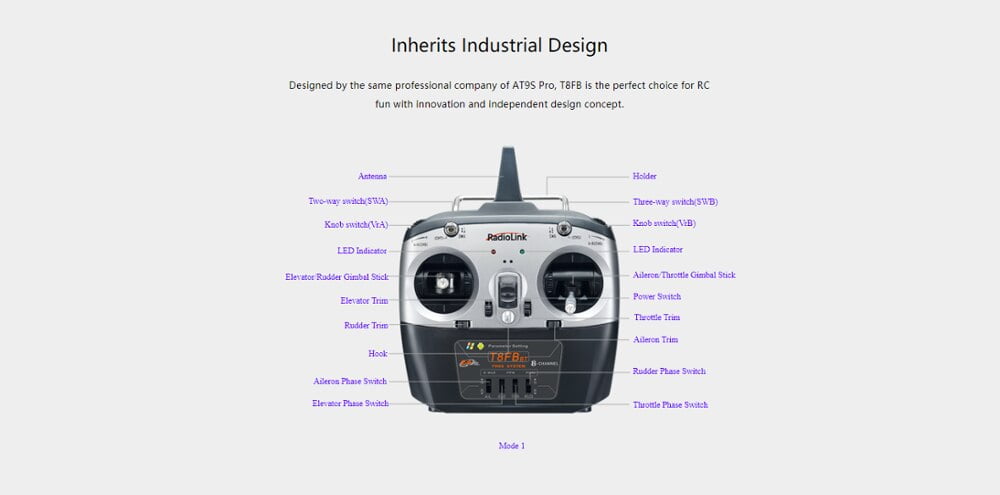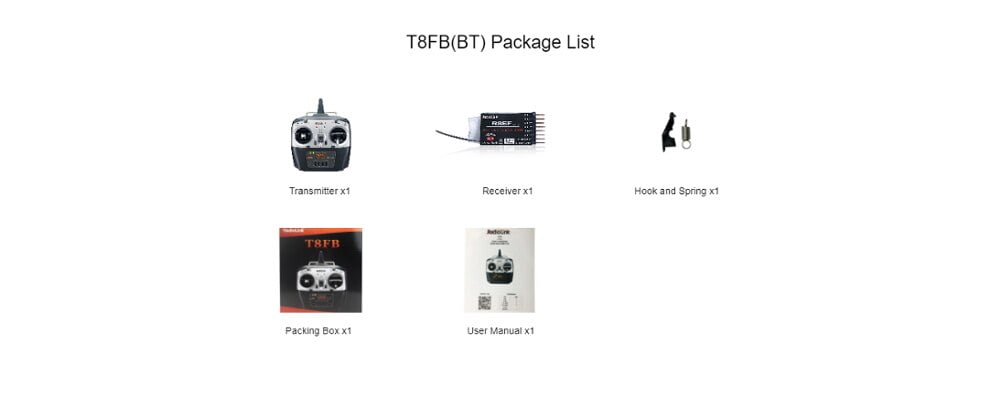 Additional information
| | |
| --- | --- |
| Weight | 0.880 kg |
| Dimensions | 18 × 10 × 19 cm |
Specifications
| | |
| --- | --- |
| Size | 183x100x193mm |
| Frequency | 2.4GHz |
| Number of Channels |  8 |
| Weight | 880g |
| battery | 1800mAh 3s |
| Compatible | SBUS, PPM and PWM |
| Operating Voltage Tolerance | 4.8V~18V |
Documents
Product contents
Product contents