RadioMaster RP2 ExpressLRS 2.4GHz Nano Receiver
23.99 $
Description
RadioMaster RP2 ExpressLRS 2.4GHz Nano Receiver
The RadioMaster RP2 ExpressLRS 2.4GHz Nano Receiver is a compact and high-performance receiver designed to revolutionize your RC control experience. With its improved PCB design, this receiver offers enhanced heat dissipation capabilities, ensuring optimal performance even during demanding operations.
Featuring an LED on the top side of the PCB, the RP2 Nano Receiver provides visual feedback, allowing you to easily monitor the status of your receiver. Whether it's indicating the connection status or providing signal strength information, the LED adds an extra layer of convenience and peace of mind.
The RP2 Nano Receiver boasts improved solder pads, making it easier than ever to solder your connections. With enhanced solder pad design, you can achieve secure and reliable solder joints without the hassle. This ensures a smooth installation process and saves you valuable time.
With its impressive specifications, the RP2 Nano Receiver delivers exceptional performance in terms of range and responsiveness. It operates on the 2.4GHz ISM band and features an on-board SMT antenna, providing reliable signal reception and transmission. The receiver supports a maximum receive refresh rate of 500Hz/F1000Hz, allowing for rapid and precise control inputs. Even at the minimum receiver refresh rate of 25Hz, the RP2 Nano Receiver maintains reliable communication with your transmitter.
Designed to be versatile and compatible, the RP2 Nano Receiver works with a variety of setups. It operates on a working voltage of 5V and weighs just 0.55g (including the on-board antenna), ensuring minimal impact on your aircraft's weight. The compact dimensions of 13 x 11 x 7mm make it suitable for even the tightest installations.
The RP2 Nano Receiver comes pre-installed with the ExpressLRS v2.4 firmware, offering advanced features and functionality out of the box. The firmware is specifically tailored for the RadioMaster RP1/2 2400 RX target, ensuring seamless integration and optimal performance.
Equipped with a CRSF bus interface, the RP2 Nano Receiver allows for convenient connectivity with compatible systems. This enables easy integration into your existing RC setup, providing a hassle-free experience.
Experience the future of RC control with the RadioMaster RP2 ExpressLRS 2.4GHz Nano Receiver. Enhance your range, improve control precision, and enjoy the convenience of a compact design. Upgrade your RC system today and elevate your flying experience to new heights.
Order your RadioMaster RP2 ExpressLRS 2.4GHz Nano Receiver now and unlock the full potential of your RC control system.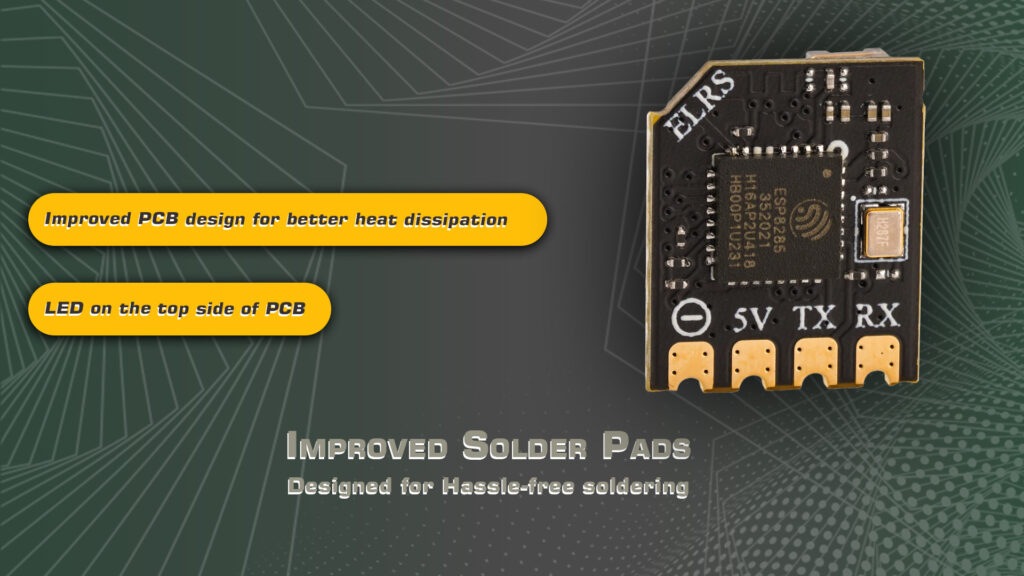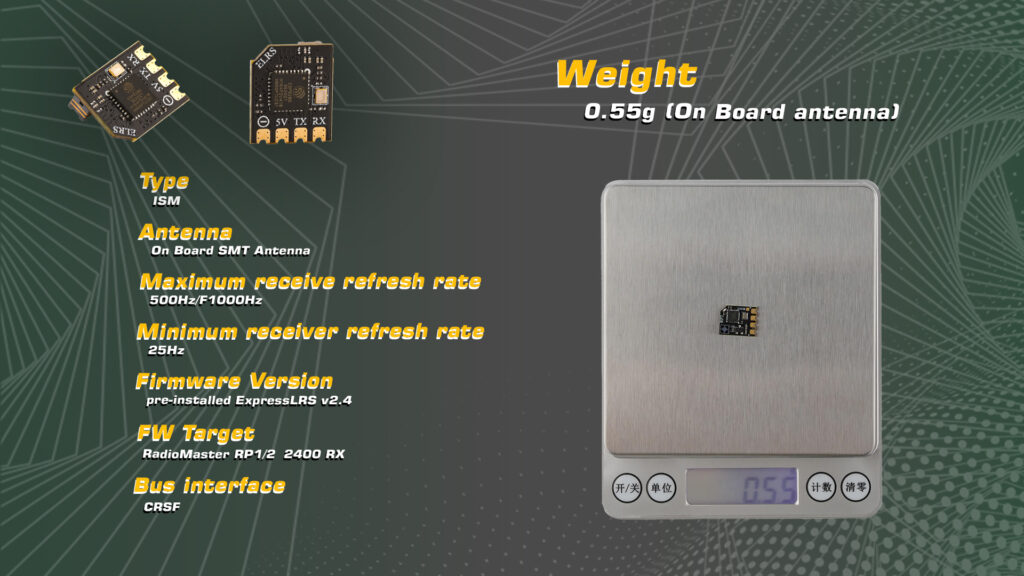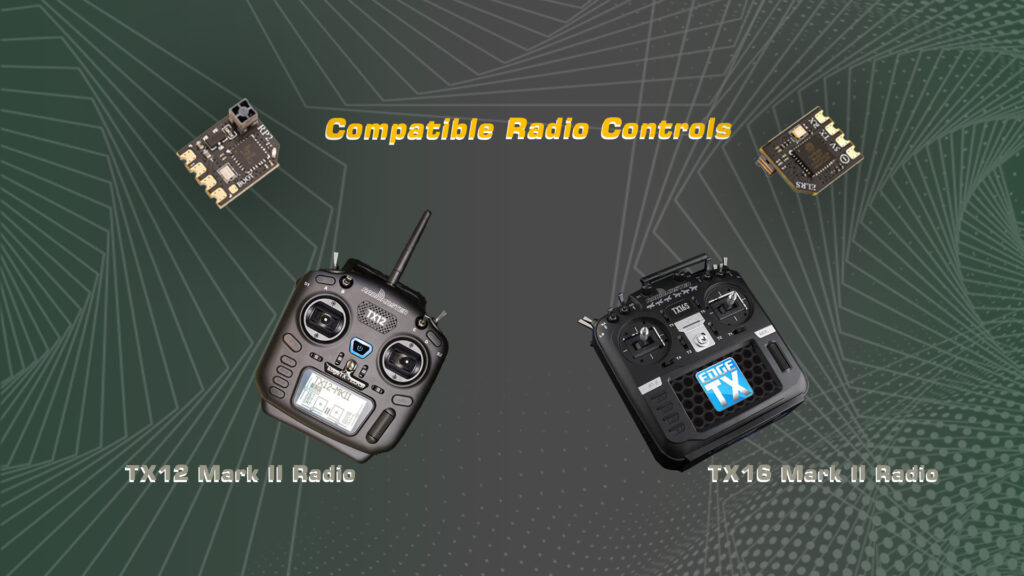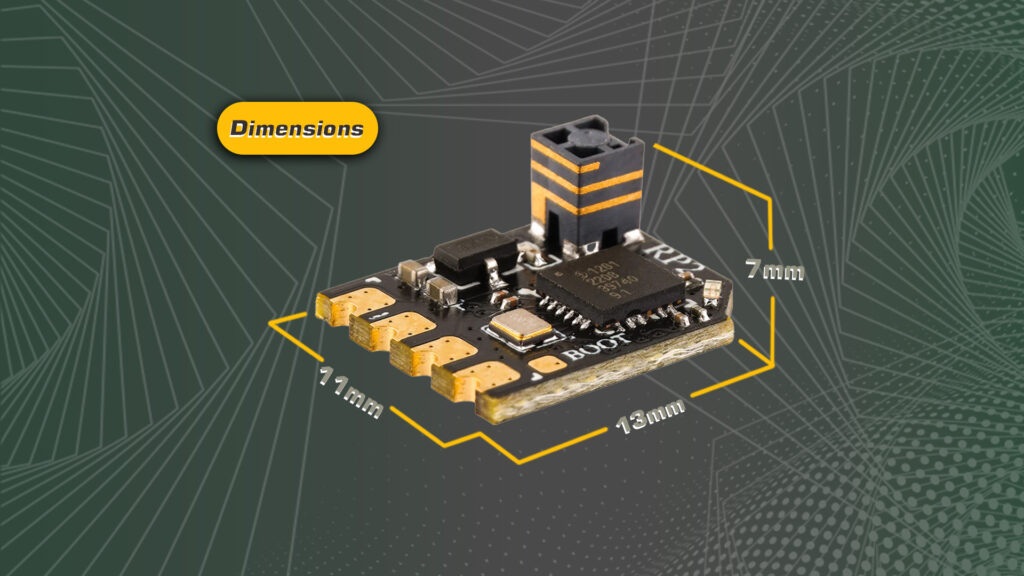 Additional information
| | |
| --- | --- |
| Weight | 0.001 kg |
| Dimensions | 2 × 1.5 × 1 cm |
| Region | FCC, LBT |
Specifications
| | |
| --- | --- |
| Type | ISM |
| Antenna | On Board SMT Antenna |
| Maximum receive refresh rate | 500Hz/F1000Hz |
| Minimum receiver refresh rate | 25Hz |
| Working voltage | 5v |
| Weight | 0.55g (On Board antenna) |
| Dimension | 13mm*11mm*7mm |
| Firmware Version | ExpressLRS v2.4 pre-installed |
| FW Target | RadioMaster RP1/2 2400 RX |
| Bus interface | CRSF |
Product contents
Package Includes
1 x RP2 ExpressLRS 2.4ghz Nano Receiver

1 x User Manual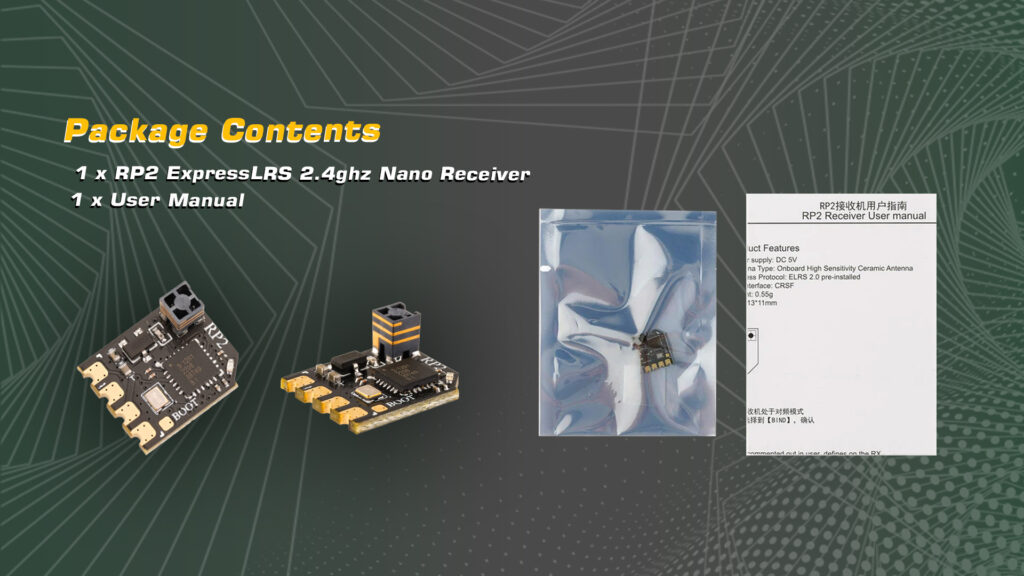 Documents
Click here to download the user manual.