SIYI DK32S 9-16 Channel 20km FPV Radio Controller
1089.00 $ – 1148.00 $
Description
SIYI DK32S is a professional radio transmitting and receiving system for RC helicopter, airplane, multicopters, UAV agriculture drones and robotic applications. It is based on FHSS frequency hopping technology. The radio & datalink transmission distance is up to 20km. It is compatible with Topgun, Xaircraft, Boying, PIX, APM, Jiyi and other flight controller in the market.
Main Features of SIYI DK32S:
1. 20KM super long distance data transmission and real-time telemetry
2. Extraordinary handling & accurate manipulating experience
3. Advanced SHTT spread-spectrum technology
4. 16-Channel multi-functional fast-response mode
5. Voice broadcast with vibration alert
6. High brightness colorful LCD touch screen, brand new GUI system
7. Fulfills the requirements of complicated models or robots
8. Multi-drone control by one radio
Spread-spectrum technologies of advanced SHTT
It is based on SIYI Technology's latest bidirectional 2.4GHz spread-spectrum technology named SHTT (SIYI Hopping Telemetry Technology) that is utilized to transmit and receive data using the DK32S transmitting system. By using the SHTT technology, one can achieve a stable flight control distance of up to 20km (unobstructed, interference-free). Through the use of a unique matching code, both the transmitters and the sky stations work together in harmony, achieving better anti-interference performance over and above the transmitters themselves, allowing for multiple transmitters to work in synchronization and stability at the same time.
Using extraordinary skill and accuracy to manipulate
As a result of the streamlined and compact industrial design, a delicate ergonomic design, and a still even more fashionably streamlined and compact industrial design, the SIYI DK32S transmitter perfectly fits into the palms of any user.
Moreover, a matte silicone pad provides an extra layer of protection on top of the silicone pad. You will be able to free your mind before departing on a flight by reading this collection of ideas and results.
Fast-response 16-channel multi-functional mode in this Radio controller
In addition to fixed-wings, helicopters, gliders, quadcopters and multi-rotors, the DK32S transmitter supports 16 channels of operation for a variety of aircraft models.
Data transmission over a distance of 20 kilometers with real-time monitoring
The DK32S transmitter can transmit a signal up to a distance of 20 kilometers in an unobstructed environment that is completely free of interference. This perfectly meets the requirements of the majority of users
Pilots of agricultural drones need to know their operating requirements for flights beyond the visual range (BVR). The DK32S transmitter comes with a built-in display that allows the user to view real-time telemetry data from the sensor
It will contain information about the voltage of the sky station, the power of the aircraft, the strength of the signal, and other data collected using multiple sensors.
Broadcasting of audio messages with vibration alerts in this remote controller
By combining the voice broadcast function with the vibration alert feature, users can spend more time concentrating on their flight.
Brand New GUI System and High Brightness Colorful LCD Touch Screen
SIYI DK32S transmitter's high brightness colorful screen is clearly visible in sunlight. There are no conventional keys and buttons, but a built-in LCD
touchscreen on the transmitter, assisted by a turntable menu in the brand new GUI system. All these revolutionary enhancements features in both software and hardware provide a more user-friendly experience on transmitting settings.
Creative 5-dimensional Sub-trim Buttons
Sub-trim button designs in traditional transmitters have been overturned in the SIYI DK32S transmitter, now you are able to do quick adjustment between sub-trim buttons and joysticks in a flight. These buttons combine elegant aluminum alloy molding with the unity of industrial design to provide an exceptional manipulating experience.
Fulfils the Requirement of Advanced Models or Robots
SIYI's DK32S transmitter can save 64 sets of model data by default. The amount can be extended to a substantial extent if necessary.
Powerful programmable mixing control supports various customized mixing patterns and curve mixing.Adjustable rate, editable throttle curve and pitch curve make any complicate control easy to operate.The data copy function provides convenience to users for sharing transmitter settings with friends.
It is possible to use two transmitters simultaneously in the trainer mode, one for the trainer and the other for the trainee. The trainer mode has a variety of protection options. An example of this is the trainer transmitter can take control of the flight from the trainee transmitter through a pre-defined switch.
With the channel mapping function, you are able to define your own channels; the failsafe function provides an additional layer of safety to the safety of your flight.
Battery with high capacity and built-in Lithium-Polymer
Featuring a high capacity 1S Li-Po rechargeable battery, the SIYI DK32S transmitter is easy to use, reliable, and easy to maintain. The DK32S transmitter has a standard Micro-USB port, which allows it to be charged easily, and it will work continuously for more than 12 hours after it is charged. The transmitter can operate outdoors for a long period of time without any problems.
Saving and extending SD Card data
Unlike the DK32S transmitter, which stores flight data on a SD card, this transmitter supports copying flight data from one transmitter to another afterwards.
Adjust Transmitter Settings and Upgrade Firmware on PC
The SIYI DK32S transmitter supports adjusting system settings and upgrading firmware through the PC software "SIYI Assistant". It's an obvious attempt to promote user experience, and SIYI Technology promises continuous firmware updates and other awesome features.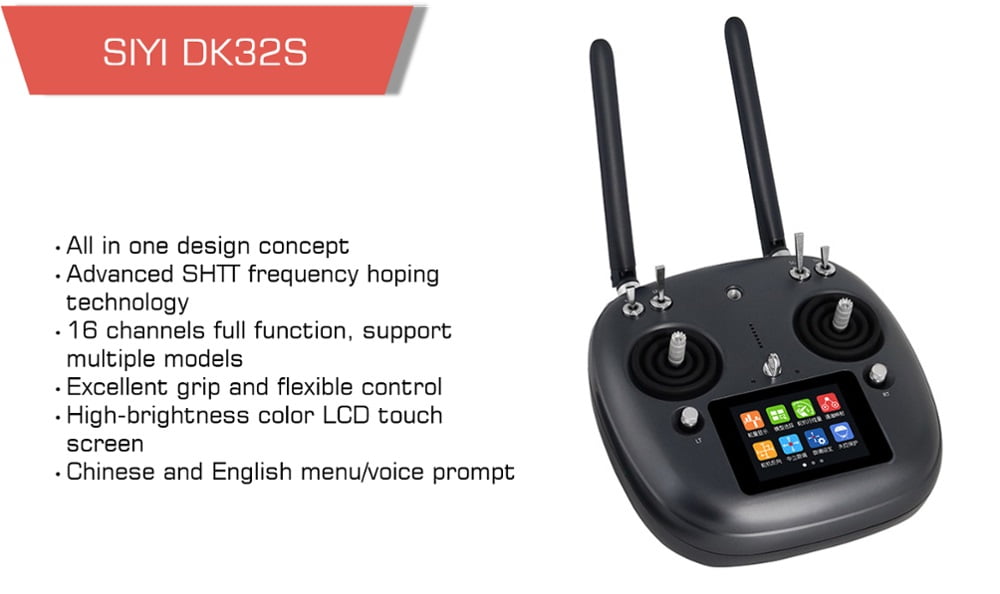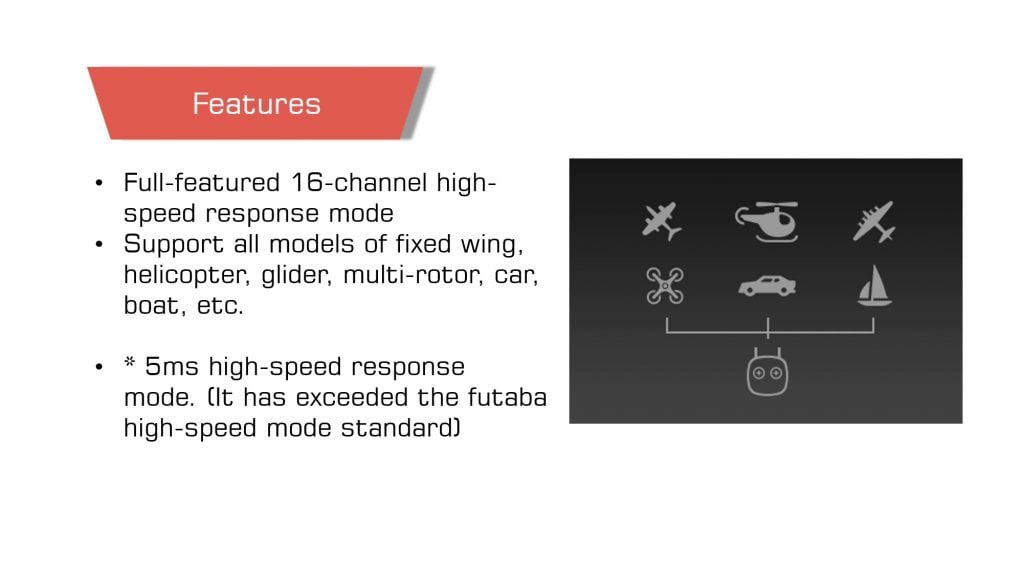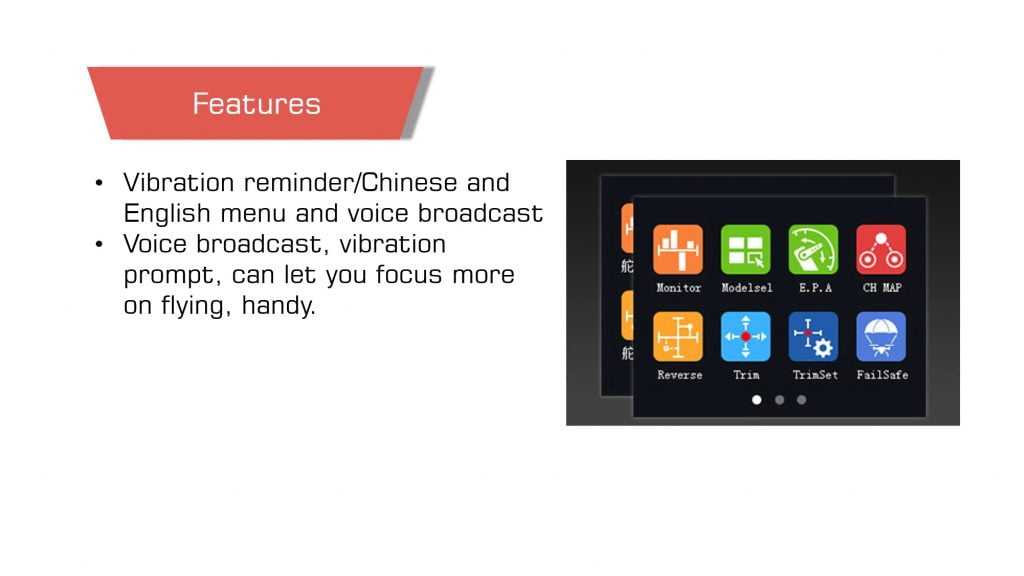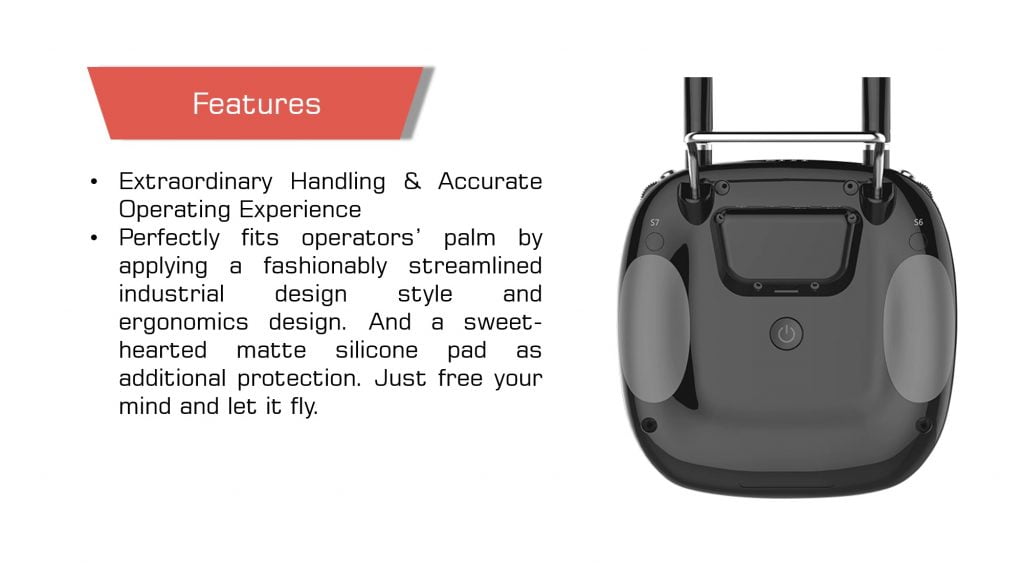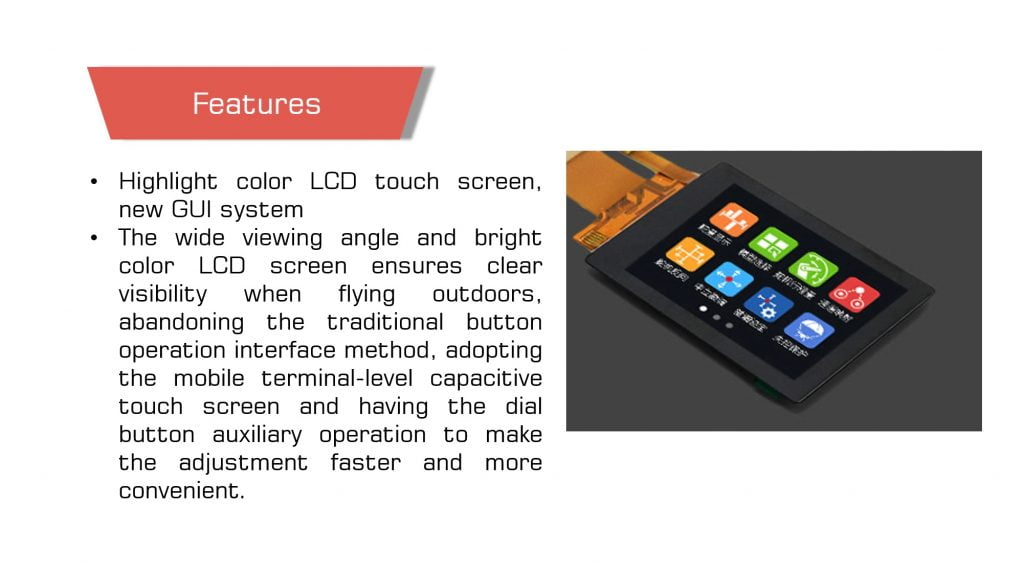 Additional information
| | |
| --- | --- |
| Weight | 1 kg |
| Dimensions | 20 × 18 × 11 cm |
Specifications
| | |
| --- | --- |
| Transmission Range (Radio & Datalink) | up to 20 km |
| Frequency Band | Radio & Datalink 2.400-2.483 GHz |
| Video | 5.8 Ghz |
| Channel | 26 physical channels, 16 transmitting channels |
| Applicable Models | Planes/Helicopters/Gliders/Quadcopters/Multi-rotors/Vehicles/Boat/Robotics |
| Compatible Flight Controllers: | TOPXGUN T1-A, WOOZOOM THEONE-A – A, EFY FINIX200M, JIYI K3-A, BOYING PALADIN, CHIAO MATRIX, CFUAS C1-A, PIX, APM |
GROUND STATION (TRANSMITTER)

Ports for Video Output

USB

Ports for PC, Tablets, and Smartphone

Micro-USB/Bluetooth

Touchscreen Language Display

Chinese/English

Dimensions

194.5 x 172.5 x 114 mm

Item Weight

942 g (with phone holder)

Operating Temperature

0℃ ~ 55℃

Battery Built-in

15000 mAh Li-Po 1S 3.7V

Charging Port

Micro-USB (5V/2A)
SKY STATION (RECEIVER)

Signal Output

16 channels of S-Bus, 5 channels of PWM

Ports for Flight Controllers

UART

Dimensions (without antennas)

61 x 60 x 21 mm

Weight (without antennas)

82 g

Antenna Gain

5 dBi

Working Voltage

15 – 50 V

Telemetry Voltage

15 – 50 V

Operating Temperature

-10℃ ~ 55℃
Product contents
1 x Transmitter
1 x DK32S Sky Station
1 x 4-pin Data Cable (or a flight controller cable)
1 x Micro-USB Cable
1 x OTG USB Male to Male Cable
1 x Strap Belt
1 x Carrying Case