Holybro PM06 V2-14S Power Module
19.99 $
Description
Holybro PM06 Overview
Holybro PM06 is drone power module that provide regulated power to flight controllers and ESCs and provide analog battery voltage and current consumption feedback to the autopilot. Based on this feedback, the autopilot can provide failsafe warnings. Other modules in the market can provide digital feedback. The module support up to 14S batteries. Based on the type of communication link used and its power consumption, you may also be able to power it using this powerful module.
The power settings should be appropriately configured to reasonably estimate the remaining battery percentage. Otherwise, the drone will run out of battery without the operator knowing, leading to crashes. The number of battery cells, the capacity of the battery, and full battery voltage per cell are some of the settings.
The autopilet power module maps the full range voltage of the battery (e.g., 0~12v for a 3S battery) into an appropriate range for the Autopilot (0~3.3v for most autopilots). Different power modules use different types of mapping, which should be known as autopilot. This mapping is linear, and if you use well-known power module types, it is already set in the ground station you use (MissionPlanner, QGroundControl, etc.).
By choosing the type of power module that you are using, the GCS software automatically loads the appropriate mapping. If your power module is not supported, you should manually calculate the mapping or find the values on the internet if you are lucky. 
Holybro PM06 Pin Map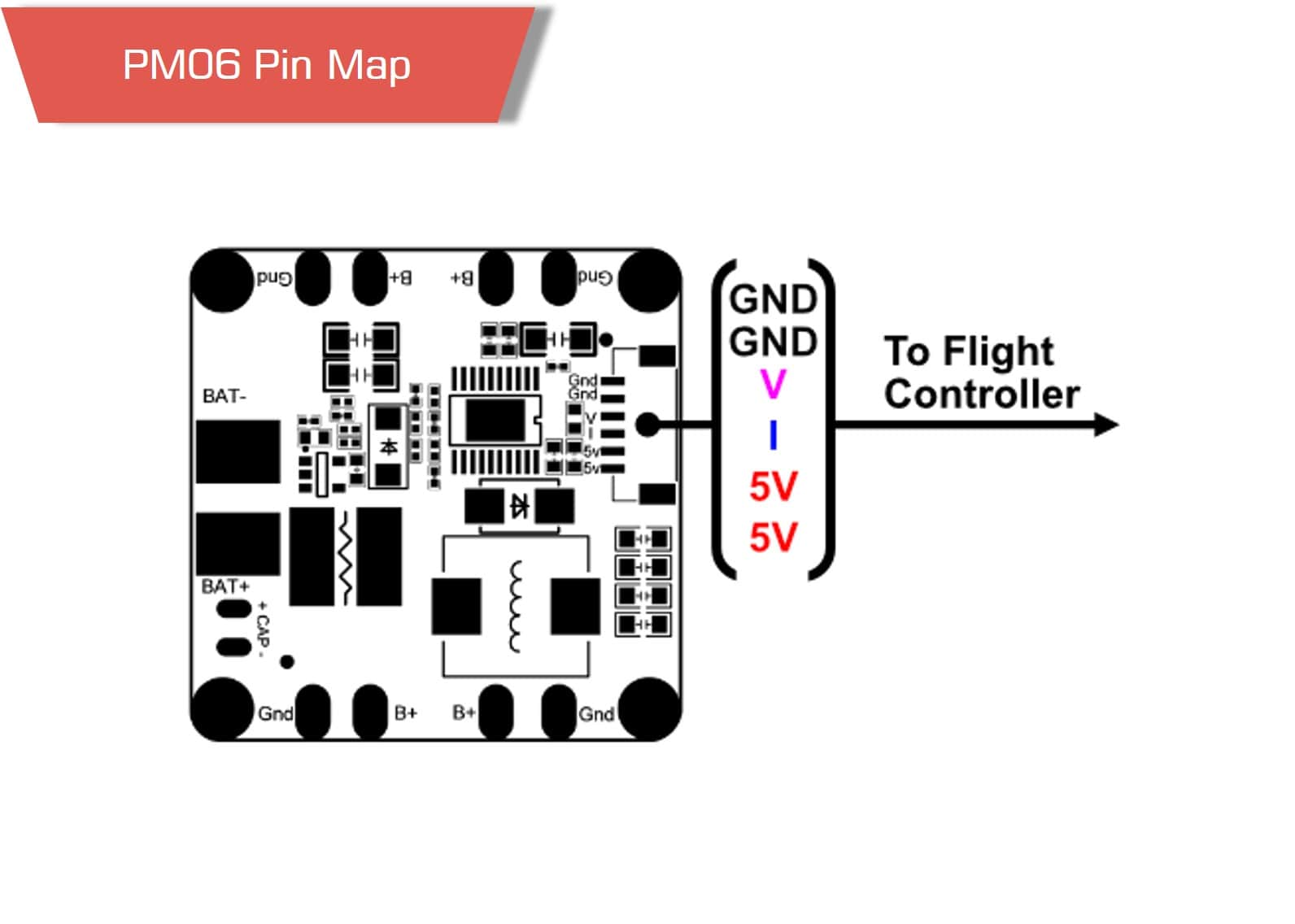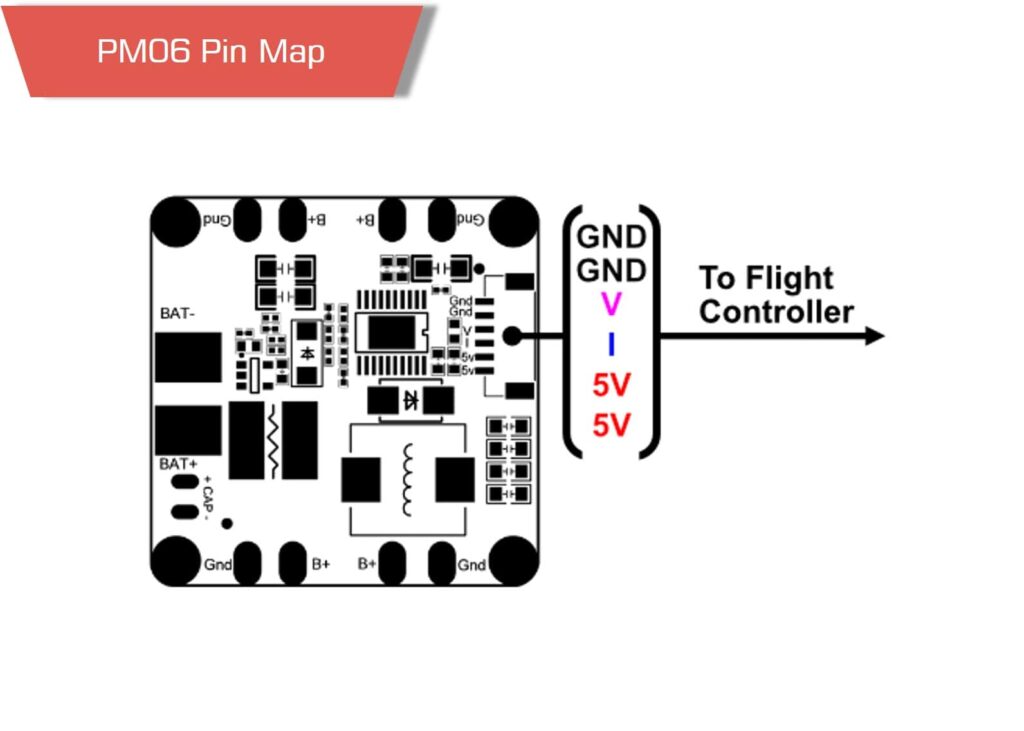 Additional information
| | |
| --- | --- |
| Weight | 0.024 kg |
| Dimensions | 3.5 × 3.5 × 3.5 cm |
Specifications
Technical Specification:
Input voltage: 2S-14S

Power Module rated current: 60A

Power Module max current: 120A (<60 sec)

UBEC output: DC 5.1V~5.3V

UBEC output current: 3A Max (Note: To ensure proper heat dissipation, UBEC output current needs to be limited to <2A when using 14S battery.)

Voltage Divider: 18.182

Amperes per Volt: 36.364
Mechanical Specification for PM06:
Dimensions: 35x35x5mm

Mounting hole: 30.5mm*30.5mm

Weight: 24g
Current Rating
The XT60 plug and 12AWG wire that PM06 comes with are rated for 30A continuous current and 60A instantaneous current (<1 minute). If a higher current is being used, the plug type and wire size should be changed accordingly. The specifications and models are as follows:
Plug Specification
Wire Size
Rated current:

(4 hours, temperature rise <60 Deg C)

Burst Current:

(1 minute, temperature rise <60 Deg C)

 XT60

12 AWG

30A

60A

 XT90

10 AWG

45A

90A

 XT120

8 AWG

60A

120A
Product contents
Package Include:
1x Power Module

1x 80mm XT60 connector wire (pre-soldered)

1x Electrolytic capacitor: 220uF 63V (pre-soldered)

1x JST GH 6pin cable
Documents
Ardupilot Mission Planner Setup 
Connector the Power Module to battery and connect the flight controller to your ground station via USB.

Open Mission Planner, go to Setup page and Battery Monitor tab and select the following:
Monitor – "Analog Voltage and Current"

Sensor – "9: Holybro Pixhawk 4 PM"
For Pixhawk 4, Pixhawk 4 Mini, Pix32v5, Pix32, select the following:

HW Ver – "0: CUAV V5/Pixhawk 4 or API "
Alternatively, input the following in the parameter list
BATT_VOLT_PIN: 0

BATT_CURR_PIN: 1
For Durandal, select the following:

HW Ver – "9: Durandal/ZealotH743"
Alternatively, input the following in the parameter list
BATT_VOLT_PIN: 16

BATT_CURR_PIN: 17

For Pixhawk 5X

You will need to use a digital power module like the that end with a "D" such as the PM02D.
The PX4 Guide provides more information regarding setting up PX4 with QGround Control.