Raspberry Pi Compute Module 4
49.24 $ – 105.20 $
Description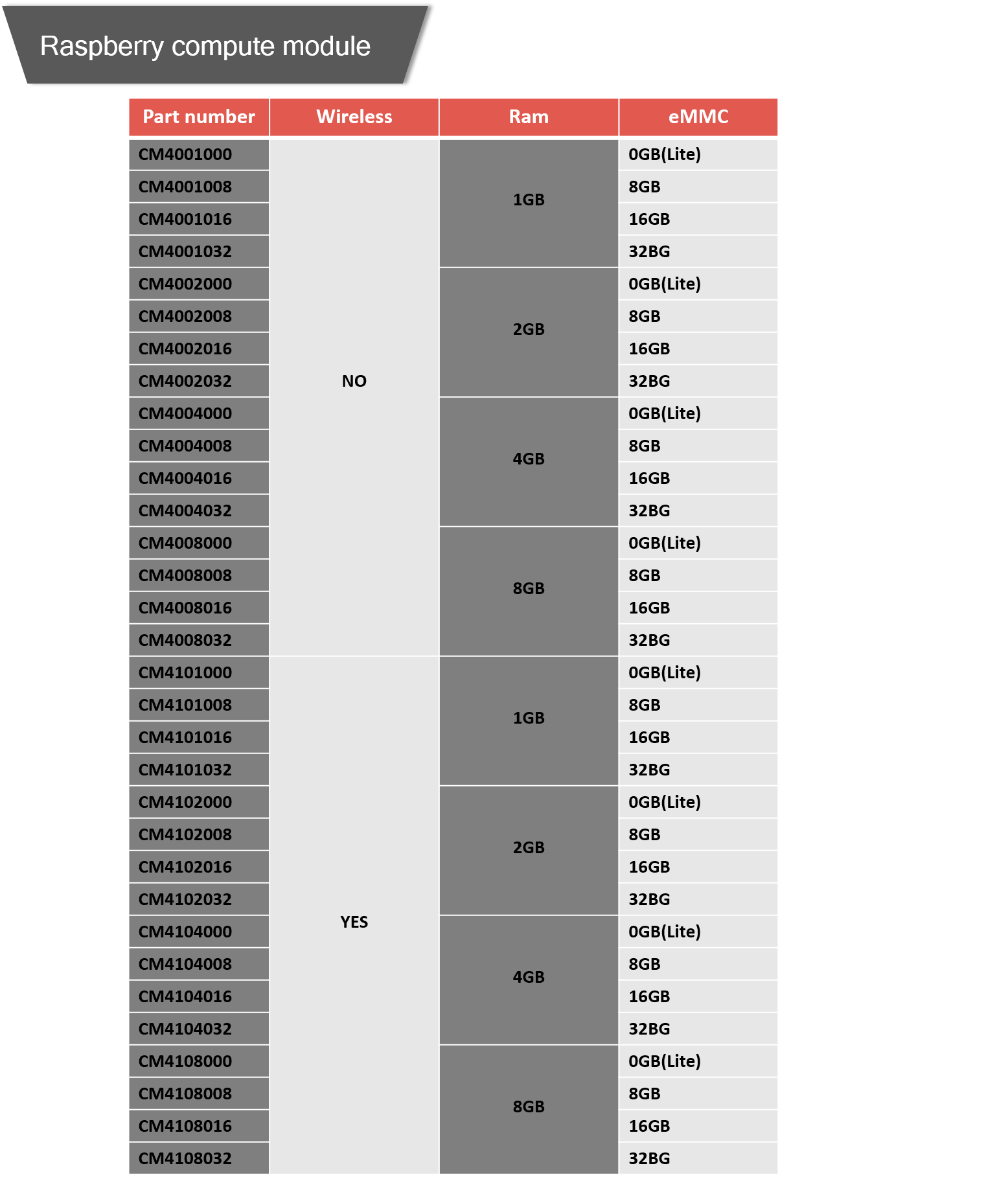 New, more compact form factor
Compute Module 4 introduces a brand new form factor and a compatibility break with earlier Compute Modules. Where previous modules adopted the JEDEC DDR2 SODIMM mechanical standard, with I/O signals on an edge connector, we now bring I/O signals to two high-density perpendicular connectors (one for power and low-speed interfaces, and one for high-speed interfaces).
This significantly reduces the overall footprint of the module on its carrier board, letting you achieve smaller form factors for your products.
Those interested in the best Raspberry Pi can also find information on our Raspberry Pi archive which contains a page devoted specifically to the Raspberry Pi Bundles.
Compute Module 4 IO Board
To help you get started with Compute Module 4, we are also launching an updated IO Board. Like the IO boards for earlier Compute Module products, this breaks out all the interfaces from the Compute Module to standard connectors, providing a ready-made development platform and a starting point for your own designs.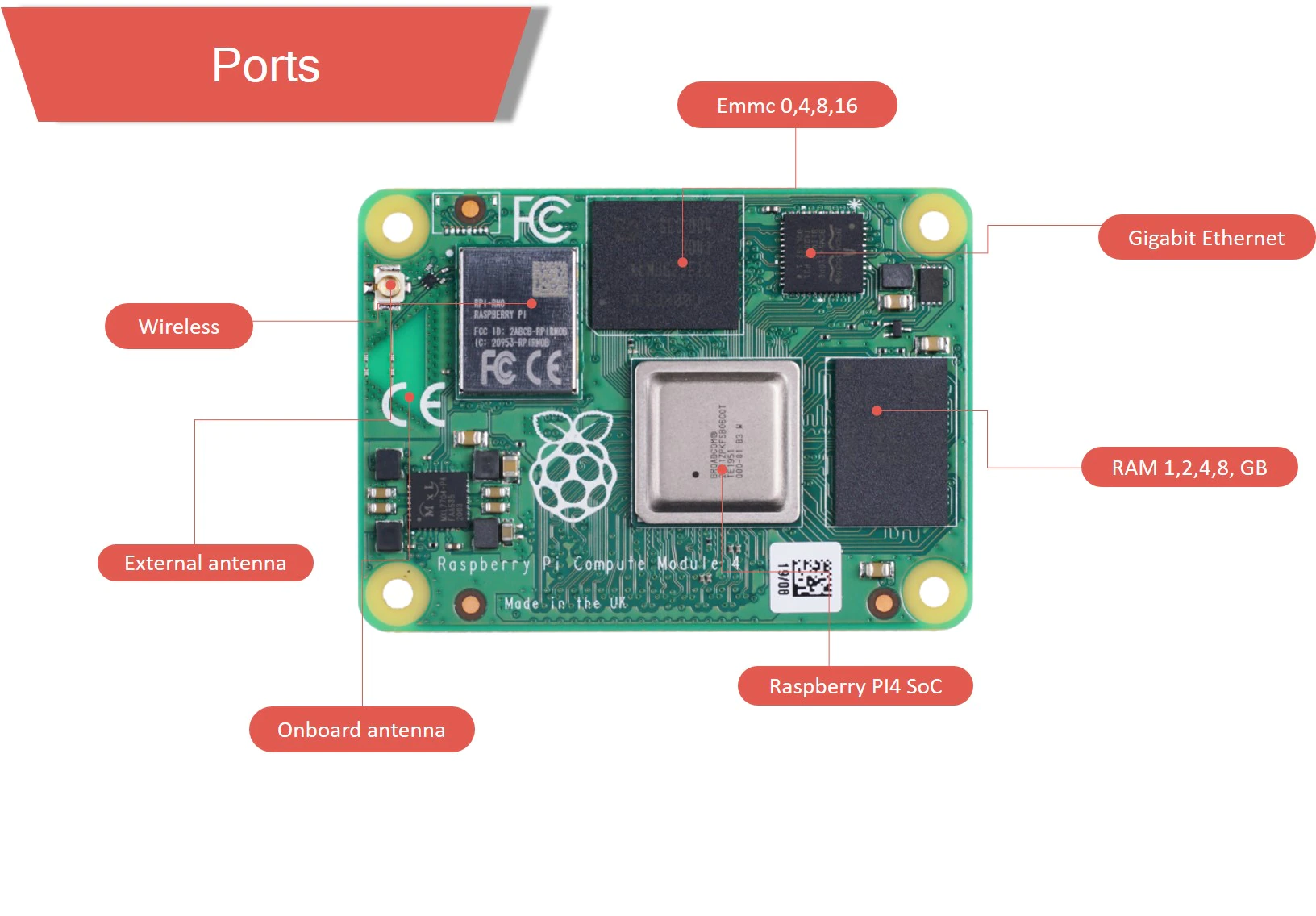 Compliance
Raspberry Pi Compute Module 4 has undergone extensive compliance testing and meets the standards required in many countries. You can find all compliance information and regional certificates at raspberrypi.org/compliance.
If you are integrating Compute Module 4 into a product and need assistance with compliance, the Raspberry Pi Integrator Program can help: more information and contact details here.
Additional information
| | |
| --- | --- |
| Weight | 0.1 kg |
| Dimensions | 4 × 3 × 2 cm |
Specifications
| | |
| --- | --- |
| Processor | Broadcom BCM2711 quad-core Cortex-A72 (ARM v8) 64-bit SoC @1.5GHz |
| Video Decoder | H.265 (HEVC) (up to 4Kp60 decode), H.264 (up to 1080p60 decode, 1080p30 encode) |
| OpenGL | OpenGL ES 3.1, Vulkan 1.0 |
| eMMC Flash memory (depending on variant) | Options for 0GB ("Lite"), 8GB, 16GB or 32GB |
| Option for fully certified radio module | 2.4 GHz, 5.0 GHz IEEE 802.11 b/g/n/ac wireless; Bluetooth 5.0, BLE; |
| Antenna | On-board electronic switch to select either external or PCB trace antenna |
| RAM | 1/2/4/8 GB |
| Dimension | 85x56mm |
Product contents
CM4101000: wifi-1GB Ram-0GB (lite) eMMC
I/O-Board
CM4008008: No wifi-8GB Ram-8GB eMMC
CM4002000: No wifi-2GB Ram-0GB (lite) eMMC
CM4008016: No wifi-8GB Ram-16GB eMMC