ISDT K4 Battery Charger, AC 400W, DC 600Wx2
252.98 $
Description
ISDT K4 Battery Charger, AC 400W, DC 600Wx2
The ISDT K4 Battery Charger is a high-performance charger designed to provide you with the ultimate charging experience. With its AC 400W and DC 600Wx2 dual input modes, this charger offers unparalleled power and versatility. Whether you're charging at home or on the go, the K4 has you covered.
One of the standout features of the ISDT K4 is its advanced crafty cooling air duct, which ensures efficient heating dissipation, keeping the charger cool even during demanding charging sessions. This means faster and more reliable charging without the worry of overheating.
Equipped with a full-color LCD touch panel, the K4 provides a smart display that shows the entire charging process for your batteries. With its large screen display, you can easily monitor crucial information such as voltage, current, charging time, mode, battery type, internal resistance, and battery capacity. The intuitive interface allows for easy setup and manual operation modes, putting you in full control of your charging experience.
The K4 charger is packed with multi-functionality to meet all your charging needs. It supports BattAir BT connecting and mobile operation, giving you the flexibility to charge your batteries remotely. It also features Li-ion and LiPO balancing for optimal battery performance, fast charging capabilities, data storage for easy access to charging history, cycle charging for battery maintenance, and discharging function for battery health checks. Moreover, the charger is equipped with intelligent charging algorithms that automatically stop charging once your batteries are fully charged, protecting them from overcharging and extending their lifespan.
Versatility is key with the ISDT K4. It is compatible with a wide range of battery types including LiFe, LiIon, LiPo 1~8S; LiHv, ULiHv 1~7S (ultra-high voltage lithium batteries with a 4.45V cell voltage); Pb 1~14S; and NiMH/Cd 1~18s. The charger's intelligent battery type identification ensures optimal charging performance by matching the charging algorithm to the battery type automatically.
Not only does the ISDT K4 deliver outstanding performance, but it also boasts a sleek and durable aluminum alloy shell. Its ergonomic design provides a comfortable grip and a visually appealing appearance, making it a perfect companion for RC planes, RC drones, portable power devices, remote control cars, and more.
With its auto adjustment feature on charging parameters and auto safety shut-off, the ISDT K4 Battery Charger ensures the best charging performance while protecting your batteries. Say goodbye to worries about overcharging and extend the life of your batteries with this reliable and efficient charger.
Experience the power and convenience of the ISDT K4 Battery Charger. Get yours today and take your charging capabilities to new heights.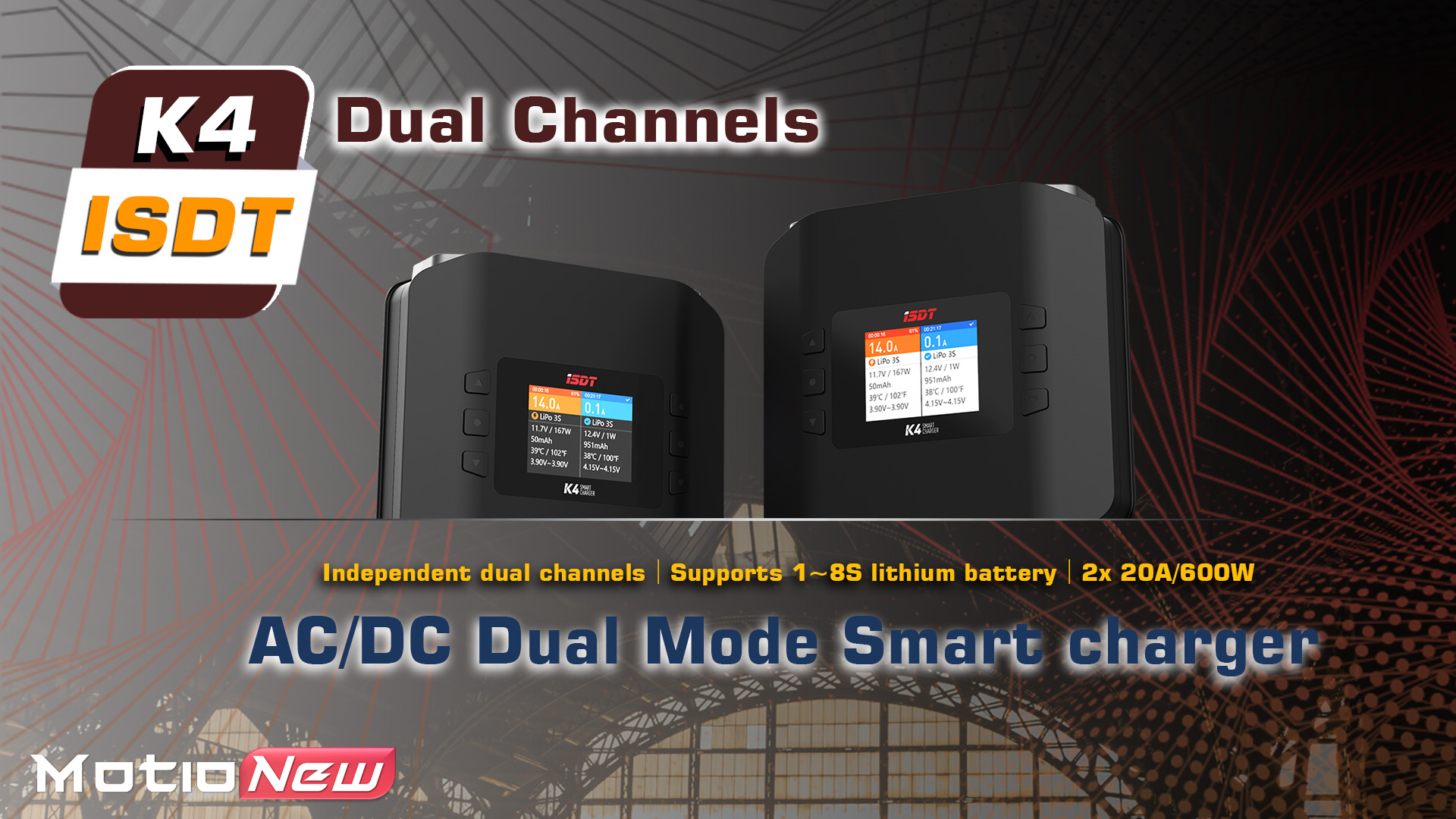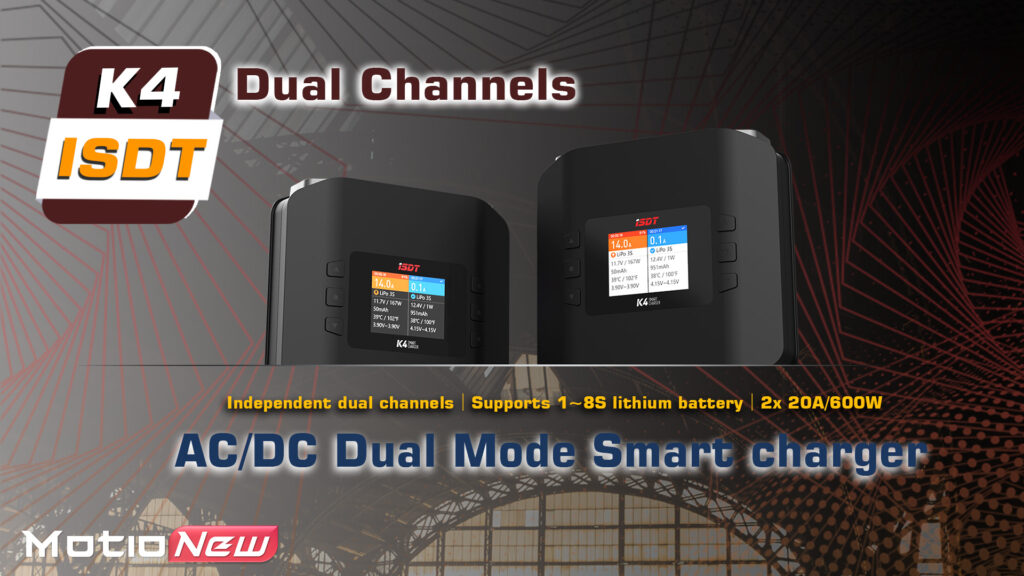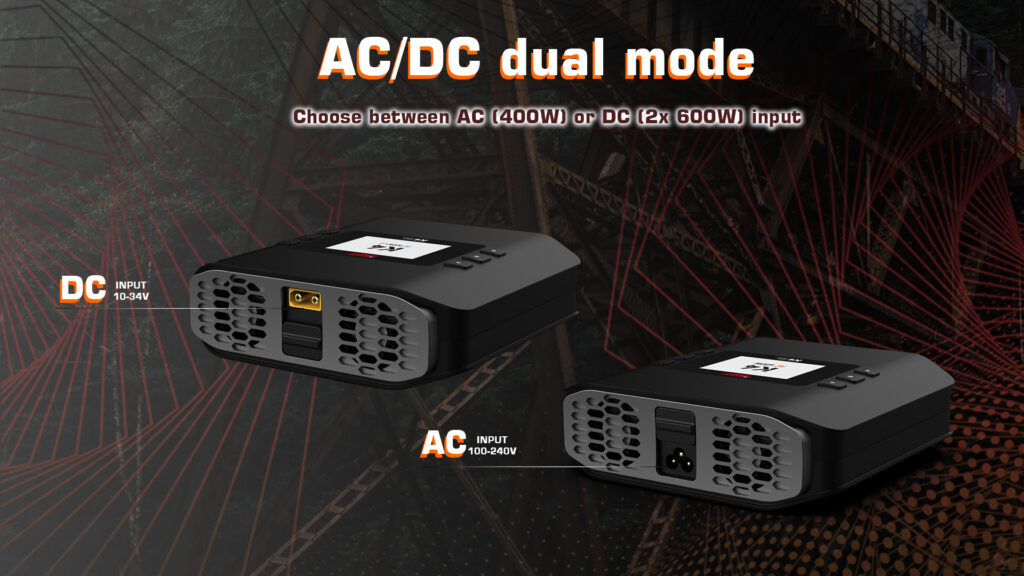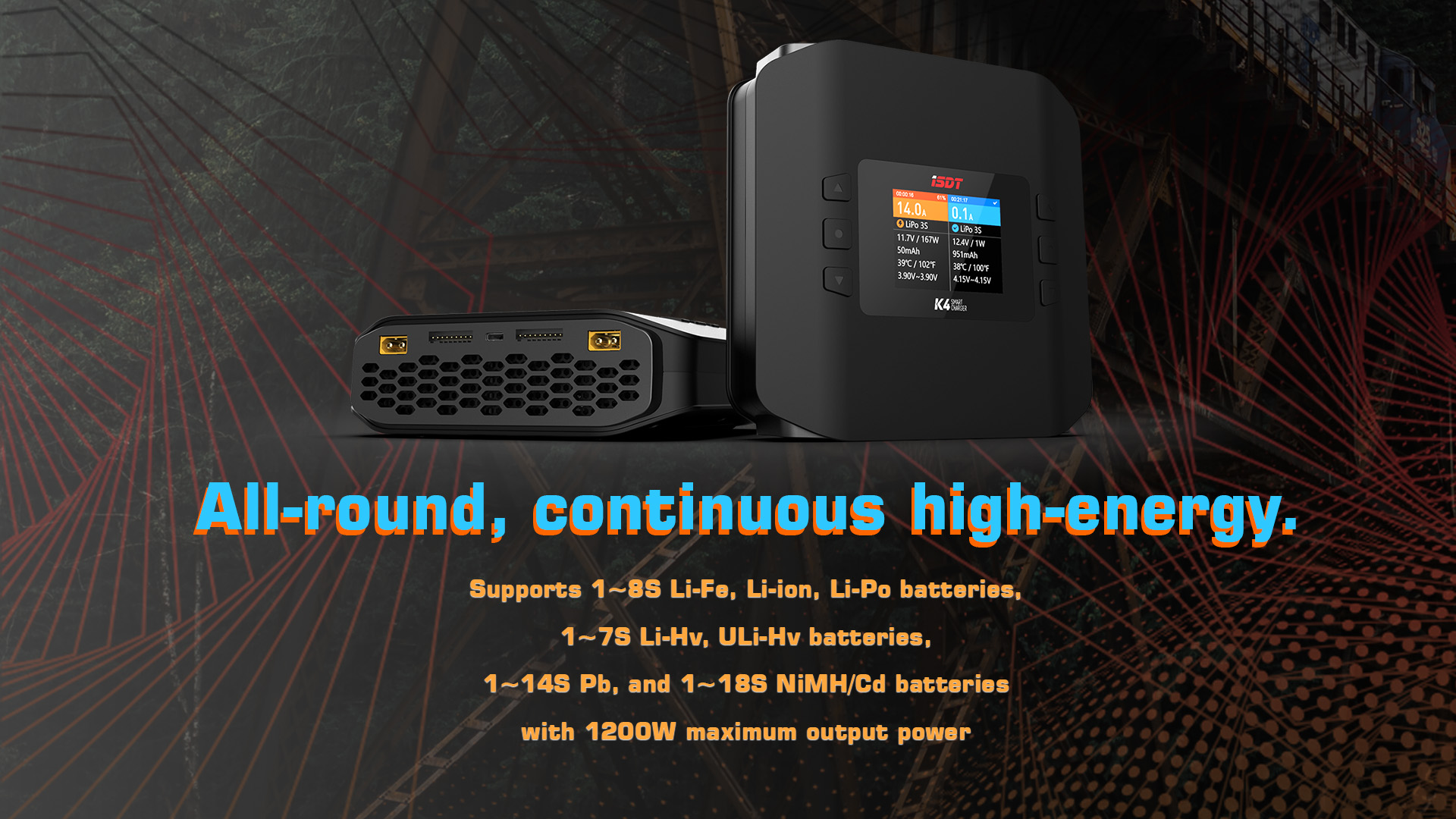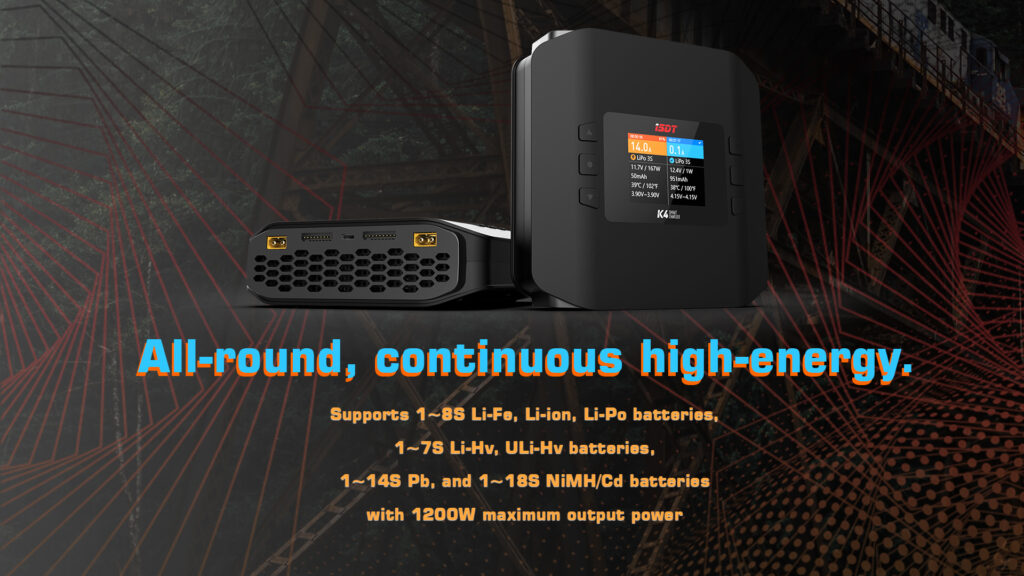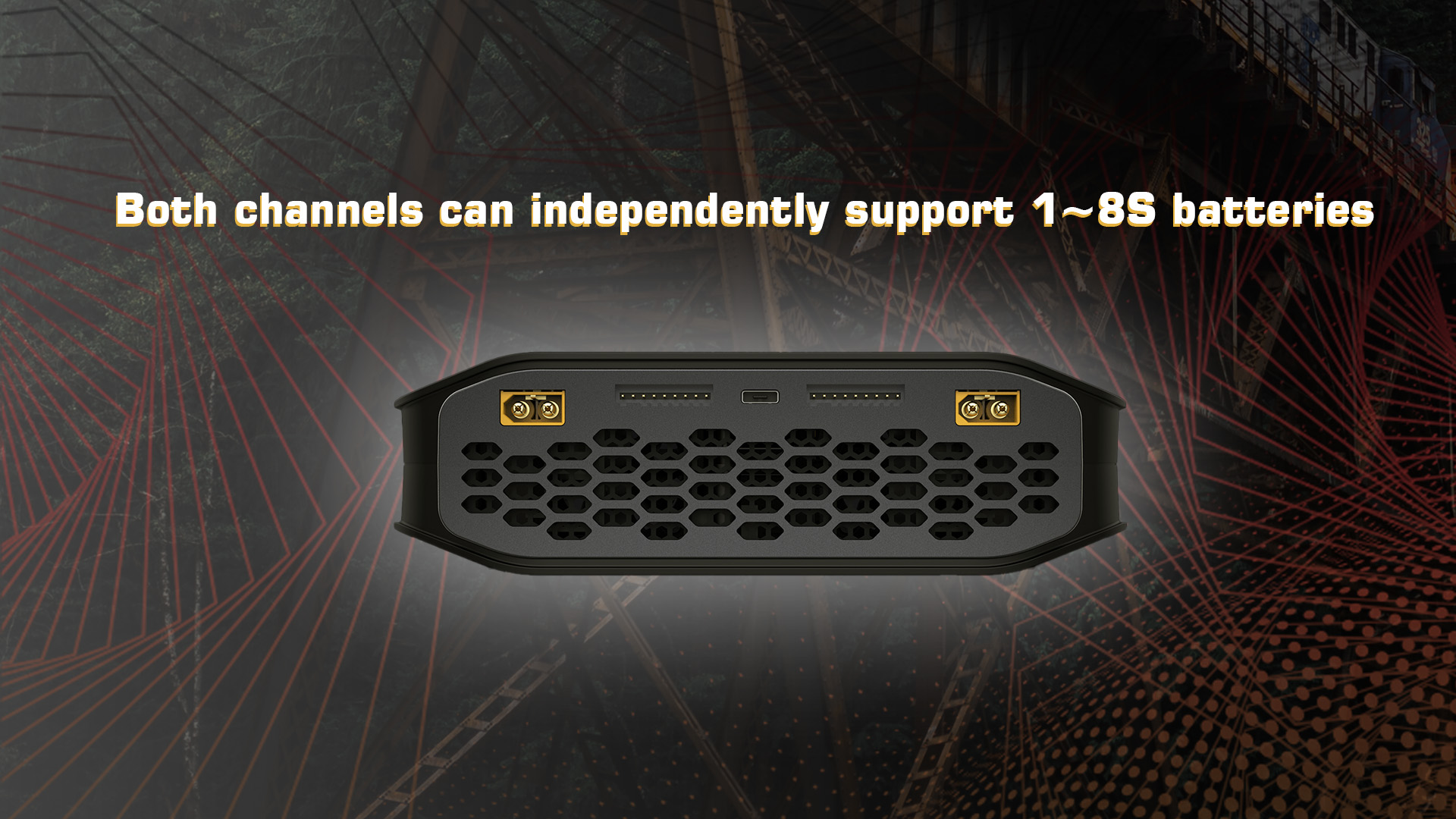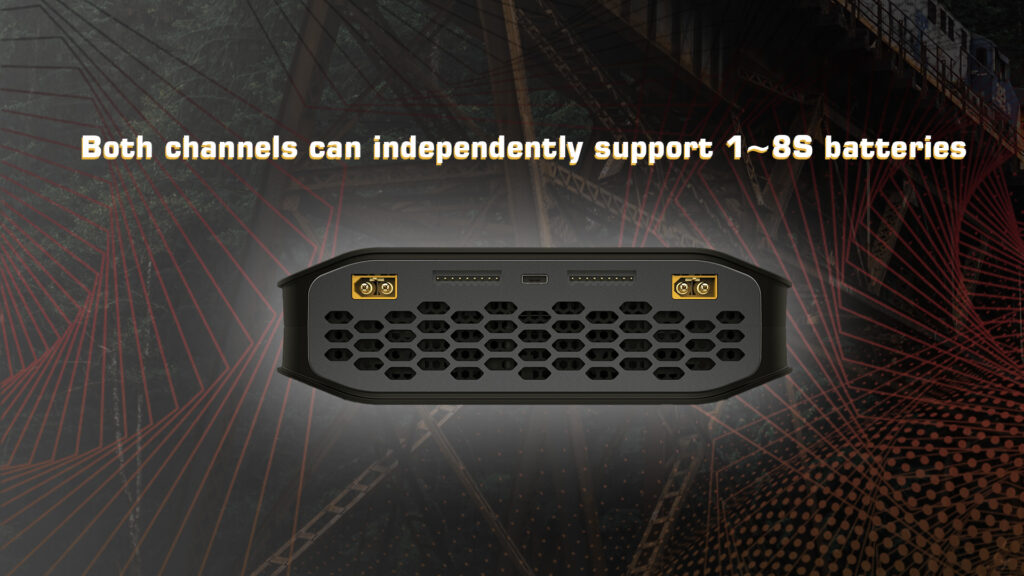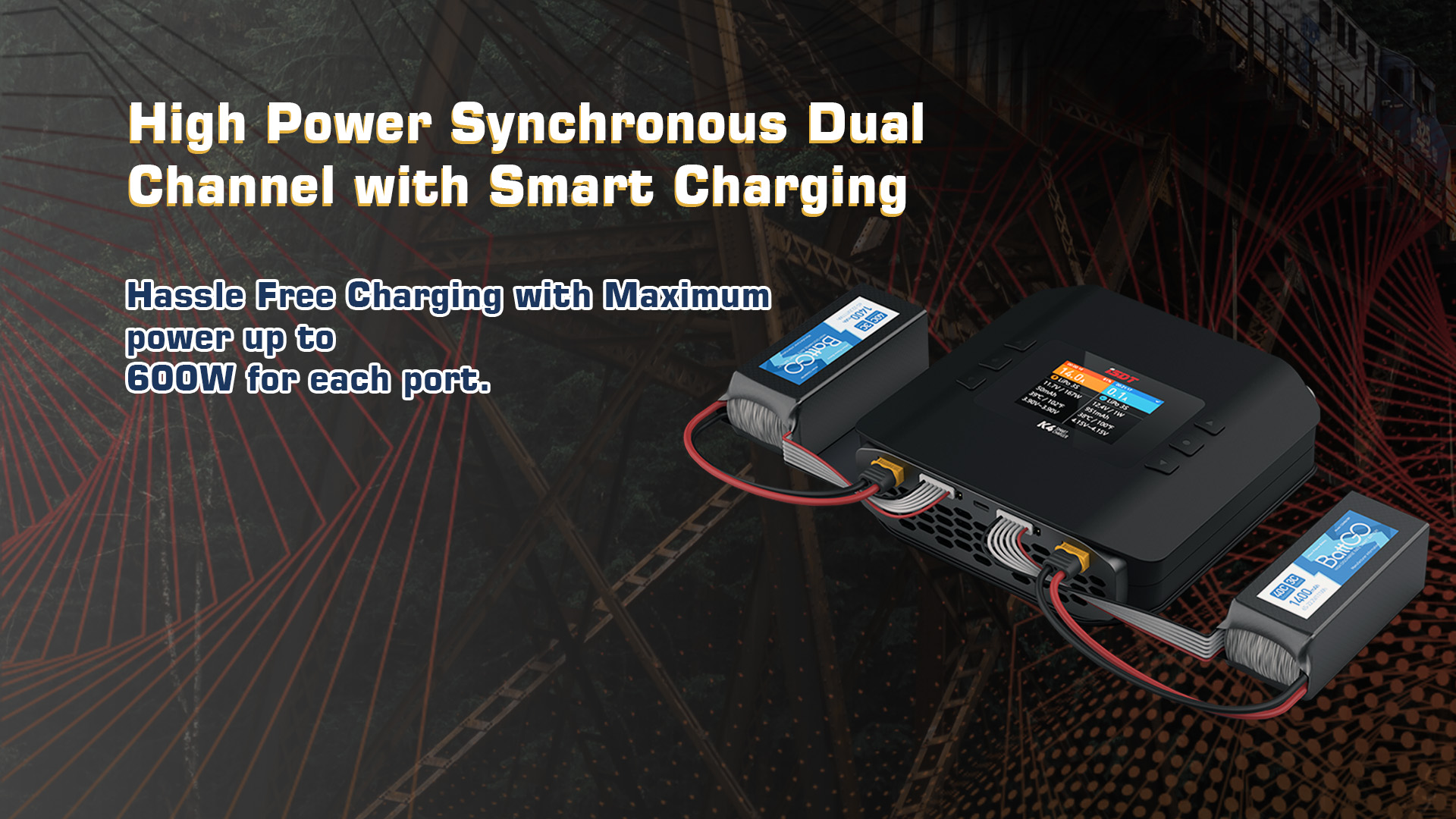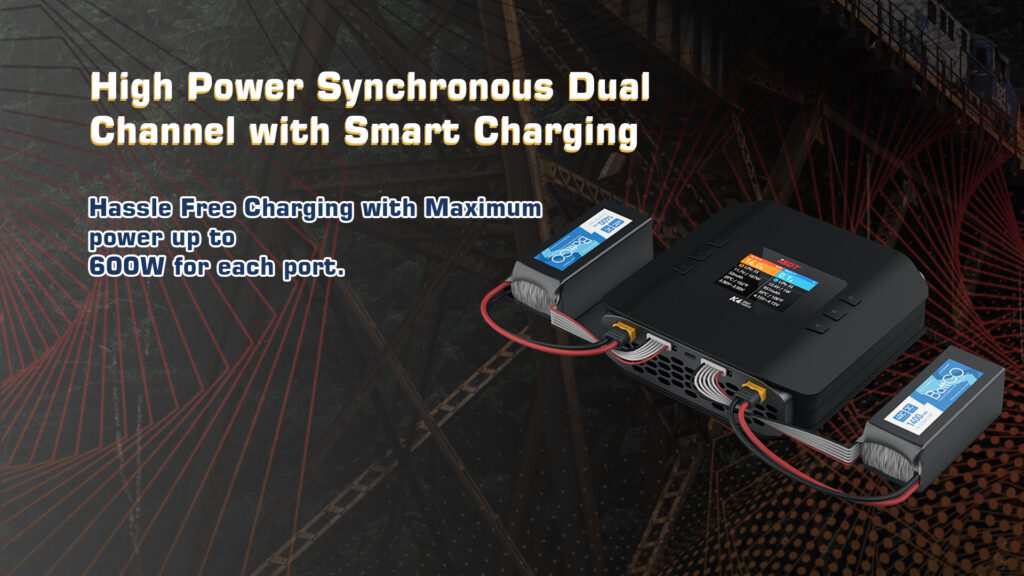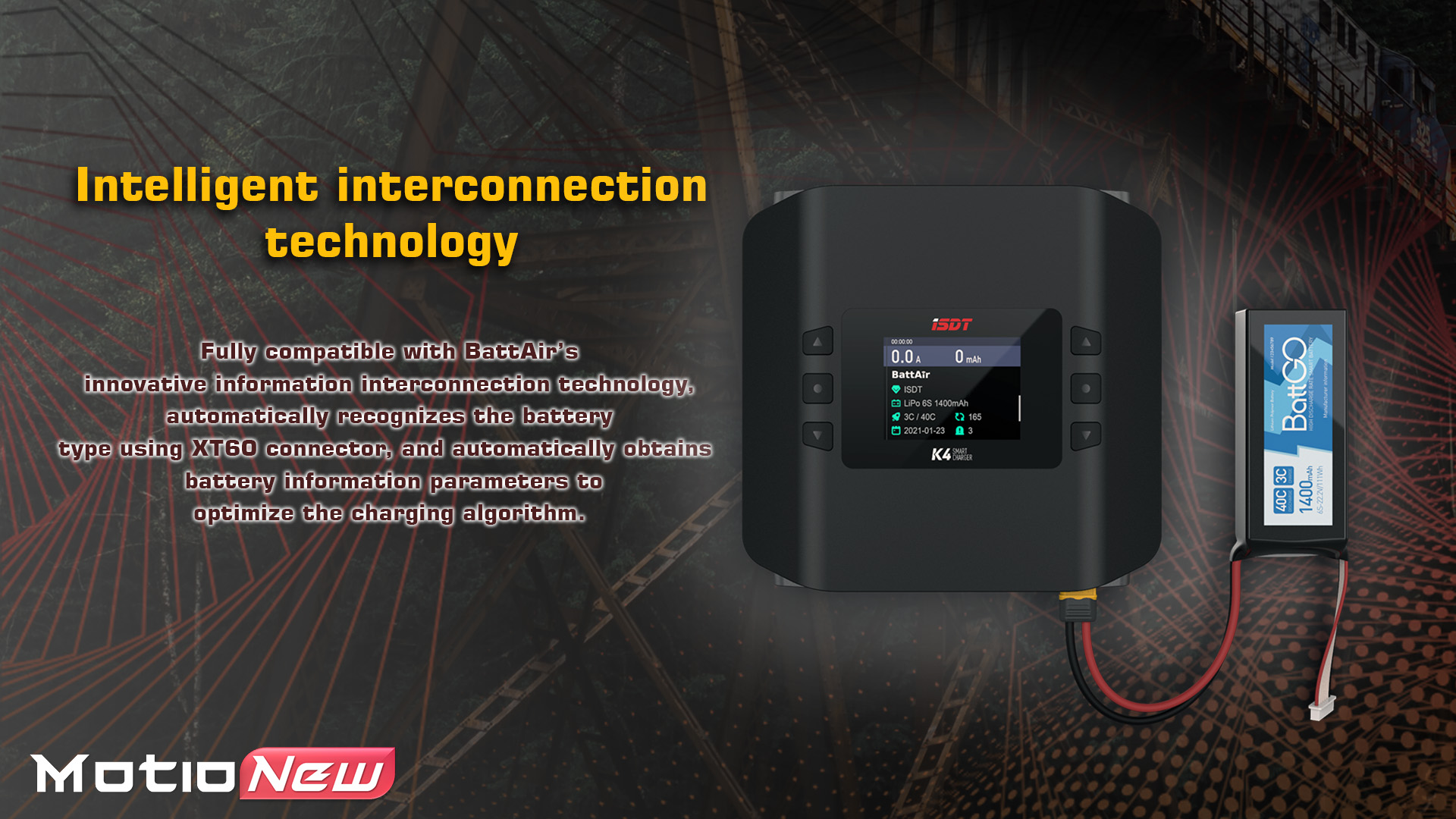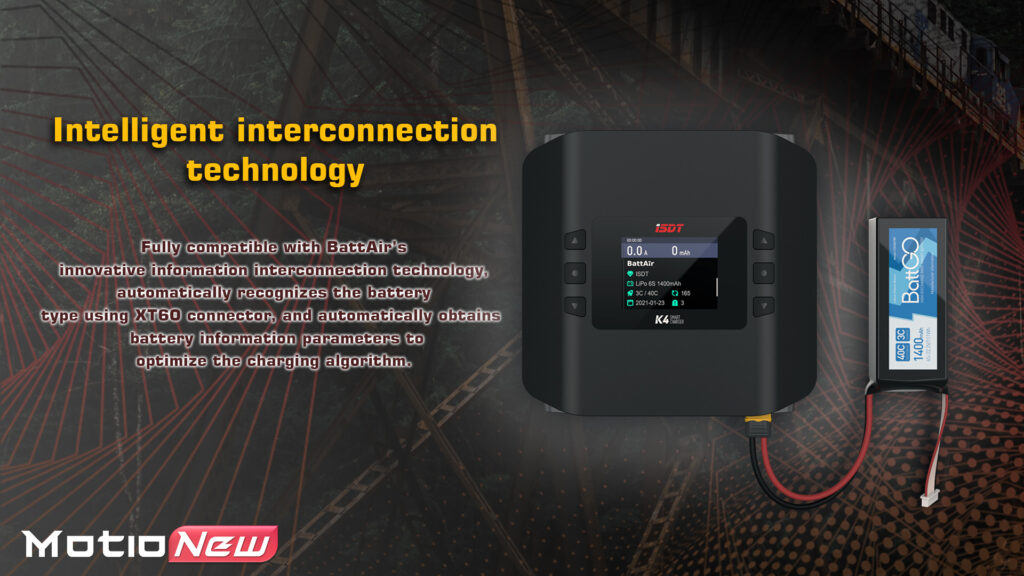 Additional information
| | |
| --- | --- |
| Weight | 1 kg |
| Dimensions | 16 × 15 × 7 cm |
Specifications
| | |
| --- | --- |
| Input voltage | AC 100~240V / DC 10~30V |
| Output voltage | DC 1~30V |
| Max. input current | DC 35A |
| Charging current | 0.2~20A x2 |
| Discharging current | 0.2~3A x2 |
| Balance current | 1.5A/Cell Max |
| Max. discharging power | 30W x2 |
| Max. charging power | AC 400W / DC 600W x2 |
| Abnormal voltage alarm | Support |
| Incorrect cell count setting alarm | Support |
| Supported battery types and cell count | LiFe, Lilon, LiPo 1~8S, LiHv 1-8S, Pb 1-12S, NiMH/Cd 1-16S |
| Parallel charging power and current | 800W/35A |
| Parallel discharge power and current | 30W/3A |
| Working temperature | 0~40℃ |
| Storage temperature | -20℃~60℃ |
| Dimension | 142x135x64mm |
| Weight | About 700g |
Product contents
1X ISDT K4 Charger
Documents
Click here to download the user manual