NEW Holybro Pixhawk 6C UAV Flight Controller
269.99 $ – 339.99 $
Description
Holybro Pixhawk 6C UAV Flight Controller Overview
As the latest model of the Pixhawk® family of flight controllers, this Holybro relies on the Pixhawk® FMUv6C Open Standard and the Pixhawk® Autopilot Bus Standard. In this model, PX4 Autopilot® is pre-installed.
In the Pixhawk® 6C, you'll find a microchip constructed from STMicroelectronics®, known as the STM32H743, which comes with sensor technology from Bosch® & InvenSense®, enabling you to control any autonomous vehicle, suitable for both academic and commercial applications, depending on the application.
The Pixhawk 6C has H7 microcontroller consists of an Arm® Cortex®-M7 core that operates at 480 MHz, and has an internal memory of 2MB flash memory and 1MB RAM. This updated processor can make developers more productive and efficient when they are developing their work, allowing them to perform complex algorithms and models with ease. High-performance, low-noise IMUs are included in this FMUv open standard, which is designed to be cost-effective while at the same time providing redundant IMUs. It allows vehicles to achieve better overall flight performance by reducing noise and filtering out high-frequency vibrations.
This product is perfect for developers at corporate research labs, startups, academics (researchers, professors, students), and commercial applications.
The key points of the design
H7 Processors with a clock speed of up to 480 MHz provide high performance

Designed for a low-profile form factor with a new cost-effective design

This is a redundant inertial measurement unit (IMU) from Bosch® and InvenSense®

The newly designed integrated vibration isolation system eliminates high frequency vibration from the measurement system and eliminates noise, so that accurate reading are kept

Onboard heating resistors on IMUs allow their working temperature to be controlled according to the ambient temperature to ensure maximum performance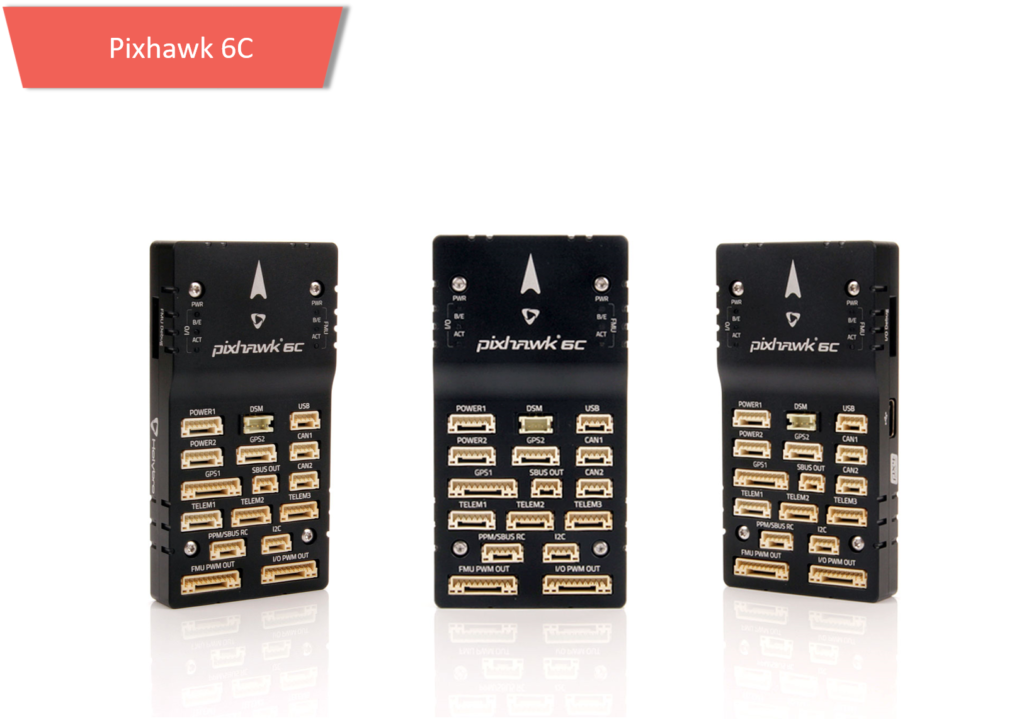 If you have any questions regarding our products, use the Motionew Support team page to consult our engineering team.
Additional information
| | |
| --- | --- |
| Weight | 0.0 kg |
| Dimensions | 9 × 5 × 4 cm |
| Bundle | 6C + PM02, 6C + PM02 + M8N, 6C + PM07, 6C + PM07 + M8N |
Specifications
Processors & Sensors

FMU Processor

STM32H743

32 Bit Arm® Cortex®-M7, 480MHz, 2MB flash memory, 1MB RAM

IO Processor

STM32F103

32 Bit Arm® Cortex®-M3, 72MHz, 64KB SRAM

On-board sensors

Accel/Gyro: ICM-42688-P

Accel/Gyro: BMI055

Mag: IST8310

Barometer: MS5611
Electrical data

 Max input voltage Ratings

6V

 USB Power Input Ratings:

4.75~5.25V

 Servo Rail Input Ratings:

0~36V

Telem1 Max output current limiter:

1.5A

  All other port combined output current limiter:

1.5A
Mechanical Data

Dimensions

84.8 x 44 x 12.4 mm

Weight

59.3 g
Interfaces

16x PWM servo outputs

8 from IO, 8 from FMU

3x general purpose serial ports

Telem1 – Full flow control, separate 1.5A current limit

Telem2 – Full flow control

Telem3


2x GPS ports

GPS1 – Full GPS port (GPS plus safety switch)

GPS2 – Basic GPS port

1x I2C Port

Supports dedicated I2C calibration EEPROM located on sensor module

2x CAN Buses

CAN Bus has individual silent controls or ESC RX-MUX control

2x Debug Port

FMU Debug

I/O Debug

Dedicated R/C input for Spektrum / DSM and S.BUS, CPPM, analog / PWM RSSI

Dedicated S.BUS output

2 Power input ports (Analog)

Product contents
Bundle 1
Pixhawk 6C Flight Controller Module

PM02 V3 12S Power Module

Cable Set

Bundle 2
Pixhawk 6C Flight Controller Module

PM02 V3 12S Power Module

Cable Set

M8N GPS

Bundle 3
Pixhawk 6C Flight Controller Module

PM07 V3 12S Power Module

Cable Set

Bundle 4
Pixhawk 6C Flight Controller Module

PM07 12S Power Module

Cable Set

M8N GPS

Documents