CUAV NEO 3, High Precision GPS
115.00 $
Description
CUAV NEO V3 High Precision GPS Sensor Overview
UAV positioning module Neo 3 was developed by CUAV. This unit combines a compass, barometer, flight controller status light, buzzer, and safety switch. As a result of its high level of safety and strong interference resistance, it is highly recommended. The module integrates the Ublox m9n module, which is capable of receiving signals from GPS, Galileo, GLONASS, and Beidou all at once.
In addition to the Ublox NEO M9N GPS Module with Shell Stand Holder, the CUAV NEW GPS Compass Module is suitable for Pixhawk V5+ plus RC Parts PX4 flight controllers. It is a GPS sensor that uses GNSS for positioning purposes.
It is a new generation satellite receiver that supports an accuracy of 0.7 degrees and supports simultaneous satellite signals to be received from four satellite systems using the NEO 3 GNSS satellite navigation module generation Ublox M9.
The features of this Neo V3
It is a high precision GNSS sensor that offers high accuracy
3D compass with high precision and precision for industrial applications
An integrated buzzer is included in this device
An integrated safety switch is provided
This product uses RGB LEDs.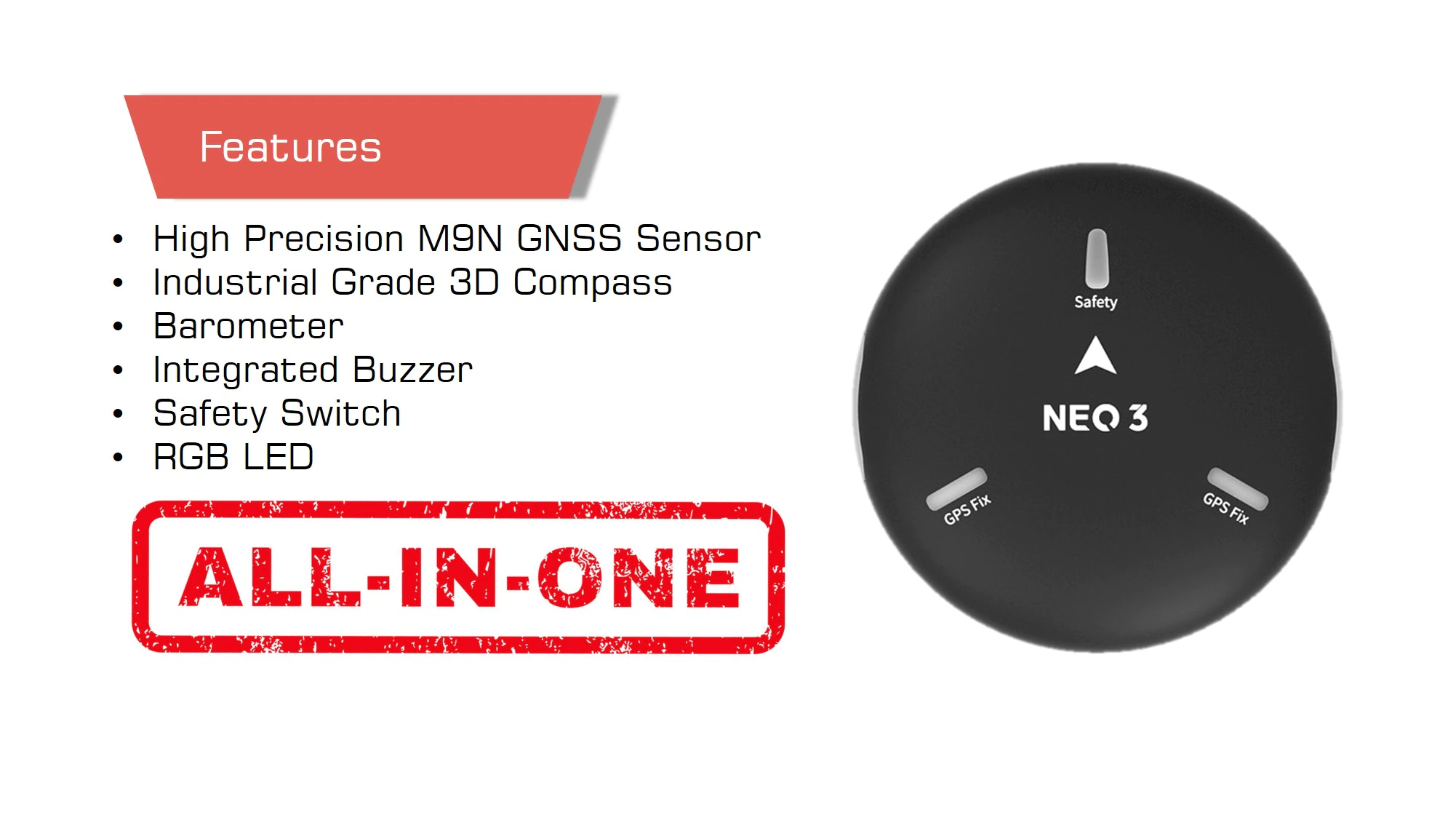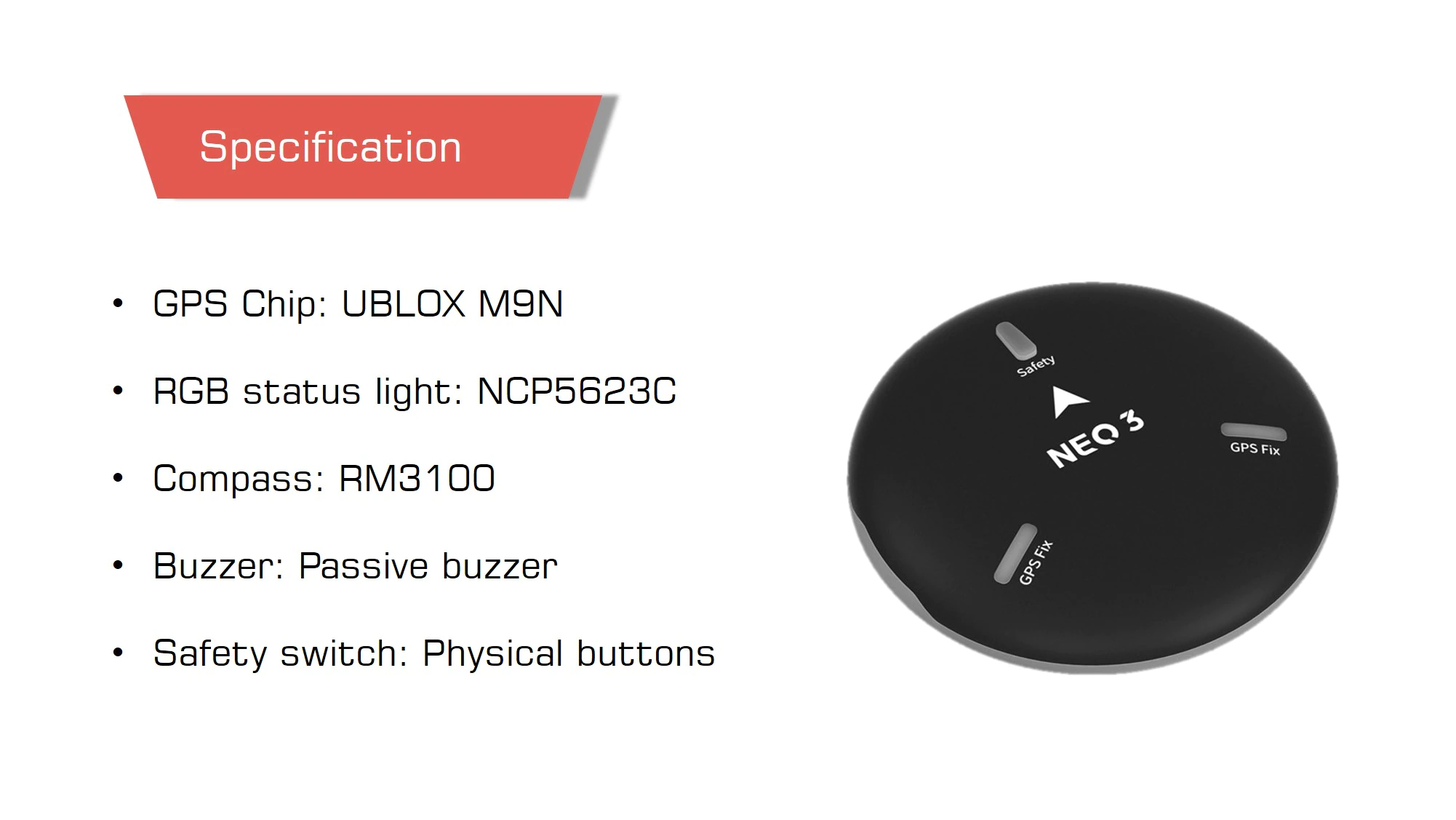 If you have any questions regarding our products, use the Motionew Contact us page to consult our engineering team.
Additional information
| | |
| --- | --- |
| Weight | 0.1 kg |
| Dimensions | 10 × 10 × 10 cm |
Specifications



| | |
| --- | --- |
| Compatible Brand | Pixhawk |
| Weight | 33g |
| Dimension | 60*15.8mm |
| Operating temperature | -20 ~ 85°C |
| Update rate | 10Hz (Max) |
| Input voltage | 5V |
| Receiver type | 72 Channels |
| GPS Chip | UBLOX M9N |
| RGB status light | NCP5623C |
| Compass | IST8310 |
| Buzzer | Passive buzzer |
| Safety switch | Physical buttons |
| Accuracy | 3D positioning |
| Update rate | 10Hz (Max) |
| Acquisition | Cold Start 26S | Hot Start 1.5S | Aided Start 2S | Reacquisition 1S |
| Receiver type | 72 Channels |
| Sensitivity | Tracking & Navigation -167dBm |
| Cold Start | -148dBm |
| Hot Start | -156dBm |
| Reacquisition | -160dBm |
| Functional | Advanced jamming |
| Input voltage | 5V |
| Temperature | -10-70 ° C |
Product contents
1xNEO GPS V2 Module
1XNEO GPS V2 Stand