RadioMaster Boxer Radio Controller (M2)
109.98 $ – 153.98 $
Description
RadioMaster Boxer Radio Controller (M2)
Introducing the RadioMaster Boxer Radio Controller (M2) – a versatile and feature-packed radio controller designed to elevate your RC experience. With its advanced technology and impressive capabilities, the Boxer is perfect for both beginners and seasoned pilots. Let's explore the exceptional features that make this controller a must-have.
The Boxer is available in two versions: one with a built-in ExpressLRS module and another with a 4-in-1/CC2500 MPM RF module. Whichever version you choose, you can expect exceptional performance and reliability. Powered by a robust STM32VGT6 processor with 1MB RAM, this controller delivers seamless operation and rapid response times.
Experience the power of EdgeTX firmware, preinstalled in the Boxer. The combination of cutting-edge software and high-performance hardware ensures a smooth and intuitive user experience. RadioMaster collaborates closely with the EdgeTX team to enhance features and optimize performance, ensuring you have access to the latest advancements in the industry.
The internal ELRS module of the Boxer supports an impressive 1,000Hz refresh rate, enabling fast and precise control. You have the flexibility to adjust the ELRS RF output up to 30dBm for FCC or 20dBm for EU LBT, ensuring optimal signal strength and range. If you opt for the 4-in-1 or CC2500 version, you'll still enjoy a maximum RF output of 20dBm.
Not only does the Boxer offer outstanding functionality, but it also boasts a compact design with excellent ergonomics. The low-profile latching SE switch and momentary SF switch provide easy access and smooth operation. The oversized battery compartment accommodates a 2S 6200mAh pack, offering up to 20 hours of continuous use (batteries not included).
Equipped with full-sized V4.0 Hall effect gimbals as standard, the Boxer guarantees precise control and a satisfying flying experience. For those seeking ultimate precision, an upgrade to AG01 CNC Hall effect gimbals is available. The standard JR module compartment allows you to expand your radio's capabilities effortlessly.
The Boxer comes with a range of convenient features, including an internal module cooling fan (ELRS version), versatile 6-position flight mode switch, adjustable and removable T-shape antenna, and RadioMaster's signature fabric handle for improved portability. The redesigned SD card slot comes pre-loaded with an SD card, ensuring hassle-free storage and access to your data.
Safety and protection are paramount, which is why the Boxer includes a RadioMaster signature carry case and gimbal protector as standard. Your radio will remain secure and safeguarded during transportation, giving you peace of mind.
Choose the version that suits your needs – FCC or EU LBT. The FCC version supports all CC2500 protocols, while the EU LBT version adheres to LBT compliant protocols such as FrSKY X/X2 LBT, HoTT LBT, and DSMX. The ELRS LBT (Europe) version comes pre-installed with ExpressLRS CE EU domain LBT firmware, providing a maximum power output of 100mW.
In summary, the RadioMaster Boxer Radio Controller (M2) is a game-changer in the RC world. With its advanced features, exceptional performance, and a range of options to choose from, this controller is a reliable companion for all your RC adventures. Experience the future of RC control with the Boxer and elevate your flying experience to new heights.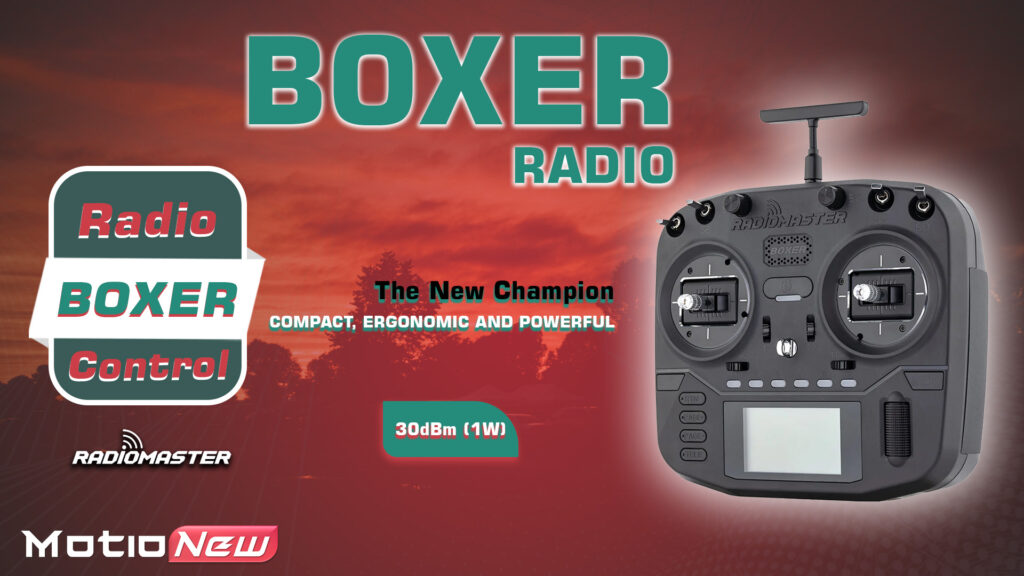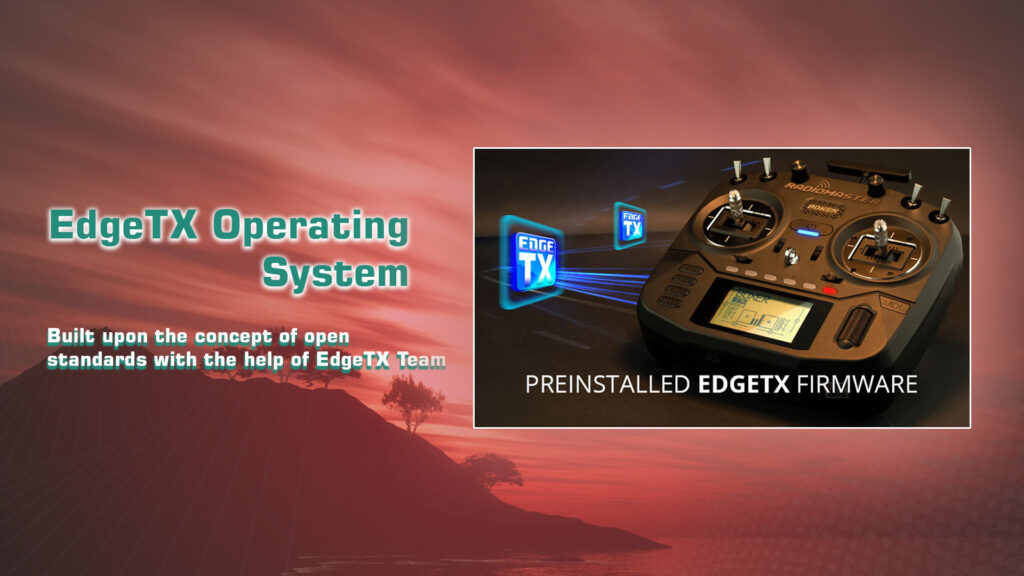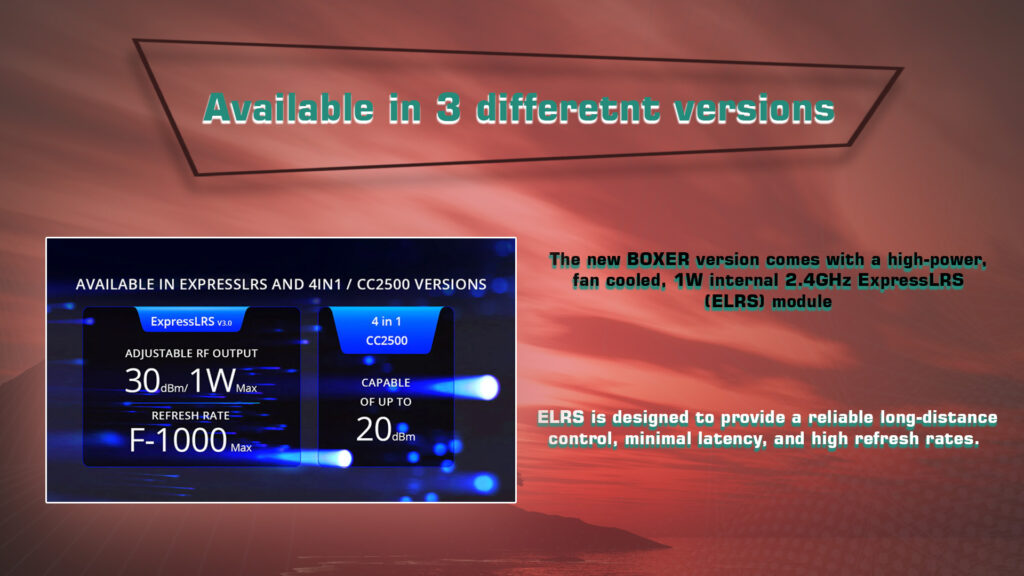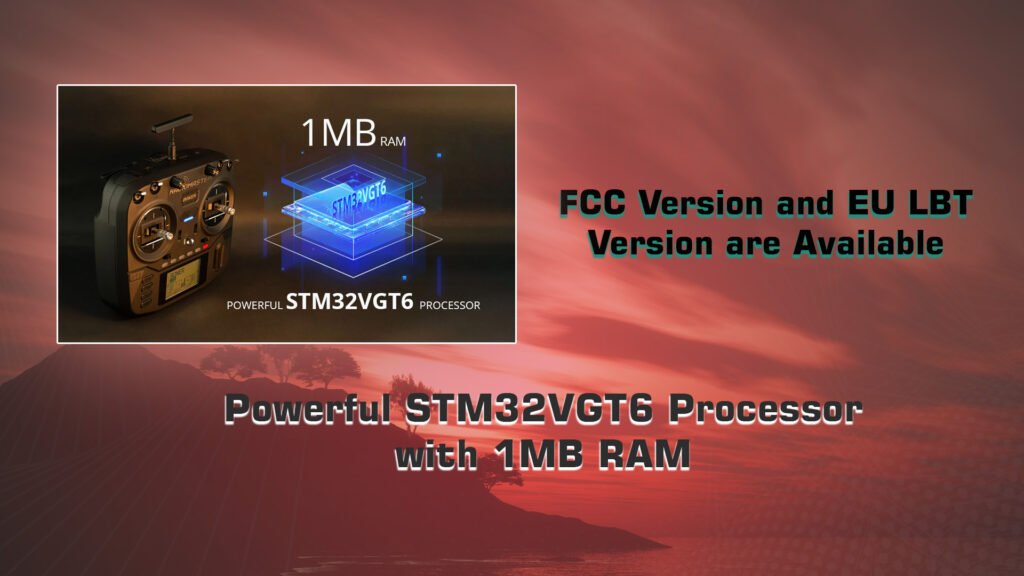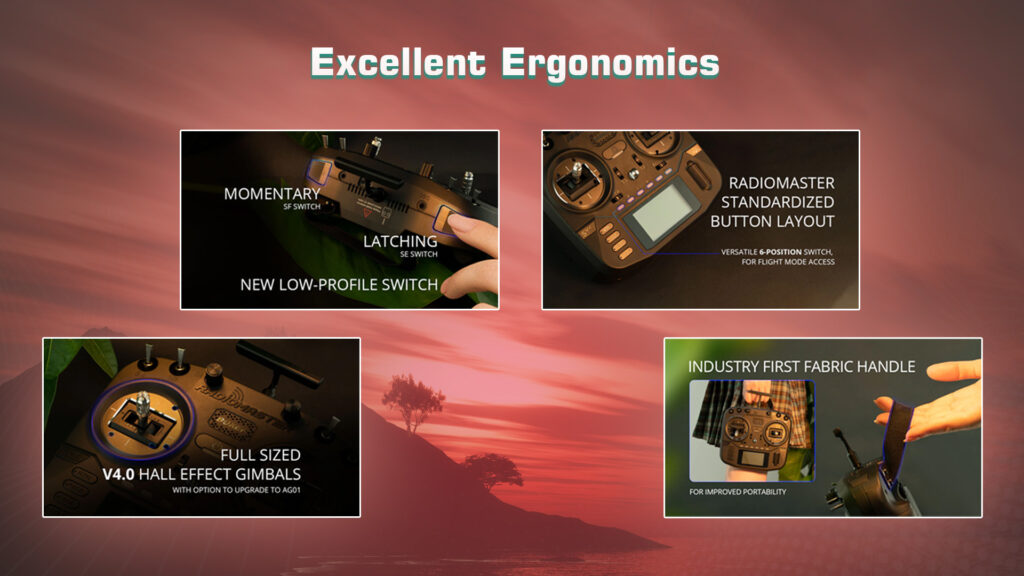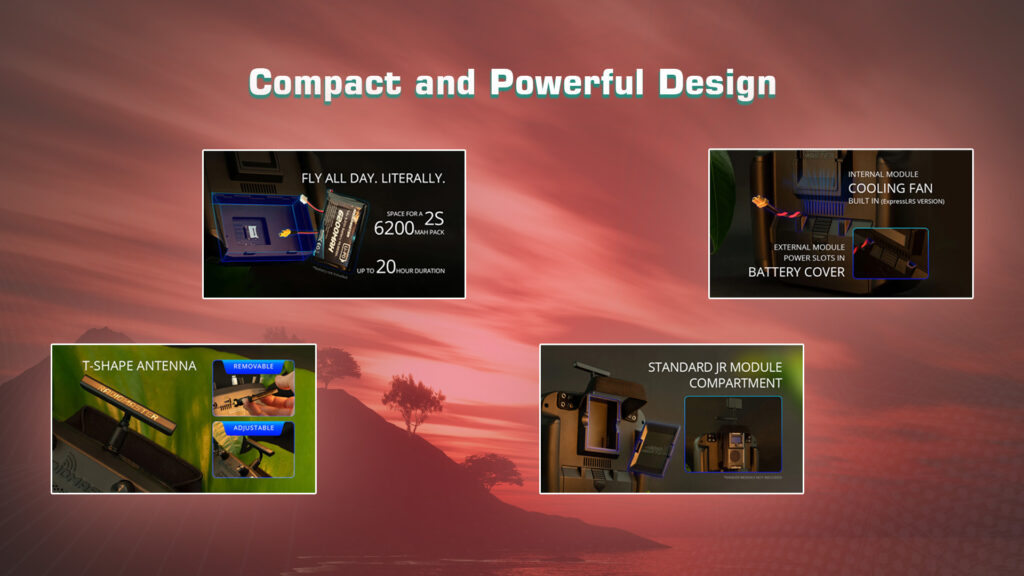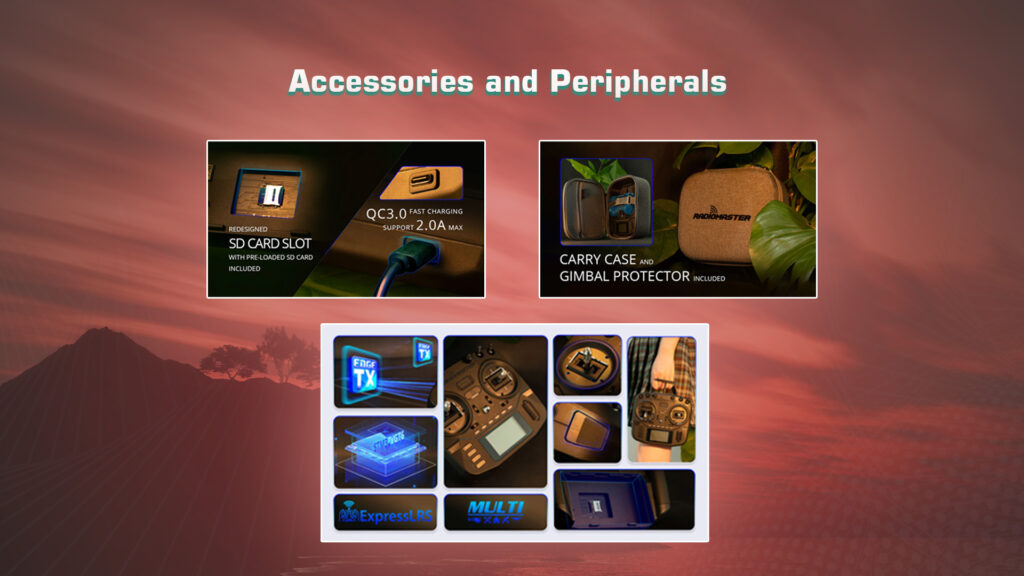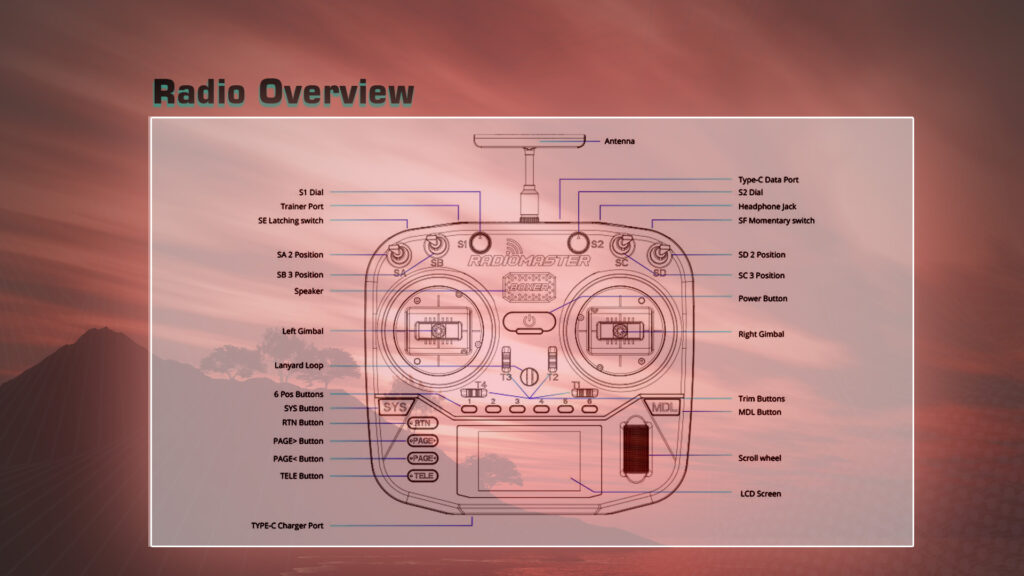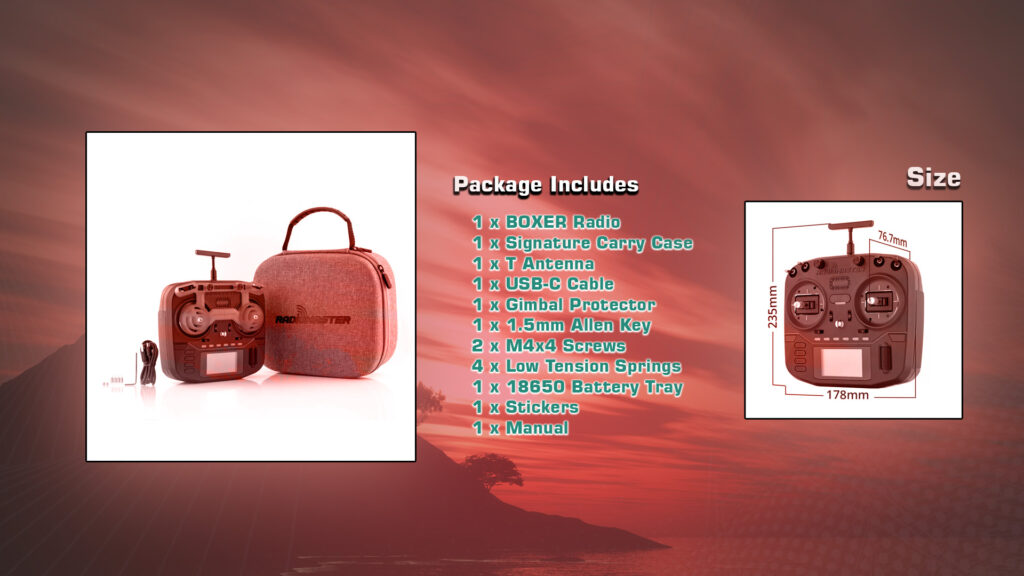 Additional information
| | |
| --- | --- |
| Weight | 1 kg |
| Dimensions | 25 × 19 × 9 cm |
| VERSION | ELRS, 4in1, CC2500 |
| Region | FCC, LBT |
Specifications
| | |
| --- | --- |
| Size | 235*178*77mm |
| Weight | 532.5g |
| Frequency | 2.400GHz-2.480GHz |
| Internal RF Options | CC2500 multi-protocol / 4-in-1 multi-protocol / ELRS 2.4GHz |
| Supported protocols | Module dependent |
| Transmitting Power CC2500 and 4IN1 | Max 20dBm |
| Transmitting Power ExpressLRS | Max 30dBm (international) / Max 20dBm (EU LBT) |
| Cooling fan | Built in (ELRS version) |
| Voltage Range | 6.6-8.4V DC |
| Radio Firmware | EdgeTX (Transmitter) / Multi-Module (RF module) / ELRS |
| Channels | Max 16 channels (Receiver dependent) |
| Battery | 7.4V 2-cell Lithium-Polymer / Two 3.7V 18650 Lithium-Ion cells (batteries not included) |
| Display | 128*64 Monochrome LCD display |
| Gimbal | High precision 4.0 Hall gimbals as standard (AG01 Optional) |
| External module | JR/FrSKY/Crossfire compatible |
| Upgrade Method | USB/SD card & EdgeTX Companion PC software |
Product contents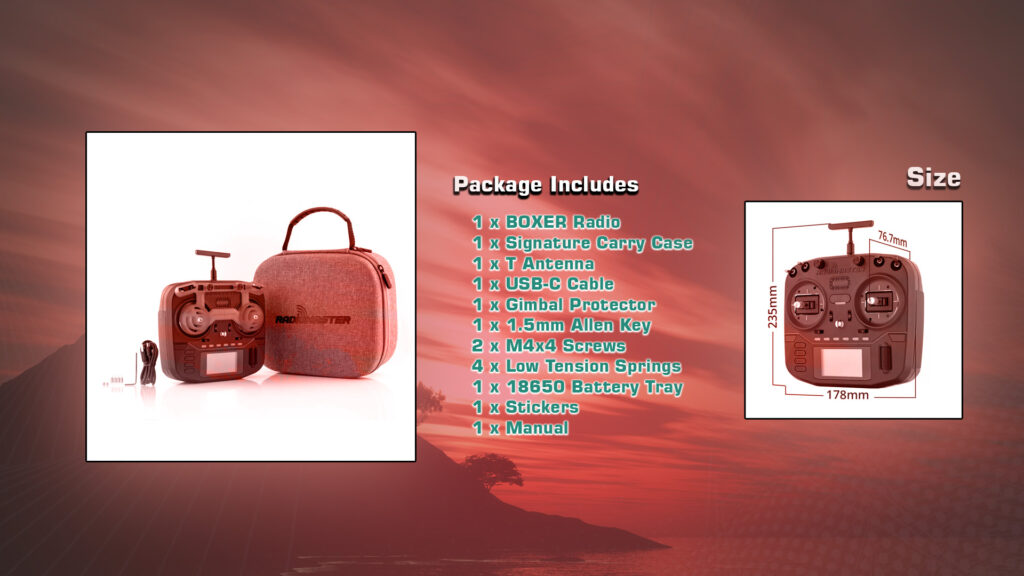 Documents
Click here to download the user manual