Q10T Gimbal Camera for Drone
2699.00 $ – 3049.00 $
Description
Professional 3-axis High-precise Gimbal

The gimbal camera Q10T is designed with 3-axis stabilization capability and auto-tracking function. It carries a 10X zoom camera for drone aerial inspection, surveillance, and search and rescue missions. Its small size and light weight make it suitable for small drones with lightweight payloads. The aluminum structure helps keep the weight low while giving it a nice look and protection from magnetic interferences. It has an HD 10X optical zoom camera and a 3-axis high stabilized gimbal, which is able to capture FHD 1080p video and has an OSD. Connecting the gimbal to a GPS system, you can geo-tag your captured photos for easier post-processing to generate 3D maps. The captured data are recorded on an onboard TF card. This stabilizer gimbal is controlled by the drone pilot or a secondary individual allowing for an overhead view that can cover a large field of ground quickly and effectively. The 10x optical zoom function of the camera allows you to see every detail of interest in the scene while staying at a distance.
10x Optical Zoom Camera
This drone camera features a 10x optical zoom lens and can detect objects at a distance as far as 1km. It is powered by a 2.48MP 1/3″ Panasonic CMOS sensor module, provides great performance in poor light environments, and has a wide dynamic range. This feature is excellent for flying at sunset or sunrise. In the presence of backlight or strong light, the view of the over bright and over dark regions can still be captured at the same time. The camera stabilizer gimbal outputs Full HD 1080p (1920×1080) images, and has autofocus — uses a fast focus algorithm with focus time <1s.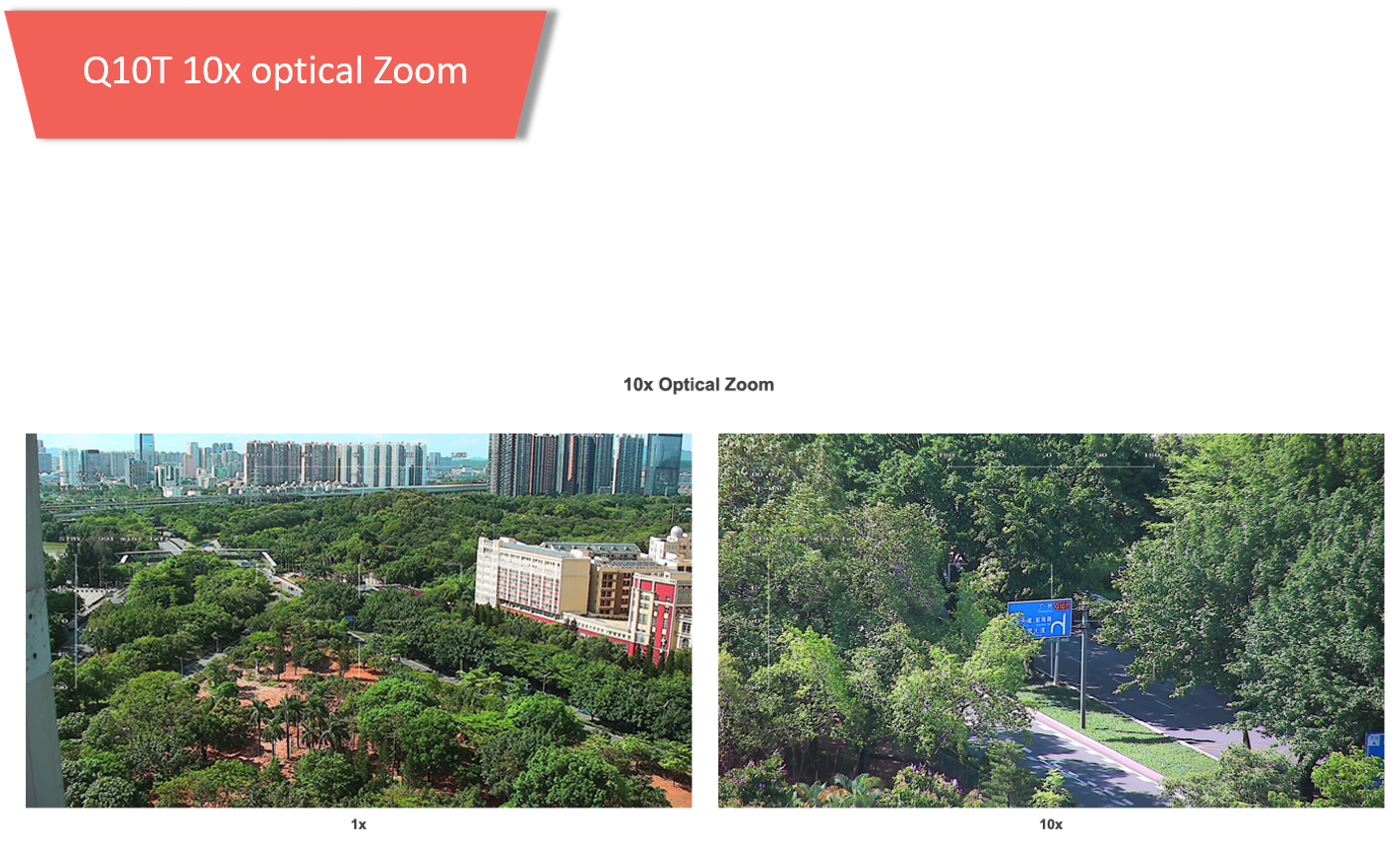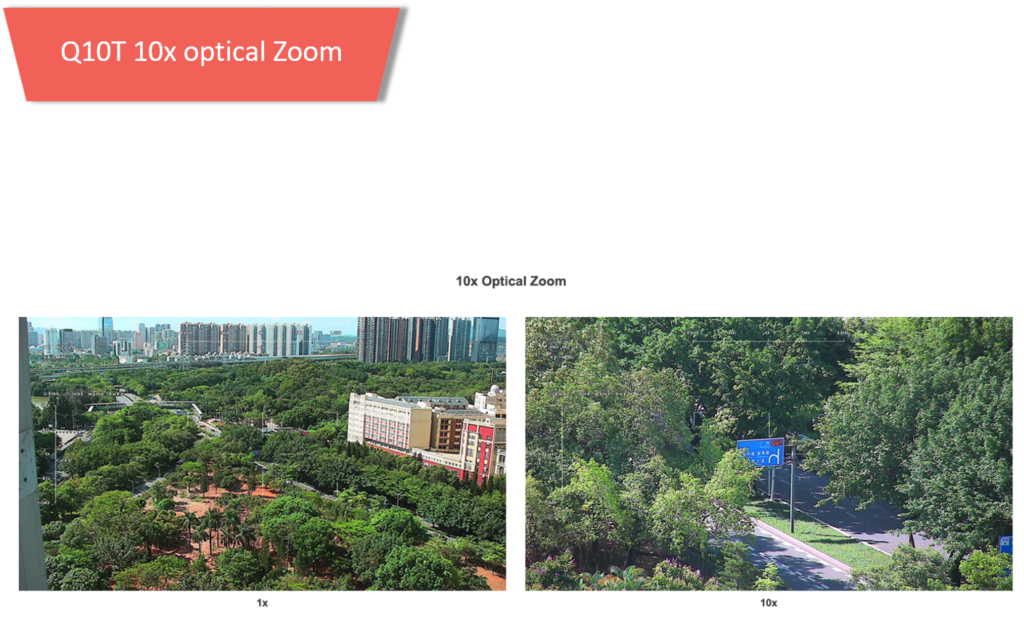 Multi-Output Methods 
The Q10T supports HDMI video output, Ethernet/IP video output, and SDI video output. IP output and SDI output versions support 360 degrees of continuous yaw rotation. HDMI and SDI video output resolution are set at 1080p, while by default Ethernet video output resolution is set at 720p, and recording resolution is set at 1080p.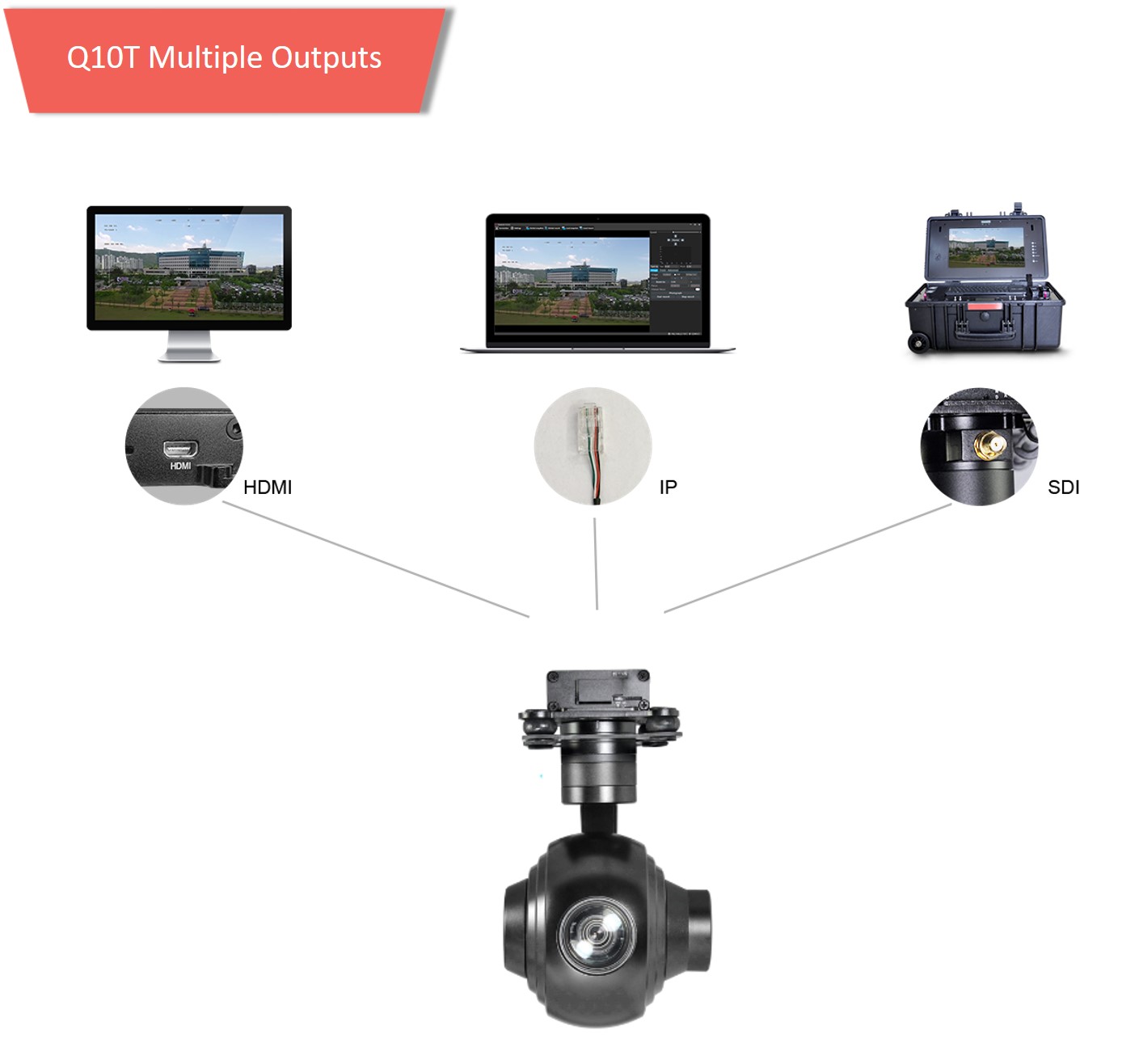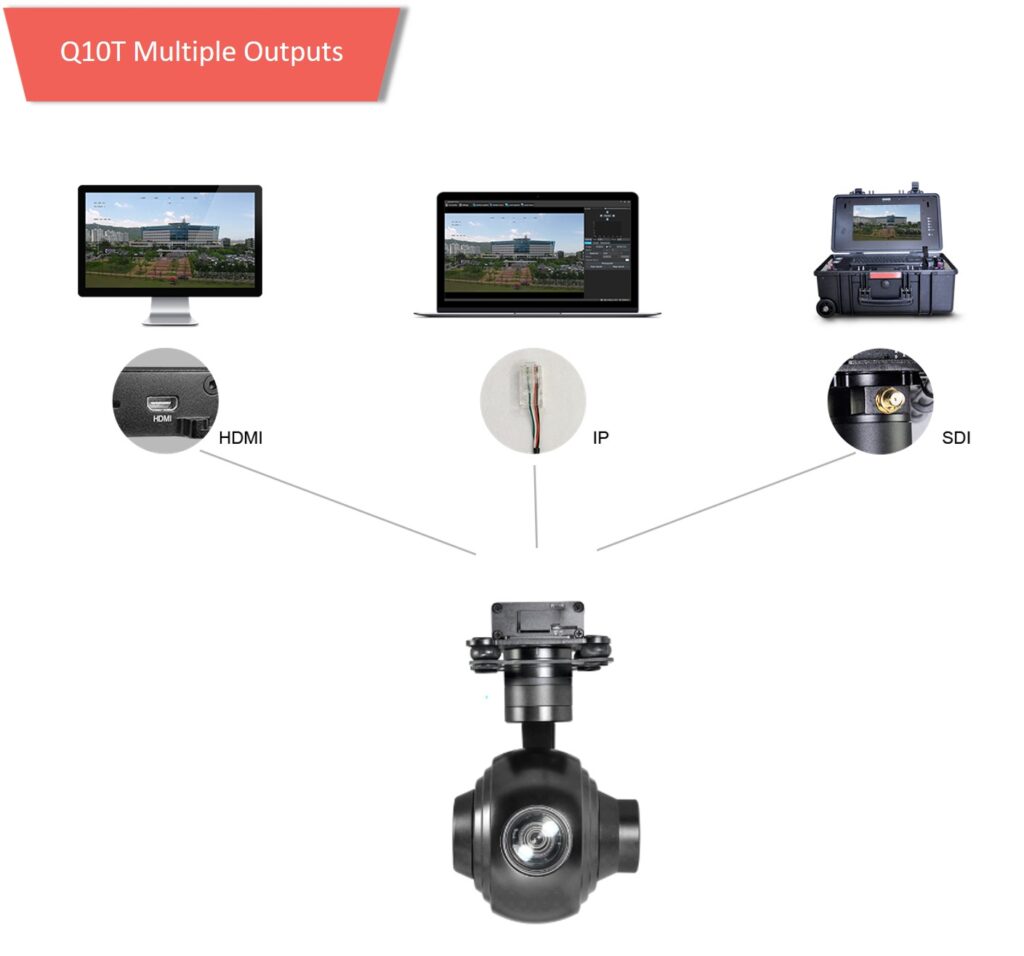 Built-in Auto-tracking Function
Stable tracking of a target is possible thanks to the combination of different tracking and missing object recapture algorithms. Custom OSD characters can be defined to be shown on the real-time camera footage. The tracking speed is up to 32pixel/frame, the object size range is from 32×32 pixels to 128×128 pixels.
3-axis Small Size Gimbal Camera
Q10T is a professional 3-axis gimbal zoom camera with high stability, small size, lightweight, and low power consumption. Also known as brushless gimbals, it is suitable for VTOL Drones, helicopters, fixed-wing planes, multirotor aircraft, and other types of drones.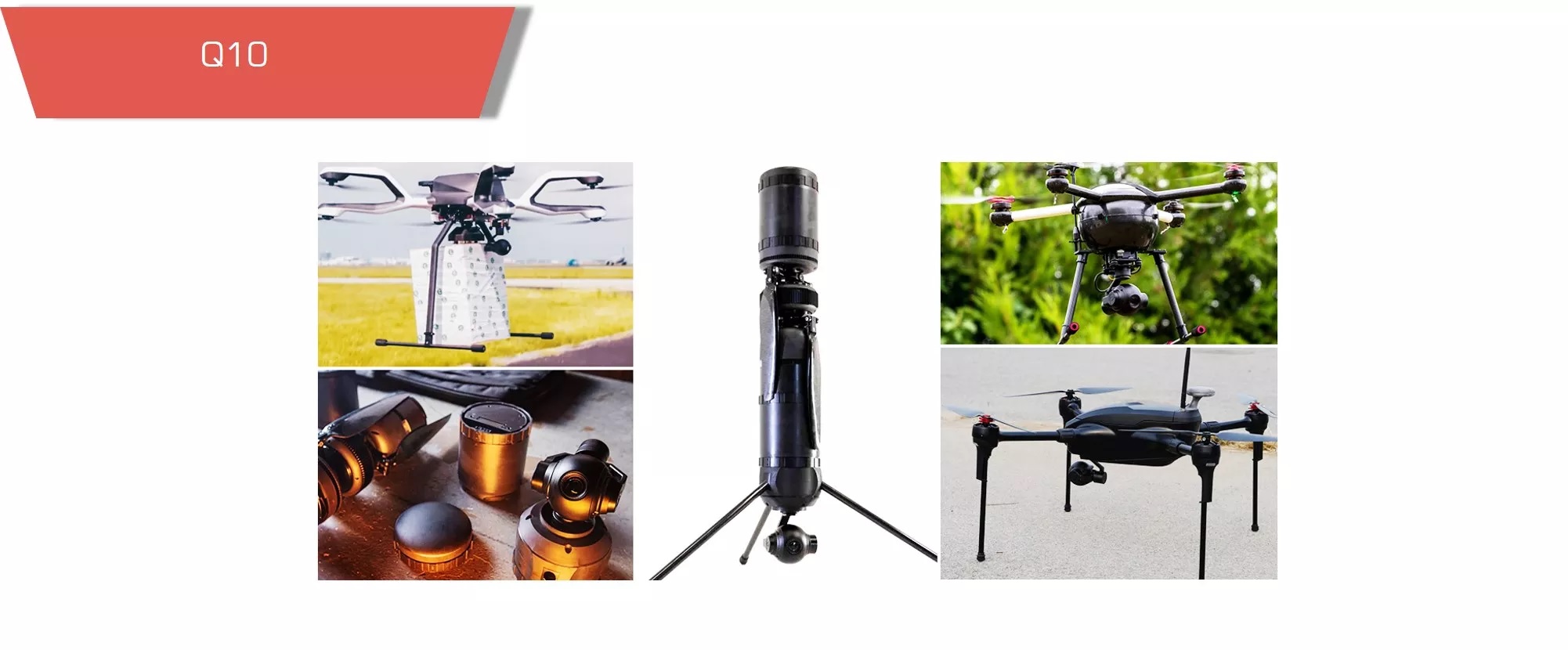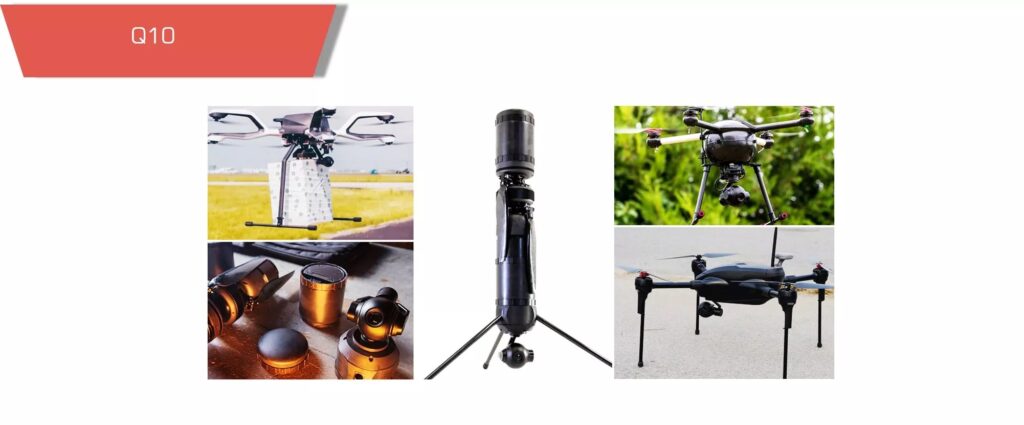 Multi Control Methods 
The default control method is PWM and Serial port (TTL voltage level). However, you can optionally use SBUS to control the gimbal. IP output version also supports TCP control via ethernet cable. Using Viewpro software, Viewlink, you can do TTL control.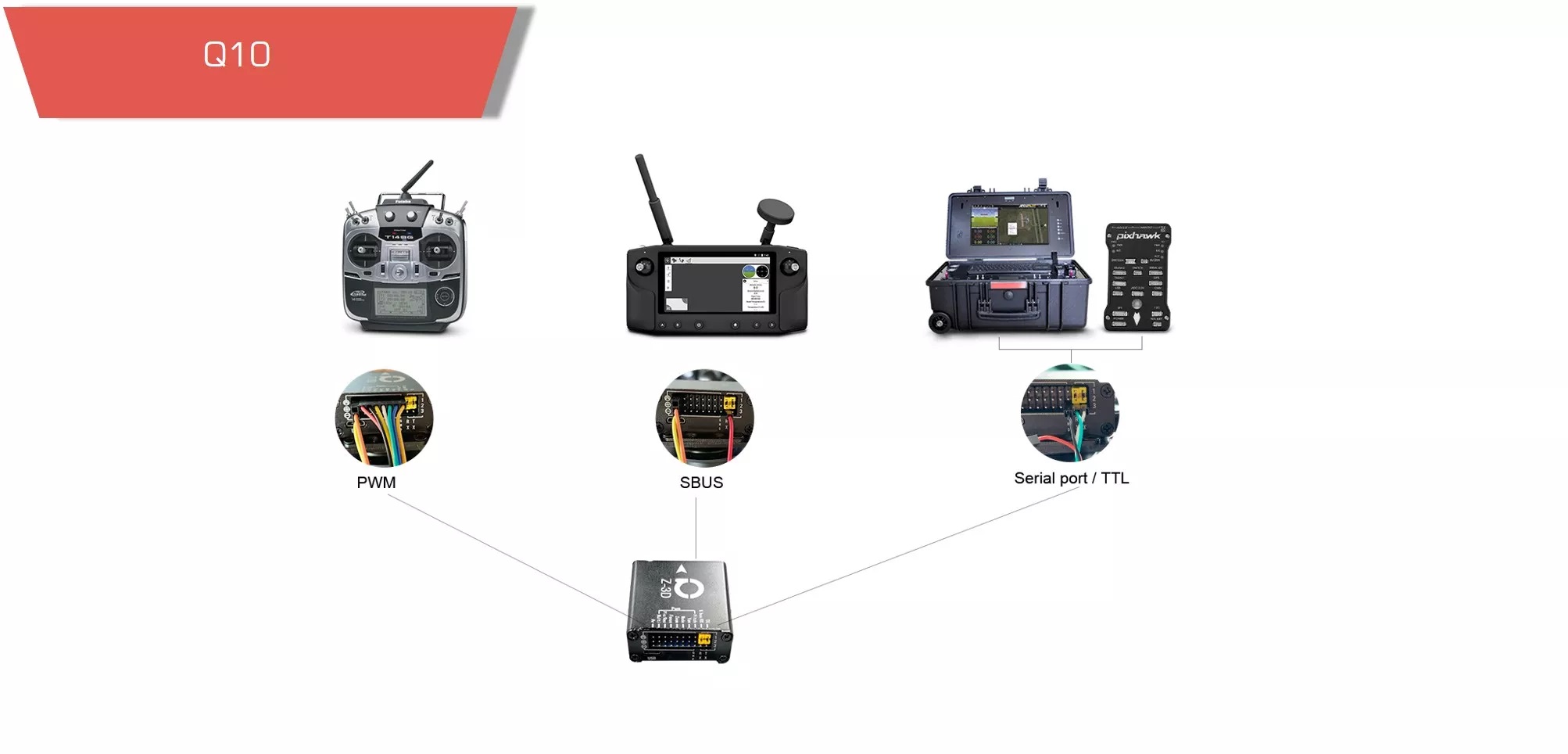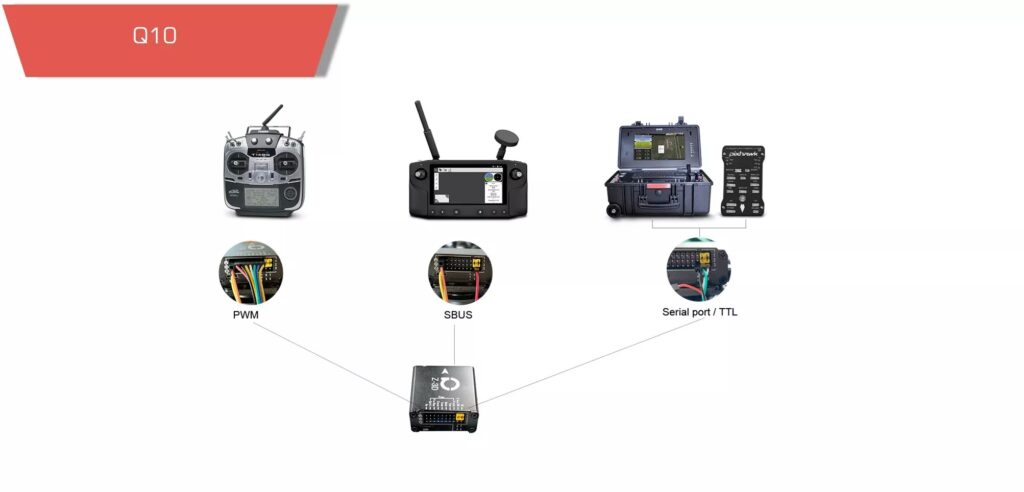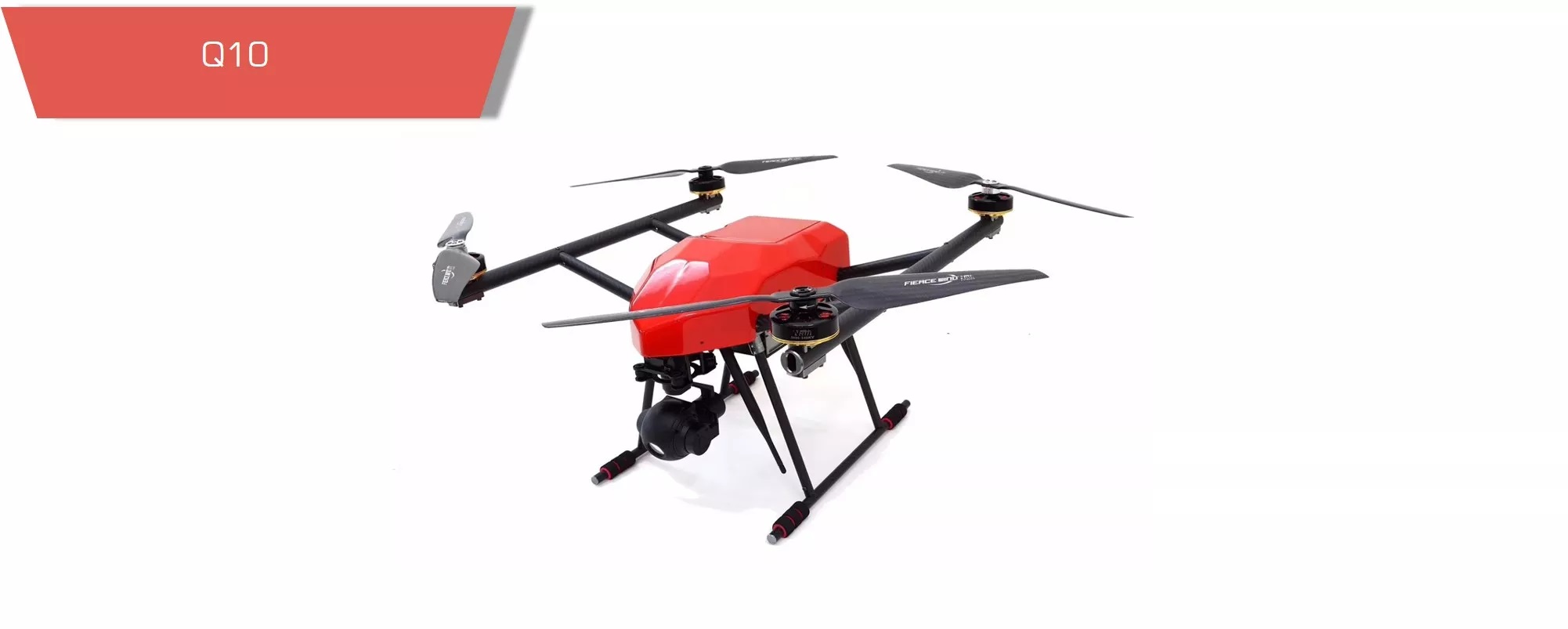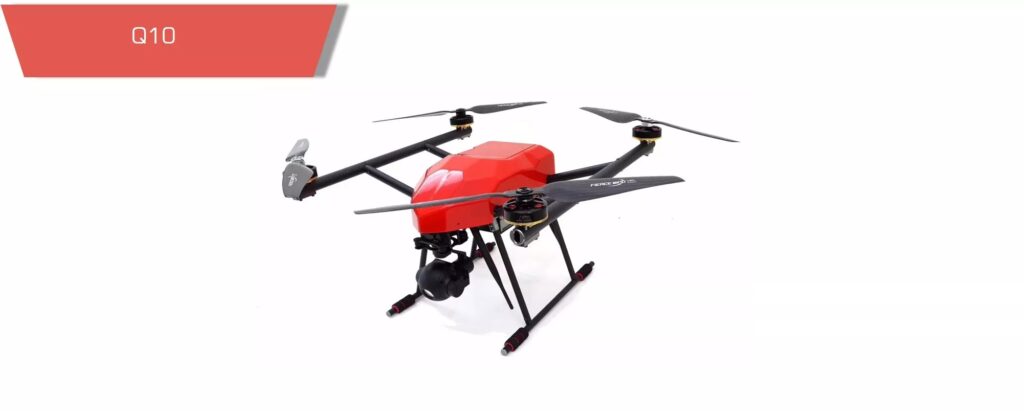 Control box signal interfaces: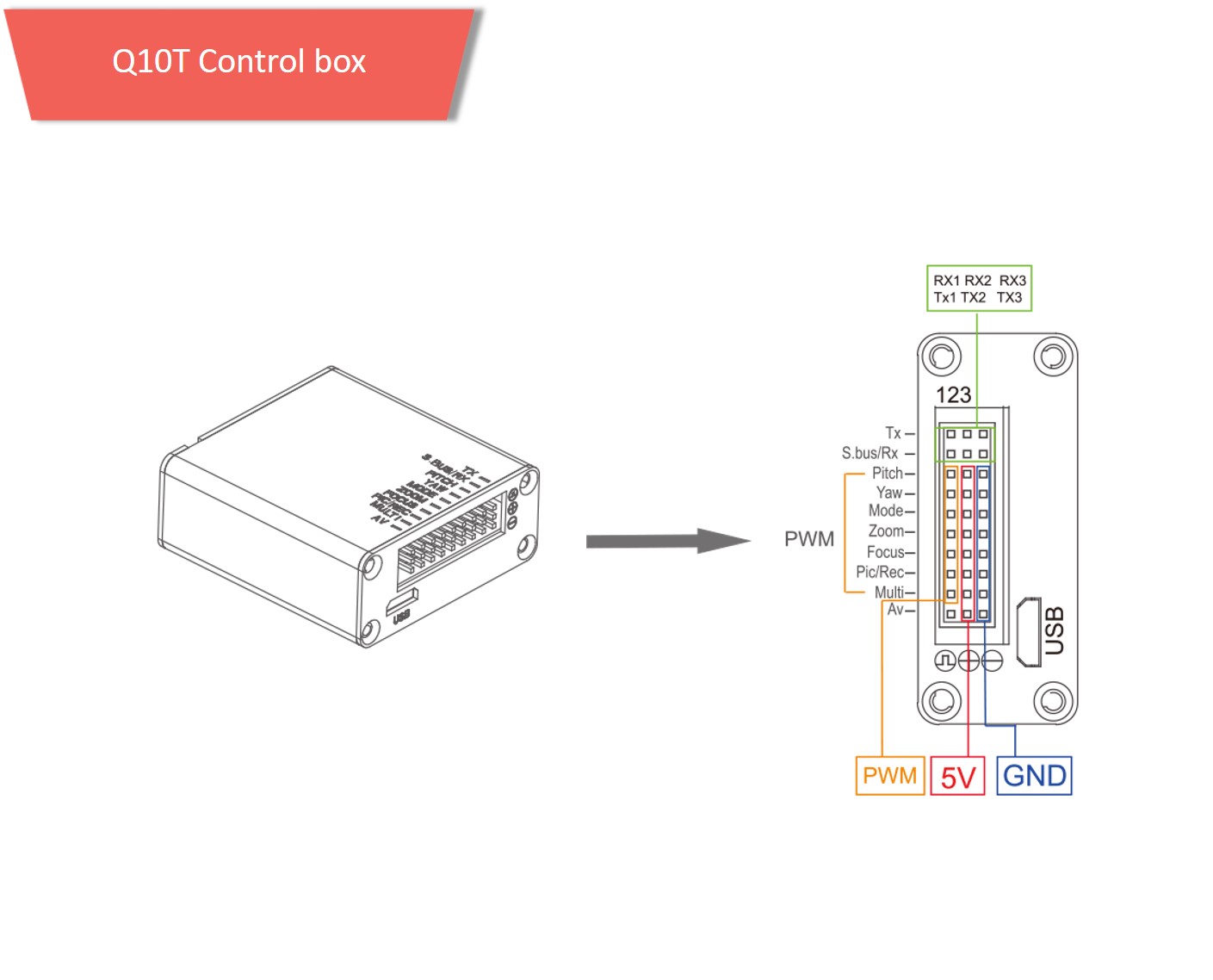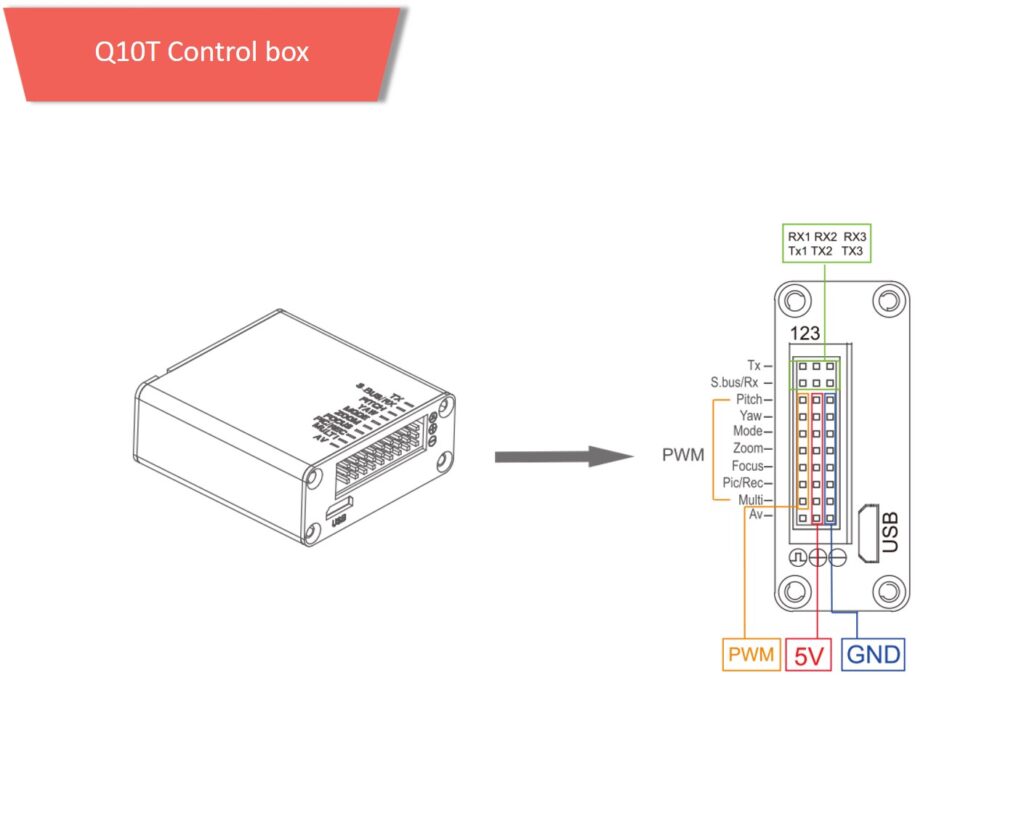 Applications
Q10T is designed to be used in various fields like public security, electric power lines inspection, control of fire hazards, aerial photography and cinematography, construction sites, and any other industry that can benefit from the usage of drones.


Compatible with Viewport
Q10T is compatible with quick-release connectors. This gives you easy assembly, and plug and play capability. You can just install the quick-release connector on your drone, and use different types of drone cameras based on your mission requirements.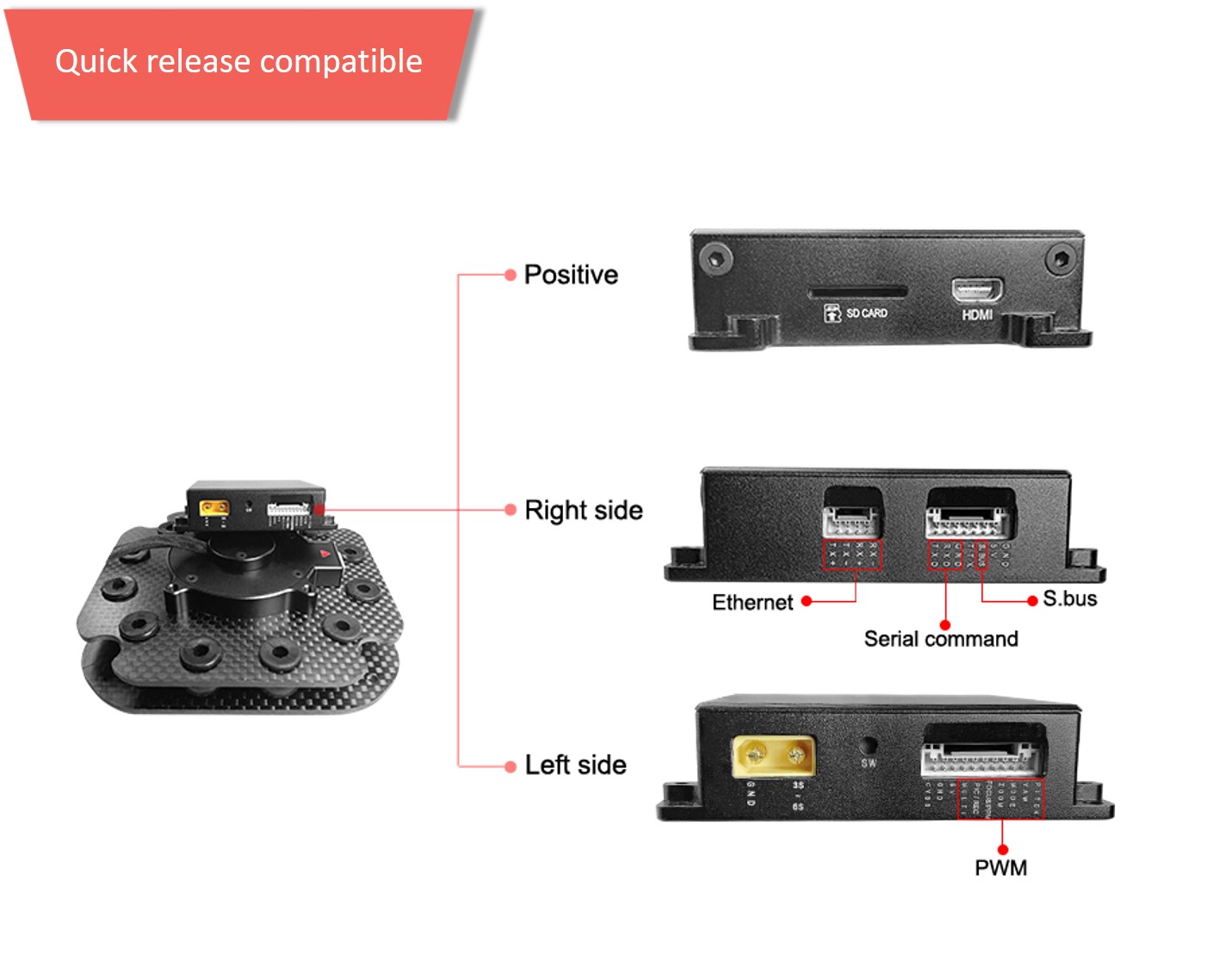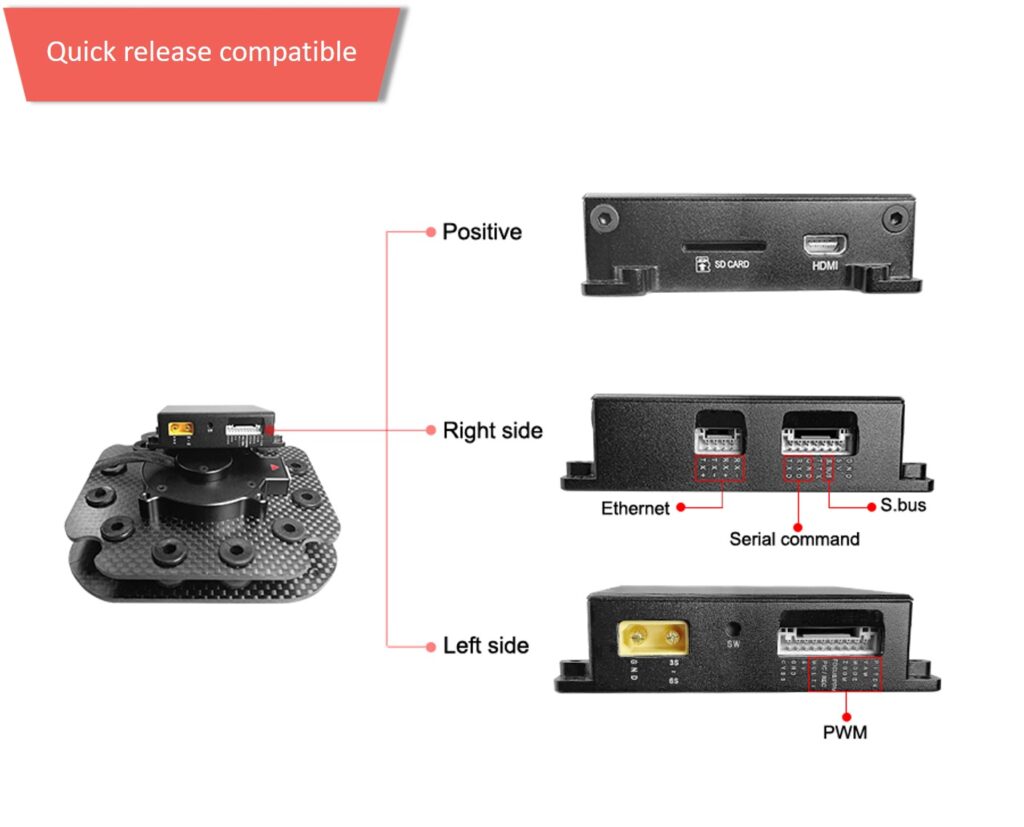 Dimensions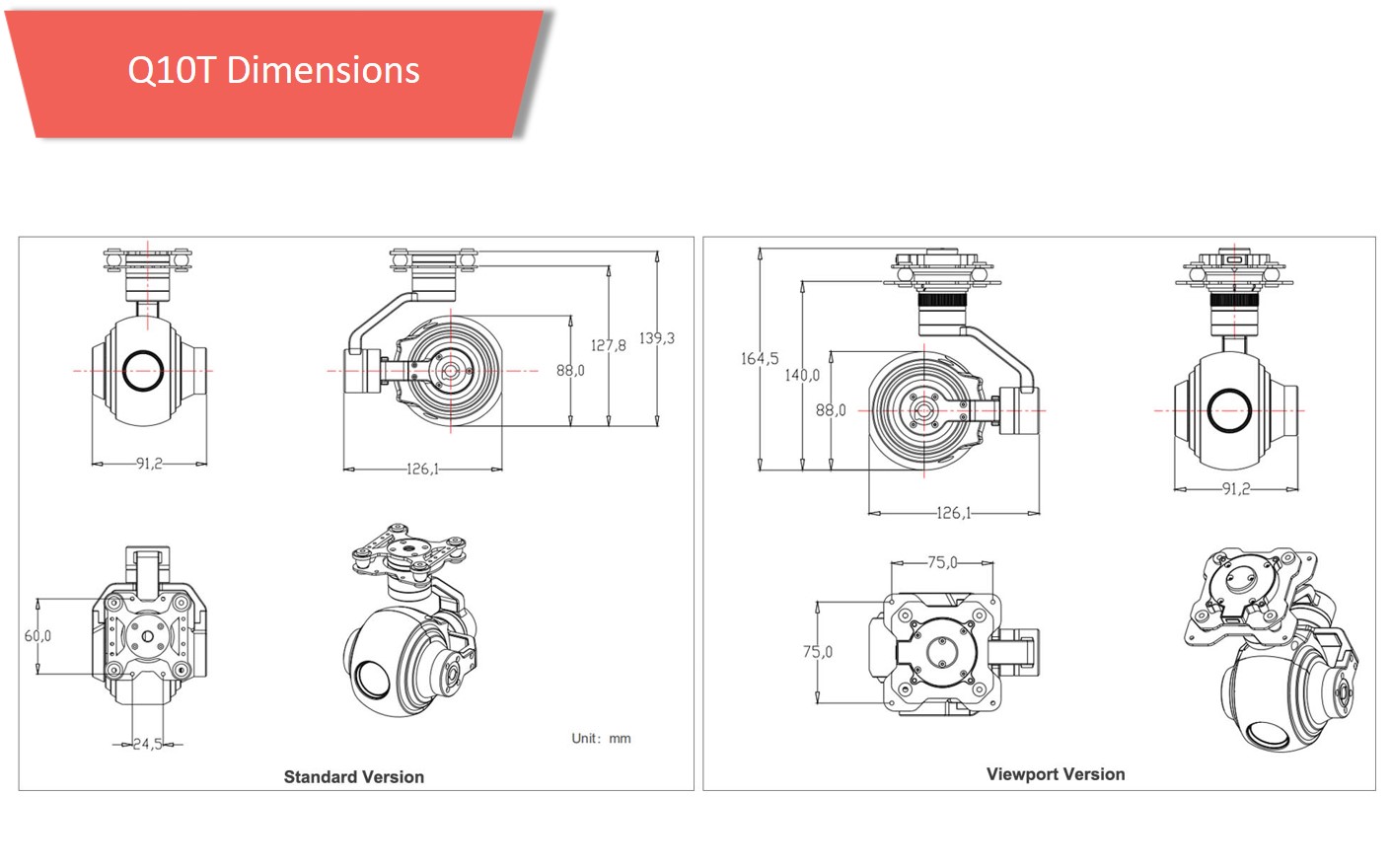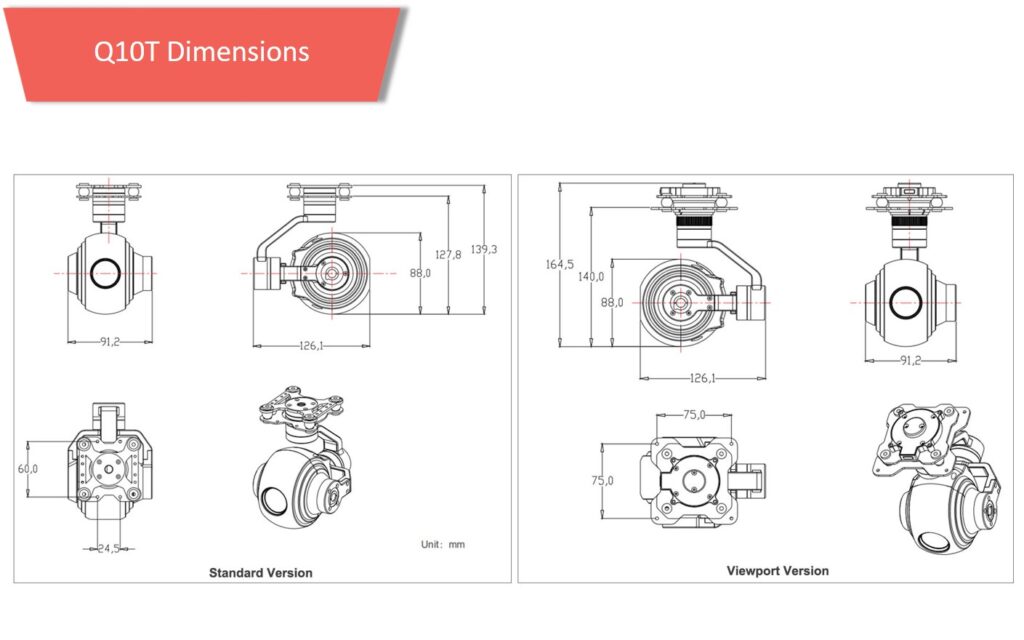 Additional information
| | |
| --- | --- |
| Weight | 1.5 kg |
| Dimensions | 30 × 30 × 30 cm |
| Bundle | Q10T Quickport Version, Q10T Standard Version |
Specifications
Hardware Parameter

Working voltage

12V

Input voltage

3S ~ 6S

Output voltage

5V (connect with PWM)

Dynamic current

700~900mA @ 12V

Idle current

700mA @ 12V

Working environment temp.

-20℃ ~ +60℃

Output

micro HDMI(1080P 60fps) / IP (720P/1080P 25fps/30fps) 

Local-storage

SD card (Up to 128G, class 10, FAT32 or ex FAT format)

Control method

PWM  / TTL / S.BUS / TCP(IP output version)
Gimbal Specifications

Angle range of structure design

Pitch/Tilt: -125°~125°,    Roll: ±70°,     Yaw/Pan: ±300° / ±360°*N (IP / SDI output version)

Angle range of software design

Pitch/Tilt: -45°~90°,   Yaw/Pan: ±290° / ±360°*N (IP / SDI output version)

Vibration angle

Pitch/Roll: ±0.02°, Yaw:±0.02°

One-key to center

√
Camera Specifications

Image Sensor

 1/3″ Panasonic CMOS Sensor

Total pixel

2.48MP

Picture Quality

Full HD 1080(1920*1080)

Optical Zoom

10x, F=5.1~51mm

Angle of View(D, H, V)

D: 68° (Wide end) ~ 6.7° (Tele end)

H: 54° (Wide end) ~ 4.9° (Tele end)

V: 31° (Wide end) ~ 4.0° (Tele end)

Sync system

Progressive scanning

Sync. System Internal

Internal

Internal

more than 50dB

Min illumination

Color : 0.5 lux , BW : 0.1lux

Color DSS : 0.125 lux , BW DSS : 0.025 lux

Gain Control

Off/On

White balance

Auto / One Push / Manual / Indoor / Outdoor

Shutter speed

1/30(25) ~ 1/30,000 sec

Focus

Auto / One Push / Manual

Iris

0~20 steps

Exposure

Mode / AGC / Shut Speed / Iris / DSS / Flickerless / Brightness / WDR/BLC / D&N

Defog

Yes

OSD

Yes
Camera Object Tracking

Update rate of deviation pixel

50Hz

Output delay of deviation pixel

<10ms

Minimum object contrast

5%

SNR

4

Minimum object size

32*32 pixel

Maximum object size

128*128 pixel

Tracking speed

±48 ~ ±192 pixel/frame

Object memory time

100 frames (4s)

The mean square root values of pulse noise in the object position

< 0.5 pixel
Packing Information

Net Weight

550g

Product Dimensions

126.1×91.2×157.8mm / 126.1×91.2×164.5mm (quick release version)

Gross Weight

1934g

Package Dimensions

300x250x200mm
Product contents
1x gimbal camera Q10T, screws, copper cylinders, damping balls, damping boards / Hight quality plastic box with foam cushion