Q30TM gimbal camera, 30x opticla zoom, Object GPS Coordinate Resolving and LRF Gimbal Camera
11739.00 $ – 12090.00 $
Description
Q30TM 30x Object GPS Coordinate Resolving and LRF Gimbal Camera
Tthe Q30TM gimbal camera is a highly optimized 3-axis stabilized gimbal camera with precise stabilizing motors with a control accuracy of ±0.02° powered by a dedicated processor. Instead of sing electrical slip rings, as is common with many gimbals, the Q30TM uses a unique mechanical design to conceal the wires, which ensures more stable data transmission and greater durability. Vibration is eliminated using four damping balls and a lightweight damping board, creating seamlessly smooth video. Yaw rotation is an endless 360° rotation. Stable, smooth footage from the camera can be captured even when flying at a high-speed flight.
Built-in tracking algorithms combined with an object-missing recapture algorithm achieve a stable track of the target. The camera supports custom user characters OSD for information display on the screen. The tracking speed is up to 32 pixels/frame, and the object size range is from 32×32 pixels to 128×128 pixels, with the minimal 4db signal-to-noise ratio (SNR), which greatly improves the accuracy and tracking effect.
The advanced location calculating algorithm is used to calculate the distance of the objects within 3000 meters using the laser range finder, accurately analyze the longitude and latitude of the object, and display the on the screen. It has a great auxiliary role in military enforcement and police.
Q30TM supports both HDMI and Ethernet/IP for video output. HDMI video output by default is set at 1080p, while Ethernet default video output resoltion is 720P and the record resolution is 1080p. IP output supports 360° endless pan.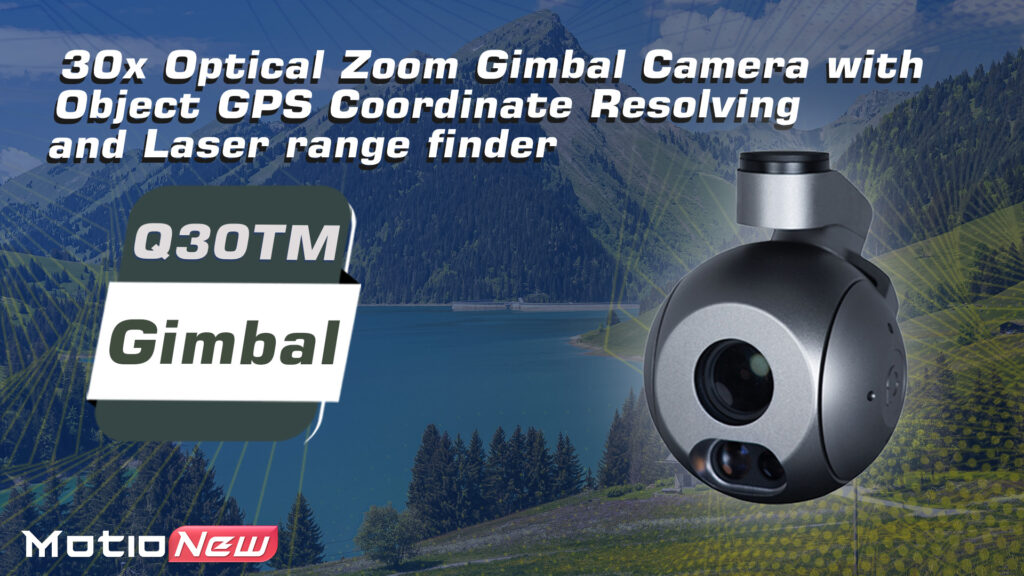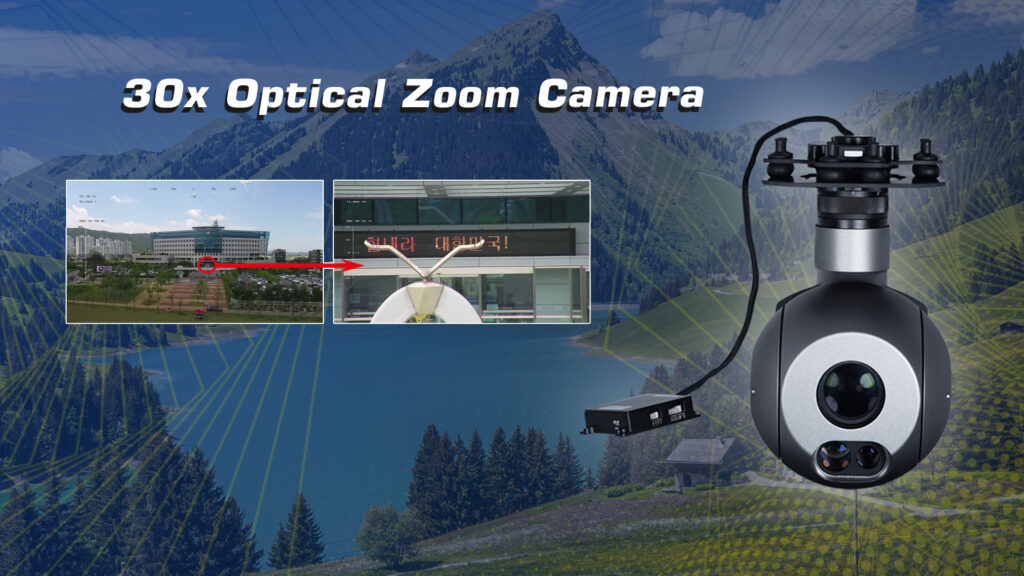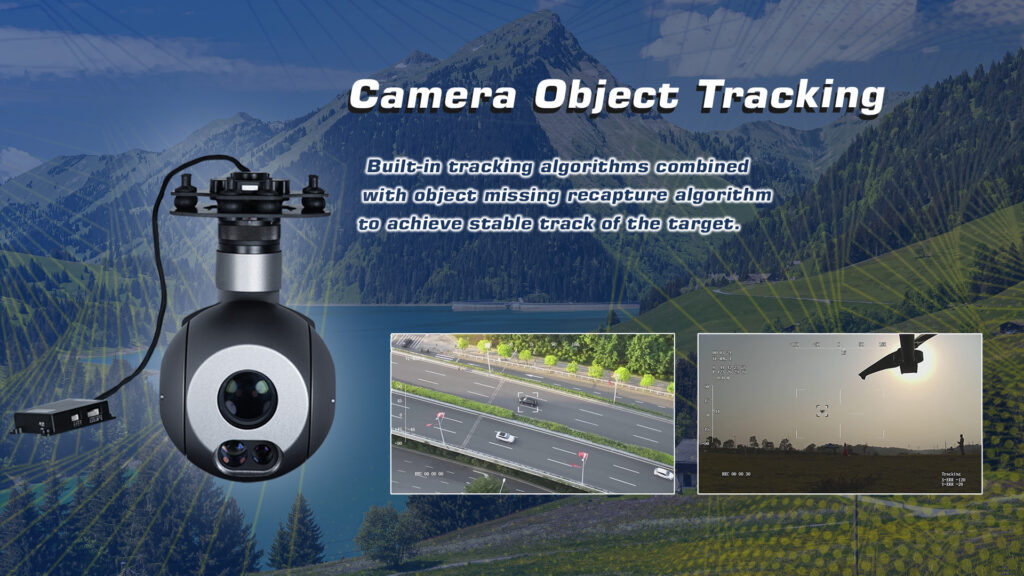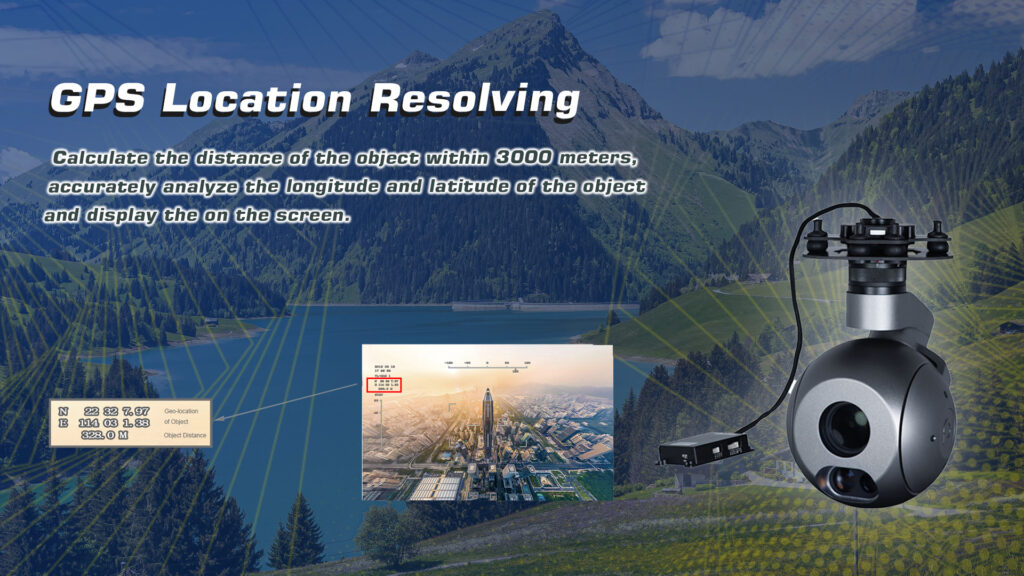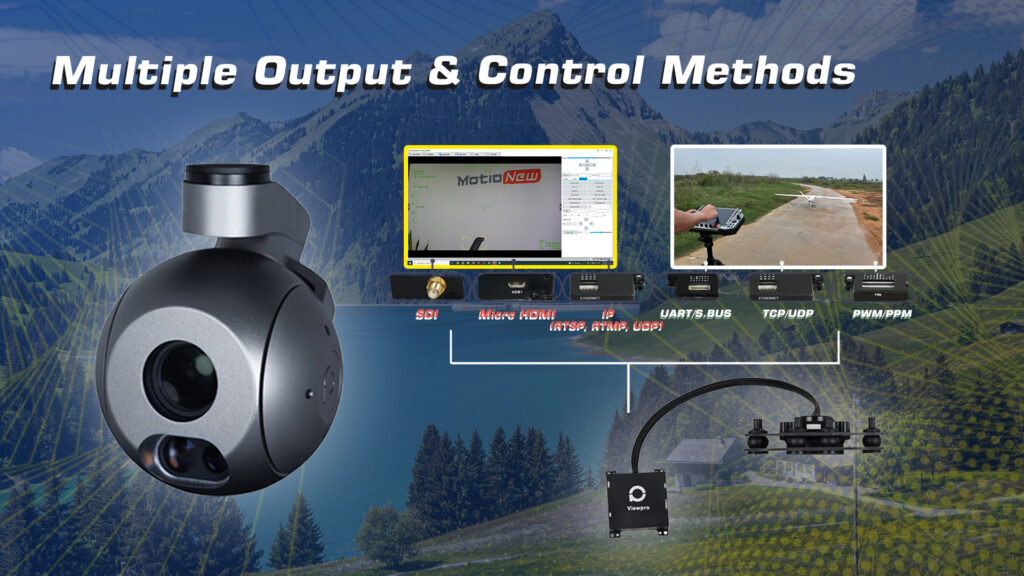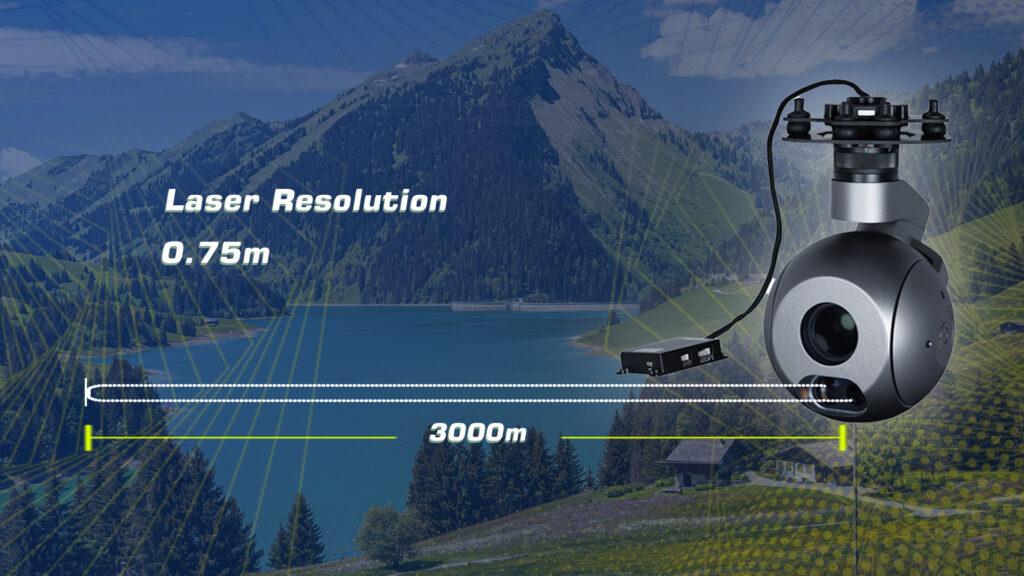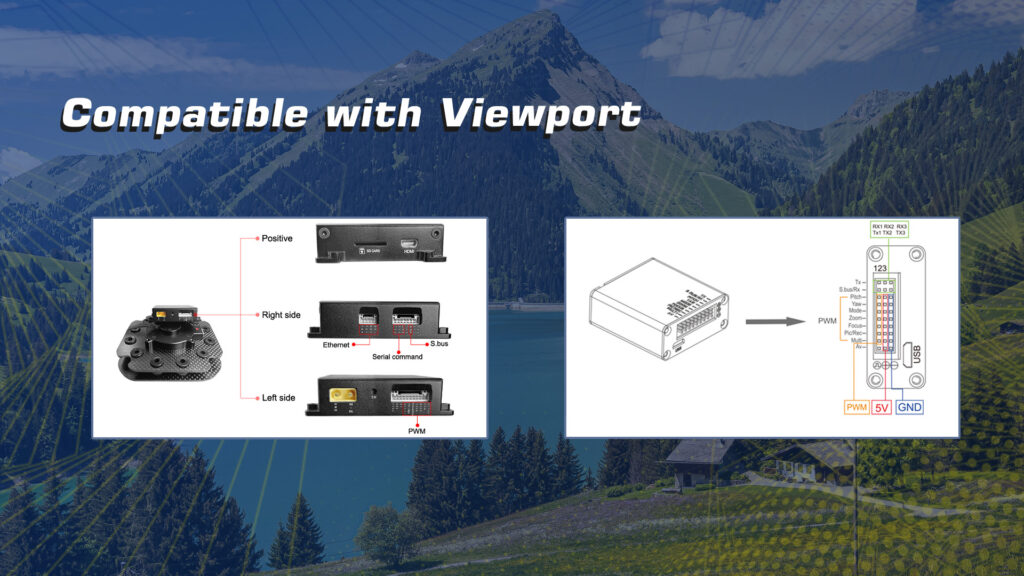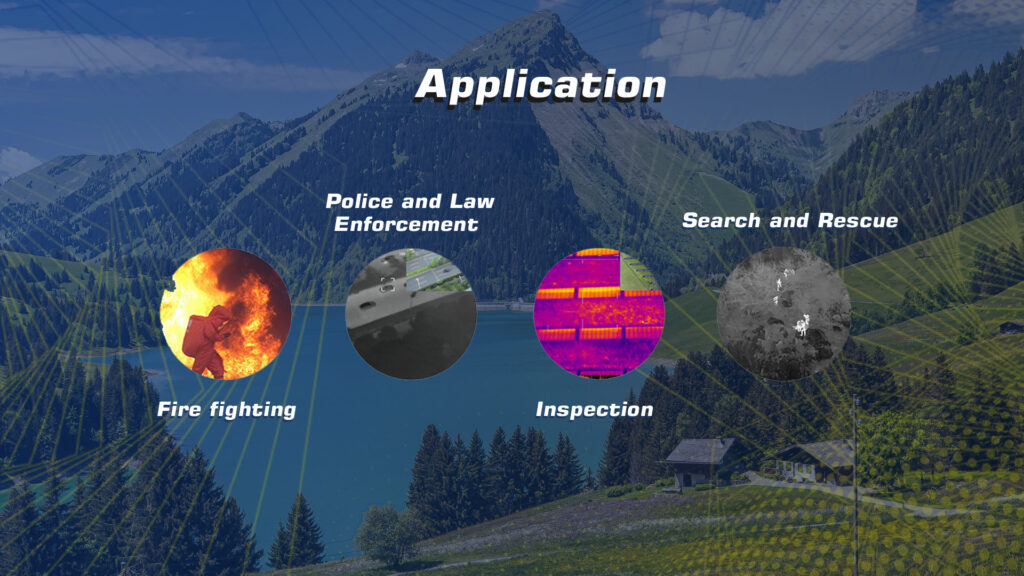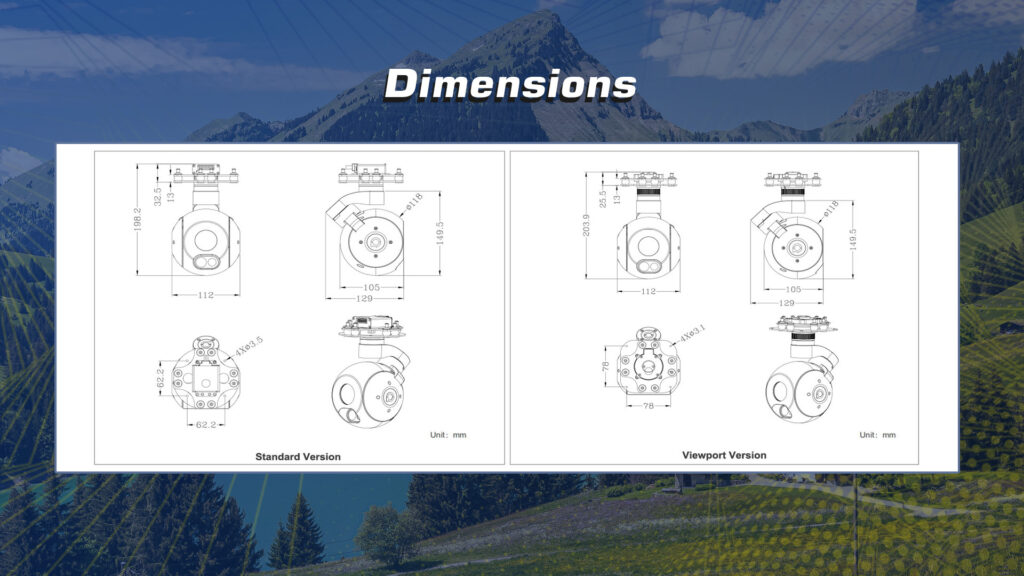 Additional information
| | |
| --- | --- |
| Weight | 1 kg |
| Dimensions | 12 × 13 × 21 cm |
| Bundle | quick release version, standard version |
Specifications
Hardware Parameter

Working voltage

12V

Input voltage

3S ~ 6S

Output voltage

5V (connect with PWM)

Dynamic current

950~1100mA @ 12V

Idle current

950mA @ 12V

Working environment temp.

-20℃ ~ +60℃

Output 

micro HDMI(HD output 1080P 25/30/50/60fps)




IP(1080P/720P 25/30fps)

Local-storage

TF card (Up to 128G, class 10, FAT32 or ex FAT format)

Photo storage format

JPG(1920*1080 / 1280*720) 

Video storage format

MP4  (1080P/720P 25fps/30fps)

Control method

PWM  / TTL / S.BUS / TCP(IP output) /DJI Pilot

Gimbal Spec

Mechanical Range

Pitch/Tilt: -60°~120°,Roll: ±35°,  




Yaw/Pan: ±300° / ±360°*N (IP output version)

Controllable Range

Pitch/Tilt: -45°~90°,   Yaw/Pan: ±290° / ±360°*N (IP output version)

Vibration angle

Pitch/Roll: ±0.02°, Yaw:±0.02°

One-key to center

√

Camera Spec

Imager Sensor

SONY 1/2.8″ "Exmor R" CMOS

Picture quality

Full HD 1080 (1920*1080)

Effective pixel

2.13MP

Lens optical zoom

30x, F=4.3~129mm

Digital zoom

12x (360x with optical zoom)

Min object distance

10mm(wide end) to 1200mm(tele end). Default 300mm

Horizontal viewing angle

1080p mode: 63.7°(wide end) ~ 2.3°(tele end)

Sync system

Internal

S/N ratio

more than 50dB

Min illumination

Color [email protected]

Exposure control

Auto, Manual, Priority mode(shutter priority & iris priority),




Bright, EV compensation, Slow AE

Gain

Auto/Manual 0dB to 50.0dB(0 to 28 steps + 2 setep/ total 15 steps)




Max.Gain Limit 10.7 dB to 50.0dB (6 to 28 steps + 2 step/ total 12 steps)

White balance

Auto, ATW, Indoor, Outdoor, One Push WB, Manual WB, Outdoor Auto,




Sodium Vapor Lamp (Fix/Auto/Outdoor Auto)

Shutter speed

1/1s to 1/10,000s, 22 steps

Backlight compensation

Yes

Aperture control

16 steps

Defog

Yes

OSD

Yes

Camera Object Tracking

Update rate of deviation pixel

50Hz

Output delay of deviation pixel

5ms

Minimum object contrast

5%

SNR

4

Minimum object size

32*32 pixel

Maximum object size

128*128 pixel

Tracking speed

32 pixel/frame

Object memory time

100 frames (4s)

The mean square root values of pulse noise in the object position

< 0.5 pixel

IR Laser Rangefinder

Laser Wavelengths

1550nm

Optical aperture

Transmit 13mm / Receive17 mm

Resolution

0.75m

Measure ability

3000m  (Typical value 1:




· Object size: the target surface is larger than the laser spot area




· Reflectivity: 60%




· Accuracy rate: 90%




· Visibility: 10 km




· Environment temperature: 20℃




· Atmospheric pressure: 1013 mbar)

Vehicle target measuring

2300m (Typical value 2:




· Object size: 2.3*2.3 m




· Emissivity: 30%




· Others same as typcial value 1)

Eye-safe

Class 1[Standard IEC 60825-1, Second Edition (2007-03)]

Laser beam angle (Typical value)

1.0 mrad

Accuracy (Typical value)

± 0.75m

Accuracy (In harsh condition)

± 2m

Measurement frequency

2Hz

Object resolution (Typical value)

30m

Packing Information

N.W.

888g (Quick Release Version) 

Product meas.

112*129*203.9mm

Accessories

1pc gimbal camera device, 16pcs screws,  4pcs copper cylinders, 12pcs damping balls,




 4pcs damping boards / High quality plastic box with foam cushion
Product contents
1x gimbal camera Q30TM, 1x gimbal camera device, 16x screws,  4x copper cylinders, 12x damping balls, 4x damping boards / High quality plastic box with foam cushion