Drone Winch with 30m Rope and Hook for Delivery Pick up
2800.00 $
Description
Industrial quality of Drone Winch
Choose the industry's highest strength dinima rope, high strength and toughness, configure the reciprocator for uniform winding and unwinding, attach a gravity hook to the mechanical design, not easily decoupled, and make certain that the rope is collected and released safely.
Convenient power supply mode
As soon as the end of the power supply line is connected to the 24v interface on the delivery rope and the parallel head of the XT30 on the other end, dock the XT30 head with the X30 master head under the aircraft and the power supply link is complete.
M600 winch quick demolition and hanger design
This high precision universal design can be used on the same platform as the other modules of the company's general hand screw and the fixed buckle design, allowing for easy installation without the need for tools. Aviation aluminum is utilized to manufacture the hanger through CNC processing and sand blasting anode polarization treatment, providing high precision, corrosion resistance, and wear resistance. The design of the card slot and spring lock button allows for a fast load, the installation of the card slot and spring lock button only requires a gentle push of the spring lock to complete the rope lock, ensuring a double layer of safety and reliability. Remove just press the spring latch and gently push the drop rope to remove the drop rope, convenient and fast.
Application areas can be combined with other industry tool modules, such as electric inspection, manipulator, water intake modules, etc. different combinations for drone winch can apply to: public security, fire fighting, power rack and power inspection, material back and forth transportation, disaster relief and rescue supplies in isolated areas.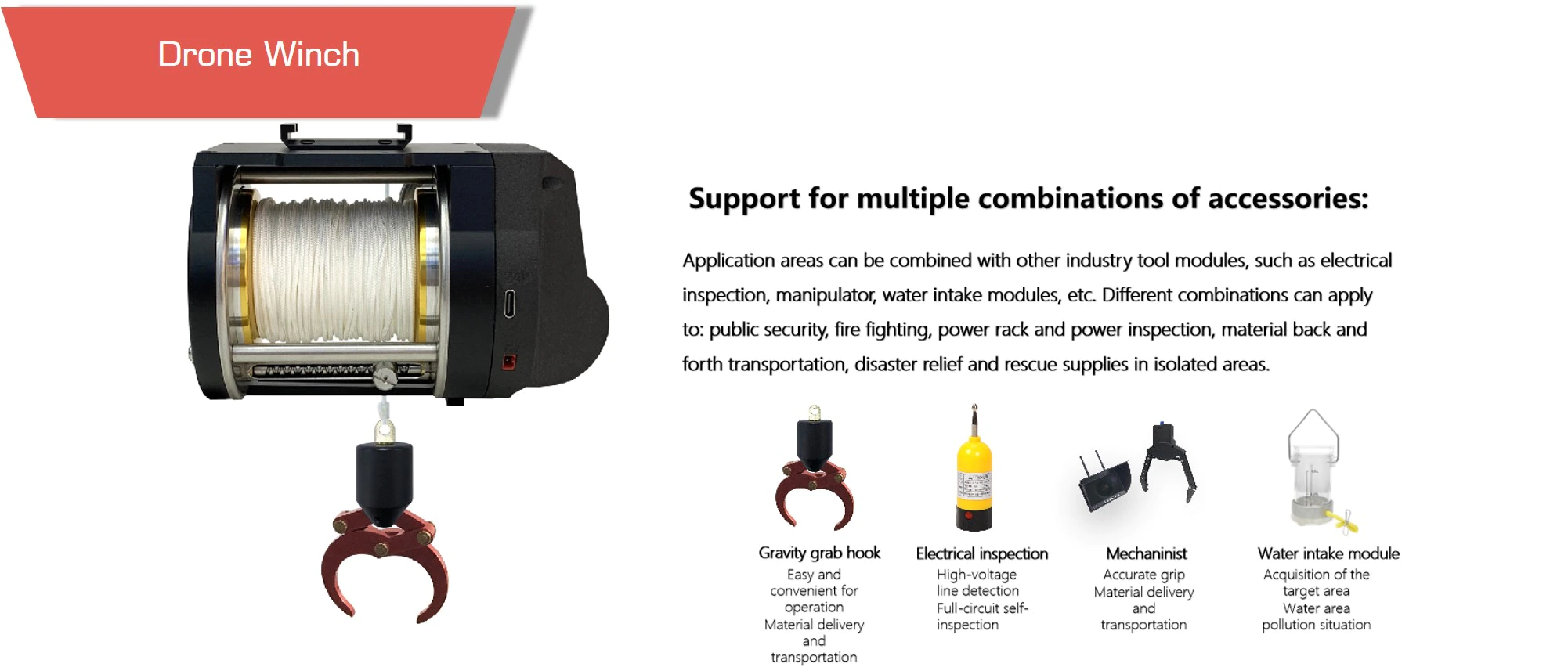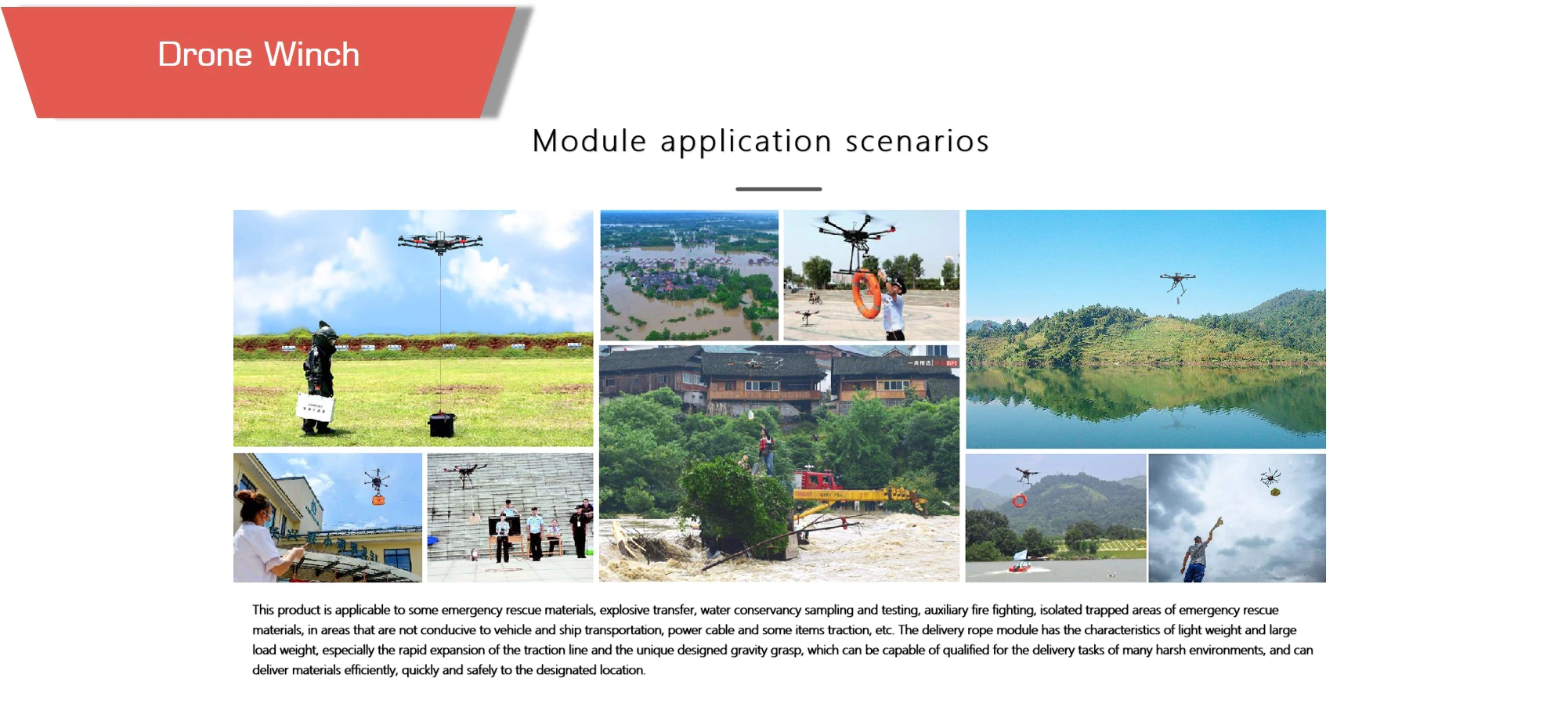 Additional information
| | |
| --- | --- |
| Weight | 1.5 kg |
| Dimensions | 31 × 27 × 20 cm |
Specifications
Winch Specification

Size

200x105x145mm

Outer packing box

305x269x195mm

Weight

1.05KG

Installation mode

Quick Disassembly

Working voltage

24V

Motor type

Brush DC motor

Motor power

22W

Motor revolution

6000 rpm

Output revolution

120 rpm

Reduction ratio

1:50

Setting out of speed

10m / points

Throw-line length

30M

Control mode

independent remote control

Signal mode

PWM signal

Control distance

800m (without blocking)

Max. payload

5kg

Remote Control Specification

Size

180x82x161mm

Weight

392g

Input power

1.5AAx4

Data output

PS2 interface PPM

Frequency range

2.4055-2.475GHZ

Band width

500KHZ

Transmitter power

≤20dBm

Low voltage alarm

<4.2V

Antenna length

26mmx2 (dual antenna)

Display mode

STN transflective positive, 128×64 dot matrix VA73x39mm LED




white backlight
Product contents
Product contents