30x Starlight Gimbal Camera for Drone
5199.00 $ – 9999.00 $
Description
30x Starlight Gimbal Camera for Drone
The Starlight Night Vision AI Tracking gimbal camera series is the latest technology that brings artificial intelligence (AI tracking) to the drone industry. It is a drone camera with a 3-axis gimbal that integrates AI tracking and detection algorithms with a 30x optical zoom camera — SONY STARVIS CMOS sensor. Based on the version, the gimbal has a single sensor (A30), Dual Sensor (H30) with a laser rangefinder, or Triple Sensor (H30T) with a thermal camera.
A30 has a SONY STARVIS CMOS module inside, which has 4.17 megapixels, which is combined with 30x advanced optical zoom technology, to increase the observation range, more than enough for a lot of applications in different domains including surveying, monitoring, and so on. 30x optical zoom means the drone can maintain a safe distance from the target in case of a dangerous incident like a fire hazard while capturing enough details of the scene.
In the H30 version, a 1000m laser rangefinder is added to support target distance measurement. Above all, H30T adds a 19mm lens IR thermal sensor with 640×512 resolution. The thermal camera is an uncooled long wave (8μm ~14μm) image sensor, and has a higher resolution of 640×512 pixels compared to its predecessors, with each pixel size of 12μm. It is possible to record and transmit thermal and visible images at the same time in PIP format. There is IR thermal and PIP switch, an IR color palette switch, and thermal digital zoom also available.
All three models have an aluminum alloy housing to give them a sophisticated look and anti-interference ability, as well as thermal cooling. The 3 axis gimbal camera stabilizes yaw, roll, and pitch. The integrated damping system and gimbal design can significantly reduce mechanical vibration.
The best thing about Starlight gimbal cameras is their AI object detection and tracking module, which can detect more than 10 simultaneous cars, humans, and boats automatically. It uses computer vision technology to replace manual decision-making and combines deep learning to extract and classify the targets in the field of view.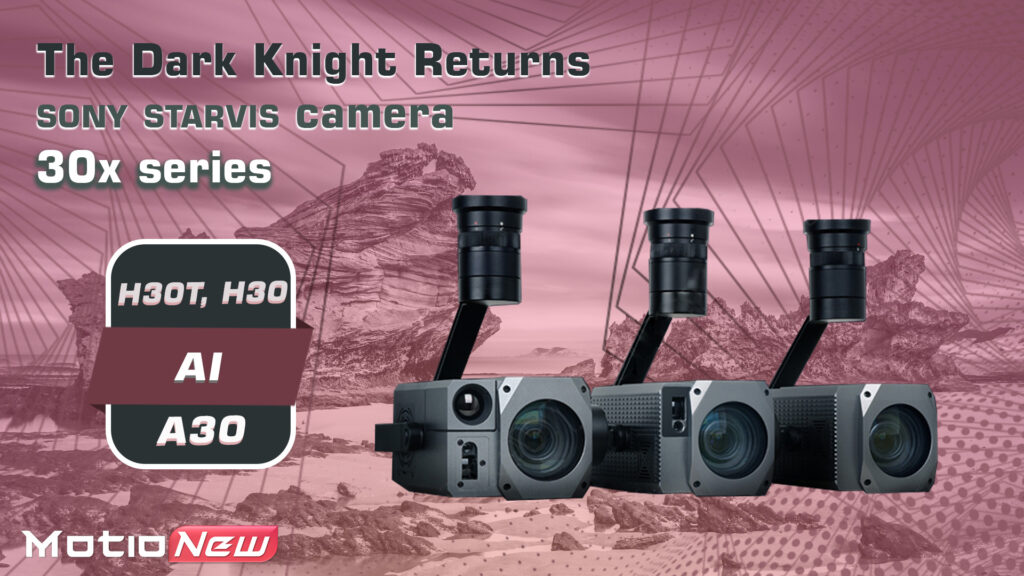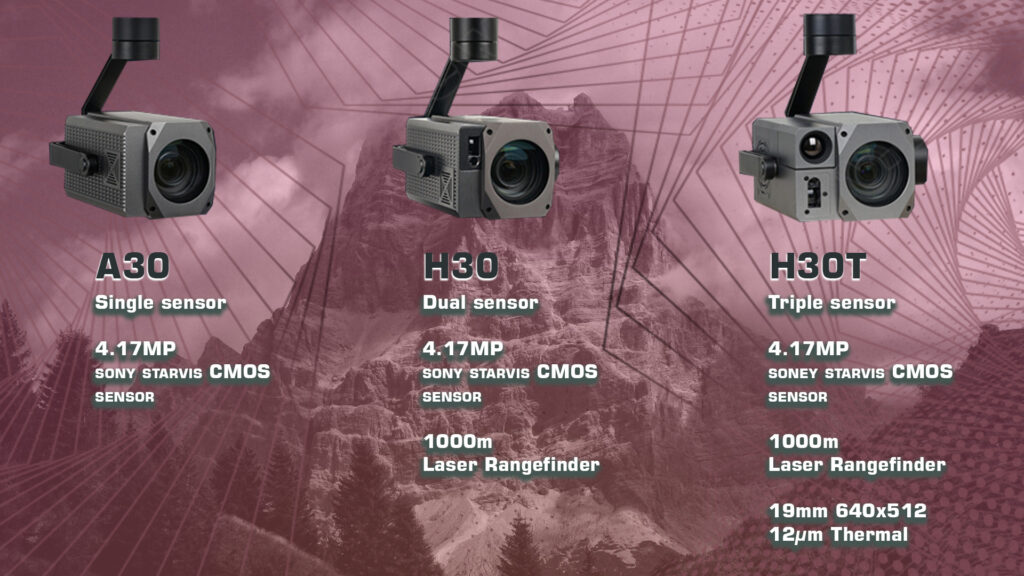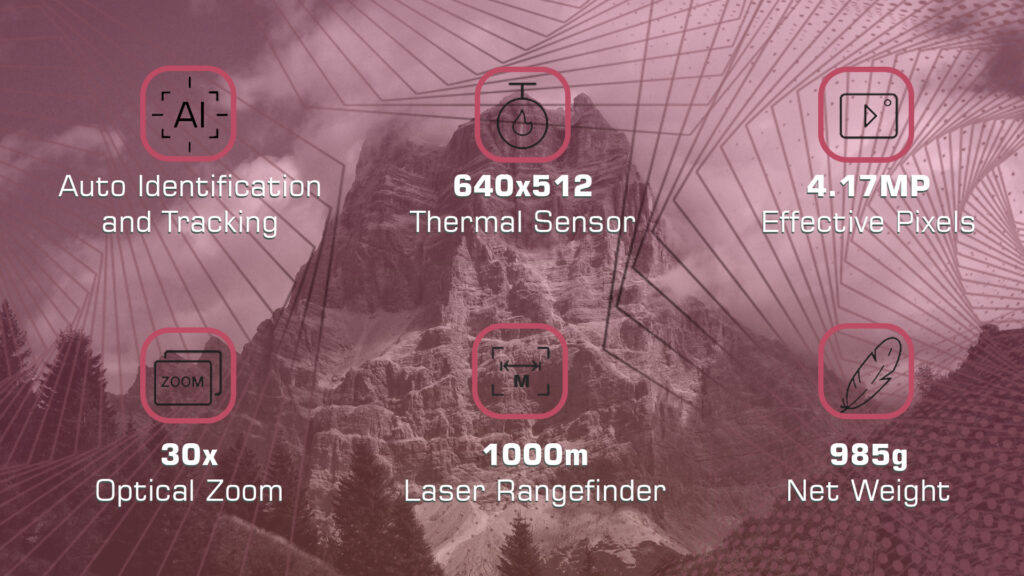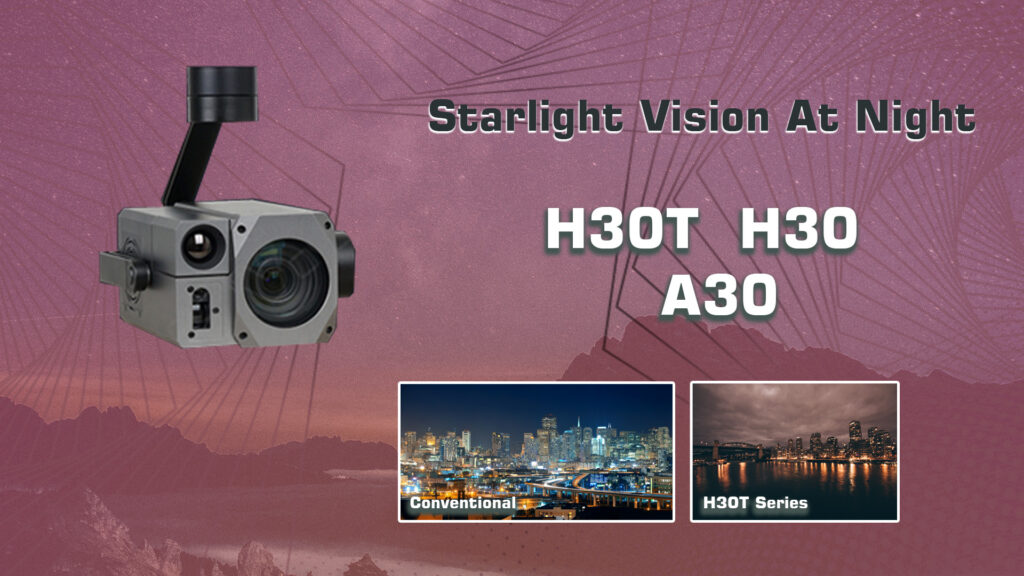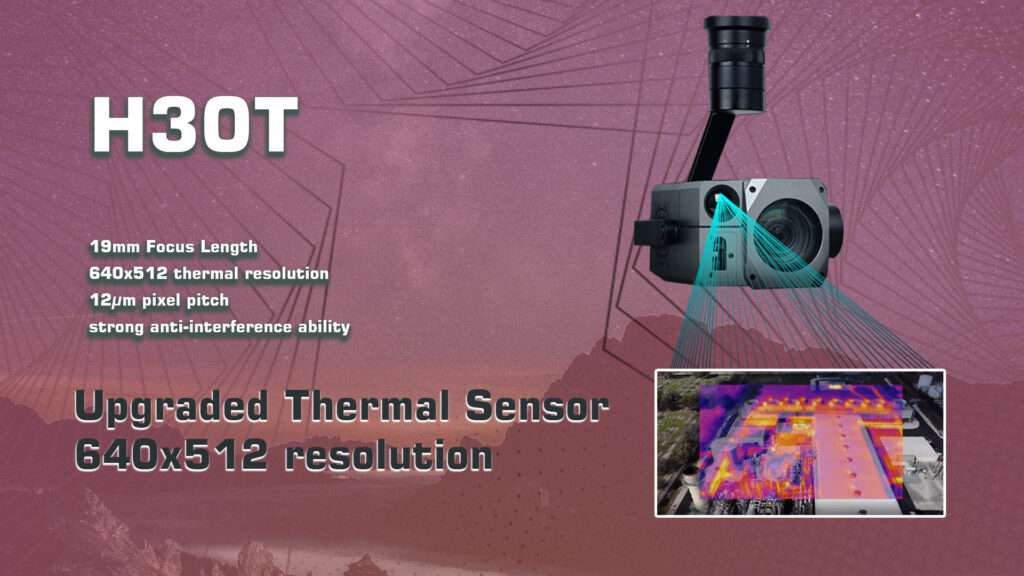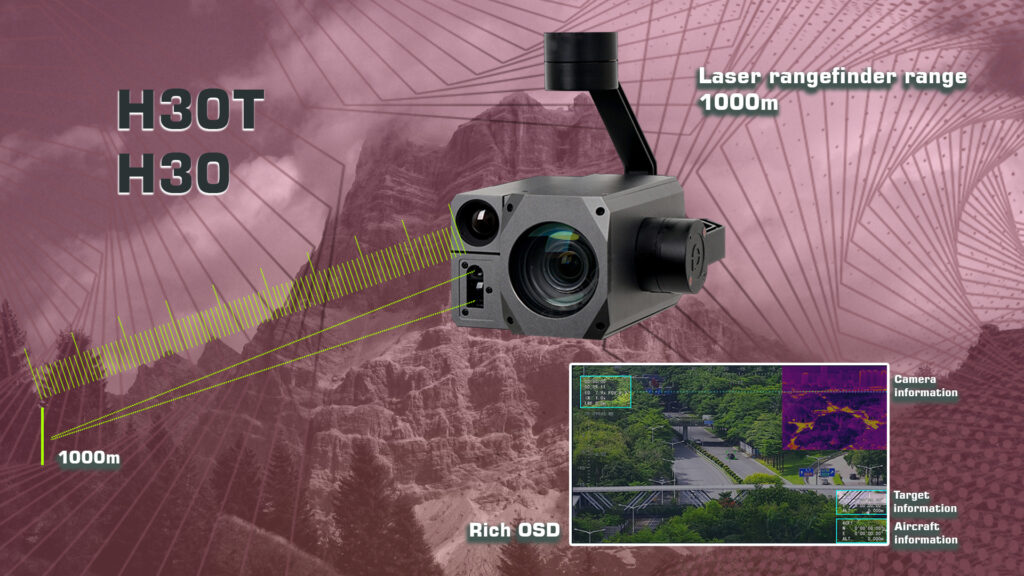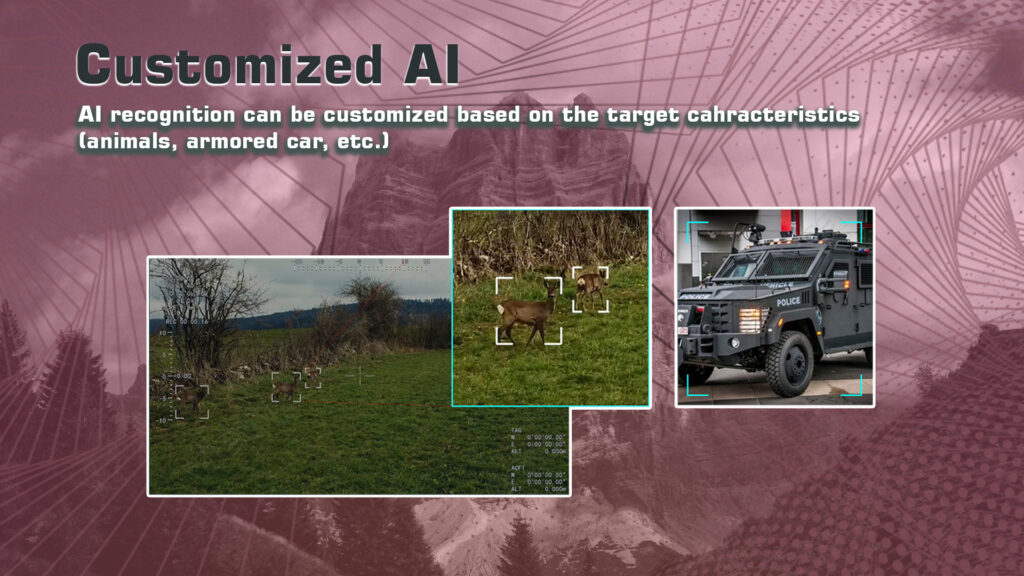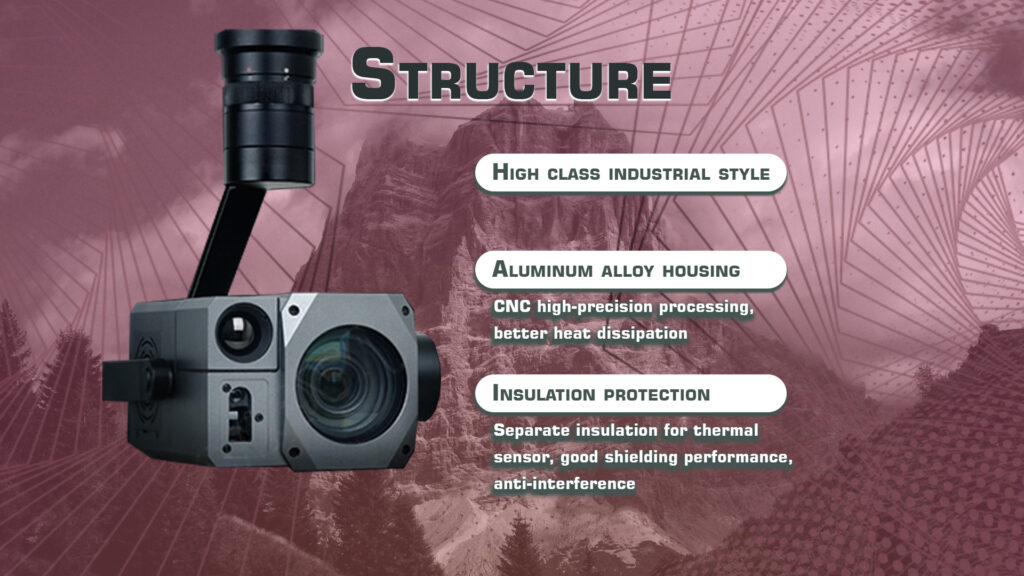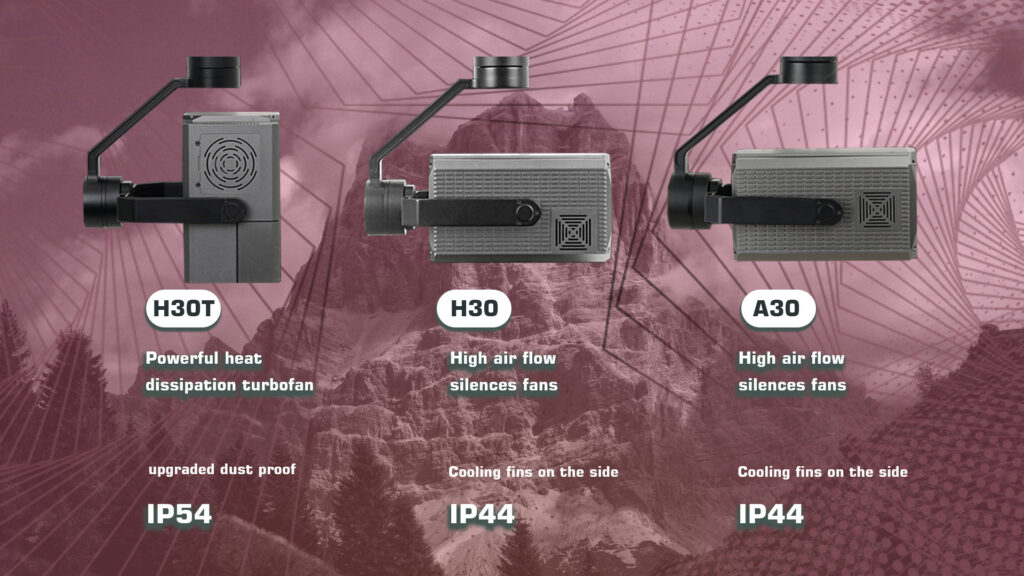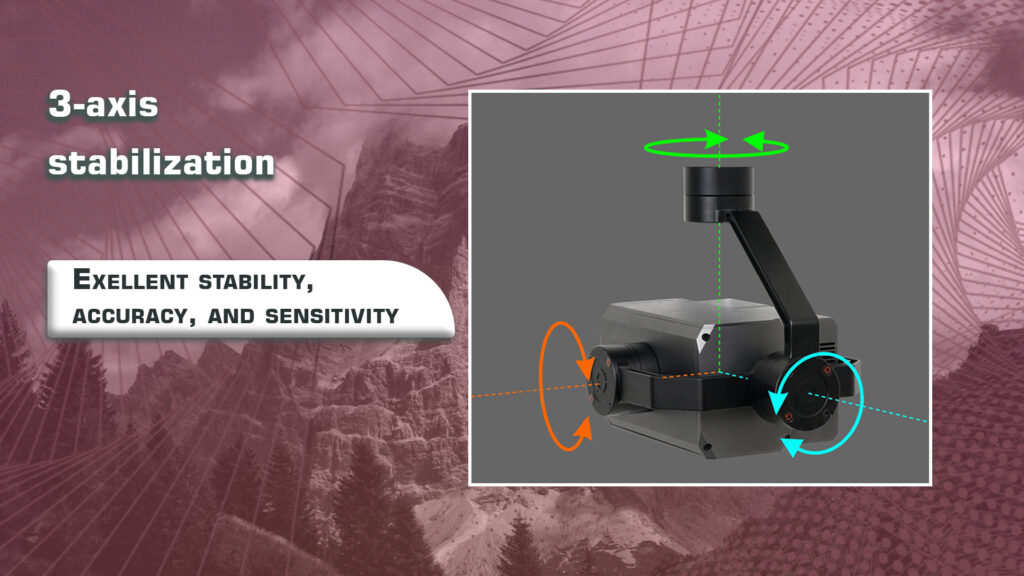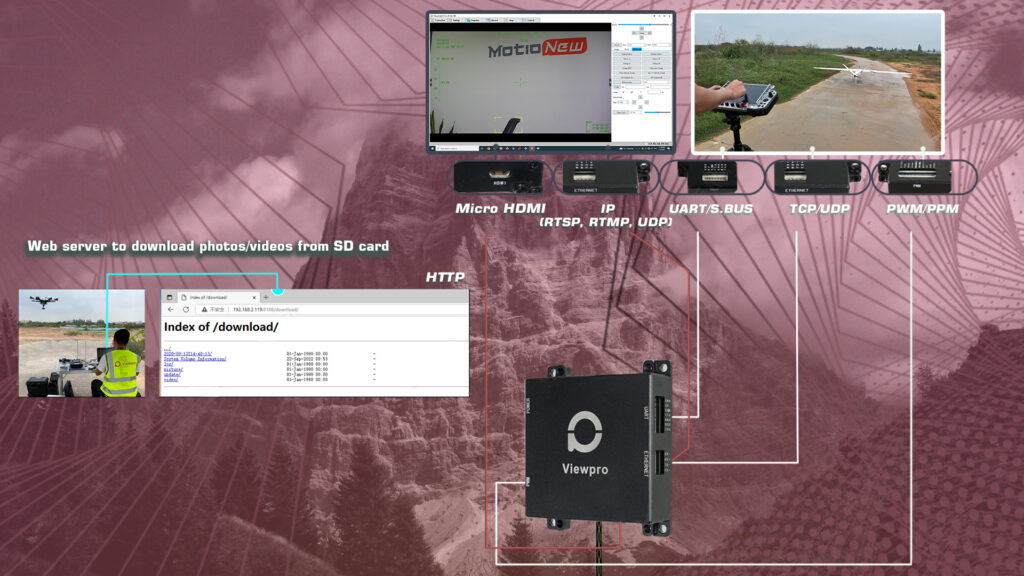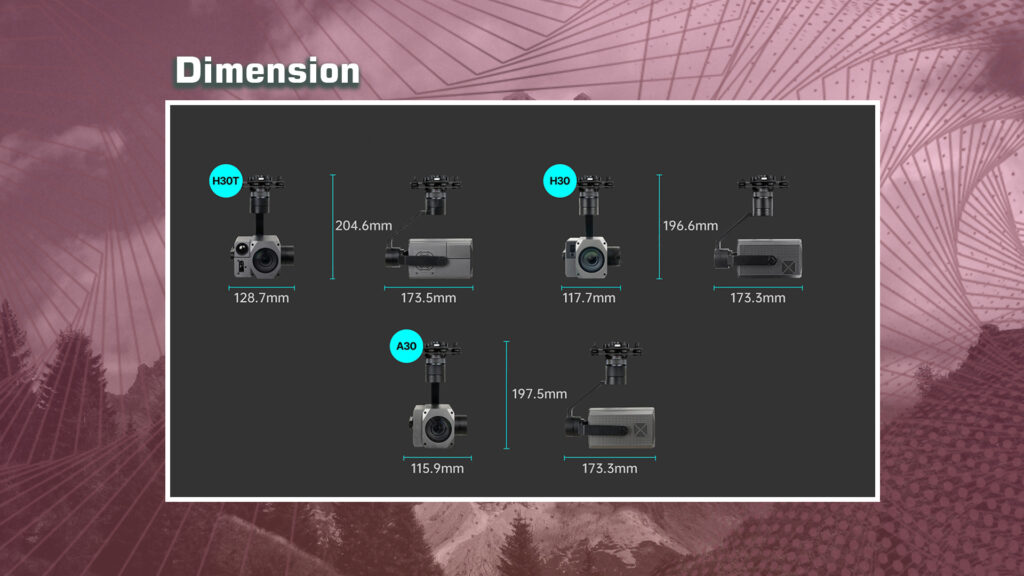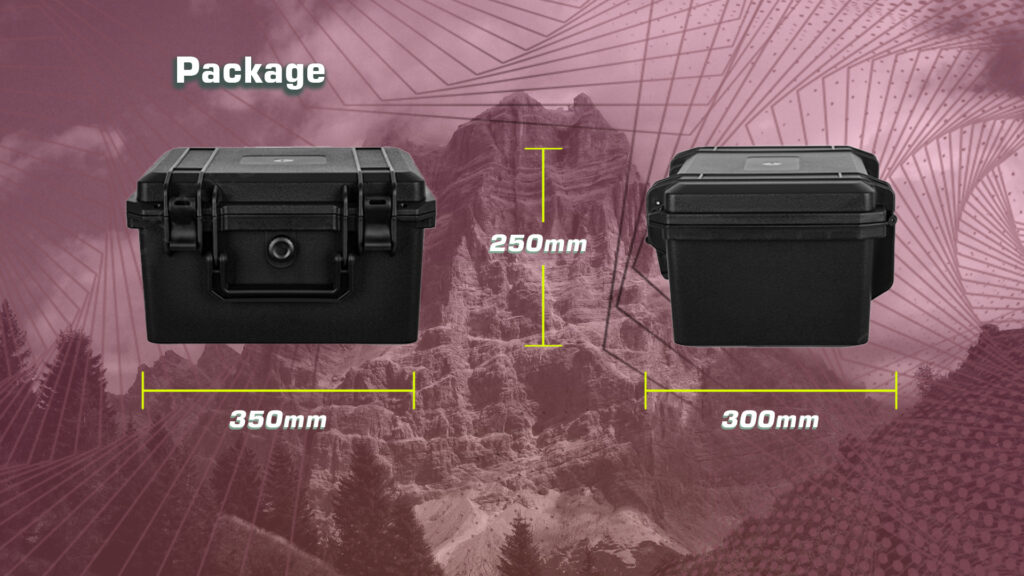 Additional information
| | |
| --- | --- |
| Weight | 1.5 kg |
| Dimensions | 30 × 30 × 30 cm |
Specifications
Hardware Parameter

Working voltage

12V

Input voltage

3S ~ 6S

Output voltage

5V (connect with PWM)

Dynamic current

1400~2000mA @ 12V

Idle current

1400mA @ 12V

Working environment temp.

-20

℃

 ~ +60

℃

Output

micro HDMI(1080P 30fps/60fps) / IP (720p/1080p  25fps/30fps)

Local-storage

TF card (Up to 128G, class 10, FAT32 or ex FAT format)

Photo storage format

JPG (1920*1080)

Video storage format

MP4  (1080P 30fps/60fps)

Control method

PWM  / TTL / S.BUS / TCP (IP output)
Gimbal Spec

Mechanical Range

Pitch/Tilt:-45°~100°,   Roll: ±75°,    Yaw/Pan: ±300° / ±360°*N (IP output version)

Controllable Range

Pitch/Tilt: -40°~90°,   Yaw/Pan: ±290° / ±360°*N (IP output version)

Vibration angle

Pitch/Roll: ±0.02°, Yaw:±0.02°

One-key to center

√
Camera spec

Imager Sensor

1/1.8 Type STARVIS CMOS Sensor

Picture quality

4.17MP

Lens optical zoom

30x, f=6.5~162.5mm, F1.6 to F4.8

Digital zoom

12x (max. 432x with StableZoom)

Min object distance

100 mm (Wide end), 1200 mm (Tele end)

Horizontal viewing angle

58.1°(wide end) ~ 2.3°(tele end)

Sync system

Internal

Image S/N

50 dB (Weight On)

Min illumination

In the case of ICR-Off




(Typical value) 0.009 lx (1/30 sec, 50%, High Sensitivity mode On)




0.09 lx (1/30 sec, 50%, High Sensitivity mode Off)




0.0012 lx (1/4 sec, 1/3 sec, 50%, High Sensitivity mode On)




0.012 lx (1/4 sec, 1/3 sec, 50%, High Sensitivity mode Off)




In the case of ICR-On




0.00008 lx (1/30 sec, 50%, High Sensitivity mode On)




0.00063 lx (1/30 sec, 50%, High Sensitivity mode Off)




0.000005 lx (1/4 sec, 1/3 sec, 30%, High Sensitivity mode On)

High Sensitivity mode On/Off

off

Recommended illumination

100 lx to 100,000 lx

Gain

Auto/Manual (0 to 50.0 dB (0 to 28 step))




Max. Gain Limit (10.7 to 50.0 dB (6 to 28 step))

White balance

Auto, ATW, Indoor, Outdoor, One Push WB, Manual WB, Outdoor Auto, Sodium Vapor Lamp (Fix/Auto/Outdoor Auto)

Wide Dynamic Range Mode

On/Off

Shutter speed

1/1 sec to 1/10000 sec (22 steps)

Backlight compensation

Off

Image Stabilizer On/Off/Hold

Off

Aperture control

16 steps

Noise Reduction

On/Off (level 5 to 1 / Off, 6 steps)

Defog

On/Off (low, mid, high)

OSD

Yes
IR Thermal Imager Spec

Focus Length

19mm

Coating Film

DLC

Horizontal FOV

22.9°

Vertical FOV

18.4°

Diagonal FOV

29.0°

Detective Distance (Man: 1.8×0.5m)

792 meters

Recognize Distance (Man: 1.8×0.5m)

198 meters

Verified Distance (Man: 1.8×0.5m)

99 meters

Detective Distance (Car: 4.2×1.8m)

2428 meters

Recognize Distance (Car: 4.2×1.8m)

607 meters

Verified Distance (Car: 4.2×1.8m)

303 meters

Working mode

Uncooled VOx long wave (8μm~14μm) thermal imager

Detector pixel

640*512

Pixel size

12μm

Focusing method

Athermal prime lens

NETD

≤[email protected] @25

℃

Color palette

White hot, black hot, pseudo color

Digital zoom

1x ~ 8x

Sync correct time

Yes
EO / IR Camera Object Tracking

Update rate of deviation pixel

30Hz

Output delay of deviation pixel

<30ms

Minimum object contrast

5%

SNR

4

Minimum object size

16*16 pixel

Maximum object size

256*256 pixel

Tracking speed

<32 pixel/frame

Object memory time

100 frames
IR Laser Rangefinder

Range

5~1500 meters

Accuracy

1m: <400±1        2m: >400±0.4%

Light Beam

905nm pulse laser

Divergent Angle

12 mrad

Laser pulse frequency

0.1–1Hz

Location Resolving

Latitude and longitude of target

Rangefinder

Target distance measuring
EO Camera AI Recognition Performance

Targets type

Car and human (support customization for other targets)

Simultaneous detection quantity

≥ 10 targets

Min contrast ratio

5%

Min target size

5×5 pixel

Car detection rate

≥85%

False alarm rate

≤10%
Packing Information

N.W.

1134g(Viewport Version)

Product meas.

173.5*128.7*198.9mm / 173.5*128.7*204.6mm(Viewport Version)

G.W.

2854g

Package meas.

350*300*250mm
Product contents
1x Gimbal camera (A30, H30, or H30T), screws,  copper cylinders, damping balls, damping boards, 1pc USB to TTL cable / Hight quality plastic box with foam cushion