CUAV X7 plus Cube Pixhawk Flight Controller
370.00 $
Out of stock
Description
CUAV X7 plus Autopilot Overview
As an advanced autopilot developed independently by CUAV®, the CUAV X7 Plus is the best choice for your drone. Besides using an STM32H7 processor with higher performance, it also integrates industrial-grade sensors and ultra-low temperature drift sensors. There is a significant improvement in performance and reliability in comparison to the previous flight controller. It is very easy to run ArduPilot firmware on this board. An industrial drone will benefit greatly from the X7 Plus.
Sensor Redundancy Design Built-in three sets of accelerometers and gyroscopes, the flight controller monitors the data of multiple sensors in real time, and executes redundant switching immediately in case of failure to improve flight safety and stability.
Optional RTK to Realize Centimeter-Level Positioning
CUAV'S C-RTK series products can be purchased to achieve centimeter-level positioning, which can be used in scenes that require high-precision positioning, Such as plant, Agriculture, surveying and mapping, etc.
Support LTE Link Series 4G Telemetry Support LTE Link series 4G telemetry.so that your flight video and data can be transmitted without distance limitation, and support video sharing.
Temperature Compensation System The built-in high-precision sensor temperature compensation system makes the sensor work at a constant temperature, ensuring that the sensor can operate stably with high precision and sensitivity in high and low
Better CUAV Patented Shock Absorption System After dozens of iterations, hundreds of shock-absorbing materials have been tested and verified, computer model analysis and thousands of flight tests, so improve the shock absorption to a further level
CORE Separate Design The X7 + flight controller integrates the main MCU and IMU into the CORE module and can be sold separately。 Users can design the baseboard according to the UAV structure to meet the individual needs of users,or purchase our CAN PDB baseboard for use。 The X7 + CORE interface is compatible with X7 X7 Pro,and V5 + flight controller CORE。
H7 Processor Powerful Performance X7 + autopilot uses STM32H743 series processors CPU. Cortex-M7 core (with double precision Floating-Point Unit). It makes operating frequency increase to 480Mhz,2MB Flash IMB RAM Meet the higher computing needs of flight controllers Compared with the STM32F7 product line, the dynamic power consumption efficiency is doubled.
Specifications
| | |
| --- | --- |
| Weight | 106g |
| Dimension | 77×45.5x39mm (including cube) |
| Operating temperature | -20 ~ 80°C |
| Main FMU Processor | STM32H743 |
| On-board sensors | Accelerometer/Gyroscope: ICM-20649-Accelerometer/Gyroscope: ADIS16470-Accelerometer/Gyroscope: BMI088 |
| Magnetometer | RM3100 |
| Barometer: | MS5611*2 |
| 14 PWM outputs (12 supports Dshot) | |
| Support multiple RC inputs (SBUs / PPM / DSM) | |
| Analogue / PWM RSSI input | |
| 2 GPS ports(GPS and UART4 ports) | |
| 4 i2c buses(Two i2c dedicated ports) | |
| 2 CAN bus ports | |
| 2 Power ports(Power A is common adc interface, Power C is uavcan battery interface) | |
| 2 ADC intput | |
| 1 USB ports | |
| Power | 4.3~5.4V |
| USB Input | 4.75~5.25V |
| Servo Rail Input | 0~36V |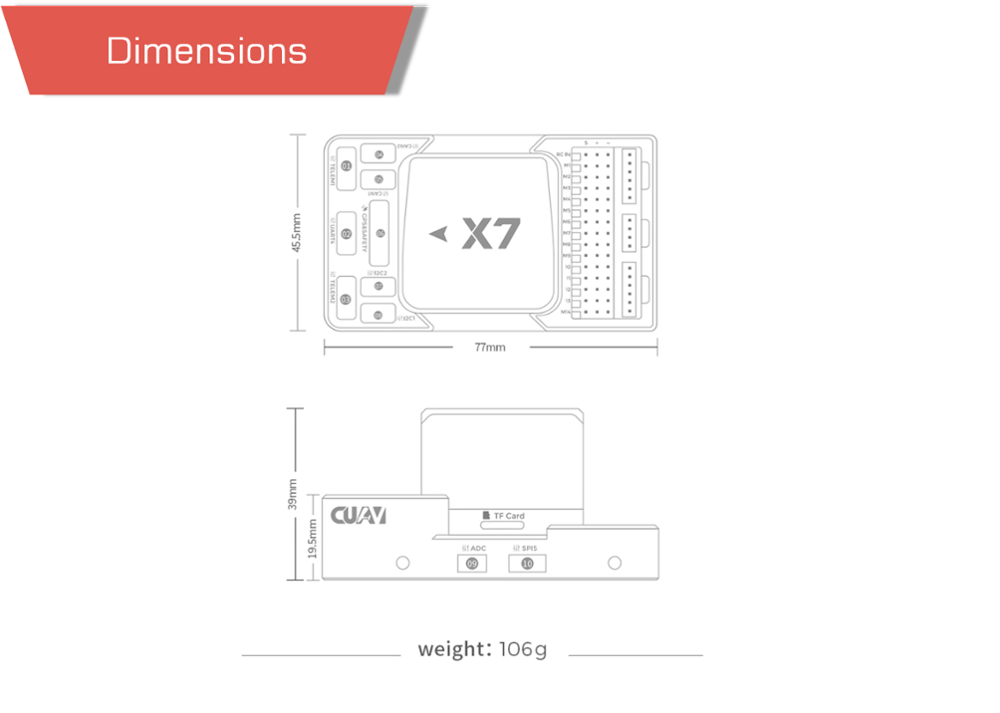 Product contents
Product contents
Documents