HGV-906U 800MHz / 900MHz 6dBi Omnidirectional Antenna
123.00 $
Description
HGV-906U 800/900 MHz 6 dBi Omnidirectional Antenna
The HyperLink HGV-906U is a high-performance omnidirectional antenna designed for the 800MHz / 900MHz ISM band. It is ideally suited for multipoint, Non-Line of Sight (NLOS), and mobile applications where high gain and wide coverage are desired. Typical applications include 900MHz Wireless LAN, SCADA, Wireless Video Links, LPWAN/IoT/M2M, and 800 MHz as well as 900MHz Cellular band applications.
You can match this antenna with modules working in the 900MHz band like MotionUAV P900 or MotionUAV P900 V2. Installing it on the ground side, it can ensure long-range operations of up to 60km in different applications. 
This antenna features an integral N-Female bulkhead type connector that mounts through the wall of an equipment enclosure. Included with the HGV-906U is a mast mounting kit. Consisting of a heavy-duty steel bracket and a pair of U-bolts, this kit allows installation on masts up to 2.0″ in diameter.
This omni antenna's construction features a rugged 1.3″ diameter white high-intensity fiberglass radome for durability and aesthetics. It is designed for all-weather operation.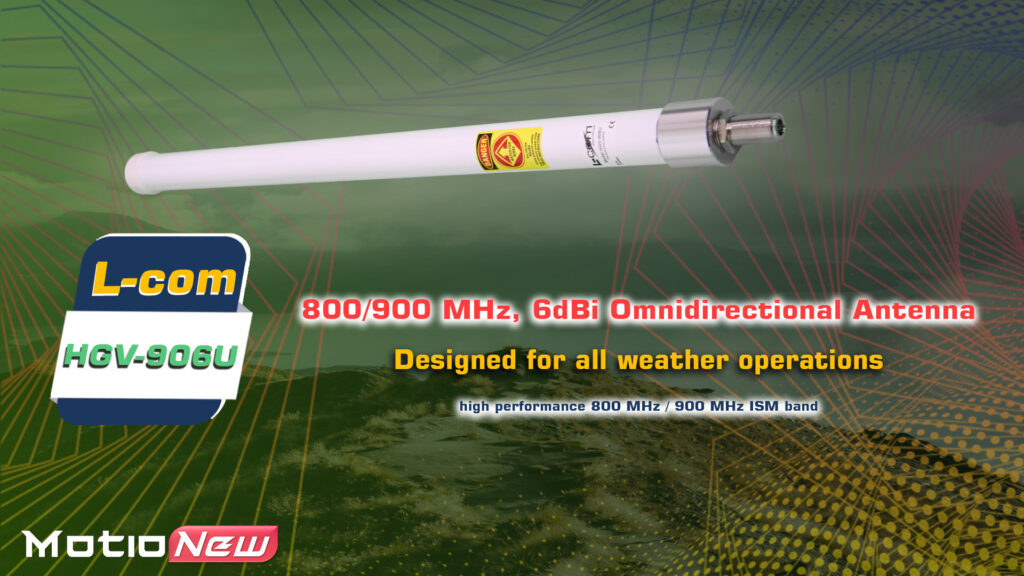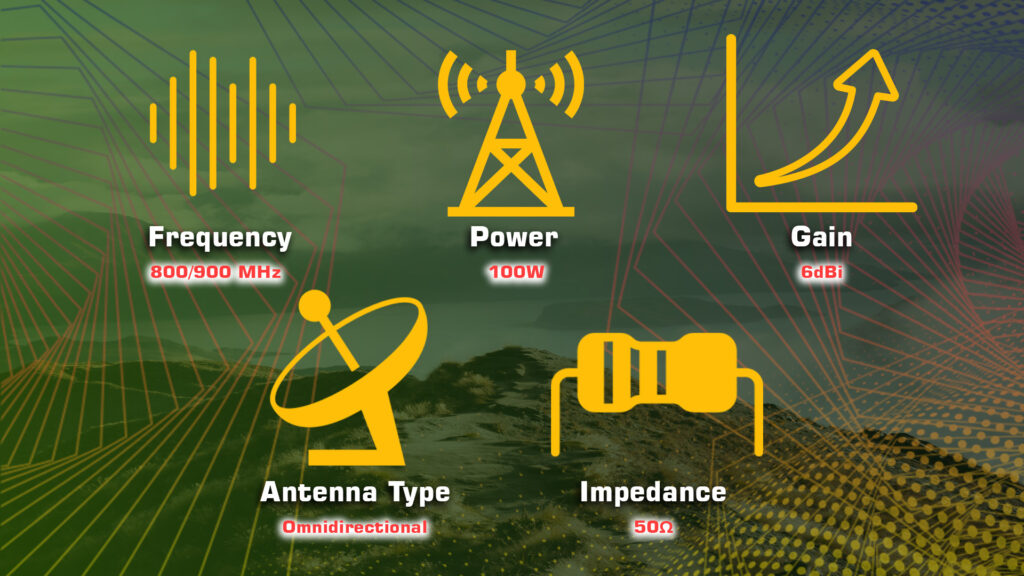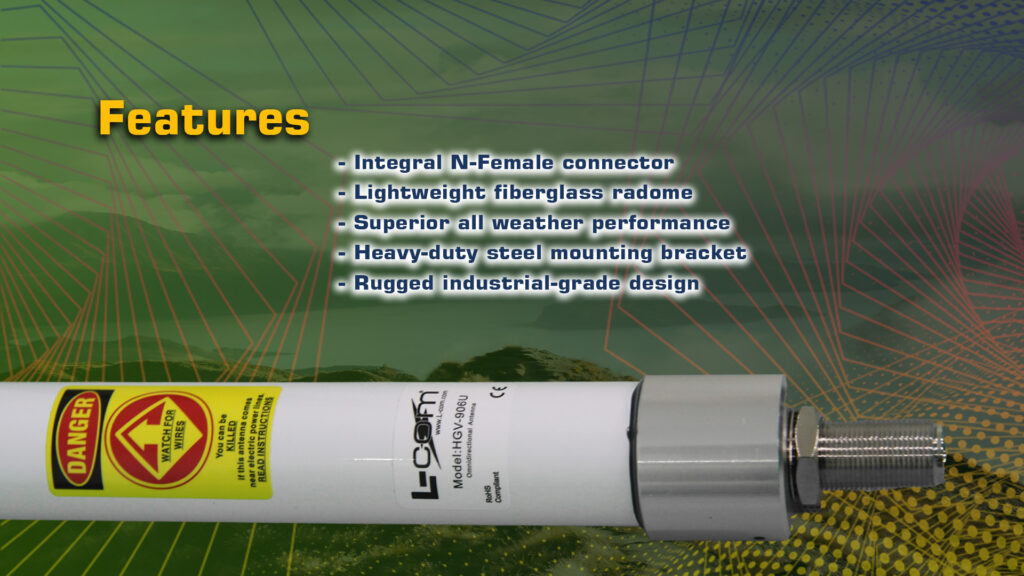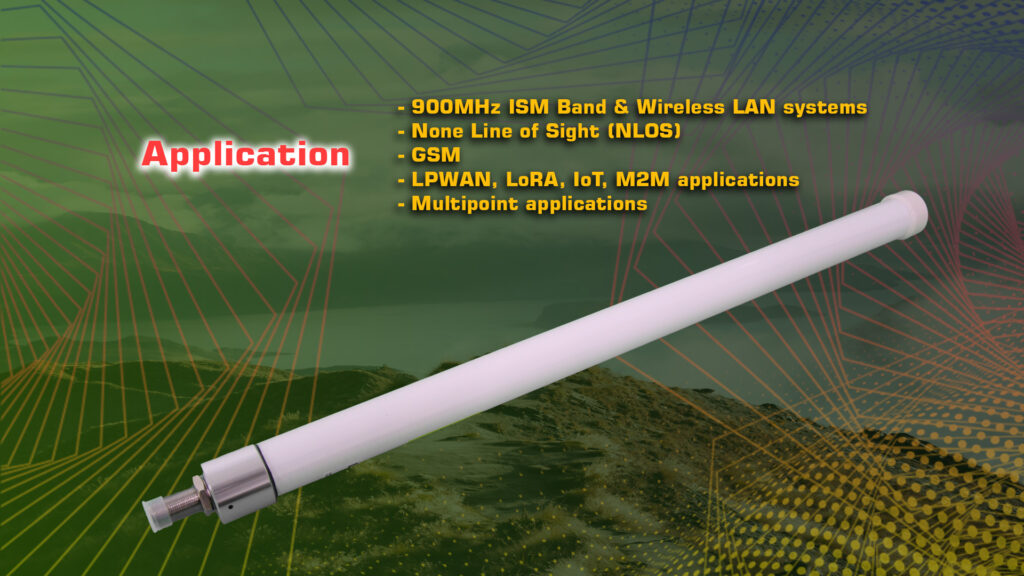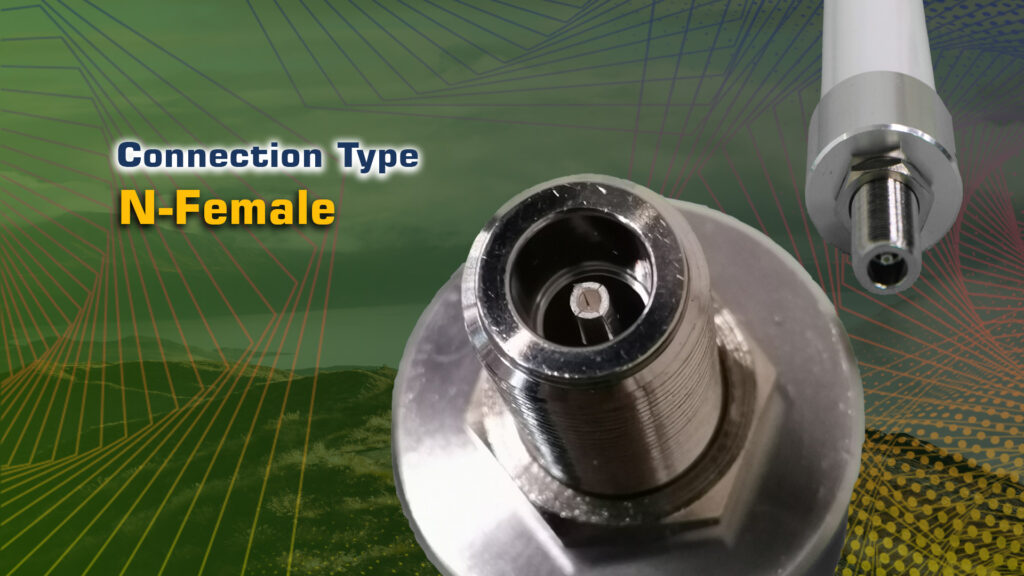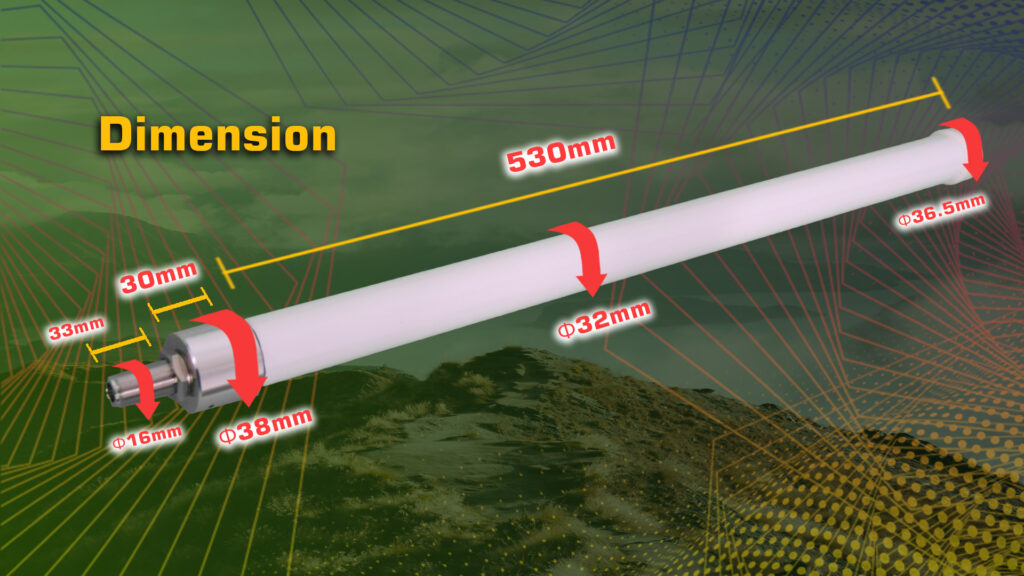 Additional information
| | |
| --- | --- |
| Weight | 1.5 kg |
| Dimensions | 60 × 5 × 5 cm |
Specifications
Mechanical Specifications
| | |
| --- | --- |
| Frequency | 824~960 MHz |
| Gain | 6 dBi |
| Vertical Beam Width | 30 Degrees |
| Horizontal Beam Width | 360 Degrees |
| Impedance | 50 Ohm |
| Max. Input Power | 100 Watts |
| VSWR | < 1.5:1 Avg. |
Electrical Specifications
| | |
| --- | --- |
| Connector | Integral N-Female |
| Weight | 2.4 lbs. (1.1 Kg) |
| Length | 23.6 in. (600 mm) |
| Diameter | 1.3 in. (33 mm) |
| Radome Material | White Fiberglass |
| Mounting Mast Size | 1.2 to 2 in. Dia. (31.7 to 50.8 mm dia.) |
| Polarization | Vertical |
| Operating Temperature | -40° C to 85° C (-40° F to 185° F) |
| Rated Wind Velocity | 108 MPH |
| RoHS Compliant | Yes |
Product contents
1 set of HGV-906U antenna
1 set of mast mounting kit including heavy-duty steel bracket and a pair of U-bolts