Raspberry Pi 4 Official Original Model B Dev Board
153.62 $ – 180.55 $
Description
Raspberry Pi 4 Model B Overview
Raspberry Pi 4 Model B is a feature-rich product in the popular Raspberry Pi range of single-board computers developed by the Raspberry Pi Foundation. Compared to the previous generations of Raspberry Pi minicomputers, this version offers ground-breaking acceleration (up to 10X) in processor speed, memory, connectivity, and multimedia performance, perfect for super-speed wired networking and connecting fast peripherals like SSDs and flash drives. You can enjoy 4K video using Raspberry Pi 4 as it comes with a video performance boost. A PC-like level of performance, comparable to entry-level x86 PC systems, is expected for the end-users. Whether you're editing documents, browsing the web with many tabs open, juggling spreadsheets, or drafting a presentation, you'll find the experience smooth — but on a smaller, more energy-efficient, and much more cost-effective machine. You may purchase Raspberry Pi 4 Model B plus essential accessories and Argon M.2 case. 
Key Features
The key features of this Raspberry Pi model include a high-performance 1.5 GHz 64-bit quad-core ARM Cortex-A72 processor, on-board 802.11ac Wi-Fi, Bluetooth 5, gigabit Ethernet, two USB 2.0 ports, two USB 3.0 ports, 2–8 GB of RAM, and dual-display support at resolutions up to 4K via a pair of micro-HDMI ports (HDMI Type D). The Pi 4 is powered via a USB-C port. The operating temperature range is 0 – 50 degrees C ambient.
Please visit Smart Robots, for information on related products.
Consult our Online Shop to see the full range of our products.
Getting Started with Raspberry Pi 4
Find help installing Raspberry Pi OS on your Raspberry Pi in the official online Getting started guide. In short, you'll put a blank microSD card into your PC or Mac and use Raspberry Pi Imager to 'burn' a disk image of Raspberry Pi OS onto it. Then, you can put the microSD card into the Raspberry Pi, turn it on and follow the setup process in Raspberry Pi OS.
Sample Projects
A wide range of DIY and professional projects can be designed by employing Raspberry Pi 4 magical minicomputer. Example projects include but are not limited to a weather station, home automation system, virtual jukebox, social media bot, and AI motor controller.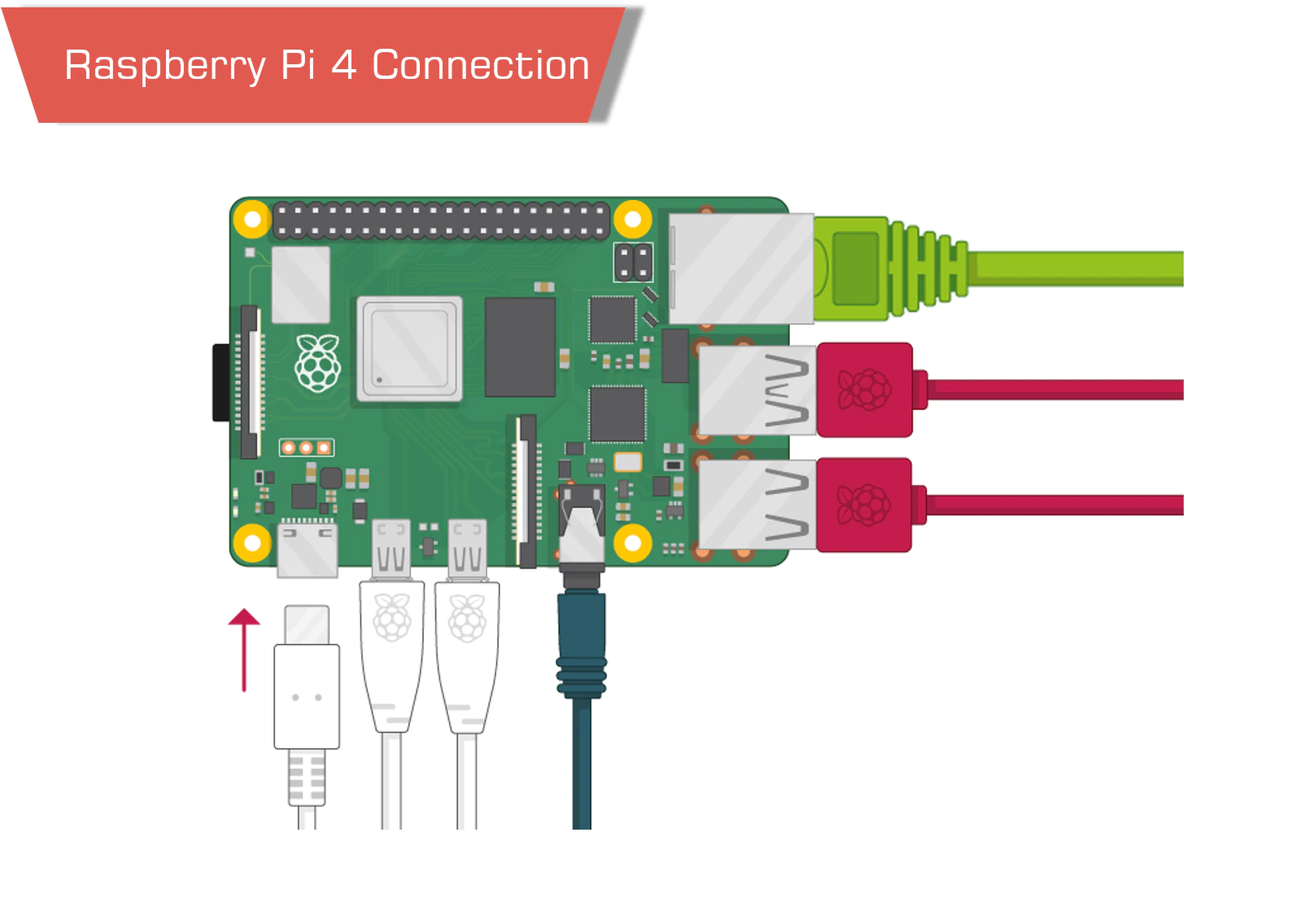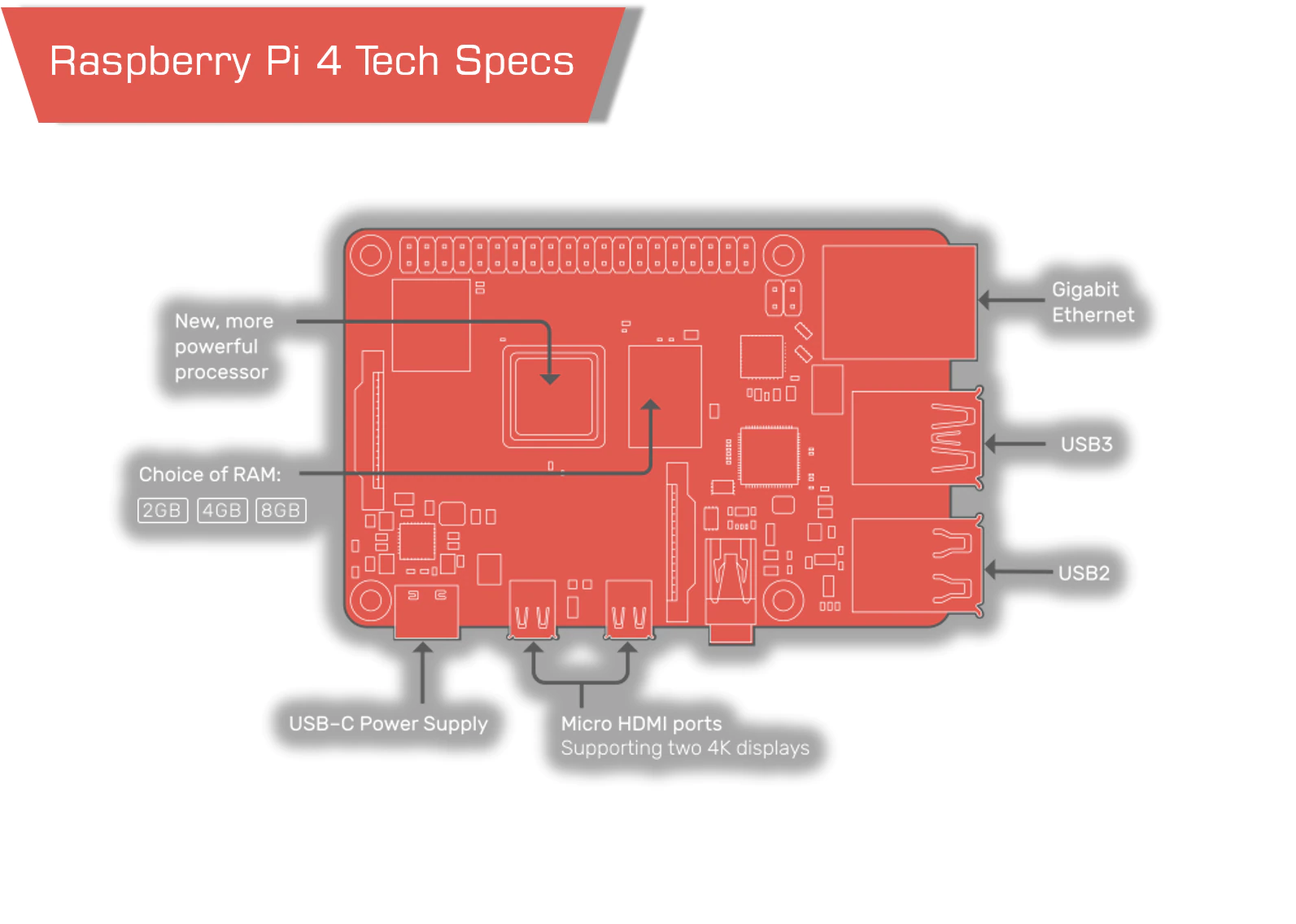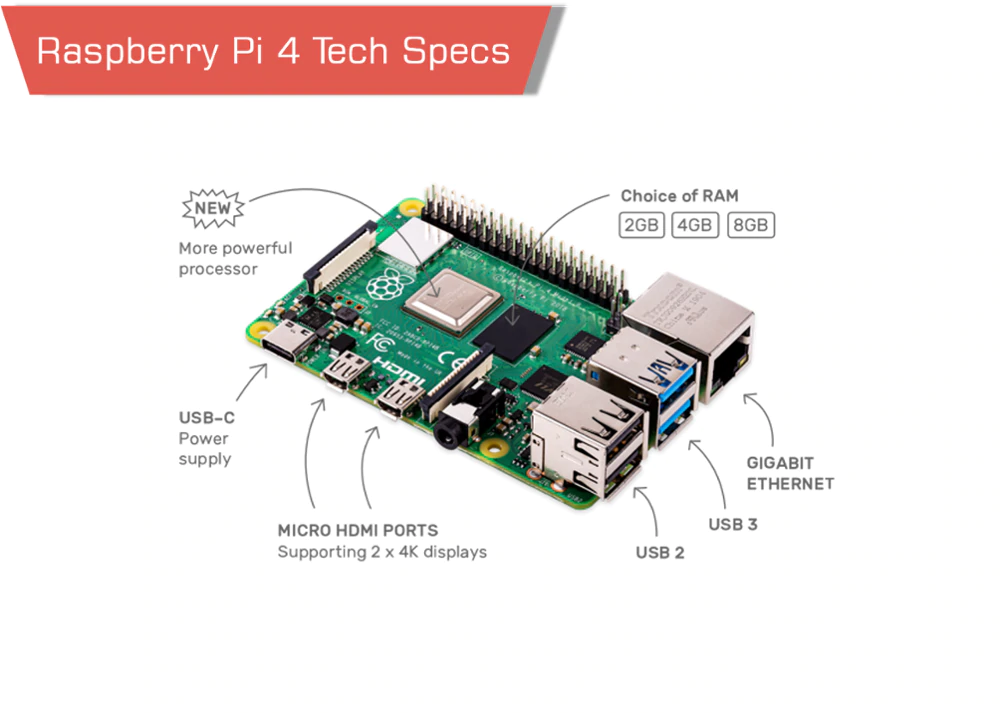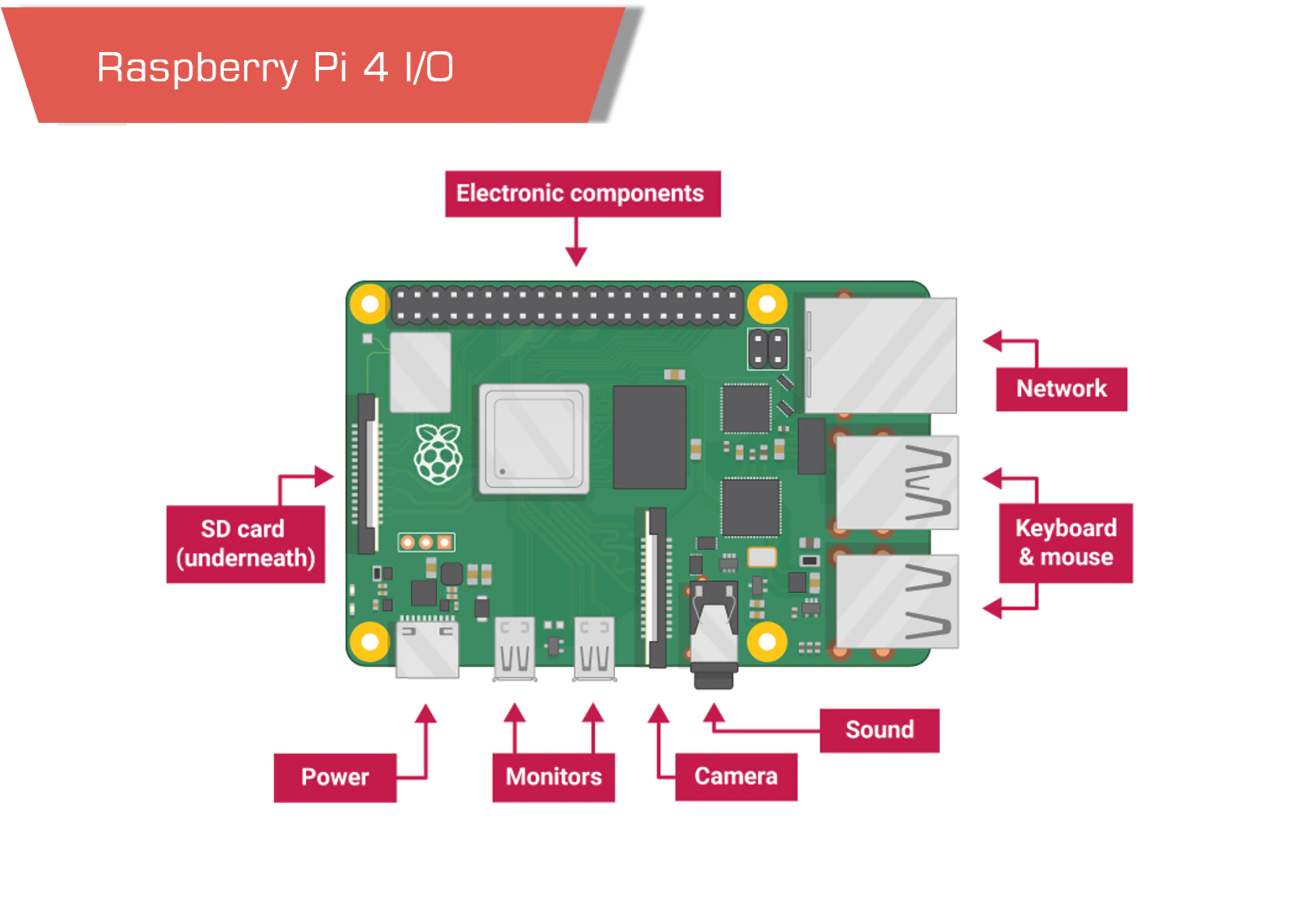 If you have any questions regarding our products, use the Motionew Contact us page to consult our engineering team.
Additional information
| | |
| --- | --- |
| Weight | 0.05 kg |
| Dimensions | 9 × 6 × 5 cm |
Specifications
Detailed specifications of the Raspberry Pi 4 Model B
Ram

depending on the model (2/4/8 GB)

CPU

Broadcom BCM2711, quad-core Cortex-A72 (ARM v8) 64-bit SoC @ 1.5GHz

Video & Sound

2 × micro HDMI ports (up to 4Kp60 supported)




2-lane MIPI DSI display port




2-lane MIPI CSI camera port




4-pole stereo audio and composite video port

Multimedia

H.265 (4Kp60 decode)




H.264 (1080p60 decode, 1080p30 encode)




OpenGL ES, 3.0 graphics

Input power

5V DC via USB-C connector (minimum 3A)




5V DC via GPIO header (minimum 3A)




Power over Ethernet (PoE)–enabled (requires separate PoE HAT)

Bluetooth

5.0 BLE

WI-FI

2.4 GHz and 5.0 GHz IEEE 802.11ac

Card Slot

Micro-SD

USB-C connector

5V DC

GPIO header

5V DC (Standard 40-pin GPIO header (fully backward-compatible with previous boards)

Operating Temperature

0 to 50 degrees

Interface

HDMI-compatible/RCA Output

Integrated Feature

10/100/1000Mbps

Operating temperature

0 – 50 degrees C ambient




* A good quality 2.5A power supply can be used if downstream USB peripherals consume less than 500mA in total.

Dimensions

85 X 58 X 19.5mm

Weight

46g

Connectivity

2.4 GHz and 5.0 GHz IEEE 802.11b/g/n/ac wireless LAN, Bluetooth 5.0, BLE




Gigabit Ethernet




2 USB 3.0 ports




2 USB 2.0 ports
Differences between the Pi 3 Model B+ and the Pi 4 Model B
Pi Model 3 B+
Pi 4 Model B
Processor

Broadcom BCM2837B0, Quad-core Cortex-A53 64-bit SoC@ 1.4GHz

Broadcom 2711, Quad-core Cortex-A72 64-bit SoC @ 1.5GHz

Memory

1GB LPDDR2 SDRAM

2GB or 4GB LPDDR4 SDRAM

Connectivity

2.4GHz / 5.0GHz IEEE 802.11.b/g/n/ac wireless LAN




Bluetooth 4.2, BLE




4 x USB 2.0 ports




Gigabit Ethernet over USB2.0 (max. 300Mbps)

2.4GHz / 5.0GHz IEEE 802.11.b/g/n/ac wireless LAN




Bluetooth 5.0, BLE




2 x USB 2.0 / 2 x USB 3.0 ports




True Gigabit Ethernet

Video

1 x full size HDMI

2 x micro HDMI, 4K video

Multimedia

H.264, MPEG-4 decode (1080p30)




H.264 encode (1080p30)




OpenGL ES 1.1, 2.0 graphics

H.265 decode (4kp60)




H.264 decode (1080p60)




H.264 encode(1080p30)




OpenGL ES 1.1, 2.0, 3.0 graphics

Input Power

5V/2.5A DC via micro USB connector

5V/3A DC via USB type C connector
Product contents
1x Raspberry Pi 2G or 4G or 8G