Bundle Raspberry Pi 4 Model B with Argon One M.2 Case and Essential Accessories
188.21 $ – 314.86 $
Description
Overview of Bundle Raspberry Pi 4 Model B with Argon One M.2 Case
The Raspberry Pi 4 is the most powerful and feature-rich Raspberry Pi to be released, an incredible improvement on previous boards. Consult Motionew Online Shop for the full range of our products.
Desktop-level performance
The faster 1.5GHz 64-bit quad-core CPU on the Raspberry Pi 4's Cortex A72 SoC, coupled with the up to 8GB LPDDR4 RAM gives performance comparable to entry-level x86 desktop PCs. You'll see significantly faster boot speeds, and much better performance for CPU-heavy tasks like emulation and media center usage; much snappier all round!
The Raspberry Pi 4 kit moves to USB-C power meaning that you'll need a new USB-C power supply that can supply 5V at 3A. We've got a couple of different options: a worldwide USB-C power supply, and the official Raspberry Pi power supply.
Significantly faster IO
The Raspberry Pi 4 has two USB 3.0 ports, for up to 10x faster transfer speeds than USB 2.0, perfect for connecting fast peripherals like SSDs and flash drives. There are also two USB 2.0 ports for connecting less speed-dependent peripherals like keyboards and mice.
The ethernet jack on the Raspberry Pi 4 case moves to true gigabit speed, for super-speedy wired networking, and, as with the Raspberry Pi 3 B+, there's Power-over-Ethernet capability too (requires additional Raspberry Pi PoE HAT).
4K display support, dual micro-HDMI
There are dual micro-HDMI ports that support up to 4Kp60, to use your Raspberry Pi 4 with much larger displays with crisp, sharp, high resolution. Use the H.265 4Kp60 hardware decoding to watch 4K movies in your favorite media center distro.
For the first time, you'll be able to use dual HDMI displays with the Raspberry Pi. This is great for working on a bunch of different tasks at the same time without having to work in tiny windows.
Bluetooth 5.0 and wireless LAN
The new chipset supports Bluetooth 5.0 (from 4.2 on the Raspberry Pi 3 B+) and also dual-band 802.11 b/g/n/ac wireless LAN, like the previous generation Raspberry Pi, for quick wireless networking with less interference and better reception.
You will need
A 15W USB-C power supply – we recommend the official Raspberry Pi USB-C Power Supply
Micro SD card with Raspberry Pi OS installed (buy a pre-loaded SD card along with your Raspberry Pi, or install Raspberry Pi OS using Raspberry Pi imager)

Cables to connect to one or two displays via Raspberry Pi 4's micro HDMI ports
Software & OS
Beginners should start with the NOOBS (New Out Of Box Software) operating system installation manager, which gives the user a choice of operating system from the standard distributions.
Raspberry Pi OS (previously called Raspbian) is the recommended operating system for normal use on a Raspberry Pi 4.
Find help with installing Raspberry Pi OS on your Raspberry Pi in official online Getting started guide.
You can browse basic examples to help you get started with some of the software available in Raspberry Pi OS, find more detail about Raspberry Pi OS, or read information on fundamental Linux usage and commands for navigating the Raspberry Pi and managing its file system and users.
Features
Broadcom BCM2711, Quad core Cortex-A72 (ARM v8) 64-bit SoC @ 1.5GHz

2GB, 4GB or 8GB LPDDR4-3200 SDRAM (depending on model)

2.4 GHz and 5.0 GHz IEEE 802.11ac wireless, Bluetooth 5.0, BLE

Gigabit Ethernet

2 USB 3.0 ports; 2 USB 2.0 ports.

Raspberry Pi standard 40 pin GPIO header (fully backwards compatible with previous boards)

2 × micro-HDMI ports (up to 4kp60 supported)

2-lane MIPI DSI display port

2-lane MIPI CSI camera port

4-pole stereo audio and composite video port

H.265 (4kp60 decode), H264 (1080p60 decode, 1080p30 encode)

OpenGL ES 3.0 graphics

Micro-SD card slot for loading operating system and data storage

5V DC via USB-C connector (minimum 3A*)

5V DC via GPIO header (minimum 3A*)

Power over Ethernet (PoE) enabled (requires separate PoE HAT)

Operating temperature: 0 – 50 degrees C ambient




* A good quality 2.5A power supply can be used if downstream USB peripherals consume less than 500mA in total.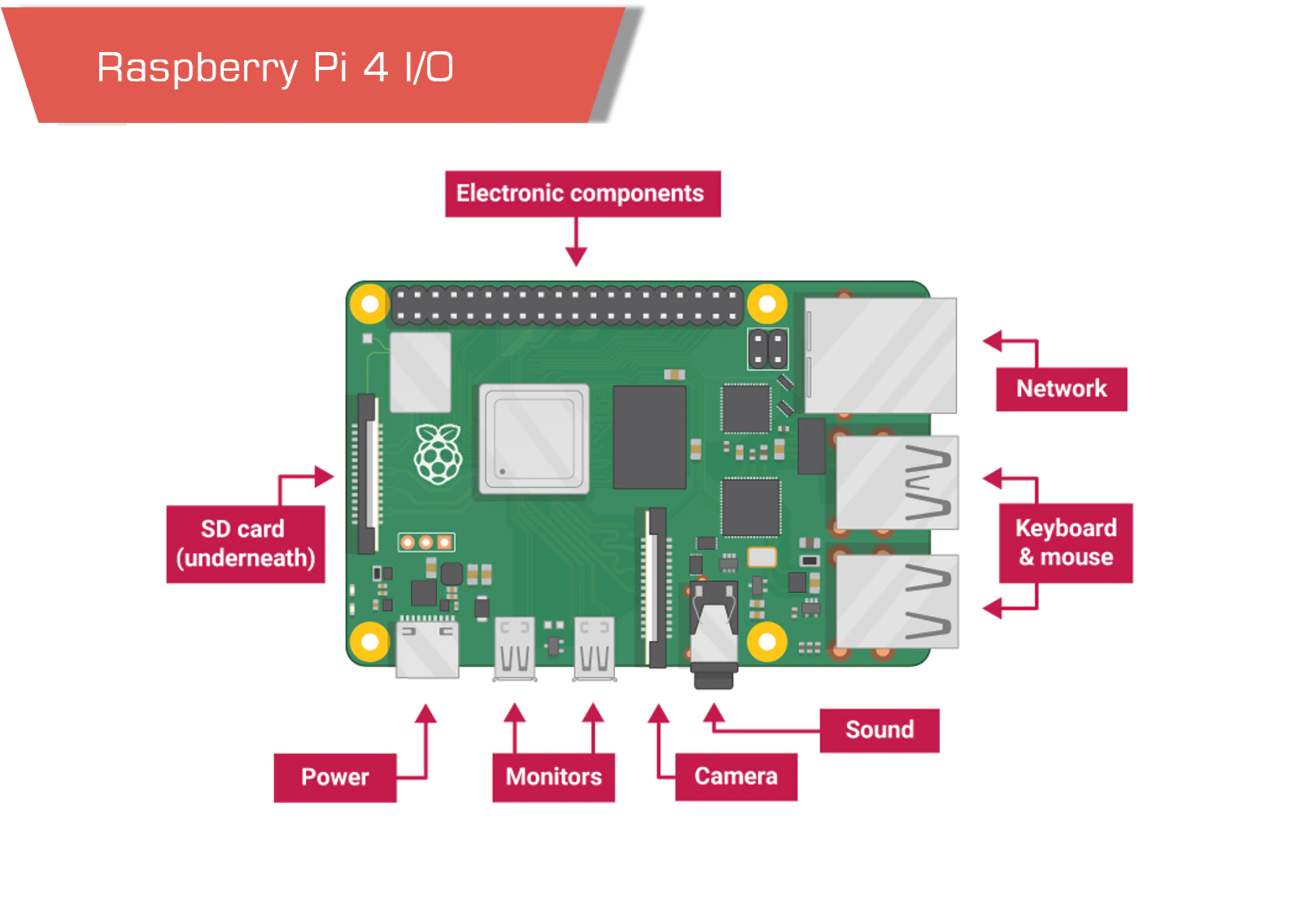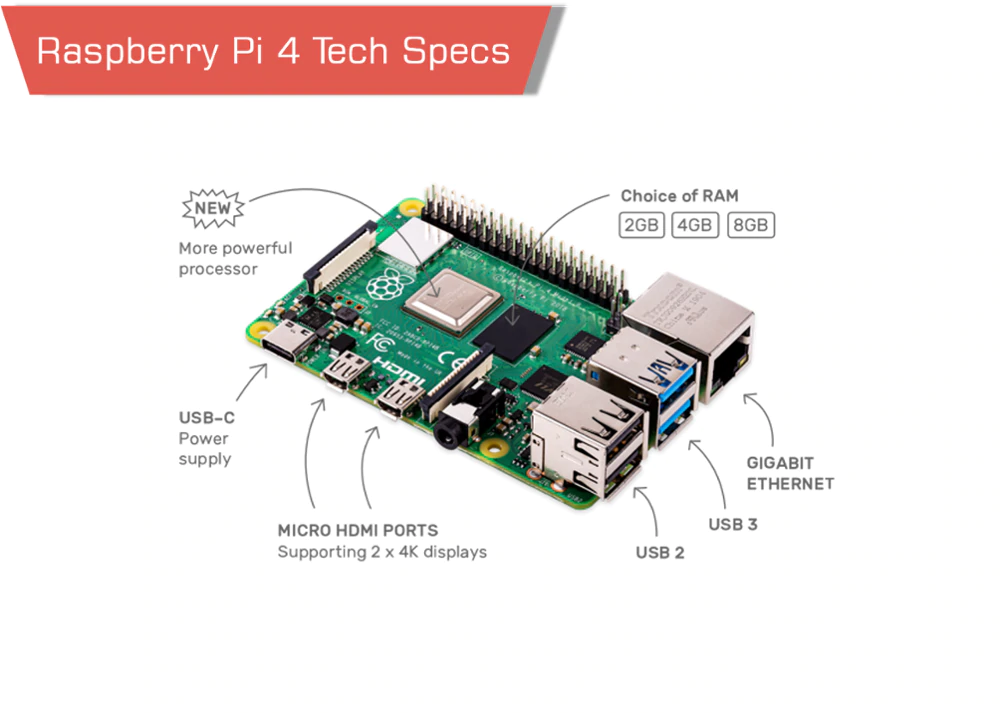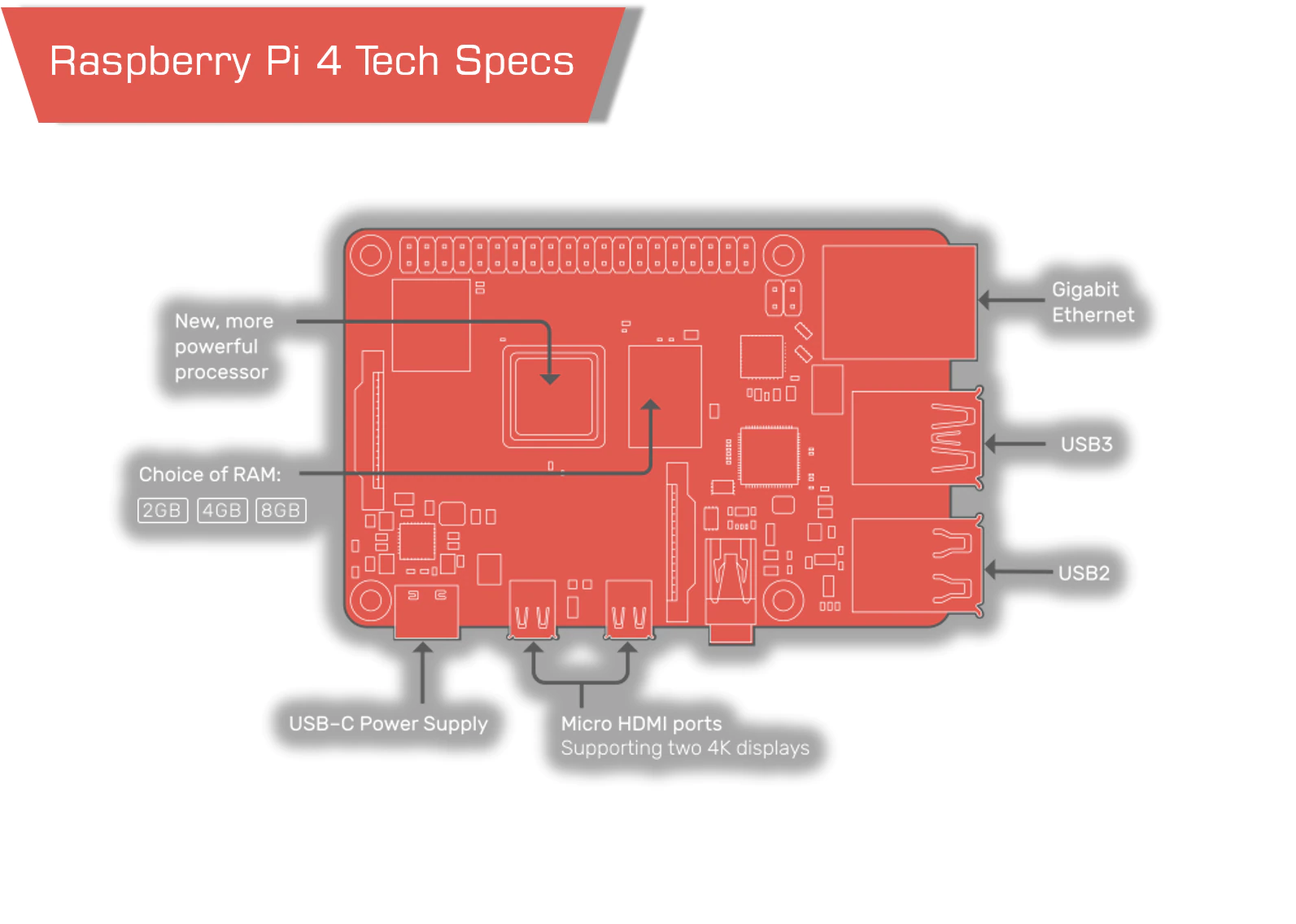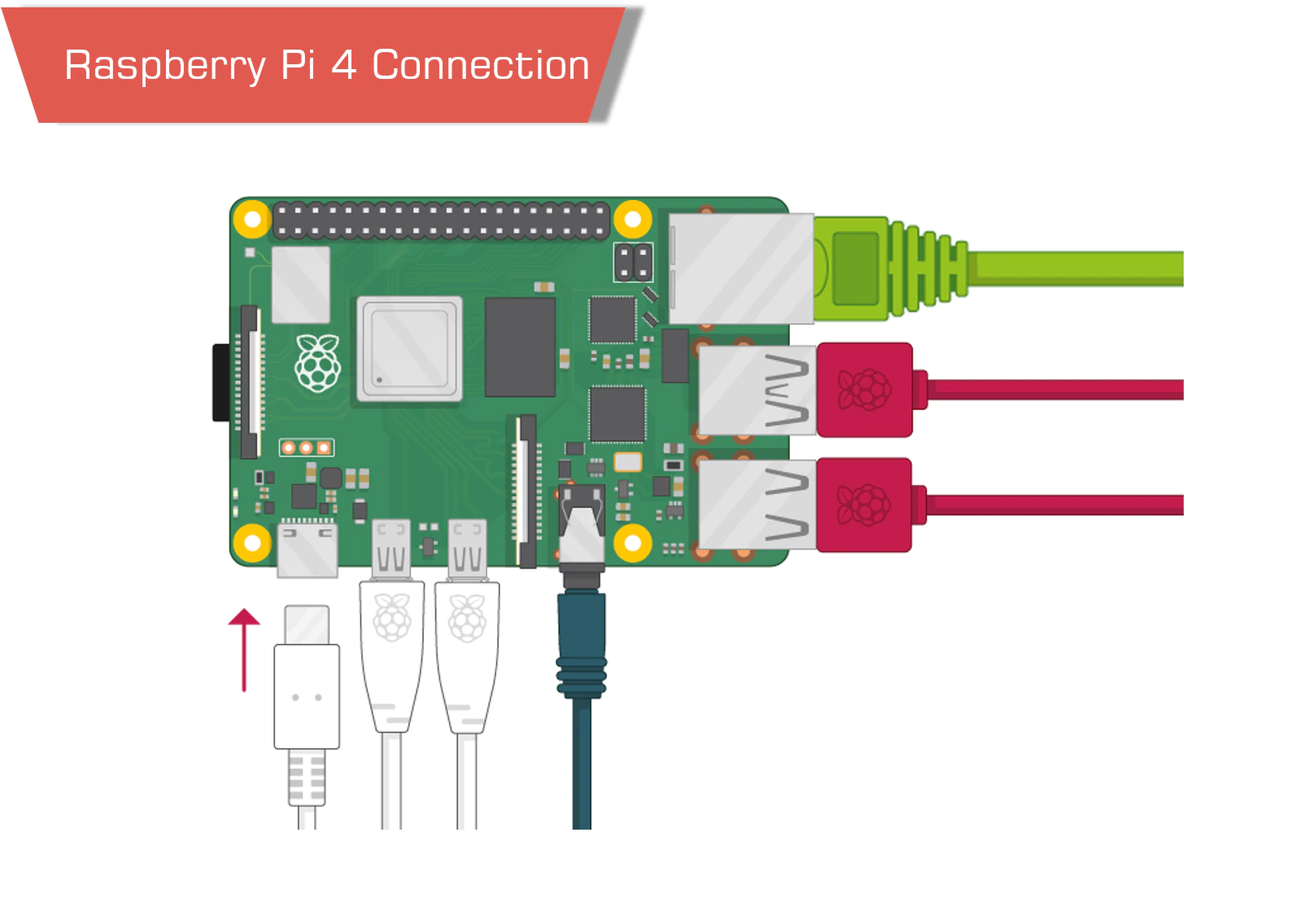 If you have any questions regarding our products, use the Motionew Contact us page to consult our engineering team.
Additional information
| | |
| --- | --- |
| Weight | 0.5 kg |
| Dimensions | 15 × 15 × 12 cm |
Specifications
| | |
| --- | --- |
| CPU | Broadcom BCM2711, Quad core Cortex-A72 (ARM v8) 64-bit SoC @ 1.5GHz. |
| RAM | 2GB, 4GB or 8GB LPDDR4-3200 SDRAM (depending on model) |
| Wireless |  2.4 GHz and 5.0 GHz IEEE 802.11ac wireless, Bluetooth 5.0, BLE. |
| Network | Gigabit Ethernet. |
| USB |  2 USB 3.0 ports; 2 USB 2.0 ports. |
| Power Adaptor | Raspberry Pi 15.3W USB-C Power Supply |
| Case | Argon M.2 Case |
| Display | full HDMI to full HDMI 1m cable |
| Power Adaptor | Official Raspberry  Pi Power Adaptor |
| M2 SSD memory | SATA, 128GB//256GB/512GB/1TB Based on your selection |
Product contents
Bundles:
Bundle1:Pi 2GB +512GB SSD +Argon one M.2+original adaptor+ full HDMI
Bundle2:Pi 8GB +512GB SSD +Argon one M.2+original adaptor+ full HDMI
Bundle3:Pi 8GB +250GB SSD +Argon one M.2+original adaptor+ full HDMI
Bundle4:Pi 8GB +128GB SSD +Argon one  M.2+original adaptor+ full HDMI
Bundle5:Pi 4GB +512GB SSD +Argon one M.2+original adaptor+ full HDMI
Bundle6:Pi 4GB +128GB SSD +Argon M.2+original adaptor+ full HDMI
Bundle7:Pi 8GB +1TB SSD +Argon one M2+original adaptor+ full HDMI
Bundle8:Pi 2GB +128GB SSD +Argon M.2+original adaptor+ full HDMI
Bundle9:Pi 2GB +250GB SSD +Argon M.2+original adaptor+ full HDMI
Bundle10:Pi 4GB +250GB SSD +Argon M.2+original adaptor+ full HDMI