ULTRA POWER UP100AC Plus Charger
56.35 $
Out of stock
Description
Overview
Ultra Power UP100AC Plus multifunction charger can be used for a wide range of applications with its auto switching power supply which is compatible with 100 – 240V. It can also be powered by DC power, allowing it to be used out in the field when a wall outlet is not available. It has a high 100W max output! This balance charger can also be used as a power supply to power other devices, up to 120W from the DC port! It's a multi-chemistry charger so it can properly charge Li-Po, Li-Hv, Li-Ion, Li-Fe, NiMH, Ni-Cd and Pb (lead acid) batteries. It has a built-in balancer for Lithium type batteries. It includes temperature sensor port and PC link port. As an added bonus, the charger has a 5V 2.1A USB port built-into it to power and recharge your cell phone, tablet, etc. Consult Motionew Online Shop to see the full range of our products. For information on related products, please visit Motionew Power Solutions webpage.
Features
Convenience: The charger is quite compact with 135 x 95 x 61mm dimensions and 0.43kg weight. Therefore, it can be stored in your pit bag or box quite easily! The charger also features Li-Po balance charge, Li-Po fast charge, Li-Po storage, and Li-Po discharge modes.

Power Supply: The UP100AC Plus charger can be used to power other DC devices such as chargers, lathes, lights, etc. It puts out a whopping 120W of power! Simply plug the charger into the wall and use the DC port on the right side of the charger to power your device.

Reliability: UP100AC Plus chargers are known for their great reliability and we use the best internal components and circuitry available to create a long lasting products.

Lithium Battery Meter: Check the voltage of a lithium battery's cells when plugged into the balance port. The screen will provide a read out of each cell's voltage, the total pack voltage, as well as the highest and lowest cells.

Battery Memory: You can program and store up to 10 different types of battery settings. Then simply load the program to start charging using your stored battery settings.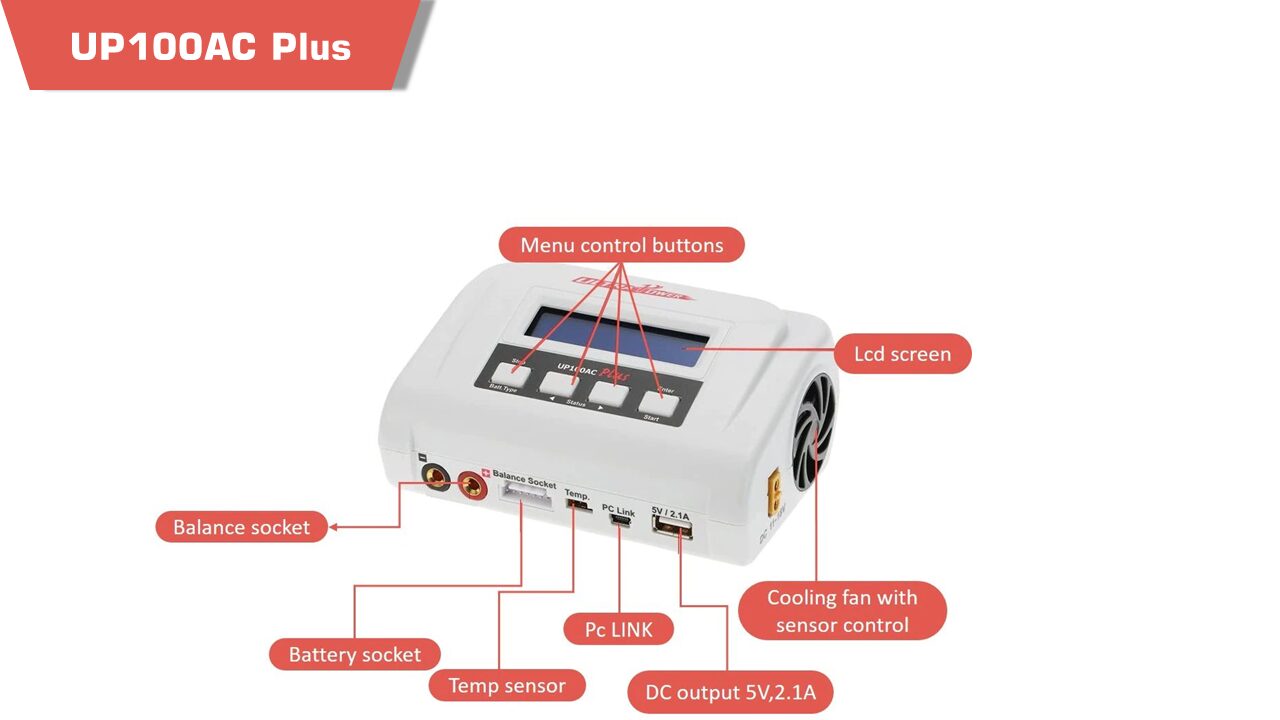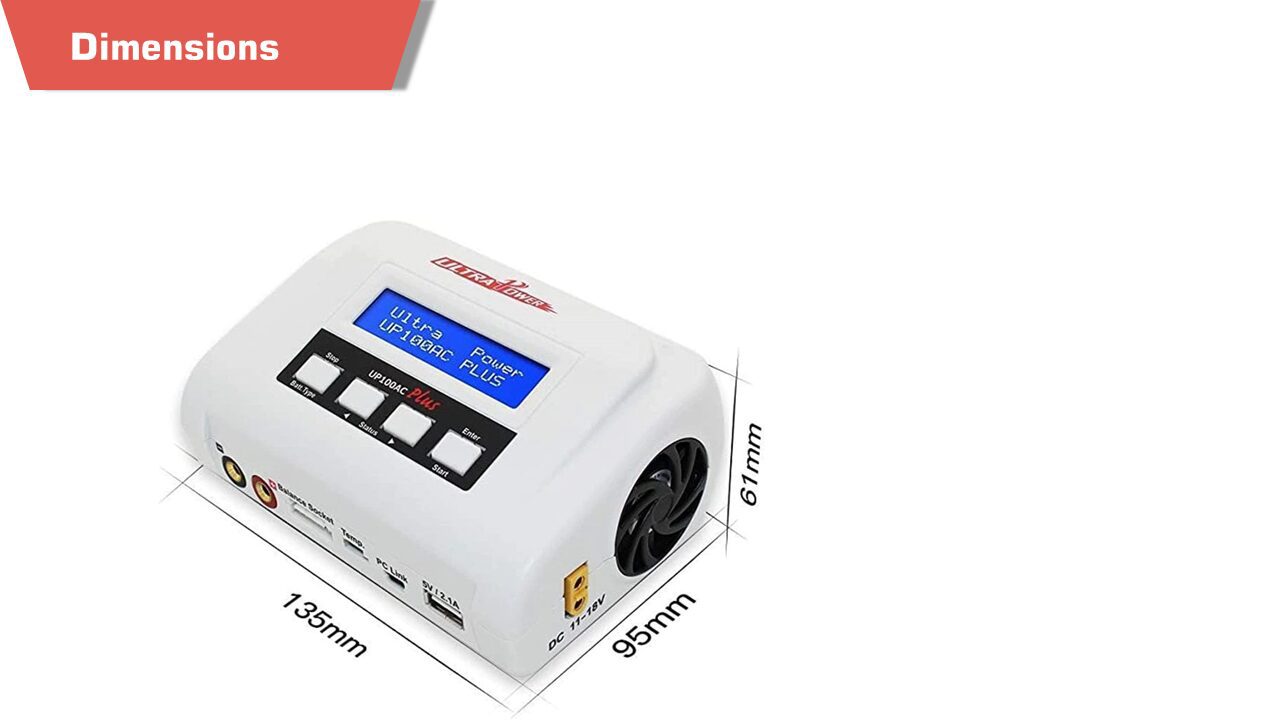 If you have any questions regarding our products, use the Motionew team of experts page to consult our engineering team.
Additional information
| | |
| --- | --- |
| Weight | 0.75 kg |
| Dimensions | 14 × 10 × 6 cm |
Specifications
| | |
| --- | --- |
| Input voltage | AC 100~240V, DC 11.0-18.0V |
| Brand Name | Ultra Power |
| Charge power | Max.100W |
| Discharge power | Max.10W |
| Charge current | 0.1-10.0A |
| Discharge current | 0.1-5.0A |
| Weight | 0.75KG |
| Dimension | 135x95x61mm |
Product contents

1x Ultra Power UP100AC Plus Charger
1x XH Board