Ultra Power UP240 PLUS
180.00 $
Out of stock
Description
Ultra Power UP240 Overview
The Ultra Power UP240 AC/DC PLUS, manufactured by Hongkong-based company Ultra Power, is a fast charger focused on RC batteries. This powerhouse supports both AC and DC input voltages and provides the ability to charge four batteries at the same time. The UP240 PLUS is equipped with a high-performance microprocessor and specialized operating software and distributes 240 watts over 4 channels, with a maximum of 120 watts from CH1/CH2. When using the UP240 Plus in AC input mode, you can choose either 2x120W or 4x60W mode, i.e. CH1+CH2=2x120W; CH1+CH2+CH3+CH4=4x60W; CH1+CH3=120W; CH2+CH4=120W.  The built-in power supply of Ultra Power UP240 is adaptable to various battery chemistries such as Lilo, LiPo, LiFe, NiMH, NiCD, and Pb. The cyclic charging/discharging capability allows for lengthened battery life. Catered to the needs of both hobbyists and professionals, other key features of Ultra Power UP240 include selectable charge termination voltage and adjustable delta-peak (NiCd/NiMH). Other features are Individual cell balancing, battery meter function, data storage (10 profiles in memory), and a USB port support firmware upgrades and charging phones/tablets. For similar products in this category, please visit our Power Solutions page. For more information on the wide range of our products, please visit the Motionew Shop.
Ultra Power UP240 PLUS Features 
Balancing individual cells for battery discharging

Covered by Ultra Power's unconditional 1-year exchange guarantee

Selectable charge termination voltage

Four independent channels, charge 4pcs batteries at the same time

Adaptable to various types of batteries

Delta-peak sensitivity (NiMH/NiCd)

Fast and storage mode of lithium battery

Individual cell balancing on charge & discharge

Battery meter function

One button control factory setting

Data storage (10 profiles in memory)

Cyclic charging/discharging.

Re-Peak mode of NiMH/NiCD battery

USB port for firmware upgrades or charging phones or tablets

Input Voltage: AC 110 or 220V / DC 11.0-18.0V

Charge Power: 2x120W or 4x60W (240W)

Discharge Power: 2x10W or 4x5W (20W)

Charge Current Range: 0.1-12.0A(2x120W) 0.1-6.0A (4x60W)

Discharge Current Range: 0.1-5.0A ( 2x120W) 0.1-2.0A (4x60W)
Package Included
Multiple Balance Board with Connector Pin
2x Deans/T-plug style charge leads
Maximum power of 120W can be drawn from (CH1+CH3) or (CH2+CH4). For instance, when CH3 and CH4 draw 0W, CH1 and CH2 can draw up to 120W.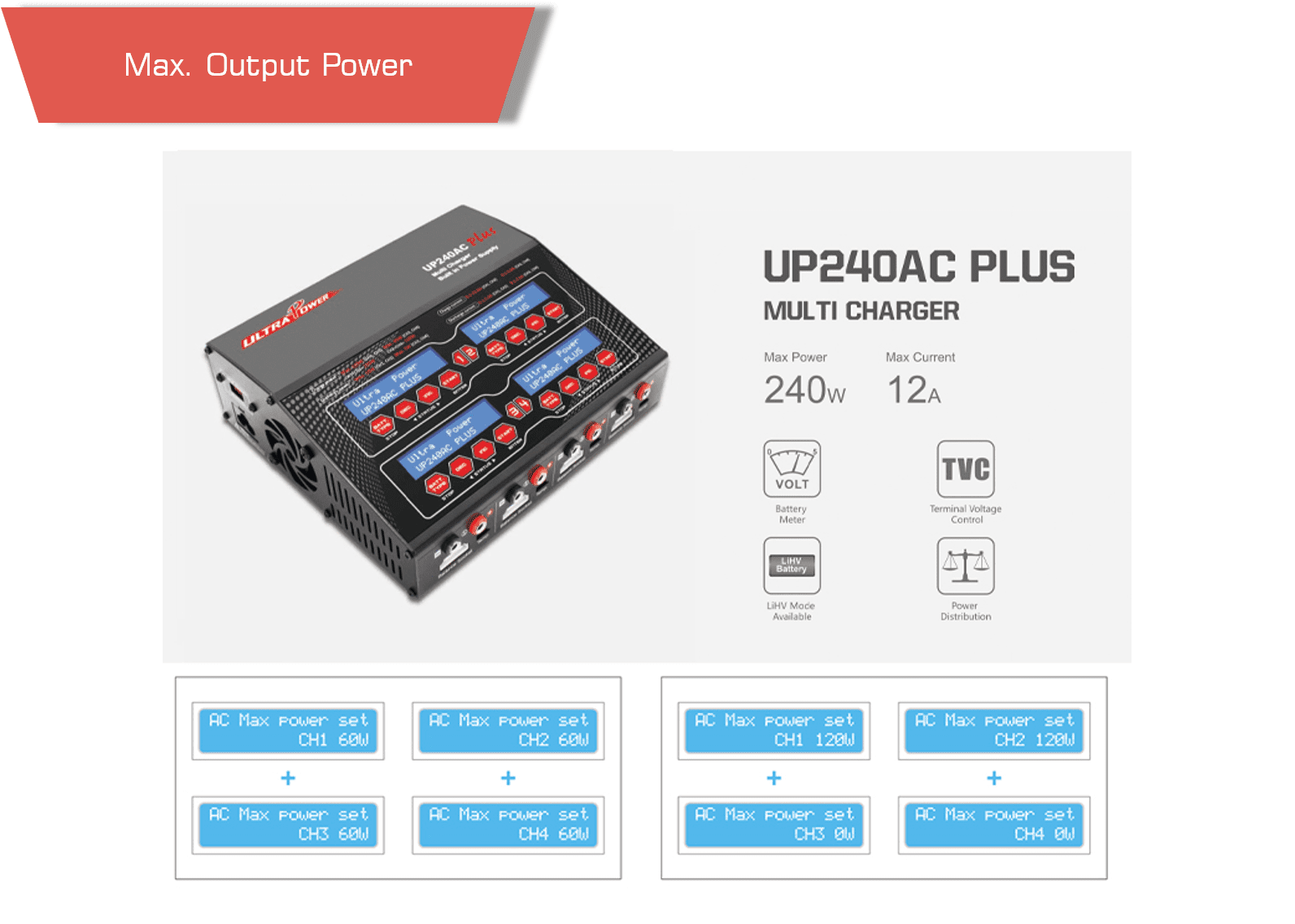 The Ultra Power UP240 AC/DC PLUS features four LCD screens and menu control buttons to modify and monitor charging dynamics via user-friendly menus.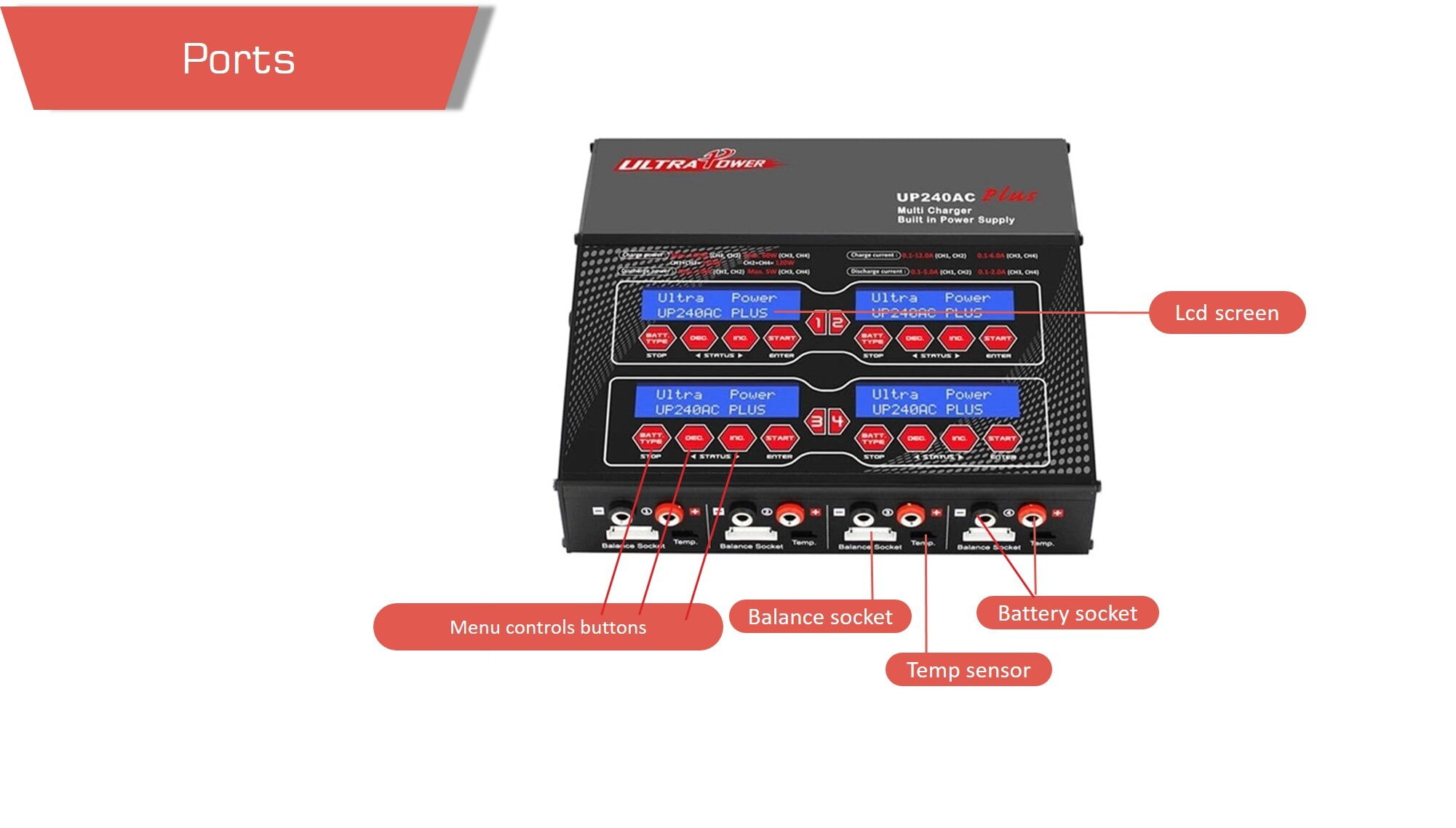 A cooling fan ensures the thermal stability of the Ultra Power UP240 AC/DC PLUS device.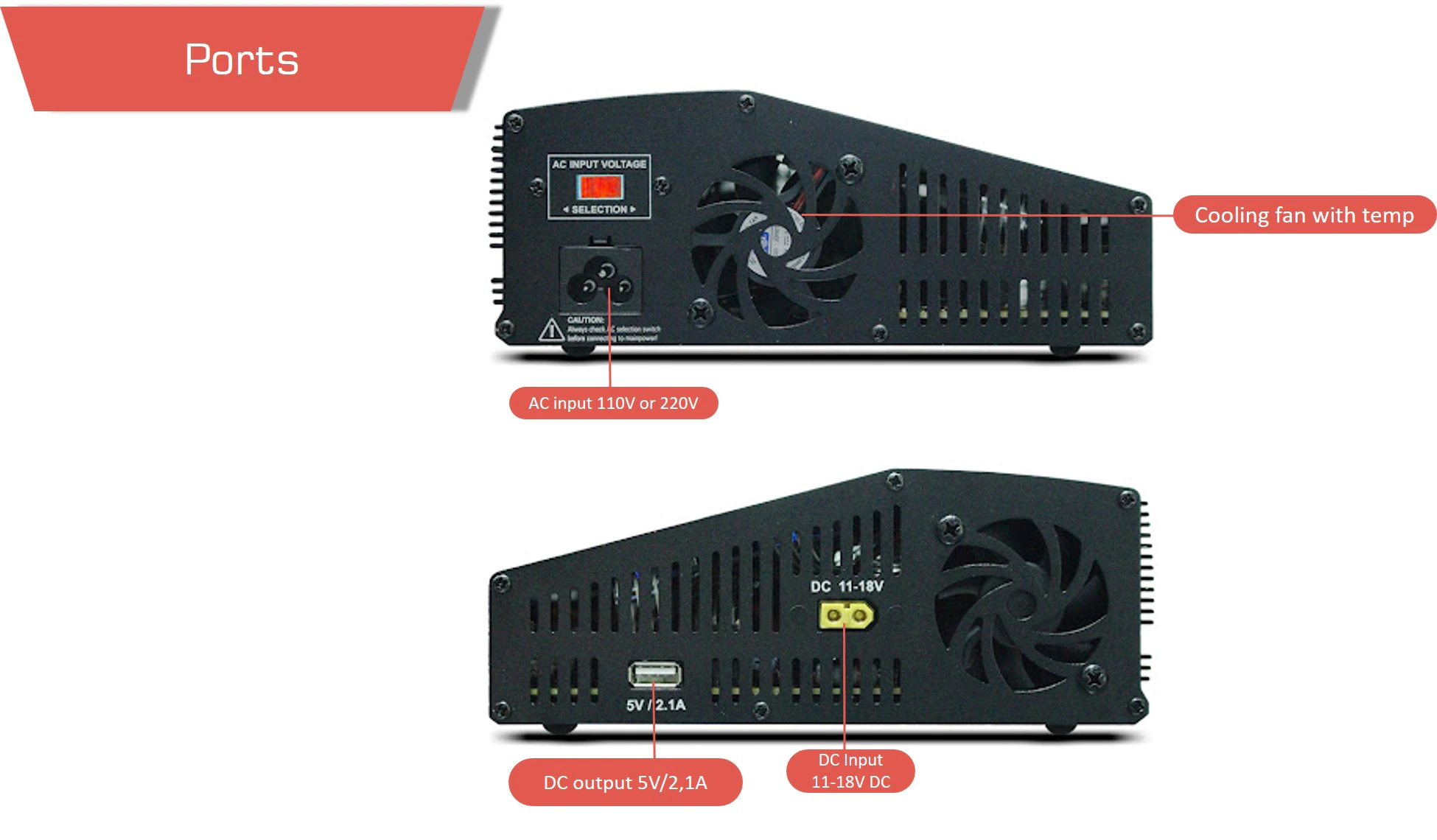 If you have any questions regarding our products, use the Motionew Contact us page to consult our engineering team.
Additional information
| | |
| --- | --- |
| Weight | 1.98 kg |
| Dimensions | 20 × 15 × 10 cm |
Specifications
Ultra Power UP240 AC/DC PLUS Specifications
| | |
| --- | --- |
| Input Voltage | AC 100-240V, DC 11-18V |
| Charge Power | 2 x 120W or 4 x 60W |
| Power Distribution | CH1+CH3=120W, CH2+CH4=120W |
| Discharge Power | 2 x 10W or 4 x 5W |
| Charge Current | 0.1-12A (CH1, CH2), 0.1-6A (CH3, CH4) |
| Discharge Current | 0.1-5A (CH1, CH2), 0.1-2A (CH3, CH4) |
| LiPo/Li-ion/LiFe/LiHV cells | 1-6 |
| NiCd/NiMH cells | 1-15 |
| Pb cells | 1-10 |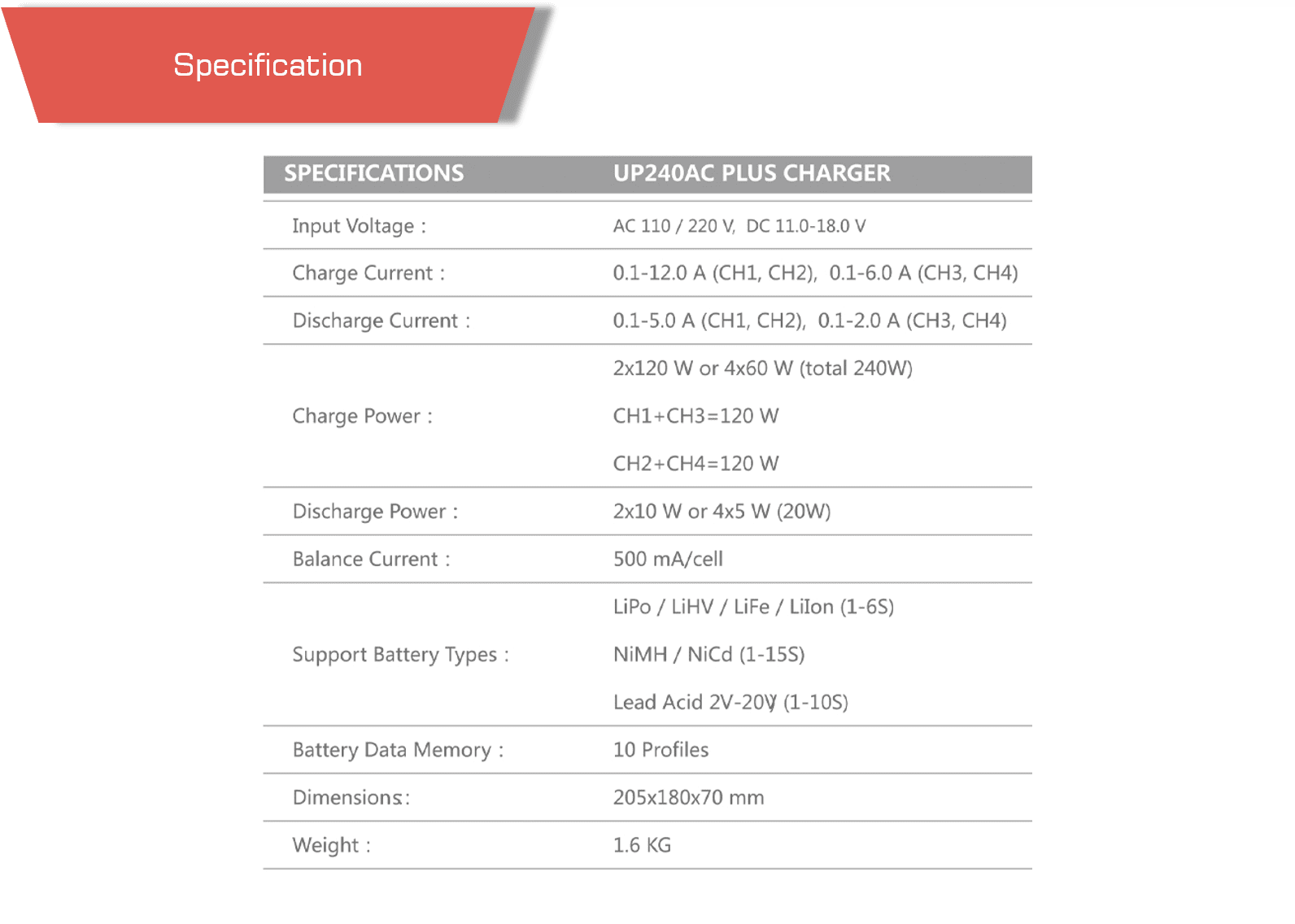 Product contents
Product contents