Ultra Power UP120 DUO 240W 12A AC/DC Charger
124.00 $
Out of stock
Description
Overview of Ultra Power UP120
Ultra Power chargers are known for their excellent durability and liability, thanks to the best internal components which ensure delivering a high-quality product. They have continued their winning formula with the UP120 AC DUO. The UP120 DUO charger features a built-in AC power supply to complement its DC input and comes with two 120W outputs which makes it a perfect charger for RC batteries. The UP120 Duo high-power balancing charger/discharger can provide up to 12A charge rates and handle up to 6S Lipo/LiFe/Li-Ion/LiHV or 15S NiCd/NiMH accurately. Not only does the UP120AC DUO offer a super high charge rate capability, it now features storage charging, cyclic charging / discharging, 10 charge parameter memory, battery internal resistance checking. Plus a USB charging and firmware upgrade outlet.  Please consult Motionew Online Shop to see the full range of our products.
Features of UP120 Charger
Delta-Peak sensitivity (NiMH/NiCd)

Cyclic Charging / Discharging

Individual cell balancing charging and discharging

Battery meter function

Data storage (10 charger parameter memory)

One button control factory setting

Terminal Voltage Control in 4.18V to 4.30V

Automatic Charging Current Limit

PC Links

USB 2.1A for cell charging and Firmware upgrade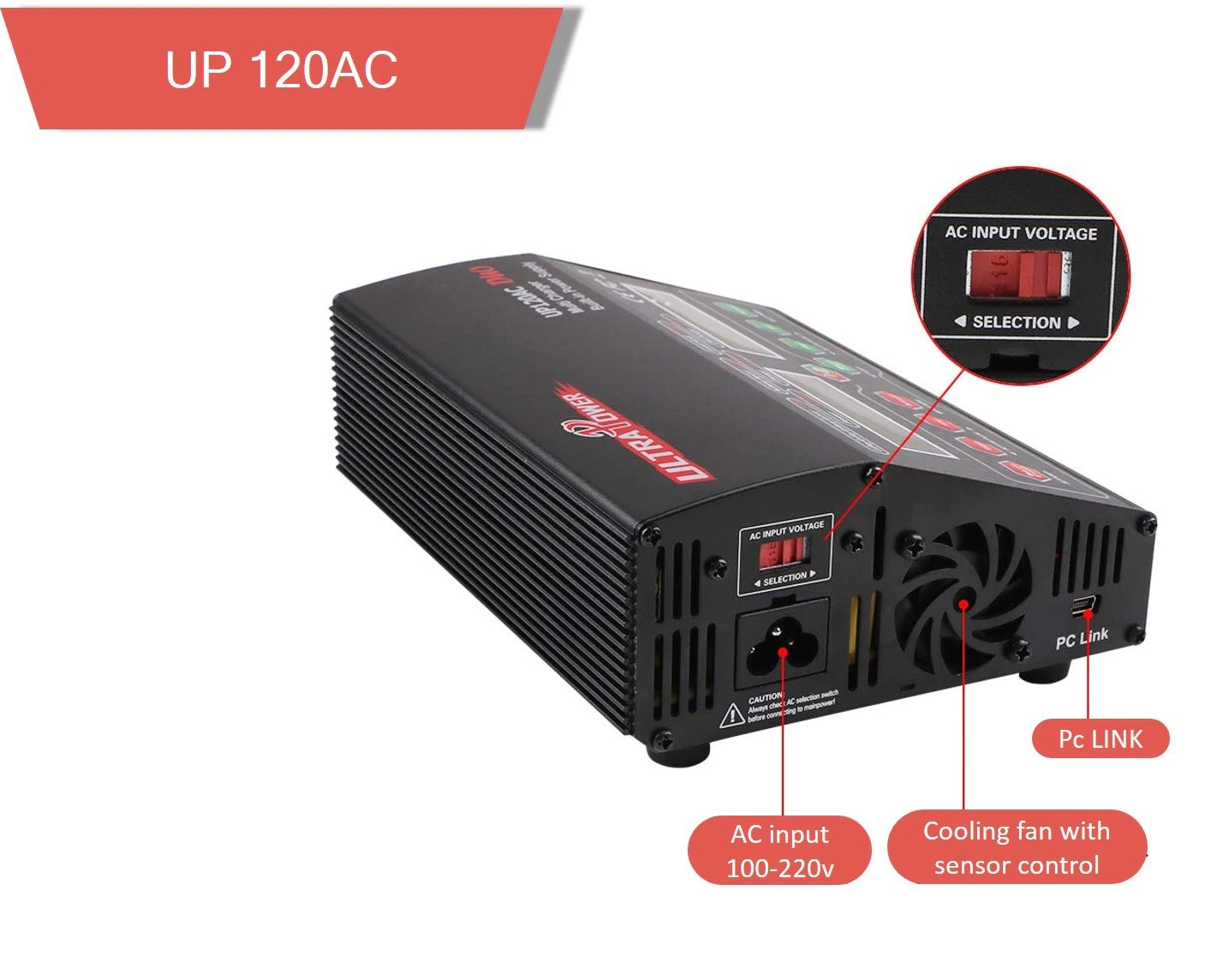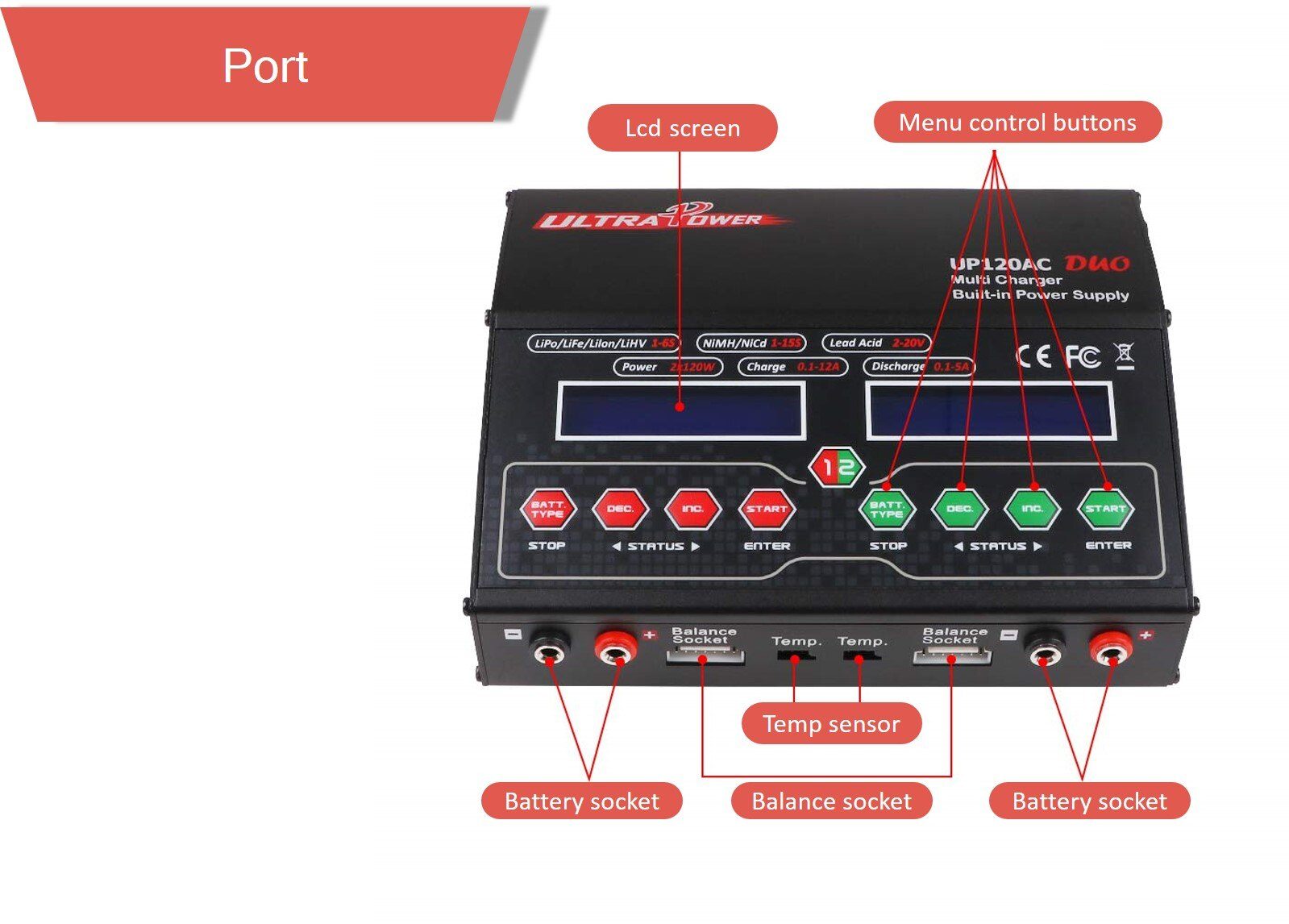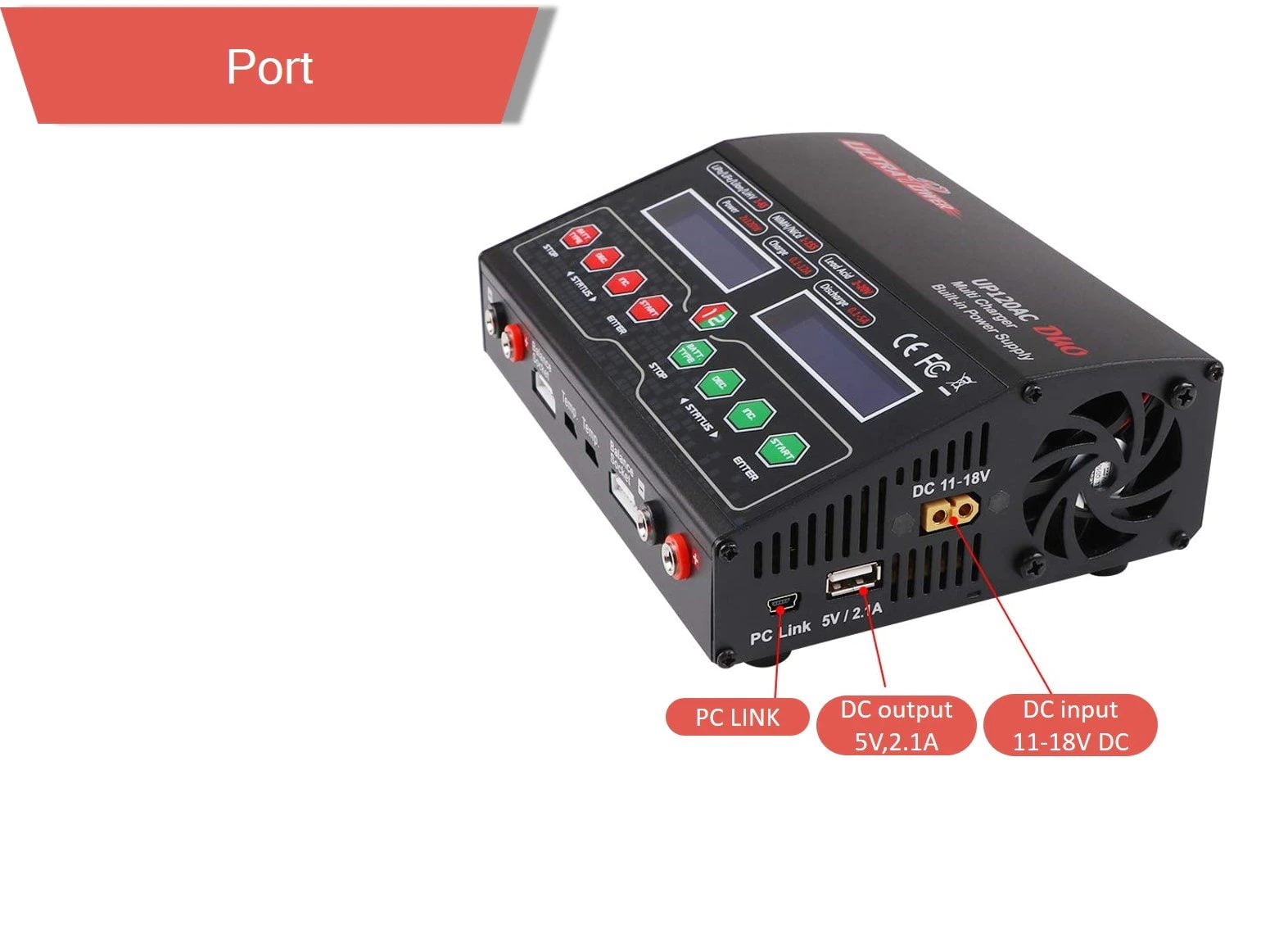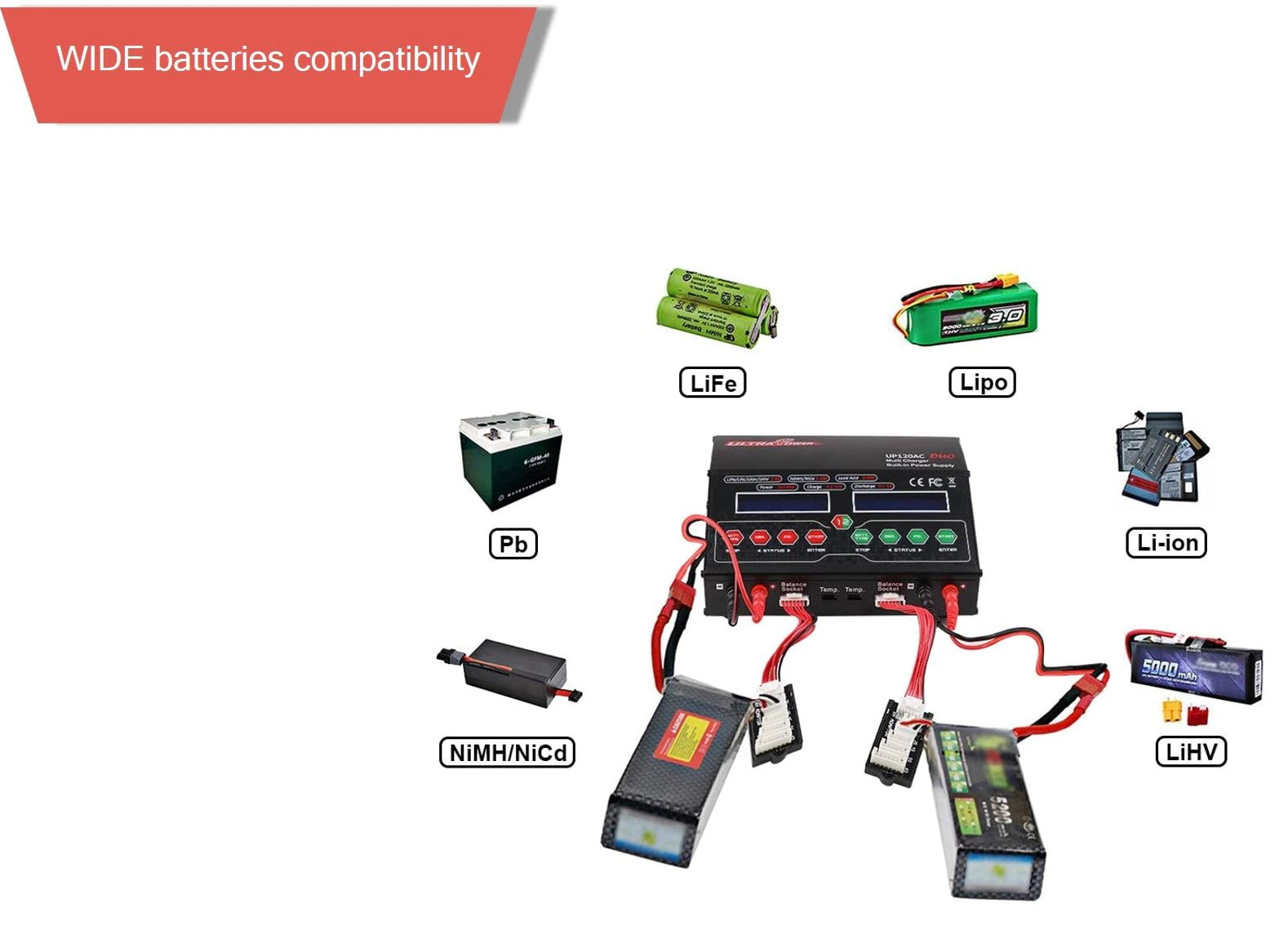 PRECAUTION: Never leave batteries unattended while charging.
If you have any questions regarding our products, use the Motionew team of experts page to consult our engineering team.
Additional information
| | |
| --- | --- |
| Weight | 1.2 kg |
| Dimensions | 18 × 14 × 6 cm |
Specifications
| | |
| --- | --- |
| charge power | 2 X 120W (240W) |
| Charge current | 0.1-12.0A |
| Discharge current | 0.1- 5.0A |
| discharge power | 2 X 10W (20W) |
| Item Dimensions | 180 x 139 x 60mm |
| Item Weight | 1.2KG |
| Input voltage | AC 110 / 220V DC |
| USB Port | 5V/2A |
| Number of Cells | 1 ~ 6s |
| Supportable Batteries | Life, Lilon, Lipo, LiHv (1 ̴6S)NiMH / NiCd (1 ̴ 15S) Lead Acid 2V ̴ 20V (1 ̴ 10S) |
| Balance Current | 500 mA/cell |
| Battery Data Memory | 10 profiles |
| charge power | 2 X 120W (240W) |
| Charge current | 0.1-12.0A |
Product contents
Product contents