M68 Lightweight Quadrotor Rotary-wing UAV
2488.00 $
Description
Overview of M68 Lightweight Quadrotor
M68 lightweight quadrotor is a portable ultra light weight quadrotor UAV with 680mm wheelbase. The 100min long endurance feature supports users to double the work efficiency while ensuring human safety. The use of many general-purpose components reduces product maintenance costs of this rotary-wing UAV. It's a preferred choice where low SWAP-C (Size, Weight, Power and Cost) without compromising performance is a key requirement.
Made of carbon fiber, the airframe is high strength while weight is only 565g. Integrated design provide a beautiful appearance while ensuring the IP54 water proof performance, can implement missions in light raining days. Foldable propellers and arms helps the aircraft to be portable, ease to carry and rapid deployment in 1 minute.
Light weight but high efficient. With 6s 22000mah semisolid HED Li-ion battery as power source, M68 can carry max 2kgs payloads with stable flight performance. The flight time can reach 100 minutes without payload and 60 minutes with 1kg payload. The system is perfectly suitable for protection of sensitive industrial sites (such as oil & gas and chemical industry to monitor the oil tanks and oil refining equipment, pipelines and chemical plants), inspection and first respond. It can provide continuous monitoring while significantly reduced human intervention. Equipped with high-definition optical and thermal sensors, M68 offers very precise aerial vision, day and night, which allows customers to enhance their safety while keeping operational costs low.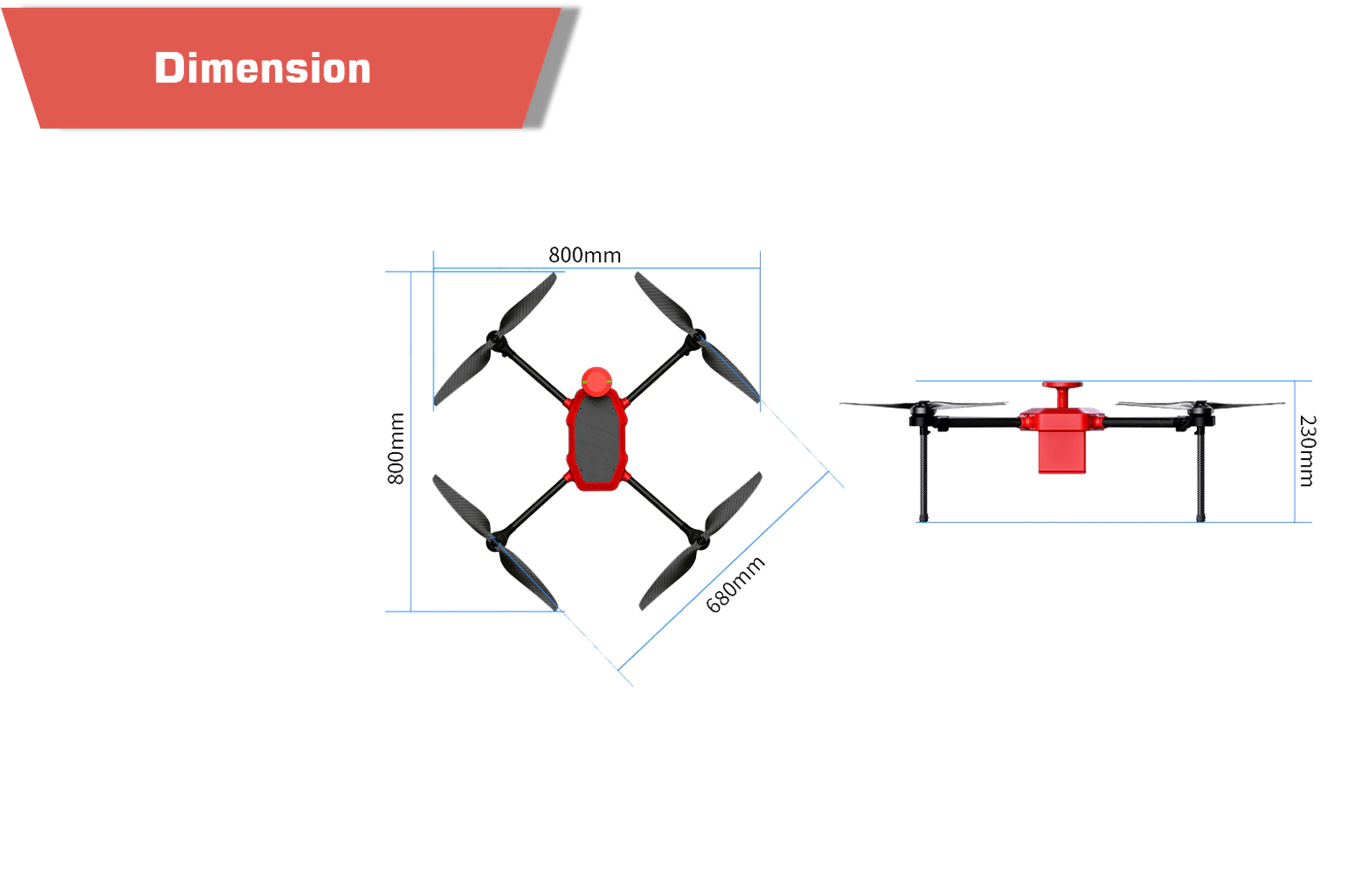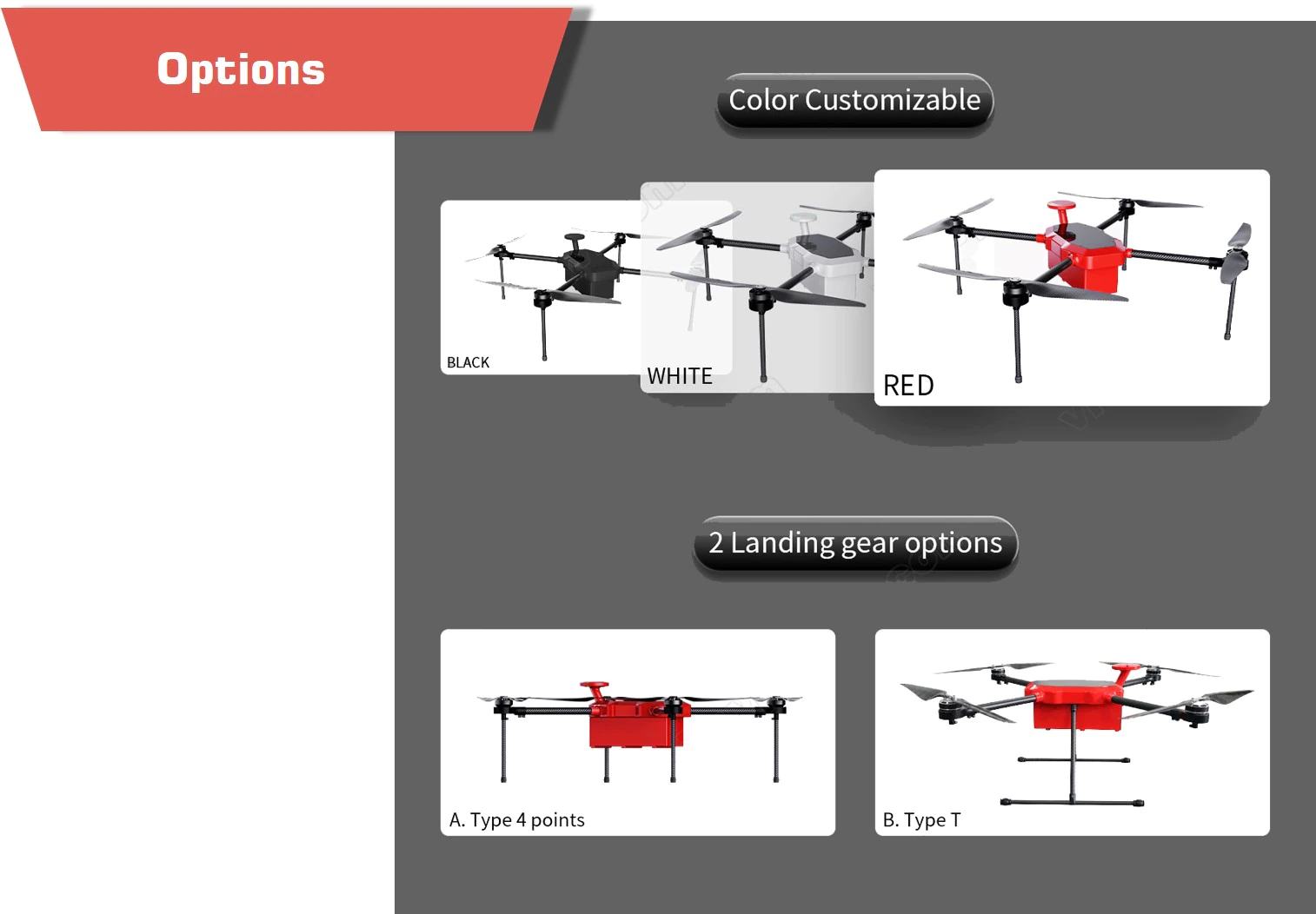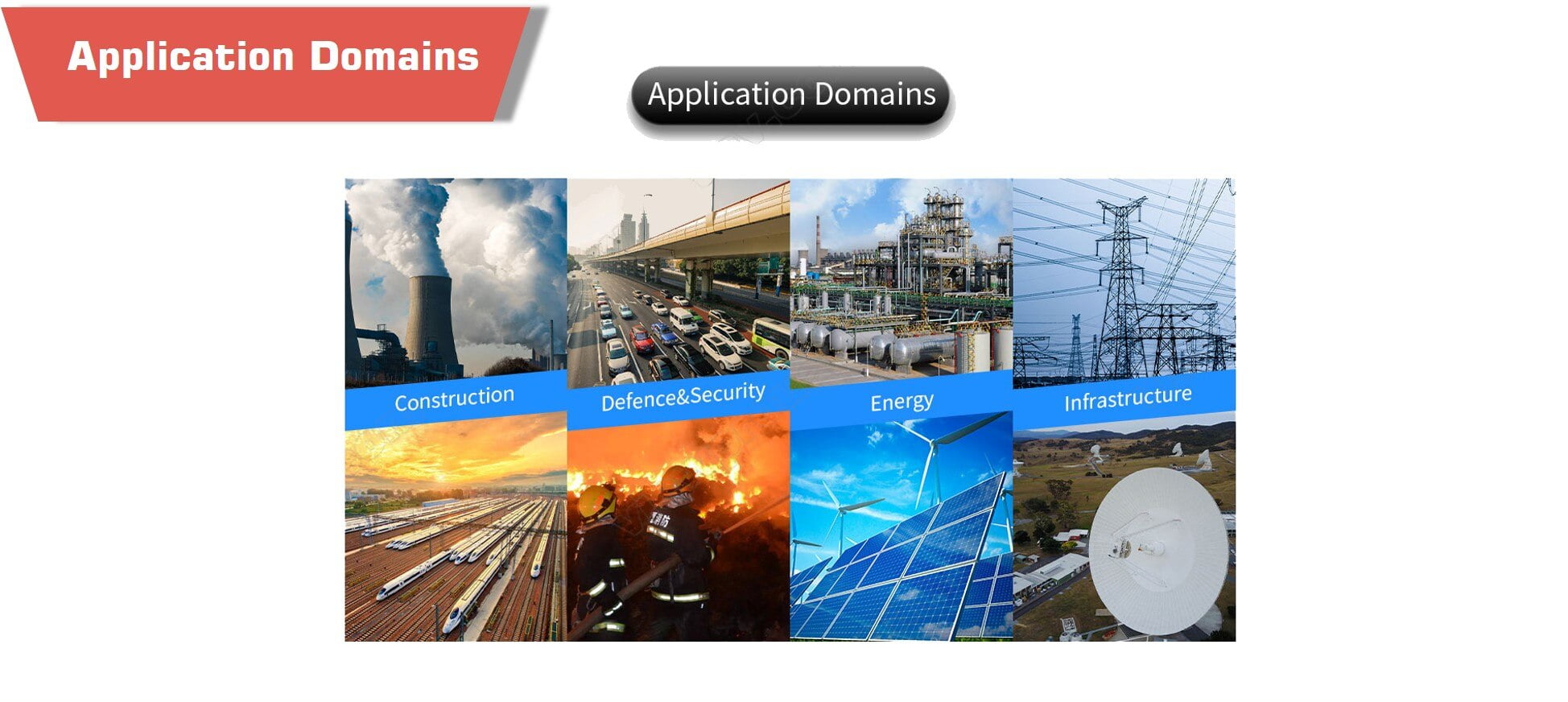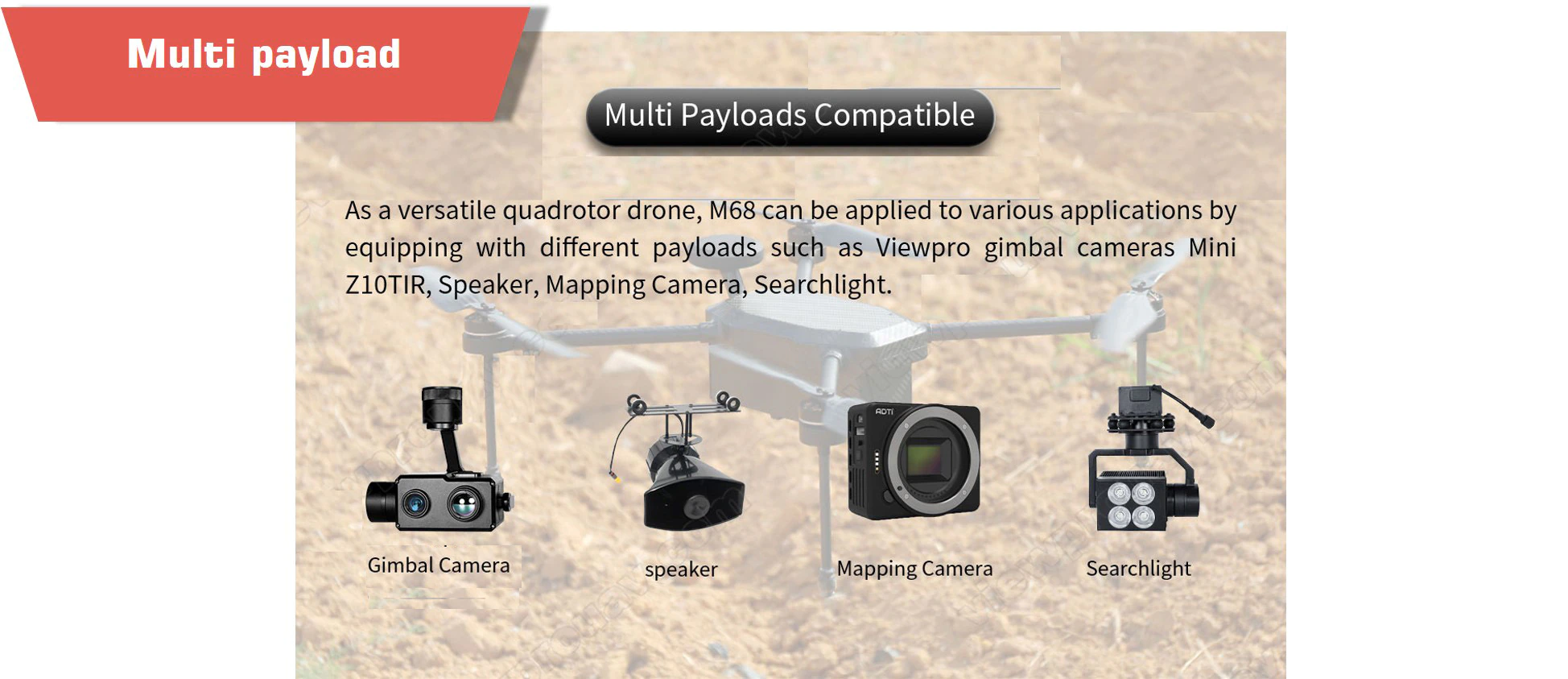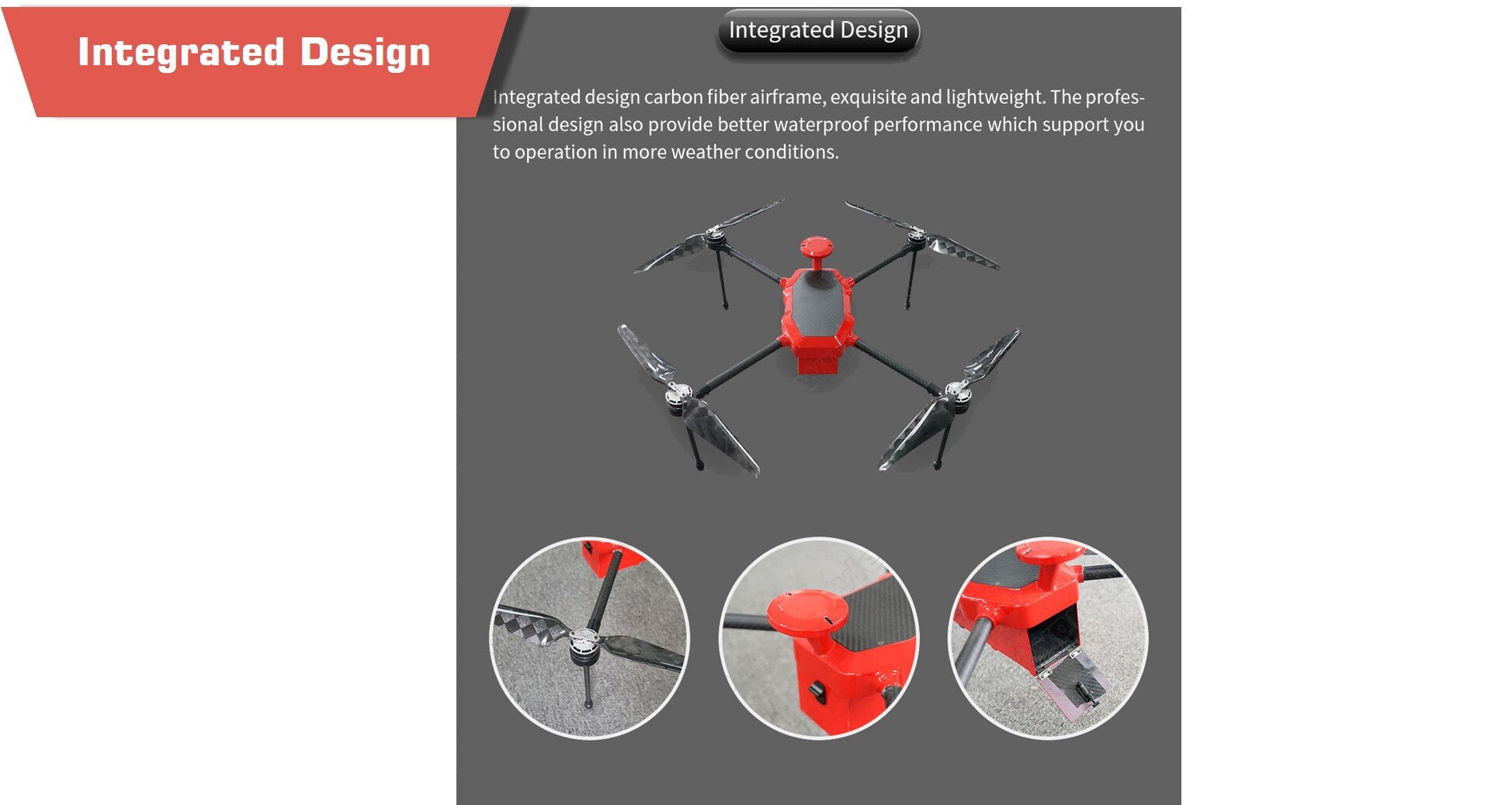 Product contents
Packing List for Different Versions
| | | | |
| --- | --- | --- | --- |
| Version | CUAV V5 RTF | Cube Orange RTF | CUAV X7 RTF |
| Flight Controller | CUAV V5 | Cube Orange | CUAV X7 |
| GPS | NEO V2 GNSS | Here 3 GNSS | NEO V2 Pro GNSS |
| Drone Frame | √ | √ | √ |
| VTOL Motor | 4pcs | 4pcs | 4pcs |
| VTOL ESC | 4pcs | 4pcs | 4pcs |
| VTOL Propeller | 2Pairs | 2Pairs | 2Pairs |
| RC&Ground Station | 1x FT24 14Channels RC | 1x DK32SE 16Channels RC | 1x DK32SE 16Channels RC |
| Video Transmitter | / | / | / |
| Battery | / | / | / |
| Battery Charger | / | / | / |
| Carrying Case | √ | √ | √ |
| Assembling, tuning and flight test service | √ | √ | √ |
Specifications
| | |
| --- | --- |
| Model No. | M68 |
| Type | Quadrotor |
| Color | Red and black as default (Support customization) |
| Expanded Dimension | 800mm*800mm*230mm |
| Wheelbase | 680mm |
| Belly to Ground | 130mm |
| Material | Carbon fiber |
| Airframe Weight | 565g (no load no battery) |
| MTOW | 5kg |
| Max Payload | 2kg |
| Flight Time | 100min(no load), 60min(1kg load) |
| Maxi Pitching Angle | 32°(GPS mode), 40°(AIT mode) |
| Max Flight Speed | 20m/s |
| Max Ascending Speed | 8m/s |
| Max Descending Speed | 4m/s |
| Max Flight Altitude | 2000m (<5000m height above sea level) |
| Max Wind Resistance | >12m/s |
| Battery (Recommended) | 6S 22000mAh |
| Working Temperature | -20℃~60℃ |
| IP Grade | IP54 |
| Package Chargable Size | 60*60*25cm |