U818 Micro Prime Lens Dual Sensor Tracking Camera for Surveillance, Hawkeye Gimbal
Description
U818 Micro Prime Lens, Dual Sensor Tracking Camera for Surveillance
, Hawkeye Series
U818 micro prime lens with dual sensor gimbal camera is from the micro-series Hawkeye series, a 260g super lightweight gimbal camera with small volume and compact structure. It integrates an 8mm prime lens 3.68MP camera and an 18mm lens thermal camera with 640×512 resolution. The small size (barely the size of one hand) is suitable for drones with small structures and small payload capability. The gimbal has 2-axis stabilization to remove the vibrations coming from the body of the drone to provide a clear image. 
The camera supports up to 4x digital zoom and gives a 51°x31° field of view. The thermal sensor comes with an 18mm lens, 60Hz update rate, and 12um pixel pitch. Pseudo-hot and white-hot pallet colors are supported. 
The CNC-processed aluminum body has the advantages of better metal texture, anti-interference, and better heat dissipation. It is widely used in surveillance, large-area reconnaissance, and other UAV industrial applications.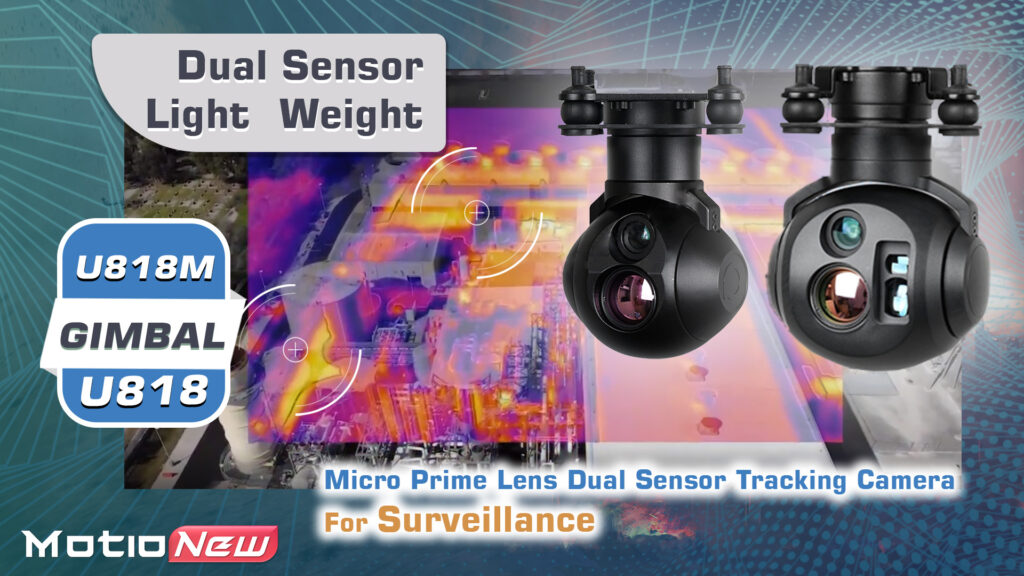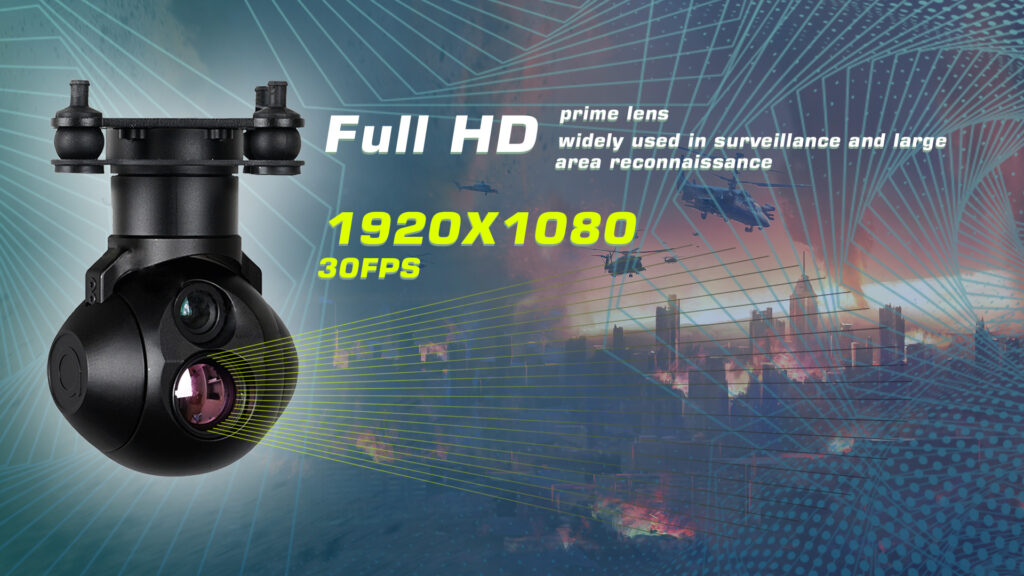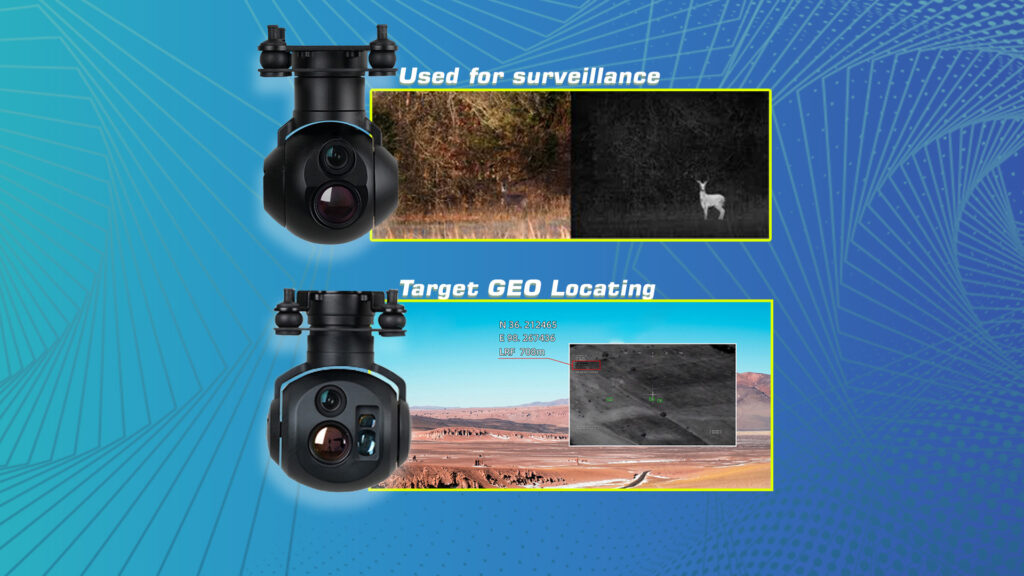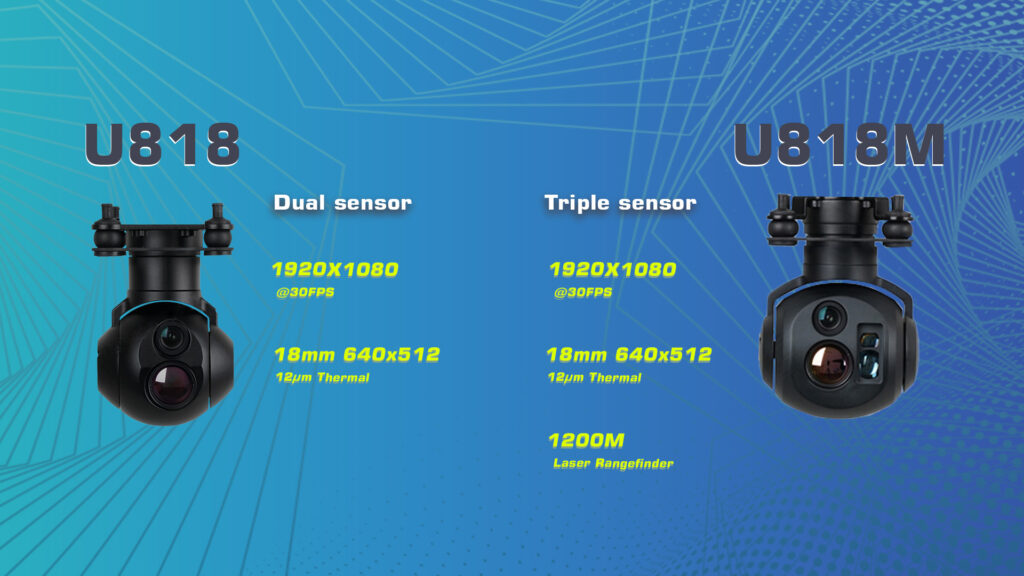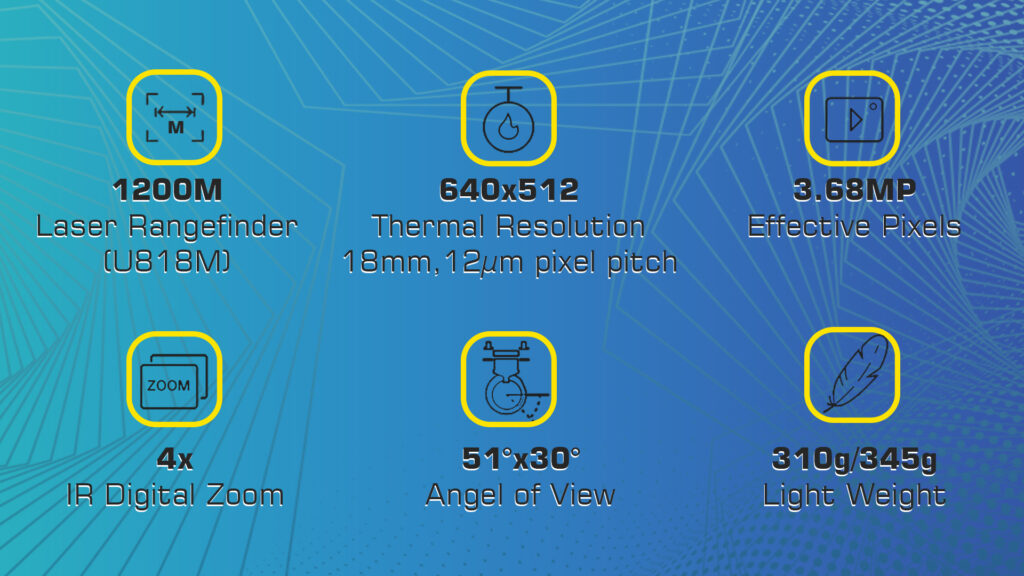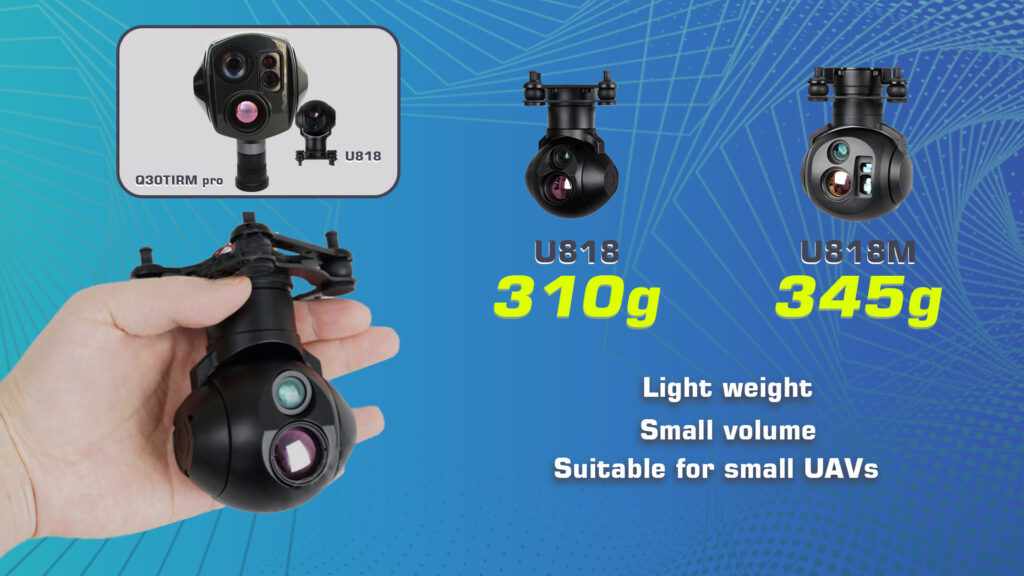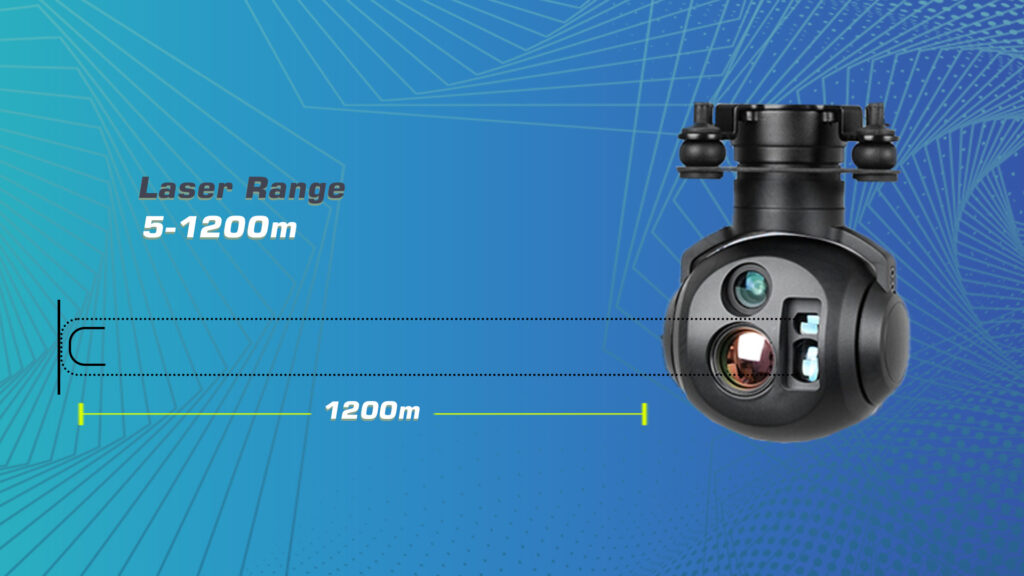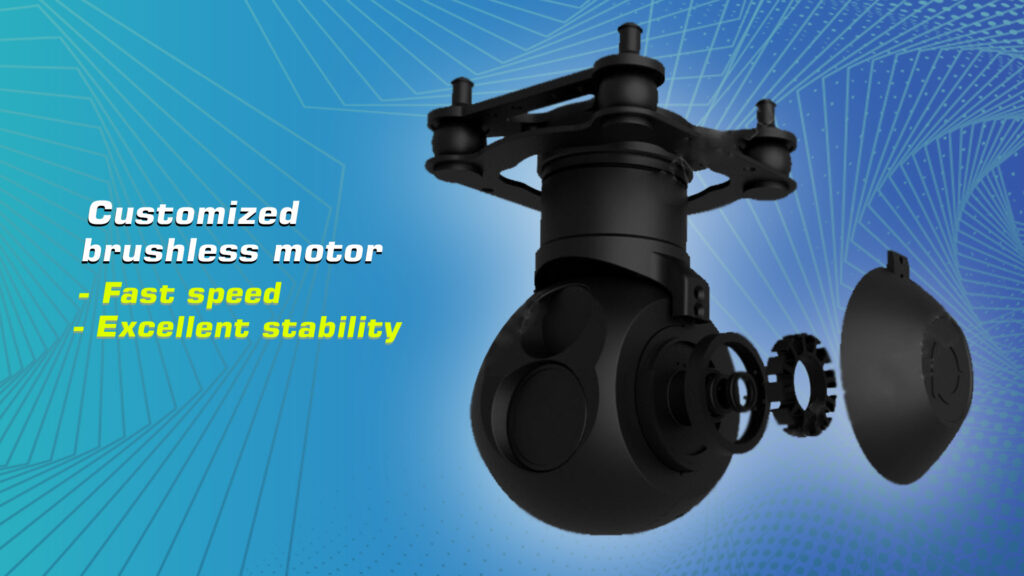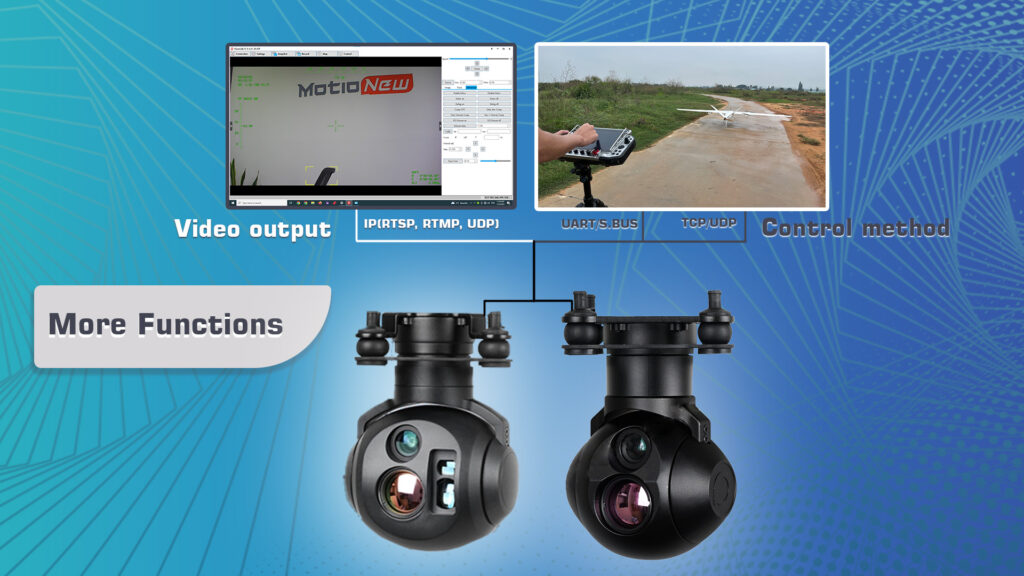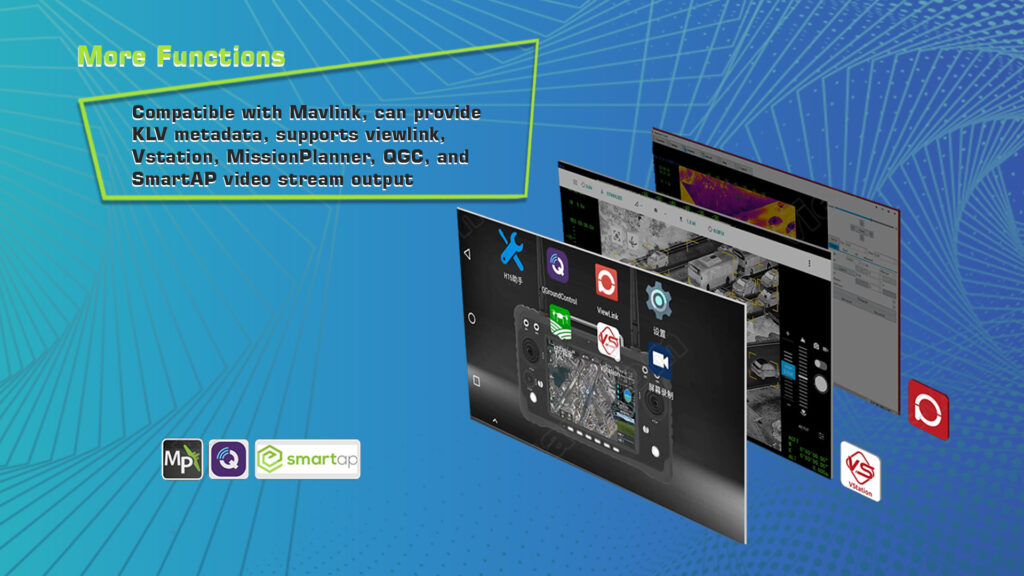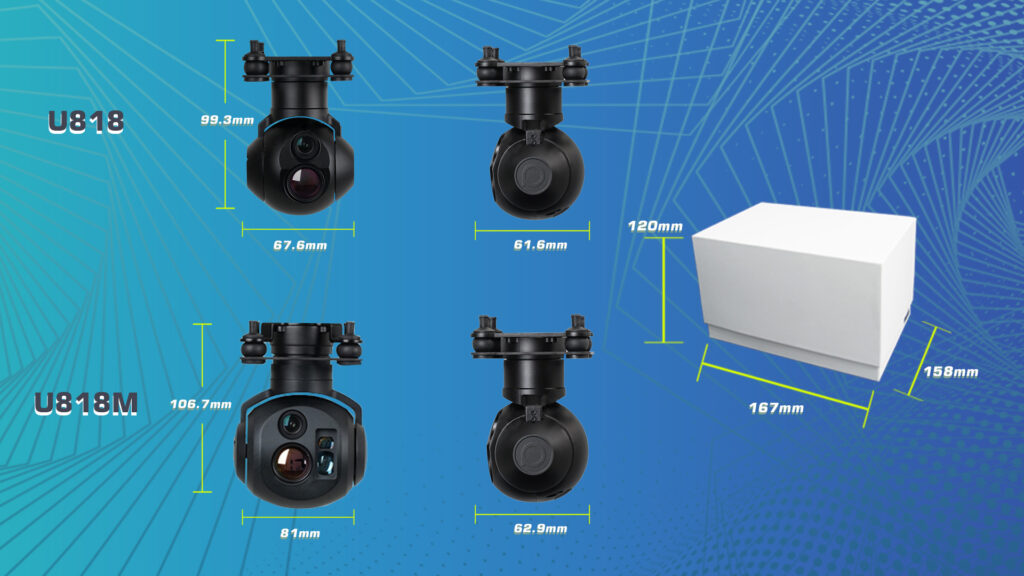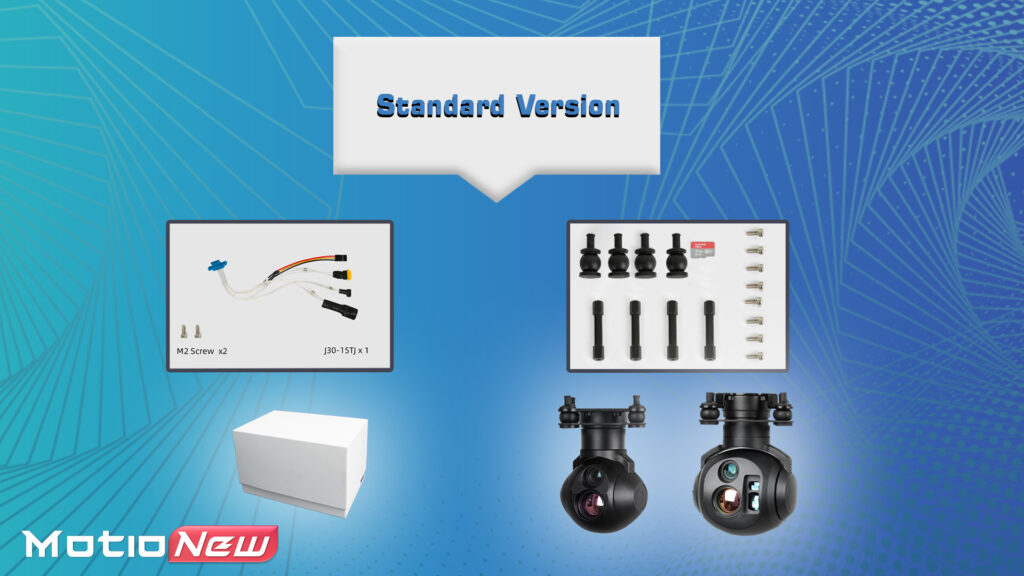 Additional information
| | |
| --- | --- |
| Weight | 1.5 kg |
| Dimensions | 20 × 20 × 15 cm |
| version | U818, U818M |
Specifications
U818 specification   

U818M specification

Hardware Parameter

Hardware Parameter

Working voltage

12V

Working voltage

12V(3S)

Input voltage

3S ~ 6S

Output voltage

5V (connect with PWM)

Output voltage

5V (connect with PWM)

Dynamic current

650~1000mA @ 12V

Dynamic current

600~900mA @ 12V

Idle current

650mA @ 12V

Idle current

600mA @ 12V

Working environment temp.

-20℃~+60℃

Working environment temp.

-40℃ ~ +60℃

Output

IP rtsp (1080p 30fps)

Output

IP rtsp (1080p 30fps)

Local-storage

SD card (Up to 128G,class 10, FAT32 or ex FAT format)

Local-storage

SD card (Up to 128G,class 10, FAT32 or ex FAT format)

Photo storage format

JPG(1920*1080)

Photo storage format

JPG(1920*1080)

Video storage format

MP4 (1080P 25fps)

Video storage format

MP4 (1080P 30fps)

Control method

TTL / S.BUS/ TCP

Control method

TTL / S.BUS/ TCP
| | | | |
| --- | --- | --- | --- |
| Gimbal Spec | | Gimbal Spec | |
| Angle scope of structure design | Pitch/Tilt: -90°~120°,    Yaw/Pan: ±360°*N | Angle scope of structure design | Pitch/Tilt: -35°~105°,    Yaw/Pan: ±360°*N |
| Angle scope of software design | Pitch/Tilt: -45°~90°,   Yaw/Pan: ±360°*N | Angle scope of software design | Pitch/Tilt: -30°~90°,   Yaw/Pan: ±360°*N |
| Vibration angle | Pitch/Roll: ±0.02°, Yaw:±0.02° | Vibration angle | Pitch: ±0.02°, Yaw: ±0.02° |
| One-key to center | √ | One-key to center | √ |
| | | | |
| --- | --- | --- | --- |
| EO Camera Spec | | EO Camera Spec | |
| Imager Sensor | CMOS Sensor | Imager Sensor | CMOS Sensor |
| Resolution | 2560H×1440V(3.68MP) @60fps | Resolution | 2560H×1440V(3.68MP) @60fps |
| Focus Length | 8mm | Focus Length | 8mm |
| Pixel Pitch | 3μm | Pixel Pitch | 3μm |
| Angle of View | 51°*30° | Angle of View | 51°*30° |
| Recognize Distance (Car: 6.5x3m) | ≥3.6km | Recognize Distance (Car: 6.5x3m) | ≥3.6km |
| Digital zoom | 1x ~ 4x | Digital zoom | 1x ~ 4x |
| Defog | Yes | Defog | Yes |
| | | | |
| --- | --- | --- | --- |
| IR Thermal Imager Spec | | IR Thermal Imager Spec | |
| Focus Length | 18mm | Focus Length | 18mm |
| Horizontal FOV | 24° | Horizontal FOV | 24° |
| Vertical FOV | 18° | Vertical FOV | 18° |
| Recognize Distance (Car: 6.5x3m) | ≥1km | Recognize Distance (Car: 6.5x3m) | ≥1km |
| Working mode | Uncooled VOx long wave (8μm~14μm) thermal imager | Working mode | Uncooled VOx long wave (8μm~14μm) thermal imager |
| Detector pixel | 640*512 | Detector pixel | 640*512 |
| Pixel size | 12μm | Pixel size | 12μm |
| Focusing method | Athermal prime lens | Focusing method | Athermal prime lens |
| NETD | ≤[email protected] @25℃ | Color palette | White hot, pseudo color |
| Color palette | White hot, black hot, pseudo color | Digital zoom | 1x ~ 4x |
| Digital zoom | 1x ~ 4x | Sync correct time | Yes |
| Sync correct time | Yes | | |
| | | | |
| --- | --- | --- | --- |
| EO / IR Camera Object Tracking | | EO / IR Camera Object Tracking | |
| Update rate of deviation pixel | 60Hz | Update rate of deviation pixel | 60Hz |
| Minimum object contrast | 5% | Minimum object contrast | 5% |
| Minimum object size | 16*16 pixel | Minimum object size | 16*16 pixel |
| Maximum object size | 128*128 pixel | Maximum object size | 128*128 pixel |
| Tracking speed | >48 pixel/frame | Tracking speed | ±48 pixel/frame |
| Object memory time | 100 frames | Object memory time | 100 frames |
| | | | |
| --- | --- | --- | --- |
| Packing Information | | Packing Information | |
| N.W. | 310g (with damping system) | N.W. | 345g (with damping system) |
| Product meas. | 67.9*61.6*89.7mm | Product meas. | 83.7*72.5*110.6mm |
| Accessories | 1pc gimbal camera device, screws, USB to TTL cable  / Hight quality plastic box with foam cushion | Accessories | 1pc gimbal camera device, screws, USB to TTL cable  / Hight quality plastic box with foam cushion |
| | | Package meas. | 200*200*150mm |
| | | | |
| --- | --- | --- | --- |
| | | IR Laser Rangefinder | |
| | | Range | 5~1200 meters |
| | | Resolution | 1m |
| | | Light Beam | 905nm pulse laser |
| | | Divergent Angle | ~6 mrad |
| | | Laser pulse frequency | 1~4Hz |
| | | Location Resolving | Latitude and longitude of target |
| | | Range finder | Target distance measuring |
Product contents
1pc gimbal camera U818 or U818M, screws, USB to TTL cable / High quality plastic box with foam cushion