A30TR-50 gimbal, with 5km Laser Rangefinder, EO/IR Camera with AI
19799.00 $ – 19999.00 $
Description
A30TR-50 gimbal, with 5km Laser Rangefinder, EO/IR Camera with AI
A30TR-50 gimbal camera is a multi sensor gimbal camera with both EO and IR sensors and a laser range finder. It is equipped with a SONY 1/2.8″ "EXMOR R" CMOS sensor with up to 30x optical zoom, 12x Digital Zoom,  2.13MP which can output Full HD images. With a 50mm IR Thermal which features a 640×512 sensor with 12um pixel size. The gimbal has on-board Artificial Intelligence algorithms to do Automatic Identification and Tracking of desired subjects.
Having a laser rangefinder with a maximum measurement distance of 5km (5000m) makes A30TR-50 one of the best in the market.
This gimbal has a variety of flexible output options. It supports HDMI and Ethernet/IP. HDMI and Ethernet outputs are capable of 1080p resolution, while the default Ethernet output is set to 720p with recording capabilities at 1080p. Additionally, the IP output version offers a 360-degree endless pan feature, expanding your creative possibilities.
Experience seamless control with multiple control methods. The gimbal supports PWM and Serial port TTL control by default, with the option for SBUS control. The IP output version also provides TCP control via an Ethernet cable, ensuring convenient and efficient operation.
The applications for the A30TR-50 are vast and diverse. From law enforcement and fire-fighting to power tower and pipeline inspections, search and rescue missions, and more, this gimbal camera is designed to excel in critical operations. It enables wide-ranging monitoring and searching capabilities, ensuring swift information transfer, improved response efficiency, and reduced casualties during emergencies.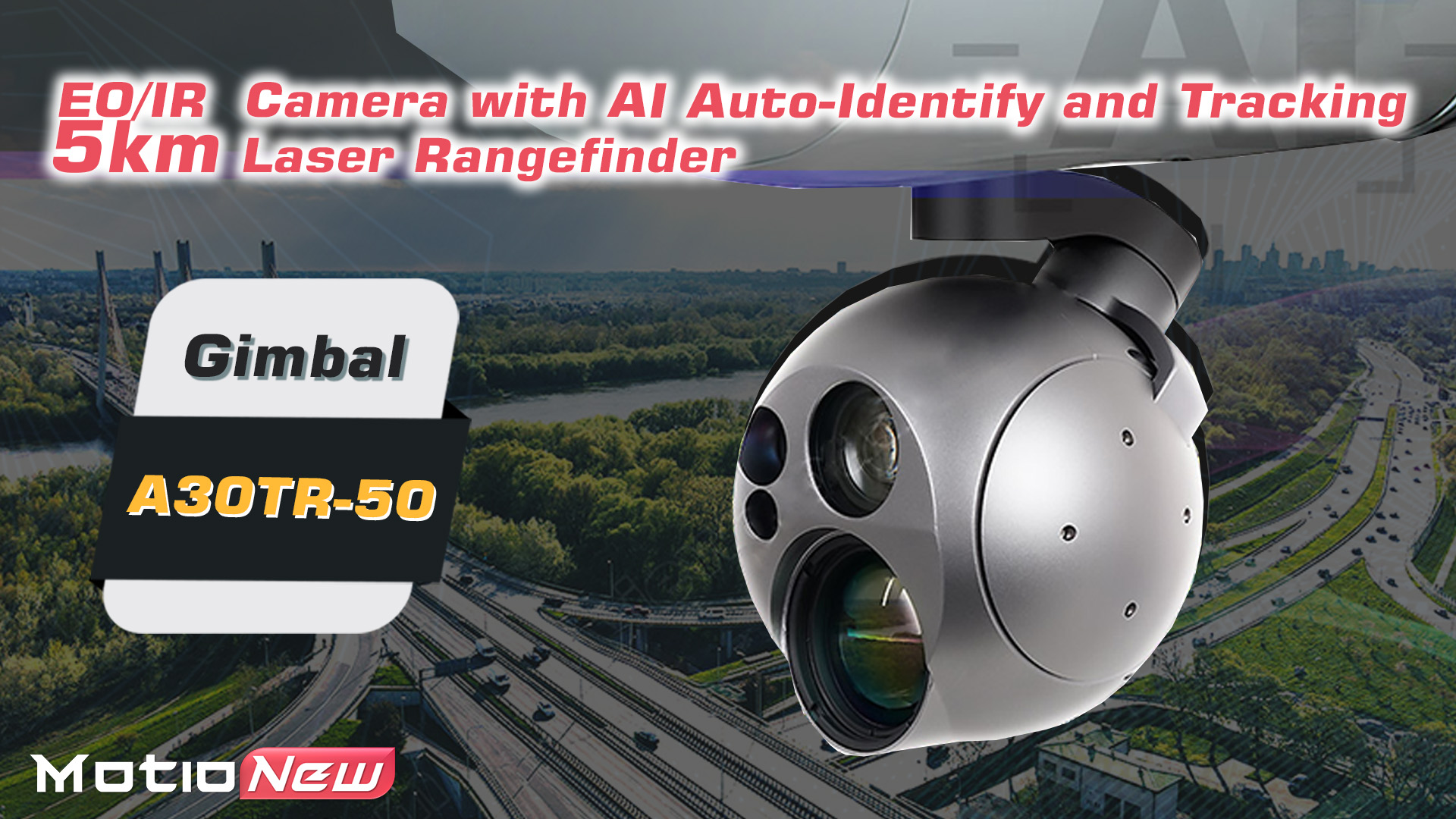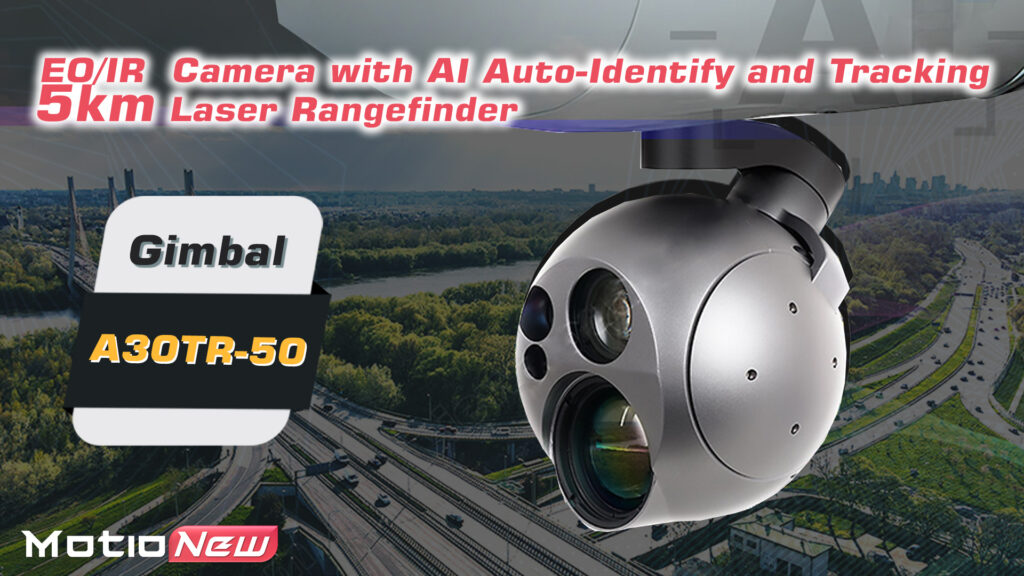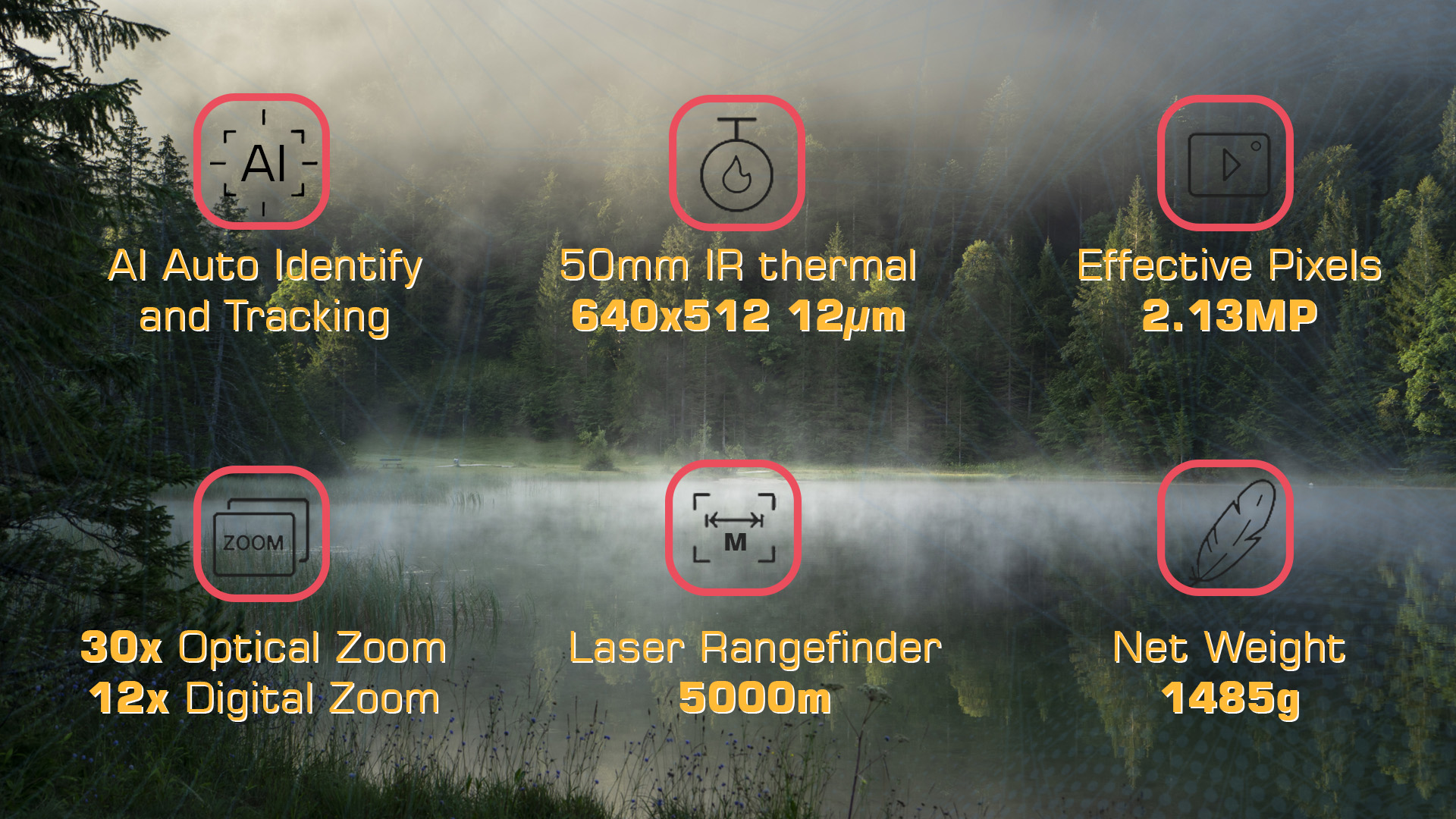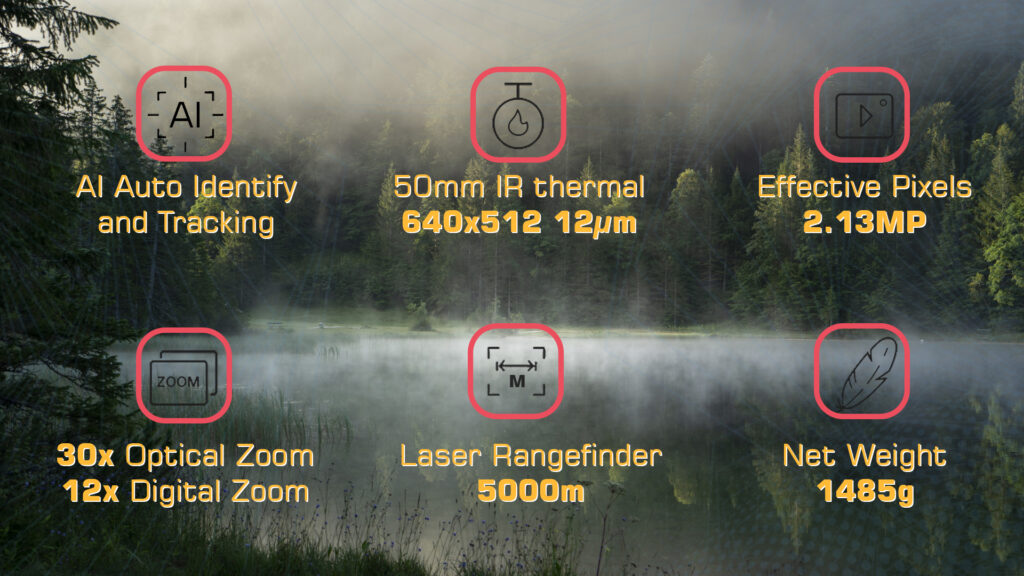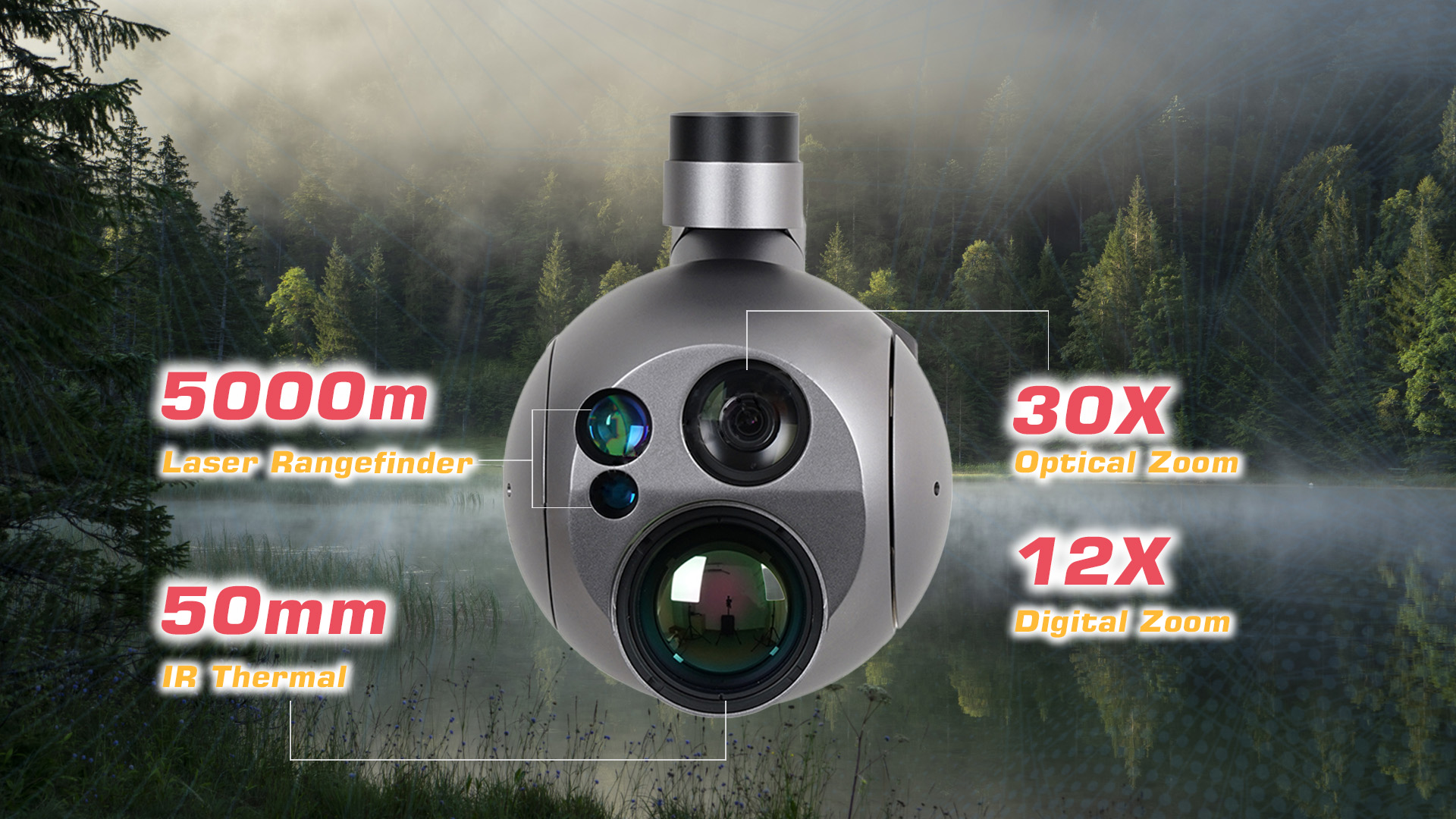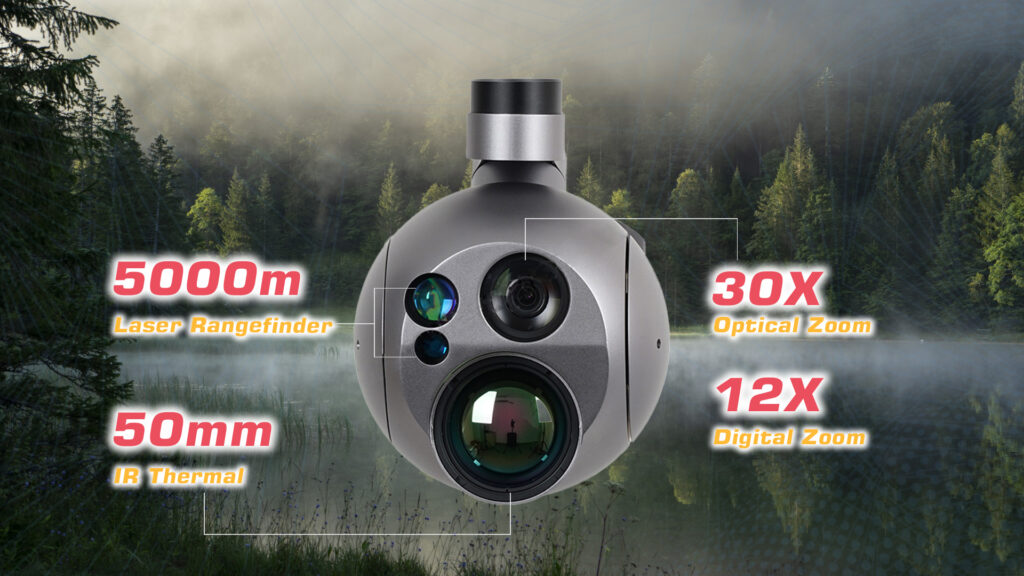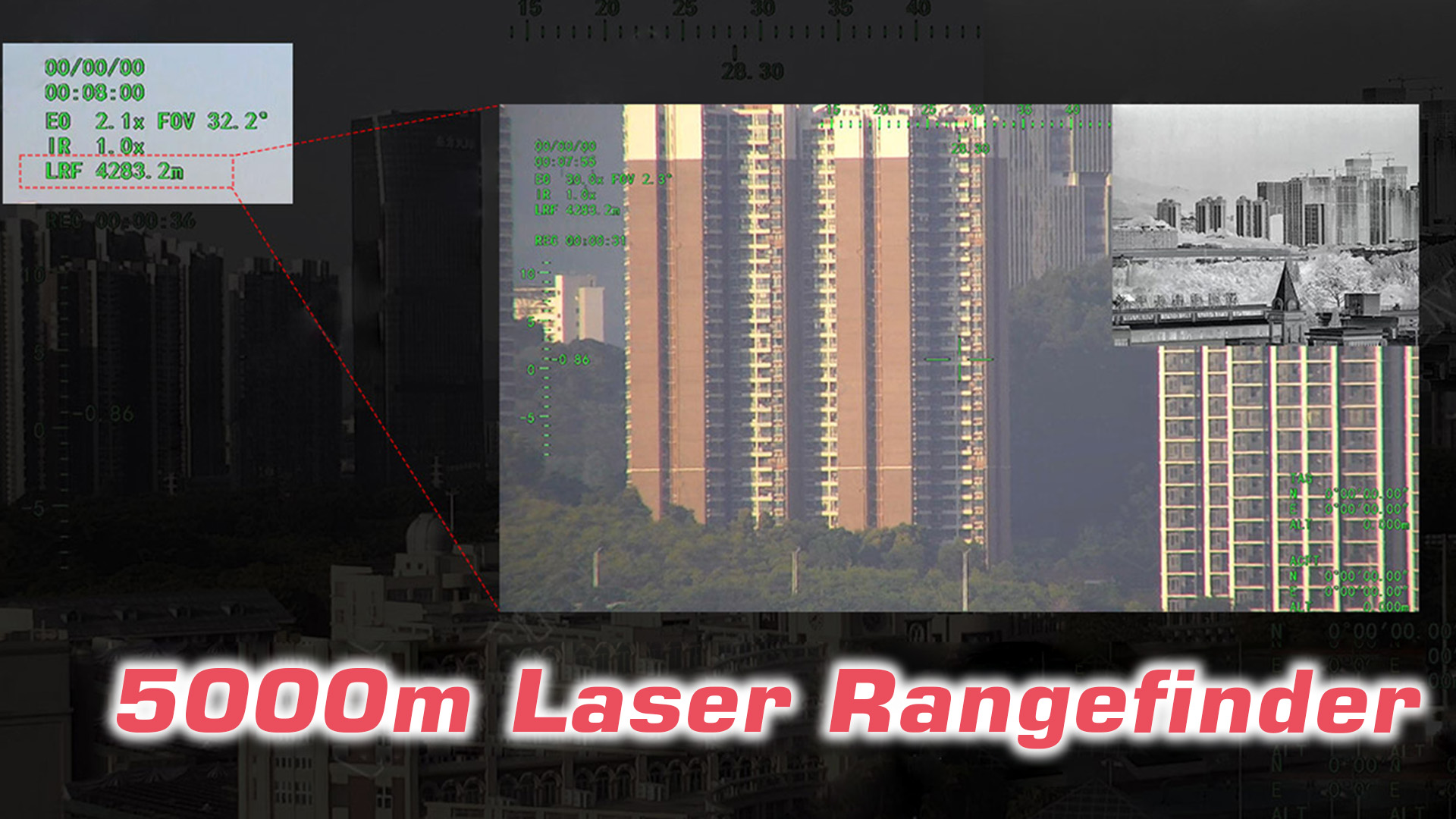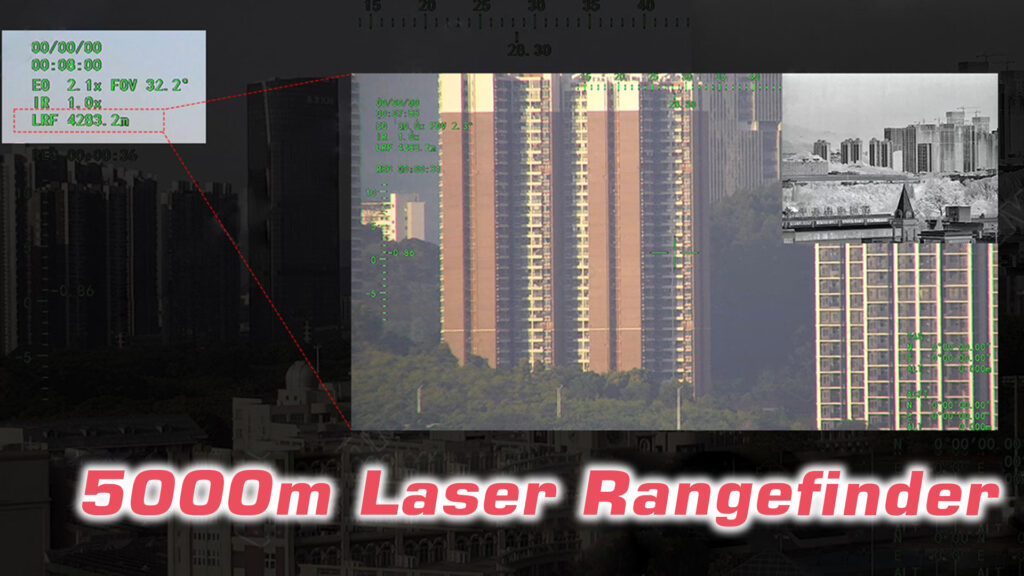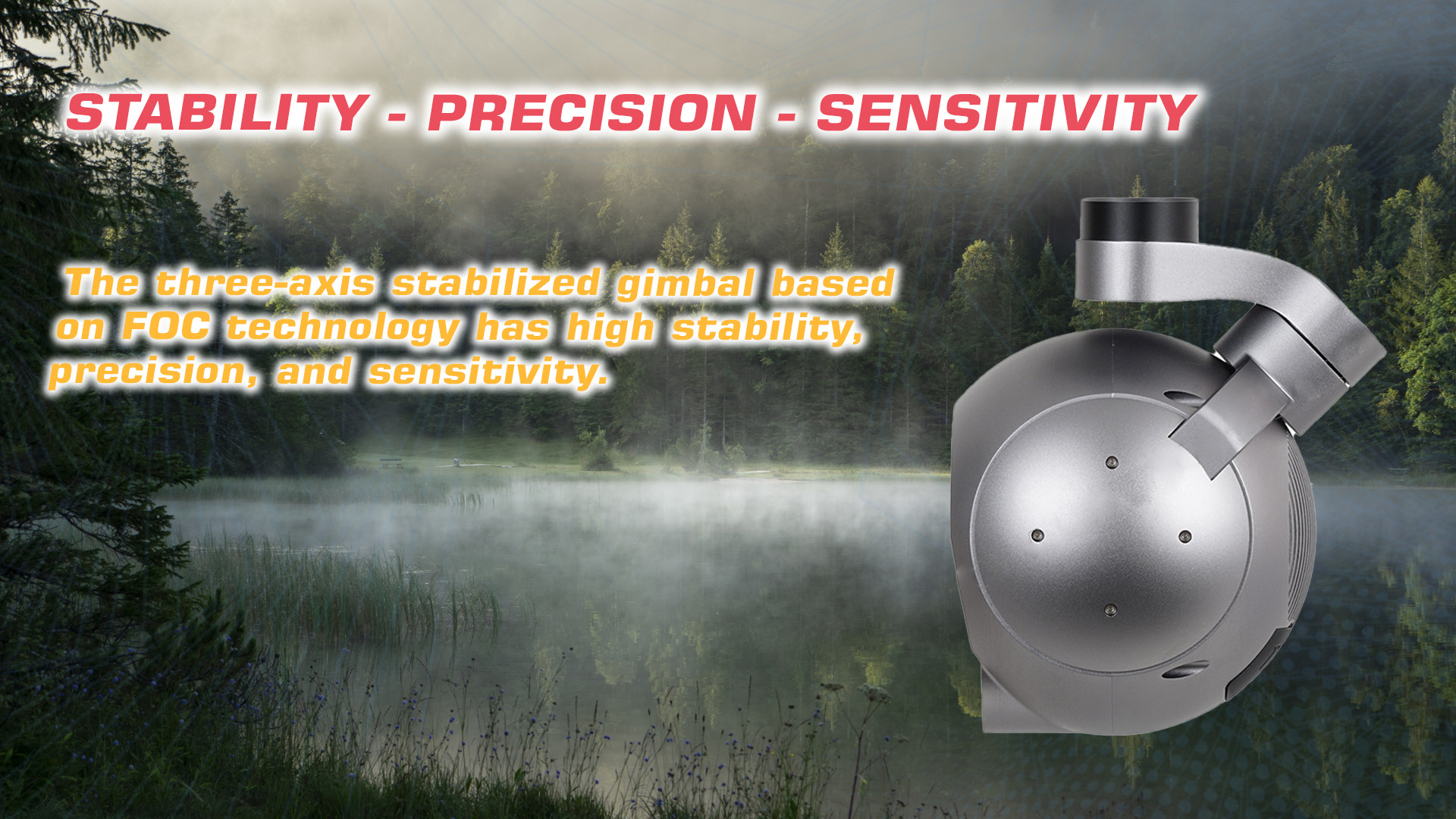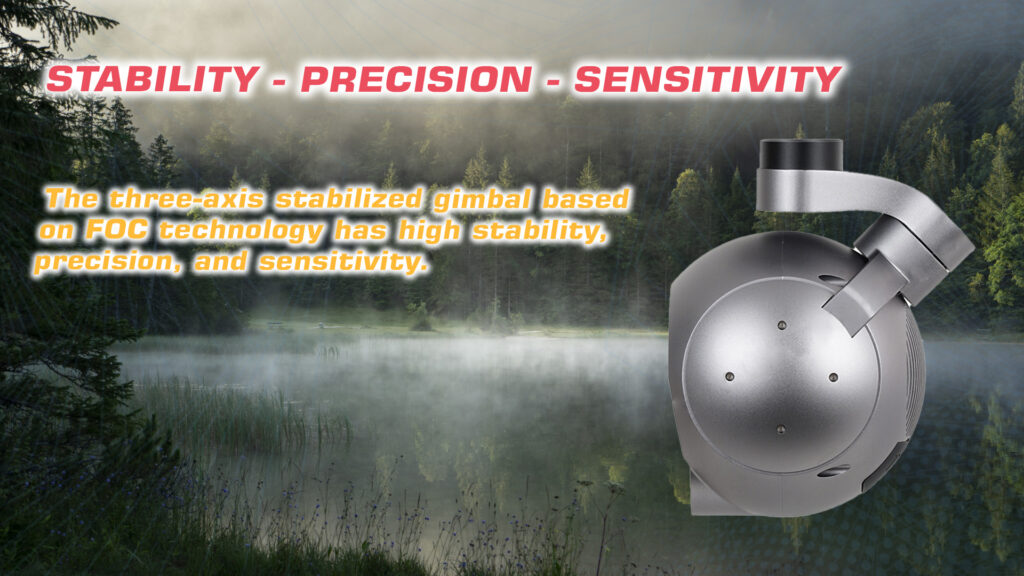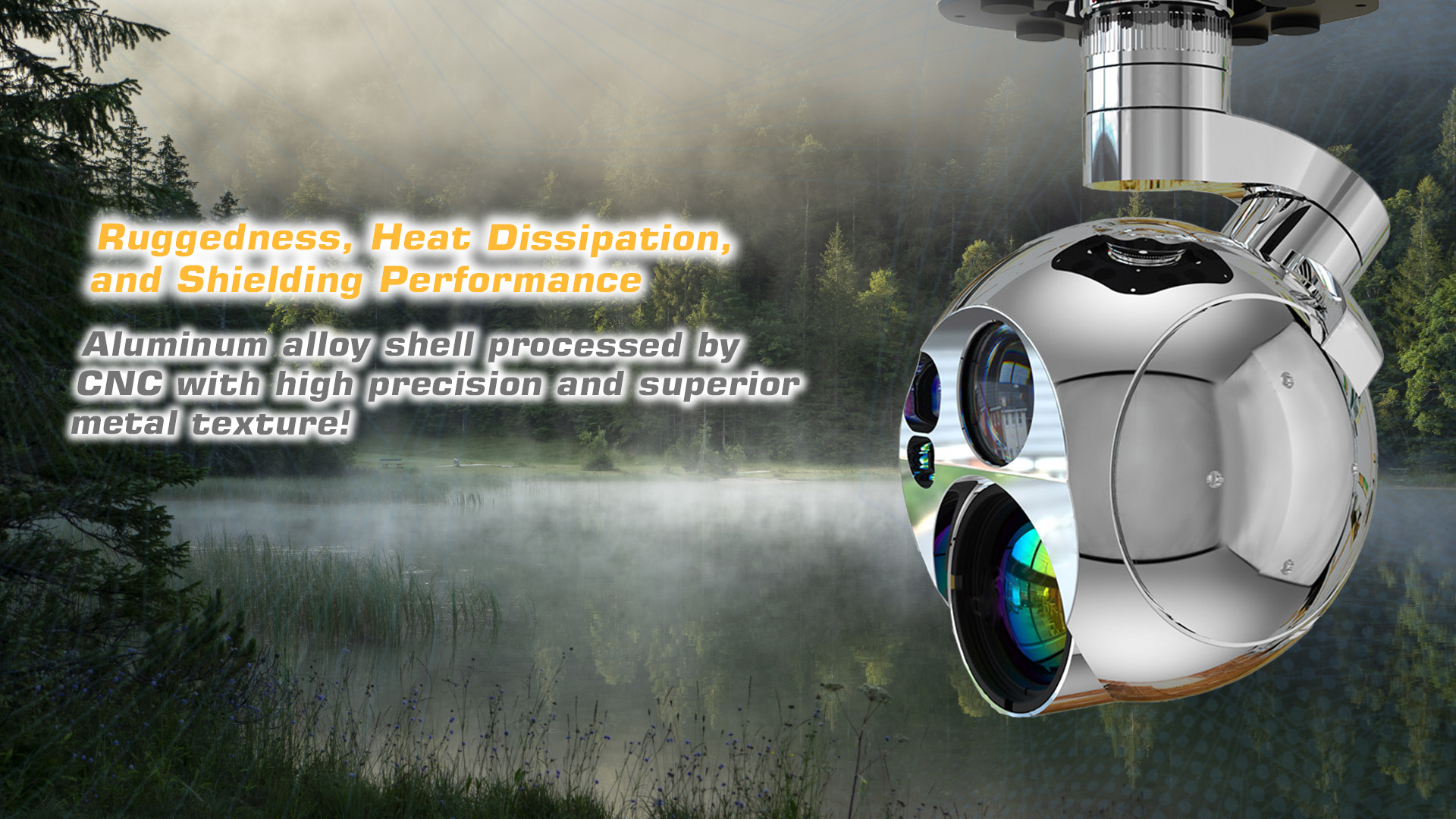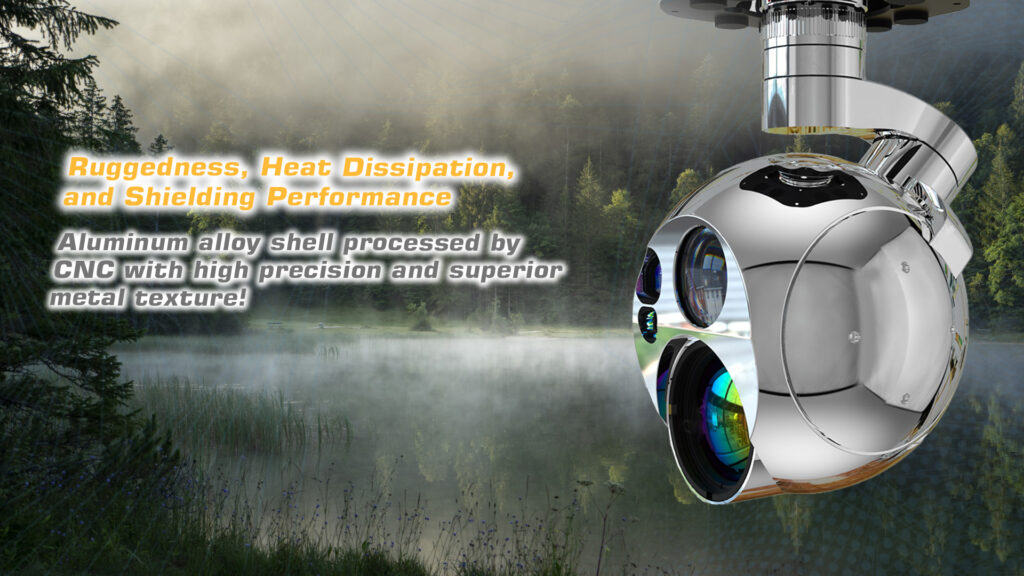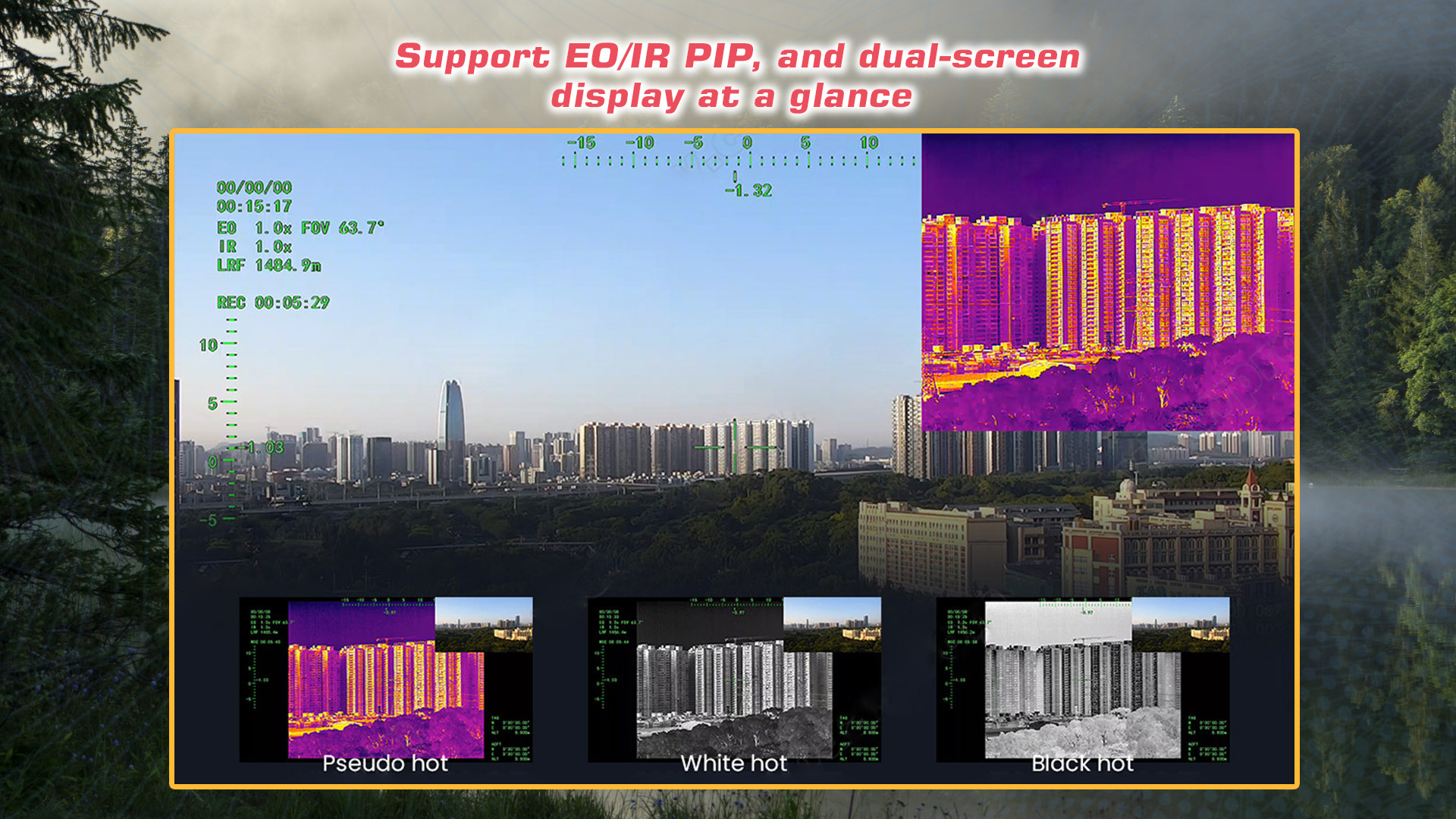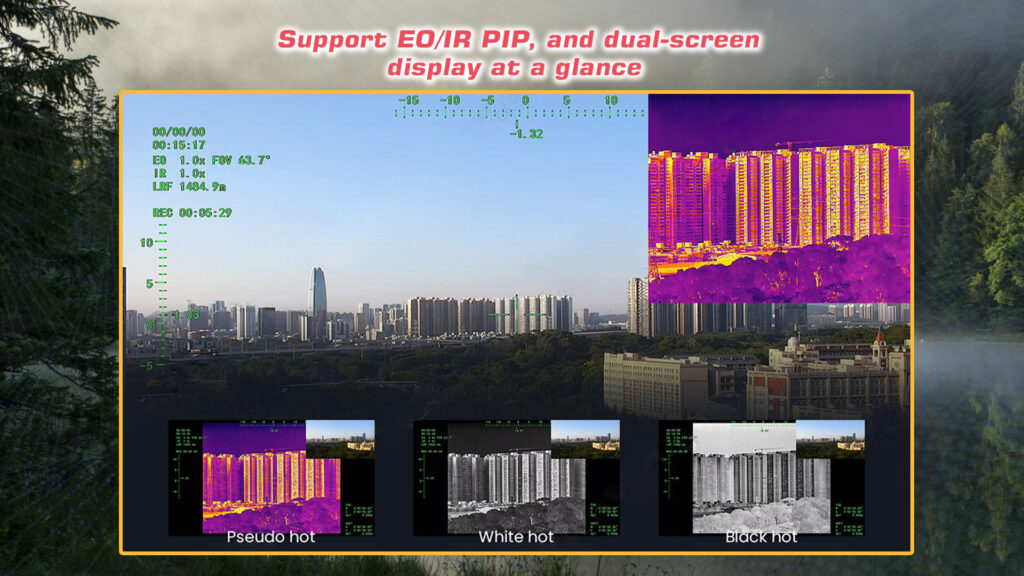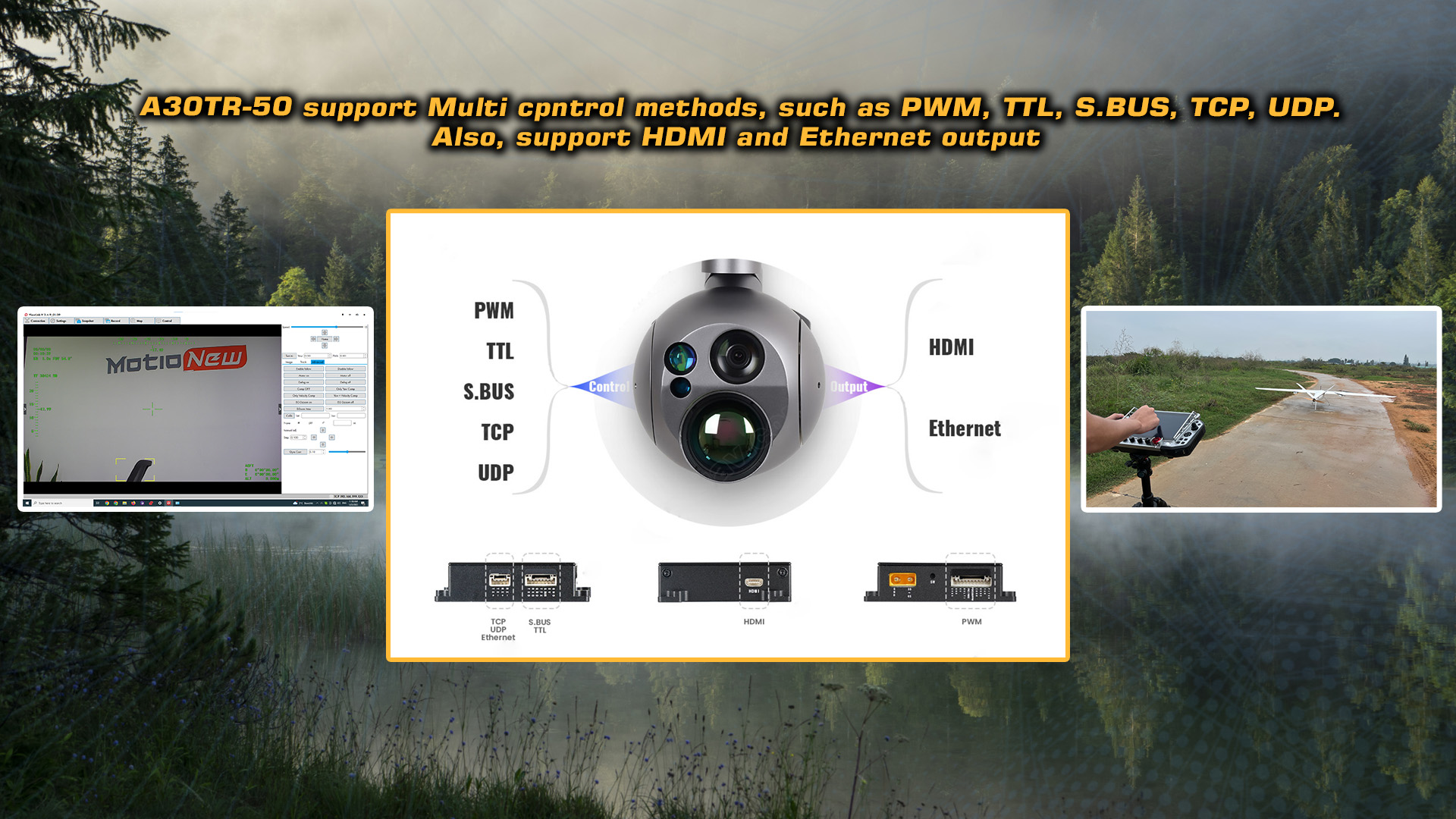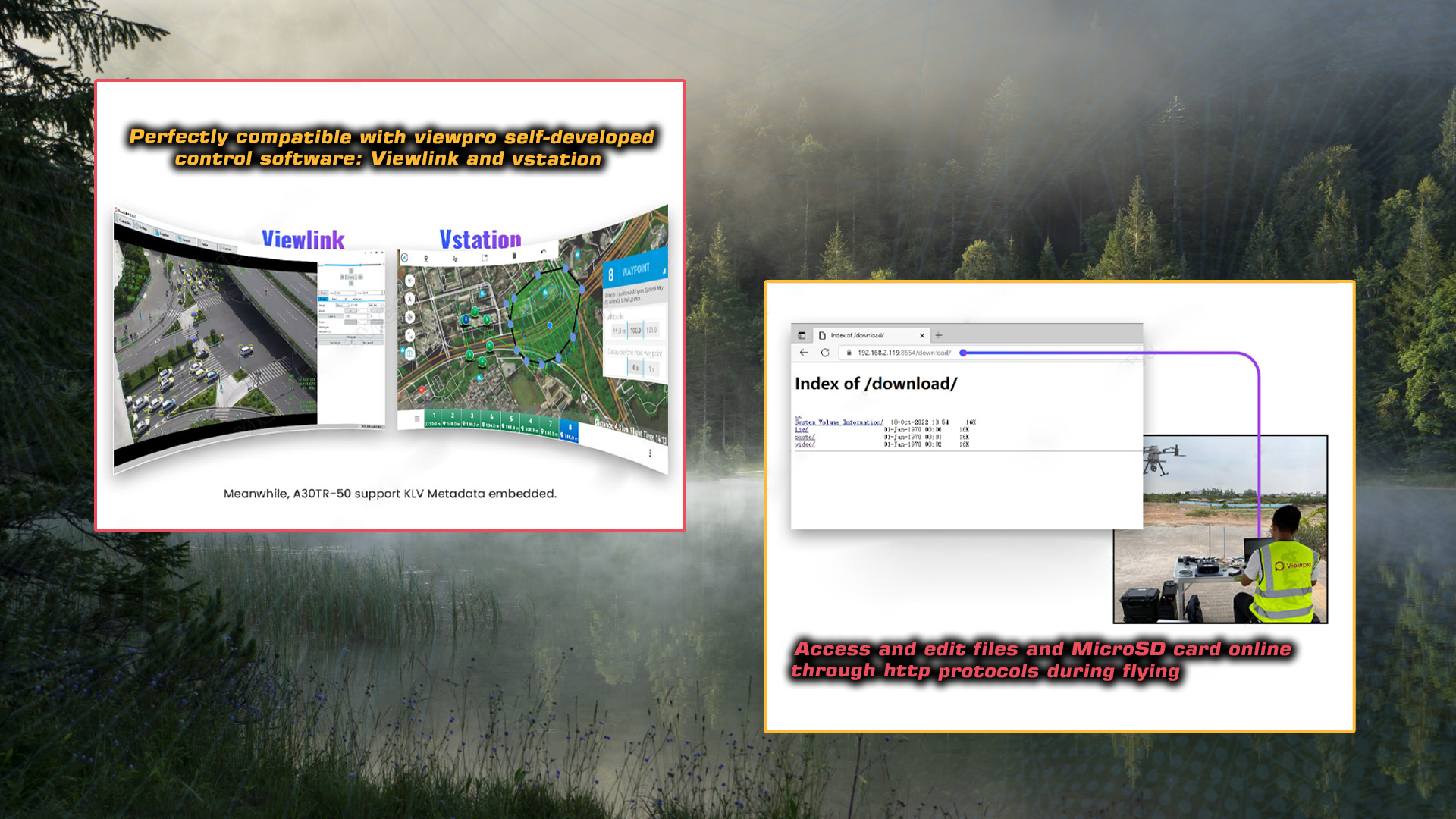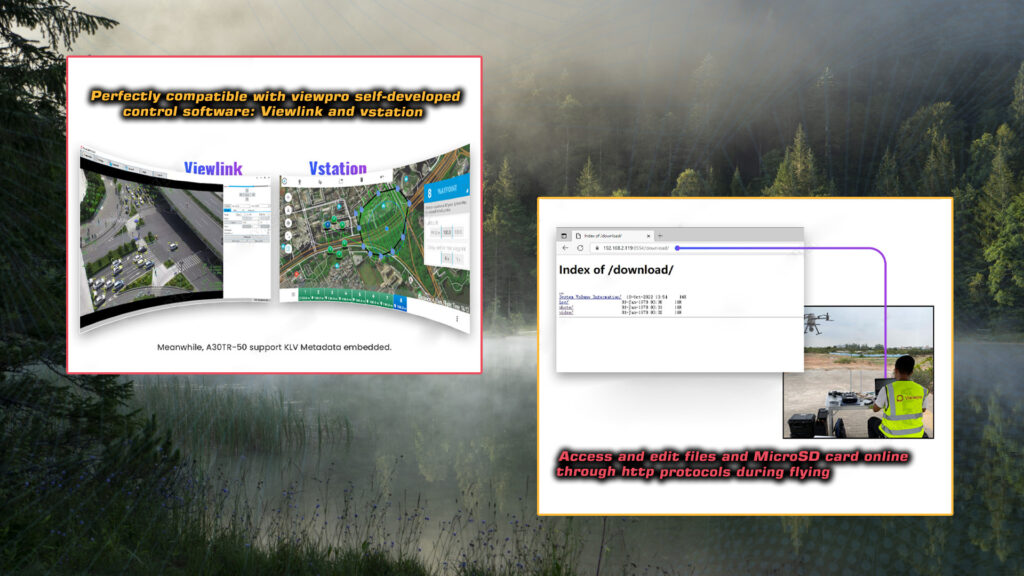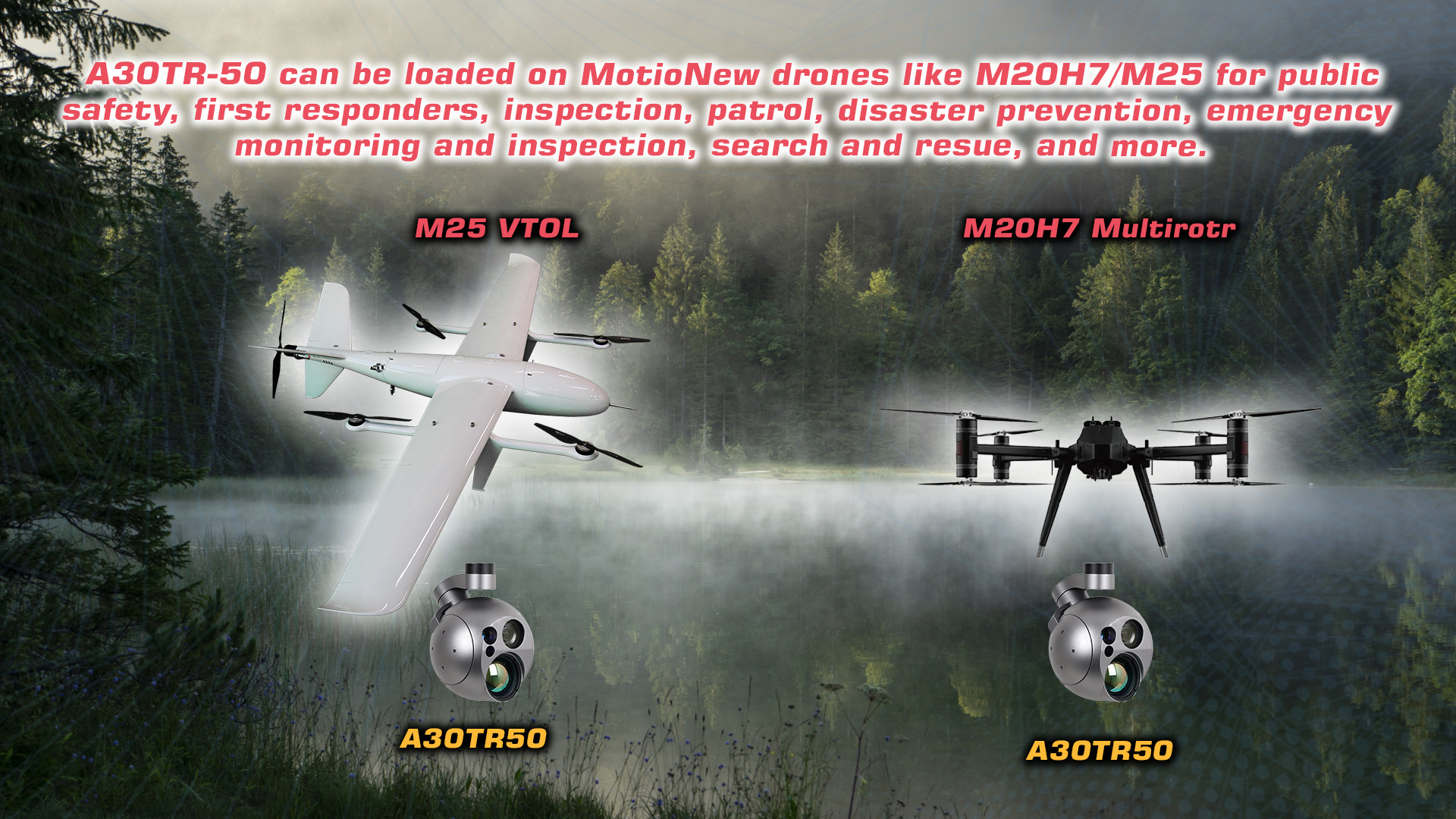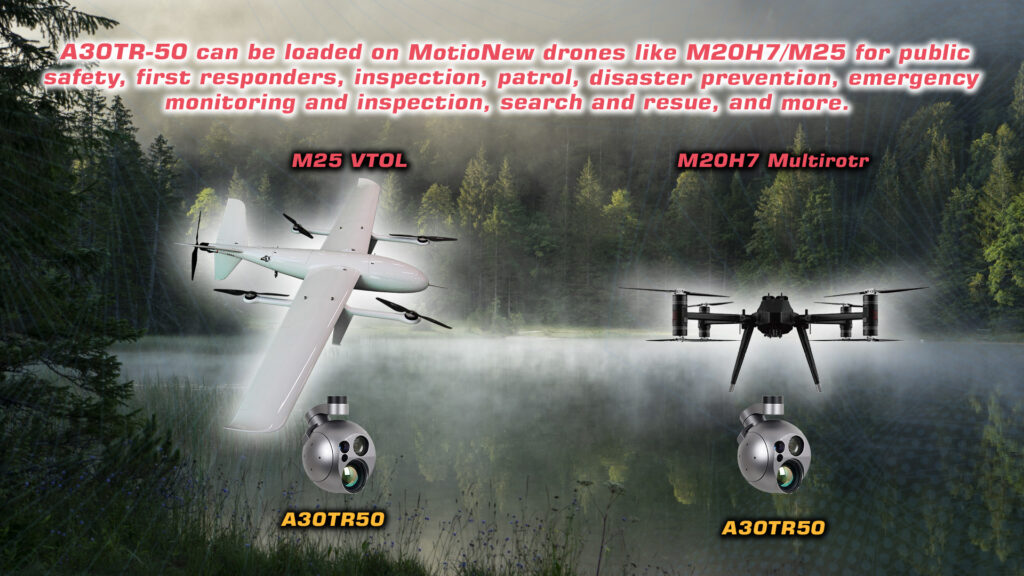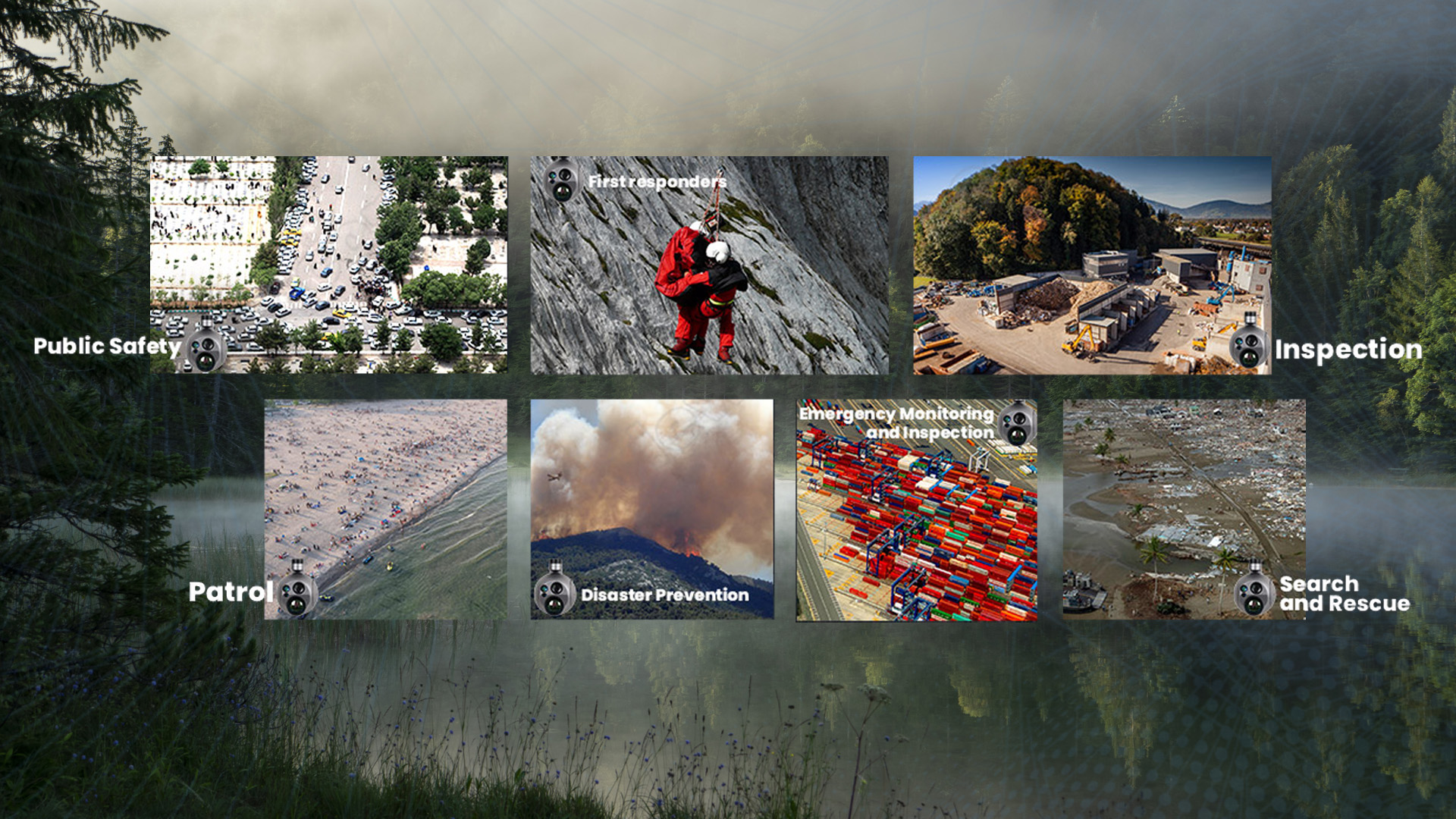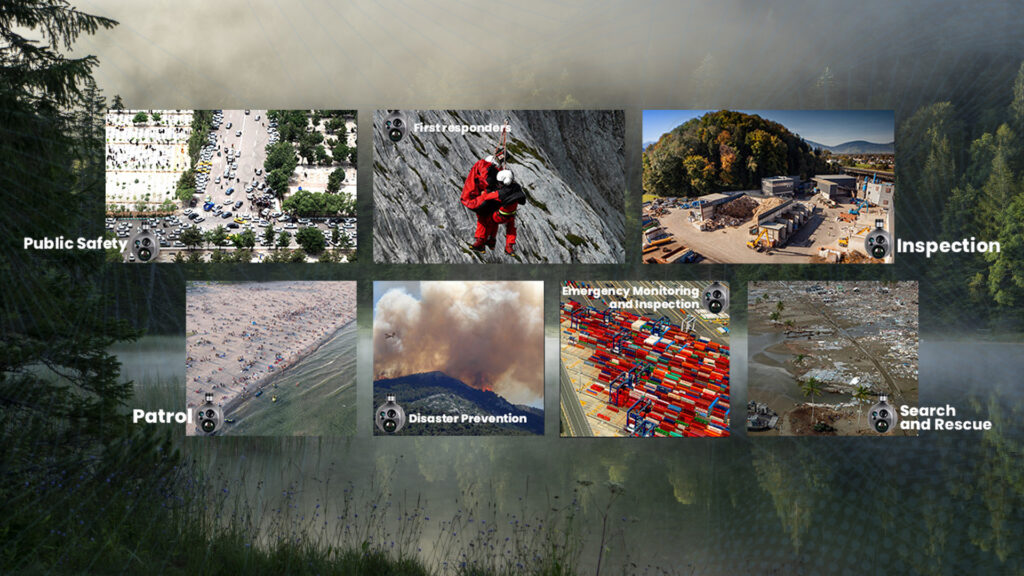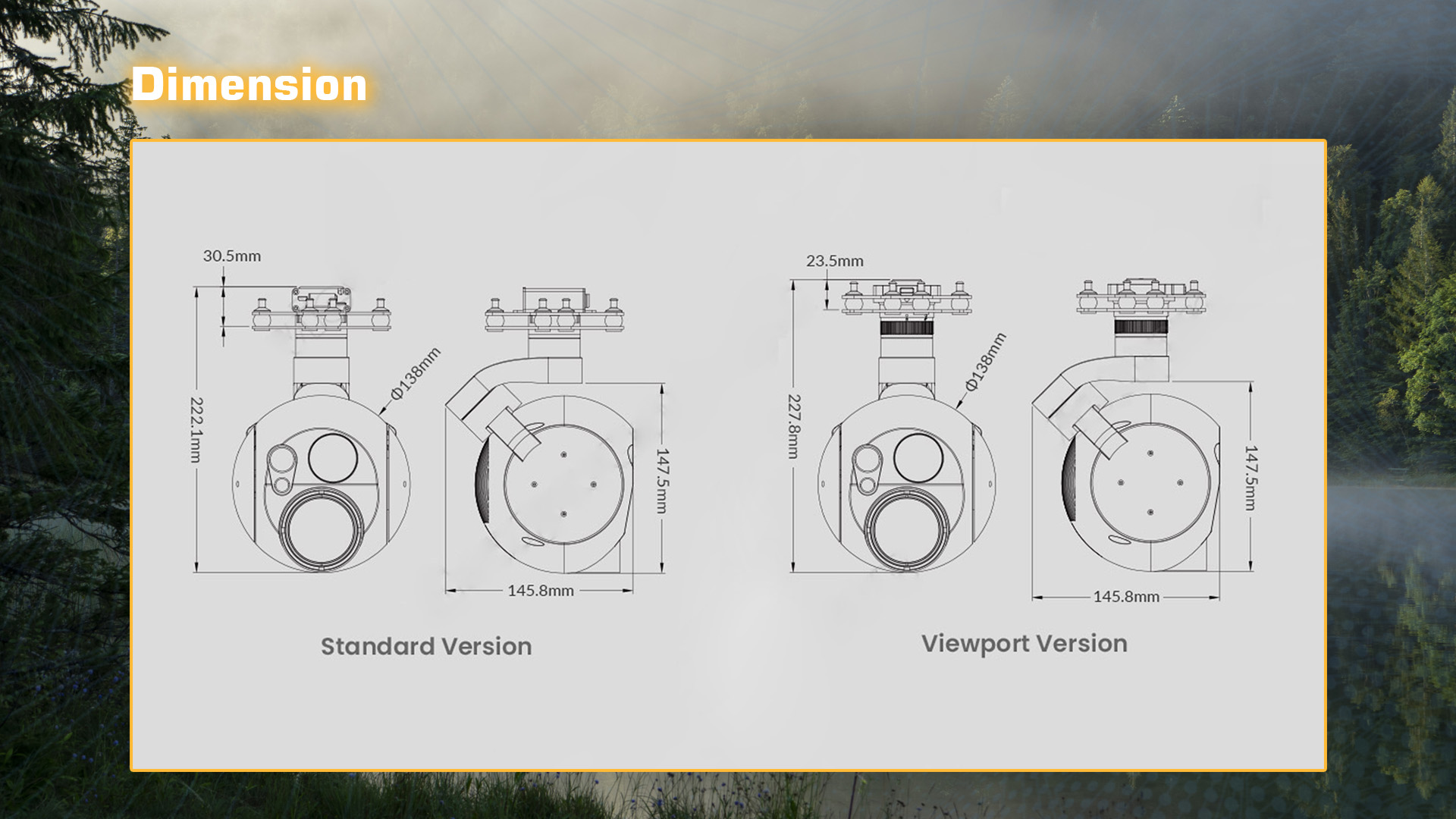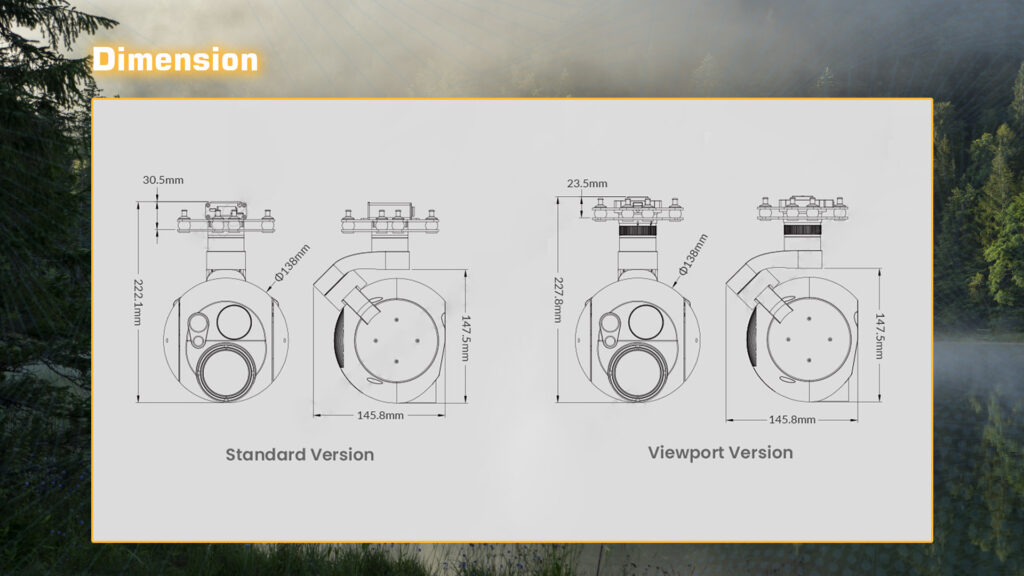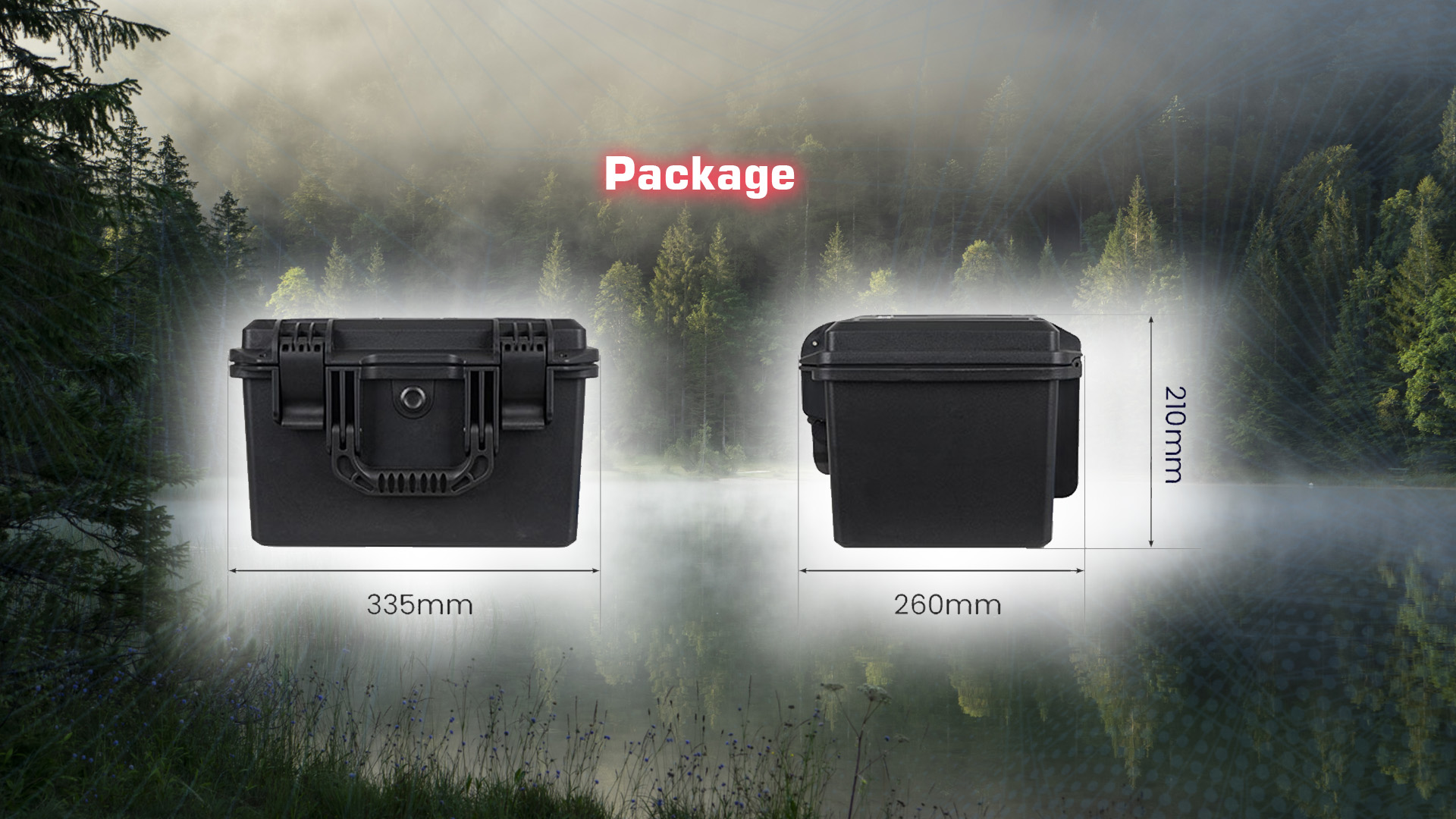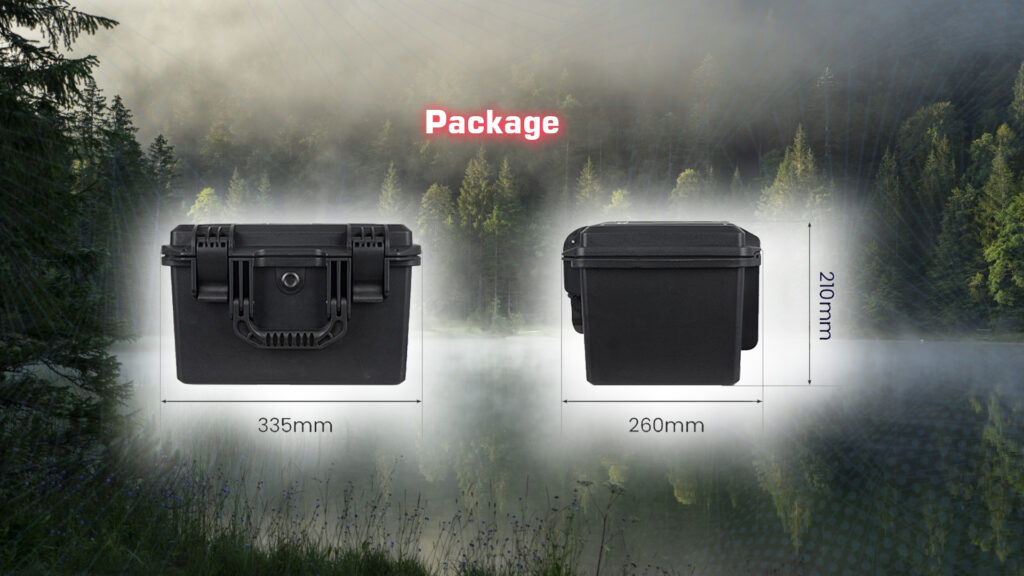 Additional information
| | |
| --- | --- |
| Weight | 1 kg |
| Dimensions | 20 × 16 × 15 cm |
| version | Standard, Quick release |
Specifications
Hardware Parameter

Working voltage

16V

Input voltage

4S ~ 6S

Output voltage

5V (connect with PWM)

Dynamic current

800~2200mA @ 16V

Working environment temp.

-20℃ ~ +60℃

Output 

micro HDMI(1080P 30fps/60fps) / IP (RTSP/UDP 720p/1080p 30fps) 

Local-storage

TF card (Up to 128G, class 10, FAT32 or ex-FAT format)

Photo storage format

JPG(1920*1080) 

Video storage format

MP4  (1080P 30fps)

Card reading online

HTTP read pictures

Control method

PWM  / TTL / S.BUS / TCP(IP output)/UDP (IP output version)

Geotagging

Support, display time, and GPS coordinate in picture EXIF
Gimbal Spec

Mechanical Range

Pitch/Tilt: -55°~125°, Roll: ±45°, Yaw/Pan: ±300° / ±360°*N (IP output version)

Controllable Range

Pitch/Tilt: -45°~120°, Yaw/Pan: ±290° / ±360°*N (IP output version)

Vibration angle

Pitch/Roll: ±0.02°, Yaw:±0.02°

One-key to center

√
Camera spec

Image Sensor

SONY 1/2.8″ "Exmor R" CMOS

Picture quality

Full HD 1080 (1920*1080)

Effective pixel

2.13MP

Lens optical zoom

30x, F=4.3~129mm

Digital zoom

12x (360x with optical zoom)

Min object distance

10mm(wide end) to 1200mm(tele end). Default 300mm

Horizontal viewing angle

1080p mode: 63.7°(wide end) ~ 2.3°(tele end)

Sync system

Internal

S/N ratio

more than 50dB

Min illumination

Color [email protected]

Exposure control

Auto, Manual, Priority mode(shutter priority & iris priority), Bright, EV compensation, Slow AE

Gain

Auto/Manual 0dB to 50.0dB(0 to 28 steps + 2 steps/ total 15 steps)




Max.Gain Limit 10.7 dB to 50.0dB (6 to 28 steps + 2 steps/ total 12 steps)

White balance

Auto, ATW, Indoor, Outdoor, One Push WB, Manual WB, Outdoor Auto, Sodium Vapor Lamp (Fix/Auto/Outdoor Auto)

Shutter speed

1/1s to 1/10,000s, 22 steps

Backlight compensation

Yes

Aperture control

16 steps

Defog

Yes

OSD

Yes
IR Thermal Imager Spec

Focus Length

50mm

Coating Film

DLC

Horizontal FOV

8.8°

Vertical FOV

7.0°

Diagonal FOV

11.2°

Detective Distance (Man: 1.8×0.5m)

2083 meters

Recognize Distance (Man: 1.8×0.5m)

521 meters

Verified Distance (Man: 1.8×0.5m)

260 meters

Detective Distance (Car: 4.2×1.8m)

6389 meters

Recognize Distance (Car: 4.2×1.8m)

1597 meters

Verified Distance (Car: 4.2×1.8m)

799 meters

Working mode

Uncooled VOx long wave (8μm~14μm) thermal imager

Detector pixel

640*512

Pixel pitch

12μm

Focusing method

Athermal prime lens

NETD

≤[email protected] @25℃

Color palette

White hot, black hot, pseudo-color

Digital zoom

1x ~ 8x

Sync correct time

Yes
EO / IR Camera Object Tracking

Update rate of deviation pixel

30Hz

Output delay of deviation pixel

<30ms

Minimum object contrast

5%

SNR

4

Minimum object size

16*16 pixel

Maximum object size

256*256 pixel

Tracking speed

±48 pixel/frame

Object memory time

100 frames
IR Laser Rangefinder

Measure ability

≥5km for big targets (eg. building)




≥3km for car(2.3m×2.3m )




≥1.5km for people(1.75m×0.75m )

(Based on typical value:




LOS visibility: ≥8km




Diffuse reflection rate: ≥0.3




Humility: ≤80%)

Accuracy (Typical value)

≤ ±1m (RMS)

Wavelength

1535nm pulse laser

Divergent Angle

≤ 0.5mrad

Measurement frequency

1~10HZ

Min measuring range

≤20m

Resolution

≤ 50m (multiple targets)

Rangefinder

Target distance measuring
EO Camera AI Performance

Targets type

Car and human

Simultaneous detection quantity

≥ 10 targets

Min contrast ratio

5%

Min target size

5×5 pixel

Car detection rate

≥85%

False alarm rate

≤10%
Packing Information

Net Weight

1485g (Viewport version)

Product Measurements

145.8*138*222.1mm (Standard version) / 145.8*138*227.8mm (Viewport version)

Accessories

1pc gimbal camera device, screws, copper cylinders, damping balls,1pc USB to TTL cable / High-quality plastic box with foam cushion

Gross Weight

3632g

Package Measurements

350*300*250mm
Product contents
1x A30TR-50 gimbal camera, screws, copper cylinders, damping balls, 1x USB to TTL cable / High-quality plastic box with foam cushion