DPD-5 Drone Package Drop System
1350.00 $
Description
Product description of Drone Package Drop System (DPD-5)
A five-stage UAV airdrop device developed based on DJI OSDK can be used as a model for this Drop System. Throughout the shell, the main body is composed of aviation aluminum and carbon fiber. It is lightweight, designed to carry heavy loads, can be disassembled and assembled rapidly, and can be controlled by OSDK+App, which breaks the control distance. As a result, it is restricted and does not occupy the PTZ interface, the camera works with other cameras at the same time, and is suitable for a wide range of drones.
OSDK+APP control
This mode ensures the durability of the modules' operation. The professional application became a part of the drone remote control, so the control distance is no longer restricted, and one person can control them with no problem.
Convenient physical buttons
It is possible to quickly finish the quick loading feature after you have completed the link with the drone by using the physical buttons on the front of the module to control the opening and closing of the dispenser claw, with the goal of completing the quick loading process quickly for this drone delivery.
Optimal design
It has been foud that, when mounted in the middle of the belly of an aircraft, the best center of gravity is almost perfect, since it does not have much impact on the flight balance of the UAV, which ensures the highest levels of stability and safety the UAV. In addition, the combination of the sliding slot and spring lock buckle ensures fast mounting of the dispenser, as only a push of the spring lock buckle is needed to lock the dispenser on a spin without any problems. This ensures dual protection,, safety and reliability after installation. With the spring lock button and a gentle push of the dispenser, it is easy and convenient to remove the dispenser from the container.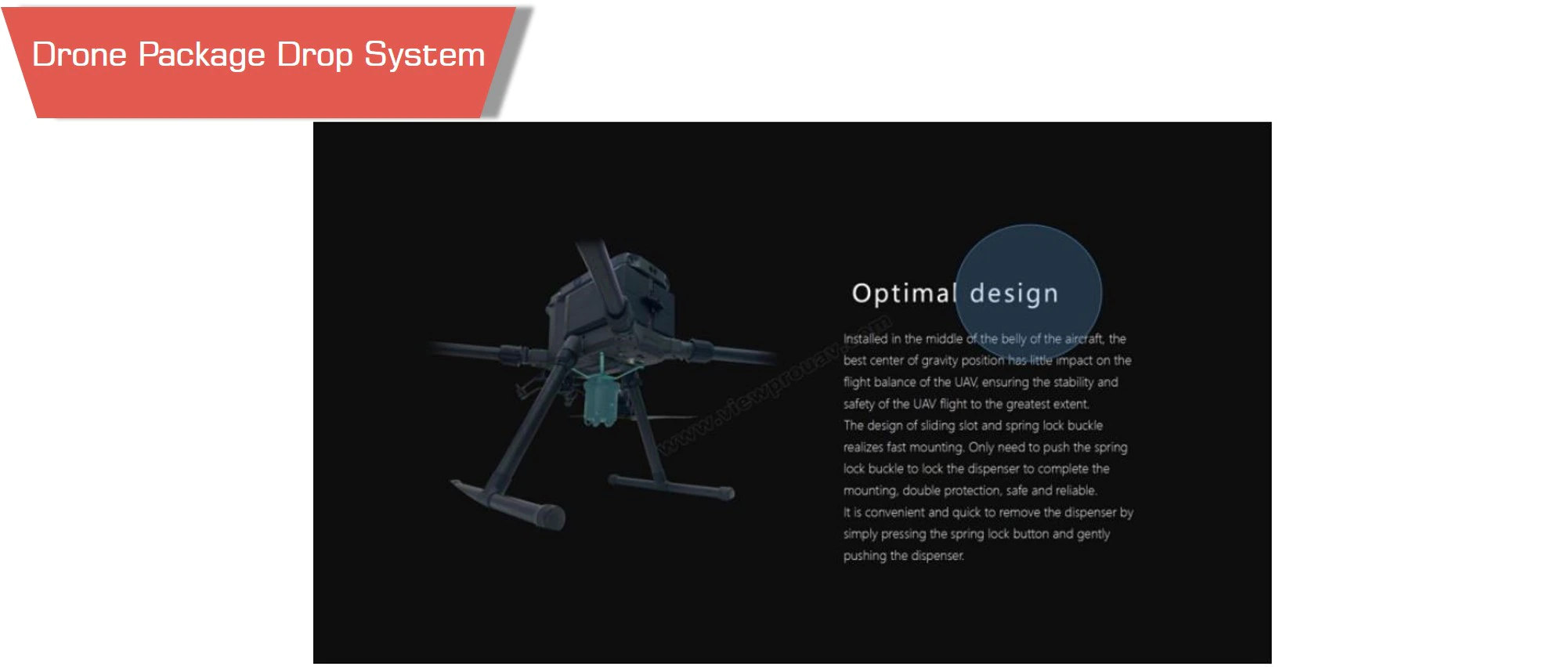 Disassembly-free and quick-releaserack design in this drop system
Accurate measurement, accuratedesign fits the M300RTK shell perfectly, and the quick-release rack can be put into the flight case with the drone without disassembly.
The high-precision universal design of the quick-release rack can be used on the same platform as other modules of our company . the material is made aviation aluminum through CNC processing technology and sandblasting and anodizing . it has the advantages of high precision, high strength, corrosion resistance, and wear resistance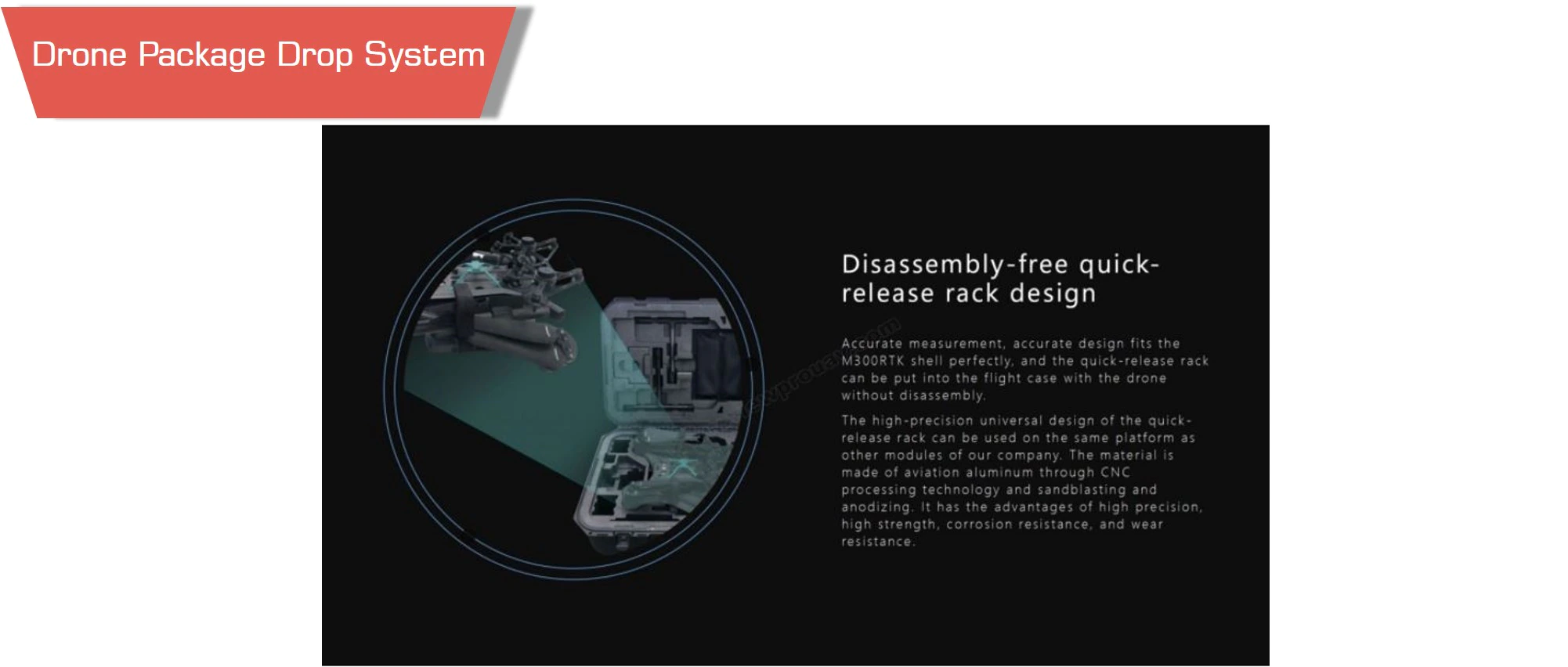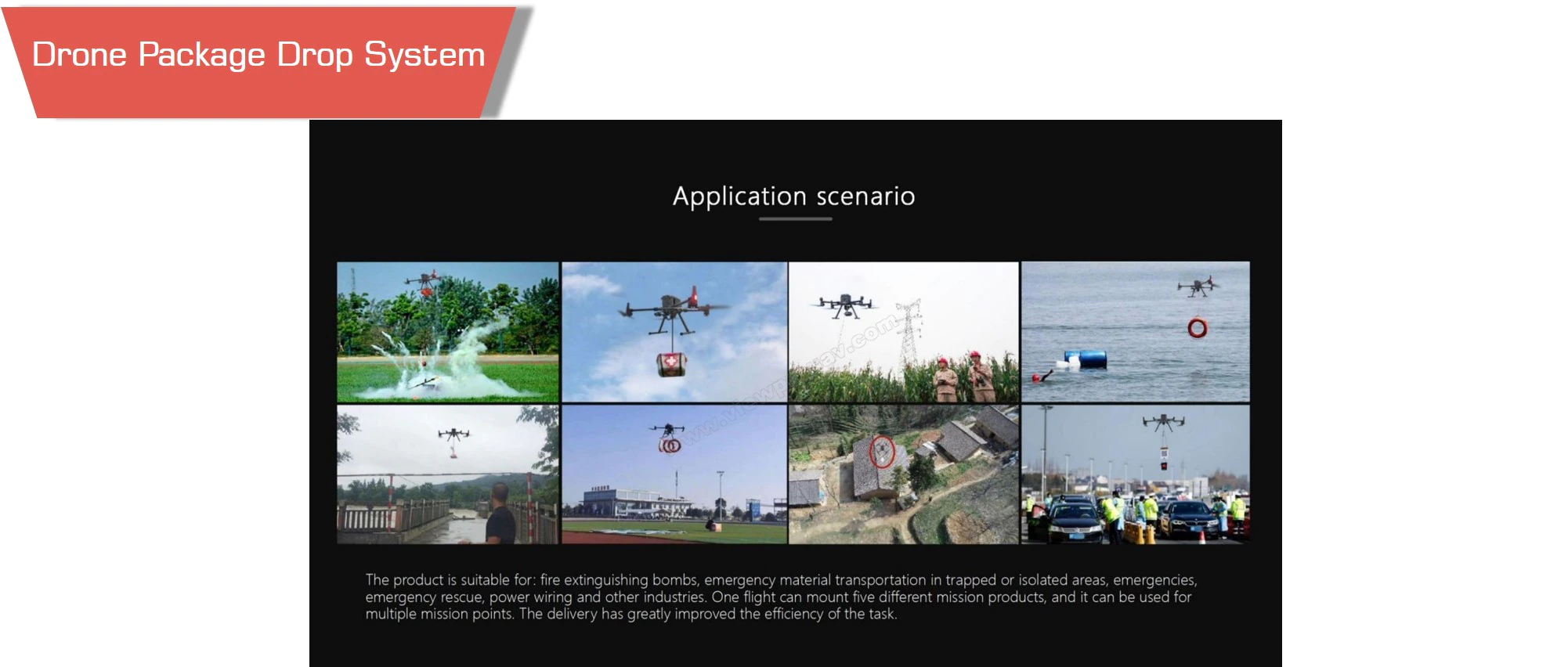 Additional information
| | |
| --- | --- |
| Weight | 1 kg |
| Dimensions | 25 × 21 × 12 cm |
Specifications
| | |
| --- | --- |
| Device size | 62mm*62mm*92mm |
| Weight | 295g |
| Interface | OSDK |
| Package size | 252mm*217mm*121mm |
| Power | 18w |
| Voltage | type-c inteferface input 5~24V |
| Control mode | OSDK+APP/PWM |
| Control range | Same communication distance as the drone (DJI M300RTK) If use a 3rd party drone, the control range depends on the RC |
| Mounting | Detachable |
| Hook | quanity 5 |
| Payload | weight/hook 5kg |
| Max | payload in total 5kg |
| Load | order In order |
| Drop | order In order |
| Drop | function Single point |
| Working | temp45℃-20℃ |
| Extension | function Support 3rd party drone (PWM singal) |
| Support | drones DJI M300RTK / 3rd party drone |
Product contents