Aura Industrial Box 2713T / AI-4-2713T / Rugged Hard Case
192.90 $
Description
Overview of Aura Industrial Box 2713T (AI-4-2713T)
Consult Motionew Online Shop for the full range of our products.
AI-4-2713T industrial box applications
This carrying box is waterproof, dustproof, and shockproof

The emergency rescue box can be used as the first aid kit box in the event of an emergency.

For Field / Scientific Researcher / Explorers, to keep their precision instruments from being damaged by moisture.

This is the best choice for photographers when it comes to protecting their camera lenses.

This hard box is an item that is used by the military and the army.

It's the most effective storage case for aviation and navigation equipment to ensure that it's protected from moisture and rust.

This tool case is ideally suited for carrying drone accessories.
Features of this hard box Aura Industrial Box 2713T
The shock resistance of this product and its crush protection in free fall at 5m

The product is water resistant / IP67 Waterproof 1m deep in water after 30 minutes.

During the open position of the lid, the lid maintains a self-balanced position

The latches on the case maintain the upright position while it is open

The interior capacity is optimized due to the reinforced wall design, round corners, and rounded corners.

The decorative fluorescent reflectors are clearly visible from a distance of 10 meters in the dark

Engage matching hard case with maximum force of 5Kg, no latches required

Getting the case released is easy. Simply unlock the 4 bracket latches and you can release the case with maximum force of 2Kg.

The rod is self-locked with minimum 10Kg force while collapsed, press the central lock to operate the rod, which extends to a maximum height of 40.7 inches

When trolley and case are in motion, there must be a minimum clearance of 1.6 inches from the ground.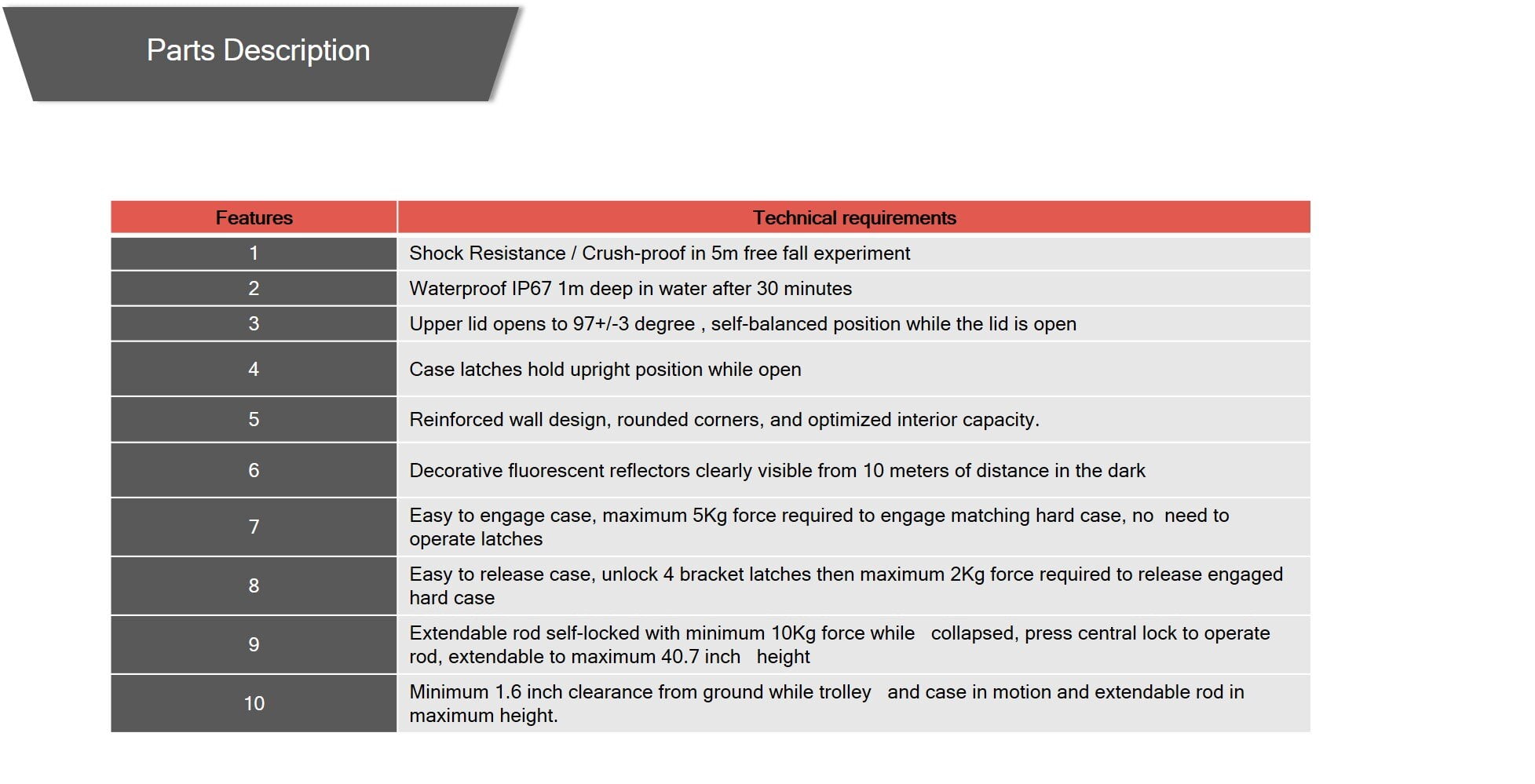 If you have any questions regarding our products, use the Motionew team of experts page to consult our engineering team.
Additional information
| | |
| --- | --- |
| Weight | 7.7 kg |
| Dimensions | 45.8 × 34.7 × 20.4 cm |
Specifications
| | |
| --- | --- |
| Model Number | AI-4-2713T |
| External Dimensions (mm) | 458(L)x347(W)x204(H) |
| Internal Dimensions (mm) | 400(L)x270(W)x(130+55)(H) |
| Material | Engineer Plastic |
| Waterproof | IP67 |
| Foam | Egg foam / PU foam / as request |
| Color | Black / as requested |
| Net Weight | 7.7Kg |
Product contents
1 * Aura Industrial Box 2713T