M31 handheld GCS (Ground Control Station) is a portable GCS that has everything you need inside. No need to carry extra heavy accessories around and wasting time on initial setup by connecting different components together. This all-in-one ground control station integrates your radio control, datalink, and video link in a single entity. Although you can use your own communication system, and connect by standard interfaces including S.BUS, USB, LAN, and industrial grade CAN protocol which can be self-defined by the host computer. With a big 10.1″ touchscreen display, you can control and monitor drones (Multirotor, Fixed-wing, or VTOL) or robots (UGV, ROV, or USV) at the same time, and have real-time footage of the installed gimbal camera as well.
The 1000nit sunlight readable screen is suitable for outdoor missions in the middle of the day. Moreover, the industrial design of M31 handheld GCS — waterproof and dustproof (IP53), makes it operable in harsh environments and in a wide temperature range. It can easily survive drops on the ground and enormous shocks. The protective rims near the screen ensure that no scratch will be seen on the screen even if you drop it from a height. Don't believe us? Just take a look at our drop test and how M31 easily survives.
A large electronics compartment has been designed and installed at the back of the unit with a large space for installing arbitrary communications modules, converters, adaptors, and other suitable modules based on the mission.
You can easily install this remote control on a tripod thanks to the standard 1/4″ tripod mount screw for long-time mission scenarios or a fixed docking station like car mounts and back seat mounts.
Ergonomic design by using a well-finished uniform aviation-grade aluminum along with long width fully rubberized handle for better grip and control makes the unit drop resistant and waterproof. 
M31 UAV GCS has enough input channels (35 individual physical channels) that make it a powerful remote control system and gives the user capability to assign each channel to the preferred joystick, switch, and button. By using industrial grade self-centering joysticks, operator can have precise control over the vehicle maneuvers. Normally, the buttons can be used for single-state, bi-state, or tri-state control or even mixed with other channels to create combinatorial functions. Two self-centering knob wheels at the top edge corners are well-mounted and easily finger-reachable to have full control over the assigned actuators or manipulation of the camera pointing view direction. In addition, buttons with backlights enable the possibility of operations in the middle of the night or in dark environments. A big emergency stop button was added to the unit to easily trigger the fail-safe scenarios.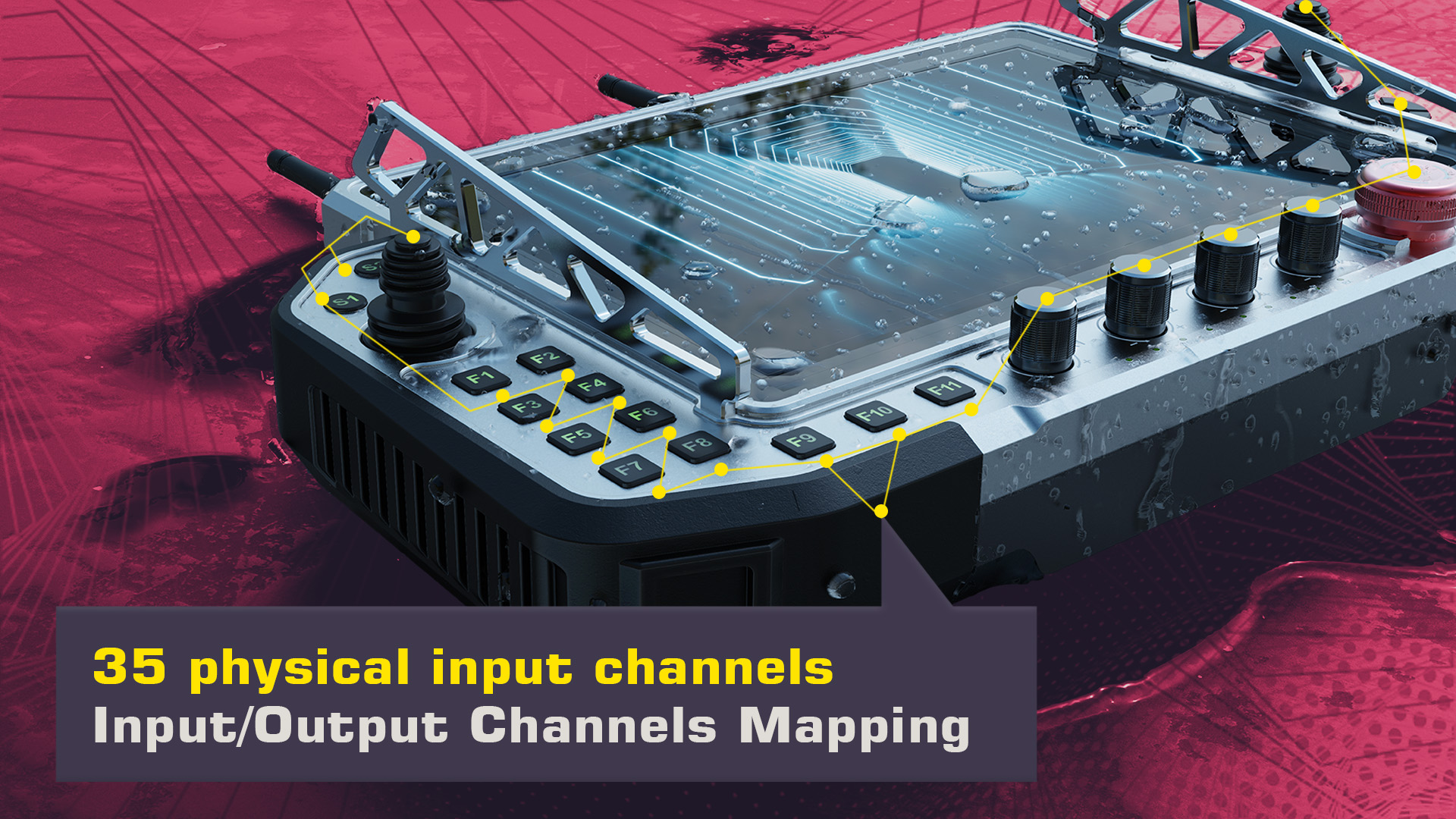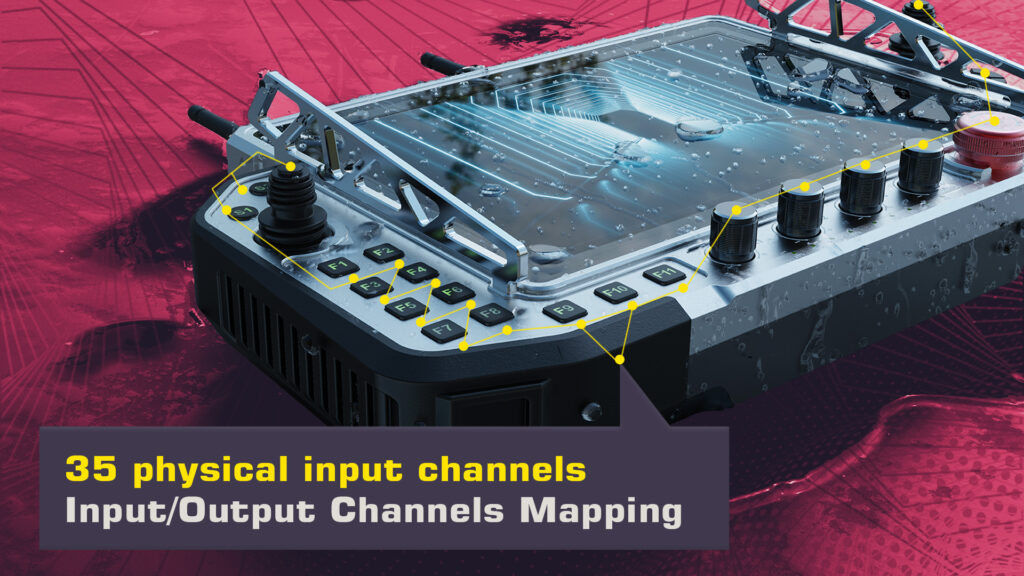 It is possible to get the signal out of the remote control by connecting the SBUS ports, or USB port to a PC, that can use the signals for internal processing. 
M31 can run both Linux and Windows as the operating system, and most Ground Control Station Software available on the market, including QGroundControl and MissionPlanner, can be installed and run on it.
Here are a few parameters of M31 portable GCS:
Main Parameters
Overall weight
2800g
Dimension
378mm(L)*221mm(W)*54mm(H)
Screen 
10.1″ industrial touchscreen
1280×800 (1000nit)
1920×1200 (800nit)
CPU 
Intel Core i5
RAM 
8GB DDR4L(standard), 32G max
Physical channels
Main joysticks*2 (industrial joysticks with hall sensors)
Knob*4
Key button*25
Pull wheel*2
1 stop button, 1 directional button, and 7 simulate keystrokes
Battery capacity
12.6V/10200mAh, external battery is also supported
Working time
3.5h@full battery capacity
Charging port
Type-c 65W fast charge
SSD storage
128GB(standard), 1T max
Comparison
 

 

Overall weight
2800g
536g
850g
Material
Aluminum
Plastic
Plastic
Dimension
378*221*54mm
217×106.5x31mm
189x138x41mm
Screen 
10.1″ industrial touchscreen
5.46″, Capacitive touchscreen
5.5″, Capacitive touchscreen
1280×800 (1000nit)
1080P, 1000nit
1920×1080 (1000nit)
1920×1200 (800nit)
–
–
Operating System
Windows/Linux/Android
Android
Android
Max. communication range
50km
20km
15km
Physical Channels
35 inputs
11 inputs
13 inputs
Visit the Motionew Online Shop to view our entire product line to see the latest products and more products similar to this new GCS.