VTOL UAVs are the new generation of UAVs which do not need a runway for takeoff and landing. This feature makes them suitable for operation in harsh and inaccessible environments. Adler M32 is the new generation of its predecessors Voron M35 and M25 VTOLs. Compared to the Voron M35, Adler M32 has a smaller wingspan (3.2m compared to 3.5m), while achieving almost the same performance. Smaller wingspan makes it easier to operate and carry. The airframe has an aerodynamic design and weighs only 6.5kg, while it can carry up to 5kg of payload — can be categorized under heavy payload drones, with a maximum takeoff weight of 24kg.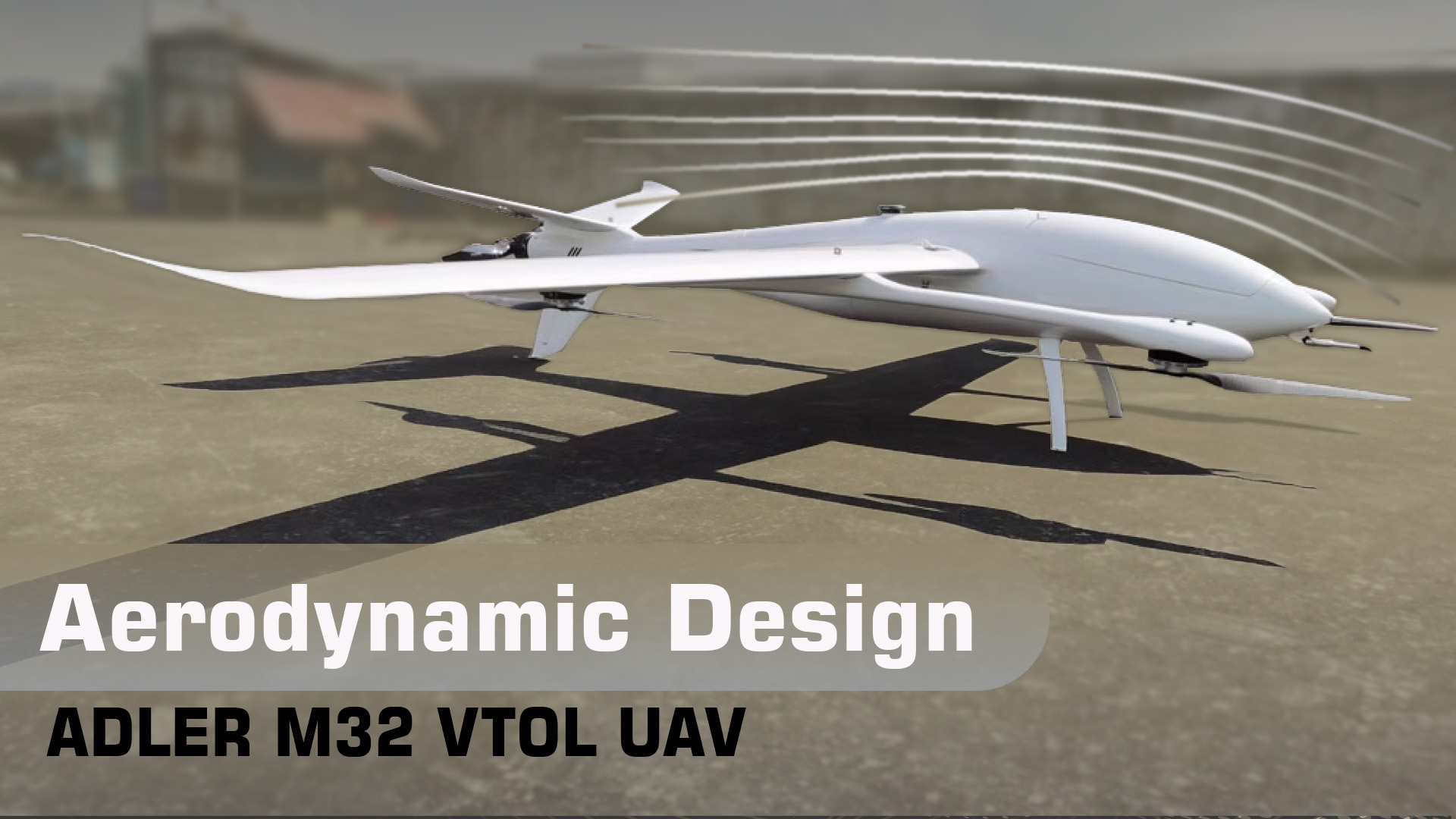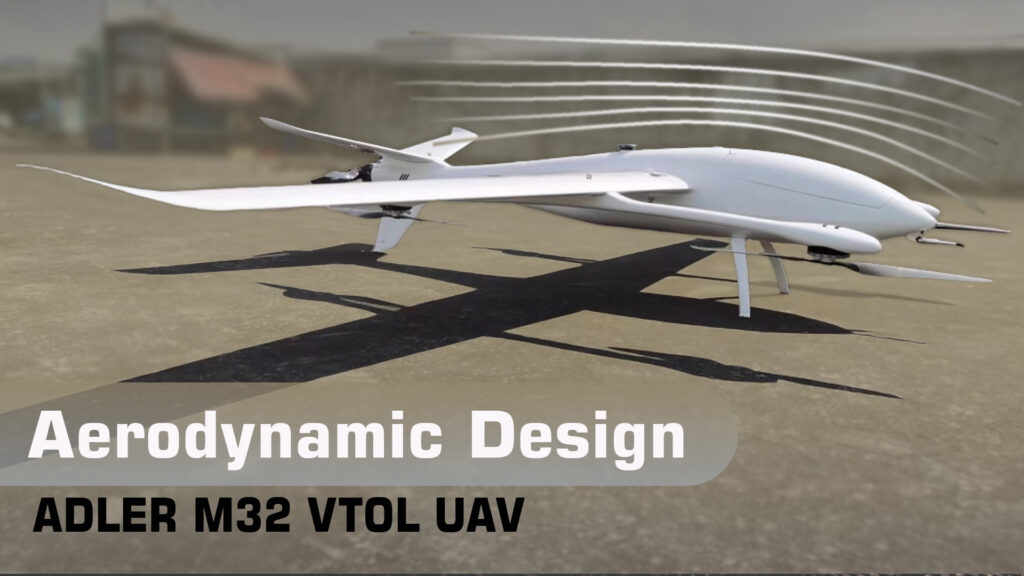 Adler M32 has a novel motor and propeller installation. Downward-facing propellers provide a much more lift force compared to conventional designs. The upward curved winglets prevent the negative lift on the wings. This long endurance drone can fly 3.8hours with a 1.2kg payload (4.2hours without payload).
One thing that we did not like about the Voron M35 design was the placement of the landing gears. Putting the landing gears on the wings makes it almost impossible to assemble the drone single-handedly. However, the landing gears of Adler M32 are positioned under the main body, and a single person can easily assemble the drone in a few minutes. In a more compact design, its vertical tail acts also as a landing gear.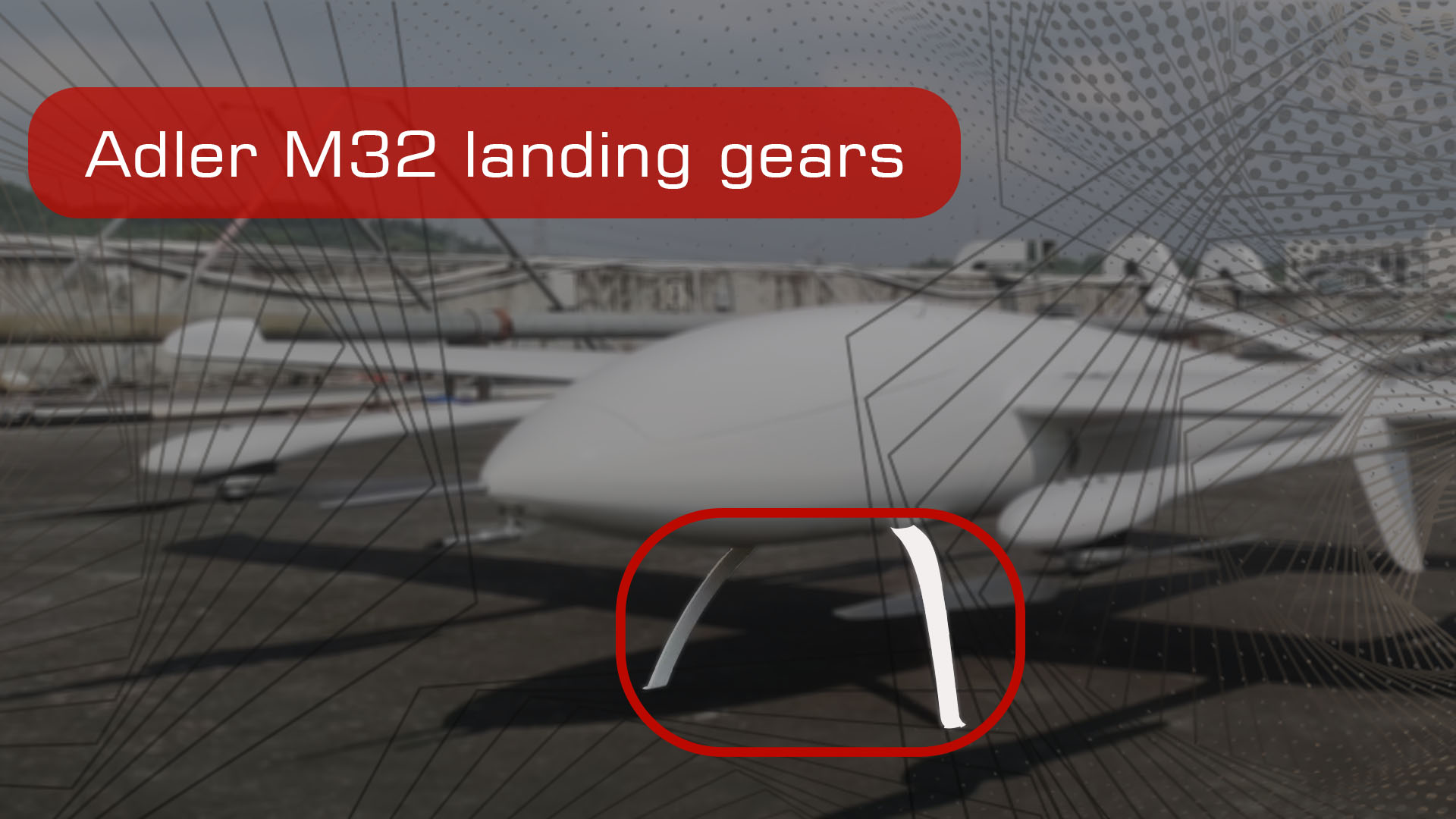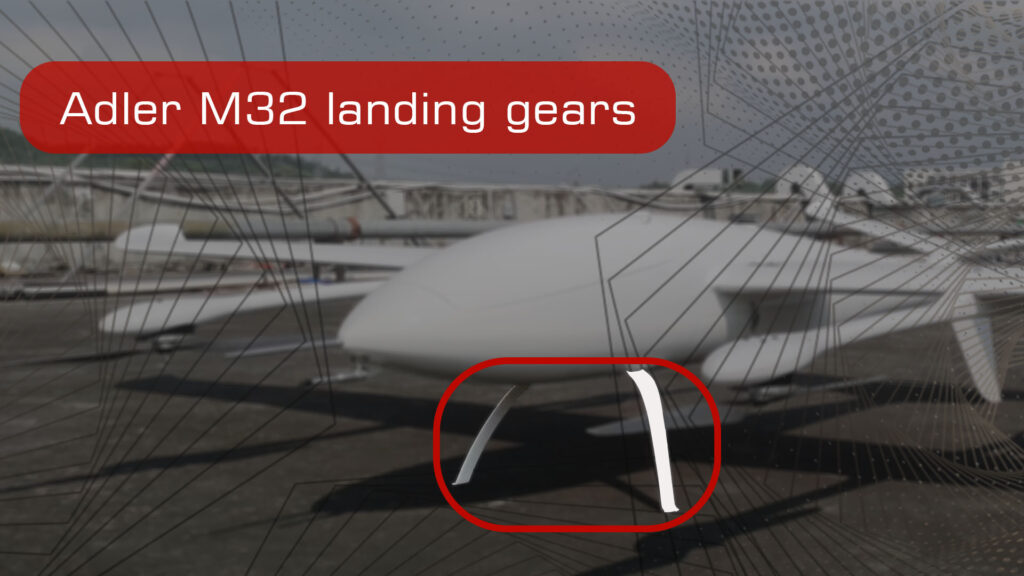 The tail is detachable itself, leading to a smaller carrying box, and uses connectors instead of wires for the rear motor and servos wires signals. The tail is installed in place with a small lock. The wings and v-tail surfaces follow the same design pattern. The signal wires go through connectors to be connected to the main body and the flight controller and are fastened using small locks. The v-tail design is a more efficient choice compared to t-tail and inverted t-tail drones.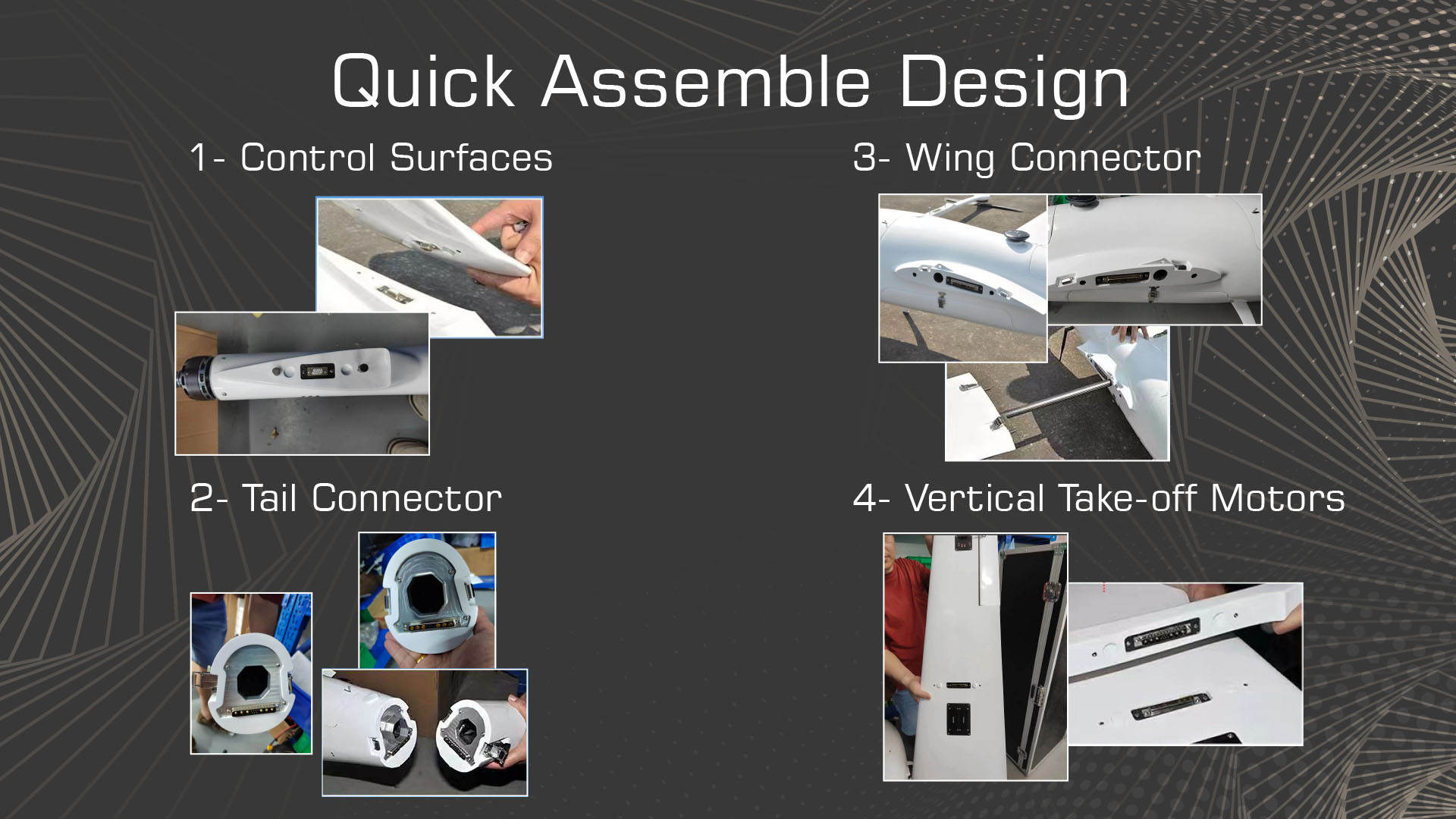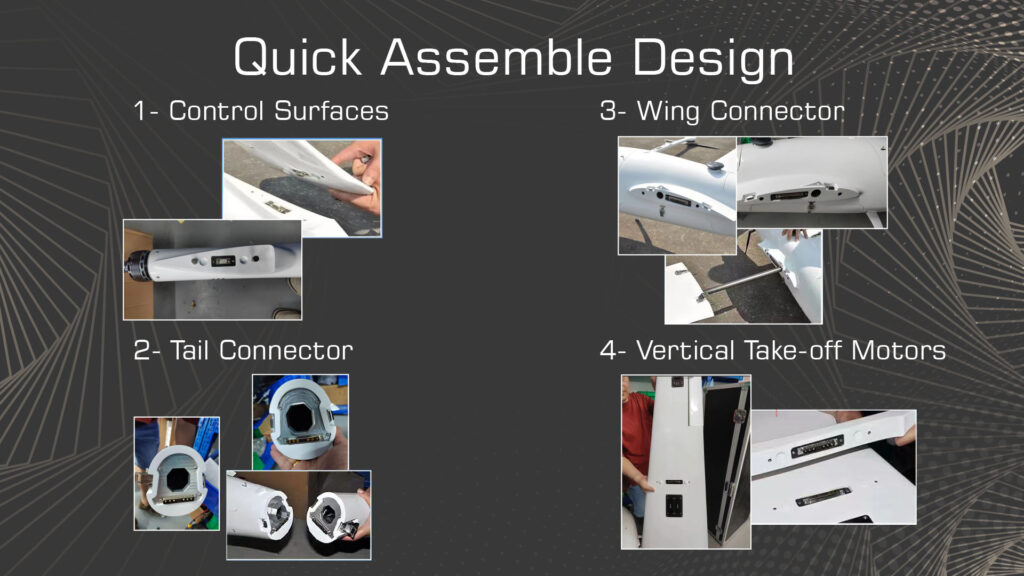 More importantly, the locks are designed with a step-down placement to have no impact on the flow of air to not create any drag. 
With a large and spacious payload compartment, there are lots of space for installing and carrying your desired payload based on your mission. The load space is detachable, which means you can easily replace your payload in between consecutive missions.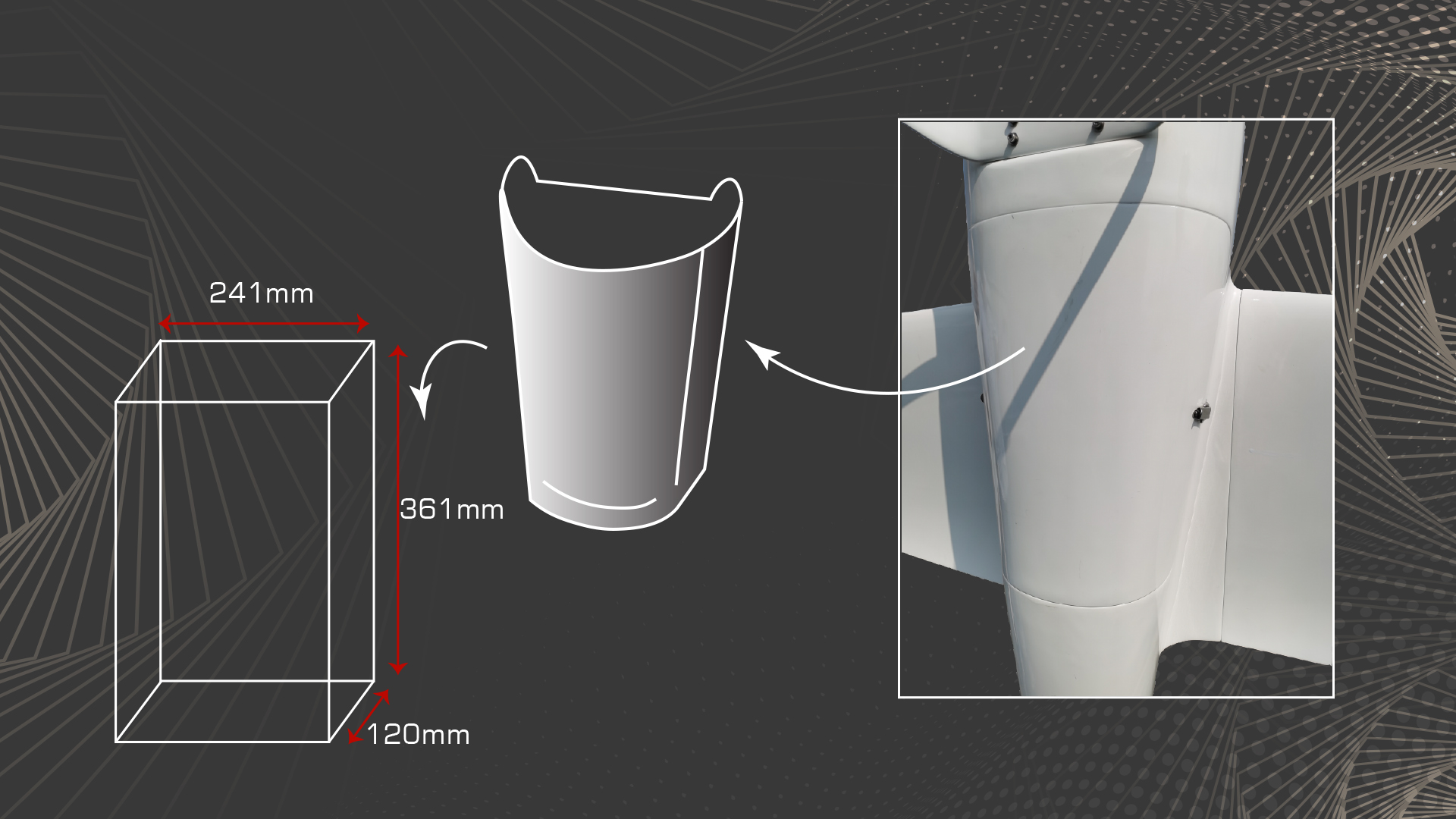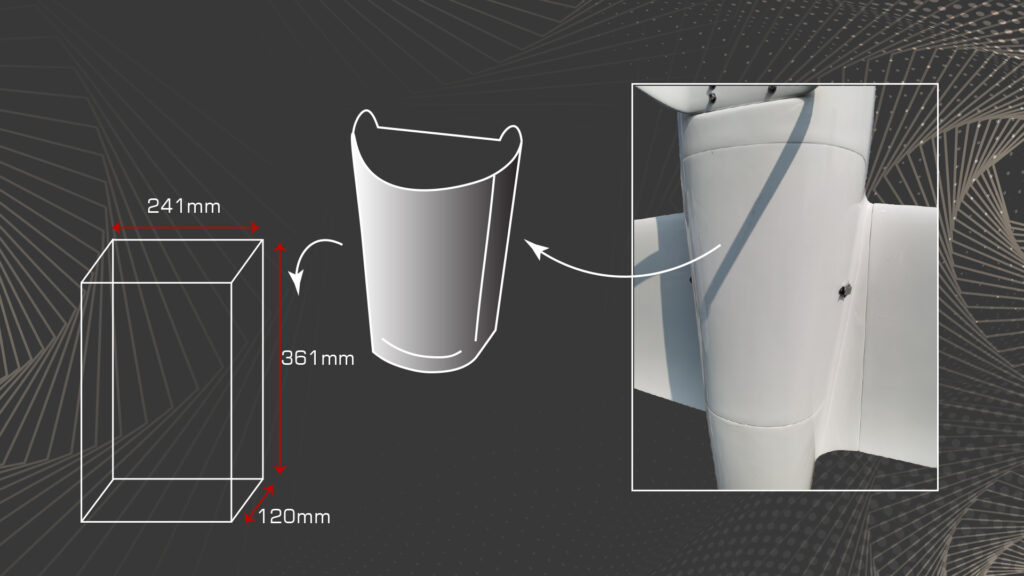 Here are a few parameters of Adler M32 VTOL UAV:
Main Parameters

Wingspan

3200mm

Length

1260mm

Belly to Ground

190mm

Battery Cabin

300x200x140mm

Material

Carbon fiber + glass fiber + Kevlar + PVC

Airframe Weight

6.45kg

MTOW

24kg

Max Payload

5kg

Suggested Load

1.2kg

Flight Time

228min with 1.2kg payload

Max Cruising Speed

26m/s

Stall Speed

17m/s

Max Flight Altitude

4500m

Max Wind Resistance Level

12m/s

Battery (Recommended)

4x 6S 30000mAH HED Li-ion

Working Temperature 

-20℃~60℃

IP Grade

IP45

Package Chargeable Size

1800x680x500mm(Contains the wheel)

Package weight

45kg
| | | | |
| --- | --- | --- | --- |
|   | | | |
| Wingspan | 3200mm | 3500mm | 2500mm |
| Length | 1260mm | 1880mm | 1260mm |
| Belly to Ground | 190mm | 195mm | 160mm |
| Battery Cabin | 30x20x14cm | 30x20x15cm | 26x15x9cm |
| Airframe Weight | 6.45kg | 8kg | 3.2kg |
| MTOW | 24kg | 33kg | 13.5kg |
| Max. Payload | 5kg | 10kg | 3kg |
| Flight Time | 228min with 1.2kg payload | 150min with 5kg payload, 70min with 10kg payload | 4hrs without payload, 3.5hrs with 1.2kg payload |
| Max. Cruising Speed | 26m/s | 30m/s | 27m/s |
| Max. Wind Resistance  | 12m/s | 16m/s | 14m/s |
Please Contact Us on WhatsApp or by Email if you are interested in purchasing this drone. 
Visit the Motionew Online Shop to view our entire product line to see the latest products and more products similar to this new VTOL UAV.