TATTU HV Battery 6S 16000mAh, 22.8v 15C
356.99 $
Description
Important Note: Due to the pure battery shipping limitations you need to get confirmation first, Please contact us before placing the order.
TATTU HV Battery 6S 15C 22.8V Li-Po pack is one of the first batteries specially made for UAV, with big capacity and high discharge rate of 15C. This high voltage 6S battery has 16000mAh capacity and supports up to 240A current discharge and has only 1880g weight.
High Voltage Li-Po battery (HV Li-Po Battery) stores a higher voltage charge per cell, which results in more energy density power for your UAV. Each cell can be safely charged to 4.35v as opposed to standard 4.2v per cell in normal Li-Po batteries. UAV endurance can be greatly improved up to 25%.
The battery is able to hold and provide the power all big UAVs need. It is stable enough to provide a safe flight for expensive aerial equipment, and secures a long flight time.
Tattu high voltage batteries are suitable for all types of industry drones in different applications including VTOL, cargo transport, mapping, filming and more.
Features:
High discharge capacity, high energy density.

Japanese and Korean Lithium Polymer raw materials.

High quality and reliable reliable solutions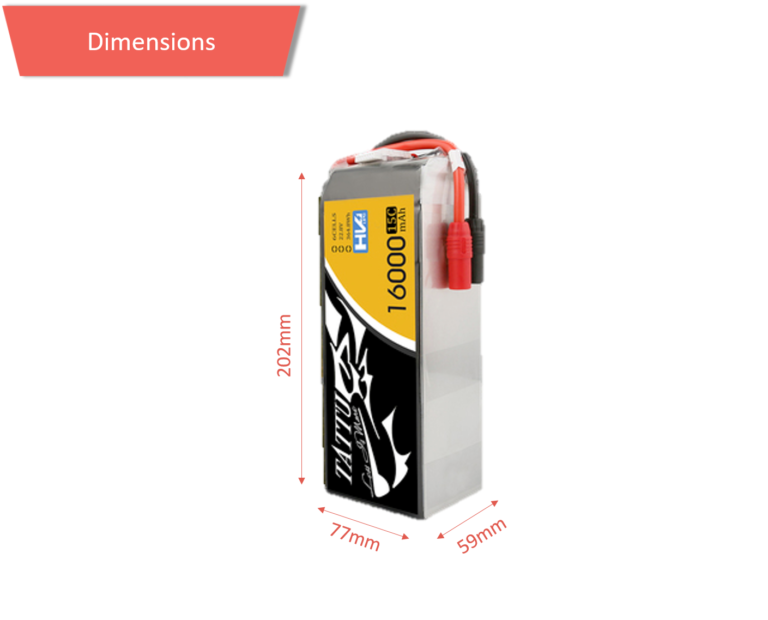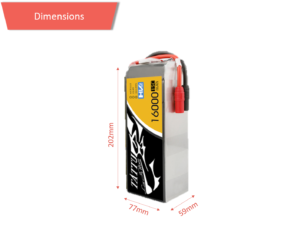 Consult MotioNew Online Shop to see the full range of our products.
If you have any questions regarding our products, use the Motionew Contact us page to consult our engineering team.
Additional information
| | |
| --- | --- |
| Weight | 5 kg |
| Dimensions | 195 × 75 × 50 cm |
| Bundle | 16000mAh, 22000mAh, 27000mAh, 30000mAh |
Specifications
| | |
| --- | --- |
| Balancer Connector Type | JST-XHR-7P |
| Brand | Tattu |
| Capacity(mAh) | 16000 |
| Balancer Wire Length(mm) | 65 |
| Configuration | 6S1P |
| Connector Type | AS150+XT150 |
| Discharge Rate (C) | 15C |
| Height | 77mm |
| Length | 202mm |
| Width | 59mm |
| Discharge Current (A) | 240A |
| Net Weight(±20g) | 1880g |
| Voltage (V) | 22.8 |
| Wire Gauge | 10# |
| Discharge Wire Length(mm) | 150 |
| Capacity Range (mAh) | 10000-49999 |
Documents
Product contents
1x TATTU HV Battery 16000mAh