U7DER / U7DE Gimbal Camera with Micro Prime Lens and Dual EO/IR (Hawkeye series)
Inquiry
Description
U7DER / U7DE Gimbal Camera with Micro Prime Lens and Dual EO/IR
U7DER / U7DE Gimbal Camera are two gimbals with Dual Electro-optical sensors (dual EO sensors) integrated with AI object identification and tracking module, which can perform automatic car and human recognition and tracking. U7DER has dual IR sensors as well as dual EO sensors. The thermal and visible images can be transmitted simultaneously in a picture in picture format (PIP format).
Two 7.2mm and 25mm lenses are provided for EO sensors. They can output videos with full HD resolution 1920×1080@60fps. The thermal sensors are 640×512 and are equipped with 13mm and 35mm lenses. The system supports up to 4x digital zoom.
Both models are lightweight and have a compact structure with a small volume. U7DE and U7DER weigh only 230g and 525g respectively. High-precision aluminum alloy CNC processing gives the gimbals a sophisticated look, increases protection against incidents, and creates a good shield for anti-interference protection and heat dissipation. 
Both gimbals have embedded artificial intelligence algorithms onboard to detect various human and car subjects. More than 10 subjects can be detected at the same time. It is possible to customize AI detection algorithm based on the characteristics of the intended subject.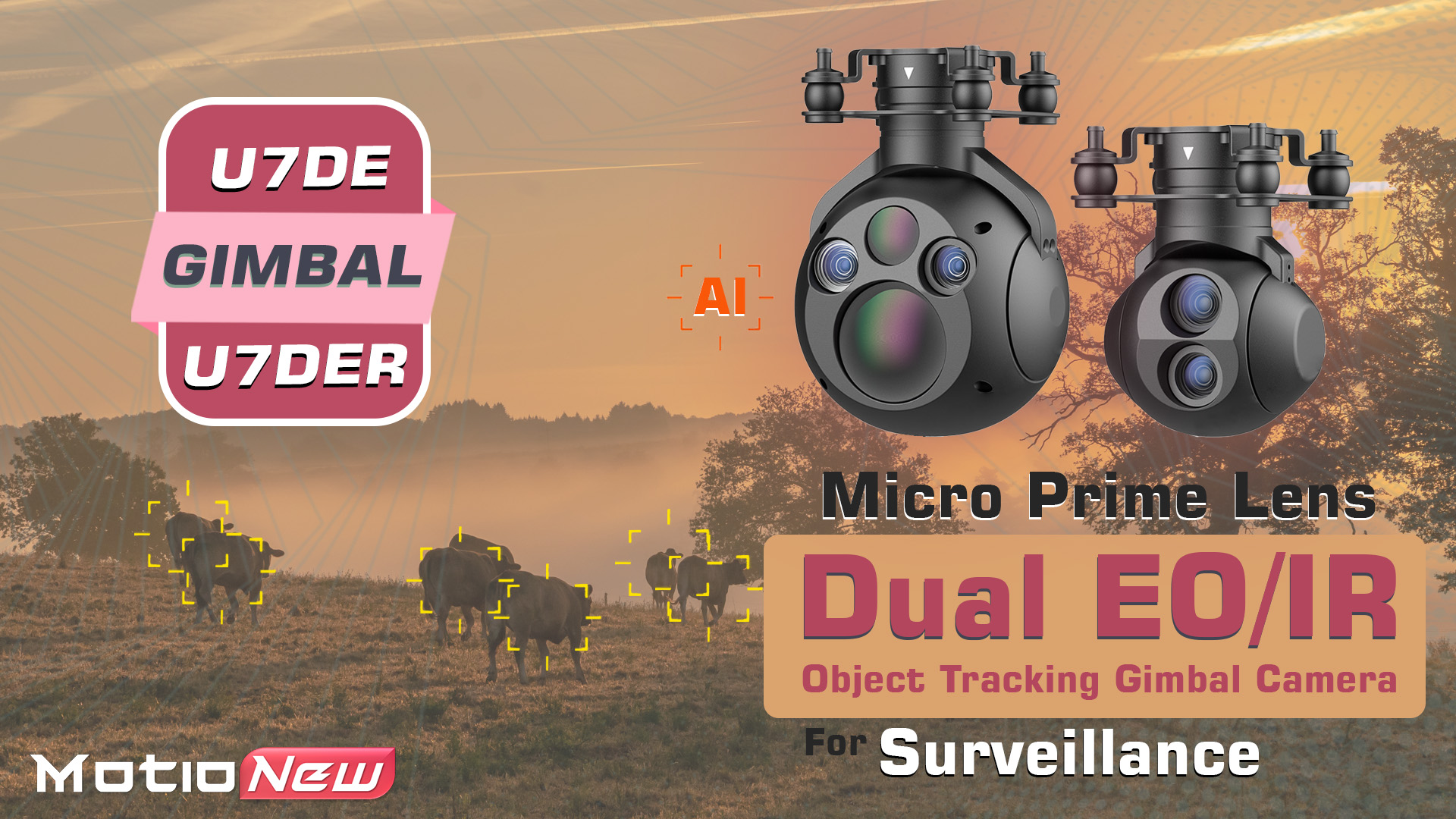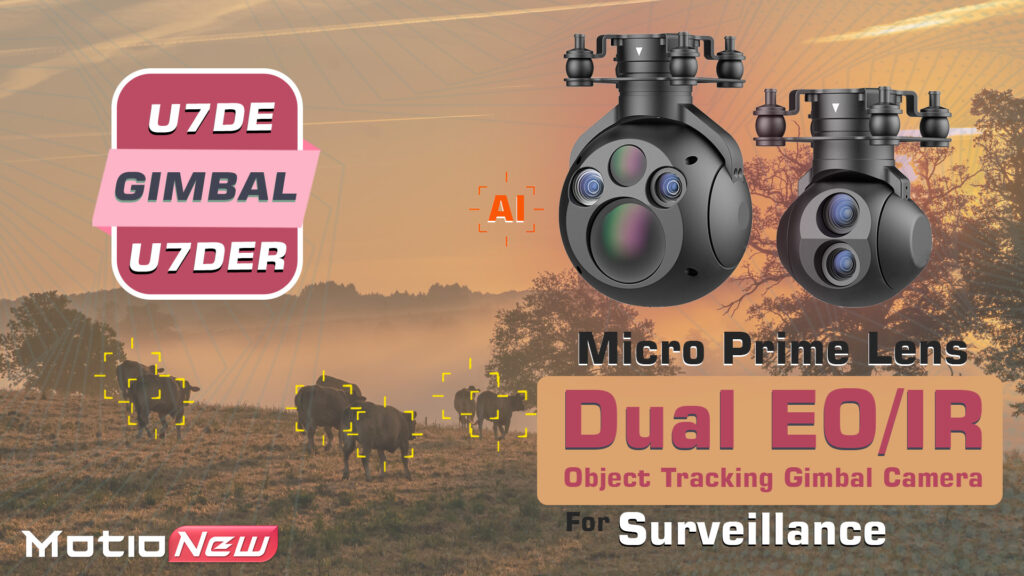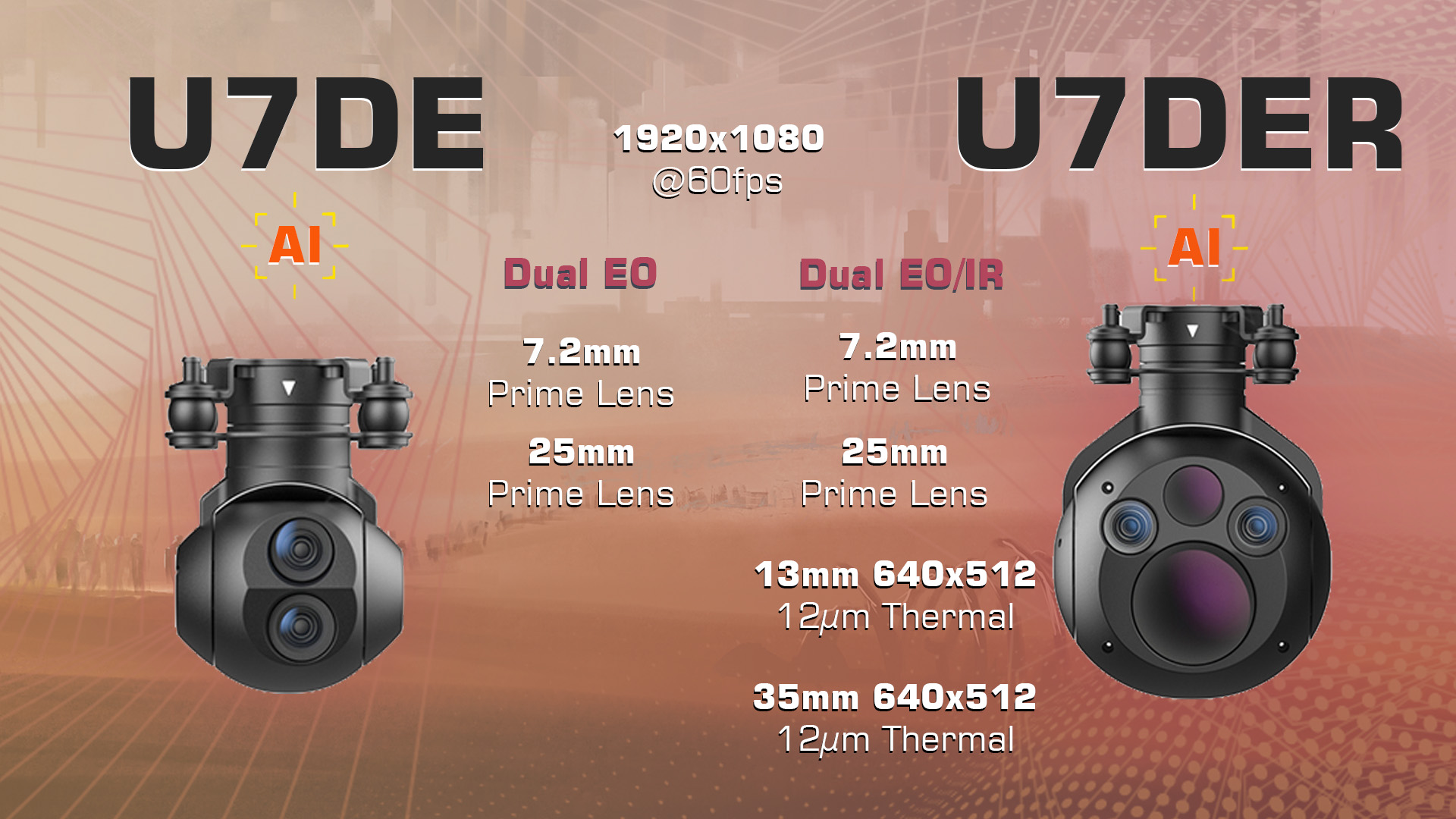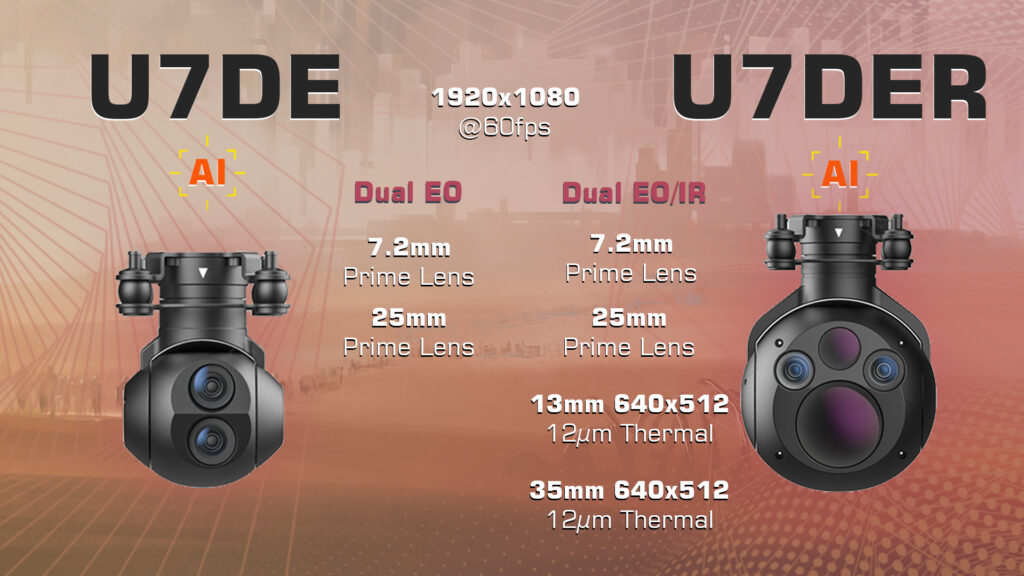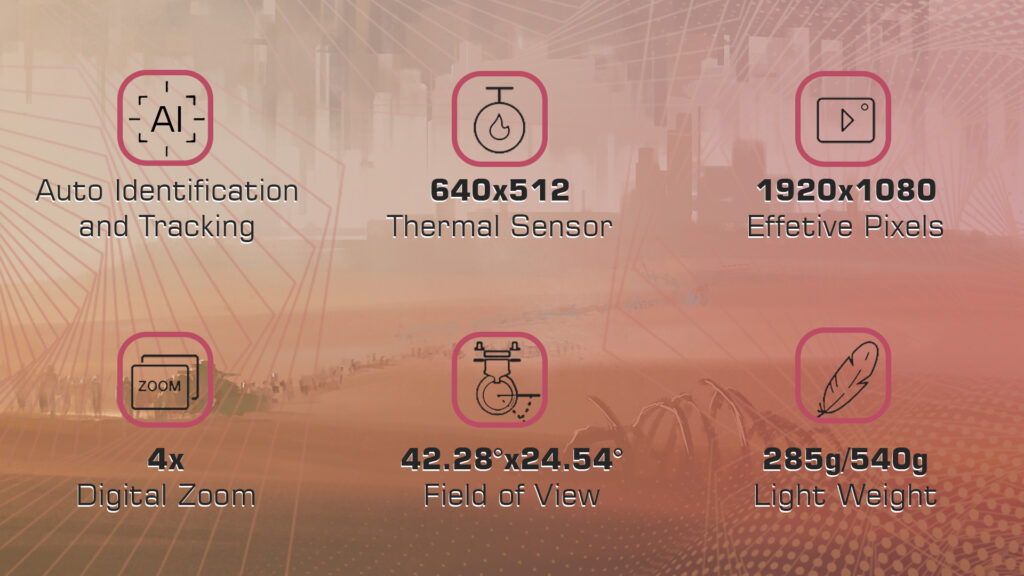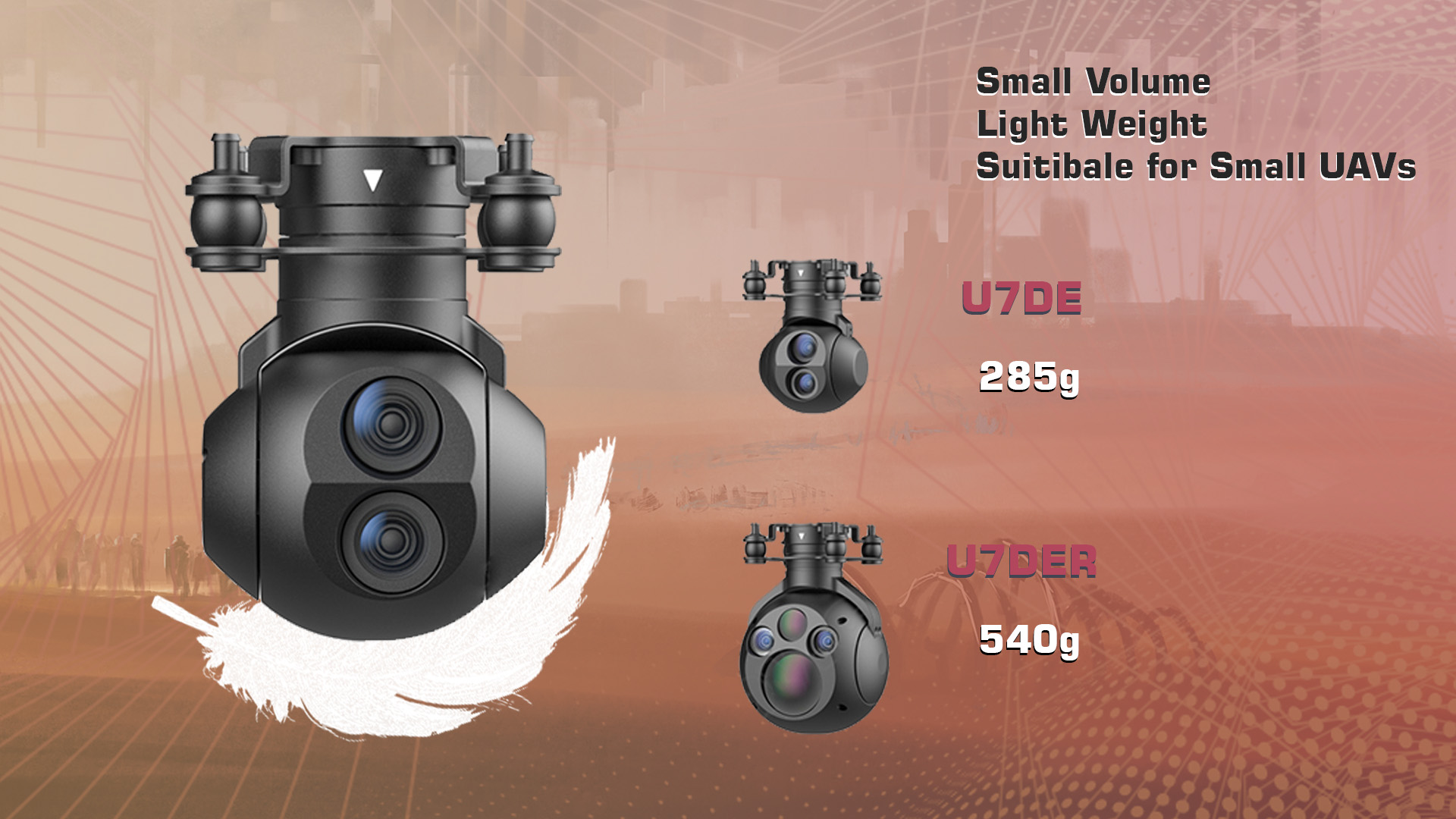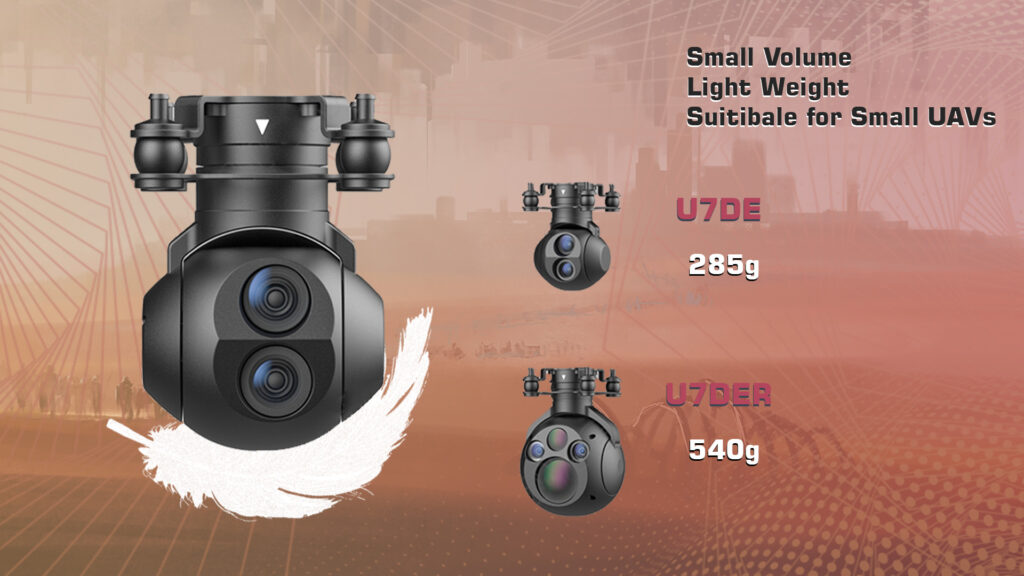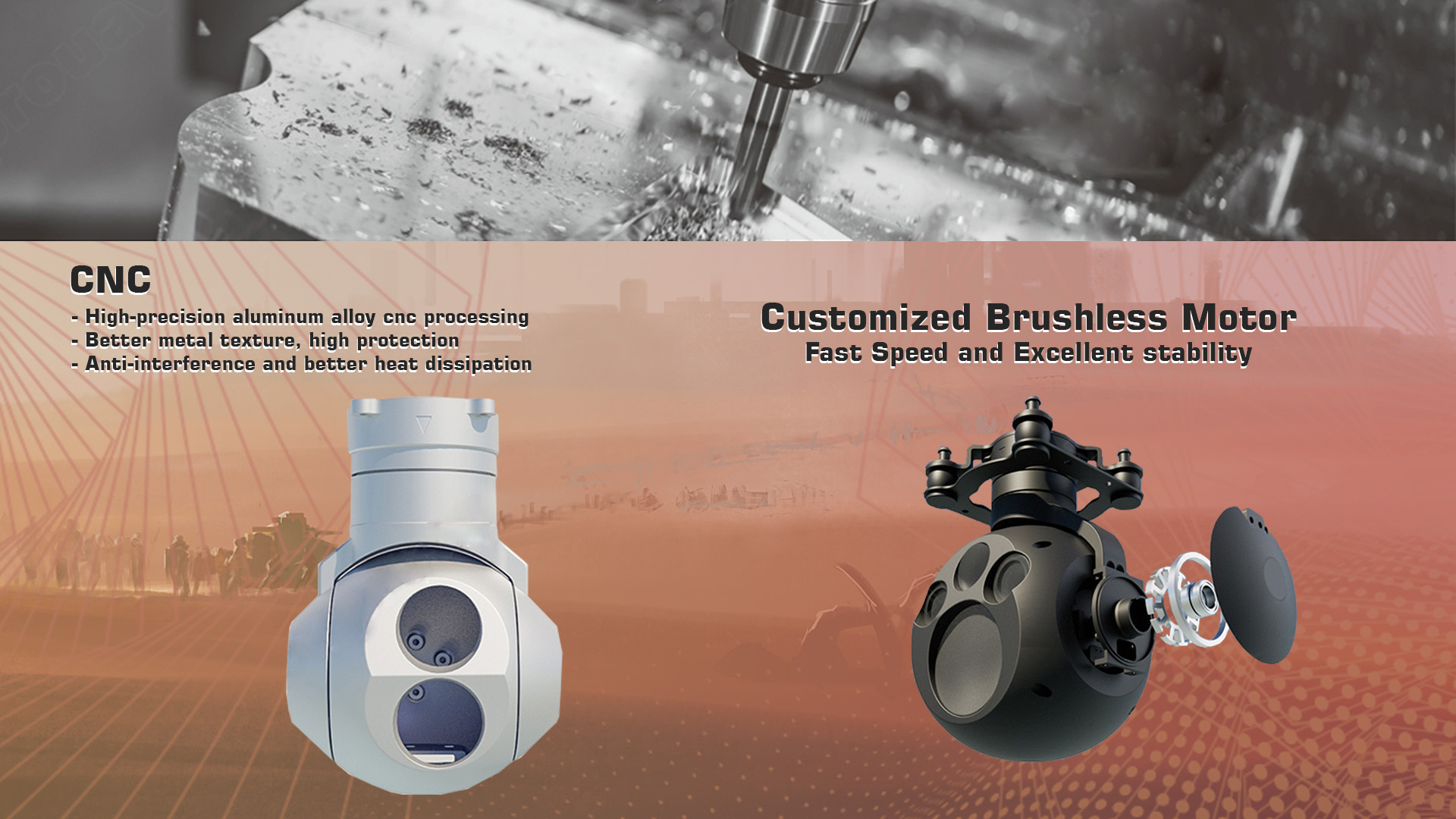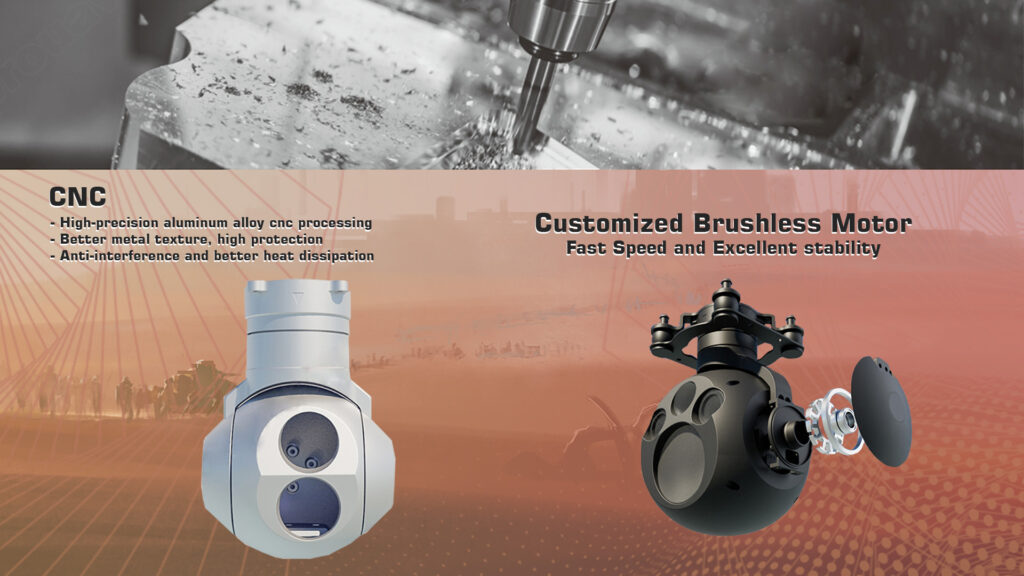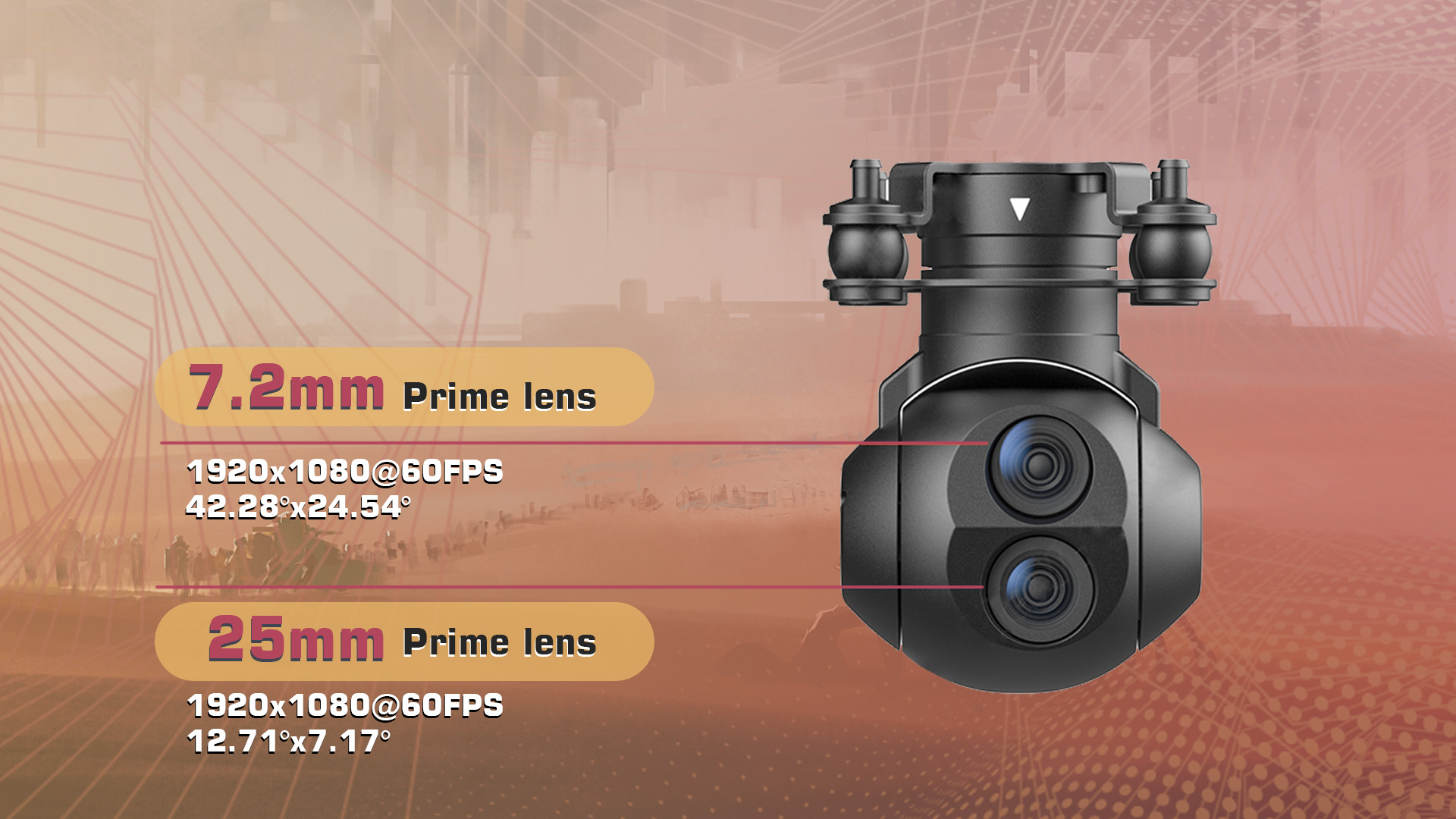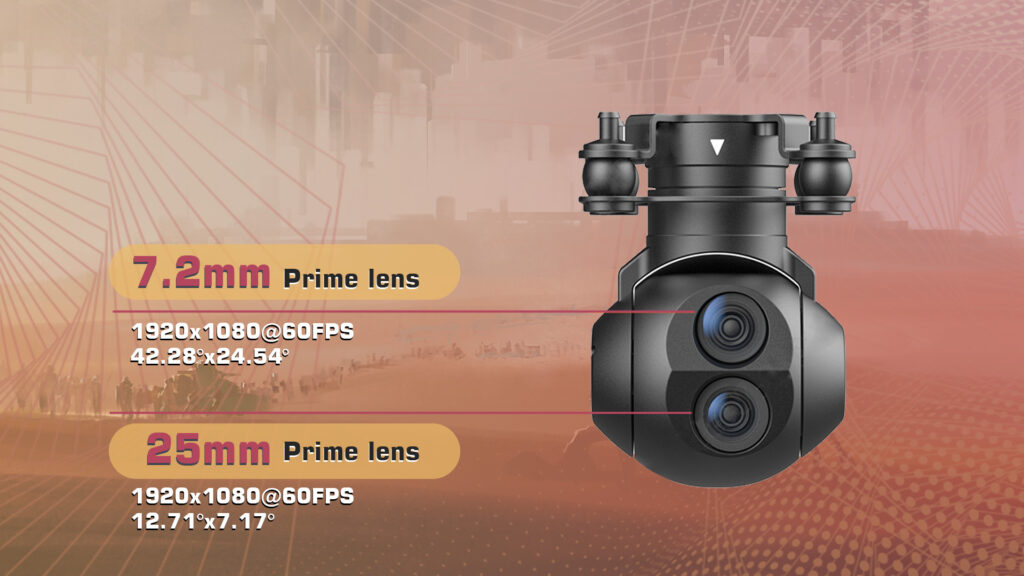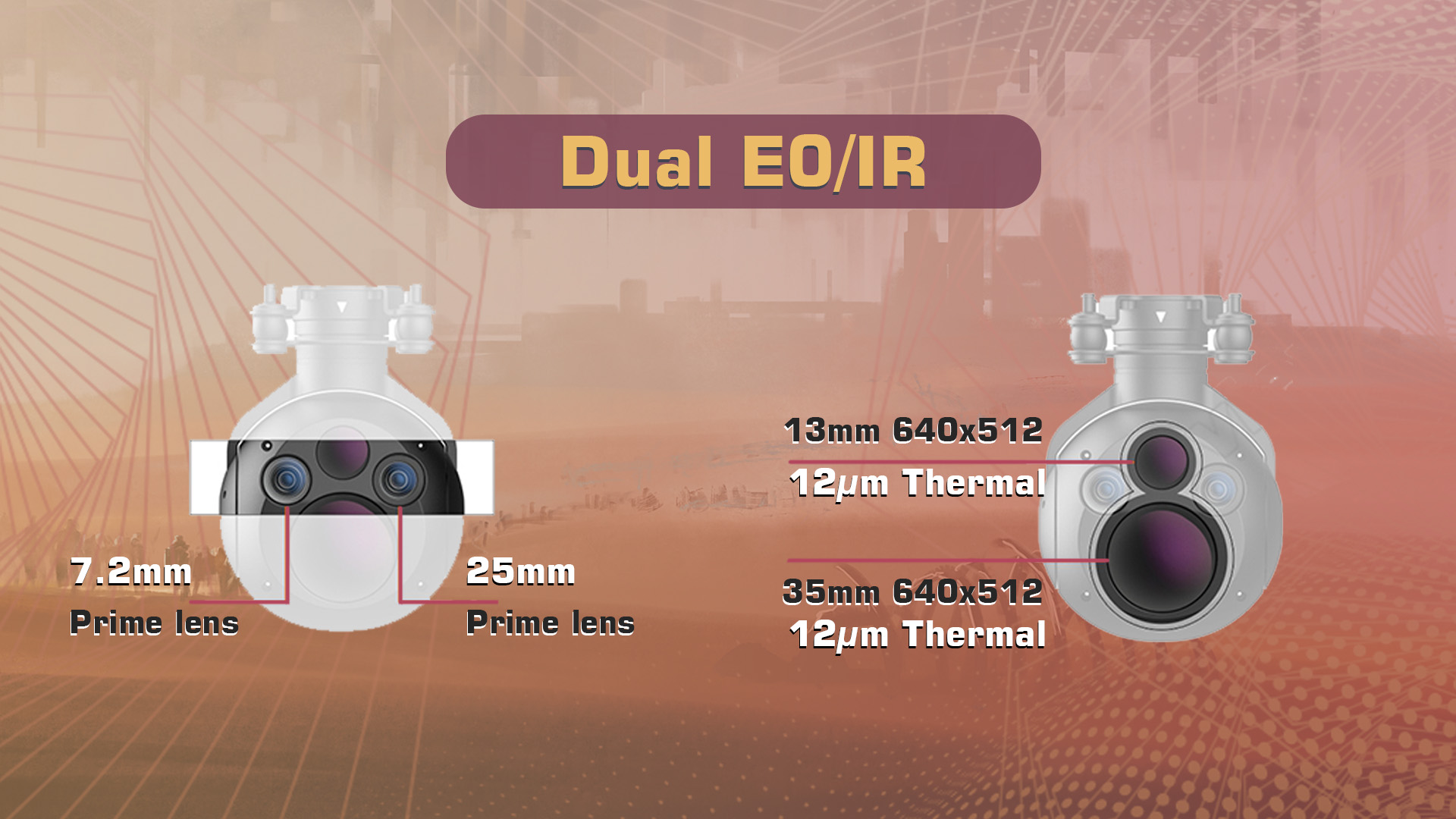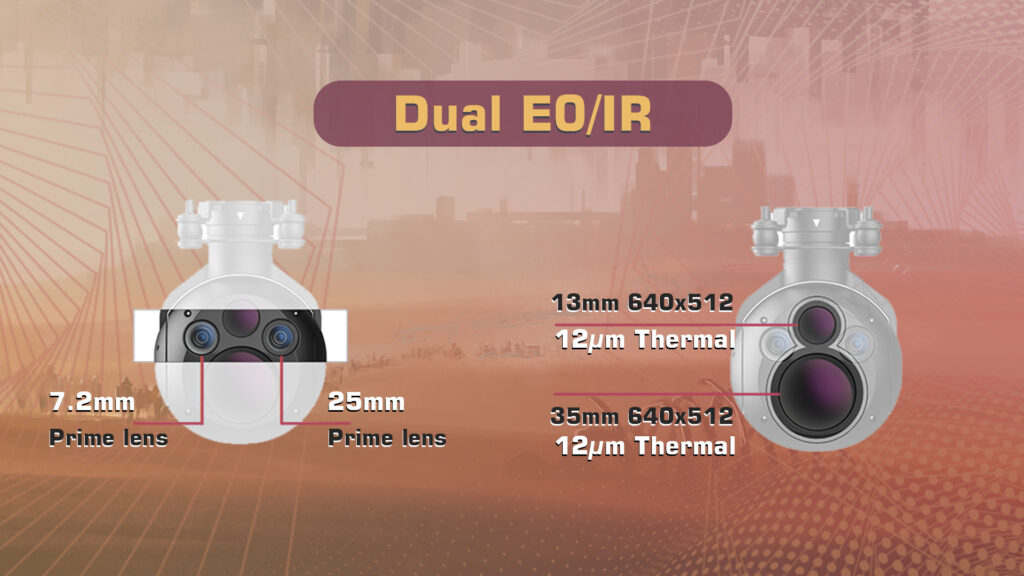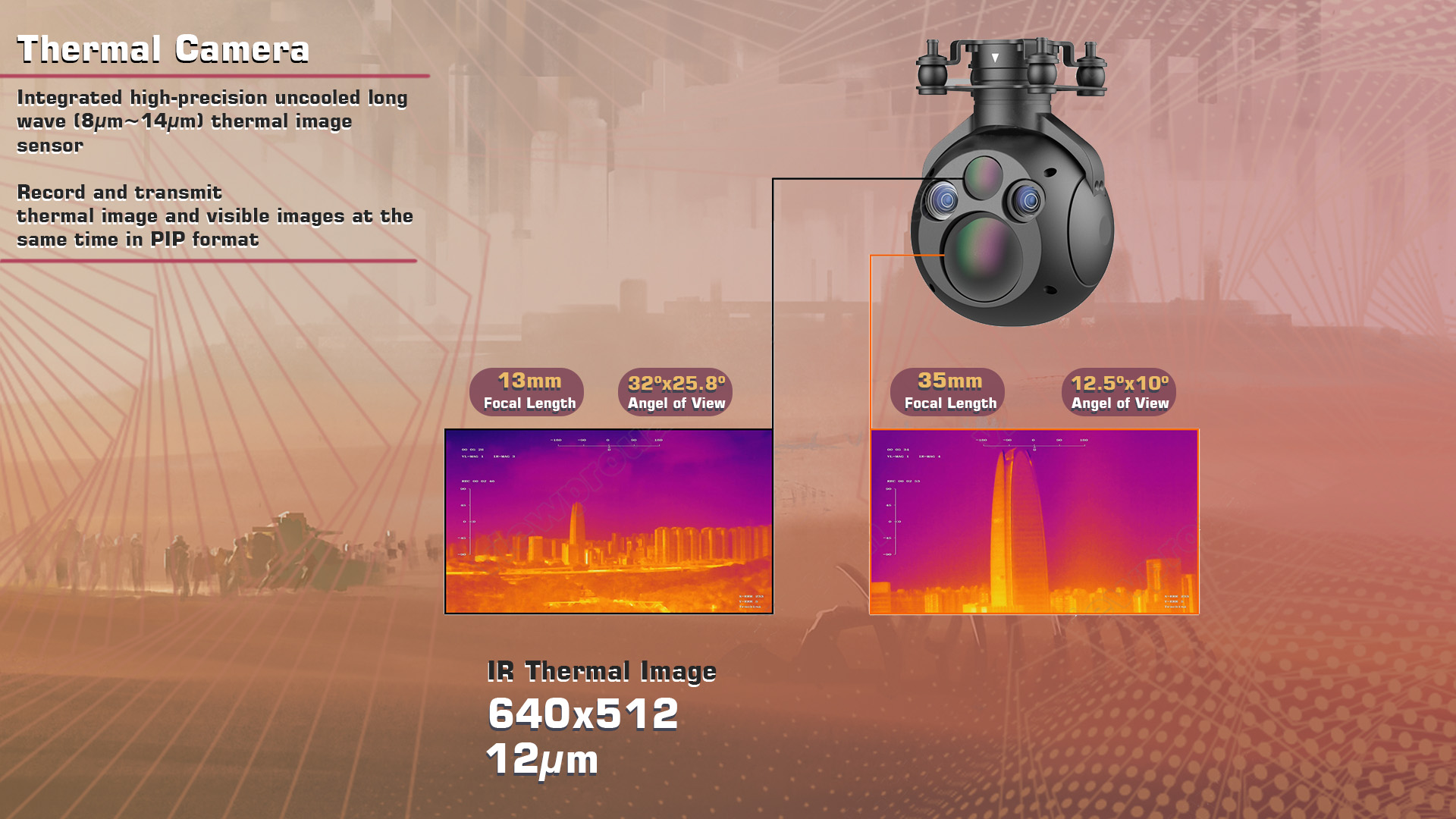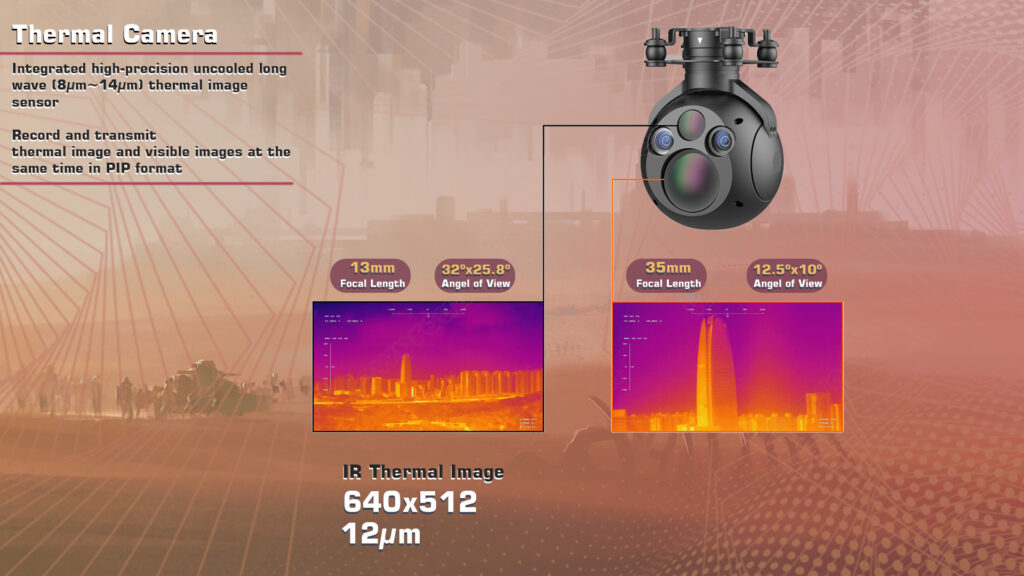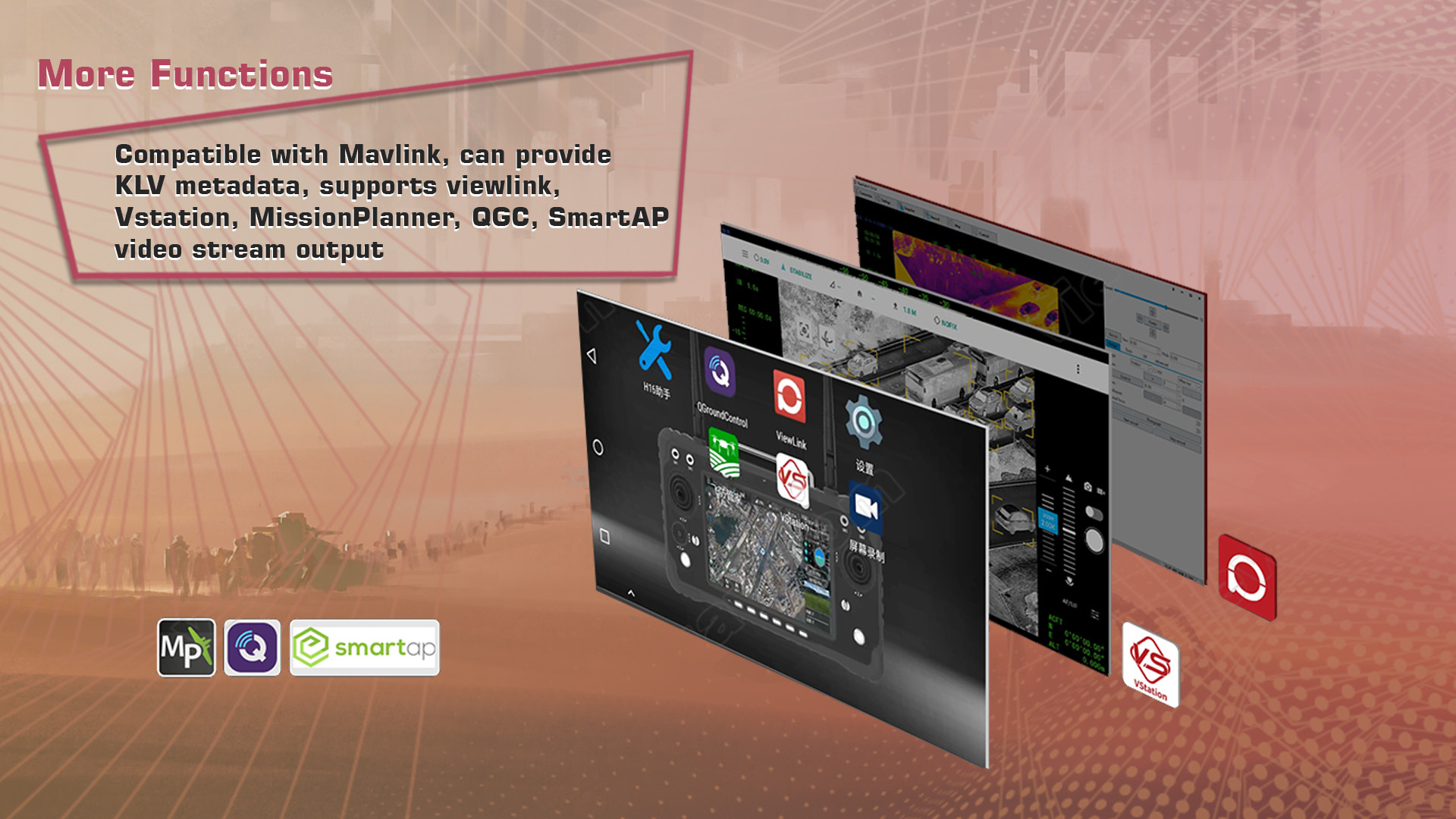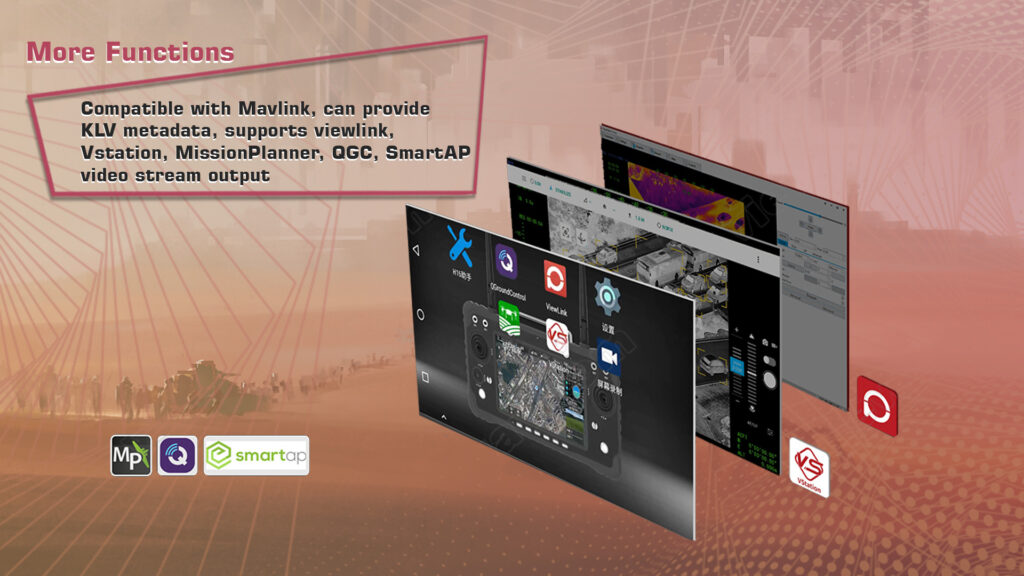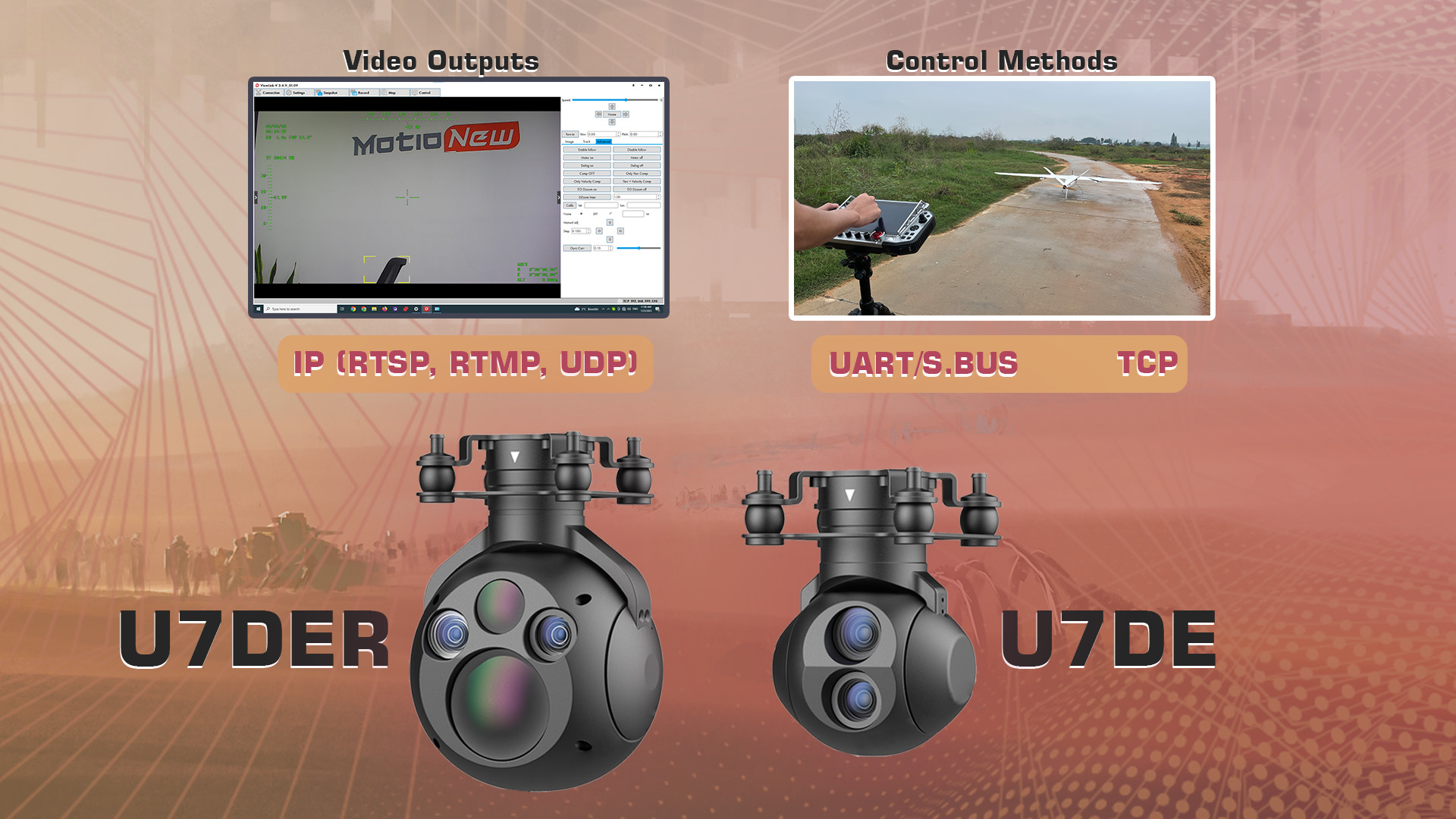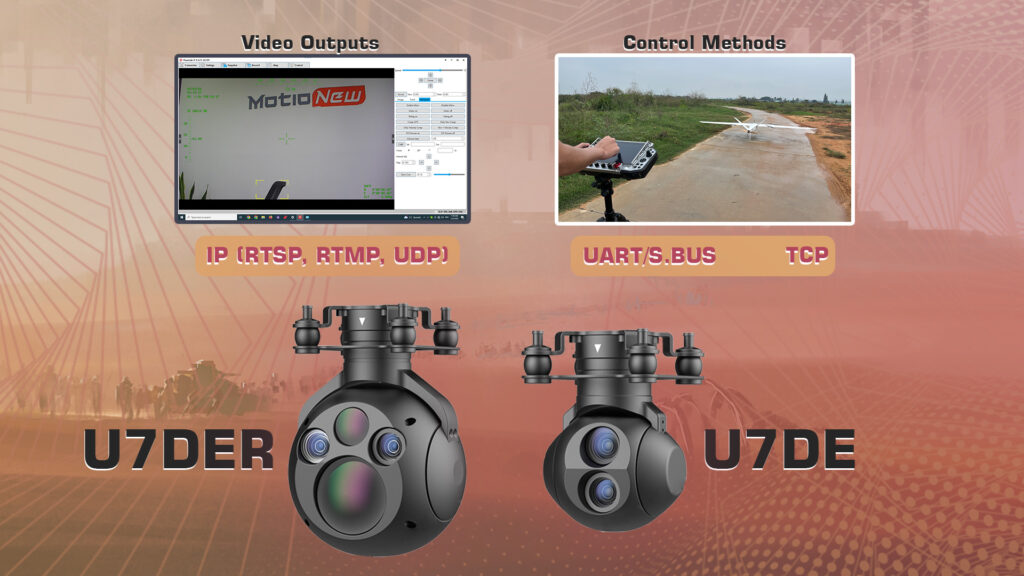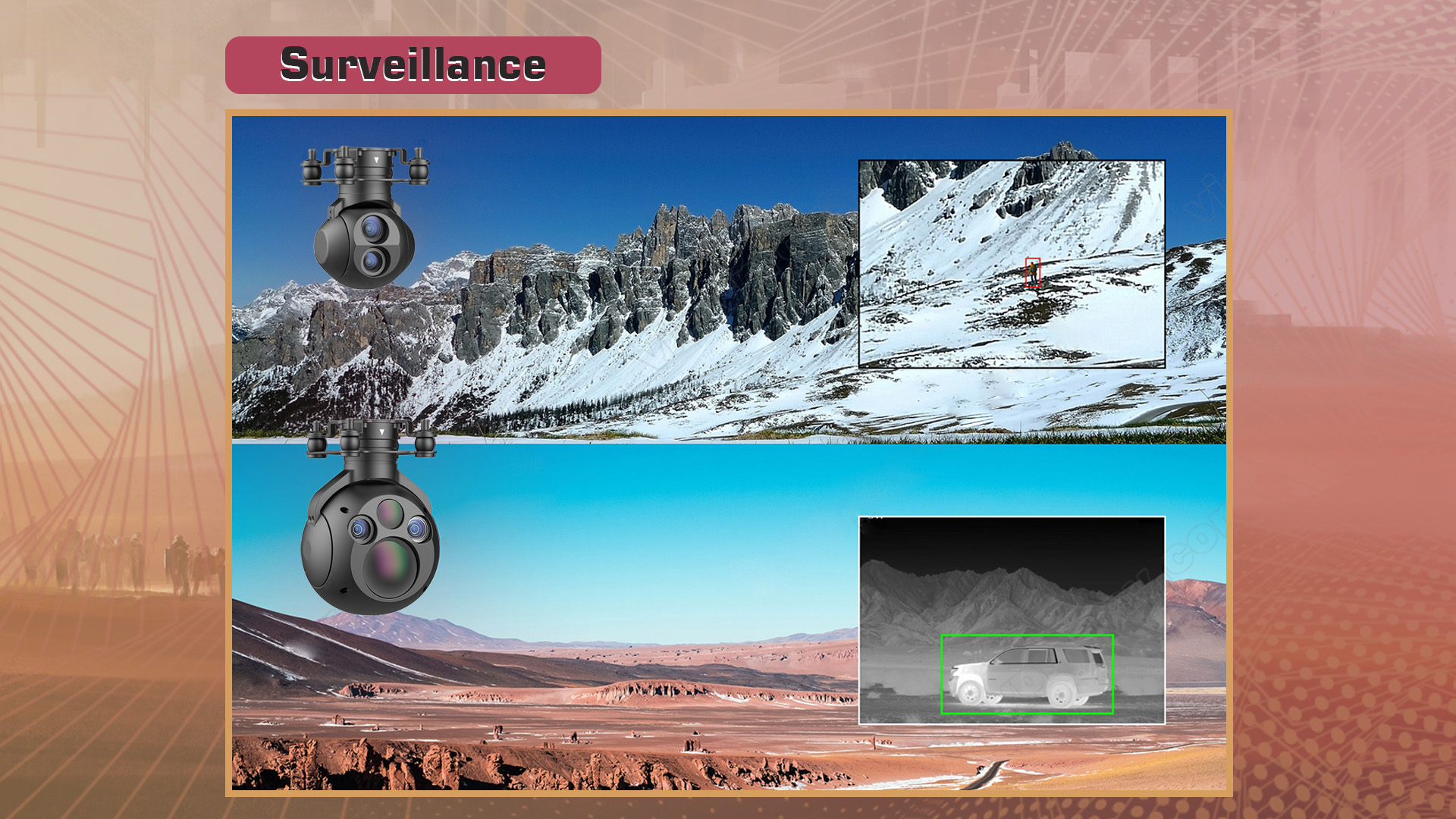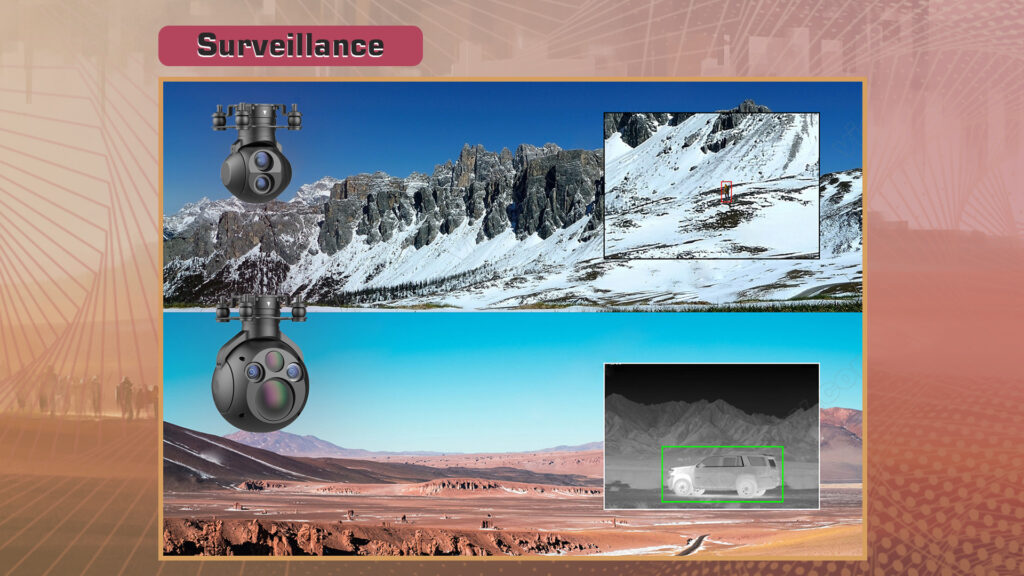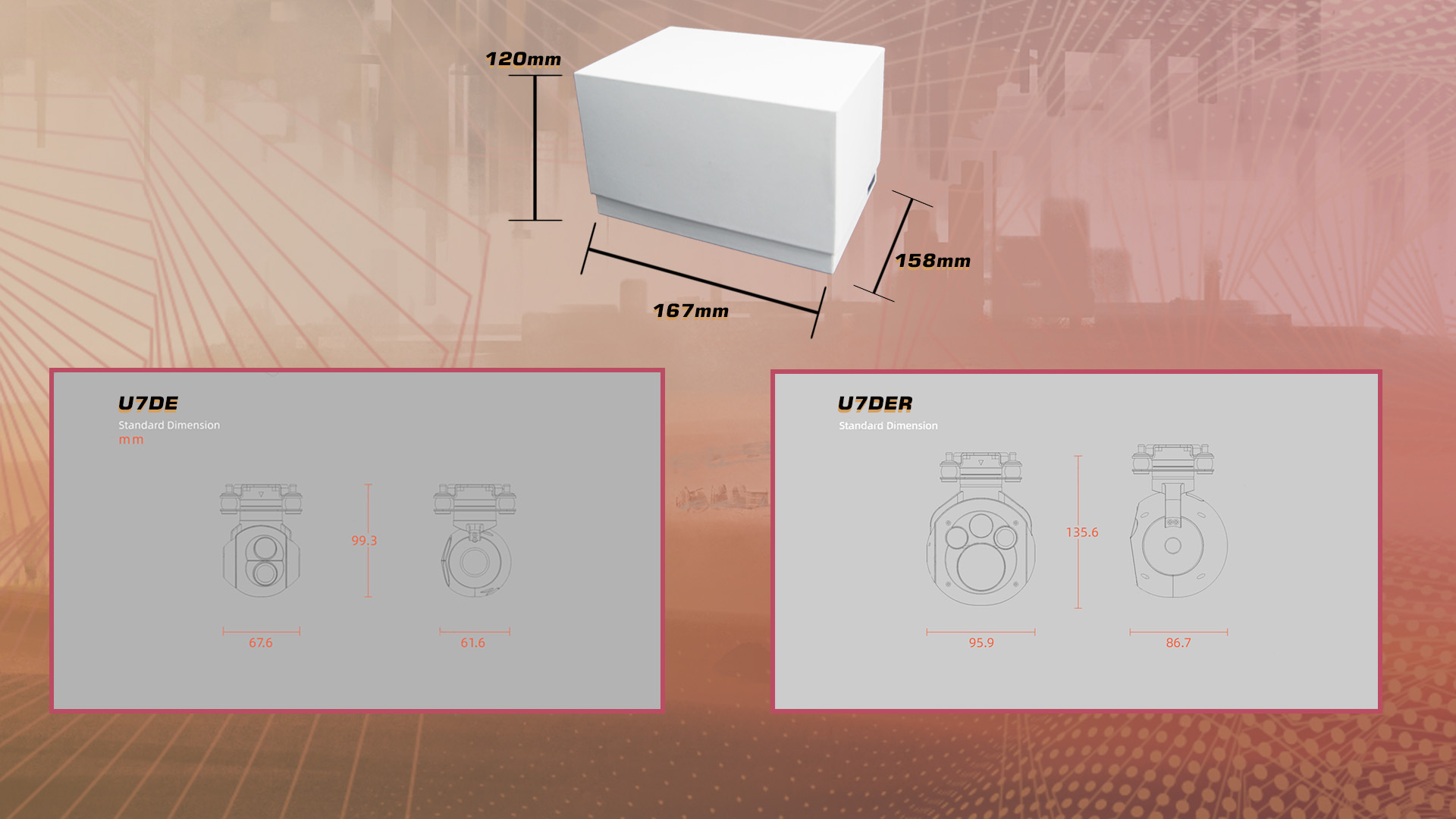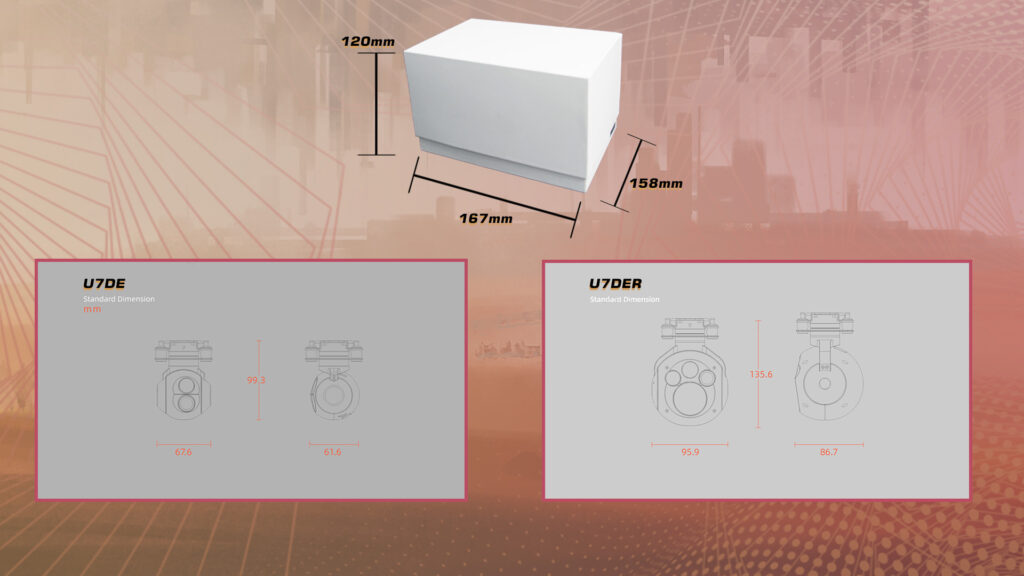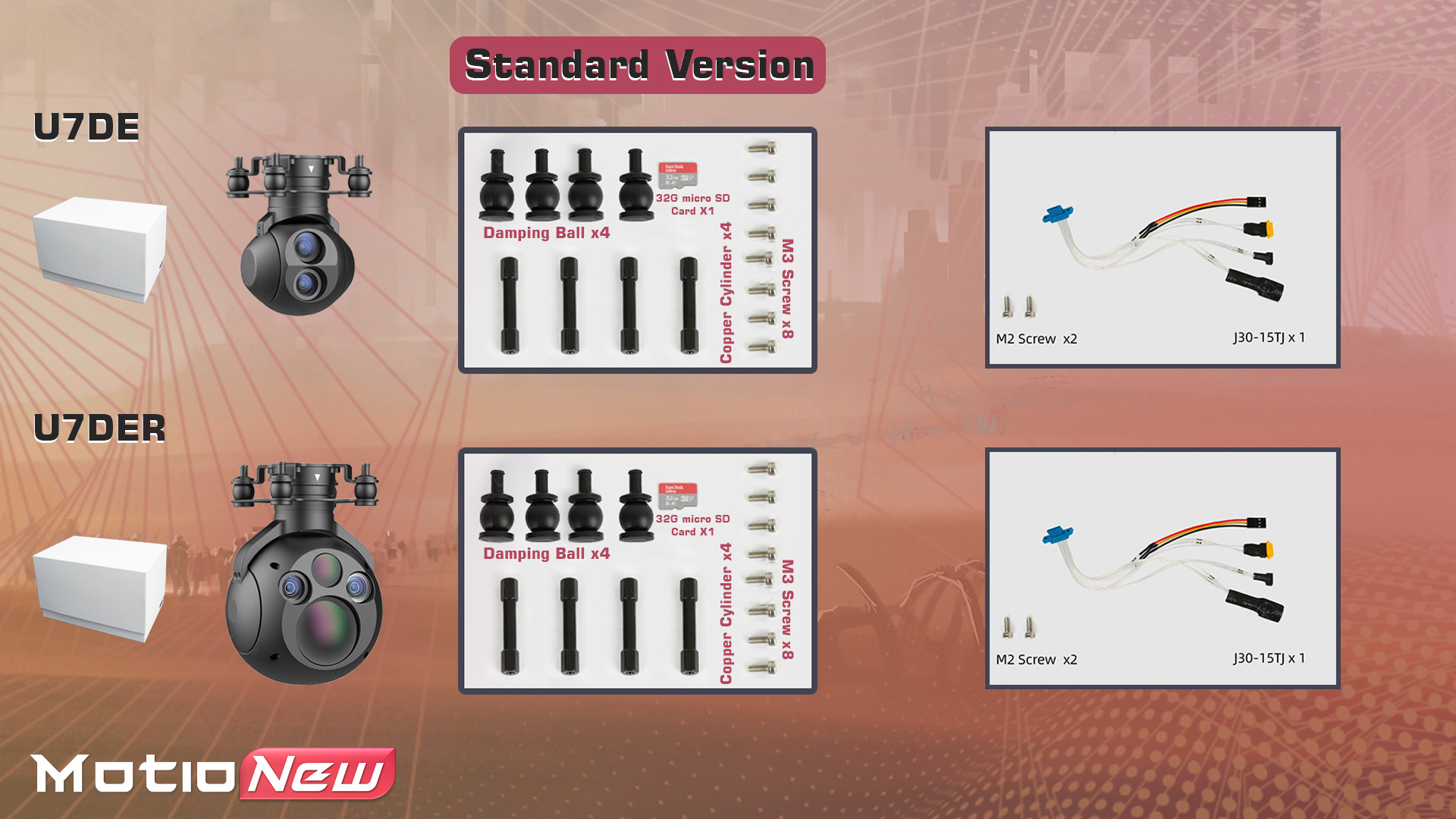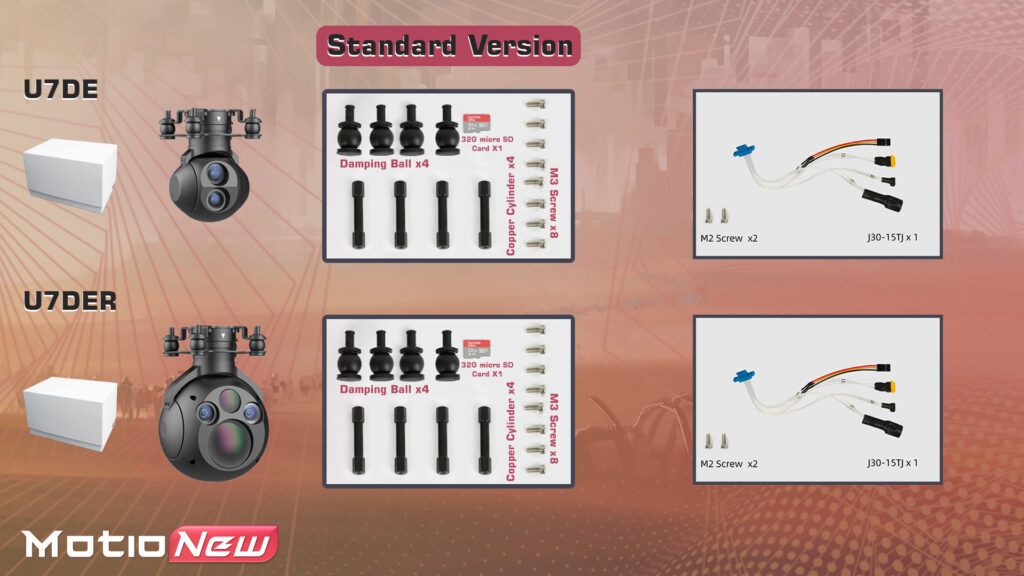 Additional information
| | |
| --- | --- |
| Weight | 1 kg |
| Dimensions | 13 × 17 × 16 cm |
| version | Q7DE, Q7DER |
Specifications
U7DER Specification
Hardware Parameter

Working voltage

12V(3S)

Output voltage

5V (connect with PWM)

Dynamic current

900~1500mA @ 12V

Idle current

900mA @ 12V

Working environment temp.

-20℃~+60℃

Output

IP rtsp (1080p 30fps)

Local-storage

SD card (Up to 128G,class 10, FAT32 or ex FAT format)

Photo storage format

JPG(1920*1080)

Video storage format

MP4  (1080P 25fps)

Control method

TTL / S.BUS/ TCP

Gimbal Spec

Angle scope of structure design

Pitch/Tilt: -60°~120°,    Yaw/Pan: ±360°*N

Angle scope of software design

Pitch/Tilt: -45°~90°,   Yaw/Pan: ±360°*N

Vibration angle

Pitch/Roll: ±0.02°, Yaw:±0.02°

One-key to center

√

EO Camera 1 Spec

Resolution

1920*1080 @60fps

Focus Length

7.2mm

Angle of View

42.28°*24.54°

EO Camera 2 Spec

Resolution

1920*1080 @60fps

Focus Length

25mm

Angle of View

12.71°*7.17°

IR Thermal Imager Spec

Angle of View 1

32°*25.8°

Angle of View 2

12.5°*10°

Working mode

Uncooled VOx long wave (8μm~14μm) thermal imager

Detector pixel

640*512

Pixel size

12μm

Focusing method

Thermal prime lens

Color palette

White hot, pseudo color

Digital zoom

1x ~ 4x

Sync correct time

Yes

EO Camera Object Tracking

Update rate of deviation pixel

60Hz

Minimum object contrast

5%

Minimum object size

16*16 pixel

Maximum object size

128*128 pixel

Tracking speed

±48 pixel/frame

Object memory time

100 frames

EO / IR Camera Object Tracking

Product meas.

95.9*86.7*135.6mm

Accessories

1pc gimbal camera device, screws, USB to TTL cable  / High quality plastic box with foam cushion

N.W.

540g

Package meas.

167*158*120mm
U7DE Specification
Hardware Parameter

Working voltage

12V(3S)

Output voltage

5V (connect with PWM)

Dynamic current

600~1000mA @ 12V

Idle current

600mA @ 12V

Working environment temp.

-20℃~+60℃

Output

IP rtsp (1080p 30fps)

Local-storage

SD card (Up to 128G,class 10, FAT32 or ex FAT format)

Photo storage format

JPG(1920*1080)

Video storage format

MP4  (1080P 25fps)

Control method

TTL / S.BUS/ TCP

Gimbal Spec

Angle scope of structure design

Pitch/Tilt: -60°~120°,    Yaw/Pan: ±360°*N

Angle scope of software design

Pitch/Tilt: -45°~90°,   Yaw/Pan: ±360°*N

Vibration angle

Pitch/Roll: ±0.02°, Yaw:±0.02°

One-key to center

√

EO Camera 1 Spec

Resolution

1920*1080 @60fps

Focus Length

7.2mm

Angle of View

42.28°*24.54°

EO Camera 2 Spec

Resolution

1920*1080 @60fps

Focus Length

25mm

Angle of View

12.71°*7.17°

EO Camera Object Tracking

Update rate of deviation pixel

60Hz

Minimum object contrast

5%

Minimum object size

16*16 pixel

Maximum object size

128*128 pixel

Tracking speed

±48 pixel/frame

Object memory time

100 frames

Packing Information

Product meas.

67.6*61.6*99.3mm

Accessories

1pc gimbal camera device, screws, USB to TTL cable  / High quality plastic box with foam cushion

N.W.

285g

Package meas.

167*158*120mm
Product contents
1x gimbal camera device (U7DE or U7DER)
4x damping ball
1x 32G micro SD card
4x copper cylinder
8x M3 screw
2x M2 screw
1x j30-15TL