M10 Handheld Ground Control Station
M10 handheld Ground Control Station (GCS) is a portable and lightweight GCS that acts as a powerful computer. All other accessories you need to control your drone including a radio with joysticks, and a datalink, are embedded inside. One-man control of the drone and the payload is thus possible thanks to the embedded design of this remote control.
Conventionally, you needed to carry at least three different accessories — a laptop as a ground control station, a radio controller, and a datalink with big heavy antennas in case of long-range operations. Requiring a real-time video stream of the drone's gimbal camera would add more hassle by requiring a separate display monitor. M10 GCS is the solution for you.
You do not need to carry multiple heavy accessories anymore. Initial setup time is eliminated, and your drone is ready to fly in a blink of an eye. M10 is an all-in-one ground control station that integrates radio control, datalink, and video link in a single entity. Different 3rd-party datalinks are supported. A large electronics compartment has been designed and installed at the back of the unit with a large space for installing your desired communication modules, converters, adaptors, and other suitable modules based on the mission.
With a big 10.1″ touchscreen display, you can control and monitor drones (Multirotor, Fixed-wing, or VTOL) or robots (UGV, ROV, or USV) at the same time, and have real-time footage of the installed gimbal camera as well. This remote control has a 1920×1200, high brightness 1200nit sunlight readable screen which is suitable for outdoor missions in the middle of the day, under direct sunlight. It's one of the highest screen brightness in the market among commercially available GCSs. Moreover, 10 points touchscreen is almost all you need for a flawless drone operation. You can easily work with your favorite ground control station software, and define your waypoints and mission on the go.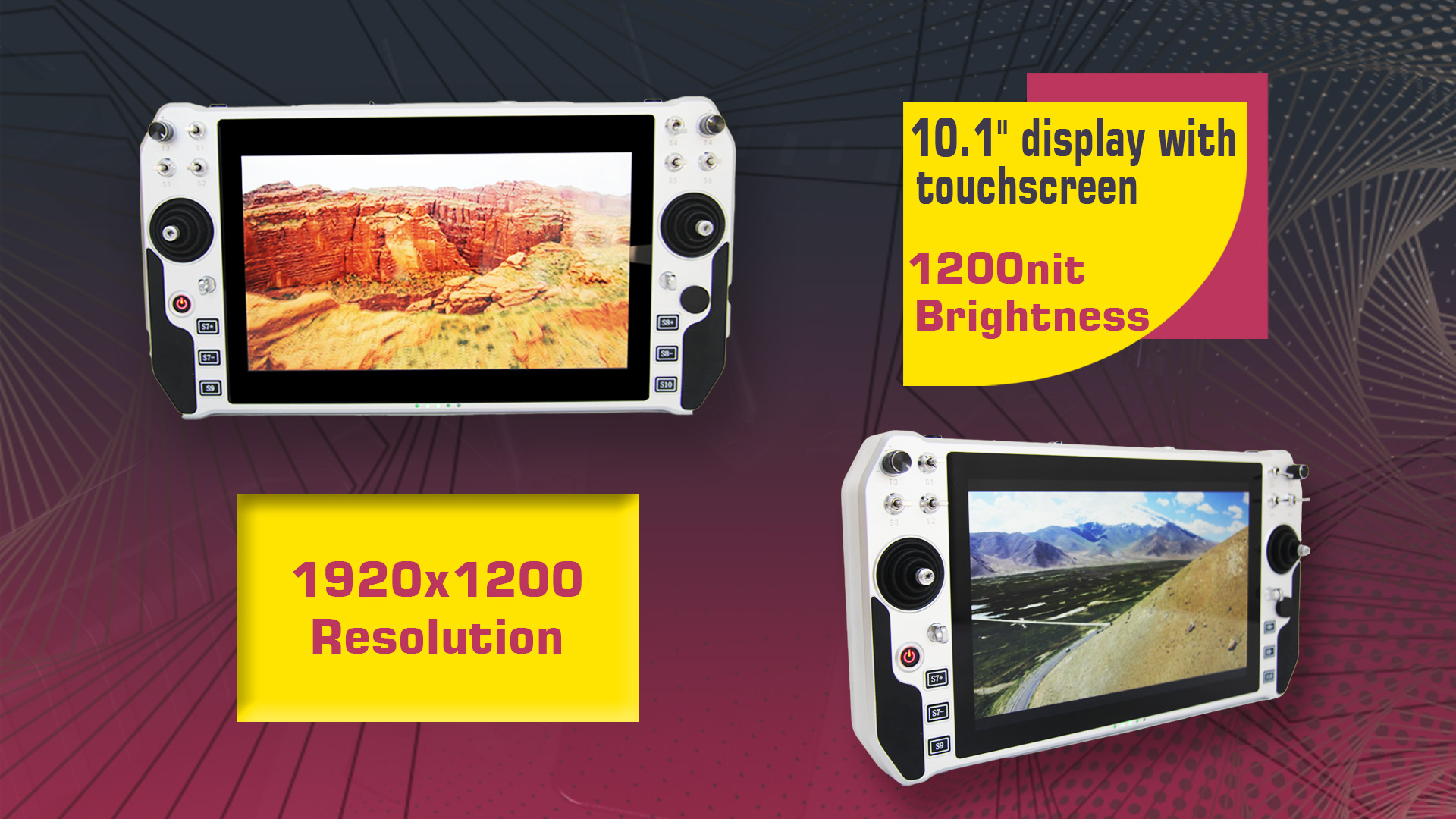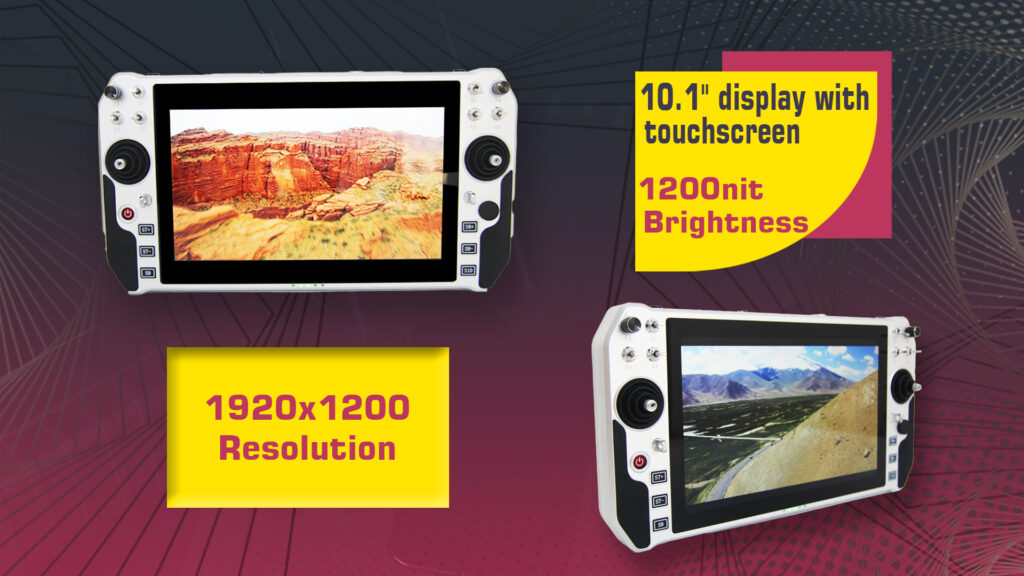 The desire to have a bigger screen never stops, and the industry is still trying to figure out how big is enough. M10 has seen the need and comes with a novel solution. In addition to its main display, M10 has the capability of installation of a second display on top using hinges and screws. The second display acts as the extended view of the main display and transforms M10 into a dual-display GCS. The top display, for example, can be used for showing the real-time footage of the gimbal camera installed on the drone, without any interference in the mission operation.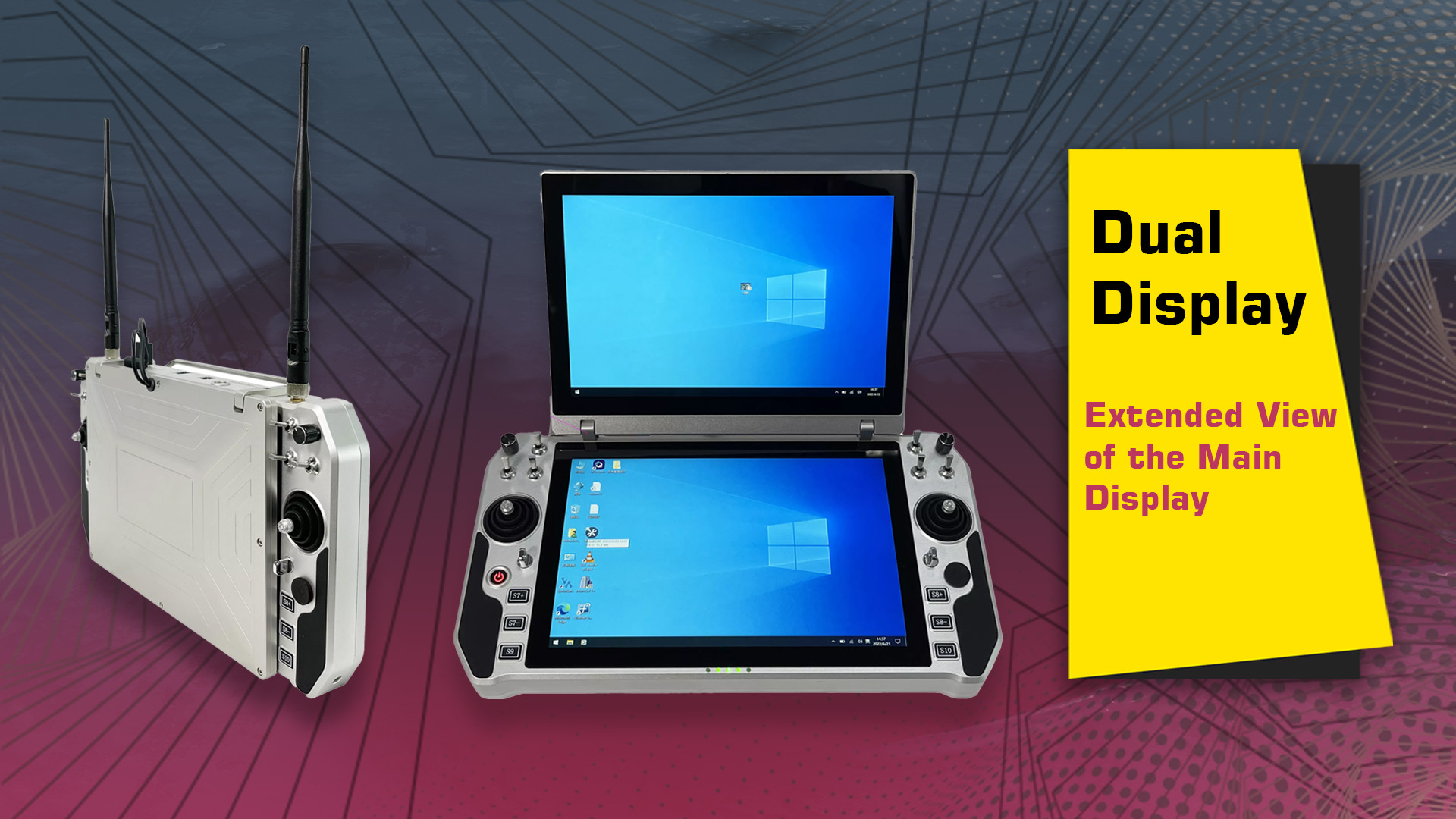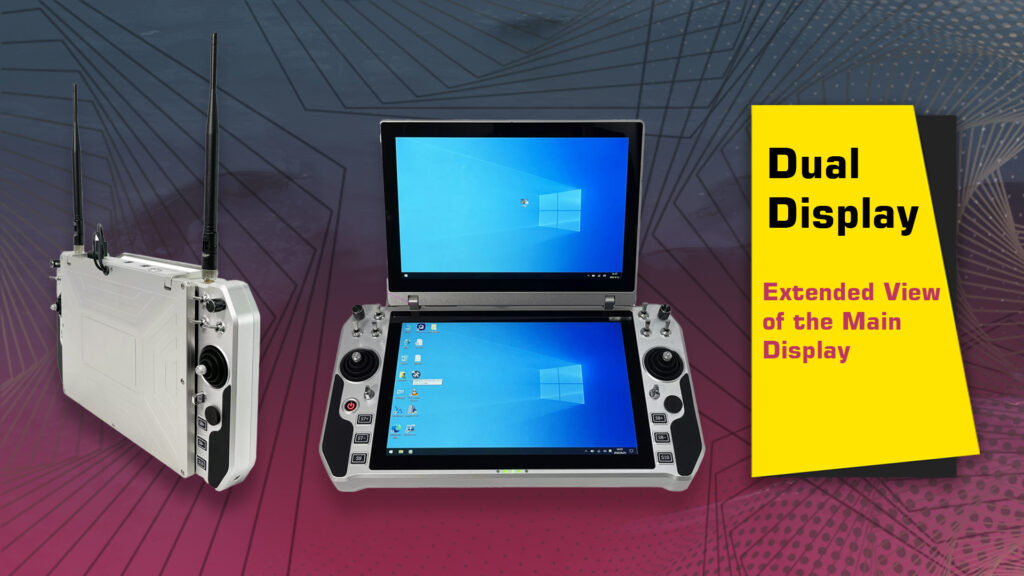 M10 UAV GCS has enough input channels (22 individual physical channels) that make it a powerful remote control system and gives the user capability to assign each channel to the preferred joystick, switch, knob, or button. By using industrial grade self-centering joysticks, operator can have precise control over the vehicle maneuvers. There are two main joysticks that can be used for controlling the vehicle, as well as an extra smaller joystick (the same joystick used in Sony PSP controllers) which is suitable for controlling the payload (for example controlling the pan and tilt of a gimbal camera payload). All joysticks give you a 2-axis control capability.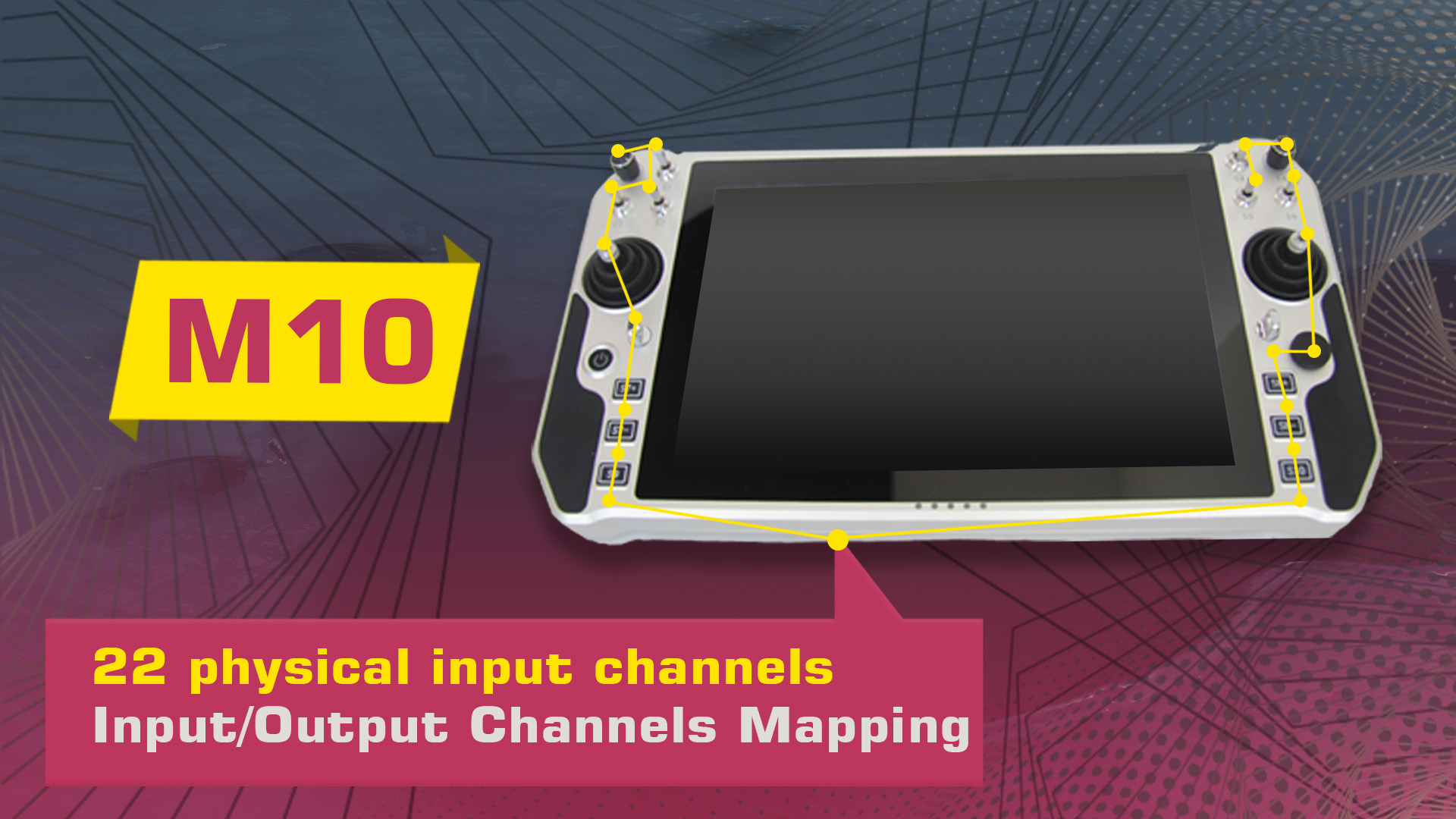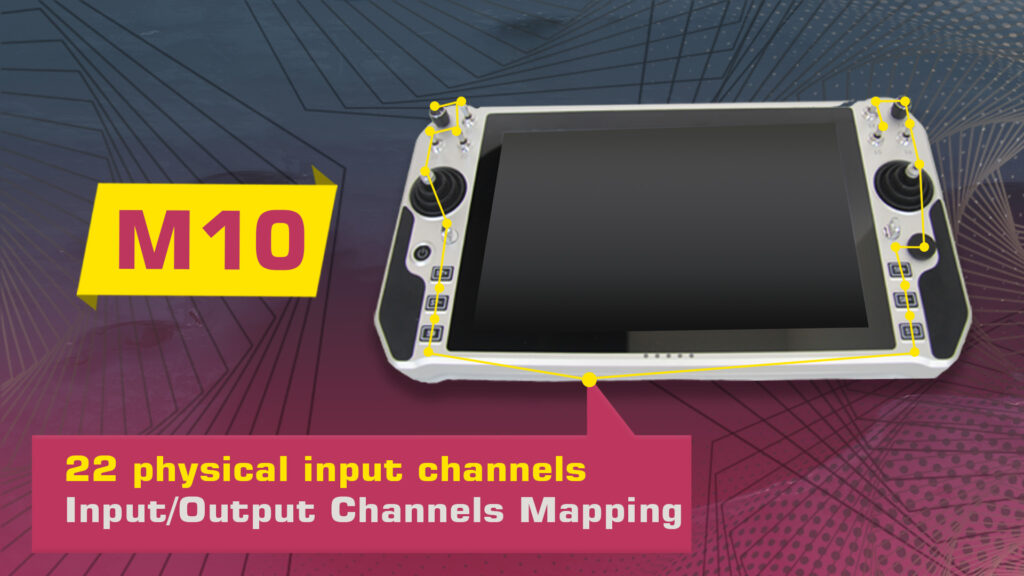 There are no self-centering knob wheels on the remote at all, which is a little disappointing. However, you can replace the functionality of the wheels using two available knobs at the top edge.
M10 can run both Linux and Windows as the operating system, and most Ground Control Station Software available in the market, including QGroundControl and MissionPlanner, can be installed and run on it.
Here are a few parameters of M10 portable GCS:
Main Parameters
Overall weight
2570g
Dimension
335x184x40mm
Screen 
10.1″ industrial touchscreen
1920×1200 (1200nit)
CPU 
Intel Core i3/i5/i7
RAM 
4GB / 8GB
Physical channels
22 inputs
Battery capacity
16.8V/9000mAh
Working time
4-6hrs
Charging port
DC jack input Adaptor
Comparison
 

Overall weight
2570g
2800g
536g
Material
Aluminum
Aluminum
Plastic
Dimension
335x184x40mm
378x221x54mm
217×106.5x31mm
Screen 
10.1″ industrial touchscreen
10.1″ industrial touchscreen
5.46″, Capacitive touchscreen
1920×1200 (1200nit)
1280×800 (1000nit)
1080P, 1000nit
–
1920×1200 (800nit)
–
Operating System
Windows/Linux/Android
Windows/Linux/Android
Android
Max. communication range
50km
50km
20km
Physical Channels
22 inputs
35 inputs
11 inputs
Dual-display support
Yes
No
No
Visit the Motionew Online Shop to view our entire product line to see the latest products and more products similar to this new GCS.