TATTU Plus 22000mAh 6S LiPo Battery
479.00 $
Description
Important Note: Due to the pure battery shipping limitations you need to get confirmation first, Please contact us before placing the order.
The Tattu Plus 22000mAh 6S LiPo battery pack is one of the best choices for UAVs like VTOLs, Multirotors, Fixed-wing drones, and even UGV robots. Gens Ace Tattu Plus series battery packs provide power in a compact form factor and great energy density and discharge rate among the Lithium Polymer batteries, giving you the flight time you need on your heavy-lift aerial photography rigs.
All Tattu LiPos are packed with vibration-proof & fire-proof material and a well-packed safe battery box ensuring you get your battery in perfect condition. An automatic procedure & Computer system battery cell matching process ensures the battery's stability and quality.
Thanks to anti-spark XT series connectors you can safely connect the Lipo battery plug to your drone without experiencing a large spark and changing the connectors regularly.
Different from the original Gens Ace series, TATTU is specialized in the UAV & UAS market, with their industrial quality (since Gens Ace is based in the Hobby area), their slogan "less is more", "more" means more flight time, more enjoyment, and more satisfaction, and "less" means less weight, simple design. Tattu always develops their products according to these 2 directions giving you a high-quality battery.
The main difference between the UAV batteries and other sorts of hobby devices like RC cars and submarines is the large UAV battery(like 6s LiPo) has less discharge rate and more capacity to make the flight endurance maximum and keep the weight as low as possible. Fly more Enjoy more!
Features
Self-balancing function

Self-discharge function at High-Temperature storage

Over-voltage and under-voltage alert function

High Temperature and low-temperature alarm

Cell abnormal alert function

Self-discharge function at 100%SOC Storage

Stable automatic stacking technology makes the single cell capacity can reach 22000mAh.

The most authentic single cell capacity, voltage, resistance, and discharge curve matching method.

Made of Japanese and Korean Lithium Polymer raw materials.

Almost 200Wh/kg energy density.

Minimum 150 times cycle life.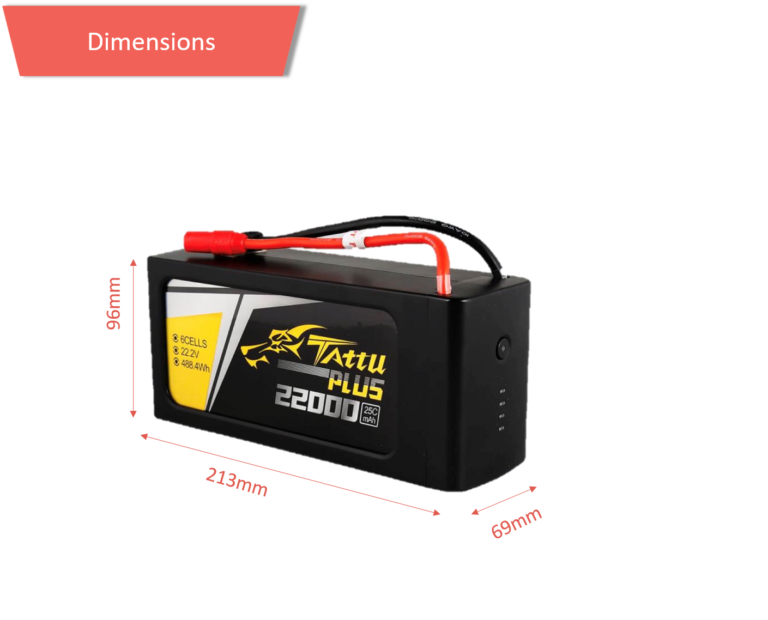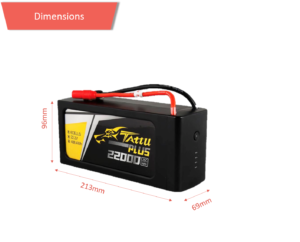 Additional information
| | |
| --- | --- |
| Weight | 5 kg |
| Dimensions | 195 × 75 × 50 cm |
| Bundle | 16000mAh, 22000mAh, 27000mAh, 30000mAh |
Specifications
| | |
| --- | --- |
| Capacity | 22000mAh |
| Voltage:  | 22.2V |
| Max Continuous Discharge:  | 25C |
| Max Burst Discharge:  | 50C |
| Weight:  | 2650g |
| Dimensions:  | 213*96*69 mm |
| Balance Plug:  | Micro USB & JST-XHR |
| Discharge Plug: | AS150/XT90S |
Product contents
1x TATTU Plus LiPo Battery