SIYI ZT30 high resolution AI gimbal camera
5849.00 $
Description
SIYI ZT30 high resolution AI gimbal camera
The SIYI ZT30 Optical Pod is a hybrid sensor solution considered as the industry leader. It features a combination of zoom, thermal imaging, wide-angle camera, and laser rangefinder that work efficiently together. With this technology, heat sources can be detected while simultaneously measuring distance and capturing clear images. The four-sensor optical housing is equipped with a thermal image sensor, with a resolution of 640×512, a focal length of 19mm, and a frame rate of 30fps. Once an abnormal heat source is detected, fast and accurate responses are possible.
The laser range of the ZT30 Optical Pod is 1200m, and the measurement accuracy is 0.1m, making it possible to obtain accurate coordinates in real-time, even in high-risk operational areas.
Using the integrated Neural Processing Unit (NPU), and in combination with SIYI's proprietary AI algorithm, the ZT30 Optical Pod can identify moving targets such as cars, ships, and people, among others. Continuous tracking, identification, and positioning are possible with the help of the gimbal attitude control and flight control system. The ZT30 also has an automatic zoom function, ensuring that the target is always in the center of the screen while maintaining clear visibility (The AI function is under development and will be supported through an upgrade).
The ZT30 features a 1/2.7″ Sony 4K image sensor camera with a 180x hybrid zoom and a 30x optical zoom, as well as a wide-angle camera with 2K resolution. This allows for a clear wide view and the ability to capture panoramic shots. The pictures taken with the ZT30 get GPS location information and a time stamp.
The ZT30 has several functions related to zoom, including infrared zoom, synchronized zoom, video split-screen, starlight night vision, point-to-focus, focus tracking, and HDR. These functions provide accurate control over image details, true colors, and natural brightness. The ZT30 also features a limitless yaw axis rotation with improved quick release and vibration dampers. The yaw axis of the ZT30 gimbal rotates endlessly, providing 360° all-around visibility when mounted below VTOL drones or aircraft. SIYI's quick-release structure is equipped with better stabilization and more load capacity, making it compatible with ZR30 and able to support more payload in the future.
SIYI's Optical Pods offer extensive compatibility to contribute to smart robotics in all aspects. They can be controlled via SBUS, Ethernet, UDP, and UART (with SIYI SDK) or common open-source protocols such as Ardupilot and Mavlink (Mavlink control is under development and will be supported with an upgrade in the future).
The ZT30 Optical Pod has control algorithms with high accuracy and effectiveness. It features IMU calibration algorithms for compensation and correction of inertial measurement unit errors and the reduction of disturbance factors such as zero offset, scale factor, inter-axis error, temperature drift, and noise, among others. These algorithms significantly improve the IMU measurement accuracy and gimbal stability, even in the presence of larger temperature differences, wide margin control, and strong vibrations. The attitude fusion algorithms make extensive use of sensor data (accelerometers, gyroscopes) to obtain roll, pitch, and yaw angles through mathematical models and filtering algorithms. This information leads to a significant improvement in system performance, robustness, and stability. The 3-axis industry-grade stabilization algorithms efficiently use and integrate 3-axis gyroscopes/accelerometers, PID controllers, motors, and magnetic encoders to stabilize the gimbal and output stable high-quality video images even during motion.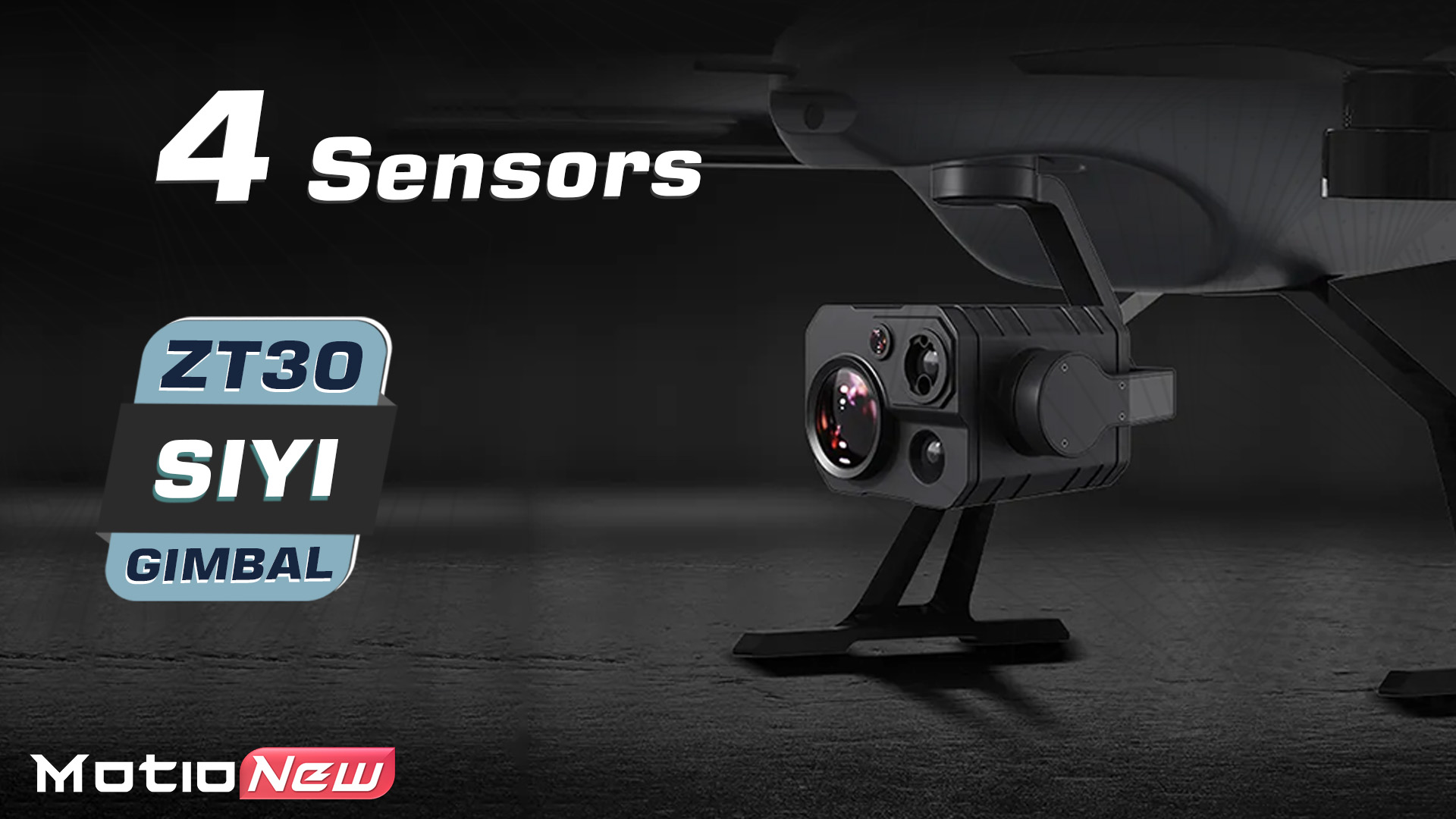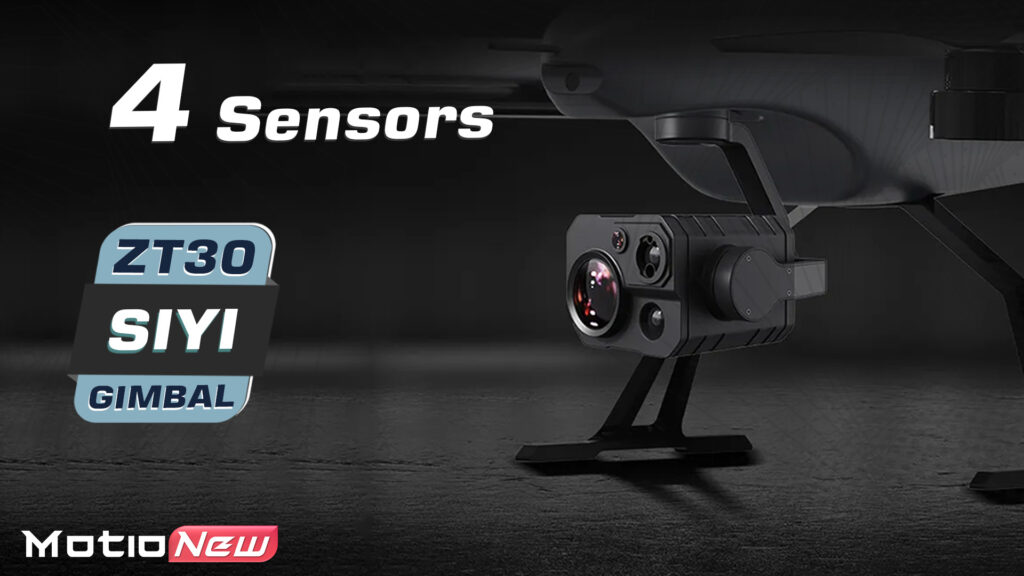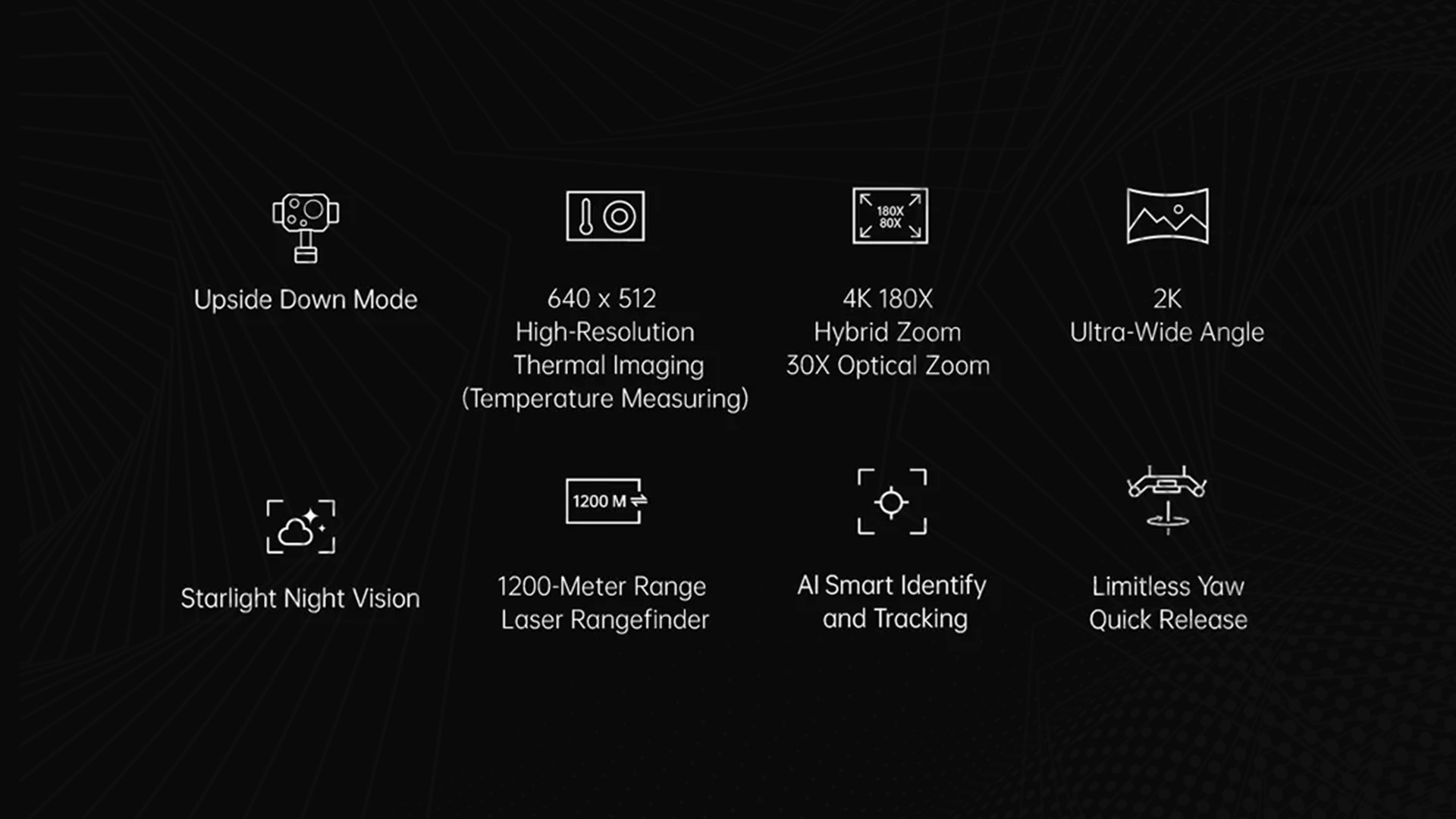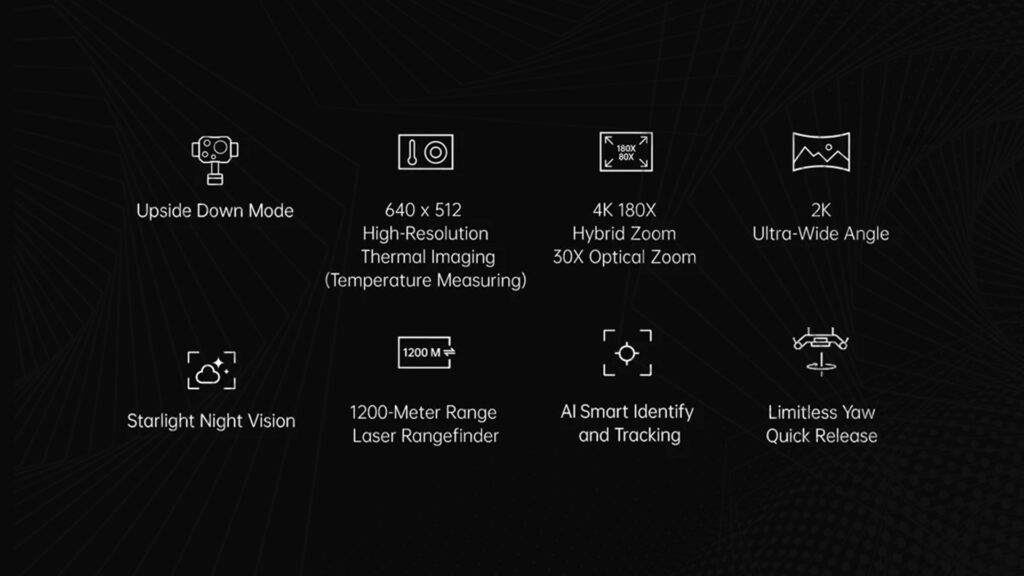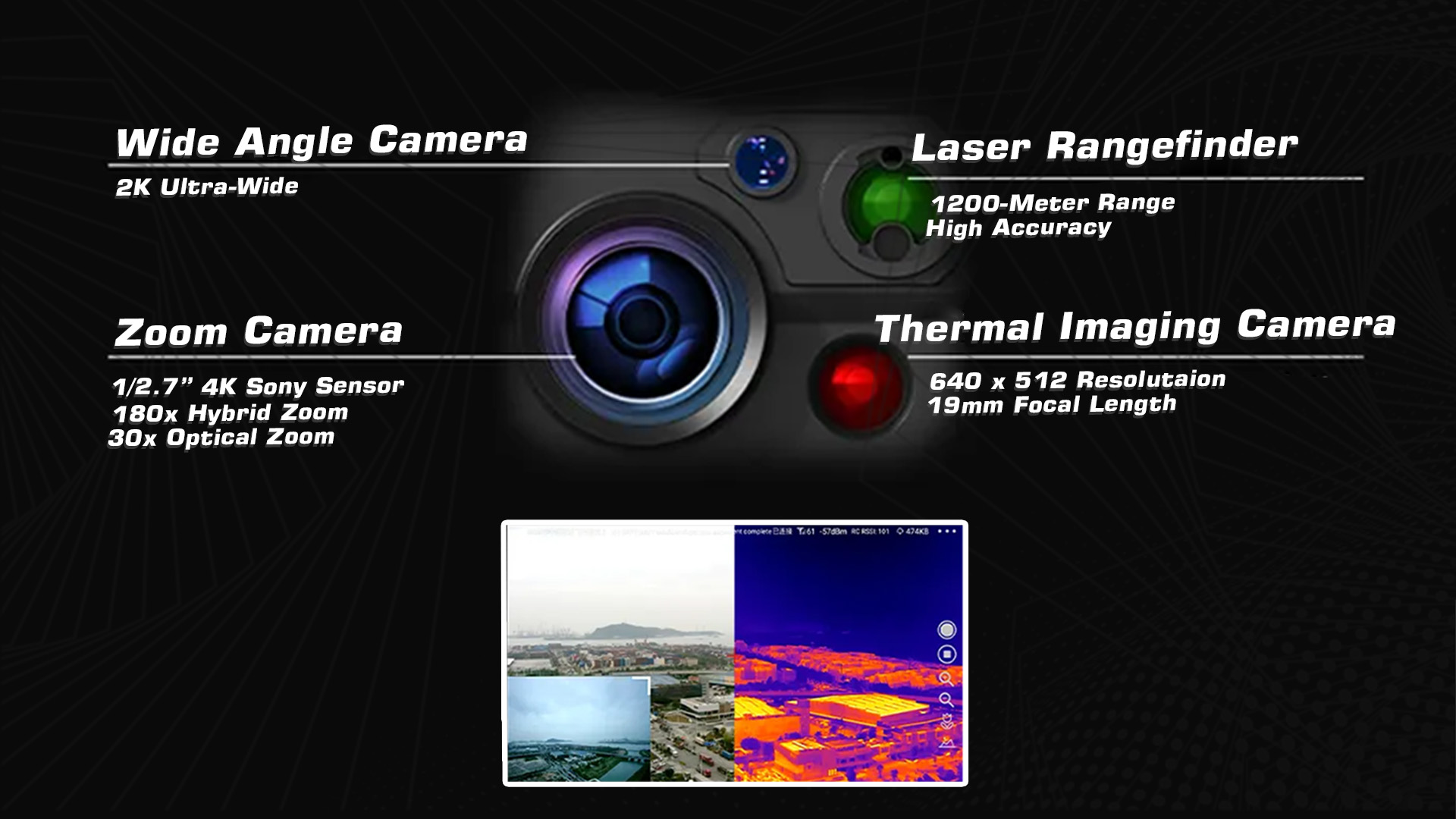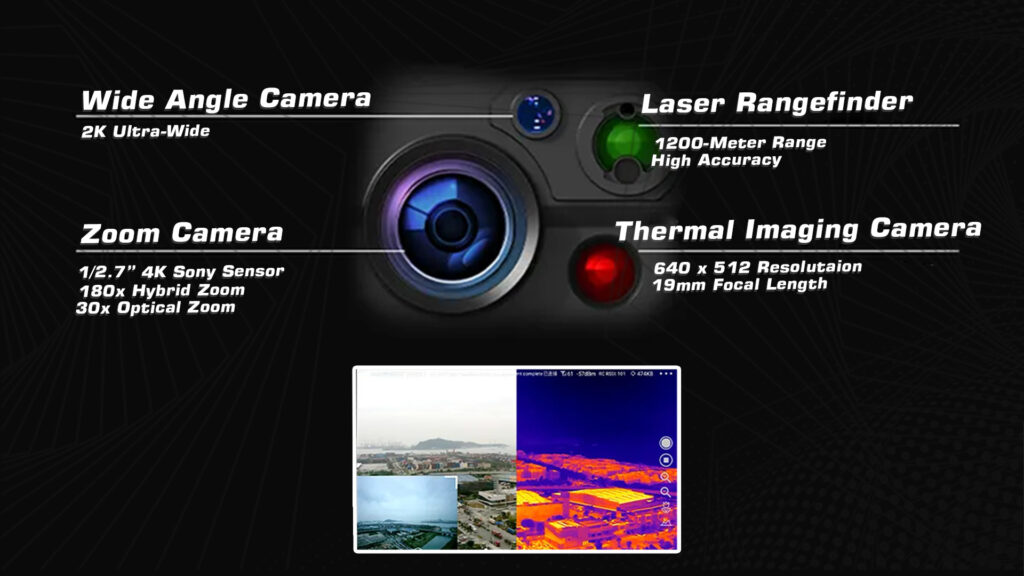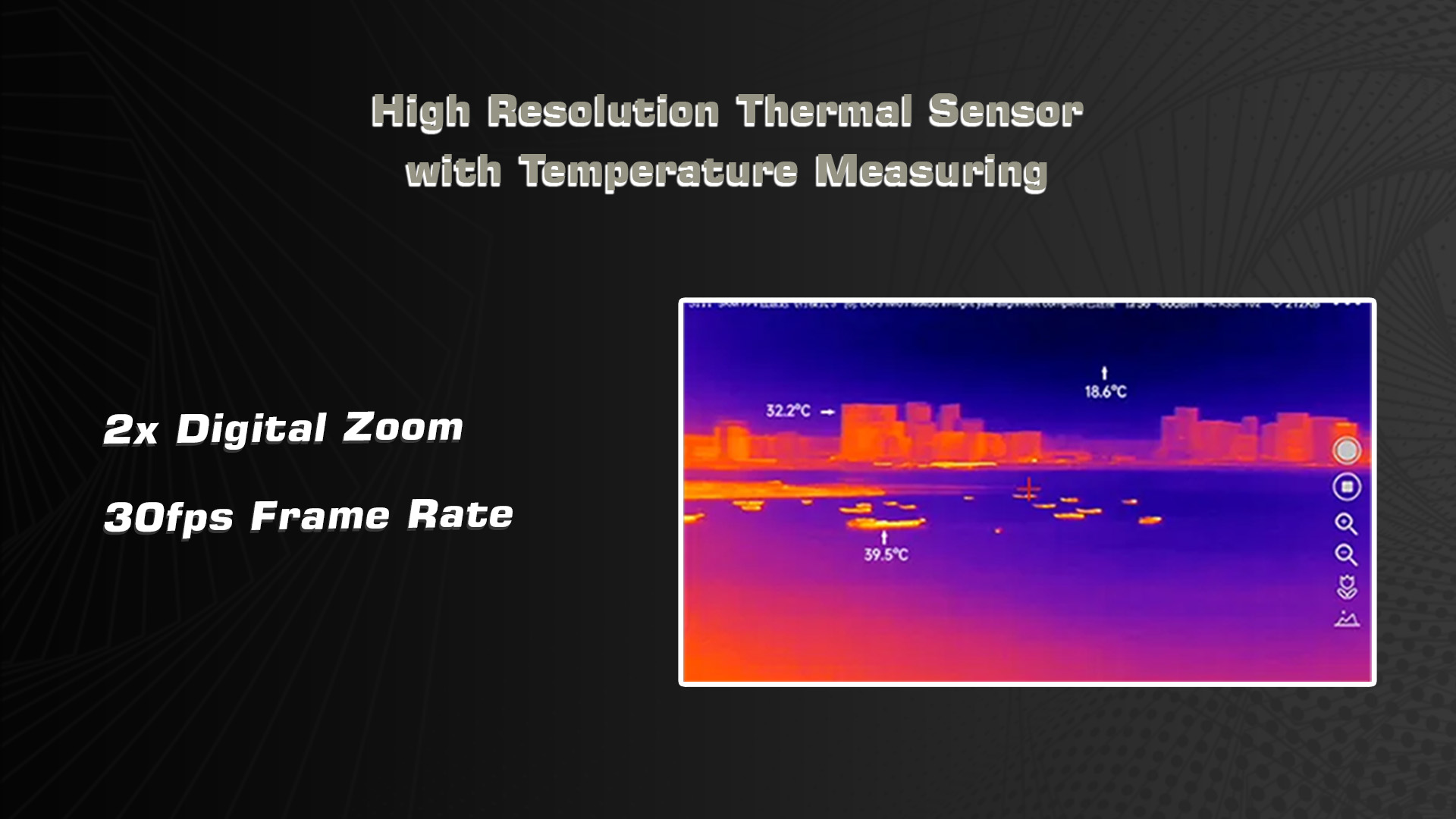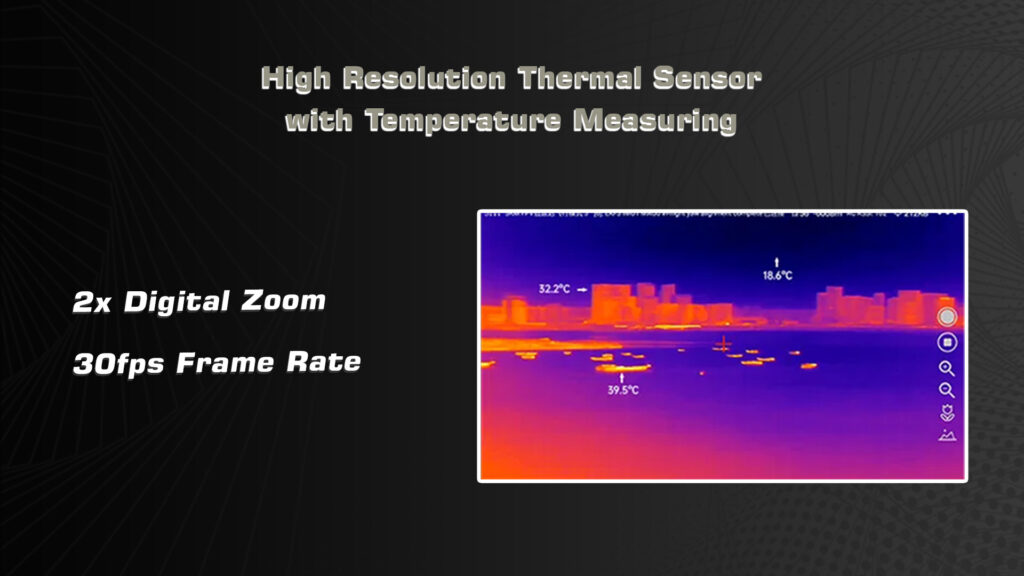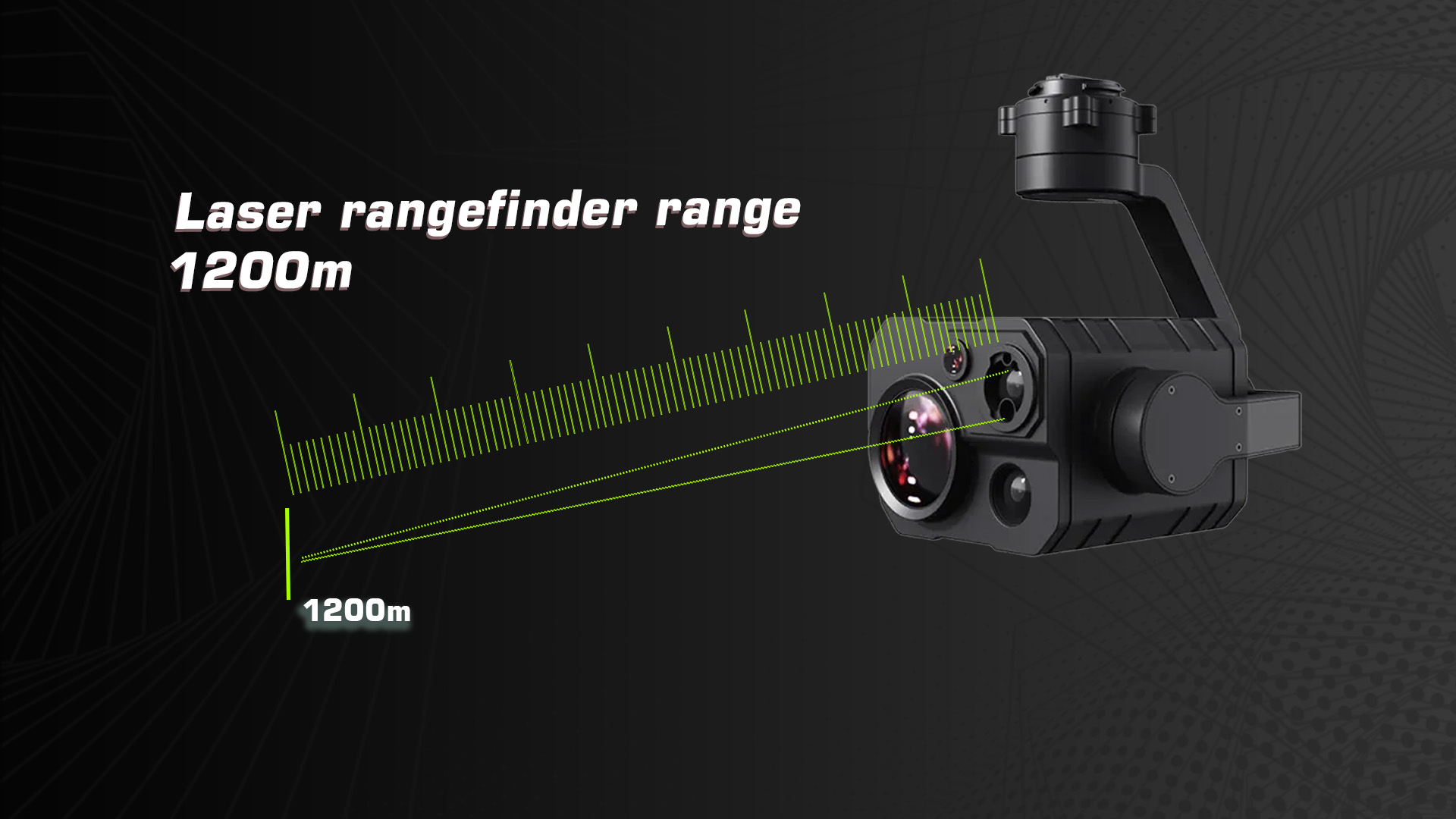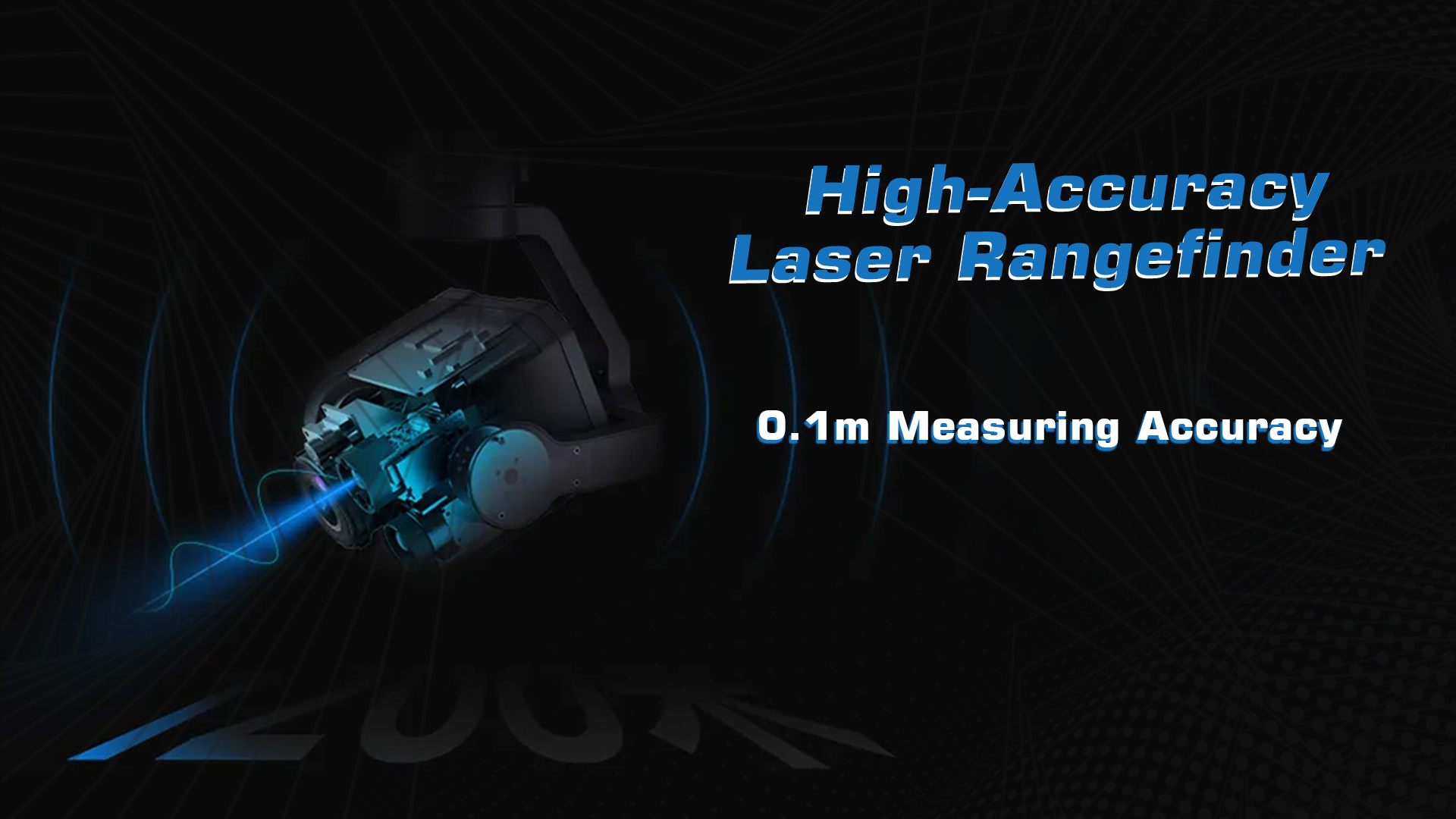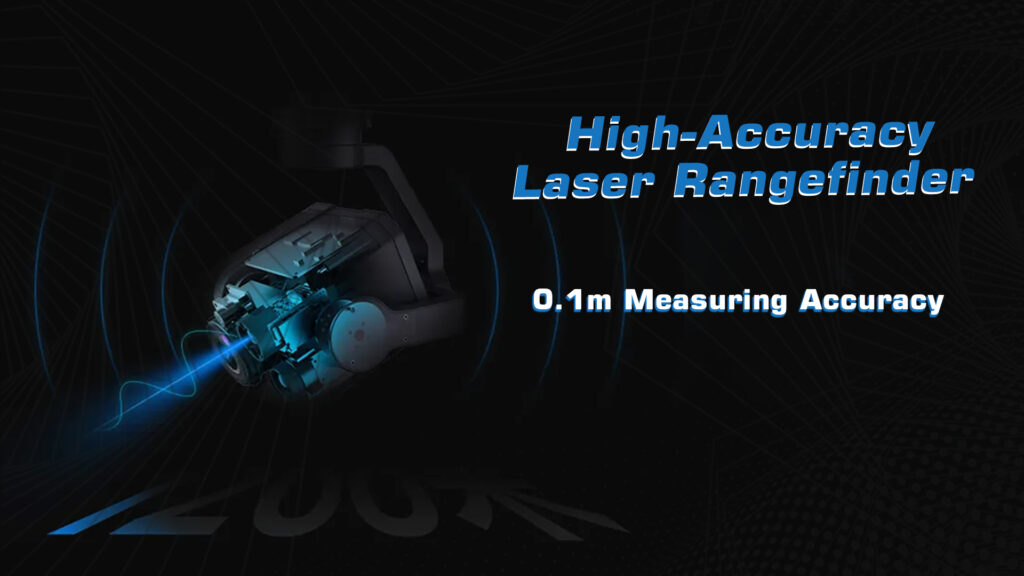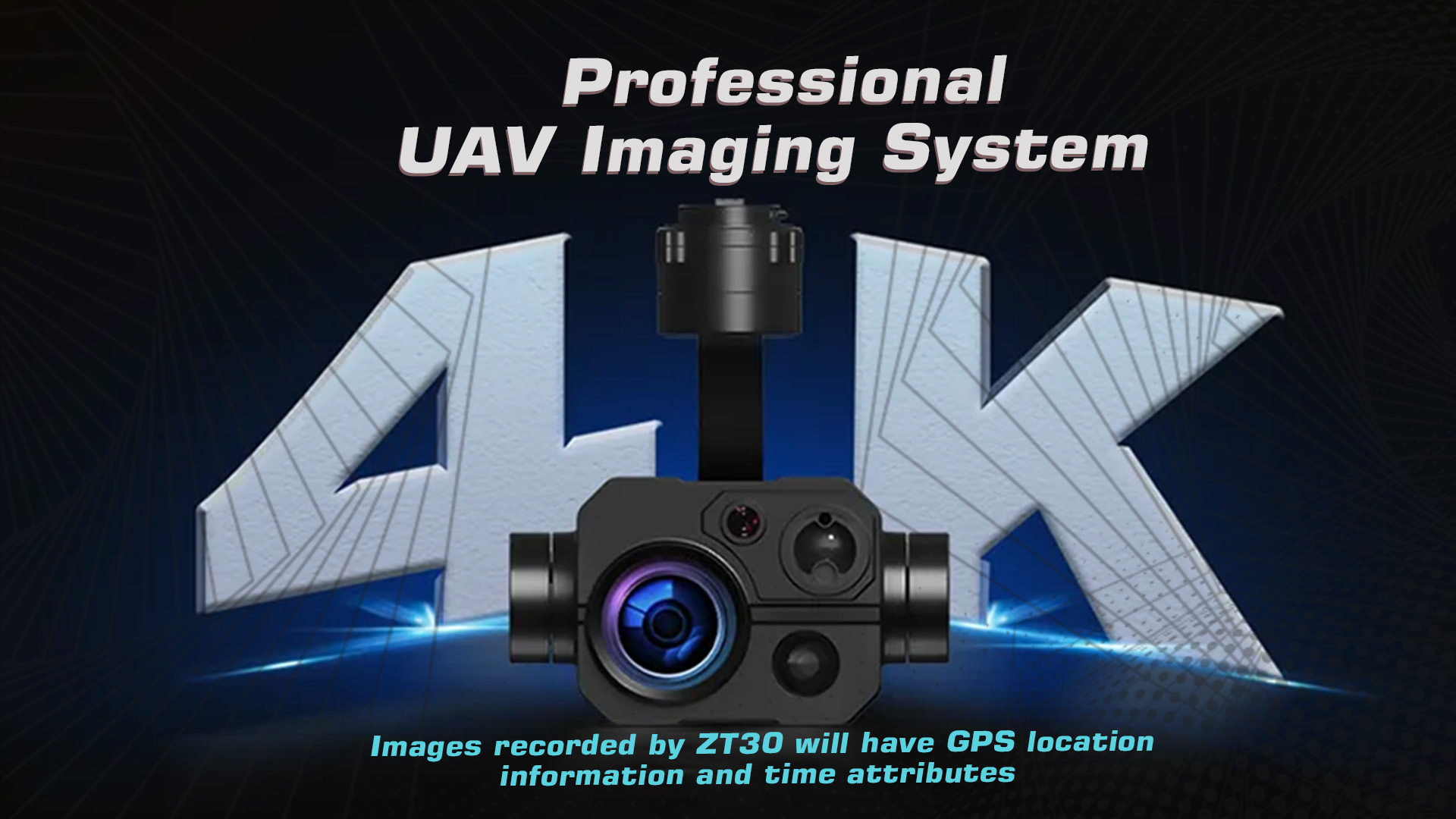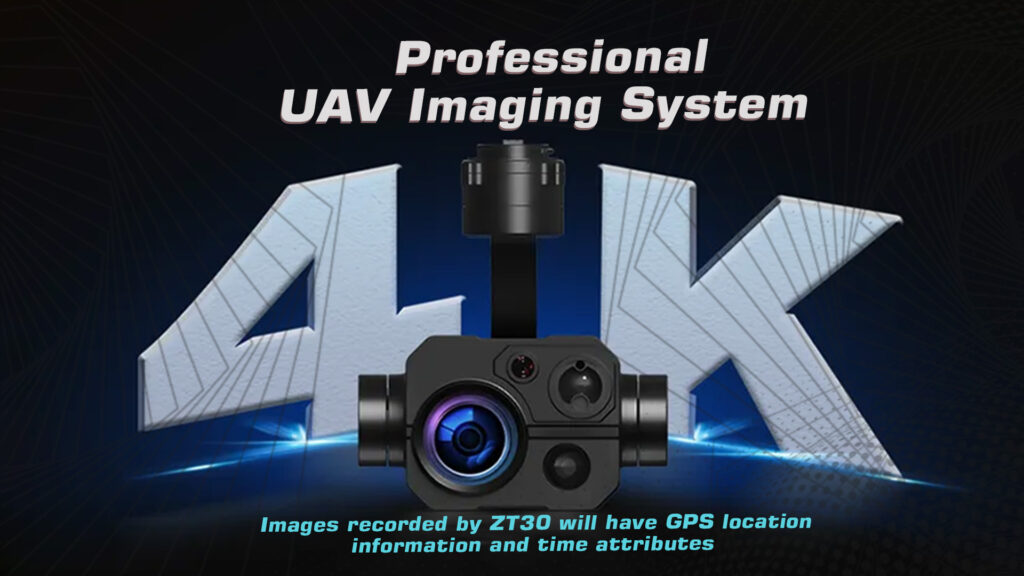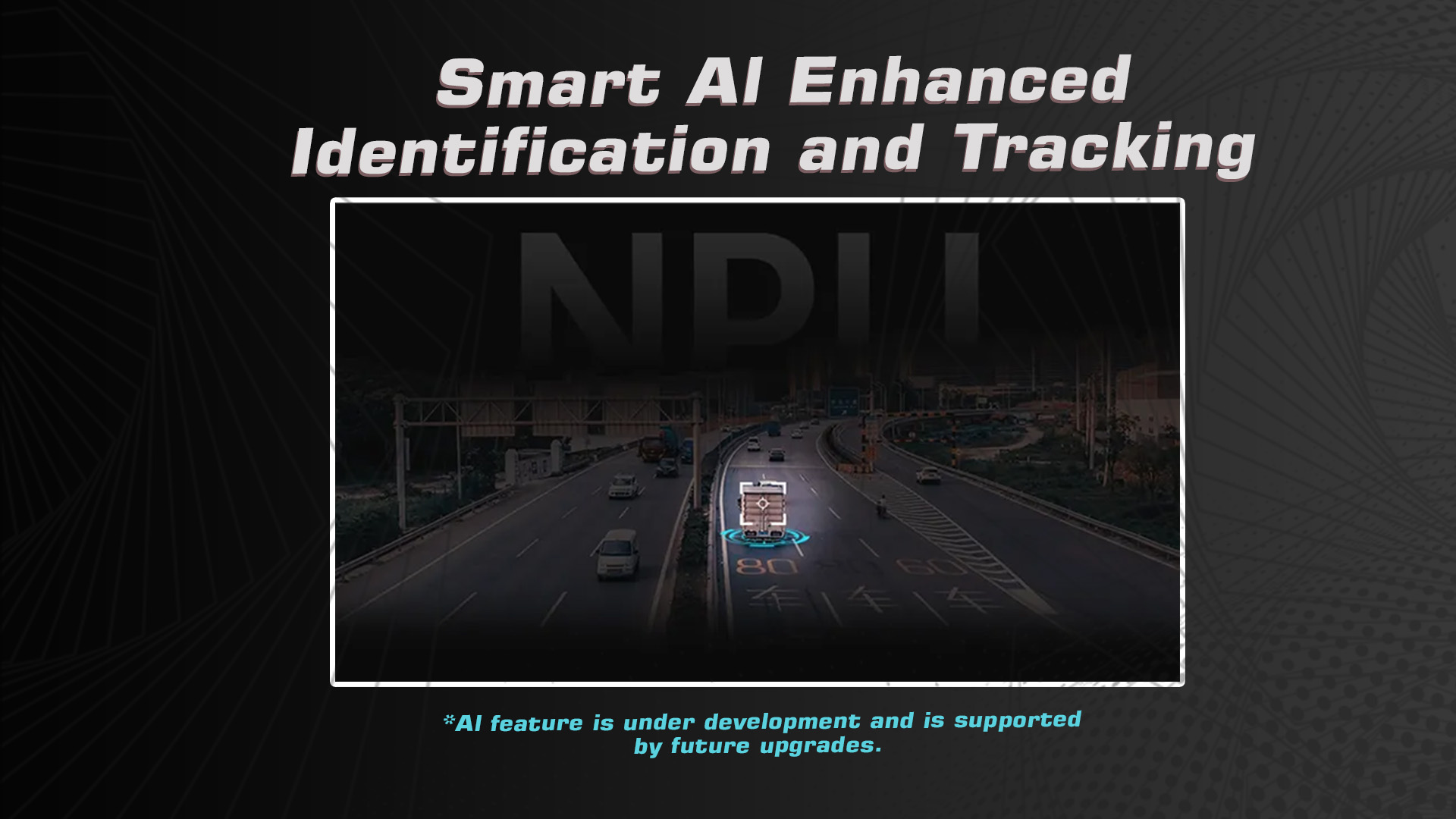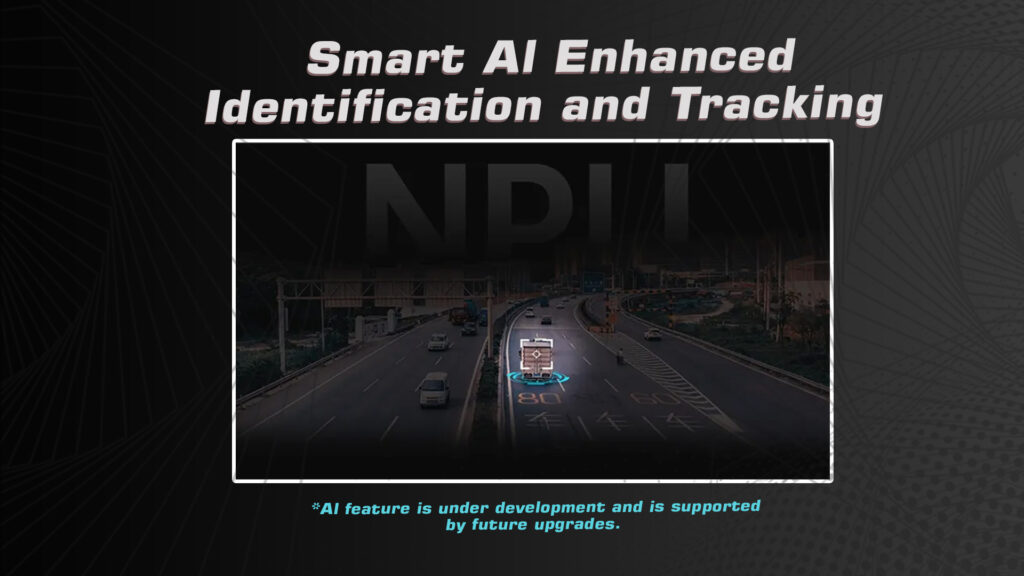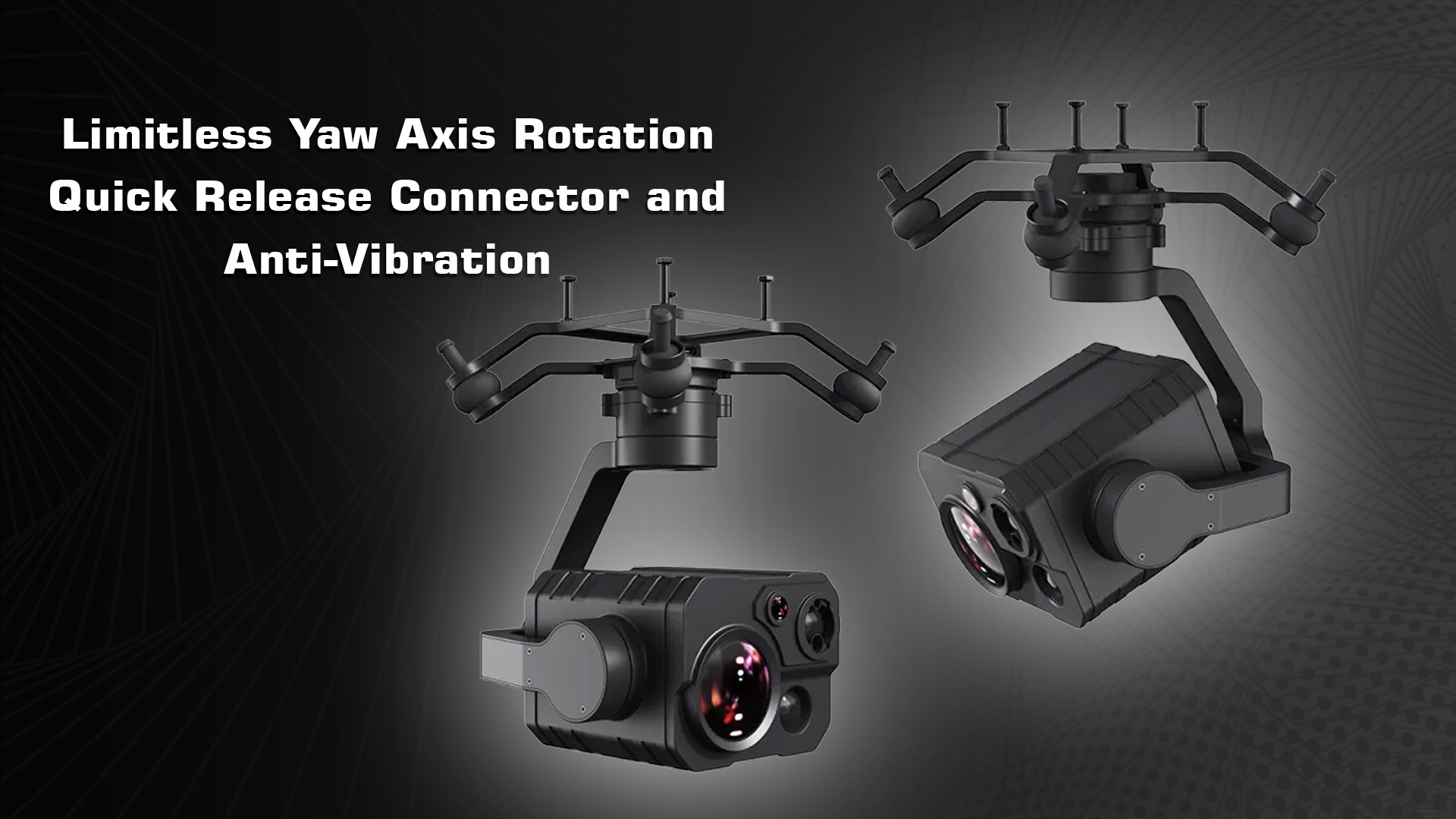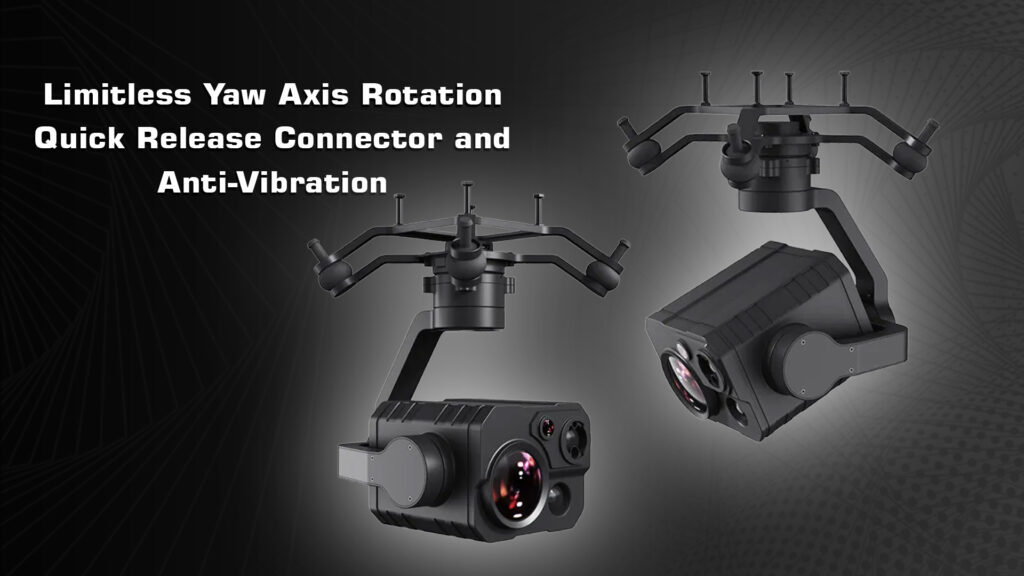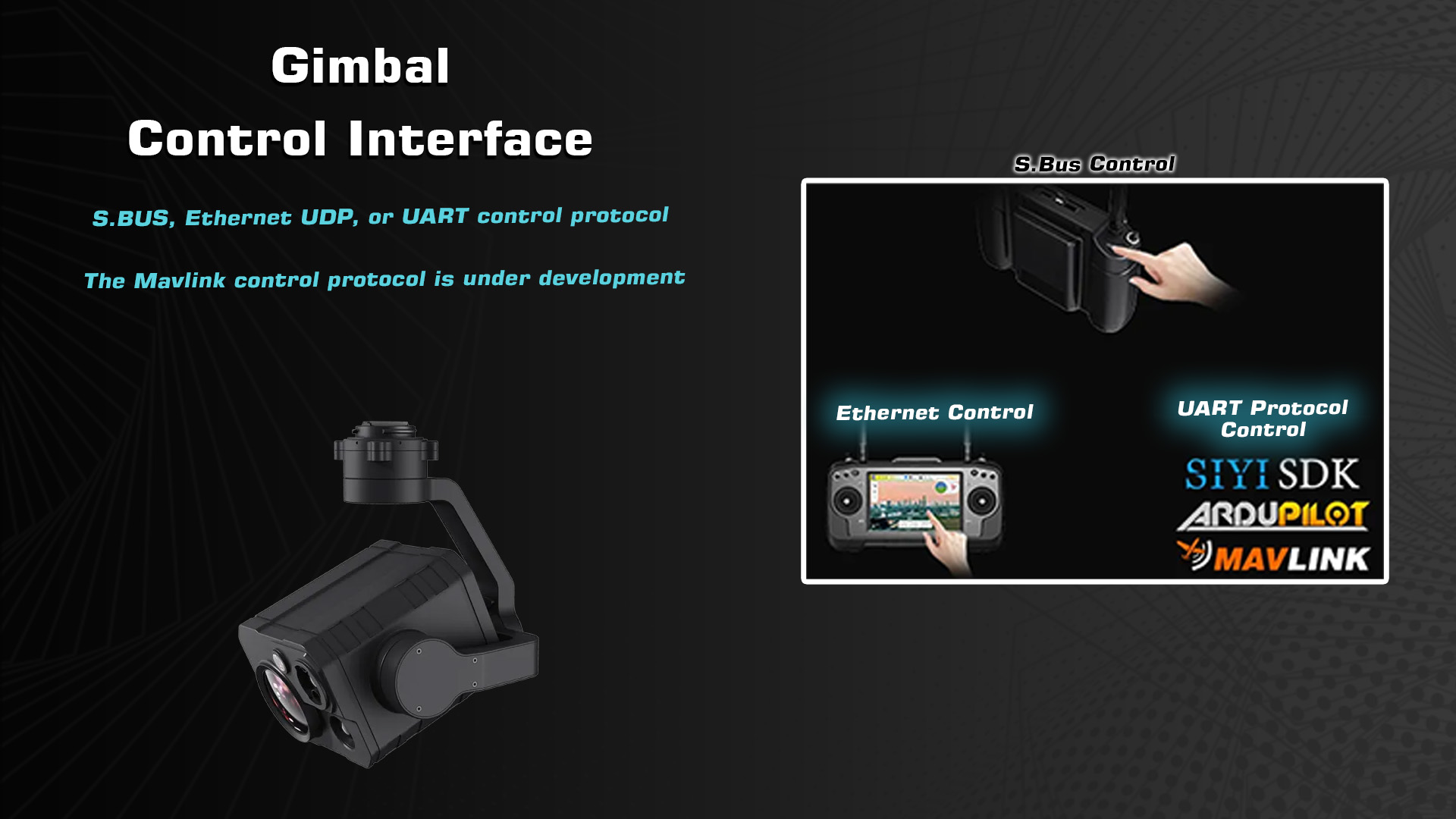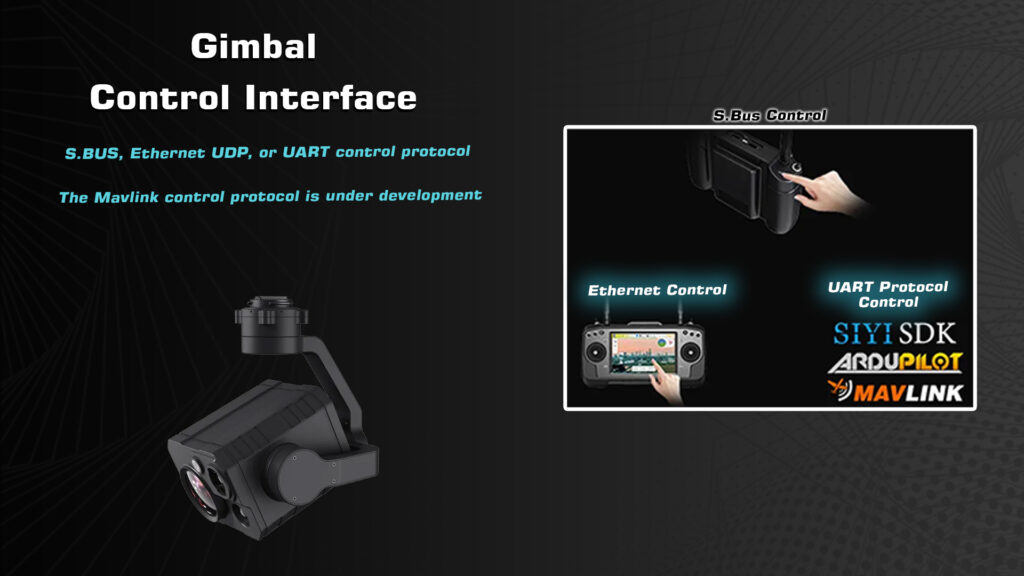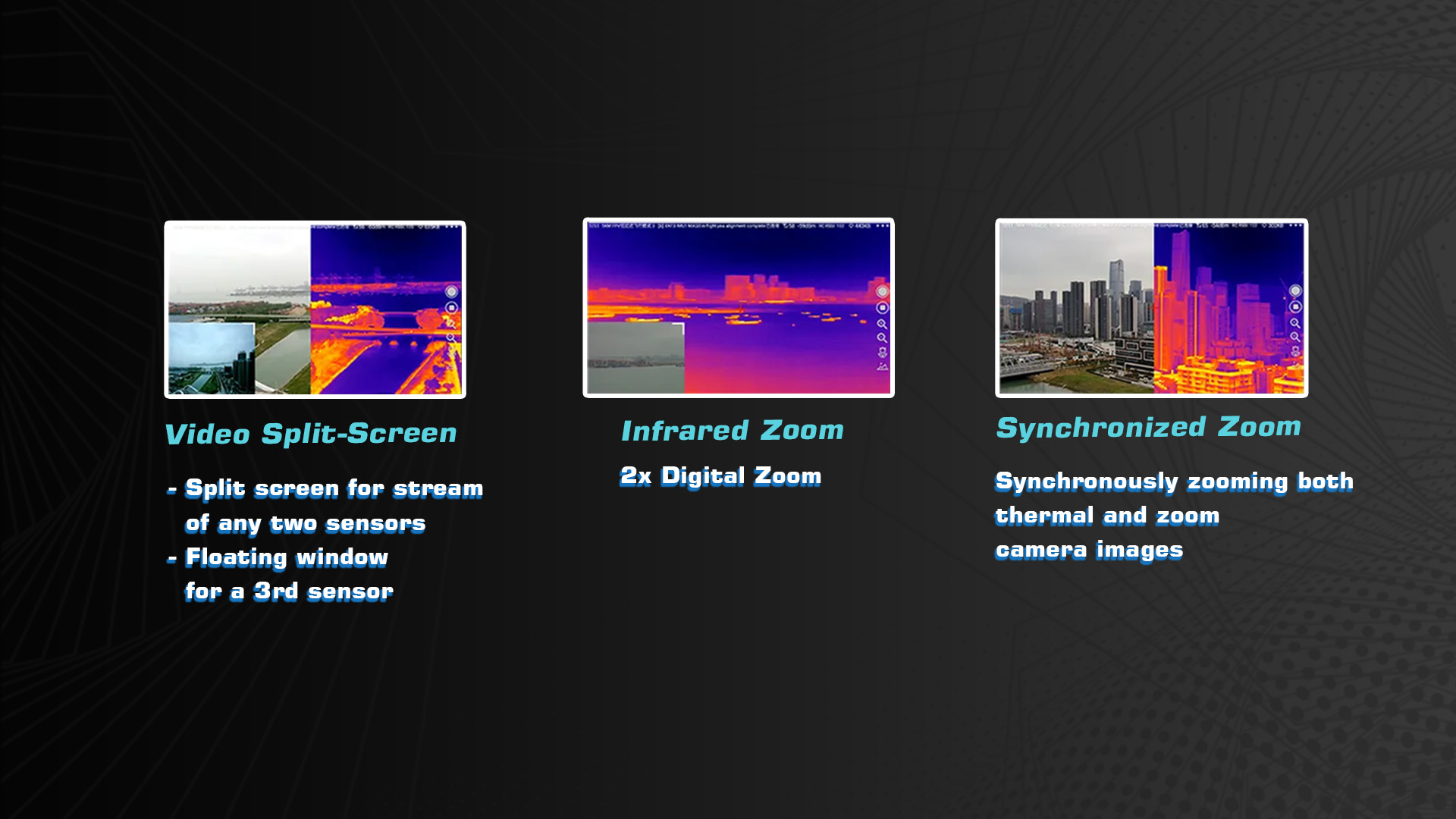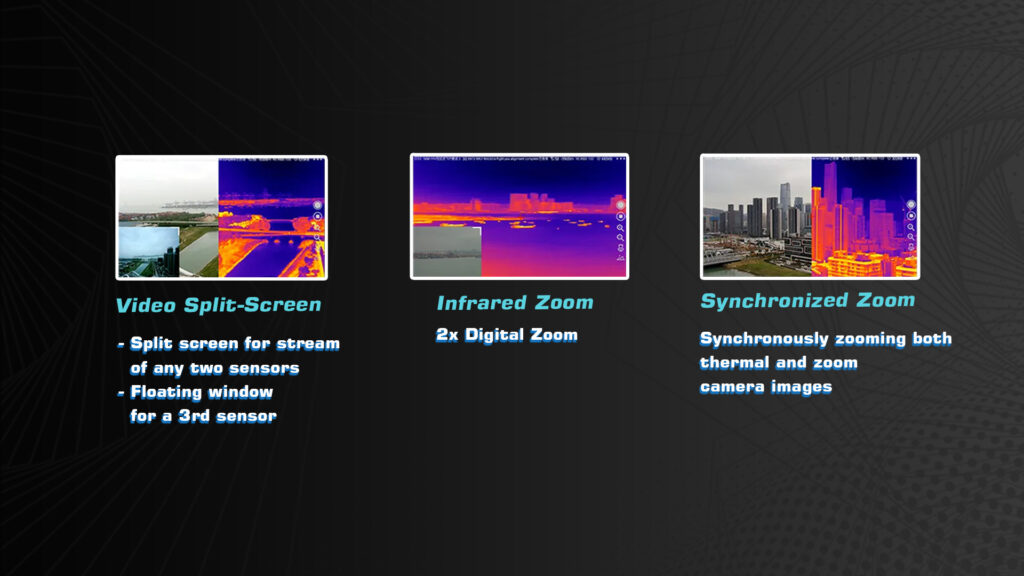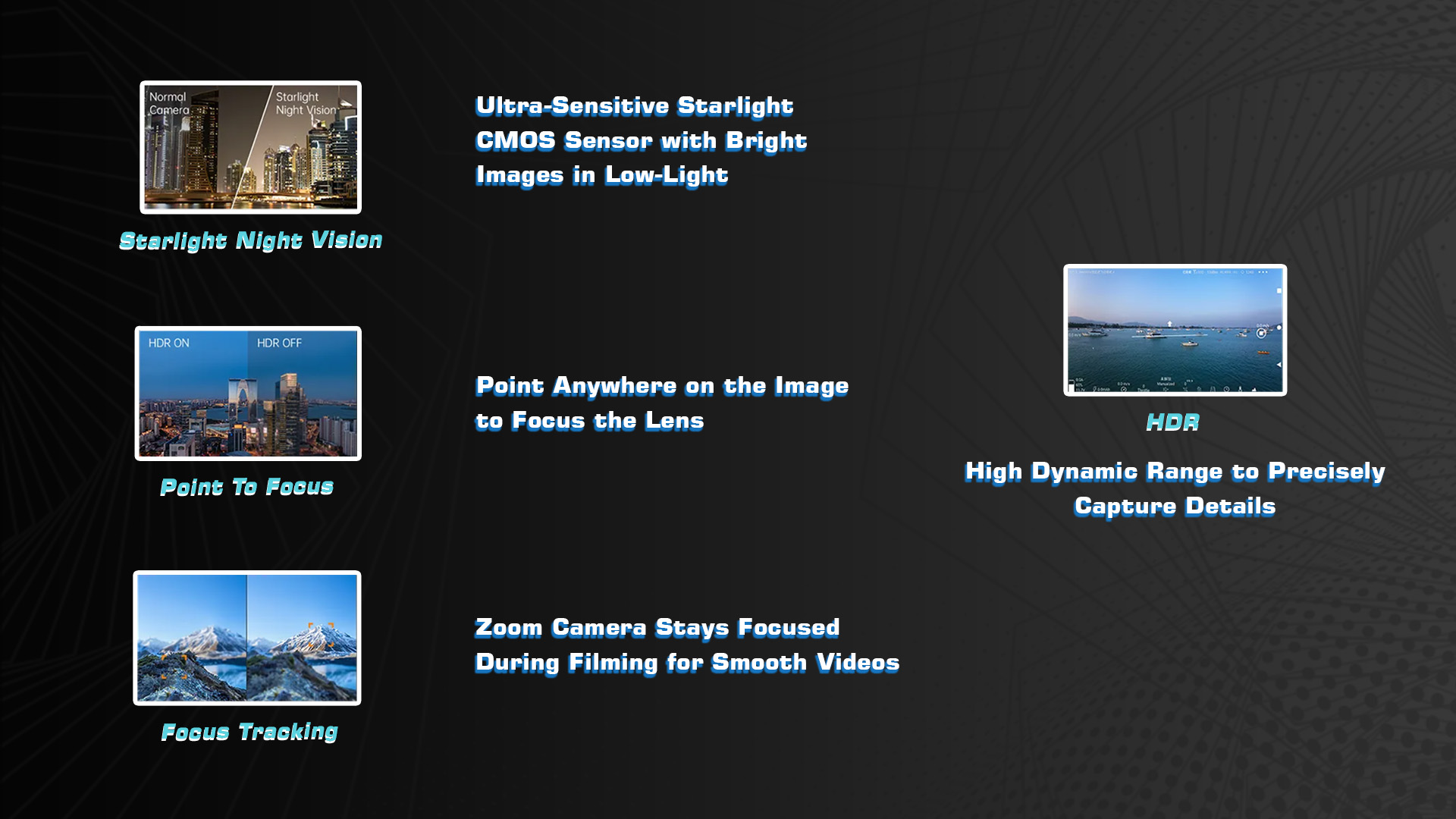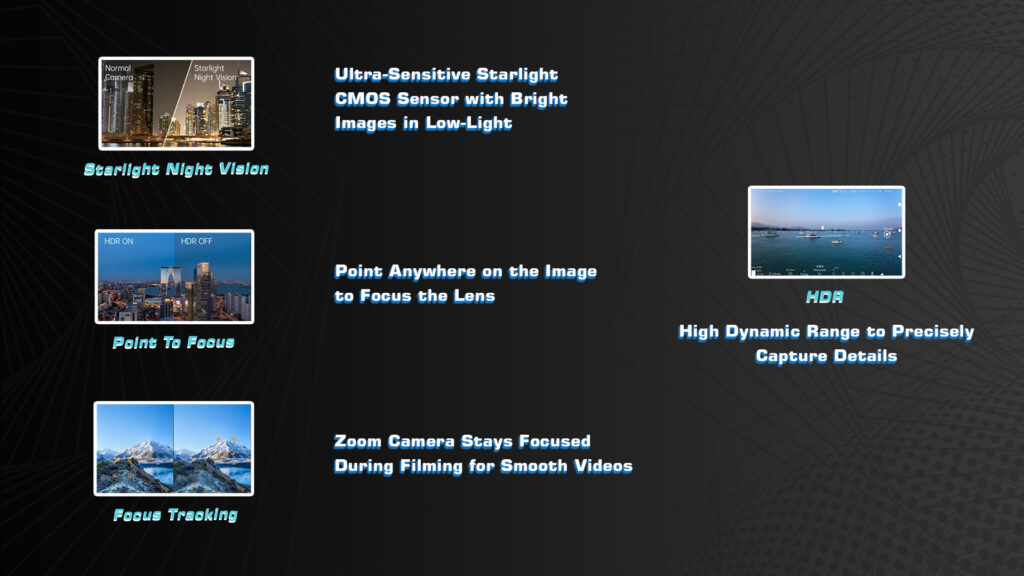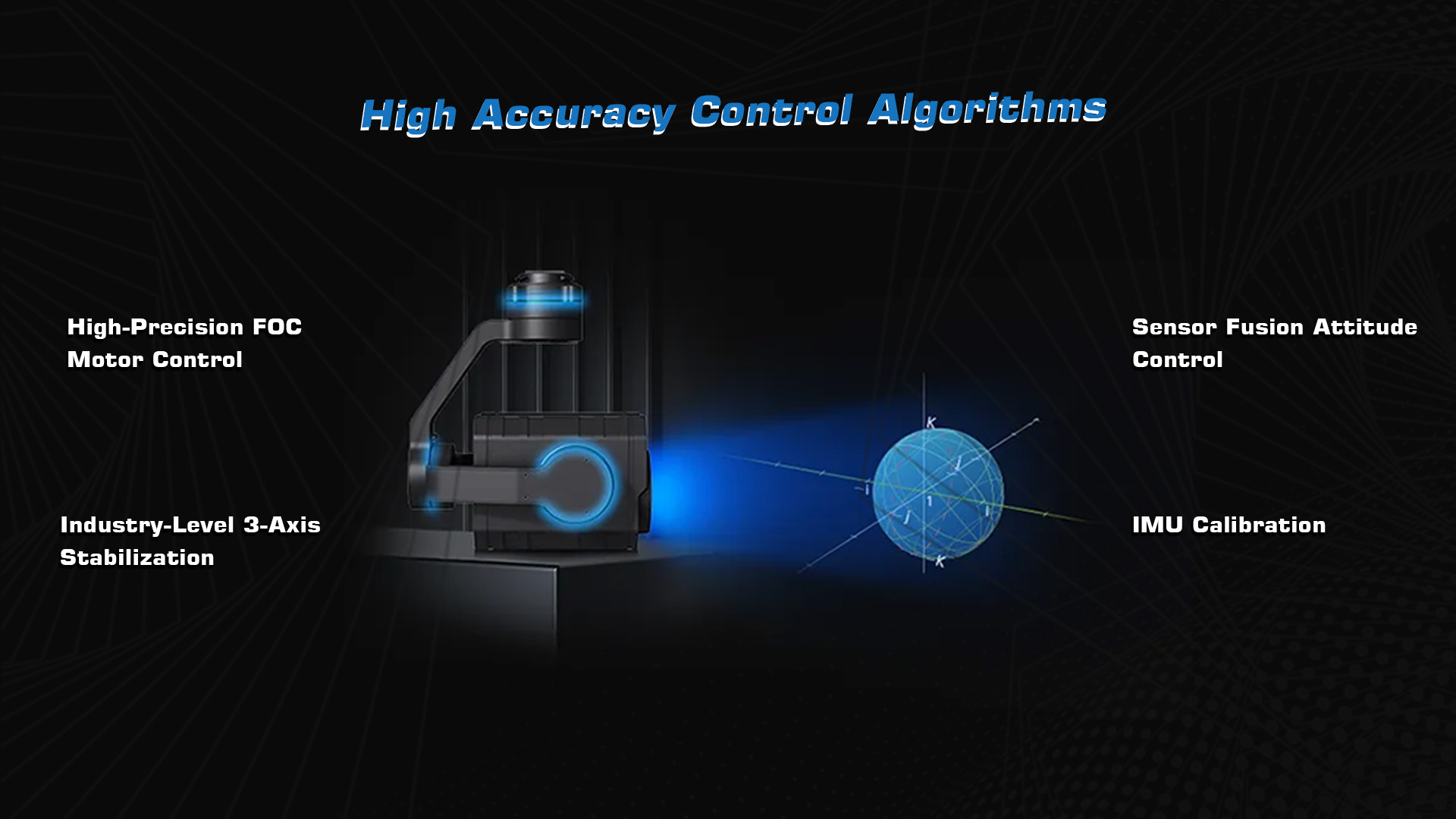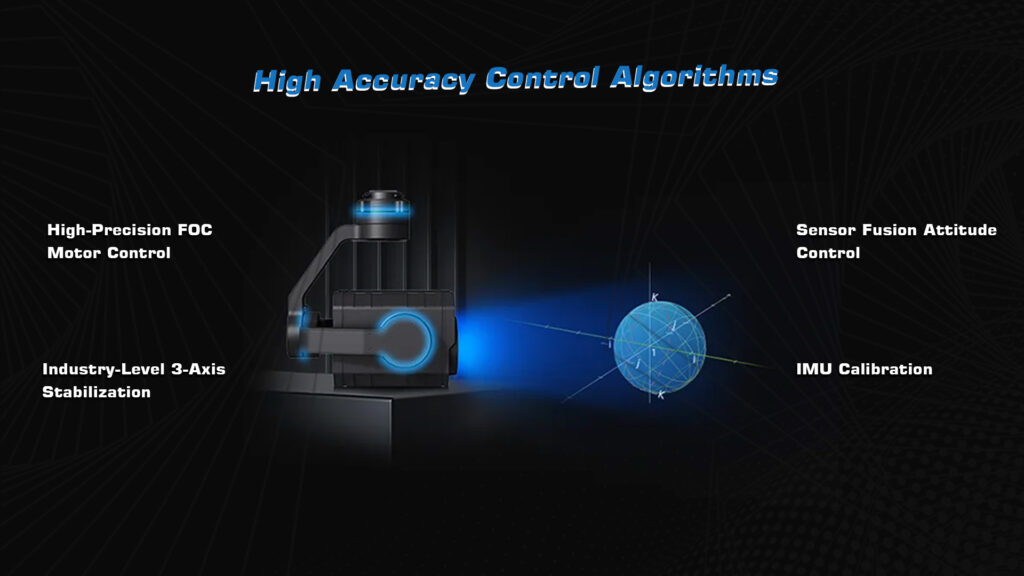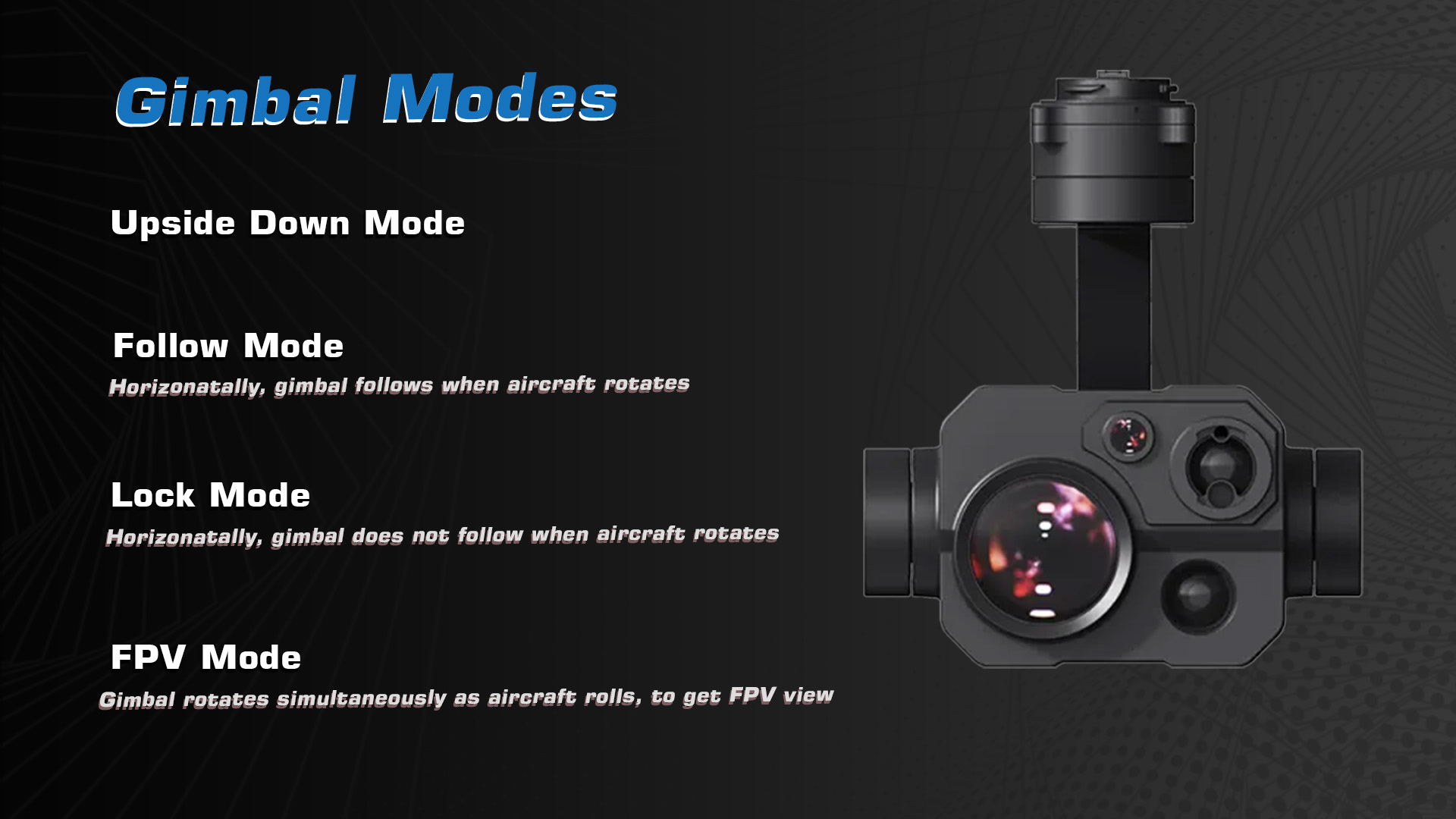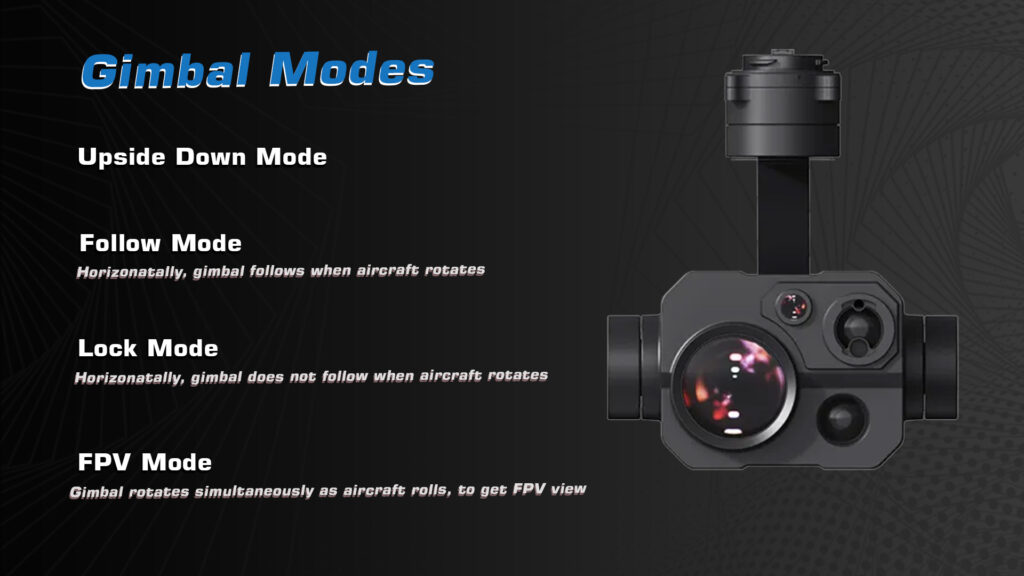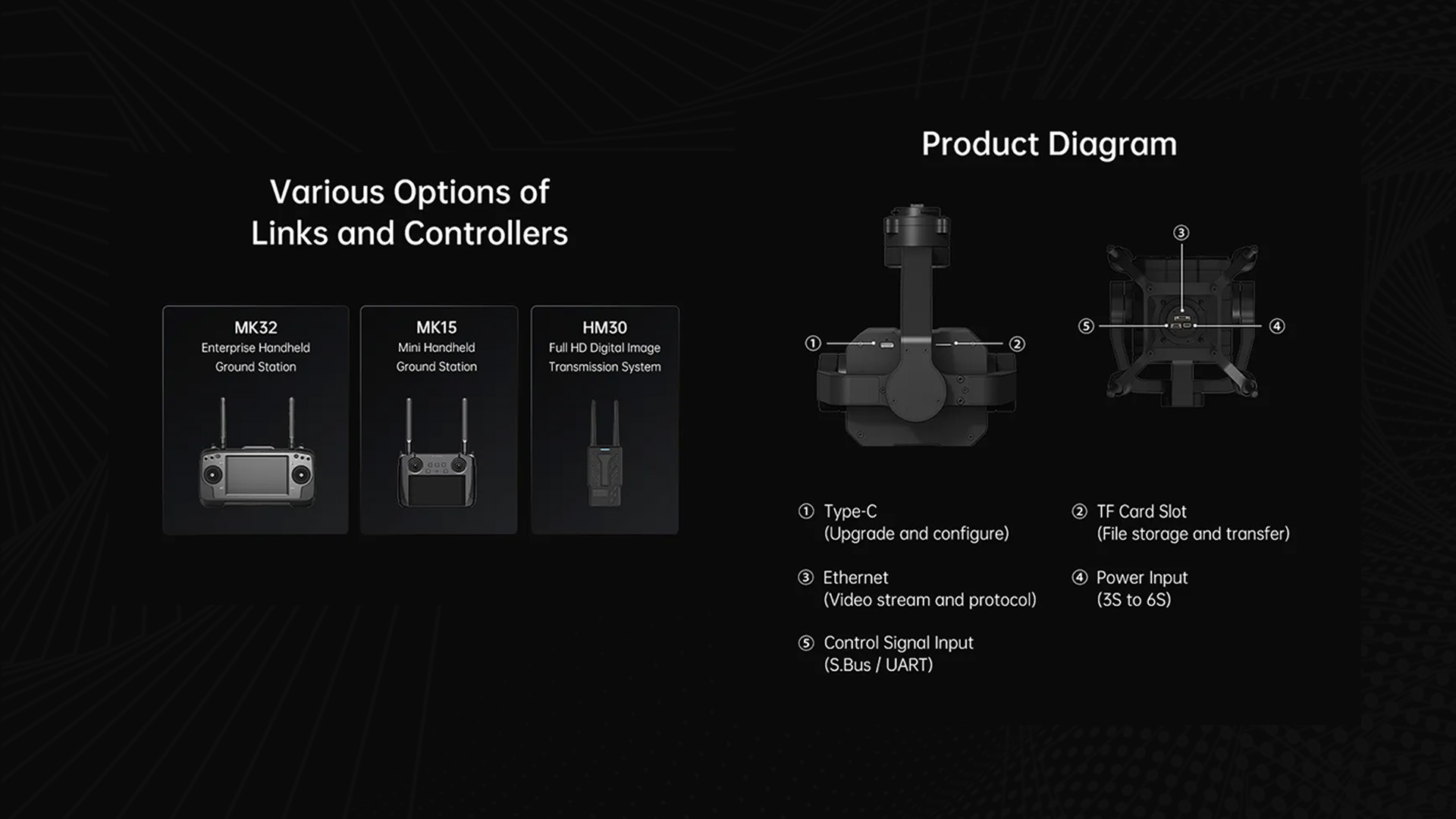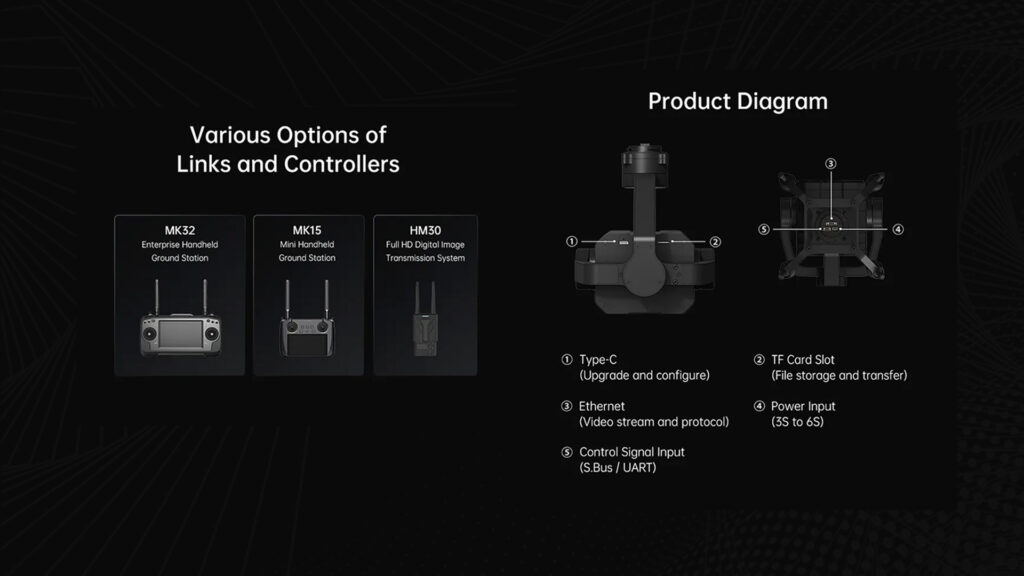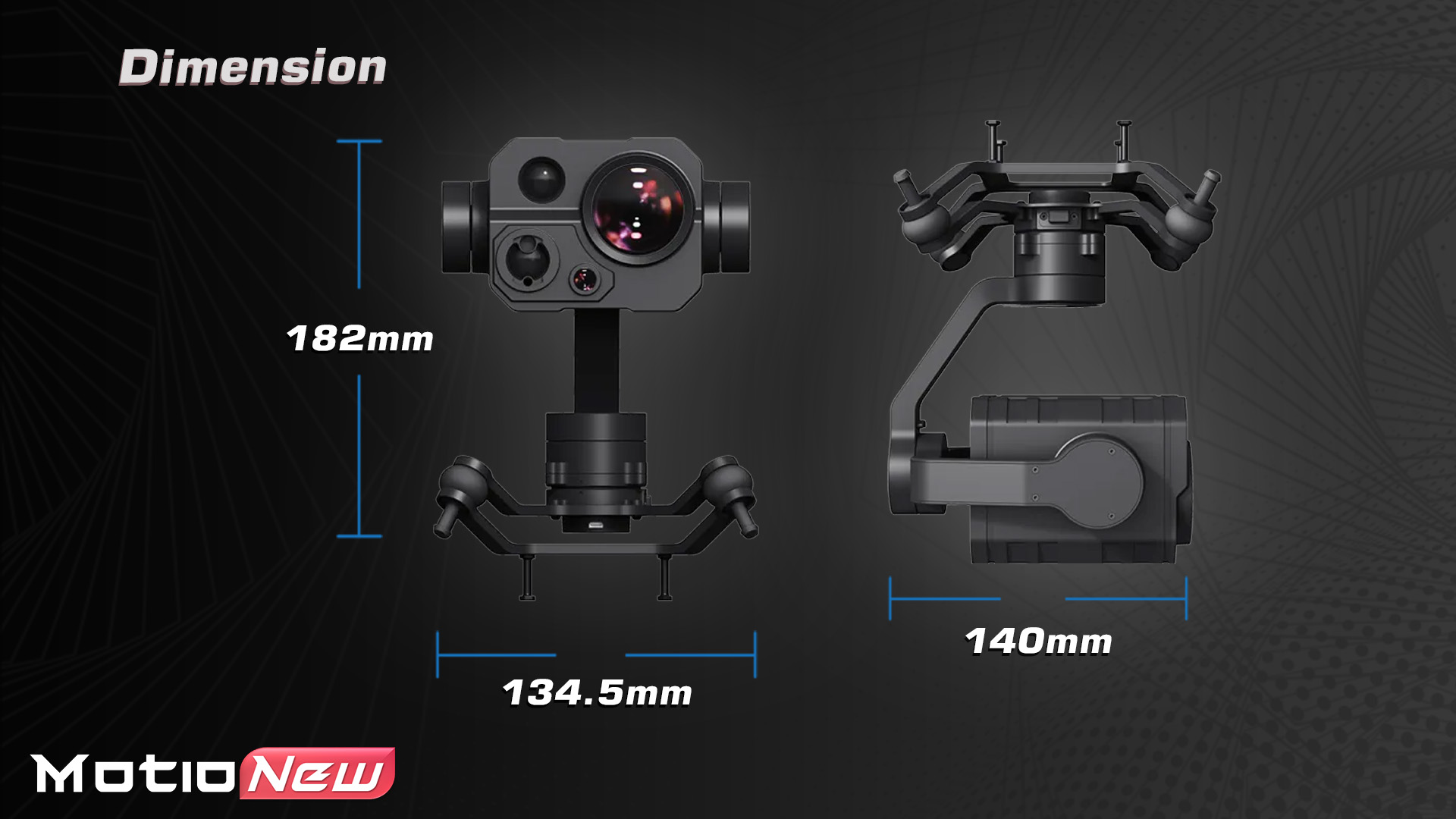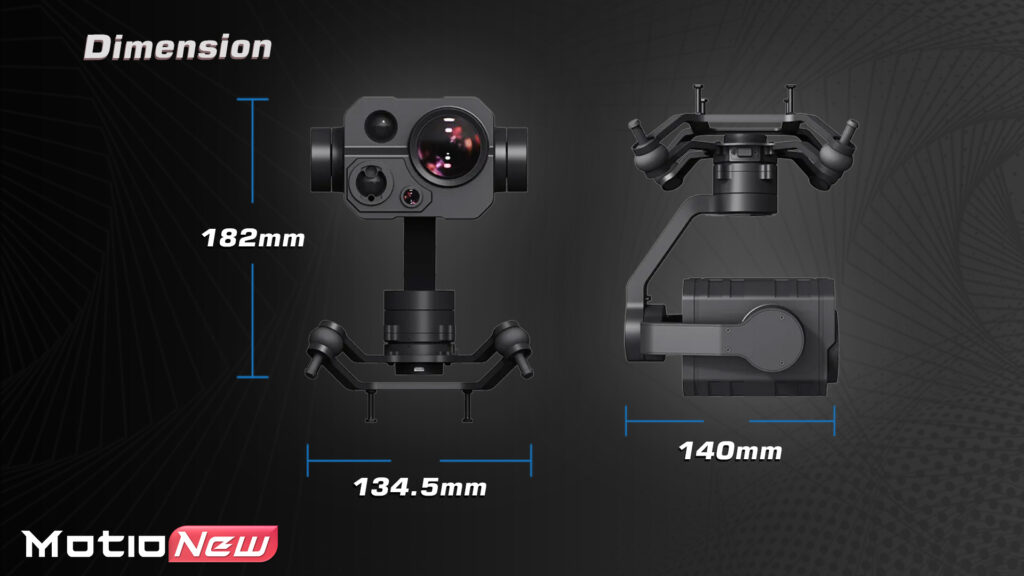 Additional information
| | |
| --- | --- |
| Weight | 1 kg |
| Dimensions | 20 × 16 × 15 cm |
Specifications
Overall

Video Output Port

Ethernet

Control Signal Input Port

S.Bus, UART




UDP (Ethernet)

High-Accuracy 3-Axis Stabilization

Yaw, Pitch, Roll

Working Voltage

 11-25.2V

Power Consumption

Average 9W, Max. 20 W

Waterproof Level

IP4X

Working Temperature

 -10 ~ 50 ℃

Dimension

 182*140*134.5 mm (including the quick release anti-vibration claw)

Weight

870g (including the quick release anti-vibration claw)
| | |
| --- | --- |
| ZT30 Quick Release Anti-Vibration Claw | |
| Dimension | 141x140x42.5mm |
| Weight | 104g |
| Angular Vibration Range | ±0.01° |
| Controllable Pitch Angle | -90° to +25° |
| Controllable Yaw Angle |  Limitless |
| Roll Angle |  -45° to +45° |
Zoom Camera

Lens

30X Optical Zoom (180X Hybrid Zoom)

Focal Length

 4.8mm to 149 mm (±5%)

Image Sensor

1/2.7″, 8MP effective resolution

Aperture

F1.3 to F4.8 (±5%)

FOV

 Horizontal 62°

Video Recording Resolution

4K (4096 x 2160) @ 30 fps




2K (2560 x 1440) @ 30 fps




1080p (1920 x 1080) @ 30 fps




720p (1280 x 720) @ 30 fps

Still Photo Resolution

4K (4096 x 2160)
Thermal Imaging Camera

Resolution

640×512

Digital Zoom

2x

Lens

Aperture: F1.1

Fixed Focus thermalization

Wavelength Range

 8 ~ 14 um

Temperature Measuring Range

High Gain: -20 ~ +150℃




Low Gain: 0 ~ +550℃

Temperature Measuring Accuracy

±2℃ (-20 ~ +150℃)




±3℃ (0 ~ +550℃)

Temperature Measuring Mode

Point to Measurement




Full-Screen Measurement
| | |
| --- | --- |
| Wide Angle Camera | |
| Image Sensor | 1/2.8″, 4MP effective resolution |
| Equivalent Focal Length | 21mm |
| FOV | Horizontal 88° |
| Video Recording Resolution | 2K (2560 x 1440) @ 30 fps |
| Still Photo Resolution | 2K (2560 x 1440) |
Range Finder

Range

5 ~ 1200m

Wavelength Range

900 ~ 908nm

Resolution

0.1m

Ranging Accuracy

±1m (3 ~ 100 m)




±1 + L*0.25% m, L=Length (100 ~ 600 m)

Laser Pulse Frequency

3Hz

Max Laser Power

5mW
| | |
| --- | --- |
| General Camera Specs | |
| Video Storage Bitrate | 15Mbps (H.265 codec) |
| File Storage Format | FAT32 |
| Image Format | JPG |
| Video Format | MP4 |
| Supported MicroSD Cards | MicroSD Class10, Max 128GB |
| Still Photography Mode | Single |
| Metering Mode | Evaluative metering |
Product contents
1 set of SIYI ZT30