Taking a look at the latest Pixhawk by CUAV
Shenzhen UAS/UAV 2022 expo was held on August 10-12 in Shenzhen, China. Many companies around the world participated and demonstrated their newest line of products. CUAV leveraged the opportunity to reveal the first sights of its latest pixhawk Autopilot, V6X. Our team could get a first sight on this new design.
You can call this model the counterpart of Pixhawk 6X introduced by Holybro a few months ago. High demand on Pixhawk 6X and Pixhawk 6C, and low quantity production lead to insane rise of prices in black market. Currently, Pixhawk6X is out of stock on the official Holybro store. Both models (Pixhawk V6X and 6X) are designed based on the FMUv6, and use ARM H series processors. You can find out more about Pixhawk 6x and Pixhawk 6c on the previous post on MotioNEW blog.
The new CUAV autopilot comes in two different versions. One of them has the same cube design as its predecessors where the main computing unit and sensors are installed inside the cube, with an expansion board where you can see all the required I/O ports. This design allows them to better isolate the IMU sensors from mechanical vibrations coming from your drones frame.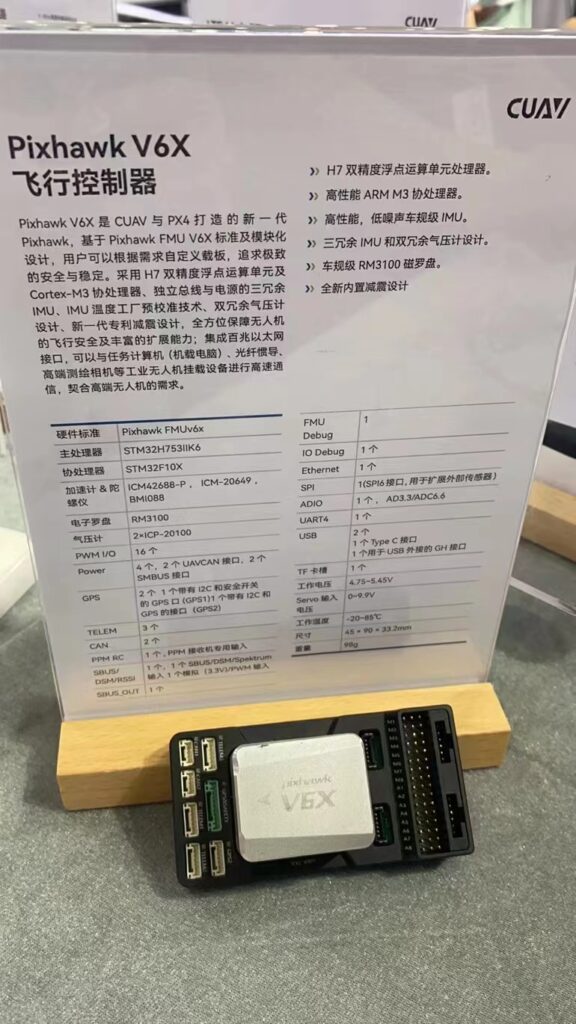 In a turn of events, CUAV provides a new industrial design for the Pixhawk V6X too. All sensors are connected with a cable set to an expansion board which the I/O ports are accessible.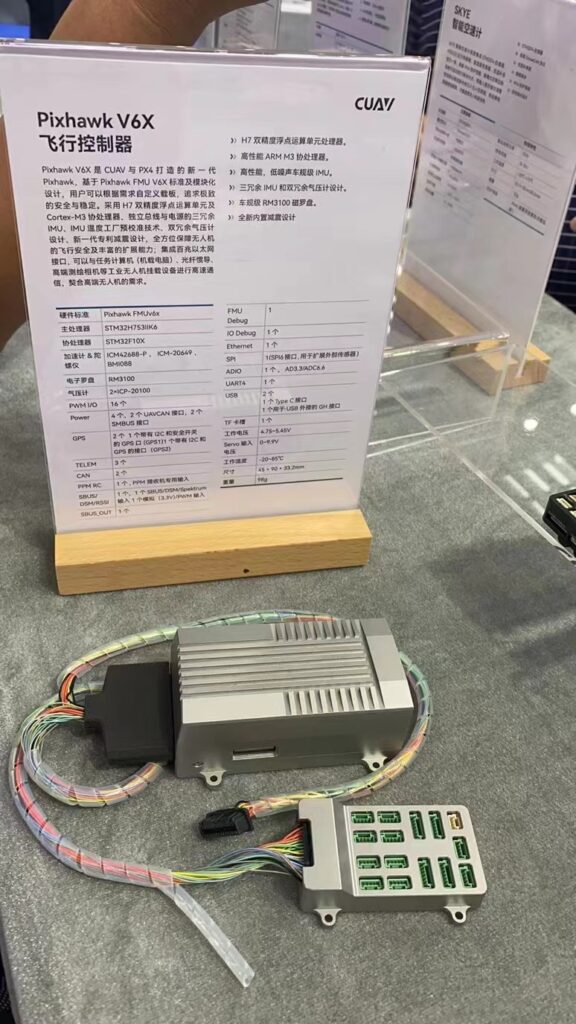 You can take a look at a few more pictures from both models taken by our team in the 2022 Shenzhen UAS/UAV expo.
Here are the official announced specifications of Pixhawk V6X. 
Main Parameters
Hardware Standard
Pixhawk FMUv6x Hardware Reference Design
DS-010 Pixhawk AutoPilot Bus Standard
DS-012 Pixhawk AutoPilot V6X Standard
main processor
STM32H753IIK6
32-bit Arm® Cortex®-M7 480MHz MCUs, 2MB Flash, 1MB RAM
Accelerometer/Gyroscope
ICM42688-P
ICM-20649
Electronic compass
RM3100
barometer
2×ICP-20100
Interface
PWM I/O
16
Power

4 Total

2x UAVCAN dedicated power ports

2x SMBUS dedicated power ports (I2C)

GPS interface

2 Total

1x GPS port with I2C and safety switch (GPS1)

1x port with I2C and GPS (GPS2)

Telemetry
3
CAN
2
PPM RC
1x PPM receiver dedicated input
SBUS/DSM/RSSI

1x SBUS/DSM/Spektrum input

1x analog (3.3V)/PWM input

SBUS outs
1
FMU Debug
1
IO Debug
1
Ethernet
1
SPI EXTERNAL
1x SPI6 interface for expanding external sensors
ADIO
1x AD3.3/ADC6.6
UART4
1
USB

2x Total

1x Type C interface

1x GH interface for USB external

TF card slot
1
Physical Properties
Operating Voltage
4.75~5.45V
Servo input voltage
0~9.9V
Operating temperature
-20~85
Size
45x90x33.2mm
Weight
98g
Pixhawk-project FMUv6 open hardware design is based on the NuttX OS and runs PX4. These releases replace the MCUs in the FMUv5X version with H7 type MCUs, and are suitable for academic, commercial, and hobbyist developers.  
At the time of this writing, we are unable to provide exact information regarding the preinstalled firmware on Pixhawk V6X. What can be said is that the preinstalled firmware can either be PX4 or Ardupilot, and it is highly likely that these versions come with PX4 preinstalled, the same as previous CUAV products. We anticipate these latest models of Pixhawk to be released in until end of year 2022. 
Visit the Motionew Online Shop to view our entire product line to see the latest product and more products similar to this new pixhawk.
Stay tuned for more pictures from Shenzhen expo.